Fashion
Royal Ballet Flanders x Ermenegildo Zegna XXX
After a successful world premier at the Théâtre des Champs-Elysées, French choreographer Benjamin Millepied brings the Bach Studies (Part 2) to Antwerpen. In his Belgium debut, Millepied collaborates with the famous Royal Ballet of Flanders and Ermenegildo Zegna XXX.

As long-time friends, Alessandro Satori finds inspiration for this special collection in Millepied's bold yet delicate choreography. Both discover a similar characteristic in their respective work, the fusing of traditional craft and knowledge with modernity. Designed with an intention to capture the energy of the beautifully moving body, the ecclesiastic silk and jersey dresses, in a combination of tonal or combined black and off-white, complete the silhouettes like a fourth dimension, making the performers seemingly fly on stage.

The performance is open until the 26th of May in the Opera Antwerp.

www.operaballet.be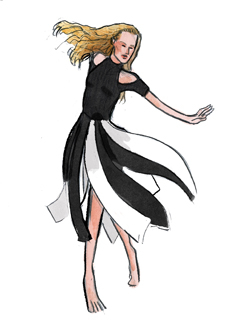 Fashion
Furla Flagship Munich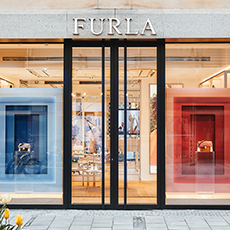 Family-owned Italian accessory label Furla opens a brand-new flagship store in the centre of Munich. With their new boutique in Theaterlinienstraße 33, designed in a modern and elegant fashion, Furla brings a piece of the comemporary Italian lifestyle into the centre of Munich.

This newly minimal and elegant interior, dominated by clear lines, offers the ideal background setting for the brand's men's and women's lines. Some of their more colourful bags become a visual focal point in the otherwise creme and champagne-coloured interior.

Furla embraces the opportunity to offer its customers an improved shopping experience as upscale as its expertly crafted leather goods and accessories. The remodelled store radiates an ambience fit for a 92-year old house, looking back on a tradition of expert craftsmanship, quality and innovative design.

The two-storey store opened on Theaterstraße 33 in Munich.

www.furla.com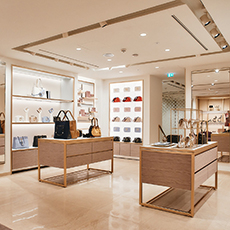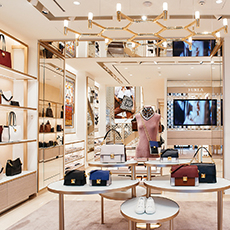 Art
The cure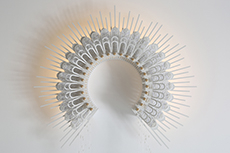 Entitled THE CURE (HEAVENLY PIE(A)CES), the new Richard Yasmine collection is an assortment of unconventional, serene yet hypnotizing white on white blended set up. For Yasmine, the concept is always the focus. Conceived as an experimental installation, THE CURE reads as an interpretation of our inner spiritual substance with a deep therapeutic message associated with the notion of time and the philosophy of karma with its idea of renaissance after each failure moment creating an influential emotional charge reflecting forgiveness and self-reconciliation. Yasmine's collection is made of white powder coated aluminum structures combined with other materials such as brass, neo-cement, suede, Carrara marble and couture handmade embroidery with beads pearls and silk. It includes an armchair, a pendulum clock and a wall mounted lighting fixture. Each piece has a special significance related to the theme, Yasmine explains: "The armchair's back is in a Headstone silhouette with a message of destiny and regeneration. The pendulum clock corresponds to time and how to catch the moment before it's too late, yet it shows there is always brightness and hope at the end of the darkness. Third element is a wall-mounted light represented by a halo or an aureole with rays of light in a circular shape symbolizing the majesty or prominence of the soul."

www.richardyasmine.com
Art
Anthropometry
One year after his passing, multifaceted artist Getulio Alviani, pioneer in the movement of kinetic art and Op-Art, was celebrated in the framework of the 58th International Art Exhibition of the Venice Biennale. In the spirit of Alviani's vision, the Palazzo Barbaro on the Grand Canal is transformed into an interdisciplinary exhibition Anthropometry combining art, fashion, jewelry music and theatrical performance, perfectly staged during the opening vernissage featuring live performances of Brazilian actress Lìgia Cortez and famous eclectic virtuoso Olen Cesari.

The dress "Cerchio + Quadrato" worn during Cortez's performance shows that Alviani's collaborations in the field of fashion, springing from the research of avant-garde materials and technologies, with designer Germana Marucelli are one of the focal points. By applying his visual experimentations with light and optical illusions to sartorial endeavours, designer Marucelli constructs wearable pieces of art, transforming and evolving with movement and in relation to the body that wears them.

The exhibition is open to the public until the 30th of May in the Palazzo Barbaro in Venice.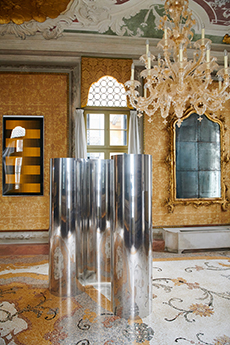 Art
Exhibition 'Into the Light'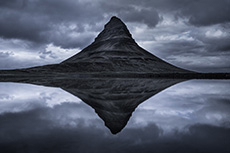 SR CONTERMPORARY ART Gallery opens its new exhibition for the Gallery Weekend in Berlin. The exhibition features the work of portrait and fashion photographer Tom Jacobi, who travelled two years over seven continents to capture archaic landscapes that are dominated by brightness.

Into the Light symbolises the striving towards light from out the darkness, in search for the meaning of life, gazing up towards the sun that fills with the brightest of all colors: white. White occupies a particular position in the spectrum of colors and has an essential influence and meaning in the exhibition and how the color is interpreted in different societies and cultures.

The exhibition will run from the 11th of April to the 20th of May at SR CONTEMPORARY ART.

Niebuhrstraße 11A, 10629 Berlin, Deutschland

www.srcontemporaryart.de
Art
Spotlight
Sawaru is the new project from Flos that does away with excess and focusses on simple, compact devices that provide a clean aesthetic and simple functionality. A LED light source cylinder 43cm in length and 13 cm in diameter, Sawaru is constructed from aluminum and is available in finishes from black and white to bright gold and blue gray.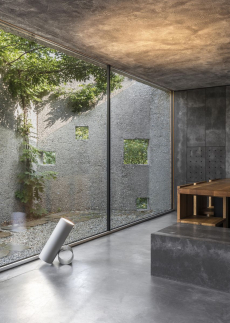 Two independent cylinders restfully lean up against one another for support, intercepting at a perpendicular angle; one acting as the supportive base and the other as a light source shooting out a beaming spotlight. The angle can be modified to the individual's taste in three different stages – 25, 40 and 60, simply by inserting a pin attached to the base. Once again, Flos proves its commitment to designs that are user intuitive and simple; minimal in appearance and minimal in hassle.
The dimmer pedal regulates the intensity of the light and the color temperature, warm and cold, and one's ideal combinations can be set by keeping the pedal pressed down. The LED indicators on the pedal supply information about the status of the light source.

flos.com
Fashion
What Was I?
By Goshka Macuga and Fondazione Prada
Who am I, who do I want to become? Questions that we ask ourselves all the time. We always want to go forward and therefore we hardly ask ourselves whom we were. Through the years, our society changed by shifting into a fully technological civilization.

Polish installation artist Goshka Macuga created in collaboration with Fondazione Prada an intriguing exhibition that will be presented in the Prada Rong Zhai residence (1918) in Shanghai from 23 March to 2 June 2019.

Macuga created an imagination of a post-Anthropocene epoch that gives a sense of the world after the collapse of humankind due to the affects of technological overdevelopment. An android designed by Macuga and produced in Japan by A Lab (presented already in 2016 by Fondazione Prada in Milan) is taking you on an unexpected journey. The android proclaims in its repeating monologue that he is the depot of all human knowledge. This futuristic imaginative scenario no longer has a human perspective and reflects therefore on the dramatic question: "What was I?" The voice of this creature is the one of Frankenstein the protagonist from the gothic novel "Frankenstein" written by Mary Shelley in 1818, to add an extra post-apocalyptic sphere.

In this story, the Android occupies all the rooms of the Rong Zhai residence wherein he is revealing his very own art collection: 26 pieces from the Prada Collection including several Italian art masterpieces, from 1958 to 1993, as well as 3 recent paper collages by the artist, part of the series 'Discrete Model.'

Many influences pass by; a selection of artists from the German Zero-group and the Italian and French Programmed and Kinetic Art movement with names as Jan Schoonhoven, Luis Tomasello, Grazia Varisco, and Nanda Vigo who all explore the complexity of computer-animated, geometric shapes that have their own autonomous alphabet of forms. The Android is enclosed by a constellation of artworks produced by Italian artists, Enrico Castellani and Piero Manzoni who composed a language without images. Lastly we see Alberto Burri, Lucio Fontana, Francesco Lo Savio, Salvatore Scarpitta, Turi Simeti and Giuseppe Uncini, presenting new experiments in order to overcome physical and symbolic boundaries in an unconventional way by integrating art more deeply into reality.

The artists and their work each contribute in their own way to a new sense of human consciousness about an intimate habitat that may start its own existence at any moment.

www.fondazioneprada.org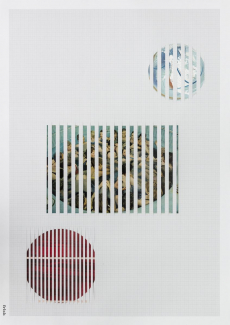 Fashion
A New Intimate Approach in Femininity
Miu Miu's Fall / Winter 2019 collection comprehends an interesting dialogue about the power of images produced through all sorts of new media. The show represents the dynamic creative work of New Zealand born artist, photographer and filmmaker Sharna Osborne. Her work is praised for the beautiful details that are often highlighted. Osborne created a physical space full of imagination and wonderment for this show. She used a personal selection of her work to create an innovative intimate approach to the contemporary standard of femininity.

The intriguing monumental hypostyle hall is filled with a jumbled array of giant prints, short video clips, old TV's and LED-screens that produce a non linear visual overload of contrasting images and stories. Special and unique is that the installation is intrinsically connected with the collection itself. Both form a storytelling interaction by consisting an arrangement of frames, supports and structures that shape a chaotic and absorbing ensemble of divergent narratives.

The model path unfolds playfully through the hall and brings the installation with the models to life. The catwalk is a confrontational embodiment of images, opinion and language about fashion as an intimate extension to femininity.

www.miumiu.com
Fashion
Rick Owen's Women's Fall 2019/20
It has been exactly 2 years, when backstage after his Fall 2017 show Rick Owens mentioned how he was tired of being a downer, wanting to be more optimistic celebrating humanity and life.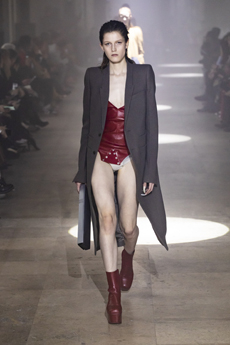 Rick Owens is certainly the real living high priest of fashion who true to his words continues to surprise us. For next Fall Owens led us to an incredible dose of sexiness and glam we have never seen before: alluring bodysuits and short dresses twisted and knotted with long floor-swiping trails nodding to Hollywood gala. Some featuring the famous Fortuny prints.

Matched with tailored blazers and coats with sculptural shoulders once again recalling – following Menswear 2019 – his hero, American designer Larry LeGaspi, who dressed the likes of Grace Jones, and the likes of legendary rock bands Kiss, Labelle, Divine in the 70s. Adolescent Rick Owens was deeply fascinated by the avant-garde gender-blurring LeGaspi's work and later this year we will see a monograph about the designer authored by Owens.
But there is another source of inspiration in the collection, another legendary American designer who later that evening after the show was celebrated at Joyce Gallery at the Jardin du Palais Royal with a small exhibition and the launch of a book with preface of Rick Owens himself: Charles James.

James lived in the legendary Chelsea Hotel and was a master in building a sculptural shape for evening dresses but also was interested in developing new shapes. In one of the archive pictures shown at the gallery we see a young Pat Cleeveland wearing a pair of shorts he creates in 38 and decades later developed into leather.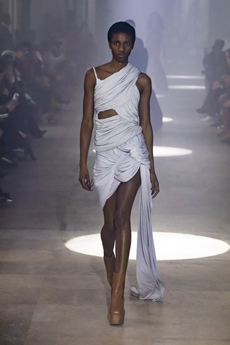 A series of reversed blazers with silver cowhide or nylon puffer are certainly playing references between James and LeGaspi.

Owens staged a spectacular collection. And the alien-like make up by prodigy Instagram talent Salvia - an ode to body modification - was the perfect element to further take ours breath away.
Fashion
A Retrospective of Icons
KENZO La Collection Memento N ° 4 presents a selection from it's stunning emblematic archive by putting the most creative printed prints on the map again. Both the fun and whimsical side of Kenzo Takada is clearly presented. His striking attitude towards fashion, his partiality for food and above all entertainment form a broad palette of inspiration.

Historical icons such as the tiger (coming from the men's collection spring-summer 1991), appears this season again in new expressions and embellishments. The tiger is KENZO's eternal dedication, a symbol of strength, something that must always be there to move on. Photorealistic airbrush tigers are made in two colors on T-shirts, sweaters or shirts of cotton poplin. The "running tiger motif" and the "spring tiger" (from the women's autumn-winter collection 1983) are extravagantly released in gold, burgundy and leopard prints, depicted on the "Jungle" bomber jackets, dresses and knitted tops and skirts.

Secondly, do you remember besides the tiger, the other iconic symbol? It is the hyper real painted tomato in either red or yellow. The tomatoes became big in KENZO's Spring Summer men's collection in 1992. The tomatoes are pictured on comfy cotton pieces, short sleeve archival smock dresses and mesh shirts.

Lastly this new edition of prints also introduces great line of bags – bumbags, backpacks, totes and the reversible "Knot" bag – also printed on caps and slip on trainers.

This innovative and exciting collection embodies KENZO's valuable design heritage, which can continuously adapt to the latest trends.

www.kenzo.com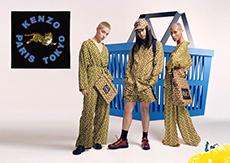 Fashion
A Darker Side of Prada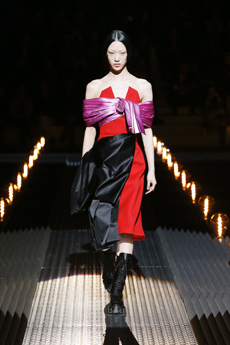 This time at the grand hall of the Deposito, Prada unveiled to us its darker side. The Fall / Winter 2019 collection seems to take inspiration from the fantastical. Boxier forms and heavy tops feature, a look that combined with the plaited hair cannot help but remind us of the precocious Wednesday Addams. Crimson red makes its expected appearance throughout both in accessories and in the garments themselves.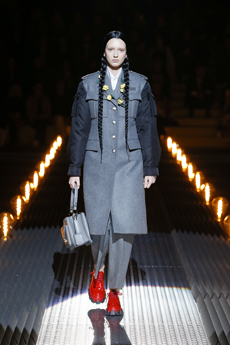 Prada does however stay true to its roots with some staple pieces, the women's décolletage flattered in a wonderfully tasteful and feminine fashion, the dresses sensually slimming down the form, creating silhouettes that are ultra feminine. The former looks however, are a stark polar opposite - much preppier and defiant.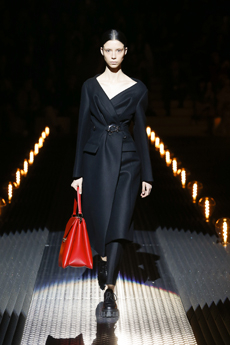 Fashion
The Exploration of Masculinity and Femininity
Contrasts between two feelings, embodiments and extremes: masculinity and femininity is what this collection expresses. Lucie and Luke Meier explore the relational meeting of two extremes in order to arrive at harmony in the Jil Sander Fall / Winter Women's 2019 collection.

The feminine silhouette is expressed in softy formed knits with crocheted corsets, bustier dresses, and light silk and satin jackets. The male contrast is added by pure, sharp sculptural 3D shapes and geometric dresses and coats of generous volumes that seem to float lightly. The constructions in this collection are the main part of the aesthetic and contain wavy, dimensional structures. The finishes are sensitive and contain splits and stratifications.
Coarse fabrics symbolize masculinity but give a feminine reaction through the subtle treatment. Traditional couture techniques turn into Japanese fitting finishes to emphasize fragile body shapes. Cotton voiles, paper-like leather and silk crepe emphasize raw elegance.

Prints are characterized by birds, herons and swallows printed on the front or back of woven shirts or suede jackets. There is a clear balance between slimness and volume. The comfort can be found in soft pathways. The search for the harmony between masculinity and femininity is interspersed with a color palette of black, white and soft natural colors against bright colors.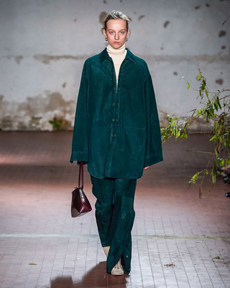 Accessories are smooth and emphasize the relational contrasts. Shapes are broken, stretched and folded into indefinable corners. Shoes are delicate and executed in soft and hard silhouettes. Special are the leather socks and thin soles that give the feeling of primitiveness.
Art
The Visual Spheres of Günter Rössler
Günter Rössler is one of the early leading Eastern bloc photographers that exposed the everyday life of the DDR. At a time that was characterized by scarcity and limited access to cultural influences, in particular Western pop culture, Rössler developed his own autonomous signature. He represented the DDR with a typical aesthetic that not only told the story but also made it feel as though you are part of it.

Günter Rössler studied photography at the Academy of Fine Arts in Leipzig. In 1951 he started his empire as a freelance fashion and journalistic photographer. His work intriguingly told the various stories about the DDR's social life. After a number of years, Rössler started to focus on fashion photography and grew into a true pioneer. His authentic and spontaneous approach created exceptional photographs that told a personal story and at the same time expressed a certain aesthetic.

The work has been published for years in East Germany's leading fashion magazine, Sibylle. In 1981 Rössler was admitted to the Verband Bildender Künstler der DDR (Association of visual artists of the DDR). In 1996 he also became a member of the Deutsche Gesellschaft für Photographie (German Association for Photography). After his breakthrough as a fashion photographer, Rössler became one of the pioneers that introduced nude photography as a movement in modern art within the walls of the DDR. His first solo exhibition in 1979 presented in the Kunsthaus Grimma had a big impact. His nude models were exposed as strong natural women with a lot of self-confidence, which made them seem almost sculptural. Rössler's signature was in contrast with the standards of Western nude photography, which was less subtly produced. His work has depth and went beyond merely showing a naked woman. His work was therefore also noticed outside the walls of the DDR, magazines such as Fotographie, Fotokino-Magazin, Das Magazin, Modische Maschen, and even Playboy published it regularly.

After an impressive career as photographer and artist, Günter Rössler died in 2012. He left a memorable oeuvre behind that will always be remembered as one of the leading signatures in German photography. APITIS Studios / Berlin is therefore presenting 'Akt und Mode', an exhibition that covers his most important visual spheres through the years.

'Akt und Mode' is presented in APITIS Studios in Berlin from 15 February until 28 April 2019 and has free access.

www.capitis-studios.de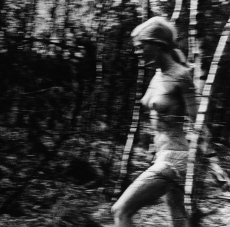 Fashion
A Transatlantic Aura
Longchamp, NY Fashion week Fall/Winter 2019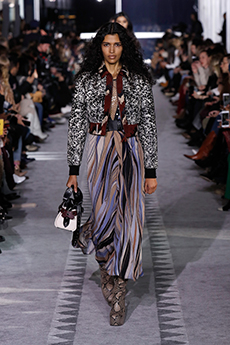 Creative director Sophie Delafontaine led us through a beautiful independent journey of self-discovery that embodied the free-spirited aura of traveling women. Longchamp its Fall / Winter collection is characterized by an intrinsic rock 'n' roll attitude with influences derived from places located between Paris and New York. In order to emphasize the spirit of travel, the models parade across a carpet that is inspired by a traditional landing strip designed by Andrée Putman.

The 70-year-old Longchamp brand founded by Jean Cassegrain and still owned by the Cassegrain family, is the ultimate symbol of effortless Parisian femininity. Over the years, the brand continuously translated this characteristic into a contemporary version. The nomadic character is realized in silk dresses and pleated skirts made out of embroidered tulle or delicate woolen mesh. This dreamy bohemian look is interspersed with fresh, cool contrasting pieces that consist of black leather tops and architectural coats with graphic or Apaloosa prints that indirectly represent New York as vibrant, world metropolitan city. Details like grosgrian ribbons and hard silver studs give the elegance a sturdy rock edge. Delafontaine lets contrasts blend together by mixing textures, silhouettes and patterns and matching them with dynamic extremes. Several Bauhaus artists whom are central worldwide this season indirectly inspire this approach.

The sense of division and coolness is a prevailing feeling today in metropolitans. This feeling is clearly present, especially in Longchamp's new handbag collection, La Voyageuse. A vivid compact silhouette executed in many colors and fabrics available in two sizes for both travelling short and long distances and is therefore a preferred travel companion.

This collection represents the idea of ultimate wanderlust and freedom. The attitude is owned by strong, independent women who effortlessly combine style and influences without any fear.

www.longchamp.com
Fashion
The Saddlebag is back
True house icon, and ultimate symbol of Dior's unique and long-established mastery in crafts. Creative director Kim Jones reinterpreted Dior its iconic saddlebag into a fantastic new modern version for the summer 2019 collection. The design came up for the first time almost 20 years ago in 2000 in the Women's Spring-Summer 2000 ready-to-wear show. Its saddle-shaped form can be promptly recognised. Jones added a Jacquard strap featuring the inscription "Christian Dior". The bag is finished with a raw industrial- inspired buckle specially developed for this occasion by designer Matthew Williams. This typical adornment is created in Florence, Italy and reflects the finesse of the house's leather goods.

www.dior.com
Art
ELECTRIC CO - RE-Couture
Enchanted by clear pencil lines that tell more… Designer Conny Groenewegen captures her imagination into spatial drawings that make you almost part of it. The boundaries between 2D and 3D are a continuing signature in her art.

With a background in Art and Fashion, specifically knitting, she created a special relationship with interlocking loops coming from one continuous thread. When you make another manoeuvre, the pattern breaks. In conclusion: "you cannot impose or force anything without causing damage." This theory turned into a philosophical approach for Groenewegen that resulted into the Fashion Machine-project; a suggestion to reconsider fixed archetypal forms. By changing forms, textures, materials and settings, new interesting insights appear and create another perspective to redefine the type.

The ELECTRIC CO artwork is a creation of a plastic monofilament that carries a rigid knitted structure in combination with softer, woollen yarns. The constructed 3D element emphasizes the upper body's muscle contours and re-codes. At the same time the archetypal shapes of classical sweaters and bomber jackets accommodate ELECTRIC CO's vibrant dynamics > electricco.co.

Photographer Anouk van Kalmthout photographed the artwork and created a mystifying universe. The picturesque, colorful and especially abstract landscapes give a dreamy feeling which impersonates this association of free interpretation. The lively use of light and shadow in fusion with the disorienting perspective gives this artwork a free sense to express. These photographs are an infinite vision full of the world's fortuitous.

Credits:
Photography: Anouk van Kalmthout; model: Iheomy Nahr; make-up & hair: Yokaw; set assistant: Juliette Lizotte; production: Charlotte Corstanje; creative direction: Conny Groenewegen

www.connygroenewegen.nl
Fashion
The Sophisticated Unconformist
Unconformist, powerful and assertive, this Spring/Summer 2019 capsule from COS is catered for the sharp, sophisticated working professional seeking to build upon a staple wardrobe, channelling creativity and unapologetically making a statement in the process.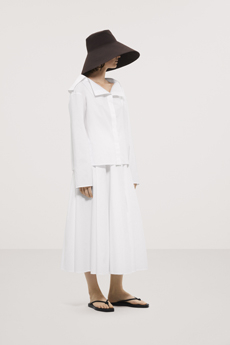 The sculptor's hand is palpably discernible, the garments clearly envisioned with the wearer's form in mind, regarding the body as the crucial central canvas to be built around. Conceived of in three dimensions, the pieces caressingly float and fit the shape of the wearer. We see this thematic pattern replicated in the absence of busy, fussy decorations, rendering the collection a stark, simplistic, modest and unostentatious slate, nonetheless creative and unconformist in attitude.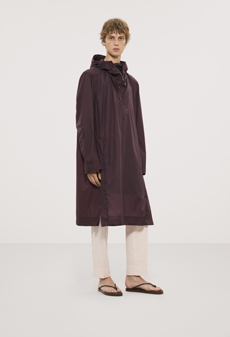 An understated, unaffected, minimal palette of clean whites, strong blacks and varying blues is realised to its fullest potential, a direct result of Anna's propensity to resist high frequency turnover trends and to reject external logos, prints or patterns. Peter Saville contributes the only patterned item; a limited edition silk scarf incorporating graphic prints. In this manner, the collection is fit for studio work, formal meetings, after parties and can be maintained for a lifetime.
Fashion
Hermès Fall 2019 Men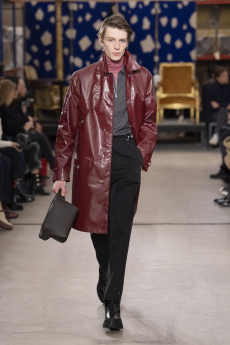 French pioneer of modern architecture Auguste Perret and his spectacular reinforced concrete aesthetic welcomed us at the Hermès show last Saturday, after a difficult day for France with the Yellow Vest protest that fired across the city.

When arriving at the venue, housing the Mobilier National - the French national supplier of furniture to the royal family first and every official building – the guests were thrown into an ecstatic moment of appreciation: the show was set in the storeroom where all the magnificent armchair and sofas from Art Deco to Louis XIV were laid one after the other.

This landscape of emotion created the perfect setting for Véronique Nichanian's collection. As magnificently as the upholstery in the background, Nichanian created a modern and extremely sharp Menswear both in the silhouettes and in the intentions.

It is rare today to see a Fashion house not to be tempted to create pieces draw from the current need for the extreme. Admirably Véronique Nichanian stays true to her aesthetic creating a collection made of refined gestures that doesn't renounce to address a smart and young audience.

Take the beautiful leather carrot pants declined in all colours, from blue to caramel. Combined with knitwear or with leather bomber jackets with geometric contrasting elements. Or the oversized shearling and leather trench in a splendid burgundy tone.

Suits appeared sharp and worn with them with a roll-neck or zip-neck jumper in iridescent colourful hues underneath, giving a smart take on suiting.

It was fun to see a dragon silhouette on bags reminiscent of the Chinese Zodiac

The alluring power of heritage once again flame in this iconic Frech maison

www.hermes.com
Fashion
Alyx Fall 2019 Mens / Pre-fall 2019 Womens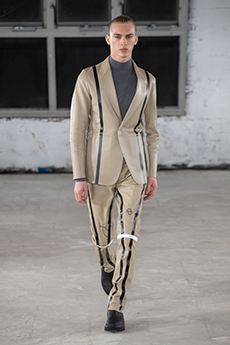 Since the very beginning Matthew Willams's Alyx stood for experimenting new silhouettes and technologies, developing new processes and building a new aesthetic made of small details into a whole.

For his second show during Paris Fashion Week official schedule Williams created a collection with all the elements that have been the brand's signature ever since: the asymmetric cut, the coulisse used in dresses and pants to create new volumes and of course the very well known buckle (that was also designed for Kim Jones's Dior Homme). This season renewed in a new moulded nylon version, with high density but lightweight, expanding applications and functional variations: around the neck as jewel and almost everywhere else in the collection.

The collection also featured a beautiful camouflage print tie-dyed on the roll and with sponges, as well polar fleece bonded with a 3-layer taped Japanese mesh produced in collaboration with the Italian manufacturer specialist Majocchi.

Matthew Willams refined his vision into the future with sustainability in mind: fabric welding using high-frequency molecular friction allowing low energy consumption and no solvents.

www.alyxstudio.com
Art
The Process of Existence
Art duo Vera Lehndorff and Holger Trülzsch have opposite backgrounds, but when they coalesce, an interesting socially critical manifesto emerges. Lehndorff, better known as "Veruschka" was a fashion model and developed through her career a critical view on the human body as a whole. Trülzsch started to look for social limits at the student movement in Munich during the sixties, where he mainly questioned art, music and politics.

Both were fascinated by the idea of "transformation", a concept that caused a lot of commotion in the 70s and 80s. Through bodypainting and photography, the duo challenged the media to mix traditional roles and question them instead of merely embodying and emphasizing them. Veruschka redefined the expectations of her as a regular model, she didn't portray just one common version she transformed and hid herself beneath many.

Their work created a counter-reaction against the norms of capitalist society, especially the strict standards of beauty and presentation. The duo converted existing art methods into new symbolic expressional forms, with which they presented the complex stages of the human existence process in a new and less conventional way.

The sixties, seventies and eighties were times of change, and the work of Vera and Holger contributed with great success. They were criticized and rejected, but today their ideals are used as inspiration, that is why the SR Contemporary Art gallery in Berlin now officially display these leading controversial artworks.

www.srcontemporaryart.de
Fashion
Dior Homme Fall 2019
Inside the monolithic black temporary structure built at Plateau Joffre stands a 76 meter long moving walkway where models stood still. Kim Jones is sure to have a particular sense of spectacle: he created a wow-effect by a simple gesture where his new collection was carried monumentally, stripping back the stage and downsizing it compared to his previous Tokyo show.

The heritage of Dior together with the contemporary and experimental Jones' attitude produced an elegant and smart collection with tailoring declined in couture techniques and materials.

A Mona Lisa reinterpretation and other pen work by American artists Raymond Pettibon infused across the collection giving a strong graphic spirit. Pettibon was always a strong influence since Kim Jones's teenage years.

What strikes is the silk stole applied around a pinstripe suit or along a cashmere coat extending till the floor. It is so subtle but so showstopper.

Kim Jones created a new masculine attitude at Dior Homme taking also elements dear to Monsieur Dior like his 1947 panther print, reinvented in this collection alongside other animalier gestures that extend to scarves, jackets and sweaters. Kim Jones stays true to his own language: jackets have removable leather sleeves , hybrid garments, nylon mirroring silk and accessories composing a whole with the entire collection. The saddle bag is reinvented once again and worn cross body on the tailleur oblique. The high craftsmanship and elegance of Dior fuse with the techno fascinations of Kim Jones vision.

www.dior.com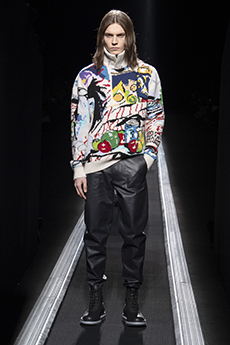 Fashion
Multi-Influenced Antony Morato Collection Arrives
As the Spring/Summer 2019 season creeps up on us, Antony Morato introduces us to his new collection inspired by a myriad of vibrant themes, culminating in a maximalist style that reflects this array of artistic influences.

The first inspiration submerges us in the nautical world of deep blues and denims, sands and melange greys. This simplicity is embellished with cute, charming anchor stripes and rope prints.

British culture also seeps into this lively collection - a bold Rock&Go theme reminiscient of the UK hardcore punk scene with ever distinct red-black tartans and playful prints such as bulldogs, flowers, comic-style lips.

Organic, raw fabrics transport us to the animal kingdom with natural cotton and prints featuring leaves, flowers and animals, more apparent in the hybrid jacket with bomber sleeves and two colour yellow/khaki jacket.

A dusty darker palette of burgundys, mustards and muddy browns are accompanied by excessive print, patterns and embroidery characteristic of gipsy folk culture.

www.morato.it
Fashion
"To The Moon"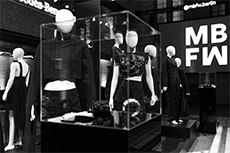 Keeping with this theme, interdisciplinary fashion icon Esther Perbandt presented an installation of her new collection "To The Moon" during Berlin Fashion Week and introduced her limited partnership with Feminista - the first political perfume. The showcase also serves as a celebration of Perbandt's 15 years in the industry. With "To The Moon", a tale as old as time re-imagined anew, she complements the almost stern and deconstructed collection with beautiful organic, harmonious shapes, made from manipulated and molded leather. Futuristic technology, such as 3D printing and CNC milling, meets traditional leather craft processes, resulting in shapes that are inspired by the feeling that one could indeed fly to the moon.

www.estherperbandt.com
Fashion
Brunello Cucinelli's Fall Line Tailored for the Debonair Gentleman
The Brunello Cucinelli Fall 2019 menswear collection personifies the wardrobe of the dapper modern gentleman. Fusing together a look that marries plush comfort with simplistic elegance, a distinctive retro flavour can be detected with some statement items and most notably in the liberal use of corduroy, velvet and moleskin fabrics.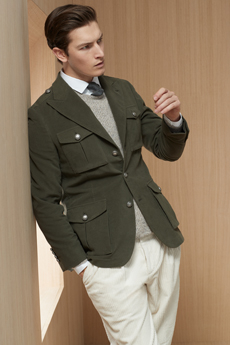 No more is the stress on comfort epitomised that in the loose fitting pants and jumpers, quintessentially evocative of cutting, crisp winter evenings. Hearty, earthy understated tones of camel, burgundy and smalt blue with splashes of grey, concoct a palette that suffuses class. The range features all the conventional pieces you would expect from Brunello Cucinelli, from cashmere turtlenecks to poplin shirts, from tweed jackets to padded gilets. However it is the strong, stiff suits accented with muted silk pocket squares and the uninhibited use of atypical materials that really sets this collection apart.
A sheer sense of balance and attention to finer details allows for a cool, crisp finish appealing to the suave, dignified debonair gentleman exuding elegance and sophistication.

www.brunellocucinelli.com
Fashion
Grand Hall Bulbs Light Up For Prada
The grand hall of the Deposito hosted the Prada Fall/Winter 2019 show this past weekend displaying the very latest in Men and Women's wear. The setting, a cold industrial floor dimly lit by sparsed out singular lightbulbs. This performative landscape injected a sense of theatre and spectacle whilst cultivating an atmosphere of mystery and discovery, evoking the Tesla-Edison experiments of a bygone error and tropes of science fiction.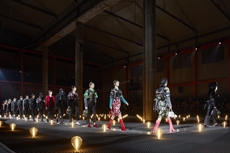 In the spotlight, layers of clean, simplistic lines in deep, warm hues are set against decorated accessories and dizzying, colorful, almost psychedelic patterns — echoing the futuristic motif of the show. As always, and in characteristic Prada style, the collection does not shy away from colour and embellishment, oozing looks that ring fresh whilst still retaining the sense of class and classicism so staple to the brand.

www.prada.com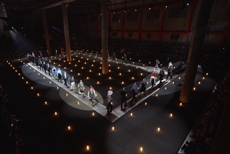 Fashion
BREAKING: PRADA TEST SUBJECTS ESCAPE
Seven subjects have escaped Prada's imaginary futuristic laboratory. An innocent journey of discovery has morphed into a riotous episode of harmless magic. Disco, Socks, Fiddle, Otto, Toto, Scuba, and Spot came into being as a team of researchers set out to study the extraordinary DNA of Italian fashion brand, PRADA. Their research became fantastical and a series of experiments involving the heart of Prada produced astonishing results.

Our seven protagonists (raised in solitary confinement) have mechanical triangular Prada hearts and checkerboard pattern brains. Born from the heart of the label each character exhibits central Prada themes: metal studs, polished wood, iconic prints, voluptuous lips, and classic Saffiano leather.

Having escaped Prada's, top secret, non-existent test facility, New York design studio 2x4 (serial Prada collaborators) provided the innocent creations with refuge. 2x4 studied the creatures and designed each member of the family their own color-coded pouch, case and character booklet complete with personal biography and insight into their unique abilities, anatomy, and behavior.

With the fugitives contained, Disco, Socks, Fiddle, Otto, Toto, Scuba, and Spot can be found in Prada stores and online at Pradamalia.com in the form of keychain tricks, earring sets, and necklace charms.

www.prada.com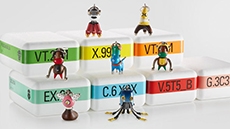 Fashion
Fendi Mania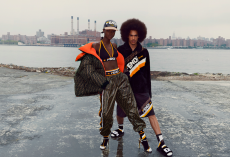 Fendi-Mania - an extreme enthusiasm or desire; an obsession for Fendi. Every collection is a celebration for Fendi; pandemonium is in the air again with the Fendi-Mania capsule collection.

Fendi has the city of Rome coursing through its veins and deep into its DNA. There is an air of the city in Fendi and the city is awash with Fendi. But Fendi is bigger. Fendi is a universe filled with inspiration that has evolved into a glowing exchange of positive energy.

Enter center stage, Fendi-Mania. A capsule collection inspired by the streets, the millennials and the ironic soul of the brand. The FENDI/FILA logo popularised by Instagram creator @hey_reilly sets the tone for the collection drenched in sporty, musical references, dripping in some of the loudest colors on the spectrum in patterns that astonish as they dazzle.

Shot entirely on iPhone, with entirely millennial models Fendi-Mania feels free and fearless. Ready to wear, encompasses, men, women, and kids with accessories aplenty, available from October the 16th.

www.fendi.com
Fashion
Y/Project Spring 2019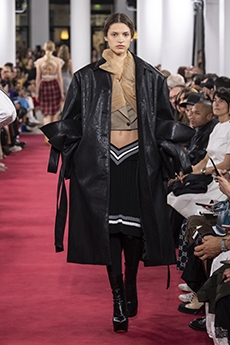 It is rare to see designers who have the guts to challenge their comfort zone as much as Glenn Martens has constantly been doing. For Y/Project Spring 2019 the Belgian designer went one step further.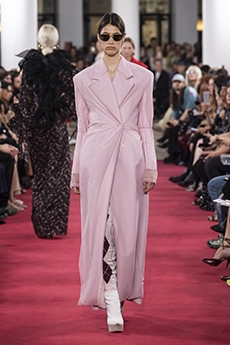 Deconstructed and juxtaposed pieces gave space to new sophisticated silhouettes: the pants merged with long skirts at its back, mimicking the motion of a fluid skirt in a frontal wind blowing motion when the fabric adheres to the legs. The imaginative power of Glenn Martens is superb and definitely this is one of his most ambitious collection showing us a deep knowledge not only in staying true to his poetic but also in cut and costume history.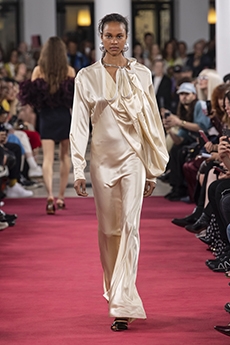 Cable knit skirt with a deep V waist line, oversized sweatshirts with an incorporated bra, tulle overlaying garments like skirts, dresses and coats. But it's in the surprising glamour of the finale that the audience was literally taken into awe: a fluid silk satin dress, a suit with its blazer cut on the shoulder line all adorned with contrasting feathers in tulle reminiscent of a dramatic '30s Marlene Dietrich boa.

www.yproject.fr
Fashion
Highlights from Milan Fashion Week
Max Mara Spring 2019
Measured elegance has fared so well under Ian Griffiths roll as Creative Director for Max Mara. Taking us back to those classical fits that the brand is known for.  But this time the fits definitely got a modern tornado running over them. Added with leather elements and tights skirts mixed with padded - shoulder coats 
and draping dresses.
www.maxmara.com
Emporio Armani Spring 2019
This year Armani returned to its home again, Milan. And with that return they took over 170 looks with them to the airport where the show took place. It was a great mixture of textiles running from wide jeans to classic suits, and basically everything that comes in between. One thing is sure: Armani proves us his great variety of fabrics and styles for upcoming season.

www.armani.com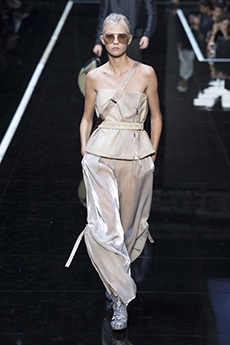 Fashion
Highlights from London Fashion Week
Victoria Beckham Spring 2019
Spring 2019 is a collection of growth to mark an iconic decade for Victoria Beckham. A decade in which Victoria has blossomed into an empowering stalwart of the fashion industy.

"What we did was celebrate being different. We showed it was okay to be who you are,"- Beckham said. "And that's what this is about—empowering women through fashion. All women are different, and there's something for everybody."

www.victoriabeckham.com
JW Anderson Spring 2019
JW Andersons' Spring 2019 collection blazed a trail of bohemian femininity displaying infinite craft. Anderson composed a fluid collection that recognizes the elaborate as refined.

"I wanted something a bit more bohemian. A celebration of fashion. Everything with fluidity to it, and patch-worked, somehow,"- explained Jonathan Anderson.

www.j-w-anderson.com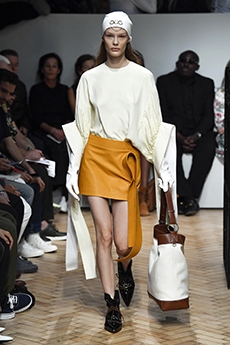 Simone Rocha Spring 2019
Simone Rocha exhibited a cultured and sophisticated collection featuring tang dynasty prints and hand drawn faces. A romantic tribute to religious rituals surrounding births, weddings and funerals which bring extended family together.

www.simonerocha.com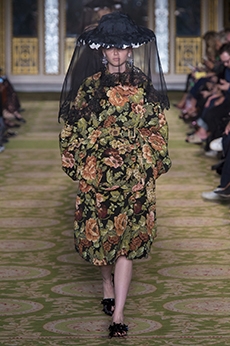 Fashion
Rimowa celebrates its 120th anniversary
Famous German company of premium luggage Rimowa celebrates their 120th anniversary with their first globally integrated campaign.

In honor of this milestone Rimowa invited a host of celebrities to New Yorks, 7 World Trade Centre. The famous faces included men's Artistic Director at Louis Vuitton Virgil Abloh, Dior Men's jewellery designer Yoon Ahn, model Adwoa Aboah, international chef and restaurateur Nobu Matsuhisa and Swiss professional tennis player Roger Federer. Rimowa gifted each guest with a personalized leather luggage tag, graffitied by American artist Curtis Kulig with his signature "Love Me" to mark the occasion. Guests also took time to share their personal interpretations of what travel has meant for their lives.

"What makes this campaign very different than any other is that these aren't typical endorsements, these are people who have been traveling with Rimowa for many years," says Muelas. "Their own suitcases are in the campaign."

The campaign also marks the beginning of an exclusive partnership between Roger Federer and RIMOWA that will extend to various projects over the next two years.

www.rimowa.com

Fashion
Woolrich releases new capsule collection designed by Ms. Lauryn Hill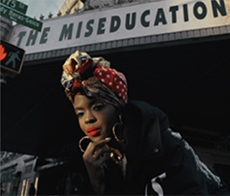 American brand Woolrich announces 'Woolrich: American Soul since 1830' Fall/Winter 2018 starring the iconic Ms. Lauryn Hill in her first ever fashion campaign. This campaign marks the beginning of a new era for Woolrich rooted in authentic creators who define American innovation and reflect the creative magic in the soul of the brand. Ms. Lauryn Hill – American singer, songwriter, rapper, record producer, and actress designed and customized the new limited-edition capsule collection. It will launch in Woolrich stores worldwide and in collaboration with top retailers in North America and Europe.

"The opportunity to work with Ms. Lauryn Hill was the perfect start to our ongoing 'American Soul' project, highlighting Woolrich's American heritage. We wanted Ms. Lauryn Hill to bring her unique artistic eye to the product and DNA of the brand so we invited her to put her own spin on these classic Woolrich styles, reflecting her interpretation of 'American Soul.'" – explained Andrea Canè, Creative Director of Woolrich.

www.woolrich.com


Fashion
Aesop opened a new signature store in Nuremberg
Australian skin care brand owned by Brazilian company Natura opened a new elegant store of 40 square meters in Nuremberg. New shopping space situated on Fleschbrucke and designed in-house by Aesop, and executed by Munich-based design studio einszu33.

The space appears almost as a cinematic tableau. Screed concrete, velvet, visible from pavement outside that swathes a wall behind the display window and rusty iron — invite tactile exploration and realize a sense of refined domesticity. Clients can explore skin care products and also products for body and hair, distinguished by botanical and laboratory-generated ingredients of the highest quality.

www.aesop.com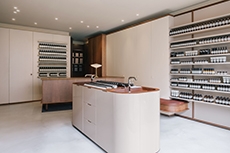 Fashion
Wood Essence by BVLGARI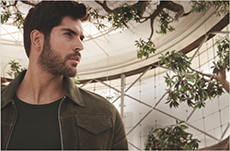 Italian luxury brand BVLGARI introduced a fragrance ''Wood Essence'' with the energy of nature for the cosmopolitan man living in harmony with his environment.

The new perfume sensation is made by master perfumer Alberto Morillas who combines intense woody tones with bright citrus accents. This fragrance is an exciting addition to the BVLGARI Man collection.

BVLGARI Man Wood Essence included coriander extract and zest of Italian lemon, Cypress wood and Haitian vetiver extract, Benzoin from Siam cedar wood and amber chord. The result: a final touch of invigorating power. This eau de parfum proves that the perfect balance between city and nature is not only possible, but also necessary.

www.bvlgari.com

Fashion
It is so good to be bad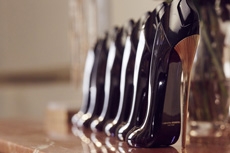 Sensuality and femininity strongly force together with hopeless romance and fearless independence for the new fragrance GOOD GIRL by Caroline Herrera.

The mid-night blue stiletto bottle with golden heel epitomises New York's style, defining elegance and sophistication, reflecting the Herrera women who are confident and powerful by nature.

To capture the perfect scent for the sophisticated and complex woman of today, Caroline turned to a true master when it comes to perfumery: Louise Turner, creating The House's new fragrance that captures and celebrates Caroline's high-spirited duality.

www.carolinaherrera.com

Fashion
A double soul – Fendi Summer 2019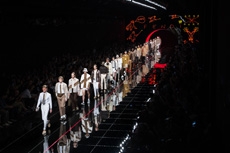 The performing collection presented by Fendi for Summer 2019 is nothing but a provoking anagram. FENDI/FIEND.ROMA/AMOR.

Love and tiny demons reign over raincoats, blousons, anorak, tailored pants, shirts, sport shorts and knitted polo-shirts. Dualism is the tempting theme, better enhanced by graphics and contrasting chromatic codes.

Pequin taping on waterproof gear, FF-forked snakes, clawed frogs, horned demons cards and dice that multiply over the surfaces, interpreted by italian artist Nico Vascellari.

For the accessories, the iconic Peekaboo X-Lite bag, as well as bucket hats, crossbody puches and hi-tech running sandals follow and fluidly communicate a strong functionalism and confidence with Rome's inner spirit.

www.fendi.com
Fashion
Diesel's Red Tag Project by Glenn Martens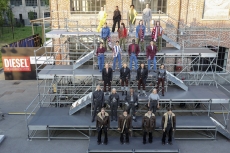 On the 16th June 2018, Diesel presented its second instalment of the Red Tag Project by designer Glenn Martens of the label Y/Project.

This platform aims to host international designers that will create exclusive capsule collections, then distributed by selected retailers. According to Renzo Rosso, founder of Diesel: "Glenn comes from Belgian training, so he has this practical-yet-surreal, Margiela-like sense.

But then he's young and modern, and knows how to appeal to a global, educated consumer, while simultaneously being able to experiment with denim". Showcased on a stairway at Milan's Fabbrica del Vapore, the Red Tag Project collection will be distributed and curated by Tomorrow Ltd.
Art
Italian elegance in the big city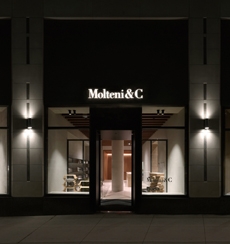 In the heart of Manhattan, at 160 Madison Avenue, a modern and unique store is opening its doors. This is the first Flagship Store of Moteni&C, Dada, and UniFor, joining forces to project the classic and elegant Italian style into New York City. A collaboration between aesthetic and cultural harmony mixed with personality and imagination.

Showcasing the concept of a modern art collector's house, the store hosts a collection of works by contemporary artists. Discover monochrome sculptures by Santo Tolone and pop hieroglyphics by Stephen Felton alongside the works of young artists.

Designed by Vincent van Duysen, the store also creates a platform to support artists in the height of their creativity that will be presented at the Molteni Museum.
Music
News from another planet: King Krule performs live on the moon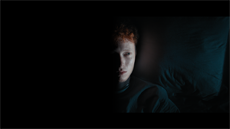 Just stop for 30 minutes, wear your astronaut gear and let him overwhelm you with his warm voice and brazen sight.

As a matter of facts, Archy Marshall aka King Krule has relocated to the moon to record his latest music video, performing 8 tracks from the most recent album "The Ooz". In a very short sequence, the video opens with the singer laying down on the bad looking at the moon, which is then mirrored in his blue eyes.

Afterwards, we find him wearing a space suit and the performance begins. Is it a dream or is it reality?
Over the years, the Londoner has been able to show the world an innate talent in experimenting with different music genres, which continuously float between punk, jazz, hip hop and loading them with an intensely dark sound.

Besides that, his fascination and approach to visual cultures expands the comprehension of his music, making its concept even more psychedelic and somehow referential. If Lizard's state (2014) black and white video is an open tribute to Alfred Hitchcock, on the other way around, in "Dum Surfer"(2017) we are absorbed by a creepy scenario where both the band members and red curtains are reminiscent of David Lynch Twin Peaks' character the Giant.
"Live on the moon" would perhaps recall another British dude who bring his music on another planet in 1969. Space oddity, anyone? There is a lot of material, though.

Yet originality lies in trasforming exhisting things in totally new ones, and Marshall is undoubetely trascending the more diverse languages to create his own style.

The turbulent soul will tour around USA starting from April, while for those like us who would love to see him live in Europe will have to wait because after all, he just started walking 6 feet beneath the moon.

The video can be watched on the webpage: oozdelalune.com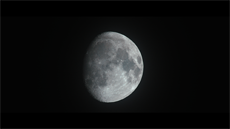 Fashion
The B-Way: Berluti launches their new range of accessories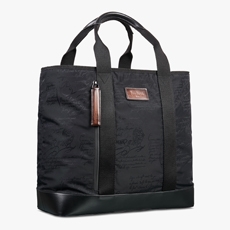 For Fall 2018, Berluti introduces their new series for bags and shoes.

Paying tribute to manuscripts and the calligraphy established by Olga Berluti, the B-way range features seven proposals, this time exposing the nylon traditionally used for the Venezia trolleys.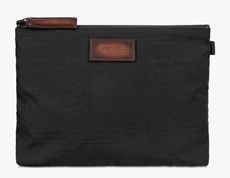 Featuring a water repellent finish, as well as the patinated Venezia leather and the iconic Scritto motif, Complice cross-body bag, Evasion sporty bag and Volume MM backpack stand out for their urban design and sporty characteritics.

With a great focus on versatility, some products feature a double function. For instance, Duo is an extra-large bag in technical fabric, nylon and calf leather, which can be worn as a tote or on the shoulders, while Esprit is a compact ouch thought to be used both as a clutch and bag organizer.
To complete the accessories range, the Croquis toiletry case includes a comfortable internal pocket, while the Fast Track shoes combine the sporty soul of a sneaker with the mountain style of Brunico and Greta Garbo boots.

Practical yet extremely devoted to a very classical and clean design, the new collection will be available in Berluti stores from April 2018.
Fashion
Cartier: The Exhibition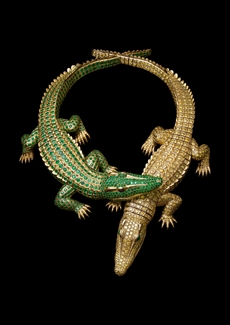 On the 30th March at National Gallery of Australia, Cranberra, historic jewelry brand Cartier will inhaugurate an exclusive exhibition, featuring more than 300 hundreds masterpieces samples from Cartier Collection, private owners and institutions.

Designed by renowned scenographer Nathalie Criniere, the exhibition has been co-curated by Margaret Young-Sanchez, Denver Art Museum and NGA and will dispaly a selection of Her Majesty Queen Elizabeth II's personal jewels, including the Queen's Halo tiara.

As well, several items belonged to European monarchs such as the 10.48-carat diamond engangement ring of Her Sirene Highness Princess Grace of Monaco will be showcased alongside famous clients' private belongings, including the Duchess of Windsor, Mexican film star Maria Felix and Elizabeth Taylor among many others. In addition to that, a variety of the brand's iconic watches will be showcased for the occasion.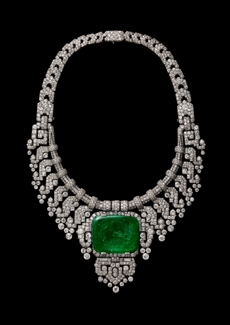 As Gerard Vaughan, NGA Director stated: 'Jewels of spectacular calibre and size, amongst the most important in the world, magnificently set by Cartier's renowned craftsmen will be exhibited only in Canberra. It is a collection of immeasurable quality and value, the likes of which have never been seen in this country before, and may never be again. Years of research and gentle persuasion will deliver an unforgettable experience.'

Dedicating this project to Australian people and of course, Cartier lovers, the event that will last from the 30th March until the 22nd July 2018 represents a unique occasion to explore and be overwhelmed by the incredible production of an extraordinary company leading the way of diamonds design for over a century.
Fashion
Highlights from Paris Fashion Week
It's now turn for Paris to showcase the most cutting-edge designers and their proposals for Fall 2018. In less than a day, the vibrant appointment with fashion has already turned into an inspiring cultural hub.
With a mood inspired by Morocco, Jacquemus unveils a very original interpretation of this warm land. The collection is an exploration sandy tones and primary full colors that highlights the depth of necklines. Sensual and extremely sophisticated, light knits dresses are worn like a second skin. In addition, cuts and layers alternate with flowing fabrics that uncover the body, yet inform a strong sense of modern elegance.
Mini-dresses and hyper-structured shoulders define the stylish attitude for the vertical silhouettes that Anthony Vaccarello selects for Saint Laurent. The imaginary brings back to the rock scene of the Eighties, as well as the richness of embroideries and transparencies underlines a youth spirit taking over the rebellious cuts. Although a dark palette drives the mood of the collection, materials and details such as velvet, studs and trimmings enrich jackets with a sophisticated touch of glamour.
When the attitude is revolutionary, then a reference to youth movements in 1968 is mandatory. With her collection, Maria Grazia Chiuri opens Dior show with a sweater featuring "C'est non non non! permeates the atmosphere with lot of vintage fashion magazine covers on the runway floor, unveiling a wearable chic students-wear that combines sporty tailored jackets, printed T-shirts and transparent shirts, long dresses and and skirts.
 Earthy colors, leaves prints and a giant tree setting the stage. This is how Lacoste presents their collection in Paris, and everything seems a gentle ode to the essentiality of nature. Both men and women take their walk in a relaxed allure, which combines street-style elements with a more sober elegance.

Casual sweaters enriched by natural drawings are paired with wide trousers, while maxi turtleneck ponchos comfortably flow over the body. For the women, dresses feature asymmetrical cuts and flaring sleeves. The menswear works on layers, unveiling casual combinations of hoodie sweaters under classic suits and interesting proposals for the outerwear.
Precise cuts, oval collars, tone-on-tones long asymmetrical duchess dresses in satin revealing plunging necklines are embellished by adjustable belt and precious details. Sober and linear, Lanvin collection is highlighted by luminous shades of orange, fucsia or emerald green. Leather midi pencil skirts in different shades are paired with tight turtleneck sweaters creating a modern look, while a fluid peachy shirt-dress achieves romantic elegance with a cascade of little treasures on the front. This is Olivier Lapidus' language and vision, which the digital couturier brings at the historical Maison.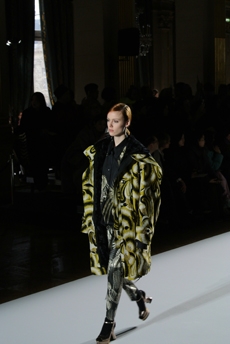 Set in the marvellous Hotel de Ville, Dries van Noten presents an incredibly rich collection. Light blue, deep purple, warm orange and several green hues, from watery tones to distinctive neon shades set the base for something like a magnetic elegance. All the jackets are oversized embodying masculine cuts, while floral prints and the abundance of embroideries take over long, fluid dresses. Classic pencil or pleated skirts are infused with metallic panels and paired with soft sweaters and luminous wide blouses, which glorify the feel of powerful femininity and grace.
Fashion
Una Giacca – Armani/Silos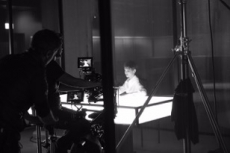 For the first edition of Armani/Laboratorio, a competition launched on the 31st August 2017, a short movie entitled Una Giacca (A Jacket) has been released by film students that took part of the project held in Milan from 27th November to 6th December last year.

Guided by several professionals including screenwriter and writer Francesca Marciano, Michele Placido, director of photography Luca Bigazzi, film editor Patrizio Marone, costume designers Gabriella Pescucci and Alessandro Lai, set designer Paki Meduri, make-up artist Maurizio Silvi and hair-stylist Aldo Signoretti, the students focused on the storytelling of Armani's signature.
The short movie is a narration set in-between past and present. In a black and white square scenario, a job interview takes place and a girl is asked to describe a jacket. Afterwards, the examiner goes with the flow of colorful memories back on the day of her very first interview, centring on those little stereotypes and pure, innocent feel of uncertainty that marked the beginning of her professional life.

The jacket, which is a key element in Armani aesthetics, is here turned in a real challenge for the students and an occasion to support the next generation of young talents.

"I'm really proud of this project and of it's outcome, and I hope it will be the first of a long series of works, because cinema has always been my passion" as Giorgio Armani stated, making a step forward in the progressive bond between fashion and cinema industry.

www.armanisilos.com
Fashion
Weather beating – The Pacific Jacket by Woolrich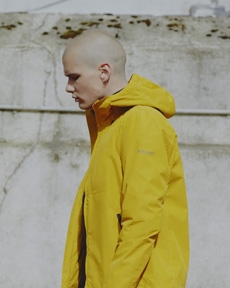 For Woolrich, Spring 2018 is a full immersion in versatility.

The Pacific Jacket has been specifically studied to be the ideal high-perfomancewear for outdoor activities.

Made of breathable and water repellent technical fabrics, the jacket features an adjustable hood, waterproof zippers closing the pockets and ribbed cuffs over long sleeves that exhibit a printed logo on the arm.

Light and protective, this jacket has been conceived thinking of the diverse weather conditions as well as keeping strong the link between function and contemporary design.

www.woolrich.eu
Fashion
OFF-WHITE™ C/O Jimmy Choo pop-up at KaDeWe
On the 21st of February, the prestigious KaDaWe store in Berlin will inaugurate the launch of the OFF-WHITE ™ collaboration with Jimmy Choo collection, which will be showcased in an exclusive pop-up store for over two weeks.

For the first time, the luxurious brand Jimmy Choo collaborates with a ready-to-wear designer, unveiling a commercial collection that combines Virgil Abloh's youthful exuberance in design with their high-end heritage.

Imbuing the princess heels with an intriguing, conceptual use of plastic tulles and hothouse florals, generate a fresh and appealing identity to the special collection.

The collection will be available from the 21st of February until Tuesday the 6th of March.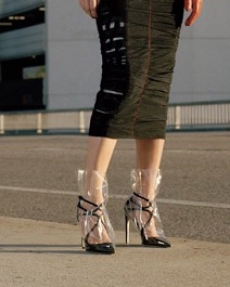 Fashion
The Buffalo-era: Astrid Andersen pays tribute to the iconic youth culture for her FW18
There have been so many youth cultures inspiring worldwide designers. Especially in the eighties, the Buffalo movement was about one of those radicalization of clothing daring society with cross-generational, cross-gender and cross-cultural aesthetics.

For the launch of her Fall Winter 2018, Astrid Andersen takes inspiration from this pioneering language that has greatly anticipated the contemporary scenario and celebrates diversity with an innovative tribute to their energetic and authentic London street-style. Far from rules, she set up an unlimited space for creativity. She designer plays with tweeds, tartans and glitter organza, as well as silk jacquards, technical puffers and custom-printed silks. The rich color palette floats between sparkling golden yellow and full primary colors, cross-exploring wide ranges of possibilities.

The eighties' imaginary spreads out trough the collection's spirit, from Georgia Hworth (daughter of Jeny Howorth) walking in the show to original shots by photographer Mark Lebon portraying Jeny Howorth styled by Caroline Baker, which take over sporty-chic hooden dresses.

The looks have been incorporated into the menswear show (and wholesales in Paris) as an underlined, positive declaration of genderless fashion, while the full womenswear range has been presented during Copenhagen Fashion Week on the 1st of February.

astridandersen.com
Fashion
Yohji Yamamoto Menswear Fall 2018
There are many tales surrounding the legend of Shuten Doji, one of strongest demons in ancient Japan folklore, who kidnapped young noble women to devour them at night. It is narrated that at the end of the X century the legendary samurai Minamoto no Yorimitsu and his warriors successfully killed the demon on the Mount Ooe in Kyoto prefecture.

It is not by chance that the painting by Utagawa Yoshitsuya representing these events was imprinted on Yohji Yamamoto's invite envelope where on its inside sat a small thin sheet of paper. In black colour.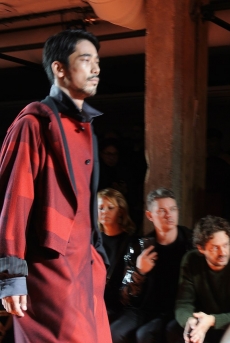 The collection seemed a deep thought on our times, on the recurring human cruelty, on the lack of compassion and values.

There are always many interpretations to Yohji Yamamoto's poetic and at times ironic view on themes. Even the tight seating felt a key element to read the collection. The urge to be on our toes, to feel the tension, while the models slowly walked in the space of Rue Saint Martin – headquarters of the brand – on the sound of Jiro Animoto's voice and guitar.

Skirts, tunics, blazers and coats layered to create splendid slouchy ensembles recalling a samurai robe, tightened on the waist by leather belts. In few looks the overcoat was worn on one sleeve underling the flawless fluid tailoring of Yamamoto.

The collection continued with knitwear revealing stitching as a gesture of keeping together lacerated flesh during a battle. Again the poetic of the imperfect, of the ruined.

Shades of blue, grey and deep red looks for deconstructed coats. A photo of Yohji Yamamoto himself was featured on one of them with small glittery blue tear embroidered along one of his eyes. In the final series of monastic black silhouettes John Lennon 's "Imagine" pinned a crescendo of emotions in a collection beautifully true to the poetic of this unwavering Japanese master.

www.yohjiyamamoto.co.jp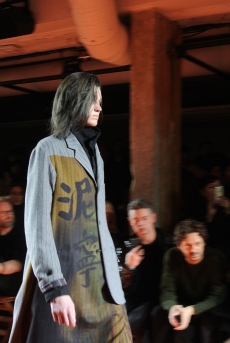 Fashion
Dior Homme Fall/Winter 2018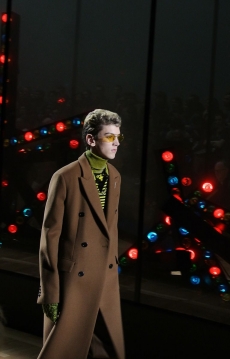 Kris Van Assche has been inspired by music since his young age channelling the New Wave and the 90s into Dior Homme's identity.

The set at the Grand Palais with 3 tall glass cases enclosing an installation of intermitting disco light and fog machines, set a rave mood on the sound of Alphaville's "Forever Young". But it's the first looks which disclosed a broader perspective on Van Assche's Fall Winter 2018 for Dior Homme: variations on suiting.

Sleek and extremely slim, with the blazers narrowing at the waist point.

It was an inspiration drawn from Monsieur Dior himself and his iconic Bar suit. With an horizontal seam on the wasp-waisted cut and the recurring stitched eyelet on blazers,

Van Assche delivered a beautiful perspective on suits with a distinctly modern elegance and cool emphasis.
A myriads of subtle but significant details constellate the several looks on the theme: crossed lapels with a buttoned edge, three-buttons or double breasted with diagonal overlapping conferring a geometrical shape, two buttons with the reinterpretation of tribal graphic images part of that 90s culture.

The collection featured also sporty and relaxed looks with puffer jackets, wool coats, high waist denim trousers, simple. The choice to leave all the shoe laces untied conferred a certain naïve feel, a youthful gesture, recalling the unconventional, the unplanned, the head in the air of a young self.

As ultimate gesture echoing the heritage of the house permeating equally the Mens department: enlarged label stitched on blazers' sleeves featuring "Christian Dior Atelier"

www.dior.com
Fashion
Peuterey x Vespa @KaDeWe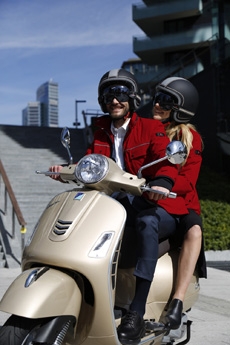 In January 2018, Italian brands Peuterey and Vespa will partner with KaDeWe to present a new, innovative capsule collection. Playing with two different styles, the proposals for the outerwear, a windbreaker and a field jacket, come with goggles and a helmet. The jackets are made in lightweight and waterproof fabrics and released in diverse colours, smartly combining dynamic functionality with contemporary elegance.

Following the mood of a trans-seasonal adaptability, the pieces focus on versatile characteristics, such as the foldable hood and a detachable lining.

By contrast, both the helmet and the goggles feature a linear and clean design presenting beige stripes details over black tones and definitely point out the two iconic brands' aesthetics.

From January 29th until the 18th of February, the collection will be exhibited on a special display. Two pop-up stores on the first and second floor will simultaneously showcase the men and women's collection.

With Yvan Rovic taking over Peuterey's and KaDeWe's official Instagram accounts, customers will also have the opportunity to follow the trend-spotter in the discovery of Berlin as well as find out interesting details about the collaboration.

Last but not least, KaDeWe will invite two famous celebrities, whose names are still kept secret, and ask them to experience the collection. This interactive event will take place during a cocktail party inside the store and invites customers to engage with the duo adding a unique contribution to the project.

www.peuterey.com/bs/peuterey-vespa
Fashion
lala Berlin X König Souvenir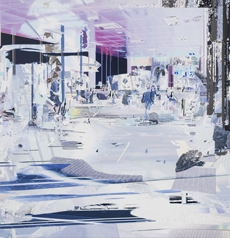 lala Berlin teams up with König Souvenir for the release of a collection of 10 limited edition pajama sets, featuring digitally printed silk made by artist Corinne Wasmuht.

The collaboration splices the experimental vision of the urban firm with the 2017 König Souvenir project, which aims to give artists the opportunity to transfer their work into other medium. The 3D artistic approach that characterizes Wasmuht's work is therefore communicated by the prints and cut of pajamas, which intensify the multidimensionality of the perceived image.

Presented trough a dance performance by 13-year-old Hip-Hop Dancer Leonie Ozeana, the collection comes alive, creating a transition between reality and dreams, art and fashion. The limited edition collection will be available from the 20th of January at König Gallery.

www.lalaberlin.com
www.souvenir-editions.com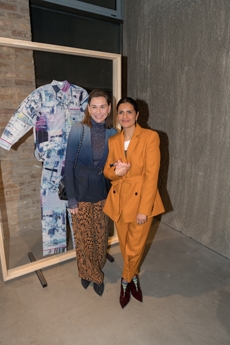 Fashion
Gucci Garden
When past, present and future are linked together, their linearity is transmuted in a circular movement and the magic of eternal return begins.

A giant neon eye artwork illuminating the façade of Palazzo della Mercanzia last 9th of January has celebrated the opening of Gucci Garden, a great project designed by Creative Director Alessandro Michele and meant to completely regenerate the functions of the old archive.

Starting from the ground level two rooms, respectively Gucci Osteria and the Boutique, host a restaurant and the retail store.

The Osteria is the result of a creative collaboration with chef Massimo Bottura, who decided to propose a menu combining Italian cousine and the influences from his travels worldwide, as a reminder that "Florence has always been a centre of cultural exchange".

With its floor of hand painted wooden boards with purple ribbons and vines on a pale green base, the bazaar-like store recreates the atmosphere of vintage florentine shops resulting from the enormous work of restoration of old furnitures (tables, sideboards and cabinets) and precious decorations in a range of florentine shades. The boutique will sell Gucci Garden's exclusive products, including bags and shoes in special materials and the silk bomber jackets featuring the Gucci Garden gothic script.

With the help of Italian curator Maria Luisa Frisa and contribution of artists Jayde Fish, Trevor Andrew and Coco Capitan, the Gucci Museum has evolved from a more classic archive into a multifunctional space devoted to the creativity and celebration of art and fashion.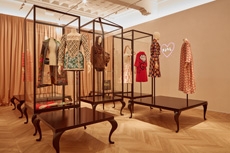 For this reason according to Frisa, in the gallery the displays follow purposefully no chronology. Rather, they create a fluid harmony suggested by items organised by themes and intensify the dialogue between old and contemporary pieces.

Gucci Garden Galleria's six rooms on the first and second floor (Guccification, Paraphernalia, Cosmorama, Cinema da Camera, De Rerum Natura and Ephemera) tells not only the brand's history, but also homages the splendour of florentine architecture as much as its craftsmanship traditions. Each of them explore several aspects concerning the gradual transformation of the brand overtime, with a focus on the double G or the brand's historical icons evolutions.

Other rooms instead dedicate space to diverse projects, such as the red velvet cinema auditorium with a selection of experimental movies or De Rerum Natura showcasing the narrative behind the iconography of animals and gardens. Once again, Alessandro Michele's astonishing project is the metaphorical (de)materialization of time and memory into an incredible structure, which definitely confirm the aesthetic and philosophic vision of the House.

www.gucci.com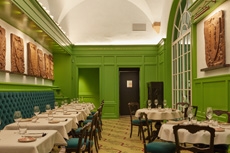 Fashion
Woolrich Teton Capsule Collection For The Brave Souls
Alaska is a land of extremes and ever-changing weather conditions, always challenging the people living in this mysterious and wild area of the United States. Woolrich is the oldest manufacturer of outdoor wear in the USA, drawing its inspiration from this magical no man's land and its untamed nature in order to create the Teton Capsule Collection. Since 1967, Teton is Woolrich's high performance label, inspired by the eponymous mountain range near the Yellowstone National Park in North America with peaks reaching 4,000 meters and a high popularity amongst top climbers. The creation of a high-performance collection as a support for brave souls was a forseeable outcome. The Teton Capsule Collection features high-end comfort, resistance and lightness to fight extreme conditions in every setting, while impressing with an emblematic and fashionable style.
The garments of the collection are transitional pieces, which can be worn both in the great outdoors and in the city, perfect to go for a hike in the mountains as well as a laid-back winter stroll. The Teton Capsule Collection features a complete family of products, including high-functional ones like the Rudder Jacket, warming and down-filled garments such as the Expedition Bomber and the Explorer Parka. Both are using the waterproof, windproof and breathable advantages of GORE-TEX®. A field jacket and a parka out of Teton Stretch are lightweight, breathable and suitable for every season, while a line of knitwear pieces completes the collection.

www.woolrich.com

Travel
A New BVLGARI Resort Opens In Dubai
A coral texture, filtering the sun, creating a decorative motive imbued of a Mediterranean style halfway in between the creation of a goldsmith and a sophisticated natural element. Designed by the Italian architectural firm Antonio Citterio Patricia Viel, the new Bulgari Resort Dubai is a play between the Italian heritage of the maison and the suggestive surrounding landscape.

Exclusively situated on the manmade seahorse shaped island of Jumeira Bay, connected by a 300m bridge to central Dubai, the 1.4 million-square-foot property is a first-of-its-kind development for Bulgari, both in terms of scale and magnitude. With its Mediterranean village charm, the complex features the Resort, joined by six residential buildings of 173 sea-facing apartments, 15 private mansions, a Beach Club, and Bulgari's first-ever Marina and Yacht Club. The resort includes 101 hotel rooms and suites and 20 hotel villas.
Antonio Citterio Patricia Viel and Bulgari wished to create a whole new hotel concept. Throughout the Bulgari portfolio this concept is seen in innovations such as the rooms' square-shaped floor plan to allow windows of natural light; a niche alcove doorway and entry vestibule for privacy and soundproofing from the bedroom. A flow that renders the living experience something more akin to apartment living.

While the Bulgari Hotels & Resorts collection has evolved to include a new location, a Bulgari property is always born of the same Roman spirit. Throughout the property, a repeated use of the custom-design 'Maglia Pantheon'mesh pattern recalls the ornamentation of the historic Roman Pantheon's floor, as it is a part of the architectural tradition of Baroque Rome: an inexhaustible source of inspiration for Bulgari. The pattern features intricate bronze lattice-work, as well as Bulgari's eight-pointed star motif which appeared first as an inlay in the vestibule of Bulgari's flagship Via dei Condotti boutique.
Recalling a Mediterranean garden, La Limonaia, the hidden 'lemon garden' homes the resident array of birds and wildlife. Sculpted as a geometric Italian garden with a birch walkway, La Limonaia recalls an ancient Roman garden. Bulgari's landscape designers also brought hundreds of trees onto the island, including Australian baobab trees, to establish a natural, verdant setting, a Mediterranean garden in the middle of the sea.

In every Bulgari property guests find a similar design philosophy: clean lines, peerless materials and furnishings, and a welcoming feeling of spaciousness. Iconic Bulgari photographs, often of vintage celebrities dating to the Dolce Vita, are framed above common areas with a nod to BVLGARI'S red-carpet connections. Original jewellery sketches from the Bulgari archives are placed within rooms or in hallways, recalling the 130-years of Roman jewellery design history.

www.bulgarihotels.com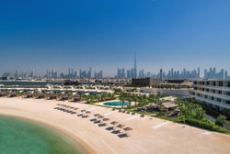 Fashion
Storytelling Through Clothing
For several years now, the fast fashion trend has gripped the industry, but signs of a change heading into a more sustainable direction are being watched. The former fashion consultant and communications director, Lina Miccio, recently launched the label Speaking Garments. Focusing on creating less, but with more meaning, the brand is offering highly personal pieces that are meant to outlast seasonal trends.

The collections exist at the edge of fashion and fine arts, because the brand collaborates with international cross-disciplinary artists each season. The first collaboration is with Cologne-based artist Michail Prigelis, who highlights the beauty of disused airplane fragments, which are sourced from a discarded DC-10 aircraft and flown in from the Mojave Desert of California to his studio.

In the Speaking Garments production facilities, they are then repurposed as brooches onto a limited edition collection of sweatshirts. The garments are limited to 100 pieces, each hand sewn, outfitted with a detachable airplane part and sold with a certificate hand-signed by the artist. In addition to the sweatshirts,  T-shirts, depicting a black and white photograph of Spanish-French clown Charlie Rivel, which was once a Pan Am publicity, are concluding the collection. 

This is making each garment a desirable piece of art. Speaking Garments focuses on telling compelling, unusual stories. The label reinvents each garment as a canvas for artistic freedom rather than exploiting it.

www.speakinggarments.com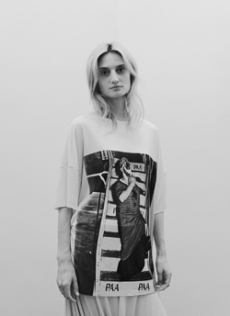 Fashion
Wim Wenders Shot Jil Sander's Spring/Summer 18 Campaign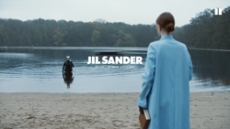 The German luxury brand Jil Sander has chosen the director Wim Wenders to shoot their SS 18 campaign starring the first collection by the new creative directors Lucie and Luke Meier.

The German director filmed a short movie of five episodes, which is called "Paused By" and setted in Berlin, marking his first collaboration with Jil Sander. The foregoing trailer already indicates the sense of expectation that spreads throughout the films as they are paused at intense moments, leaving the viewer captivated and curious to know what comes next.

Not missing the expressive style of Wim Wenders, the five different scenarios consist of mysterious shots which are, like the soulful collection itself, an ode to pure emotion and a delicate balance between innocence and sophistication.

The episodes will be released by the beginning of December 2017 and the frames of the movie will serve as the advertising campaign images.

www.jilsander.com

Fashion
Moncler Celebrates Opening Of Hong Kong Flagship Store With Art-Installation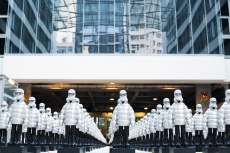 On November 16th the brand Moncler celebrated the opening of the renovated flagship store at Hong Kong's Harbour City in Canton Road with a flash art-performance installation called Destination Hong Kong. This is the last chapter in Moncler's history of collaborations that intertwine the language, imagination and inspration of creatives with the brand's signature style and vision. The vital melting pot Hong Kong and its futuristic skyline make it the ideal setting for the artistic performance. 
A multitude of more than 10,000 Mr. Moncler 19-inch statues – the brand's symbolic ambassador in, a humurous product of pop culture – has been positioned in several key locations in the city. With this project Moncler pays tribute to the residents of Hong Kong and celebrate the multicultural and universal message of art. The renowned street artist Craig Costello customized a limited number of 350 unique Mr. Moncler figures, that became an instant collectible gift for the people who were luckily present at the selected locations.

www.moncler.com

Fashion
Diesel Says No To Uncool Wool
The innovative denim and lifestyle brand Diesel has set up a new campaign this winter, fighting uncool Christmas sweaters with the help of a sheep in a creative and unconventional video starring creative director Nicola Formichetti. Leaning on their campaign "Go with the Flaw", Diesel invites the audience to part with their Christmas sweaters, which have already lost their irony a long time ago. This Christmas season, a real professional will help out in the fight against bad taste knits: a sheep. Because, who else knows more about wool than this cosy animal. Framed by this campaign, Diesel has created a Christmas product-guide on the brand's website.

www.diesel.com
Art
Mystical Symbolism: The Salon de la Rose + Croix in Paris
Mysterious, mythical and visionary themes, often drawn from literature, will be presented by the Peggy Guggenheim Collection in an exhibition called "Magical Symbolism: The Salon de la Rose + Croix in Paris". It's the first museum exhibition showing the highlights of a series of Salons, which were annually held in Paris from 1892 to 1897. At these art gatherings, images of femmes fragiles and fatales, androgynous creatures, chimeras, incubi and sinuous lines, attenuated figures and anti-naturalistic forms were the norm. Including approximately forty works by a cross section of artists, the possibility to take a fresh look at the legacies of late nineteenth-century symbolist art is provided. The exhibition is taking place until January 7th 2018 at the Peggy Guggenheim Collection in Venice.

www.guggenheim-venice.it
Fashion
Gucci Cruise Advertisng Campaign 2018: Roman Rhapsody
Alessandro Michele, Gucci's Creative Director, chose his home town as the backdrop of the Italian brand's latest cruise campaign, taking us on a journey to Roman apartments and neighborhood parks. Unfiltered portraits, taken by the British photographer Mick Rock present real people in real places. Rock's experience in capturing legends such as David Bowie, Syd Barrett, Lou Reed, Iggy Pop, Blondie, Talking Heads, the Ramones and the Sex Pistols on camera, stood him in good stead on this assignment for the Gucci cruise '18 collection. The title, "Roman Rhapsody", already implies the rock'n'roll atmosphere of the pictures. A wide portfolio of mainly Italian talents star in the vintage-inspired images, celebrating genuine non-conformists and eccentrics. The flamboyant portraits were created in the talents' homes, local gardens and during intimate studio shoots. In addtion to the quirky fashion shots, still-life images of everyday objects are placed randomly throughout the campaign. A film component, shot by Chuck Grant, completes this unique project.

www.gucci.com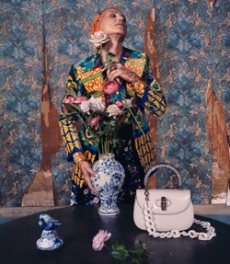 Fashion
Chanel Spring/Summer 2018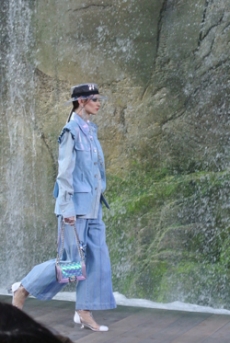 This season we all encountered a surprise upon our arrival at the Grand Palais: an humongous waterfall along a three story high rock wall, with tropical plants and a wooden bridge that appeared to be taken out of a 90s adventure blockbuster movie.

This time, Karl Lagerfeld decided not to disclose the theme in the invitation card, adding to the build and usual anticipation that we all feel each season.

Water gently falling from the rocks of Etienne Russo's Villa Eugenie, built in the last two weeks, welcomed the guests entering the venue. The models stormed in the water dramatically increasing its course, stridently taking over the scene.
Drops of water dancing in the space played with the shining textures and transparencies of this season's offering. The collection was particularly fresh and fluid with PVC raincoats, hats, capes, and boots intrinsically matched and layered over fringed tweed often embellished with lurex threads.
Karl Lagerfeld delivered an extraordinarily varied collection where cropped tops, oversized jackets, miniskirts, over-the-knees boots and half gloves created a vortex of colours and textures. There were long floating dresses in printed chiffon in several shades of blue mimicking the water's fluid course, striped denim skirts with PVC fringed underskirts, culottes pants made of patent leather shorts elongated in tweed. Just like in every Chanel show, the atmosphere was mesmerizing but this season the sun shining inside the Grand Palais over the water felt like a fairytale, one to be remembered.

www.chanel.com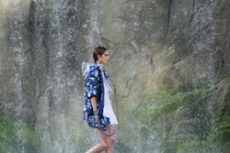 Fashion
HUGO BOSS and VITRA mark the exhibition "An Eames Celebration"
On October 5th Hugo Boss and the Vitra Design Museum introduced the exhibition "An Eames Celebration" with a cocktail event held in Berlin. One part of the program was the presentation of the limited BOSS accessories collection, which was especially created for the exhibition project. It's a limited unisex collection of 125 pieces including a tote bag, a portfolio bag, a clutch and a card case. The event took place at the historic pump station of the art collector Christian Boros at Hallesches Ufer. The guests in attendance included international and national film stars as well as socialites from Berlin's culture and fashion scene. Hugo Boss is the lead sponsor of the retrospective Charles and Ray Eames' oeuvre running at the Vitra Design Museum in Weil am Rhein from Septmeber the 30th to February the 25th 2018.

www.hugoboss.com
Fashion
Desert Winds: Dior Cruise Collection 2018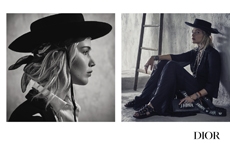 Artistic director Maria Grazia Chiuri never fails in making her collections a feminist statement. For Dior's cruise collection 2018 she took inspiration from the desert and the unique work of the American artist Georgia O'Keefe. Chiuri describes her as a modern shaman, who painted the sands of New Mexico with such a majestic and solemn look. Her paintings are illustrating the search for the inner self and diffuse a soft but strong feminine identity, which is strongly connected to nature. Maria Grazia Chiuri came across O'Keefe on her quest for inspiration, when she became interested in the desert. For the collection's campaign, the actress and muse Jennifer Lawrence was phtographed by Brigitte Lacombe, an ongoing collaborator of the house. The series of images was created in a setting of organic outlines and a gentle atmosphere. A laid-back wanderlust mood and modern western spirit is transported through the photographs, which are embodieing the singular femininity of the Dior cruise collection 2018.

www.dior.com
Fashion
Saint Laurent Spring/Summer 2018
What is more French than the Tour Eiffel? Anthony Vaccarello orchestrated a grand show in celebration of the French Maison and its historical patron Pierre Bergé who sadly passed away just three weeks ago.

He paid homage to Bergé, to Yves Saint Laurent, to their visceral love and to the revolutionary years in fashion that they both represented.

Bergé's words to Vaccarello at the eve of his debut have already become legendary - " You are not Yves Saint Laurent, don't try to be Yves Saint Laurent" - the young designer could not be more Yves Saint Laurent in spirit than anyone else.

His style, irreverent, individualistic, and extremely sexy in a way that you literally wish to wear anything he designs regardless of your own style is without doubt so "Monsieur Saint Laurent". The Monsieur Saint Laurent who managed to move – sometimes with unfavourable opinions - entire fashion crowds in the late 70s, in the 80s, and who was not afraid of fashion critique and consequently pushed boundaries.

We can find traces of Monsieur Saint Laurent's DNA in Anthony Vaccarello's Spring Summer 2018 collection: that gypsy shirt from the 70s, the 80s mono-shoulder dress, the feathers – but the collection remains very much about Vaccarello's powerful identity.
As we were welcomed at the impressive location at the Fontaine de Trocadero, facing the Eiffel tower, the atmosphere culminated into an epic moment when the light spectacle of the tower served as backdrop halfway through the show.

"The Saint Laurent woman is a traveller who reaffirms her complex personality, full of a subtle tension. She is a dark angel with a sensual allure and drapes herself in black-sequined dresses, shining like the asphalt after the rain".

Vaccarello's words are emblematic of the several elements that constellated the collection. As the designer's summer travels took him from the Cote d'Azur to Capri, to LA we reencountered everything that fascinated him: the white Italian lace, the French flamboyant look, the West Coast leather looks.

A series of final sculptural dresses, with a scarlet red declination worn by the muse and face of the house Anja Rubik, left the audience speechless.

www.saintlaurent.com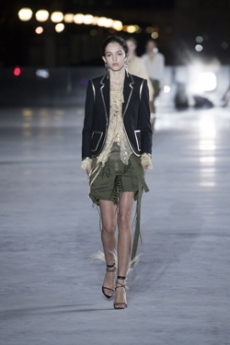 Fashion
Woolrich Present the New Footwear Line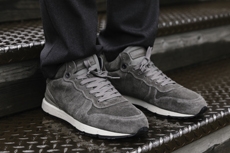 Woolrich expands its already vast offering to include footwear with a project that echoes the brand's values and focuses around iconic garments like the Arctic Parka.

The contemporary, urban and bustling landscapes of Berlin and London act as the backdrop for the latest collection styled and shot by Highsnobiety.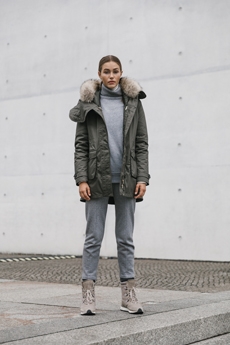 Here, the typical traits of hi-tech outdoor shoes meet contemporary design making for a succesfful crossover between sophistication and outdoor elements, hi-tech features and city styles.

The line features two soles created exclusively for Woolrich by Vibram, renowned for their mountaineering-friendly footwear. These guarantee maximum quality come rain or shine and for the most rugged of terrains, providing comfort and lightness. The first model is based on the legendary 'carrarmato' mountain sole while the other features a brand new sole incorporating the brand's iconic check as a technical element.
High quality materials and construction techniques are paired with Italian design in the collection that is divided into two model categories. The classic Running Shoes available in different versions and the traditional mountain Boot are both revitalized classics, rejuvenated through the use of the most modern manufacturing techniques.

The collection's stand-out piece, however, is the Hiker Boot: a fusion between a genuine walking boot and a sole that stands its ground in the city thanks to the special Vibram compound.

www.woolrich.eu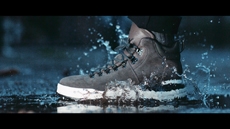 Fashion
Calvin Klein Spring/Summer 2018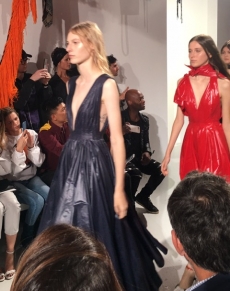 "American horror, American dreams" was the underlying theme in this year for Raf Simons' vision for Calvin Klein. It was a combination of suburbia's bouncy cheerleaders and Hollywood's flashiest gore. Hitchcock inspired blonde beauties were decked out in rubber lab coats and latex surgeon's gloves, and pixie-haired damzels strode down in flimsy nightgowns à la Mia Farrow in Rosemary's Baby.

Once again, Simons has collaborated with artist Sterling Ruby, this time for the runway design: metal buckets, axes, and falling pompoms hung from the ceiling. Reminiscent of old blockbuster horror flicks, the show seemingly could have taken a sinister tone. Instead, it felt lighthearted and embracing of over-the-top carnage and theatrics; perhaps a playful hint of how the world perceives America as a whole?

www.calvinklein.com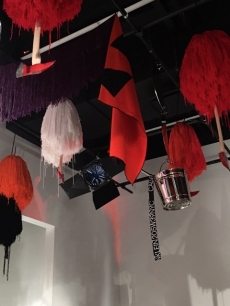 Fashion
Moose Knuckles Fall/Winter 2017 Campaign
Moose Knuckles, founded in 2007, was established based on the goal of creating the leanest, toughest and most luxurious sportswear. And no one would be more adept at making indestructible outerwear than the Canadians: the Moose Knuckles' design family is based in Montreal, its furs are sourced in Toronto and traditional factories are located in Winnipeg. Their first two iconic styles, the Stirling Parka and the Ballistic Bomber, became instant success stories, and have kept many Canadians, and snow bunnies worldwide, warm since then. Moose Knuckles have continuously delivered resistant and stylish waterproof coats, lightweight jackets, knitwear, shirting and accessories.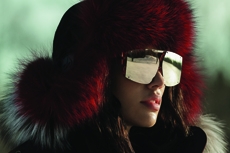 For their new campaign, Moose Knuckles took us many years into the post-apocalyptic, barren future of the year 6969. Capable of surviving even in that climate, thanks to their toasty outerwear, a group of four fearless women and men travel perpetually in search of food, supplies and, most importantly, joy. The pack venture into the great northern wilderness of Canada, braving harsh winds and snowstorms, and come upon a civilisation build on the love of music, company and celebration. A perfect companion in our dark times, Moose Knuckles snug apparel will most definitely get you wherever you want to go in the harshest of climates.

www.mooseknucklescanada.com
Travel
The Weinmeister: The Heart of Berlin Mitte
If you are planning a trip to Berlin, you won't want to miss the raw, energetic street art that overran the Mitte district after the Wall came crumbling down in 1989. Right in the middle of this colorful cultural hub is the Weinmeister hotel, which welcomed the art style that made its neighborhood famous: signature rooms and staircases were "paint bombed" by outstanding graffiti artists such as René Turrek and The Paint Club collective, giving the hotel a chic, modern ambience.

Its proximity to Museum Island and contemporary galleries, such as the C/O Gallery or KW Institute, make it a popular destination for a young creative crowd angling for inspiration. Fashion hunters can flock to the nearby Herckescher Markt to discover the latest German designers, or get their high-end fix at the Friedrichstrasse. And you mustn't worry about finding your way home once the sun goes down: the Weinmeister's gleaming metal facade, which has earned it the nickname "the Golden Cage," makes it impossible to miss.

A five minute walk from Alexanderplatz, the Weinmeister is in the perfect location to explore the best that Berlin has to offer, day or night. But if you are not up for being sucked into the hustle and bustle of the busy city, you can still breathe in the atmosphere while enjoying a glass of champagne on the private rooftop terrace overlooking Berlin's iconic TV tower.

www.the-weinmeister.com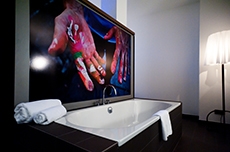 Fashion
Lanvin Spring/Summer 2018 Menswear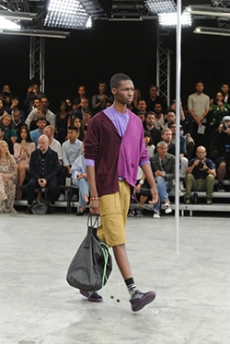 Workwear versus tailoring. Literally. Lucas Ossendrijver's virtuoso for Lanvin Men's Spring Summer 2018 exploded in a spectacular intricate composition where a dualism of silhouettes and materials merged as the model stormed in a situationist walk.

The factory worker jumpsuits, the tailored pants, the tech sporty anorak but in a checked classic English fabric, beautiful asymmetric knitwear and a strong vision that has graced Lanvin Menswear for more than 10 years.

The multitude of elements in this collection it's as overwhelming as carefully balanced.

Reworked coats graced with graphic motives or with contrasting neon lining sometimes made into a reversible look. Trousers constructed with double sides where checked classic fabric at the front is mixed with a tech sporty finish at his back beautifully seamed together with a visible stitch. The check again – as in last Fall Winter collection – is one of the protagonists.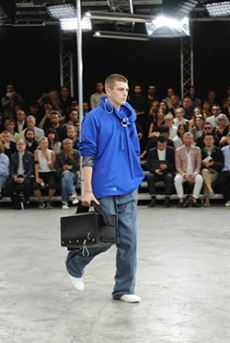 It's a fascination for the classic menswear codes and its challenge to enrich it and enhance it with new elements and unexpected mix matching.

That play of the unexpected that Lucas Ossendrijver's delivers also in the accessory collection for Lanvin for Spring Summer 2018. A retro vintage camera leather pocket case, a massive squared bag as out of a messenger bike utility case with an engraved "L", a necklace made out of an hand-hammered sculpture in metal covered with leather representing an incredibly detailed hand almost as out of an anatomical specimen collection.

It is an incredible collection of several influences, ideas, many genres, whispering one message: be yourself no matter what.

www.lanvin.com
Fashion
Juun.J Spring/Summer 2018
Continuing from last season Juun.J showed Men's and Women's collection together once again underlining the genderless aspect of his vision.

Declinations of crisp shirts, white, light blue, or with pin-stripes. Layered and gently floating. Juun.J delivered a beautiful collection in an informal setting where the models circled around a standing audience.
It's a collection that channels a sophisticated summer look where oversized long shirts are wrapped around the body together with the signature's bomber jackets and hoodies.

For her a blue pinstriped over the knee skirt would embrace the body layered over the swiping floor shirts. For him, oversized outwear or deconstructed hoodies would do the game. Sometimes it would be just as beautiful as hard to distinguish the male models amongst the female ones.

White, blue, black, military green interlacing with one beautiful red pleated maxi dress at the end
A series of pin-striped declinations of oversized suits for him an her were certainly the eye-catcher of this season. Long double breasted blazers matched fluid pants, a long split skirt or slim trousers.

Sometime emblematic sentences would resurface from shirts or t-shirts. Almost as an ode to the work of all the young designers who have been building painstakingly an identity like this Korean designer over the last 10 years.

"Life opportunities contracts or expands according to one's courage" . We can't but agree.

www.juunj.com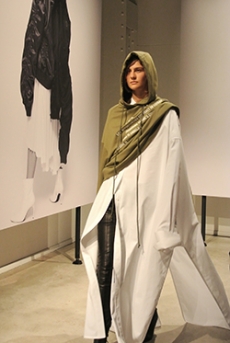 Fashion
Fendi's Fall/Winter 2017 Menswear campaign is here!
Fendi's new advertising campaign for its Fall Winter 2017 Men's collection is the perfect embodiment of the positive, energetic spirit of the brand's latest menswear collection designed by Silvia Venturini Fendi. 

The Fendi Vocabulary serves as the collection's main inspiration and is echoed in the array of simple, modern and desirable pieces that comprise a truly multifaceted collection rife with street style and formal elements; diametrically contrary but complementary nonetheless. From ready-to-wear and fur to bags, shoes and accessories, the entire range is permeated with an uplifting optimistic mood that is echoed on the garments themselves through the word of the Fendi Vocabulary.

When times are tough, optimism remains a shiny beacon of hope. Fundamental values of the past that have been instilled in us like trust, friendship, "LOVE" and "HOPE" carry an unmistakeable energy that urges us to face fears and challenges head-on.

Silvia Venturini Fendi was inspired by the immortal message of these little words and journeyed into a vademecum of Ernest Hemingway, picking up universal, key words like "LOVE", "TRY", "HOPE", "LISTEN"; in their simplicity these short utterances convey an immortal message of positivity and optimism that can help us in difficult moments.

The campaign's video, shot in the Canary Island of Lanzarote, highlights the bond between nature and city, humanity and nature, effortlessly bridging notions that may seem disconnected at first glance. C

Chosen for his contagious energy and positivity, model Nicolas Ripoll is seen running and jumping as if in a tribal dance of sorts through the incredible and awe-inspiring volcanic landscapes of the island promoting the brand's idea of clear-headed optimism and joy in the sight of the future – no matter how rocky it may become.

Check out the preview video here 
https://youtu.be/jyJ3FB4LbIc  and head to www.fendi.com to discover more from July 14th! 
Fashion
Louis Vuitton Spring/Summer 2018 Menswear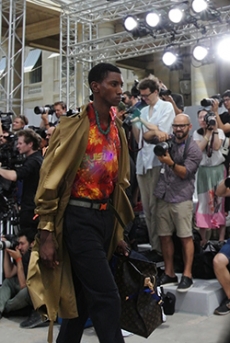 A nomadic traveller. A wanderlust of island-hopping. Scuba zips, Aloha shirts in contrast with relaxed tailoring and fluid outwear as the modern trekking expert would oblige.

Kim Jones delivers a fresh and relaxed collection where sportswear and suiting play a dual identity game in an archipelago of declinations.
Fabrics as lightweight as modern. A paper-thin lambskin leather bonded with neoprene scuba parka floating in the heat-wave of the Palais Royal's Jardin on the notes of the exclusive soundtrack composed by Drake for the collection.

As the new colours of the signature Monogram are introduced in the shade of blue: Pacific, a cobalt shade of blue, and Reflect, with its reflective finish is naturally recalling high-impact sport.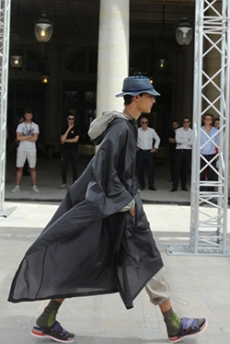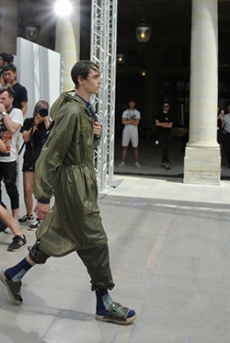 The sportswear theme is crucial in Louis Vuitton Spring Summer 2018. Kim Jones plays with these elements in terms of colours, texture, and shapes. It is a playful and relaxed spirit pervading the entire collection – the Hawaii inspired floral patterns on silk organza for a short sleeved shirt layered on top of a tee with a matching print, intarsia knits of exotic foliage. The island as inspiration but also as state of mind.
The island as inspiration but also as state of mind.

Earth colours contrasting neon shades, the discovering of nature and the adventure of pushing the limits. The clogs sandals mixed with hiking boots bring a further staple items in Louis Vuitton fresh and sophisticated collection

www.louisvuitton.com
Fashion
Emporio Armani Spring/Summer 2018 Menswear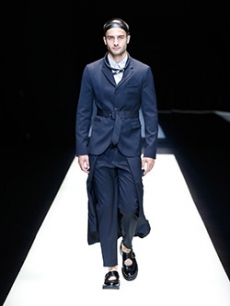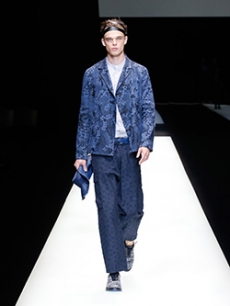 Japanese style is synonymous with clean lines and simple silhouettes, tailoring does the talking and superfluous intricacies are omitted for the sake of refinement. This clearly hit a nerve with Mr. Armani who, for his Emporio Armani Spring/Summer 2018 menswear collection, looks to establish a dialogue between East and West that shuns the cliché of Japanesque folklore-based collections.

Elegant tuxedos and martial arts-inspired Kimonos walked the runway alongside urban and sleek suits that were Armani through and through, upholding years of tradition.

The Far East may have served as Mr. Armani's main inspiration this season but it was incorporated in the pieces in a way that was far from ostentatious. Elements of Japanese iconography were discreetly present on sporty boxy jackets and parkas that were in turn layered on ankle-length culottes or breezy silk cargo pants.

Armani's trademark colour, dark blue, helped tie the collection together, grounding it in modernity and rendering it classically elegant and simultaneously modern and inspired. To contrast the darkness flashes of lacquer red were added to the mix while silk, the collection's main fabric appeared in floral jacquard, printed with cherry blossoms or graffiti and abstract calligraphic prints.

Familiar and Armani, yes. Ordinary, not so much.

www.armani.com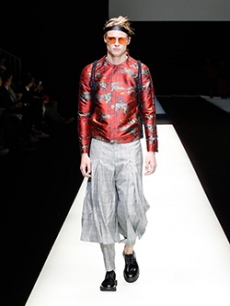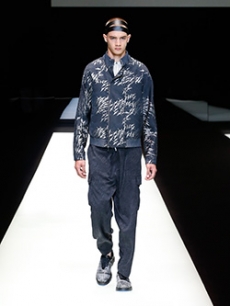 Fashion
Paul Smith Spring/Summer 2018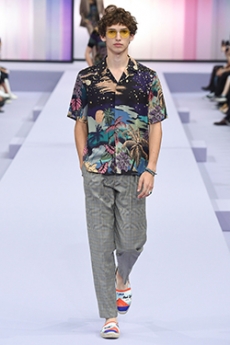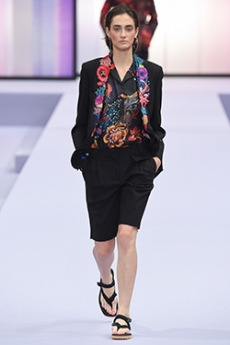 An air of positivity and optimism breezes through Paul Smith's bright Spring/Summer 2018 collection for men and women. Inspired by Paul's early visits to 70's New York where he would source Hawaiian shirts from SoHo and his signature floral prints that these inspired later, this was a collection that professed its love to summertime.

Floral and aquatic motifs formed the core of the adornments for this season seen embroidered on tuxedo lapels or hand-painted on leather and appliqued onto tote bags. Technical outerwear developed with performance-wear in mind also play host to the marine print bringing modernity and functionality to the fore. Elsewhere a midnight beach scene on landscape jacquard appear on a bomber jacket for men and is reinterpreted in a blazer for women.

Patch-worked floral print dresses play with louche summer shirt collar shapes and Japanese carp dive across silk georgette slips. Patterned lining take on new life on a brushed cotton two-piece suit for women where tropical flowers are revere printed, giving the impression of sun-bleached fabric.

The tailored shapes for men and women are a nod to Paul Smith archive pieces from the 80's given new life in a colour palette that spans from the soft pastel hues of cornflower blue and dusty pinks and takes us all the way to midnight tones and French navy, culminating in a crescendo of striking yellows and hot turquoise.

www.paulsmith.com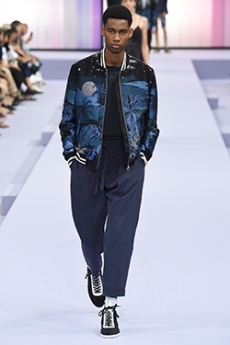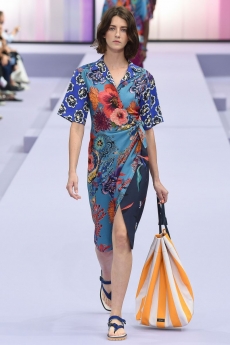 Fashion
Philipp Plein Spring/Summer 2018
True to form, Philipp Plein delivered yet another runway extravaganza for his latest men's and women's collection showcased at Milan Fashion Week. Revved-up engines, super cars, boy racers and tough girls comprised the mood of the tire-screeching spectacle accompanied by the sounds of Greased Lightning.

Frayed denim, studded leather jackets and sleeveless t-shirts for the rebels of a modern West Side Story were paired with chequered flag patches, flaming eight balls and 'Glorious Bastards' insignia while applique red flames adorn their jeans.

The ladies present a fresh twist on Grease's queen bee persona, the inimitable Rizzo, as they hold their own in the leather bomber jackets and crop tops, leggings and bejewelled killer heels. Men and women stand their ground as equals, all members of a speed-obsessed squad that transcends gender stereotypes.

Hooded crocodile and leather biker jackets are decorated with airbrushed painting of Deat Proof hot rods, skulls and lightning bolts mirroring the designs emblazoned across the hoods of the pimped-out car zooming past.

Here, it's the details that do the talking as every element counts in fine-tuning a look. Adrenaline-fuelled fashion for life in the fast lane where noise, power and speed conflate to give birth to something akin to a religion with 'no guts, no glory' as its mantra.

www.philipp-plein.com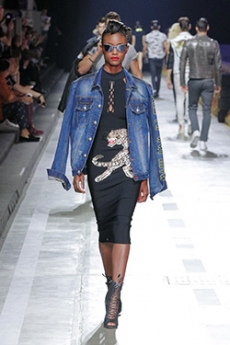 Fashion
Ermenegildo Zegna Couture Summer 2018
For his debut Summer collection, Artistic Director Alessandro Sartori embarks upon an exploration of fantasies both conscious and sub-conscious while clashing innocence and sensual masculinity. In a futuristic garden outfitted with tangerine lawns in the historic courtyards of Milan's Universita Statale, outdoor life crossed paths with the indoors for a collection permeated with fluid fabrics and delicate silhouettes uplifted by colors.

Sartori's interplay of proportions sees classic shirts replaced by deconstructed tops in various volumes, double tank tops and scoop neck sweaters that play with active yet tailored trousers and joggers. The sporty allure of the collection is further enriched by oversized handmade pockets, hoods and the iconic Triple Stitch logos.

The collection appears almost weightless with the inclusion of fluid washed silks, Century Cashmere and pure mohair while giro inglese and mesh jacquards along with perforated and intarsia leather give hints of an ethereal substance.

Delicate and naturally-inclined the color palette features shades of walnut, deep cypress green and bleached aqua and optical white is afforded some much-welcomed color flashes.

This season's offering remains quintessentially Zegna but looks to the future nonetheless. It's a fresh take on the fashionable man's wardrobe that allows for personality and individual style to seep through while remaining routed in Ermenegildo Zegna's timeless allure.


www.zegna.com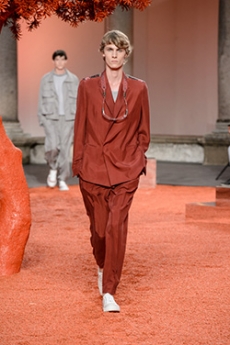 Fashion
Amsterdam Trail: A Unique Art Route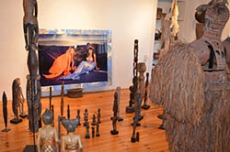 From the 5th to the 7th of May 2017, the sixth edition of The Amsterdam Trail and its unique approach to art are coming to the Dutch capital. The trail combines ethnography with contemporary arts and this year's edition will concentrate around the Spiegelgracht, Amstelveld and Jordaan areas. Unexpected combinations that explore time and origin arise as artworks dating back to 3000BC, Egyptian mummies and contemporary videos are visited.

Jaap Wagemaker's artworks will be shown at the Borzo Gallery in conjunction with objects from Oceania inspired by his original ethnographic collection.

Gallery Lemaire will host an installation from artist Jan Hoek in which 'The Pattaya Sex Bubble', central image of the piece, is surrounded by images from Africa, Indonesia and New Guinea. Additionally sculptures, jewellery, images and even chairs designed by Wieki Somers who drew inspiration by the austere furniture still in use in China, will be shown.

As the lines between ethnography and contemporary art seem to fade into each other we are left to wonder what constitutes contemporary art and what is ethnography. Take Izaak Zwaartjes' artworks that is very close to a fetish mask from Mali and will be exhibited at the Upstream Gallery.

www.amsterdamtrail.nl
Fashion
Miu Miu Fall/Winter 2017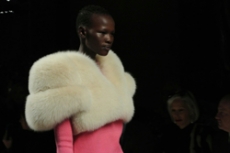 Fluffy fur - fake fur - in a deep shade of lilac, literally covering the sits, walls, columns and the grand stairways of the spectacular concrete architecture of Palais d'Ièna designed by pioneer Auguste Perret for the Exposition Universelle held in 1937.

Miuccia Prada is not new to strong statements during dark times like the current political atmosphere. And she does it in the most dramatic and fun way we have known her for. For Fall Winter 2017 Miu Miu's girl is covered with fake fur of all the possible sorbet colours: lemon, papaya, green apple, vanilla, tangerine. Mix-matched with sultry embellished silk gowns in soft powder pink and multicolour sporty striped knitwear.

A powerful woman who is not afraid to show off her girly femininity. Miuccia Prada knows how to energize a tired crowd at the end of an intense fashion week calendar. It was all about that: being positive, energetic, alive. Wrapping oversized fuzzy coats, at times embellished with bejewelled belts, but also matching furry caps, and obviously the spectacular portfolio of accessories to give the final blow. It's pure glamour, a bit 40s, a bit 70s. It's Miu Miu on the nth degree and we cannot but love it.

www.miumiu.com
Fashion
Alexander McQueen Fall/Winter 2017
Describing Alexander McQueen Fall Winter 2017 as romantic and ethereal would certainly be an understatement.

Inspired by the fascinating tales of Celtic traditions like the Cloutie wells and the medieval tales of King Arthur, the collection recalls the beauty of the shores in Cornwall, its magic ancient rituals and enchanting stories.

Knit and washed leather dresses are pierced with trailing of coloured lacing in silk, resembling the tradition of fastening a strip of cloth on a tree as votive offering, the wishing tree.

This long and feminine silhouettes underlining the female body recall the English mediaeval soft dressing as found in 16th and 17th century art depicting the beautiful tragic stories of Lady of Shallot and Queen Guinevere.

Sarah Burton gives us a full vocabulary of spectacular fabrics, embroideries, finishes, enabling us to dream about the rich landscape of myths and cultures of Cornwall. It's as we could see the wind blowing on its coast, the ribbons and the hypnotic vision of million of threads floating in name of life.

A tweed interlaced with bright coloured twisted yarns and chiffon stripes of fuchsia, crimson and green. The medieval-inspired needlework cross-stitching embroidered on the fluent dresses and finished with silk trailing threads, floating around as the body moves: wildlife, witches rituals, letters, and even the date of birth of Lee McQueen.

It is a touching collection, youthful and powerful. The last sequence of evening dresses in silk tulles with an overwhelming embroidery work, glass beads, stones, fringes, loose thread and the house favourite feathers, give the final emotional blow for this magic collection

www.alexandermcqueen.com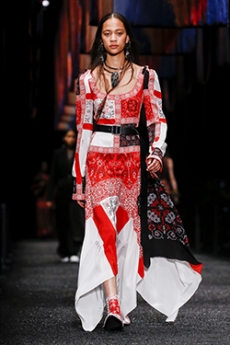 Fashion
Nicholas Kirkwood Fall/Winter 2017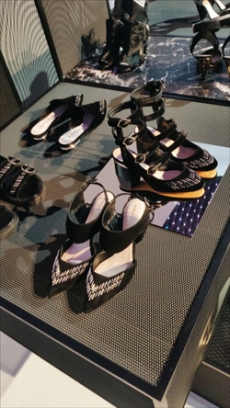 "The Dark Matters", for Fall/Winter 2017 Nicholas Kirkwood created a series of monochromatic shoes with a strong 80s aesthetic.

Geometric and graphic lines adorn the heels and boots for this strong and architectural collection. The English designer - inspired by artists like Daniel Buren - used a sculptural approach and the forever-favourite feminine/masculine dichotomy references.

The austerity of black in contrast with lurex and silver mirror smooth leather uppers, plexi-heels, pearls inlaid into a metal frame sole and luxurious black suede, adorn the collection in a play of contrasts. The name of the collection also refers to a new fabric created by Kirkwood: a black glittering stretchy textile used for a new sock-boot and a slip-on mule. It's a rich and sophisticated collection with new silhouettes and the omnipresent irreverent mood of Kirkwood's work

www.nicholaskirkwood.com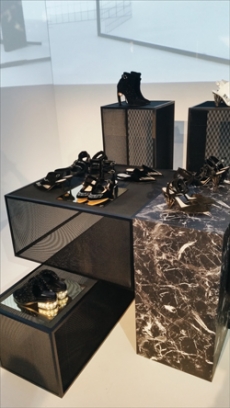 Fashion
Rick Owens Fall/Winter 2017
Sweatshirts and tees wrapped around the head, mimicking early ritual ceremonies. Coats, skirts, sleeveless jackets layered and twisted over the body recalling sacred costumes.

Rick Owens for Fall Winter 2017 designed a collection channelling the need for a positive new beginning rooted in the idea of collectivity, of gathering together, of human kind in its social form. It had a sense of austerity, of deep hope for a better future. As the model walked in the dry space of Palais de Tokyo, one following the other and randomly walking around the space it felt as a vortex of shapes, volumes and lengths was wrapping up the audience.

Deconstructed silhouettes of puffa jackets, blasers together with leather dresses pulled down and worn as captured in the second of taking them off. There was a strong sense of moving on, of change and positive transformation for a designer who has been building his reign on shades of darkness. Rick Owens chose a colour palette recalling his early work: olive green, khaki, black, shades of brown. It was as if the designer was looking for the initiation moment. The rebirth, the celebration of a future soon to come.

www.rickowens.eu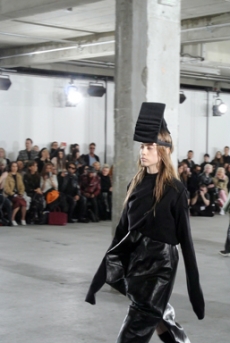 Fashion
Marina Abramovic - The Cleaners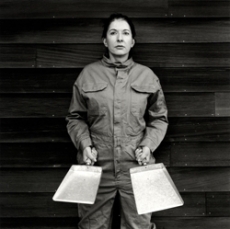 Marina Abramovic, one of the most recognised artists of our time, has often utilised her body and the concept of presence as her primary artistic media. Her self-exposure as a means of artistic expression has garnered her criticism and praise in equal measure. Controversial as she may be, her work has earned her a place in the spotlight, a place that she continues to uphold to this day.

Abramovic's first major retrospective in Europe, entitled The Cleaner is being housed in Stockholm's Moderna Museet. It presents several of her best-known performances, including the Relation Works with German artist as well as former collaborator and partner, Ulay. The works take the form of live performances, films, installations and photographs dating back to the 70s and taking us all the way to the present day. Early paintings, and works on paper – some of them exhibited for the very first time – are also part of the exhibition.

A tumultuous childhood and an upbringing rife with religious and revolutionary undertones, shaped the Belgrade-born artist's worldview and played a pivotal, highly influential role in her career. Her work seeks to decipher and explore complex concepts such loss, memory, being and pain. Abramovic doesn't shy away from existential questions and interprets them in ways that may both provoke and move her audiences, delving deep into both the physical and the mental pain threshold in her own unique way. In The Lovers (1988) Abramovic and Ulay undertook a 90-day walk from opposite ends of the Great Wall of China. Their halfway meeting marked the end of their love affair and more than ten-year partnership.

A selection of the artist's performance works will be re-performed in the exhibition by specially-trained performance artists who will lend their talents to works such as Cleaning the Mirror (1995) where one person carefully scrubs clean a human skeleton in a confrontation with morality, Freeing Series (1975) where voice, memory and body are set free, and Art Must Be Beatiful, Artists Must be Beautiful (1975) where the same phrase and actions are repeated obsessively, almost like an incantation.

A new work by Abramovic, in collaboration with Lynsey Peisinger will also be performed at the Moderna Museet's Eric Ericson Hall from the 27th of February to the 5th of March.

The exhibition will run from the 18th of February to the 21st of May 2017.

www.modernamuseet.se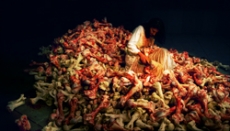 Fashion
Raf Simons presents his Fall 2017 collection for Calvin Klein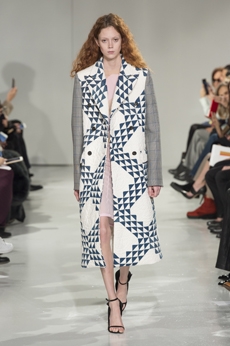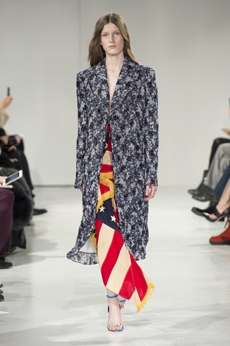 Raf Simons' debut collection for Calvin Klein was a hotly-anticipated event in this year's New York Fashion Week calendar.

Remaining true to his allegiances, Simons enlisted the help of friend and artist Sterling Ruby, giving him free reign to imagine artwork appropriate for the iconic brand's headquarters. Ruby imagine America.

Raf Simons and Calvin Klein Creative Director, Pieter Mulier created a collection that featured both women's and menswear for Fall 2017 and is in itself an homage to America. "It reflects the environment" said Mr. Simons. "All of these different people with different styles and dress codes. It's the future, the past, Art Deco, the city, the American West... all of these things and none of these things. Not one era, not one thing, not one look. It is the coming together of different characters and different individuals, just like America itself. It is the unique beauty of emotion in America."

This was a collection in which each piece communicated with the rest; one material impacted another and one style impacted the upcoming ones even in the same silhouettes making for a collection that echoes the essence of diversity.

Marching band uniforms, plastic coated protection, power broker tailoring and antique handcrafted quilting, workwear and westernwear made for this unique parade. The collection finds equal merit in folk and function, food court and courtroom in a romantic and filmic outsider's view of the uniqueness of America.

www.calvinklein.com 
Fashion
Philipp Plein Autumn/Winter 2017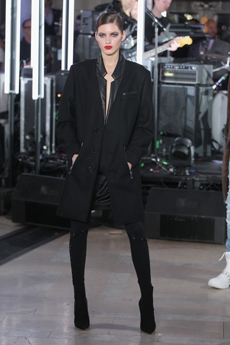 Brooklyn-born rap and hip hop artist Nas, opened Phillip Plein's Autumn/Winter 2017 fashion show in the iconic New York Public Library. The show was a personal love letter to the city's neighbourhoods and the diversity that characterises them, highlighting their ability to shape and define an identity. From the Bronx and Chelsea to Queens and the Upper East side, every area has something to offer.

"Neighbourhood Kings" was emblazoned across the collections' garments – it does not matter where you come from, for Philipp Plein, you are the king of your own hood. A diverse cast of personalities and models – including rappers Desiigner and Fetty Wap - strutted down the runway as The Kills performed an electrifying live set.

Music, style, gender and race all had their say in this collection that did not distinguish between men's and womenswear: the girls wear boy's T-shirts and oversized hoodies while the boy's were styles in women's jackets and dresses. Streetwear and couture are also fused together: an embroidered evening dress was paired with a bomber jacket, there was an intarsia mink coat worn with a hoodie and thigh-high sneakers marched alongside heeled boots. Catering to self-expression and their own personal sense of style, the collection's strength lies in its bid to highlight individuality.

But Plein's ode to the Big Apple did end there: the prints also tell a tale of New York. Symbols from dollar pill comprise the print of a hooded fur coat, the Statue of Liberty and FBI ("Fashion Beyond Imagination" patches decorate sweaters and bombers. Floor-length puffer coats and snakeskin jackets are transformed into urban armour thanks to metallic details and the addition of studs.

www.philipp-plein.com
Fashion
Woolrich Re-imagines Men's Outerwear
Woolrich continues its long-standing tradition in conceiving and manufacturing technical outerwear of exceptional quality, a tradition born in the late 70s that has continued to be well-received by avid mountaineers.

The brand is relaunching its Mountain Jacket, one of the first examples of technical outerwear that ushered in the expansion of men's outdoor clothing in order to cater to the requirements of outdoor activities such as backpacking, camping and cycling. Designed with functional elements that suit the requirements of such activities, Woolrich's latest edition of the Mountain Jacket strikes the perfect balance between style and function thus also catering to the more aesthetically driven consumer.

A more contemporary style is brought to the fore ensuring maximum freedom of movement, comfort and warmth with its form-fitting cut, adjustable cuffs and ergonomic style. Gore-tex®'s lightest fabric, the Paclite, guarantees the best performance. Despite the air of innovation that characterises the latest jackets, the brand loyally adheres to the design elements of the late 70s that proved so successful in the past.

With a perfectly breathable waterproof Gore-tex® layer beneath the traditional durable and water repellent outer layer, the Mountain Jacket has proved itself to be a perfect companion for adventures in nature.

www.woolrich.eu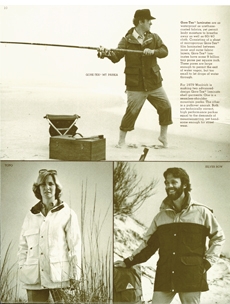 Fashion
Loewe Fall/Winter 2017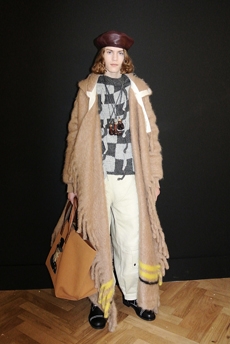 A small trumpet as an earring, a shopper completely covered in off-white cable knit wool, a thin leather belt with an ominous brass nose on its centre. The collection of objets trouvés that populated Loewe Menswear Fall/Winter 2017 is not a new element for the quirky mind of creative director Jonathan Anderson.

The mix of fun, classic, and urban elements is something we have seen season after season where individuality has been the key. Beautiful leatherwork as rooted in the brand's Spanish heritage, but also Anderson's favourite hints to fishermen and sailors' daily-life. Presented in the Parisian showroom the collection is the image of a further complexity and playful daring attitude from the English designer now in his fourth year at the helm of Loewe.

It was certainly the beautiful shearling one of the spotlight of the collection. In deep cobalt blue with black leather details, in denim, or in a striped rainbow coloured version, to pump up our gloomy mood in rainy, cold Paris.

Mixed and matched tartans and handbags with imaginary propaganda newspaper titles gave a further energising accent to a splendid collection full of craftsmanship and a romantic post-industrial atmosphere.

www.loewe.com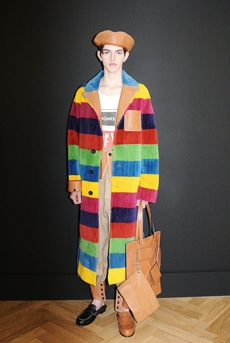 Fashion
G-STAR RAW presents RAW RESEARCH II by Aitor Throup
Exploring the unlimited possibilities of denim has become Dutch brand G-STAR RAW's latest challenge. The brand presented its latest project, RAW RESEARCH II, in Paris' Palais De Tokyo.

Curiosity and experimentations brought this project to life creating a capsule collection, its pieces a prototype of the latest in denim innovation. The collection features a brand new 3D denim concept: the " Motac" series. An ergonomic study of the human body in motion gave birth to Motac, created to make garments with perfect fit and versatility thanks to a combination of rigid denim and flexible fabric panels.

To pay homage to G-STAR RAW's homeland, its new creative director Aitor Throup used the iconic Dutch tulip as a conceptual backdrop. Tradition and innovation were brilliantly fused together.

www.g-star.com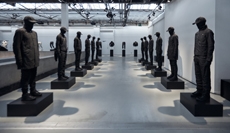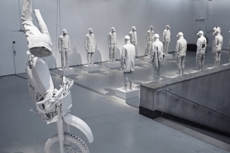 Fashion
Esther Perbandt's androgynous Fall/Winter 2017 collection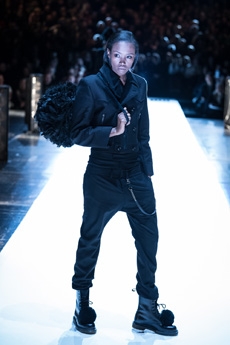 Perbandt's anti-cyclical collection for the colder seasons featured visionary garments that play with the slightest of contrast between black and white and gender. The designer is famous for touching upon human limitations delicately, forgetting about diversity and giving birth to a brand that strikes the perfect balance between androgyny and independence.

Esther Perbandt has been internationally recognised for her trademark stage productions. The Fall/Winter 2017 show only reinforced her status with a veritably unconventional yet sophisticated event that attracted celebrities from around the globe as well as personalities from the world of design, art and fashion; collectively they paid homage to a powerful production.

www.estherperbandt.com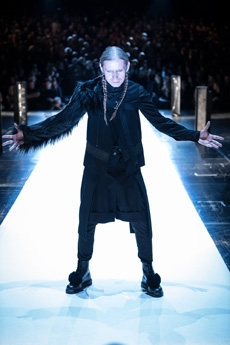 Fashion
BILLIONAIRE Fall/Winter 2017: Texas under spotlights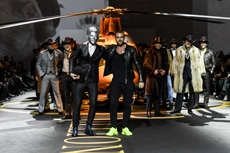 Once upon a time, soap opera characters served as primary sources of style inspiration and this season Billionnaire by Philipp Plein travelled back in time to pick up the trend. Remember Dallas?

Set in Texas, the show reached cult phenomenon status and was Philipp Plein's moodboard for Fall/Winter 2017. The Billionnaire man is a wealthy and stylish globetrotter: skiing in Aspen and gambling in Monte Carlo. The collection reflects the attitude of a character that isn't shy about showing off his personality.

Snakeskin jackets, chinchilla bombers and full-length overcoats feature alongside astrakhan and crocodile skins as the ultimate statements of elegance whether on the slopes or in the city. Trousers are high-waisted and denim takes centre stage in trousers and double-breasted jackets.

From knitwear to eveningwear the attention to detail is meticulous, fully conveying Plein's references: classic Texan hat included!

www.philipp-plein.com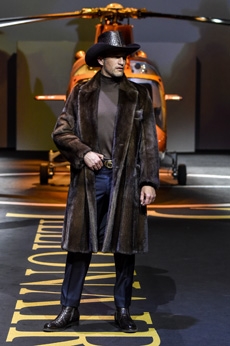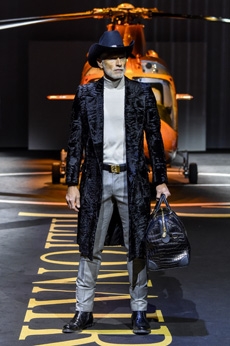 Fashion
Jil Sander Fall/Winter 2017: Between High Fashion and Mother Nature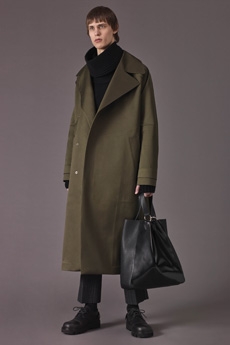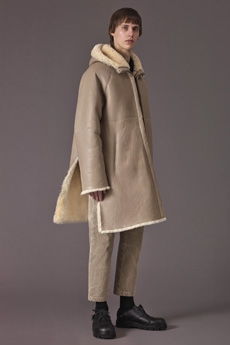 The uneven fight between humans against a powerful and merciless nature is the chore of Jil Sander's latest collection that brings us an incredible taste of glacial novelty for the upcoming Fall/Winter season.

Inspired by 'Independent People' by Nobel Prize winning author Halldor Laxness, the collection plays with the colors of Icelandic landscapes ranging from chalk grey to yellow. Shades of ice, brown and lava are chosen to give life to coats, parkas, heavy felts and comfortable shapes designed to face the harsh temperatures of Nordic winter in style. Military cotton and heat-sealed waterproof wool make coats and blousons, put together by big Velcro stripes.The collection's prints are a new take on glitch art that plays with disintegrated images.

"Rather keep your mind free and your path your own"said Laxness, and Jil Sander looks to have learned the lesson perfectly.

www.jilsander.com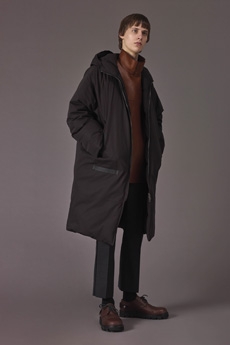 Fashion
A sporty-chic Z ZEGNA at PITTI 2017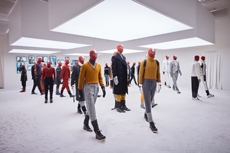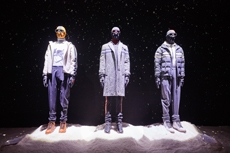 The latest Z Zegna collection takes you on a vintage ski trip for Pitti Uomo 2017, a sporty-chic mood that nobody expected but many welcomed.

It is no secret that the Florence fashion fair was created to bring innovation and prêt à porter all around the world and Zegna knows that well. For the first time the Italian brand presented a line that combines tailoring and performance evolution. For the slopes and the streets, the proposal is a Techmerino total look that takes a quintessential role in this season where layering is key. A foundation of matte black, optical woolen, asphalt grey mélange, light camel and pine leaf green in combination with sportswear graphics take us back to the late 70's ski seasons in Sankt Moritz where sport never strays too far from fashion and elegance.

The brand decided to converge comfort and excellence in a savvy colour palette that pays tribute to the textile innovation Z Zegna is known for.

www.zegna.com

Fashion
Louis Vuitton's "Series 6": between French theatricality and aesthetics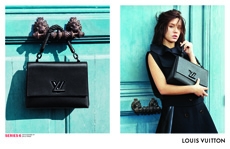 Paris with its romantic promenades sur la Seine it's the star of "Series 6", the new Spring/Summer 2017 advertising campaign by Louis Vuitton.

Like a flâneur, Bruce Weber, captured the allure of Nicolas Ghesquiere's favourite heroines bringing back to life the atmosphere of artistic enthusiasm that typify the city of lights. Michelle Williams, Jennifer Connelly, Adèle Exarchpoulos and Sasha Lane become the modern inspirations for a reimagined Paris. The result portrays powerful silhouettes that comprise a collection of strongly cultural referred Parisian moments. The season's handbags, the long jersey dresses and the tailored suit become characters in their own right, the perfect companions for these pictorial personalities.

"It is to this cultivated, intellectual, original and free-spirited Parisienne that I wanted to pay tribute" said Nicolas Ghesquière, the creative epicenter of nowadays French elegance.

www.louisvuitton.com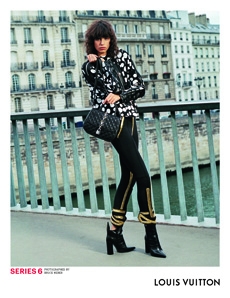 Fashion
The Givenchy Tribe
Givenchy's latest campaign has just been released and the abundance of the brand's signature codes do not go unnoticed. Shot by photographers Mert and Marcus and designed as a double page spread, the campaign plays on the concept of duality and features powerful men and women whose intrepid natures manage to withstand space and time.

A well-balanced blend of feminine and masculine elements that remain classic and chic are the focal points of the campaign. Two girls become twins by dressing identically and a boy plays fashion chameleon by rocking a formal and a streetwear look in a Mars-like landscape. Pair the adventurous nature of the above with the tightly cropped portraits of Givenchy's personality gang and you are given the impression that, although they appear different they do in fact to belong to the same style-savvy tribe.

Of course, Givenchy's now iconic Horizon and Cross Body bags could not be left out of the equation. Serving as a mark of recognition for the brand, their presence encapsulates the luxury label's long-standing fame while looking towards a future of duality.

www.givenchy.com
Fashion
K•Swiss Turns Camo for its 50th anniversary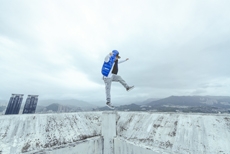 K•Swiss opted for a stylish celebration for its anniversary. The sportswear brand teamed up with Japanese street fashion label AAPE BY A BATHING APE to launch a limited edition collection.

For the occasion, the American tennis brand turns its classic '66 model into a fashionable camouflage sneaker featuring, its now famous, ape-inspired pattern. This makes for a fresh, new take on the brand's most iconic silhouette.

K•Swiss' signature five stripes, classic D-rings and the unique three-piece toe design along with an all-covering printed pattern fuse together to creates a blend that reflects the DNA of both K•Swiss and AAPE.

www.kswiss.com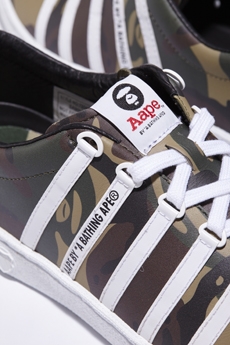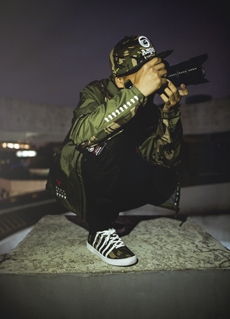 Fashion
Coach and The Webster: between ready-to-wear and Baseman's designs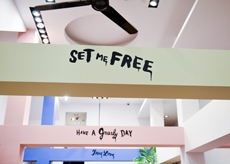 Many were the brands that presented their upcoming collections at Miami Art Basel, but it was Coach's collaboration with The Webster and artist Gary Baseman that transformed it in a special universe of fashion pieces and design sketches.

To celebrate the arrival of the Women's pre-spring collection and an exclusive preview of the Men's Spring 2017, the three joined forces to create customized objects based on Baseman characters and his signature "Wildbeast" print.

American iconography is reflected all over the collections through juxtaposing unexpected images and familiar, nostalgic themes. Moreover, at the heart of the project a tougher take on masculinity takes over, celebrating those who are brave and bold enough to subvert conventions and status quo.

During the event, Baseman, gave attendees a sneak peek of the collection's mood, hand-painting three one-of-a-kind motorcycle jackets.
Exclusive design for an exclusive experience.

www.coach.com


Travel
Le Narcisse Blanc: pure Art de Vivre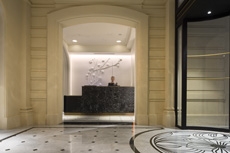 Like a bright flower blossoming in the heart of Paris, Le Narcisse Blanc is a contemporary pleasure dome where guests can breathe the magic of the French capital.

Situated between the Eiffel Tower and Les Invalides, this 5-star hotel and spa casts an incredible view to the Seine and the most majestic Parisian buildings from its bohemian terraces. Le Narcisse Blanc offers the proper Art de Vivre feeling through its cozy sitting rooms, luxurious spa with swimming pool, hydrotherapy massage jets and sauna and last but not least its 37 spacious bedrooms and suites in silky champagne tones.

Designed in luxurious and refreshing taste by "Laurent & Laurence", the hotel creates a perfect balance between Art Nouveau and Art Deco that are fused with contemporary elements, serving as an homage to the perfect Parisian lifestyle. Because, in the words of Victor Hugo "Respirez Paris, preserve l'âme".

www.lenarcisseblanc.com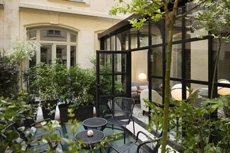 Fashion
Cartier Santos-Dumont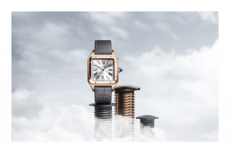 French manufacurer Cartier pays homage to the rich history of its iconic Santos-Dumont model. First created in 1904, Louis Cartier designed a modern wristwatch, exclusively suited to the needs of Brazilian aviation pioneer Alberto Santos-Dumont.

Ever since being unveiled to the public, the design, exuding simplicity, innovation and elegance, has always remained true to the original. The square-shape, reminiscent of the geometry popular in Paris at the time, is paired with an unadorned alligator leather strap. Practicality remains central to this classic. To achieve this, Cartier enchanced its performance with a high-efficiency quartz movement featuring an autonimity twice as long as traditional movements. The Santos-Dumont model is available in two different sizes and three shades in hues of rose gold and steel.

www.cartier.com
Art
About Future: Architecture, Cities, Environment. Models and Visions
With the creation of Armani/Silos, Giorgio Armani has continuously supported young creatives to realise their visions and ideas. After initiatives in the fields of fashion, cinema and photography, the focus has shifted towards architecture, deemed to be a crucial discipline in our reflections tackling pressing questions of sustainability and social equality in a rapidly changing world. In the run-up to Milano Arch Week 2019, the 'About Future' project is launched in collaboration with the School of Architecture, Urban Planning and Construction Engineering of the Polytechnic University of Milan. This exhibition features the work, in form of drawings and models, of around 50 of its brightest students, working on new ways and innovative visions to redefine the balance between the artificial and natural. The presented projects are a mixture of proposed modifications or extensions of existing features or the creation of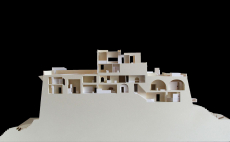 Fashion
Louis Vuitton Cruise Collection 2020
Nicolas Ghesquière once more stunned with his 2020 Louis Vuitton Cruise Collection. Quite suitable to a house, which started as a trunk manufacturer, this year's theme was the joy of discovery. This does not only include the physical departure to new places, but also the comprised spark of personal growth. TWA Flight Centre at John F. Kennedy International airport offered the perfect scenery for this collection, with is architecture reminiscent of the Jet Age, a time where the world started to become as never before, and the invited guests resembling the waiting crowds at an airport's terminal.

No other city in the world quite captures this spirit than the chosen destination, New York. This cultural melting pot is ever-changing, due the thousands of people arriving and leaving the city everyday. Everybody enriches the canvas that is New York City, leaves a part of oneself behind, but in return receives much back.

The collection captures the spirit of the city, the legendary buildings transposed as sophisticated prints, the bright colour accents in homage of the city's bright lights and the suave brocade and embroideries, reminiscent of the city's glam.

Just like the city of New York, Louis Vuitton blends cultures, the French tradition and the American spirit, to form a sartorial expression, enriched by one another.

www.louisvuittion.com
Fashion
Carhartt Urban Book Release
When thinking about the expressions of urban youth cultures, cities standing at the forefront of seismic cultural shift, such as New York or London, pop in most people's heads. Amsterdam is often overlooked, despite being at the forefront of one of the street's most visible artistic embodiments, graffiti culture. Before the influences from across the Atlantic reached and popularised this visual urban language across Europe, Amsterdam had its own home-grown graffiti culture. Punks, hooligans and other rebellious movements alike, spread their message on the city's walls. Their styles were as varied as their messages, creating graffiti unlike any others.

In collaboration with Carhartt WIP, FRESHCOTTON releases Amsterdam On Tour by grafiti artist Again, to investigate the early roots of this phenomenon. They focus on the city's original scene starting from the 70s, lasting until 1985. 30 different artists offer a glimpse into this insane scene, dominated by the fully tagged tunnels, benches and trams, in an unique collection of words and images.

In addition to this publication, Carhartt x FRESHCOTTON also releases a limited edition capsule collection, perfectly capturing the spirit of the scene, available only at selected Carhartt stores and freshcotton.com
Fashion
Travel Transformation
A transformation for one night into an adventures experience.

Montblanc introduced its new travel line. This time in Berlin, the energetic, electric and engaging city, which also happens to be a common destination for travelers. Due to this, it made the perfect fit for the launch of Montblanc's new travel campaign.

The campaign is all about reconnecting. Reconnecting with the world to set the mark of the brand due to experience by giving guests the opportunity of visiting a cultural spot, which has been shut down for years. The guests were journeyed through a travel tunnel to arrive in the heart of the Metropol, surrounded by projections of a variety of urban destinations. Among the entire travel destination discoveries showed, a central wall sculpture of trolleys  was created by Marc Jung that reflected artworks on the Berlin wall, marking the 30 years since its fall.

Montblanc created a new generation of entrepreneurs, trailblazers and urban explorers travelling the world with new Montblanc Nightlight Silver Trolley and the reimagined Extreme 2.0 collection. Created as lifetime companion's crafted through the skills and quality of the Maison.

To read more about the event and Montblanc's travel collection, go to www.montblanc.com
Fashion
Summer Scents from Louis Vuitton
The maison of Louis Vuitton launches three new scents on April 4th 2019, just in the nick of time for the first burst of summer weather. With a triptych of pop colors and the scent of summer optimism, these eaux de parfums announce and prolong that spirit of summer that is so often tragically fleeting. Conjuring up sizzling patios scattered with cacti, beaches etched in foam and the one-of-a-kind California landscape, it unleashes a sense of freedom and passion notorious of the West Coast. Master Perfumer Jacques Cavallier Belletrud has concocted a formula bodied with airness that lingers on the skin, ensuring that permanence so yearned for on endless summer nights.
The inherent natural properties are brought to the fore, the perfumes consisting of the rarest and rawest of materials. Sun Song's prominent note is Citron, sealing the following scents together. An olfactive melody of orange blossom, citron and musk evokes rays of sunlight reflected off of the sea surface. Cactus Garden is a frisson of emotion introducing more bitter notes of Calabrian bergamot combined with the traditional mate and lemongrass. This powerful aroma injects a certain energy associated with lounging on the patio, recovering sheltered from the heat. The final scent is Afternoon Swim, an explosion of juice. Rejuvenating and magnetic; the profound mandarin note emits a distinct freshness. The sprinkle of ginger allows it to set sail, then is pulled back again for savoring through the creamy ambergris and orange.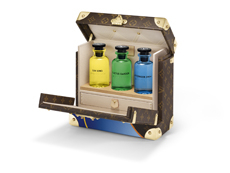 Los Angeles native artist Alex Israel designed the packaging for the respective scents, pairing emblematic artwork with the spirit of the fragrance to appropriately capture each scent.

www.louisvuitton.com
Fashion
Louis Vuitton Womenswear Fall 2019/2020
Not many knows that when in 1977 the iconic Centre Pompidou opened its doors the Parisians were so shocked that the museum had to arrange clowns and jugglers playing in front of its doors to loosen up the mood and invite more visitors in. The citizen didn't like the radical architecture designed by Renzo Piano and Richard Rogers – at the time partners – featuring a stile later defined "Bowellism", where the cable and pipe systems usually kept inside a building were infact exposed.

When entering the Louvre's Pyramid, slowly approaching Louis Vuitton's show venue Cour Carrée, we saw a humongous blue pipe running across the courtyard. Little we knew that inside the temporary structure built for the show we would find all the elements and colors of Centre Pompidou's façade, more pipes, hundreds of them, as set for the show. A Museum in the Museum.

Nicolas Ghesquiere mentioned the beauty of controversy as his inspiration, the need to address colliding elements and the famous Pompidou colors came back in the clothes: the yellow, blue, red, all together.

The collection had a strong 80s references, with its graphic ruffled shoulders and dresses, the ankles boots worn with tights, the silver and glitters, the high-waist carrot shaped trousers and frill skirts. The iconic damier motif was presented in skirts and leather caps.

A bit 80s disco, a bit punk, a bit 80s power feminism. Ghesquiere presented the modern thirst for diversity and an eclectic look far from a put-together one.

The accessories presented some interesting novelties hinting to architectural references and a classic attire: like the flat large bag appearing in look 9 in grey and declined in brown in look 16, apparently Ghesquiere's favourite bag of the season.

It was a daring collection and we are looking forward to see Louis Vuitton's client picking and mixing elements.

www.louisvuitton.com
Fashion
Silhouettes Reimagined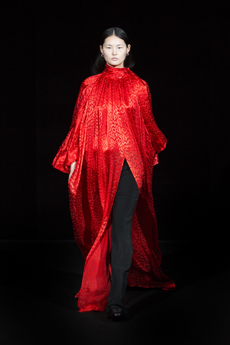 In Balanciaga's Winter 2019 collection, cuts, volume and fabrics reflect the inventiveness and attitude of the typical city dweller. Shapes are suspended and allow for unexpected movement with shoulders being shifted upwards and sleeves to be raised above shoulders. Hooded coats and incognito collars feature, as do lengthly trench-coats and robes which conceal a form and creates a concealed sense of mystery and anonymity. In classic Parisian style, outer-layers can be opted for wrapping and allow silhouettes to flow freely.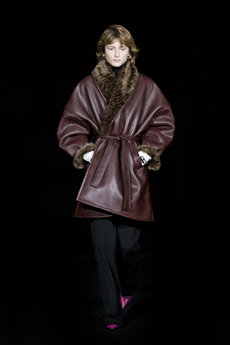 The brand enlists a more modern, mode take on the cocoon shape made from fake shearling and soft outer-layers. Kick skirts follow this theme, constructed from embroidered tweed and fake leather. Almost horned at the shoulders, biker sleeves are reworked to create volume, as are the extended and cropped pants.
Angularity and fluidity mingle with one another in this Winter 2019 collection. Building atop of the existing Balanciaga vocabulary that defies convention, new logotypes interplay with old ones, creating a harmonious balance between practicality and tension.

www.balenciaga.com
Fashion
Marine Serre Fall 2019-2020
It has been a very short time since her debut, but Marine Serre has already conquered the industry.

The cutting edge attitude and vision have come strong at the latest show during the second day of Paris Fashion Week.
If last season we witnessed the collection on a bridge in the 18th arrondissement, this season set was poles apart: a wine cellar in Paris's outskirts that looked more like a bunker.

Marine Serre dives further into her fascinations about fashion challenged by the current global eco-war: up-cycling garments found anywhere has been one of her signature. This season she envisions a post apocalyptic time where humans strive to survive in an underworld made of infinite darkness, waiting for the right moment to resurface
Yumi Tamura's "7 Seeds" series surely comes to mind: The earth will soon be devastated and we will all forced to live underground waiting centuries for the air to be breathable again.

Fluorescent catsuits with the signature crescent moon, flowing scarf–dresses (obviously up-cycled scarves) and coats with big furry collars, all reminiscent of night creatures. There were anti-pollution masks created in collaboration with French specialized brand R-Pur, but also beautifully Marie-Antoinette garments constructed with couture skills. The denim, the plaid checks up-cycled from picnic blankets.
Marine Serre is not just having a new vision but she is also a very skilled designer. She is creating a new credo and we are all already subscribing.
Fashion
Illuminated Forms
"It was the night /A giant saved me / Changed me into a love machine / I can't take this hell, i a not your prisoner / i was a love machine /soft and hard" SebastiAN's original track created for Anthony Vaccarello's Saint Laurent Fall 2019 channels the spirit of the collection: the 80s nightlife, the enchanting Betty Catroux, Bianca Jagger (monsieur Yves Saint Laurent's own muses), the time when the clubs were the place where designers, artists, socialites and most of the creative crowd would meet.
Anthony Vaccarello presented a strong vision for Saint Laurent gradually evolved season after season into an enchanting identity celebrating the Maison's historical codes and imbued of Vaccarello's own signature. The first looks already set the mood: long wool coats, dazzling tuxedo blazer with boxy sculptural shoulders, beautifully tailored. Anthony Vaccarello calls it the "couture blazer". And it channels that famous masculine look Monsieur Yves himself merged in the Woman's wardrobe.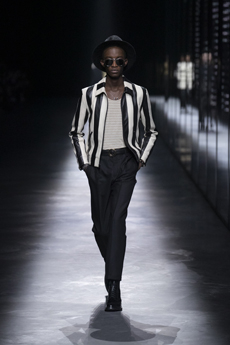 But the collection also featured the vertiginously short minidresses Vaccarello is known for in the last looks that stormed in the catwalk as a totally different happening hinting the most deepest night ahead: fluorescents with matching shoes. Looking at their silhouette you can see a reinterpretation of some lines from the iconic 1971 collection by Yves Saint Laurent, clearly addressed by Vaccarello who has been constantly researching the archives. The light installation inside the venue between Matrix and the Tour Eiffel light spectacle – the latter usually accompanying the show during summer time – was a magnificent set for a magnificent collection.
Fashion
Balmain opened at Rue Saint-Honoré, Paris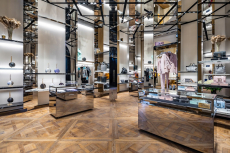 The Rue Saint-Honoré located in the first arrondissement of Paris, near the Jardin des Tuileries has a long history with many different names and associations.

The Saint-Honoré has undergone an incredible transformation in these last years; the authentic historic buildings have been beautifully renovated and are now inhabited by the most luxurious brands. Balmain is one of them. The Parisian brand Balmain headed by artistic director Olivier Rousteng in collaboration with the architects of Studio AMV created a true residence for the brand.

This classic historical building breathes Balmain's modern identity and will serve as a true style guide to the future residences with which the brand will eventually conquer the world. The 'house' of Balmain is a very idiosyncratic expression rooted within classical Parisian residential architecture. It contains ten specific living spaces; a garden, a living room, a boudoir etc. Each is decorated according to Balmain's classical signature style.

This boutique reflects the idea of 'classics, with a modern outlook.' Rousteng further elaborates on the Balmain heritage by translating it into defiant contemporary expressions. The designs are classic, elegant silhouettes derived from the most luxurious contemporary materials and prints: a signature originated in Paris. The boutique on Rue Saint-Honoré is a homecoming, says Rousteng, it is the perfect complement to Balmain's historic address: 44 François Premier, where founder Pierre Balmain first opened the Balmain atelier almost 75 years ago.

www.balmain.com
Fashion
A Chorus of Voices
One house hosting a conglomerate of different voices. A creative hub of concentrated genius channels multiple energies and pushes visions that speak to all generations of customers. Moncler has thrown out the rulebook, promoting access as the very highest form of inclusivity for contemporary customers in this digital era.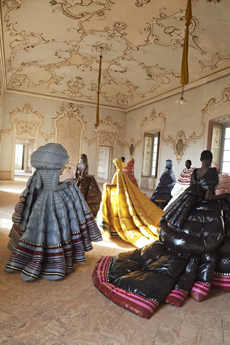 Unveiled on 20th February in Italy's fashion capital, Milan, the Genius collections consists of works from the likes of Pierpaolo Piccioli, Simone Rocha, Craig Green and Hiroshi Fujiwara.
Moncler will open the Moncle Genius building to the general public on 24th February. Different rooms harbour different visions, each one operating singularly and isolated from one another, the sum of which manifesting as the Genius Moncler identity.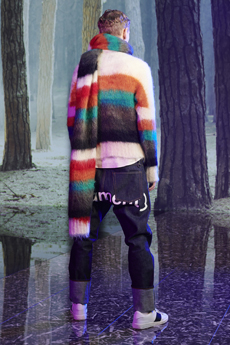 The classic human form is utterly redefined through the use of artful language and unique lenses from the designers. Swirling silhouettes swarm the space in the couture lines, the extravagance confirming the freedom philosophy of the brand, unshackled by conformity. International heritages from vintage to urban to military to tech are made full use of, showcasing an open roof of ambition and relishing in demolishing boundaries.
Manipulating fabrication with a keen awareness for space, Moncler joins the body with materials and with the space they inhabit in a incomparable, thrilling way: a multiplicity of identities melting into one.
Fashion
High Octane Chic
Michael Kors, NY Fashion week Fall/Winter 2019
Cipriani Wall Street transformed for a moment into an old-school ballroom complete with herringbone floors, velvet curtains, disco balls and chandeliers and to finish the ambiance, traditional Studio 54 capsule designs were added. This collection was a real-time romantic dream that celebrated glamorous individual style. With Barry Manilow singing live 'Copacabana', better called the successor to Frank Sinatra, the show was a real flashback to one of the most sophisticated era's of all time.

"The city was edgy and gritty but underneath it all there was energy, imagination and a sense of total freedom. It's when the rules disappeared and a new kind of glamour emerged."

Michael Kors reflected back on his first arrival in New York in 1977. It was a time of unprecedented possibilities that he wanted to seize again in this collection. If you do that, there is only one option; collaborate with the most famous nightclub of the 70's and 80's: Studio 54! The logo, the glitters and the distinctive characters of that time have been translated by Kors into surprising contemporary items. Here, Kors experienced the mix of style, energy and glamour on an entirely different level, which influenced him forever.

His collection is an ode to this magical time. That is why the collection does not contain any fashion rules or dress codes. The collection is about expressing your inner own extraordinary personality. Iconic supermodel and old muse Patti Hansen closed the show and is the ultimate embodiment of this approach.

www.michaelkors.com
Fashion
Infinite Creativity
Hugo Boss, NY Fashion week Fall/Winter 2019
New York is the city where all sorts of cultural influences come together; art, design, architecture, and fashion. Disciplines fuse here faster than anywhere else. This visionary New York culture has been the starting point for Hugo Boss's new women and men's collection.

The collection was presented in the gallery district of Chelsea, the heart of the Manhattan art scene. Boss' decent and modest spirit aims to pursue formality, which has evolved in this collection into a more sporty identity that wants to stand out.

Long, custom made coats and voluptuous capes are made out of luxurious alpaca wool and double-faced cashmere. Edited patchworks are interspersed with graphic stripe constructions and sturdy quilts. Him and her are in contrast with the combination of extremely elegant flowing dresses and slouchy knitwear sweaters.

Traditional craftsmanship has been incorporated in this collection in high-end fabrics to refine the noble identity in a refined, creative way. The volumes of the designs have also been given unexpected proportions with raw-edge finishes and stitch details. Boss is nodding here to the great variety of architectural influences that New York richly possesses.

The basic colors have remained true to the roots. Subdued colors camel, mélange gray, biscuit and winter white are connected to extremes like cool yellow, bright blue and dark pink.

The diverse artistic references reflected in the details make the collection individual and quirky. The new designs from Boss invite you to watch twice - and then again; the unexpected is combined with the expected.

www.hugoboss.com
Music
Groove producer FKJ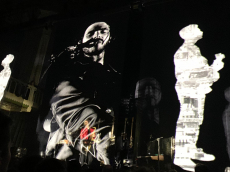 A new generation of pioneering musicians is taking over! Contemporary artists like Tash Sultana, Jordan Rakei and FKJ (French Kiwi Juice) conquer the world as solo multi-talents with niche productions that often enclose multiple genres. They are a DJ, a producer and an artist all at once and continually explore their horizons by entering into surprising collaborations mostly based on improvisation.

Last Tuesday and Wednesday, 27 year-old Vincent Venton (FKJ) from Tours, France gave two sold-out amazing one-man performances in Paradiso, Amsterdam. He can play almost every instrument both electric and acoustic with a focus on bass guitar, electric guitar, keyboard, saxophone, and he also has a modest jazzy voice. His oeuvre is influenced by electronic, rhythm and blues, soul, neo-soul, R&B, hip-hop, and even house. He already gave concerts at music festivals including EUPHORIA, CRSSD and Coachella.

FKJ seems to be in a very relaxed vibe during his performance. He does not talk or sing much; he just plays in a very sincere way. But when he sang live, it was more like he was talking, telling short stories. His keyboard and saxophone solos sounded like naturally improvised sessions that just aroused on the spot. FKJ recently jammed with fellow musician and producer Tom Misch at the Red Bull Studios in Berlin where "Losing My Way" got born. Last summer FKJ collaborated with Jamaican "traphousejazz producer" Micah Davis, better known as Masego (which means blessing in Tswana). "Tadow"was created, a piece of music that emerged from an undeniable shared chemistry.

Despite FKJ being alone, he looped his riffs and solos to give the illusion of a fully performing band of at least five members. While doing this, he mixed-in these earlier collaborations, giving the impression of Misch and Masego really being there. You also clearly hear that FKJ is touched and inspired by previous soul and jazz icons for example American R&B and disco singer Thelma Houston.

Making music is acting from the soul for FKJ. Rhythms are relatively simple and there is a lot of repetition, but the way in which all the layers flow into one another is the music of FKJ. Sit down, do not think about it, and do what feels right.

www.frenchkiwijuice.com
Fashion
Anne Imhof's New Work Exhibited at The Tate Modern for Ten Days
Frankfurt-based dynamic choreographer and visual performance artist Anne Imhof is revered for her utilisation of hyper physicality and incorporation of sound into her performances, often using unsettling rhythmic repetitions and sinister choral chants pumping out over a bass of static dissonance. She is known for her works Faust, Angst and a fascinating piece exploring human nature and control through the joining together of music and boxing in the Frankfurt Red Light District.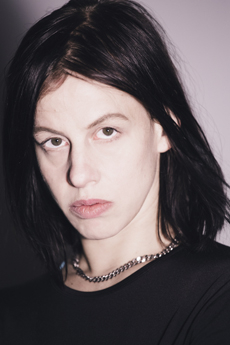 Common features of her work juxtapose the use of technology with stripped back Kafkaesque animalistic physicality. The dramatic 2016 piece Angst consisted of a segement with a drone stalking possessed, lifeless looking subjects dressed in non-specific attire who appear almost under the spell of the drone, miming along to loud vocal sounds in a pagan-like manner. Her provocative pieces blur the line between the performance activating audiences and actual active participation initiated from the audience whereby the performers' traditional spatial limitations are violated and encroached upon. In the way that a painting is able to use perspective, Anne invites this component to her physical performance work, effectively weaving in various levels, angles and perspectives for the audience to observe the work from. Anne cites the abstractive stationary work of artists like Francis Bacon as central influences inspiring the subsequent physical development of her performance pieces. This was most utilised in Faust in Venice for which she was bestowed the prestigious Golden Lion award.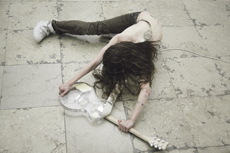 The direct impact of Anne's work on the perceiver inevitably lulls them into an intense, dreamlike space removed from familiar reality, forcing us outside of our comfort zones and thrusting us into an atmospheric trance-like state, both simultaneously unsettling and invigorating.
Anne Imhof will be occupying the full suites of The Tate Modern's Tanks with her single project combining music, paintings and sculptures over the course of ten days. This new piece will explore themes of technology, anxiety, proximity and identity and will take place in London from 22 March - 31 March 2019.

www.thetate.org.uk
Art
Existenz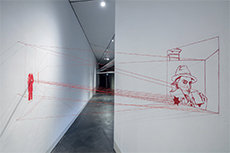 The Nussbaum Haus, built by architect Daniel Libeskind, dedicated to artist Felix Nussbaum in Osnabrück presents the spatial drawing "Existenz" of artist Brigitte Waldach. The installation gives the spirit of German-Jewish surrealist painter Felix Nussbaum an unexpected rebirth. His art gives an artistic insight into the life of one individual among the victims of the Holocaust. He was that individual itself who lived for a long time in fear of Nazi terror, a fear that has always characterized his work.

Waldach's spatial drawing embodies the center of existence in a distorted cube. With frightened excerpts and thoughts in the background coming from letters written by Felix Nussbaum.

The space expresses the "Raum für Gegenwart", which means the room of existence. Every wall illustrates a component of existence. On the wall of the "brain" the star of David is portrayed. This immediately recalls the gruesome persecutions, but for millennia this "star" has represented a spiritual unity. Waldach emphasizes this idea with white and black lines that merge and mirror the visible and invisible world of a fearful life. Through it weaves a red thread that reflects the lifeline of Nussbaum. A line that indicates how the fate of a young Jewish artist led to atrocious persecution.

This artwork is an ode to Nussbaum, but at the same time it is also an analysis of the life cycle. The individual circle of life is characterized by the endless creation and passing of different stages of activity. Between birth and death we experience situations of departure, separation, isolation, doubt and the constant presence of existential fear. The course of a life is a line of actions and reactions that an individual experiences.

The exhibition can be seen until November 10, 2019.

www.waldach.com

www.libeskind.com



Fashion
Jil Sander Fall 2019 Mens
Jil Sander's creative directors Lucie and Luke Meier are building their own aesthetic for Jil Sander, gradually adding elements to their aesthetical structure every season.

Take for instance the new campaign by Mario Sorrenti for Spring/Summer 2019, that emotional and authentic aesthetic rendered through a slice of life, a moment, a collection of memories of a road trip to the Japanese coast. Delicate instants, small gestures.

Held at the Hôtel Salomon de Rothschild, with its wonderful Salon D'Honeur's ceiling décor from the XIV century featuring a heavenly sky with cherubim, Jil Sander Menswear for Fall 2019 add another element to the brand: the modern and minimal aesthetic made of boxy silhouettes, a classic color palette - featuring ice grey, off-white, camel, beautiful cream tones, navy, burgundy - and razor sharp cuts.

The collection emanated bits of the codes dear to the iconic identity of Mrs Jil Sander herself in the 90s: a cool elegance far from stiff formalwear. Functional, free-spirit.

A particular attention was given to outwear often paired with color matching trousers: the opening navy mackintosh, the calfskin pieces cut and treated like oversized shirts. But also to a certain dualism of materials and textures like the patchwork sweater worn over fluid silk shirt.

It was a smart and appealing collection we are definitely looking forward to see in store.

www.jilsander.com
Fashion
An 'It' Bag Revived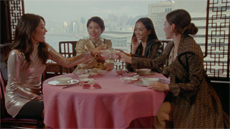 Fendi's 'Baguette,' one of the original 'it' bags, is back for Spring/Summer 2019. And while the Men's Fashion Week show in Milan showed that even the boys are loving it, there is no shaking the little bag's status as a feminine classic. With three storylines to its name and a host of stylish starlets among its fans, this is definitely a bag to unbox for a night out with your girls. Fendi's new #BaguetteFriendsForever project celebrates the revival with three friendship-themed shorts set in Shanghai, Hong Kong and New York.

The first episode — The Baguette is Back— is set in Shanghai and stars actresses Tan Zhuo and Qiao Xien, as well as fashion influencers Yu Wei and Yoyo. The Missing Baguette, the Hong Kong instalment, follows Taiwanese DJ Dizzy Dizzo, Japanese model Hikari Mori, Korean DJ Peggy Gould and 'it' girl Yoyo Can as they search the city for their objet du désir.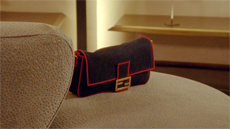 The One and Only Baguette, set in New York, sees influencers Caro Daur and Natasha Lau and models Ebonee Davis and Melissa Martinez, racing to buy a Baguette. 

All three films are scored with Groove Armada's My Friend.

The accessory — designed by Silvia Venturi Fendi in 1997 and subsequently seen on anyone who was anyone in the Nineties — made a strong resurgence during the brand's S/S19 womenswear show, embellished and embroidered, fashioned in brightly-coloured, 'FF' detailed leathers and befitting any socialite's wardrobe. For the men's show this month, the baguette was re-imagined in nylon and leather cross-body iterations, with the classic hand-held style appearing on the catwalk in shearling and faux fur.

www.fendi.com

Fashion
Louis Vuitton Fall 2019 Mens
When the day before the show we all found a white sparkly sequined glove as show invitation it was clear Virgil Abloh's Louis Vuitton second collection was going to recall his hero and inspiration through childhood: the iconic character who become a worldwide legend and still is after his sudden death 10 years ago, Michael Jackson.

When entering the show venue in the Tuileries gardens we saw a complete set as out from "Billie Jean" video: a New York sidewalk imbued with the atmosphere from those years when the King of Pop was at the peak of its growing fame. As the show started an original soundtrack, "You Know What's Good" composed by Devonté Hynes aka BLOOD ORANGE was performed life along with his musicians. It was an intimate moment more than a loud one. It collected all Virgil's sentiments: the unity for humanity he advocate, the extraordinary Michael Jackson coming of age sentiments, and all that Abloh's own childhood inspirations as young boy.

Amidst this slice of life moment when the models walked artist Futura performed a live graffiti. Some of the guests were seated as if they were part of the stage, just on a sidewalk as if it was an ordinary evening.

And there it came, the Abloh of new modern clothing codes (carefully explained in his "Vocabulary" as show notes): suits layered in stone and pearl heather grey wool gradation with fluid wide trousers, the puffa over them, the camel outfits with padded details, the declination of flags in the last looks, the very gender neutral elements like the floor swiping plissé wrap skirt. But also of course more direct references to Jackson' wardrobe: the sequined tour bomber, the gloves, the silk pyjama that model Alton Mason worn and turned into a performing costume for his continuous back-flips on the catwalk.

There are so many layers around Abloh aesthetic that we can't wait to discover as part of the new Vuitton's heritage for the years to come.

www.louisvuitton.com
Art
New Flagship store Molteni&C | Dada in London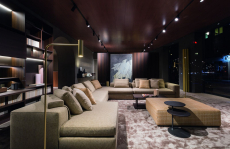 This month the Molteni group opened its third global brand showcase in contemporary number one design city; London. This high-end artistic design venue is applicably situated against the famous V&A design museum in the heart of Chelsea. Creative director Vincent Van Duysen has succeeded in creating a unique quiet moment in such a vibrant city. This new store represents a romantic life full of Italian flair, propagated in an "ordinary" looking house with two levels divided into many different zones.

To start with an impressive entrance, built on an inner door opens onto two floor-to-ceiling glass. Then you arrive at an iconic spiral staircase made out of walnut wooden and marble steps. Van Duysen made some sensational stylistic choices like the winter gardens brimming with all sorts of luxurious plants. This place is characterized by the theme of alternating perceptions that emerge in the surprising color and texture palette travertine marble and Korean walnut executed in various shades of gold and warm and bone greys.

This space is gracious, welcoming, dimensional and fluid thanks to the innovative distinctive details that will display the collections of designers such as Vincent van Duysen, Rodolfo Dordoni, Ron Gilad, Foster + Partners, Jean Nouvel and Patricia Urquiola and many others each in their own unique way.

To celebrate the opening, the new London Flagship Store will display a series of works by contemporary artists that develop The Collector's House project, a concept presented at the 2018 Salone del Mobile and, subsequently, in the New York Flagship inaugurated last May. The Collector's House, curated by art curator Caroline Corbetta, is an ideal collection that contributes to creating an ecosystem in which design and art enhance each other. Some designers that contribute are: Giuseppe Buzzotta (1983); Alessandro Dandini de Sylva (1981), Cleo Fariselli (1982), Emiliano Maggi (1977) Matteo Nasini (1976) and Vincenzo Schillaci (1984) are the six young Italian artists, represented by Rome's Galleria Operativa.

www.molteni.it

Fashion
Playful Drama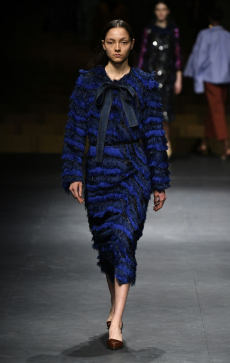 Odeeh's Jörg Ehrlich and Otto Drögsler want to create some drama for FW19. They conceptualized strong, individual pieces that can stand on their own. Many of the pieces play with opposites and challenge our understanding of a classic. Instead Ehrlich and Drögsler play on emotions with playful silhouettes. We see a dress with a pleated skirt and denim contrasts, a voluminous pink dress with fringe that teeters like feathers. What could have been all over the place comes together quite nicely with a limited color palette and standalone prints which find just the right balance.

The starting point for this collection was a 1920s workwear shirt found on one of their vintage tours in London. Both immediately translated that into a shirt in a fairly similar cut, but made from gray cashmere with an added pink fake fur collar. Low-slung waists too reference the 20s and show off Odeeh's nonchalant approach to the gender binary.

www.odeeh.com


Fashion
90's Nostalgia
Marina Hoermanseder is another designer who sparks joy with her creations and brings a sense of humor to her work. Here FW19 show took us back to the days of glorious sitcoms like 'Married with Children' and 'The Nanny' as well as iconic Tonya Harding costumes with just a hint of 'The Dukes of Hazard'.

The designer lays the 90s elements on thick as evidenced by the collection's first look already: purple cycling shorts, a modification of her strap skirt and a neon-colored, short sweatshirt. Strong country influences counteract the over-the-top nostalgia: Western buckles can be found on the typical strap skirt, sheriff stars are there as emblems and cowboy boots and hats finish the look. All this is an empowering spectacle and nod to strong, at times grossly underestimated, female characters that have shaped todays Gen Z, Hoermanseder's loyal followers.

www.marinahoermanseder.com

Fashion
Fendi's Fall/Winter Collection Captures Classic Italian Style with a Contemporary Twist
In Fendi's Fall/Winter 2019 Menswear line, Karl Lagerfeld and Silvia Venturini pay homage to the classicism of Italian street style, drawing influences from more modish urbanwear and employing traditional tailoring in a contemporary fashion. The collection is a full demonstration of Lagerfeld's hand and encyclopedic knowledge of menswear, seeping with clean and timeless style.

Fendi achieves the fine balance between venerating the distinctive staples of the brand whilst subverting the notion that tailoring is characterised by clean cut, stark symmetry. Beautifully fabricated sleek a-line jackets with sharp shoulder cuts, flared trousers softly secured around the waist, leathers and furs feature are all expected features however the bags and accessories are perhaps the most notable feature in the collection, creatively devised and expertly crafted.

The dynamism of featuring asymmetrical half-half jackets and overlayers reminds us that this formula is available for adaption. The integration of bold, intrepid urban staples such as oversized anoraks and quilted puffer jackets stitched with colourful inner linings excite the collection with a freshness that never oversteps into the core essence of Fendi.

The collection loyally adheres to palettes of sharp blacks, metallic sheens and classic neutrals focussing on rich chocolates, nutty browns and creamy whites. The occasional dash of bold reds, yellows and oranges seen in the sleek footwear trimmings is a clever, understated touch that adds a subtle flair of zest and contemporary edge to the collection.

www.fendi.com
Art
Posthumous Exhibition in London and Paris Celebrating the Life and Work of Franz West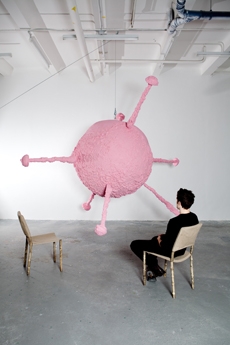 Franz West is widely known and revered for his 40-year career that features notable highlights such as his series of Adaptives in the 1970s, his Lemur-Heads scattered around Vienna as well as his use of unconventional materials in building furniture and his famously colourful work with paper mache.

Franz's work requires us to take his hand and accept his invitation to actively engage with the art. For Franz, the meaning is not some ungraspable, floating figment in the ether. Rather the meaning is what we decide to grant to it and is the various experiences that are evoked upon our direct, personal interaction with the given piece. It is precisely this mirroring of the external that makes Franz's work so inclusionary and what absolves him from any dangerous accusations of elitism or pretention. We are the essential, necessary final piece of the puzzle. Our realisations, our relationship and our connection with the pieces are paramount and take priority focus – how we respond, what we evoke, what we discover.

Franz is renowned for his light-hearted, open, playful and at times humorous quality paired with an underlying deeply introspective and subtly philosophical approach, driven largely by an understanding and respect of the free man to enjoy leisure and not always be so as Franz himself put it 'deadly earnest.'

Vivacious, vibrant and interactive, this exhibition invites us to celebrate the extraordinary life and lively work of Franz West – to touch, to wear, to handle and to open yourself up to a rare and inclusionary experience of art as you have never had before.

The multi-faceted Austrian artist Franz West's life and work (1947-2012) is posthumously celebrated as part of a major exhibition taking place at The Tate Modern, London and the Centre Pompidou, Paris from the 20th February to the 2nd June 2019.

www.tate.org.uk
Fashion
Giorgio Armani x SANG WOO KIM
Artist first, model second, Sang Woo Kim has collaborated with Giorgio Armani on a special digital project — to creatively interpret FW18 from behind the scenes.

Born in Seoul, raised in London, Kim studied in and dropped out of London's finest schools. Fine art is his first love, where his instinct began to drive his inspiration. Sang Woo translates literally to: each other, helping. While discovering his own identity through art Kim's confidence sky-rocketed as his peers began to dress and shoot him for their personal projects — as a result of helping others, he found himself.

Through this collaboration, I wanted to capture and transmit with my photos this shared feeling of romance, masculine sensitivity, and elegance, and in a completely uncontrived way; thus staying true to the vision of Mr. Armani.

With the decadent, stark and supreme Armani/Teatro space as his stage, Kim gently opens the curtain on the wonderful world beyond. Marvelous boots, stunning mitts, and cheekbones galore Kim's contemporary flair fills the pages with a human vulnerability so vivid and honest — successfully curating the theatre of Giorgio Armani with his artistry and vision.

www.armani.com
Fashion
Rick Owens Spring Summer 2019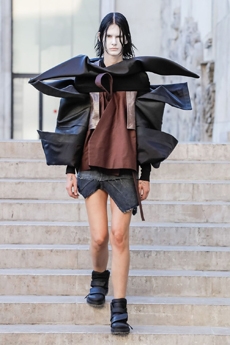 A humongous burning pyre in the shape as a conic towers standing in the middle of miroir de l'eau of Palais de Tokyo. Rick Owens Spring Summer 2019 felt beautifully unsettling. It was inspired by the biblical Babel Tower and the architectural Tallin's tower as mentioned in the show notes. Architectural as the clothes envisioned by the designer with intricate layered structures that at times seemed as out of Russian constructivism illustration.

Draped, twisted, tore. This is Rick Owens in its purest form. The intrinsically constructed cut-out leather dresses and capes together with more fluid signature's pieces carefully composed the images of a procession in name of – as Owens addressed himself – a better world in spite of the dark times. Some of the models carried torches: high priestess, but also soldiers with a menacing armoire and fragile new adepts. It is the ceremony-like ritual that bonds together societies according his words during FW2017 show. Also this season it all felt into place. Owens' dark vision nevertheless felt beautifully auspicious amongst the sea of current uninspiring fashion gestures.

www.rickowens.eu
Fashion
Saint Laurent Spring 2019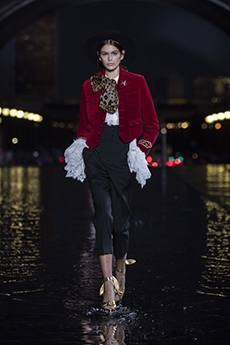 Fluorescent-like huge palm threes designed by artist Vincent Lamouroux looking at a glittering Tour Eiffel at dawn, where a stunning pink red light pervaded the whole Trocadero. And models walking on water. Anthony Vaccarello's postcard from Saint Laurent Spring Summer 2019 never felt so charming. It evoked our desire of Summer, of far-away places like Yves beloved Morocco.

Vaccarello showed a collection true to his aesthetic, shorts in all declinations, mini dresses and several version of tailored tuxedo ensembles. But also Western America style looks and a series of sheer fluid dresses. The hats, the bow shirts, the knee boots: the 60s, the 70s and the 80s where all part of Vaccarello reference palette, inspired by Monsieur Yves' archive, delivering a collection where the feeling of the "night" was a big protagonist.

As the last looks glided on the water with long fluid animal print chiffon dresses the reference built up strong. We felt the references to the iconic 1971 couture Spring Summer collection inspired by Yves' longtime friend Paloma Picasso but also the overall references to Saint Laurent woman. Running late to her own wedding in a black fitted leather jacket and incorrigibly spraying her favourite fragrance in front of an astonished marriage officiant interrupted as he reads the vows, the 80s Rive Gauche perfume advertising could not be more on point: pas pour le femmes effacées. Definitely not for the modest woman.

www.ysl.com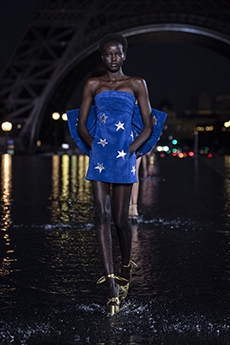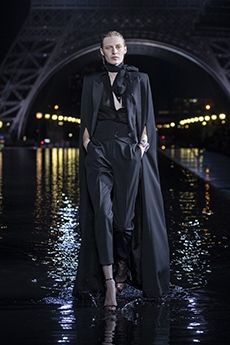 Fashion
Highlights from Milan Fashion Week
Jil Sander Spring 2019
Was the outside inside or inside outside? Who knows? What is for sure is that Lucie and Luke Meier made another lasting impression with the Spring 2019 collection for Jil Sander.

Enter centre stage: the former beloved Milanese Panettone factory. Traditional white tiles adorn the now forlorn walls; operational buttons and levers exist as relics of the past. This was a setting that conveyed function, sense and a certain pragmatism that epitomizes Jil Sander.

Chiseled, sharp, asymmetric two-pieces began the carousel. As time transpired the looks grew in their femininity - sharp minimalism developed an asymmetric funk before evolving angelically into loose, airy ensembles. Rich greens and deep milk chocolate brown rose to crisp innocent white and luxurious caramel tones.

A common trend for Spring 2019 will undoubtedly be the ever-trusty pocket, which infiltrated another runway here in Northern Milan.

www.jilsander.com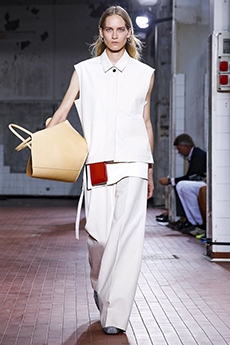 Byblos Spring 2019
The regeneration of Byblos is here. Manuel Facchini made a welcome return to the Fashion week circuit in Milan this week with an incredible collection that twisted space atmosphere into something sporty.

Self-expression community experiment Burning Man influenced the Byblos Spring 2019 collection - the annual gathering in north-west Nevada's, Black Rock Desert dedicates itself to anti-consumerism, communal effort, radical inclusion and leaving no trace.

These influences have birthed a special utilitarian collection that creates a sexy survival atmosphere by translating the colorful Nevada horizons into a playful and ironic space hippie typical of the desert melting pot.

Bonus points for the speculation of an active-wear collaboration.

www.byblos.it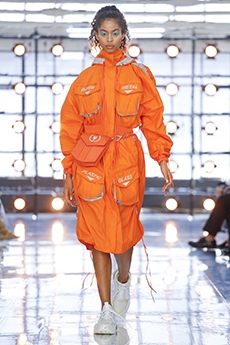 Fashion
Diesel x Mustafa Capsule Collection
Diesel have their tongue firmly lodged in their cheek for their new collaboration. A campaign that sees the Italian Denim Brand propose that the coolest brands are found in the coolest places. A proposition that has landed them in the diverse metropolis of Berlin to collaborate with "the only true artist in berlin", Mustafa.

Mustafa's Gemuse Kebap to be exact. Known quite simply as the best kebap in the world. With a minimum wait of 20 minutes Mustafa's kebap has a collosal reputation one that quite literally busts the block. Diesel is not without their own reputation of course. Collaborating with a kebap stand despite its iconic stature in pop culture defies normality. This is the game.

Graphics combining the logo of both esteemed brands adorn the T-shirts, sweatshirts and caps that complete the 14-piece capsule collection availavle in Europe, China and the USA.

www.diesel.com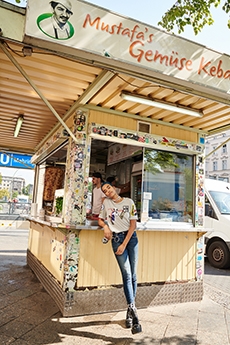 Fashion
Highlights from New York Fashion Week
Escada Spring 2019
The quiet presence of Escade erupted at the Park Avenue Armory. To celebrate the 40th anniversary of the German women's-wear brand, new creative director Niall Sloan looked to ignite the new corporate power women with loud jockey inspired color blocking.

www.escada.com
Tom Ford Spring 2019
Tom Ford used New York Fashion week to return to his classical past, a class that oozes sex appeal, sensuality and luxury. The Tom Ford Spring 2019 collection maintains a strict palette of black, white, gray and nudes drawing from the sensual warmth of humanity we so often crave.

www.tomford.com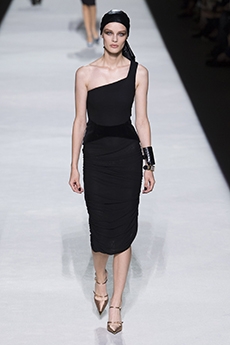 Fashion
REFLECTIONS: dunhill FW18 Campaign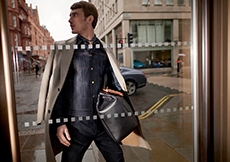 Life is made of details, those little gestures that day by day build up our personality. For dunhill, accessories function exactly to define a precise sense of uniqueness, which in turns comes out from a variety of multifaceted aspects that literally mirrors the brand's DNA. This is the philosophy unveiling the British tailoring label's Autumn Winter 2018 campaign —  the second season under new creative director Mark Weston —  centering around the visual metaphor of "reflections".

Elegantly shot by photographer Jack Webb in the streets and through the glass fronted buildings of Mayfair in London, the pictures present the firm beauty of model Clement Chabernaud. Layered outerwear pieces and traditional cashmere coats nonchalantly speak for British masculine elegance, while leather goods underline the always contemporary yet timeless language of the brand.

www.dunhill.com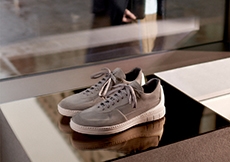 Fashion
FAMILY PORTRAIT: Kim Kardashian with her mother and daughter in FENDI campaign
In the year of the 10th anniversary of the launch of the iconic Peekaboo bag, Italian fashion house FENDI invited American reality-star Kim Kardashian, her mother Chris Jenner and 5 years old North West to take part in new campaing. Shooting took place in sunny Los Angeles. The main theme of campaign — family values and women with a bright personality.

Following the first chapter, a video and image campaign featuring Silvia Venturini Fendi, FENDI Creative Director for Accessories, Menswear and Kidswear and her daughters Delfina Delettrez Fendi and Leonetta Luciano Fendi, this one now focuses on five international couples of women. This time Italian famous brand decided to show the family portrait of the Kardashian clan.

www.fendi.com
Fashion
Louis Vuitton x FIFA World Cup 2018 Collection
French multinational luxury brand Louis Vuitton announced about holding an auction on July 12 at charity gala dinner.

The event has been organized by Russian famous supermodel Natalia Vodianova and music producer Yana Rudkovskaya. It is a part of the Year of Culture Qatar-Russia 2018. It will be supported by Qatar Tourism Authority and Supreme Committee for Delivery and Legacy 2022, in aid of Naked Heart Foundation, helping children with special needs.

Each of the 13 match balls inside this remarkable Louis Vuitton trunk, redited by adidas, will be singned by former FIFA World Cup winners of 1970 to 2018 editions.

www.louisvuitton.com

Fashion
FENDI x RIMOWA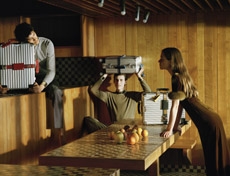 LVMH iconic brands Fendi and Rimowa renovate their partnership, introducing two new versions in blue and red for their one-of-a-kind cabin trolley.

Honouring the companies pioneering heritage as well as celebrating the completely new Rimowa visual identity, the very modern suitcase stands out for a sophisticated design and materials.

On the one hand the aluminum equipped with an innovative Multi-wheel system and the individually adjustable Flex-Divider system confirm the modern language of Rimowa, On the other hand, the use of Cuoio Romano leather and the elegant neoprene lining with a black-on-black embossed "FF" logo thoroughly glorify the timelessness of Fendi.

The cabin trolley is available in selected FENDI and RIMOWA stores, on fendi.com and rimowa.com as of June 18, 2018.

www.fendi.com
Fashion
Weightlessness - Ermenegildo Zegna SS19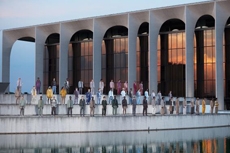 Fusing performance and speed of sports, Alessandro Sartori's Spring Summer 2019 collection for Zegna elaborates a clean and sophisticate sense of lightness and linear functionalism.

The airy silhouettes unveil hybrid forms, playing with experimental collars and double sleeves. Mantaining a sobrious yet contemporary language, a very pale color palette reinforces the outlines of Sartori's metropolitan aesthetics. The collection includes bombers, parkas and anoraks, which are combined with tailored high-waisted double pleat trousers. Perforations, degrade checks and souvenir prints enhance the feel of immateriality.

"Creation for me always stems from a technical challenge. I am presenting shapes that are bold and voluminous, yet very light, in layers of meshes, wools, silks." says Zegna artistic director Alessandro Sartori "I found the same challenge in the architecture of this space. It is the perfect place to unleash the Zegna crew of individuals who recognize themselves in the XXX logo, which runs from the clothes to the set-up, unifying the message: a symbol of couture craft that is also the most personal and unexpected expression of Zegna".
Fashion
CamperLab's New Store in London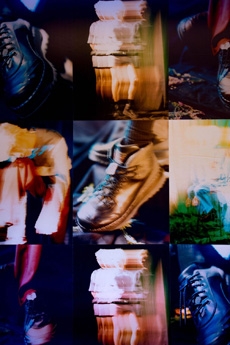 Established in the Shoreditch district of London's East End, CamperLab has opened a brand new store. A true minimalistic, modern store with an urban vibe. Different from the traditional Camper stores worldwide, the store has a more contemporary, advanced and futuristic feel.

Collaborating with different designers such as Eckhaus Latta and Kiko Kostadinov, the shoes are taking bold steps forward in their urban designs, looking glamorous and raw at the same time, while staying true to its underground aesthetic.

The new store is located at 13a Boundary Street E27JE, London.

www.camper.com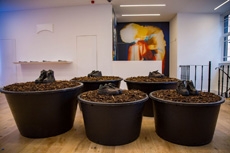 Fashion
Giorgio Armani to celebrate the opening of the new Giorgio Armani and Armani/Casa boutique in London with a private "Giorgio's" pop-up club at Tramp
A private Giorgio Armani trunk show hold at Giorgio Armani boutique in London inaugurates the opening of Giorgio Armani and Armani Casa boutiques in prestigious Sloane Street, London.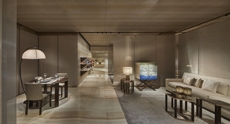 The renovated space of 1000 square meters that hosts the two adjacent boutiques features 5 display windows that introduce to a totally new concept, which was curated by Giorgio Armani and his team of architects.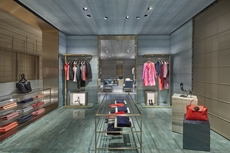 Mirroring the refined sense of distinctive, minimal elegance characteristic of the Maison, the boutiques focus on the extensive use of space. As well, a light and clean distribution of lights and linear shapes meticulously highlights the balance between rigour and refined luxury.

To best celebrate the event, the trunk show has been followed by "Giorgio's" pop-up club at Tramp Nightclub, which for the first time bring the private members night out of the Armani/Privet nightclub in Milan, including De La Soul's live performances and DJ Harvey DJ set.
Fashion
FEIT for TOOGOOD // TOOGOOD for FEIT Collection 02
FEIT founder Tull Price and British design duo Faye and Erica Toogood team up for the second time to launch the unisex Suede Artist Shoe and Suede Artist Boot, as a pure tribute to craftmanship.

The two versions readapt the design from an original desert boot and are made by hand from one-piece upper, which is consequently sewn by hand to the midsole.

With their innovative approach to sustainable solutions, the two models feature a biodegradable and non-irritant vegetable-tanned suede, which allows them to get better with age. As well, the water-based glue used to cement the midsole and the outsole and the shoes can be resoled thanks to the Goodyear construction process.
When looking at the clean design and solid structure of these two clever proposals, it is clear that this project is not only a challenge to the industrial way of thinking, rather it is a consistent demonstration of how the future of fashion is already present.

The Suede Artist Shoe and Suede Artist Boot will be available online and at FEIT New York and Toogood London stores from 21st March 2018.
Fashion
Shine on: Christian Louboutin launches their new sparkling Lip Glosses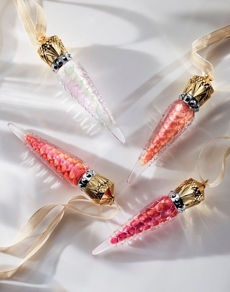 There is no need to say that Christian Louboutin knows exactly what glamorous women want: to shine as stars do.

For this summer and as a gift to fashion lovers, the iconic designer introduces a very sparkling collection of high-shine lip glosses.

Loubimirior is a glassy vinyl presenting a very slick finish. Enriched with Vitamin E and shea butter to improve idratation and reducing fine lines on lips, this glossy lacquer intensifies lips' fullness and natural beauty, as well as it can be layered over any Lip Colour for a bold effect.

With its irresistible color-changing effect, the Loubilaque Lip Gloss is available in four different shades featuring a metallic finish on lips, which is highlighted by irridescent glitters and pigment pearls.

Yet Louboutin takes the gloss formulas to the highest level thanks to an attentive focus on the teardrop applicator's precision and functionality for both the versions, which are additionally enriched with a delicate feminine scent.

As if they were jewels reminiscent of Art Deco movement, the lipstick cases' design represents one-of-a-kind treasure to wear as a pendant. Indeed, the vial is carved with a marmaid tail pattern and enclosed with a turret-like crown, which is in turn threaded with a delicate silk ribbon.

Loubimirior and Lubilaque lip glosses set up the make-up rules for the upcoming season, irradiating summer days with their brightly feminine and super seducing features.
Fashion
Highlights from Paris Fashion Week
Berlin 80s underground scene is the leading mood for Clare Weight Keller at Givenchy, whose collection takes inspiration from cult movies such as The Hunger and the documentary B Movie: Lost and Sound in West-Berlin, 1979-1989. Several faux furs, leather jackets and psychedelic prints dominate the collection, which unveils asymmetrical cuts and laboured fabrics elaborating an effectively sophisticated youth couture.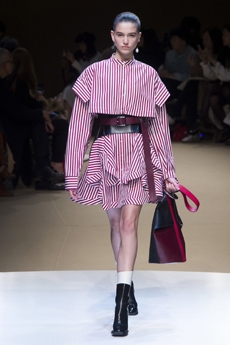 In Alexander McQueen's show, models of various ages tell a new narrative for Sarah Burton. As when caterpillar become butterflies, similarly this collection speaks of a powerful metamorphosis. The designer's tailoring heritage reaches the next level, presenting precious details such as insect and wing decorations on transparent dresses. Structured shoulders and bustiers are in balance with more rounded, almost romantic ruffles, as well as subtle silk fringing on a opulent evening dress enhance the idea of a fluid movement and distinctive femininity.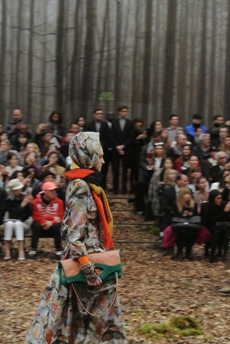 Literally overwhelmed by natural world, Karl Lagerfeld unveils a collection in-between Eighties moods and forest references. On the one hand multicolor or black and white leaves prints, oxidised gold leather details, iconic tweed looks and vintage outlines would suggest a classy yet totally wearable proposal. On the other hand there is an interesting presence of flowing billow-sleeves over ultra lean coats or on elegant evening dresses in lace, which adding romantic feel to the overall collection.
Regardless of the Sixties references of the collection, Miu Miu establish a "kind of alphabetical system, a language for expressing and defining oneself". With Elle Flanning opening and closing the show, Miuccia Prada presents several versions of vintage oversized jackets and coats, mohair sweaters, mini-skirts, tweeds and iconic bobby socks, which recall the girlish brand's youthful signature alternating flaming and playful pastel colors.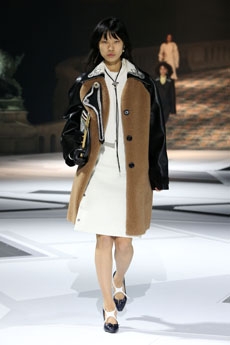 Women and their right are more and more at the centre of social debate. Therefore interpreting femininity is the main theme at Louis Vuitton for Fall 2018. With a collection that somehow renovate classic elements of 19th century military uniforms and turn them into skirt-suits, shearling jackets and peplum tops, Nicolas Ghesquiere's contemporary approach to fashion unveils a very sophisticated notion of elegance.
Fashion
Highlights from Milan Fashion Week
Hogan Galaxy is nothing but an open invitation to take an interstellar journey on another planet. Presented in an (almost) parallel universe, the new luxury sneakers in a iridescent material are characterized by the Maxiplatform H222 motif, while rainbow platforms sign the structure of glossy metallic leathers. In addition to the chunks in purple or green, the H340 and Interactive models are realised with an innovative dipping technique enhancing the psychedelic spirit of the collection.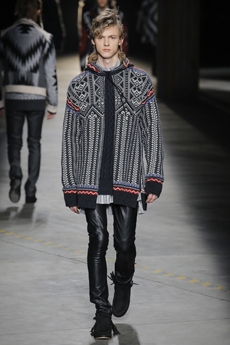 Travelling around the globe allows people to better incorporating a multicultural sense of community. Delving into Renzo Rosso personal archive, the youth memories and relics collected during his travels in the Eighties set the mood for both men and women collections of Diesel Black Gold. Tribal elements and embroideries recalling Mexican and Peruvian culture on sweaters and jackets accentuate a sense of adventure, although keeping minimal the overall aesthetics.
Angela Missoni loads the patterns of her collection with a nostalgic interpretation of the late Seventies. Trough multiple layers, strong color-contrasting patchworks and stripes, the range is is a rich, intense storytelling. From flowing coats, jackets and dresses narrate different cultures spacing between Italian, Jamaican and Scottish as well as they make reference to the historical brand archive to celebrate the 65th anniversary of the Fashion House.
Jil Sander develop a collection that elaborates a human-oriented vision preferring simplicity to hyper technological communication. Authentically minimal, the proposals do not stiffen the body, instead they achieve a state of fluid elegance trough the delicateness of organza and wool that gently wrap the silhouette. White and more pleasantly white, the color palette includes also precious pieces in navy blue, soft grey and black. Some of the coats and skirts are enriched by floral motifs or softened by round curves, while ribbed knits highlight the dominant mood embracing beauty in the most genuine sense.
Dresses are tool that can change the body and the environment around us. Trough a thoughtful collection named Techno-Primitivism, Francesco Risso brings the individual and the collective to Marni's ethical considerations. Bright hues in blue and acid green take over belted coats, knitted tunics are presented with large trousers, dresses in a vintage 30's look and eventually a felted coat made of recycled materials highlight the contemporary need for utilitarian and sustainable aesthetics.
AGL is a brand about women. With a presentation held in via della Spiga, Milan the proposals for Shoewear presented by the three sisters are truly devoted to light. Stand out of the collection, the Daylight are classic lace-up, which are reinterpreted trough the language of the brand and achieve a contemporary look with the decisive use of white over the minimalist shape. Luxurious materials and several colors introduce the Warm Light rain boots, while the extravagant Full Light/No Light speckled over-the-knee stiletto boots with a soft bootleg are dedicated to women with a powerful identity.
Fashion
Highlights from Milan Fashion Week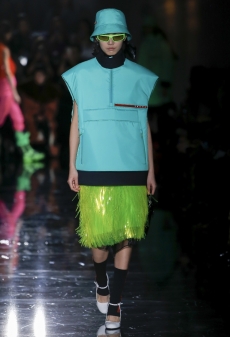 With over 64 fashion shows, Milan Fashion Week is likely the most outstanding event of the year. From the 20th to the 26th February, several brands have unveiled their energetic womenswear proposals for Fall 2018, once again consolidating designers' ability to interrelate the world of fashion with art and topics of sociological relevance.

Radically political, Prada presents a neo-retro-futuristic collection narrating the Milan's night cityscape and focusing on how women feel when walking alone during the night. Set in the newly constructed Tower by OMA, everything is intensified by the darkness of the floor, where models wear layered looks, featuring workwear elements combined with organza, tulle and tweed. Fluorescent digital prints as well as new Prada neon signs illuminate the atmosphere and work as signage over technical materials. With her collection, Miuccia Prada once again use the artistic mean to mark an important statement strongly standing up for women and their freedom.
Alessandro Michele loves reinterpreting past cultures. With his new collection set in a claustrophobic operational room, the designer invites us to be overwhelmed by the complexity of the creative process. With models carrying baby dragons, chameleons and severed heads, Gucci Cyborg is a complex imaginative ensemble of fine materials and vintage quotations. Showcasing knitted balaclava, lurex jackets, feathered sleeves, organza dresses combined with iconic american Paramount Logo or cult movies like "Faster, Pussycat! Kill, Kill!".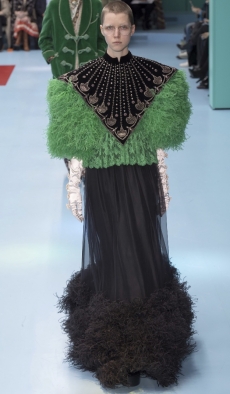 Apparently, truth is out there. An extraterrestrial fantasy leads the mood of Moschino by Jeremy Scott, who gives form to a conspiracy theory according to which Jackie Kennedy was an alien. Therefore, face-painted models with vintage 60's looks in pop neon and pastel tones on skirts, pumps and pillbox hats playfully underlining the bright spirit of the brand.
One of the most recognizable aspects of cyber punk aesthetics is the one of imagining hyper technological future landscapes intersecting vintage design features. Skin and earthy tones in brown and pale olive green determine the romantic outlines of shouldered dresses and pleated skirts. With their collection presented in Milan, in a similar way Fendi re-elaborates different elements from the structured looks from the eighties and the vertical silhouettes of the Forties to underline and re-define a conscious and self-confident femininity.
Fashion
Peter Hujar's first full- scale retrospective exhibition at the Morgan Library & Museum
Vulnerable figures, dramatically portrayed in black and white over diagonal compositions, form the language of Peter Hujar, whose artistic production was recognised for the spontaneous yet touching immediacy of his 'difficult subjects'.

Over a span of 30 years, since the beginning of the mid-fifties, Hujar's production has faced and been influenced by shaking moments of cultural history, including the public unfolding of gay life between the Stonewall and the AIDS crisis, the emergence of punk performances in art and music and downtown subcultures during the Reagan Era, as well as the meeting with influential personalities, such as Susan Sontang (who contributed to Hujar's 1976 monograph).

The interest for subcultural forms of expression and drag performance, led him to meet with Warhol Superstar Candy Darling, who asked Hujar to make her a portrait as "a farewell to the fans". Set in a hospital room where Candy was admitted for lymphoma, what should have been resulted in an unpleasant image of death was actually transformed in an elegant atmosphere highly suggesting a calm serendipity.
On the one hand, the artistic authority that Hujar's work has achieved overtime collects an immersive and wide contemplation of human bodies and their shapes, investigating on the transient fugacity of life, highlighting both their corporeal presence and interiority. On the other hand, additional works (such as the shots taken at the Palermo catacombs in 1963) featuring still-life, landscapes and animals unveil his sophisticated and melancholic sensibility for existence as a whole.

Peter Hujar died of AIDS in 1987 and more than thirty years after his death, his photographies are gaining worldwide traction more than ever.

For the first time and at The Morgan Library & Museum until the 20th of May 2018, a full-scale retrospective presents 140 photographs of this great artist, displaying the prints how Hujar wanted his work to be exhibited: flirting with disorder to let the viewer dive in the deep storytelling of each single image.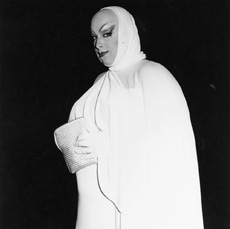 Fashion
The lighthearted woman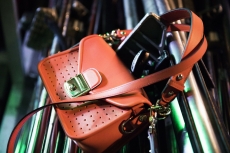 Paris is a soft backdrop for Longchamp's Spring 2018 campaign, where a happy-go-lucky Freja Beha Erichsen explores the romantic city photographed by Angelo Pennetta.

Featuring different pieces from the ready-to-wear collection as the safari jacket coming in a variety of materials, from laser-cut leather to canvas, worn with shorts and fringed skirts.

The campaign foucsus on the iconic Mademoiselle Longchamp hobo bag in perforated calfskin, which this season will be proposed also in a mini size. The second pillar of the range is the structured Madeleine that stands out with an innovative three-tone graphic version. Longchamp introduce its new sunglass collection, including the butterfly model with an oversized frame that softly enhances the alluring mood of the season.

Launching the 20th of February worldwide, a film directed by Ujin Lin will be shared on the website and social media channels.


Fashion
Lanvin Fall Menswear 2018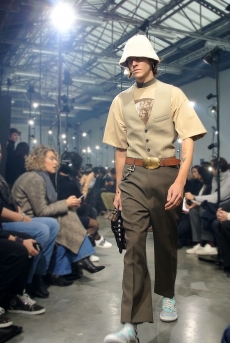 A landscape of lights. A cityscape and its never-sleeping crowd.

Lanvin Fall 2018 collection epitomises Lucas Ossendrijver's extraordinary know-how in constructing a garment and inventing totally new codes.

We have seen the seminal elements in his Summer Spring 2018 presented last June: combined fabrics, double inlays that revealed a duality.

This season we see the apotheosis of this idea: deconstructed and layered garments play together where everything is masterfully balanced blurring the borders of the garment's identity itself.

It's that strong sense of the unexpected invading the entire collection. Sports pieces in fabrics borrowed from the tailoring world: see the puffer gilet delivered in grey pinstriped wool worn over a classic coat.

It was mesmerizing trying to capture all the annexed elements, the attached from the layered, the inserts pieces where the subversion of the traditional idea of a suit is the main theme.

"I focused on the most classic, almost passé item, drawn directly from the legacy and origin of the Lanvin man: the suit. What is a suit? Two pieces, a jacket and trousers, cut from the same fabric. I wanted to deconstruct this idea, using layering". Ossendrijver's approach on tailoring delivers a modernity merged with sartorial tradition.

The use of sleeveless parkas is striking: layered on tailored pieces or part of a articulated garment: a part-technical, part-suit parka jacket – in an updated Price of Wales check – sported an asymmetric zip around the collar to reveal a shirt and another suit jacket beneath.

"For me, these combinations make a modern suit. I wanted to create a smokescreen".

www.lanvin.com
Fashion
Louis Vuitton Menswear Fall/Winter 2018
Just few days before the show it was announced that Kim Jones would present his last collection for Louis Vuitton Menswear.

For many reason it was certainly a surprise. Who more than Kim Jones delivered year after year beautiful collections true to one of the oldest French Maison's identity while bringing it to hype amongst the younger crowd? Last year's Louis Vuitton collaboration with Supreme is only one of the acts in this sense.

After 7 glorious years, first appointed as Menswear artistic director in 2011 by Marc Jacobs -at the time creative director of the brand - he developed a signature style with a travel allure, the latter being the main recurring elements in Louis Vuitton heritage.
For his last collection at the brand Kim Jones used once again his travels, this time in Kenya, where areal photographs are directly featured on prints. Their colour palette with warm dry tones - recalling natural rocks, lavas, and infinite landscapes - running throughout the collection. It delivered a classic and elegant style while using sportswear elements like leggings worn underneath shorts and zipped blousons.

Gloss materials from fabrics to a spectacular python coat and pants (that on a closer look during a visit at the showroom resulted incredibly butter soft) together with organza overlay on coats and shirts – tracing a fil rouge with previous' season Hawaiian organza t-shirt – epitomise Louis Vuitton's delicate and refined definition of luxury .

Kim Jones picked from many themes: the American rodeo, the Siberian temperatures with an intarsia mink, a safari attire and the world of hiking and climbing with hints of neon yellow and orange.

The show arrived at its peak when iconic top models - and friends of Jones - Naomi and Kate joined the runway, dressed in glazed monogrammed raincoat.

A beautiful finale as ode to a new beginning.

www.louisvuitton.com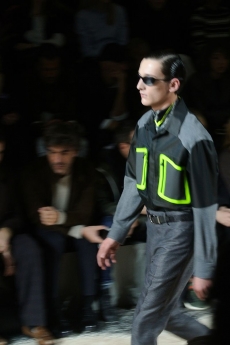 Fashion
Junya Watanabe Menswear Fall 2018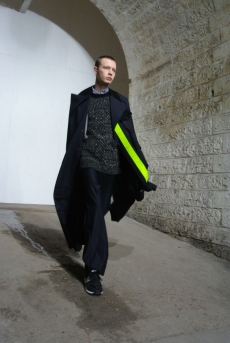 Junya Watanabe has always been researching on workwear for his Menswear collection.

It's a fuss-free, genuine utilitarian take on clothes that are impressed on our everydaylife, from heavy duty to white-collars. This season was the turn of the fireman, the waste collector, the delivery boy, the office worker, the college student, the hiking guide.

Some carrying totes and backpacks that transformed into a jacket, ready for any weather sudden changes. A reflective band run through the entire collection, also adorning the more tailored jackets, sweaters and coats. A hint to our modern times where office hours often extends into late night.
As the colour palette was imbued with black, dark blue, grey, orange, red, the materials spaced from technical materials to heavy wool and relaxed knit pieces.

Watanabe has been a pioneer in brands collaborations before it became the new cool in the industry.

Also this season Junya Watanabe collaborations featured Carhartt, North Face, Levi's, Canada Goose, New Balance conferring that high-tech know-how and durability to staple pieces which will undoubtedly never go out of fashion.
Fashion
Damir Doma Fall/Winter 2018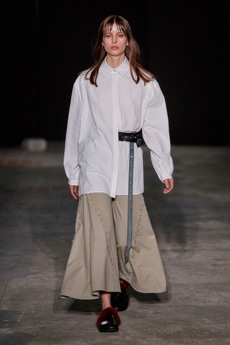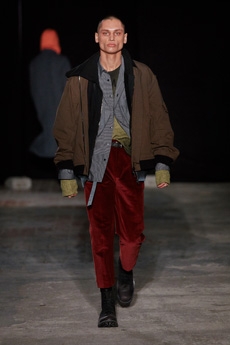 Back to 1980s, German Männer Vogue style and energetically loaded by Dj's duo Barker & Baumecker techno-beats echoing the vaulted rooms of Halle Am Berghain, Damir Doma returns back to Berlin to present the Fall/Winter 2018 collection.

Men's and womenswear silhouettes spread the positive energy of the club scene, unveiling a radical juxtaposition of tailoring and drape. A 'Super 110's" wool selvedge outlines blazers and shift dresses. Asymmetric lines and bohemian allure reveal vented coats cut in wool felt, seersucker corduroy and grid-cotton, sculpted leather blousons and wool satin tunics.

By contrast, the modern landscape is enhanced by airbrushed rib jersey and ombre sweatshirts. Sprayed brogues, stretch cuissards and belt pouches are realised in collaboration with Officine Creative and highlights Berghain's spirit to keep late hours.

The collection continues exploring fabrics and patterns, such as vintage florals, silk paisley and carpet knit that drop a hint about the designer travel history across the major fashion capitals in Europe.

www.damirdoma.com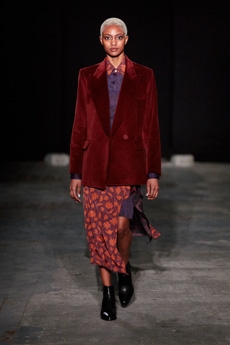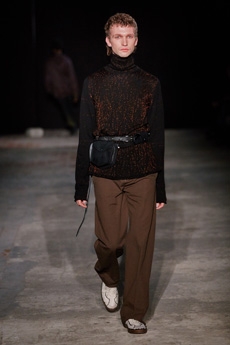 Fashion
Dior Denim by Kris van Assche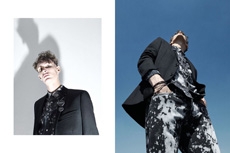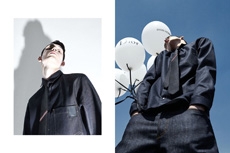 Perfectly in line with Kris Van Assche's minimalistic aesthetic, Dior Denim Spring Summer 2018 collection gives space to the reinterpretation of the men suit.

The Dior's proposal defines the outlines of a urban man, without compromising its timeless and smooth elegance.

Crisp shirts and silk neckties strengthen the Double Denim's concept, which is firmly enhanced by bold graphics and sheepskin collars, as well as precise cuts and a silver-embossed logo tab. Despite the opulent of details, such as the season's club kid slogans or the roses embroideries, the look stays balanced. Parts of the collections are also the straight leg 5-pocket jeans, denim shirts and jackets in an array of pale tones, varying from raw indigo to vintage black.

Moreover, exclusive pieces customised with London, Paris, New York, Los Angeles, Hong Kong, and Tokyo initials will be released with the collection and sold in 6 pop up stores around around the globe.

www.dior.com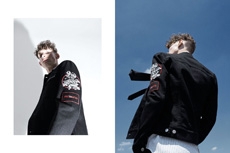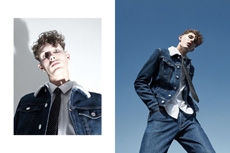 Fashion
Moncler's Florence Boutique Opening
With three windows creating access to Via degli Strozzi and Piazza della Repubblica, Moncler has inaugurated the opening of its new boutique at the very heart of Florence's main shopping area.

The space, which dedicates 160 out of 328 square metres to the sales, stands out for the presence of decorative elements that contribute to highlight a pleasant and sophisticated atmospere. Grigio Carnico marble at the entrance welcomes you to the store, whilst chêne fume wood paneling and a herringbone white Calacatta marble floor creating a balanced contrast with the display areas, whereas metal, glass and mirror details are presented.

Hosting all the Moncler collections including Moncler Grenoble, Gamme Rouge and Gamme Blue lines, the boutique will work as a strategic point for the brand's retail development plan, which confirms its strong presence as a milestone of the Italian fashion market.

www.moncler.com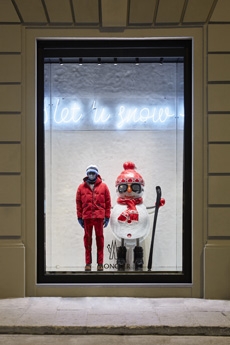 Fashion
Dior Lady Art Bag #2
Last year Dior invited a handful of British and American artists to reimagine the classic Lady Dior Bag for a limited edition. As the project was a great success, it is back now, featuring another ten artists from all over the world of different ages and origins.

Giving "carte blanche" to the artists, they could freely transfer their creativity into Dior's leatherworking language. Everything, from the fabric, to the charms, size, color, jewelry, handles and stitching could be adjusted by them.

The artists Friedrich Kunath, Namsa Leuba, Spencer Sweeney and Lee Bul created the new versions of the Lady Dior Art Bag. On Dior's website, one can watch a series of videos highlighting their individual artistic identities and inspirations.

www.dior.com
Fashion
Available Now: Roberto Cavalli's Capsule Collection for Spring/Summer 2018
Since December 6th, the Roberto Cavalli SS18 Capsule Collection is available in the online store as well as at the flagship stores in Milan, Paris, London, New York, Los Angeles, Miami, Dubai, Hong Kong and Beijing.

Curated by Creative Director Paul Surridge, the collection encapsulates the new codes of the brand's identity. The collection has strong, bold and dynamic features, which perfectly give every garment a character of its own and so it does for the women who are destined to wear them.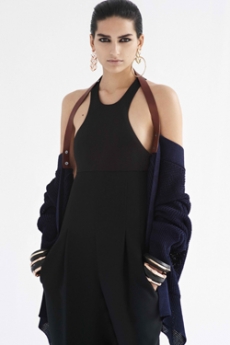 The clear design language exudes Italian spirit, quality and femininity in a straight-forward and sensible way. The traditional Cavalli codes are being transformed highlighting a more urban and cosmopolitan identity of the maison. Concluding that, this collection represents a new concept of contemporary glamour, focusing on advanced interpretations of daywear.

www.robertocavalli.com
Fashion
Saint Laurent Collaborates With Colette and Nobuyoshi Araki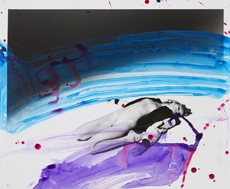 The Parisian concept store colette is offering a unique collaboration with Saint Laurent featuring collectors pieces signed by Anthony Vaccarello. Amongst all the desirable items, you will find a hoodie with Patti Smith print, skateboard decks, a Leica camera, a Polaroid SX-70, speakers and headset by Bang & Olufsen, a red Baccarat crystal heart and Helmets by Ruby in a crystallized and fully black version.

In addition to that, the store presents a unique collaboration between world-renowned artist Nobuyoshi Araki, Saint Laurent and its designer Anthony Vaccarello. The unique series of 16 photographs capture model Anja Rubik and integrates photography and painting techniques.

The series is named "Saint Laurent Shiki-in", which means "lust for color" in Japanese, and intertwines elements of the world of Saint Laurent with the traditional themes of Araki's work. All of the pieces can be pre-ordered at colette through the Taka Ishii Gallery and then be sent from Tokyo along with Araki's signature and certificate of authenticity.

The exhibition will be located on Colette's Mezzanine, while the range of co-signed collector's pieces will be displayed on the first floor until the 20th December.

www.ysl.com 
www.colette.fr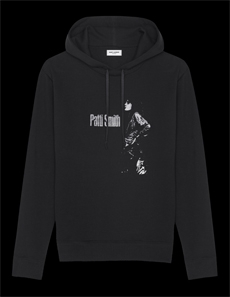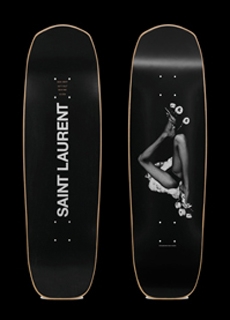 Art
Ballenesque — A Retrospective by Roger Ballen
With its probing, challenging images between painting, drawing, photography and installation, the work of American art photographer Roger Ballen is one of a kind. He was born in New York in 1950 but has lived and worked in South Africa for over 30 years and is often named as one of the world's greatest art photographers. The term Ballenesque, which is already a firm part of the lexicon, is synonymous with his rich monochrome vision, psychological insights and constant reinvention.

His work is being displayed in the permanent collections of some of the best art institutions such as MoMa in New York, Tate Britain in London, Stedelijk Museum and Rijksmuseum in Amsterdam. Reflex Gallery in Amsterdam is hosting a double-sided exhibition of Ballen's art, comprising a mini retrospective of 30 works and a selection of 150 Polaroid images. These constitute the first display of color images by the artist during his entire career and offer the opportunity to own an original Roger Ballen image in the form of a Polaroid. The exhibition will be open from the 23rd November until the 30th December 2017.

www.reflexamsterdam.com
Fashion
Fendi Partners Up With Rimowa
The Italian fashion house Fendi has joined forces with the iconic luggage brand Rimowa from Germany and created a one-of-a-kind piece. Rimowa stands for design, durability and craftmanship and is popular amongst fashionable people and those working in the industry. The trolley combines Fendi's savoir-faire and daring creativity with the modern design and high-tech attributes of Rimowa and successfully intertwines the DNA of both brands. The suitcase is made of aluminium and equipped with a Multiwheel system for smooth and effortless traveling. 
Featured in the Cuoio Romano leather, the key values and signature design of Rimowa are perfectly coupled with high-quality, unique details and craftmanship such as the sophisticated, emblematic double F logo with a brushed effect on the aluminium, which changes its perception depending on the light. The black leather handles, along with the web belt, that runs across the case in tones of yellow and a touch of black with the logo, gives the case a characteristic Fendi touch. This ultimate traveler's piece comes with fun stickers and a name tag where you can add your personal details. Available in selected Fendi and Rimowa boutiques and on fendi.com as of December 2017, just in time for Christmas and all those who will be traveling around the world during the festive season.

www.fendi.com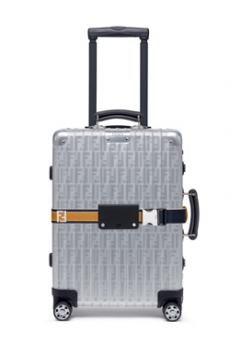 Fashion
"Hermès à tire-d'aile. Le monde de Leïla Menchari" exhibition opens at Grand Palais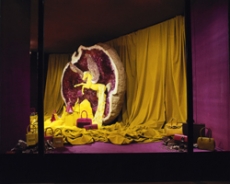 Imagine a Hermès bag completely covered in coral, placed at the centre of a theatric scene, surrounded by a universe in soft pink, pale orange, mother-pearl and a constellation of rose coloured marine flora. It's just one of the enchanting worlds created for Hermès by Leïla Menchari, who for over 55 years has been delivering magical representations of the vision around Hermès, the heritage, the craftsmanship, all in a window. First in '61 as assistant to Annie Beaumel – director of window displays at the Faubourg Saint-Honoré store, and then in '78 when she took over the position together with being appointed director of the silk colours committee for the Maison. Leïla Menchari, a beautiful enchanting woman born in Tunisia, who studied at the Écoles des Beaux-Arts in Paris, captured the imagination of Robert Dumas and his son Jean-Louis. A liaison built on respect and trust. Leila, with her fantasy, with her travels, and exotic vision. Hermès, with its craftsmanship, the know-how and discipline. If a Kelly bag would take generally 15 hours to be crafted, it would turn to 50 hours for the ones produced ad hoc for Leïla Menchari's spectacular window displays.
"The workshops have never said no to me, always "we'll see, Leïla, we'll give it a go." But it wasn't easy to get them to fully understand my madness: you can't explain a dream!" Leila Menchari explains how she was given total freedom both in creation and budget. A so-called carte blanche. For Leïla Menchari a window display is a like a small pièce de théâtre, but without the possibility of dialogues, movements or actors to explains the image. During the opening evening of the exhibition at Grand Palais she explained her vision and nature: "I am touched by grace, by the passion for nature and the "extraordinary" in life. Everything becomes extraordinary. This vision gave me a different way of looking at things, with a high degree of surrealism". When asked if the exhibition was maybe driven by a dose of nostalgia, she gracefully answered: "Nostalgia is fundamental for memory" This is Leïla Menchari, the globetrotter, the dreamer, the collector, and – as nicknamed by her great friend, the French author Michel Tournier – the "reine mage". The exhibition will be held till the 3rd of December 2017.

www.hermes.com
Fashion
Camper x Eckhaus Latta
In the name of their Camper Together model, the shoe brand collaborates with leading international designers from the worlds of art, fashion and architecture. The aim is to create singular products and fuse their signature style with Camper's unique DNA. Now, Camper partners up with fashion label Eckhaus Latta for a third collaboration. The couple and design duo behind the American brand is known for its avant-garde aesthetic, which they combine succesfully with Camper's offbeat approach to footwear. Eckhaus Latta designed their own version of the Thelma model, which is a vintage-inspired heeled shoe, playing with flared volumes and refined heights. While the deconstructed design features uppers that combine rich leather with inverted jacquard fabric, the outside is inspired by the cloth upholstery typical of public transportation. All these attributes give the shoe an edgy tongue-in-cheek, anti-fashion vibe. The new Thelma will be available as both a slip-on moccasin and a zip ankle boot from the 31st October at CamperLab stores in New York, London and Paris, selected Camper stores and online.

www.camper.com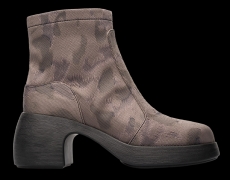 Art
Prada collaborates with Francesco Vezzoli for "Opera Pompidou"
The Italian artist Francesco Vezzoli is internationally well-known for mirroring the glamour of Hollywood in his unsaleable paintings. Now he partnered up with the fashion house Prada to produce the twelve costumes for the "Opera Pompidou" live performance, which was presented in the Centre Pompidou on the 19th October. The reason for this unique project was the celebration of the 40th anniversary of the museum for arts and culture in the heart of Paris. The Italian artist's visionary world of elaborate references intertwines with the collection of the museumto create a series of special live art performances staged by Vezzoli. Each artist was wearing a costume made by Prada which references to the art work and brings it to life. In this totally emotional reinterpretation of the modern and contemporary collections of Centre Pompidou, the visitor finds himself in a new immersive experience.

www.prada.com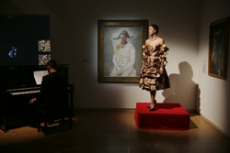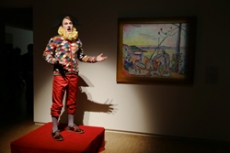 Fashion
Rick Owens Spring/Summer 2018
A laugh, a constant chuffed female loud laugh. It's Michele Lamy's voice in her latest album, accompanying Rick Owens Spring Summer 2018 show staged at the ornamental pond on Palais de Tokyo's esplanade.

Rick Owens' parade of draped, layered, adjunct looks felt - more than the recent Menswear Spring Summer'18 - like a continuation of the previous Womenswear Fall Winter '17, with its spectacular volumes and emblematic head pieces of what looked like a sacred procession. At the time Owens declared how it was a propitious gesture in name of humanity and a positive new beginning as opposite to his historical cult of darkness.

On the same wavelength, this Spring Summer '18 collection is a rejection of any dark climate our time is undoubtedly imbued with. The show started with off-white silhouettes carefully draped with oversized bags placed at the waste, to create volumes recalling wombs.
The collection was rich in variations: sequined looks with knitted threads over them in brown, grey, and black; embellishment details in forms of slim linear beads placed in the shape of striped architectural structures over tops and dresses, occasionally recalling a moebius form.

But it were the final looks that undoubtedly stole the scene. A series of cocoon-like forms made of carefully shaped transparent jersey revealing intricate origami forms beneath, covering models heads' and elongating them as to create a new being, a new existence. Rick Owens' ode to joy, light and what's still to come was staged in a water spectacle where beamers vertically sprayed water ten meters high. As the models walked in an impetuous fresh mist invaded the entire space. The PR's urging us to wear the plastic rain ponchos placed on every seat pre-show, finally made sense. With Rick Owens signature's logo written on its back we all looked as part of a congregation, reunited for some propitious ritual in the name or rebirth. A cleansing from this tired society.

www.rickowens.eu
Fashion
Lover's tryst at Givenchy Spring/Summer 2018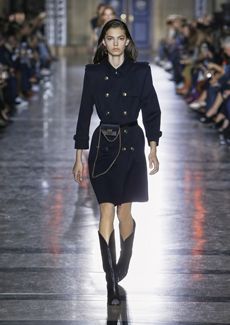 Former Chloé Creative director Claire Waight Keller opts for a cool Parisian allure and reinvents Givenchy for her debut at the Palais de Justice. The collection builds on the power of duality and romance. His becomes hers – it's a transformation of seduction happening right under the eyes and ears of Hubert de Givenchy. The collection is influenced by his colour palette of black, white and navy touched up with vermillion red and mint. The garments fall in sharp line with bold shoulder cuts. Graphic clover prints inspired by the 1960s, animal motifs and velvet are combined with sportive breton knits. Polka dots and soft point d'esprit tulle add a touch of femininity, while satin bows and a caped back pay a modern homage. Vichy checks, brocade and moiré on skin indicate a luxurious club atmosphere. This collection certainly makes Claire Waight Keller a duly successor to Ricardo Tisci and one to watch for her upcoming seasons at the head of the iconic French brand.

www.givenchy.com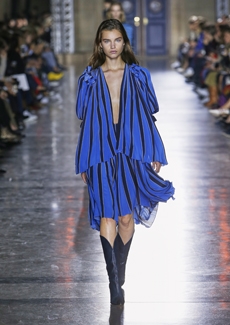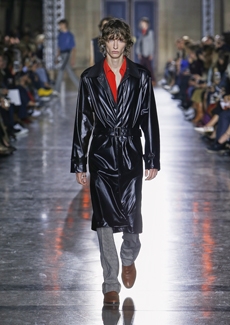 Fashion
Dior Spring/Summer 2018
"The question: Why have there been no great women artists? – is simply the top tenth o fan iceberg of misinterpretation and misconception: beneath lies a vast and its situational concomitants, about the nature of human abilities in general and of human excellence in particular, and the role that the social order plays in all of this".

Linda Nochlin's essay in 1971 is such a contemporary discourse now more than ever.

Maria Grazia Chiuri, at the reign of Dior for already one year takes the words of Nochlin as a source of inspiration continuing her feminism reference since the start. We found Nochlin's essay in form of a small booklet on every seat at the show almost as a urge to reflect in such a fragile political moment. As we entered the spectacular venue of Musee Rodin, a humongous facade in shape of a milestone welcomed us.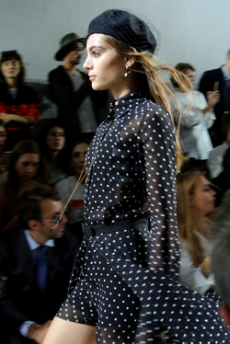 Engraved with the enchanting words of Niki de Saint Phalle: "If life is a game of cards. We are born without knowing the rules. Yet we must play our hand, throughout the ages people have liked playing tarot cards. Poets, philosophers, alchemists, artists, have devoted themselves to discovering their meaning".

The female artist Niki de Saint Phalle - at the time friend of Marc Bohan – is one of Chiuri's muse for the Spring Summer collection. Her androgynous style, but also her work with the colourful sculptures – the "Nanas".

Chiuri dives into her world and into Dior's archive, celebrating the work of Bohan with his mini dresses, the polka dots, the slim look and the pants, a wink to the first Dior Homme line created by Bohan himself in 1970.

The collection is an ode to the 70s but also the 60s with that irreverent sexiness emblematic of the changing of time. Short little dresses, worn with high laced boots. But also a series of soft bustier dresses - quickly become the signature of Chiuri's at Dior - this season adorned with sequins in electric colours, reminiscent of the disco subculture of these years.

www.dior.com
Fashion
Amsterdam is Everywhere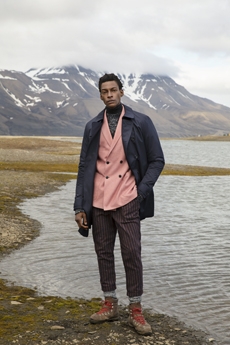 Scotch & Soda take a trip to the world's remotest Amsterdams for its latest campaign, paying tribute to its stubbornly curious spirit. The Dutch fashion brand journeyed by air, rail and sea to get to an Amsterdam untouched by Google Street View, the one in the Arctic, that is.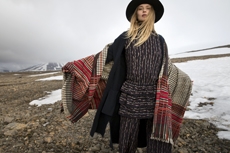 Amsterdam Island, located in the northwestern corner of Norway's Svalbard archipelago, is just one of twelve other places across the globe that share their name with the brand's home city. And if you're left wondering why the brand opted for the remotest Amsterdam there is, the answer is simple: that's exactly what Amsterdam is really about; resisting simplicity and discarding practicality if it means realizing a seemingly impossible dream.
With frozen fjords and monochrome peaks as its backdrop, the explorer-themed short film and its enchanting voiceover speaks to the mind and soul of Amsterdammers the world over. Highlighting the city's free-thinking spirit and its inclusivity, the film celebrates the Dutch capital's allure, because Amsterdam is wherever you want it to be.

www.scotchandsoda.com
Fashion
Jeremy Scott Spring/Summer 2018
Jeremy Scott is celebrating his birthday. Not the birthday of Jeremy Scott, the 42-year-old designer from Kansas City; rather Jeremy Scott, the distinctive namesake brand. But really, what is the difference? Scott is a designer who's personality is so transparent in his designs - his collections time and again let us peek into the mind of the fun-loving, eclectic American who 20 years ago staged his first show off-schedule in Paris.
For the anniversary show, Scott strived to refresh his distinct style while remaining true to what attracts his loyal following (basically, streetwear on acid). "It was a challenging process," Scott admitted. Not to undermine his word, but the show felt as challenging to process as a favorite guilty pleasure chick-flick. And why should fashion be any more complicated than that, anyway?
Neon phantom trousers overlaid bedazzled fishnet bodysuits, comic book printed body-con dresses were styled with over-the-knee python boots, fun bathing suits worn with chunky leather jackets: as per usual, Scott is hailing every contrast, clash and fashion faux-pas in the book. Perhaps the biggest contrast of all was Ms. Jourdan Dunn, one of the most commercially successful models, strutted down in a one-piece which read "VIVA AVANT GARDE." Oxymoronic, indeed.

www.jeremyscott.com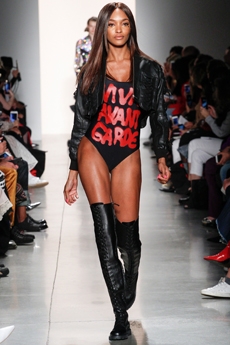 Fashion
Camper's Techno Odyssey
Camper's latest campaign is spearheaded by Romain Kremer, who has created a techno odyssey made up of surreal set pieces and vivid imagery. Six new alien-like personalities bring to life the A/W 2017 campaign, enlarging the Camper universe and telling a new part of its story: dreamlike characters are pictures with avant-garde designs, infused with the drama of over-saturated monochrome tones and colour-blocked, graphic shapes. Photographer Daniel Sannwald and makeup artist Isamaya Ffrench are the ones responsible for creating the high-impact, memorable images which were shot in London.


Avatars Thelma and Serena lead the march for women, Rex and Brutus for men, and unisex favourites Dub and Drift for the androgynous crowd. Viewers can step into Camper alluring new world on many different platforms, all around the globe: in-store, in print, on digital platforms, and their website.

www.camper.com

Fashion
UGG x Jeremy Scott
Jeremy Scott has made a name for himself thanks to his fun-filled approach to fashion, which shuns minimalism and opts instead for boisterous, eye-catching and attention-grabbing designs. You may love them or you may hate them but one thing is for sure: they are excellent conversation starters and some may even be your guilty pleasures.

This September, the outspoken American designer and creative director of Moschino partners up with Californian brand UGG®, putting his own spin on iconic styles. Inspired by and paying homage to cool Californian spirit and vibrant Los Angeles pop culture throughout the ages, the capsule collection is comprised of eight silhouettes featuring bold flame designs, jewelled hardware and Swarovski® crystals on the sheepskin footwear that is now recognised the world over. The limited edition collection includes UGG® footwear for men, women, kids and babies.

And if the designs themselves didn't turn heads enough, the collab's ad campaign is sure to do so: musician Lil Yachty and model Jasmine Sanders star in the campaign shot by Marcus Mam outside Los Angeles and are seen rocking not only Scott's designs for the footwear brand but also custom pieces created exclusively to complement featured styles.

www.ugg.com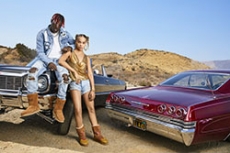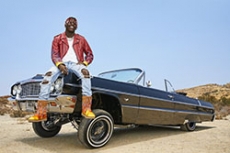 Fashion
Alexander McQueen Spring/Summer 2018 Menswear
"Come, gentle Spring, ethereal Mildness, come, And from the bosom of you dropping cloud, While music wakes around, veiled in a shower of shadowing roses, on our plains descend".

James Thomson poem Spring from his The Seasons printed on the show's invitation resonated in the enchanting space of the Orangerie du Sénat as the models walked in.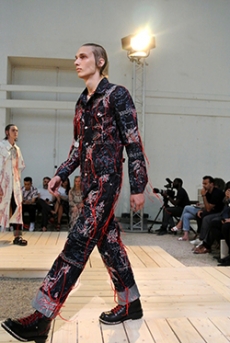 Sarah Burton's Alexander McQueen Men's 2018 started slowly to unveil itself, telling a story gracefully balanced, like the gradual passing time of melting snow and moving clouds as the mild warmth of Spring approaches overcoming the cold Winter.

If the first looks presented sleek tailoring, leather outwear in black, off-white or crimson red - three colours running throughout is the whole collection – and a spectacular leather perfecto with matching pants adorned by a constellation of zip, buckles and studs, they are the last looks to steal the scene.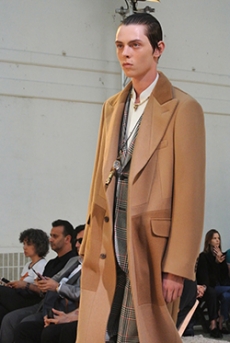 As a white leather cape embroidered with Rudyard Kipling's "The Explorer" excerpt walks in, we feel the storm, the storm that precede any changing of the season, the sea storm of discovering journeys.

Sarah Burton continues the delicate island folktale for Alexander McQueen from her Women's Fall collection.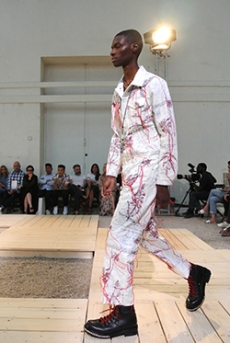 Loose threads in red and blue wool adorns coats and suits in off-white, black and denim recalling the wishing tree. Maps scribbles and ancient poems are embroidered over the collection throughout. The closing looks, with a tree of life embroidered in crystals on a black suit and coat deliver the final emotional blow to this moving and ethereal collection.

"While softer gales succeed, at whose kind touch, dissolving snows in livid torrents lost, The mountains lift their green heads to the sky".

www.alexandermcqueen.com
Fashion
Hermès Spring/Summer 2018 Menswear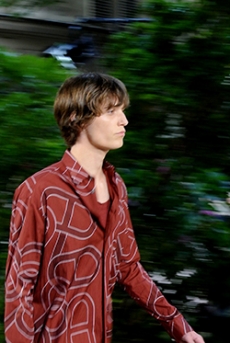 A specific red hue named "H", a deep, intense red spacing between burgundy and brick colour. Splashed on Hermes Spring Summer 2018, together with taupe, navy, royal blue. It's a collection full of playful graphics, sporty and smart.
Veronique Nichanian's normcore for Hermes Menswear has been balanced on relaxed silhouettes, cotton suits, leather sandals, paper-thin knitwear in caramel on top of emerald green chinos, a white shirt with a cardigan, a spectacular crocodile bomber in black.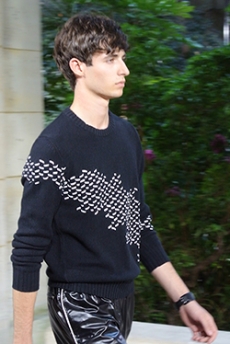 Nichanian's Hermes is that power dressing far from being loud, that discreet approach with a French attitude. Wear a pair of casual trousers, a beautiful fresh pullover, a sporty anorak on top and you are ready to be off duty in a breezy summer night. And yes, with sneakers. It is the quintessential vision of Hermes, its discreet approach and the meticulous leather work.

As the versatile big tote bag and the lambskin bomber jackets with contrasting stitching hint to baseball references it gives a different angle to this historical Maison and its equestrian heritage.

www.hermes.com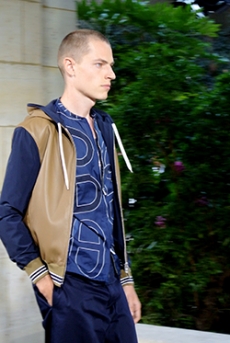 Fashion
Junya Watanabe Spring/Summer 2018 Menswear
Junya Watanabe's aesthetic has always been played around the notion of classic menswear.

With his specific model casting and strong vision., also this season the Japanese designer collaborated with Carhartt, Levi's, Karrimor and The North Face delivering garments played around the notion of heavy-duty clothing.

The jackets featuring the latter's backpack embedded at the back and cut-up all over with The North Face elements confirmed the subtle genius of this legendary designer.

There were beautiful oversized denim, Jackets that pointed at authenticity rather than a fashion exercise.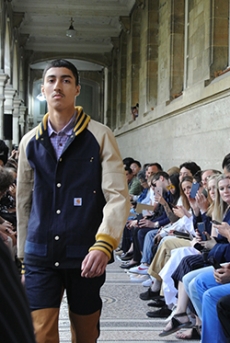 Junya Watanabe created a youthful collection but shown once again with grownup next-door-guy and often bearded models, outside of the usual male casting. His "legit way to wear workwear" as the show note mentioned.

Or we could say, his poetic ode to the "real" and to the "ordinary" versus this over-constructed fashion system

It's a vision Junya Watanabe has been building since a while now and the beautiful collection displayed pieces that will easily find their way to the wardrobe of many

www.junwatanabe.jp
Art
Michaël Borremans Dances at Zeno X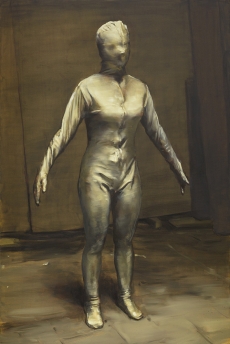 Michael Borremans has launched his sixth solo exhibition at Zeno X, a Mecca of contemporary painting in the heart of Antwerp, Belgium. Sixteen Dances, the title of the show, is primarily a reference to the changing and multi-faceted nature of painting, and how the medium has the ability to forever adapt to the contemporary zeitgeist.
The paintings are structured into three series: this is a typical way of working for Borremans, who has a necessity to always dig deeper and discover new meaning through multiple variations of the same theme. The paintings function almost as vignettes, which give the exhibition a cinematic feel: a clear continuum is interrupted by random stills which confuse any possible narrative structure. This gives an ambiguous and dark atmosphere, encapsulating the morbid and grotesque scenes present in the paintings, such as babies dancing covered in blood and figures in straight jackets. Borremans undoubtedly takes references from Bosch, Bruegel and Goya in this series of works, which questions the morality of human nature and exploits its subconscious savagery and cannibalism. While absorbing these haunted tableaux, viewers are left feeling dread and disorientation: a feeling that permeates in our current age and society.
The exhibition will run until October 14th 2017.
Fashion
Salvatore Ferragamo Spring/Summer 2018 Menswear
Ferragamo's Spring/Summer 2018 menswear collection was a sun-drenched collection of Riviera inspired pieces designed by Guillaume Meilland that exuded a leisurely lifestyle and the understated elegance synonymous with the iconic Italian maison.

If that's hard to picture just think of Alain Delon and Marcello Mastroianni summering seaside in all their laid-back, effortless glamour. Bringing this aesthetic and grounding it in today's reality, Ferragamo banks on the feeling of escapism supported by a breezy colour palette dominated by earthy hues, ivory, subdued pinks and light blues with a dash of hazy blues and deep mahogany.


Formal and casual styles focus on light silhouettes for a deconstructed feel that's very in keeping with this season's 'from desk chair to beach lounger' aesthetic without neglecting, of course, the addition of details intrinsically linked to Ferragamo's leather savoir-faire.

Terrycloth, corduroy and velour are given a beachy makeover, revisited with a softer hand and decorated with subtle marine patterns featuring wreathes, corals and seahorses for Bermuda shorts, coats and jackets.

Contrasting this, classic British checks and fabrics are rendered pared-down and minimal, fluid and light while they manage to retain a casual disposition that wouldn't stick out even in formal settings.
Legacy and immediacy, both core values for Ferragamo, manifest themselves through the offering of leather pieces that were bound to take centre stage for yet another season. Shapes may be roomy or slim but they are unlined and void of superfluous elements yet meticulously crafted with a strong focus on details. Why change a winning recipe?

www.ferragamo.com

Fashion
Etro Spring/Summer 2018
Etro's Spring Summer 2018 Menswear collection pays homage to the spiritual wanderers of the psychedelic generation who inspire Kean Etro's vividly colourful journey. Hints of Indian mysticism and talismans manifest themselves along with sacred cows, elephants, tantric couples and Tarot figures within quintessentially Etro paisley patterns.

Fabrics were inspired by Kean Etro's grandfather as he worked tirelessly to recreate their unique DNA in his Italian atelier. Colours are worked into dyes that preserve the essence of the collection's spirit with coral, tangerine, turquoise and fuchsia working both together and in contrast with earthy browns, military greens and bronze.

Linen is a permanent fixture for Etro's Spring/Summer 2018 offering, affording the collection a casual yet tailored feel that's so at home during the summer months. Lightweight, multi-coloured blazers with paisley prints and coloured Madras checks are all the rage while raw wool combinations ensure that the pieces remain light enough for the warmer months.

Ornamentation also plays an important role in the collection. Painted by hand in swirls of Etro's favoured palette for the season or embroidered mandalas and floral motifs elevate the look of cargo jackets. This season's trousers play with volume – ranging from slim cut tuxedo-style evening-wear version to linen Madras slacks for a more casual mood and ornately embroidered denim.

www.etro.com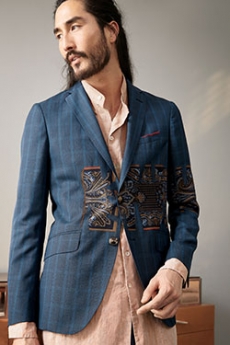 Fashion
Marni Spring/Summer 2018 Menswear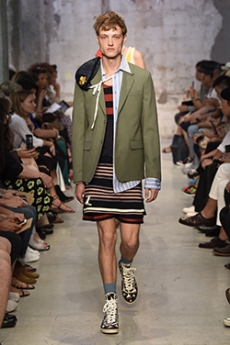 "Lost and Found" – the tile of Marni's Spring Summer 2018 collection that leaves so much to be imagined and so much more to be discovered. Convoluted as the meaning of that phrase may be, for Marni it acted as the catalyst for a collection that preaches the enjoyment of life through self-discovery.

In his second collection as creative director for Marni, Francesco Risso offered a collection of wearable clothes with a non-conformist touch. An air of randomness characterises the collection of roomy trousers and shirts that appear to have been de- and then re-constructed, sometimes held together with the fabric swatches for a DIY allure.

Sailboat prints and Hawaiian motifs make an appearance alongside garments of a more bookish, almost nerdy, nature that stay true to the brand's retro tones. As Risso himself put it, this season's pieces 'surf the typography of a city'. This is office wear on holiday, where a tie on the beach is just as relevant as sailboats on a suit and Jamaican accents paired with a dash of the 20s. Knits appear shrunken and unfinished with their misaligned stripes.

Rules appear to have been thrown out the window here as the Marni man dresses himself freely, as if he were a collector of moments who may intentionally leave items behind only to retrieve them later. Perhaps even finding himself along the way.

www.marni.com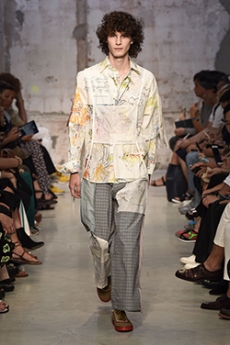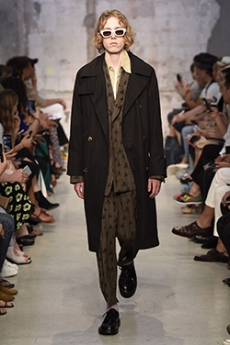 Fashion
Fendi Spring/Summer 2018 Menswear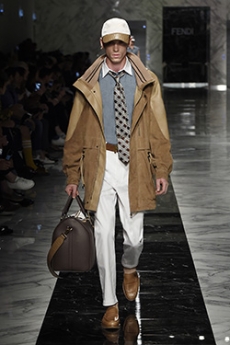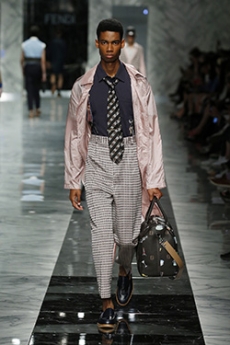 That Friday feeling… it manifests itself mere moments before you leave the office, ready for the weekend adventures of your choice. Almost tangible, it is infused with an air of optimism, relaxation and regrouping no matter the season. Come the summer months, however, and that fleeting moment of utter freedom is accentuated further by longer, sunnier, brighter days and a generally elevated mood.

If that sounds all too familiar, then you're totally grasping the inspirational context behind Fendi's Spring Summer 2018 Men's collection that walked the runway on Monday as part of Milan's Fashion Week Schedule. This is executive realness on the verge of the weekend. Corporate aplomb walking hand-in-hand with sunny holiday daydreams. In a naturally subdued palette of beiges, sand, greens and flutters of that all-important pink, Fendi's latest offering focuses around formalwear so versatile that stands its ground from boardroom to pool bar: suits and big blousons are worn with sleeveless shirts while shorts and tracksuits find their perfect matches in silk shirts. Slingback loafers are paired with running socks and neckties complete even the most laid-back looks.

This season sees the advent of what the brand has coined 'The Skype look': a playful mismatch of sartorial options that somehow work together while concealed behind the office desk: tops and bottoms clash beautifully and interestingly enough, so do the fronts and backs of many pieces. All notions that adhere to that mood-flipping feeling that rolls around when you're about to clock out.

This is corporate escapism, the Fendi way! 

www.fendi.com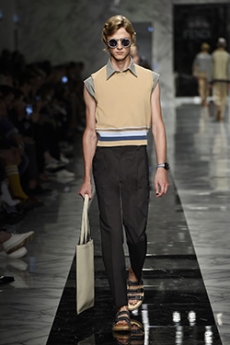 Fashion
COS RE-OPENS ITS KURFÜRSTENDAMM STORE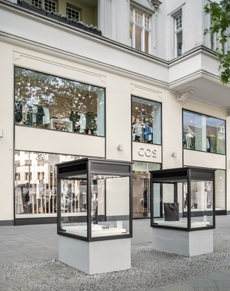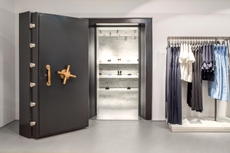 COS is going back to where it all started by re-opening its Kurfürstendamm store in Berlin. Back in 2007, the Kurfürstendamm store was the first COS store to open on the German market and has since then evolved into eighteen stores.

This time, the Kurfürstendamm store is set over two stories and 625sqm, offering the full collection across COS womenswear, menswear and children's wear. COS wanted to create a dynamic yet timeless space and has therefore preserved the building's original architectural features while mixing it up with modern updates. The stores interior goes in line with the brand aesthetic by combining functionality and design, creating a contrast interior of blonde wood against concrete and marble.

www.cosstores.com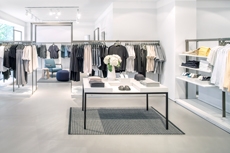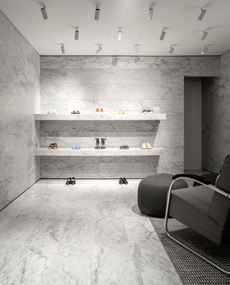 Fashion
Finding Eden
A brand's advertising campaign has a very specific aim in mind –as a carefully crafted fusion of the brand's core values and signature visual codes, this collection of references is meant to encapsulate and appeal to its archetypal customer.

As the age-old moniker attests, less is (usually) more. Adhering to long-standing traditions and stripping down to a the bare essentials may just be the key ingredients for a campaign in which the ideal customer is present at both ends of the process; they are simultaneously an inspiration and the receiver of the end product. In an age where endless attempts of innovation and out-of-the-box thinking are swarming our daily lives, a back to basics approach comes as a breath of fresh mountain air.

Enter Woolrich's latest campaign – UTAH: a campaign that focuses and is built around characters residing in Eden, Utah. Located north of Salt Lake City and nestled in a lush valley between Snowbasin and Powder Mountain, Eden seems to exert an irresistible force that pulls lovers of the great outdoors towards it effortlessly, inviting them to partake in the vast array of activities it offers.

The campaign aims to embody the effortless equilibrium that characterises the daily lives of Eden's residents who are all infatuated with the great outdoors in ways totally personal to each and every one of them. The importance of people and space, the balance between work and home life, the melding of style and exploration all became focal points. For Woolrich, this is about much more than stopping and smelling the roses, it's about pausing on a long walk to hear stream, feeling the wind on your skin, watching the trees grow and basking in vibrant sunsets. Simply put, this is a celebration of nature's simultaneously calm and invigorating energy and the endless possibilities it opens up to anyone eager to listen.

Woolrich has been at the forefront of outdoor lifestyle innovation for more than 180 years but its roots can be traced back to tradition and the oldest, continuously operating woollen mill in the US. The Woolrich Mill provided wool blankets to civil war soldiers and continues to produce them to this day. Since then, the brand has been consistent in delivering outdoors-oriented products since the 70s when people began to engage with nature in new and exciting ways. Men and women took their free time to explore natures splendour in a more recreational setting with backpacking, camping, mountaineering and cycling being just a few of their preferred activities.

From simple wool socks to its famous cold-busting parkas, the brand's products embrace and highlight the authenticity of the outdoor lifestyle. Functionality, comfort and durability are key characteristics of Woolrich's offerings for both men and women that are further elevated by quality materials such as wool, cotton and down. Completely in-tune with the needs of its customers, the outdoor brand now incorporates technical performance fibres like nylon and polyester in all its garments.

For Woolrich, there's a simple constant: as long as there are people keen to venture into the wild, it will help them do so in comfort and style.

www.woolrich.eu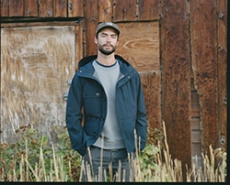 Fashion
Chanel Fall/Winter 2017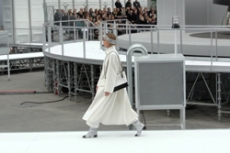 The magic sets of Chanel Ready-to-Wear shows are always expected with anticipation and this season Karl Lagerfeld confirmed once again to be a visionary. A giant 35-meters-high rocket ship was waiting for us at the centre of the Grand Palais, envisioning the recent NASA news of potentially earth-size and consequentially habitable-zone planets.

It does not surprise that the humongous double C rocket was designed to lift off for more than 10 meters in the finale, leaving us completely stunned in smoke and pyrotechnic lights with Elton John's Rocket Man in the background, Lagerfeld playfully used a whole vocabulary of space references: metallic matelassé stoles in silver and pink as space blankets, knitted headbands lifting the hair into a voluminous round cloud hinting to the space suit helmet, heavenly beaded black evening dresses to match the stardust castellated sky.

The classic Chanel skirt suits is also reinvented with matching shorts and completed with sequined tights and half gloves. It's a fantasy as out of the best interstellar tale, and we hypnotically want to be part of it. Sparkling signature tweed in metallic silver, white electric blue and Karl's favourite powder pink, together with the most glittery lunar boots would provide the perfect mise for our final space mission to escape this tired Mother Earth.

www.chanel.com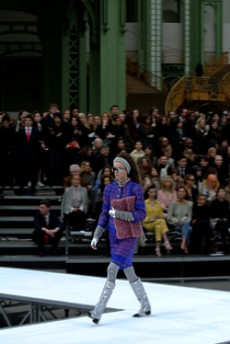 Fashion
Hermès Fall/Winter 2017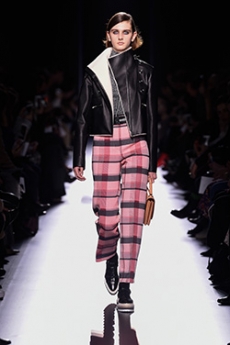 "How enduring, how we need durability / The sky before sunrise is soaked with light / Rosy colour tints buildings, bridges, and the Seine" Nadège Vanhee-Cybulski chose Nobel Prize Czes?aw Mi?osz as backdrop for her collection. More than an homage to her ancestors, it's the sense of surprise and anticipation every non-Parisian feels when experiencing this city that Vanhee-Cybulski aimed to hint. It's that wandering around as in a sort of situationist walk, not sure what will resurface from its powerful heritage. The expectation and the excitement.

Hermés Fall/Winter 2017 is all that. Vanhee-Cybulski's wish to build Hermés identity as timeless but playful, a dialogue between the contemporary fresh attitude with that effortless spirit expressed since her first collection at the French house, was clear from the start. The collection felt polyhedric and at a closer look it revealed all its beautiful craftsmanship.

A beautifully timeless wool long cape in midnight blue lined in a rosy dusty brick tone and paired with a sporty ribbed sweater and tights. A sweeping floor leather coat in pale powder pink. Classic cut pants and laced-up thigh-high boots as borrowed from man's wardrobe. Relaxed turtleneck knits matched with statement patchwork leather outwear with shearling trim. But also 70s vibes with scarf dresses in mousseline. Vanhee-Cybulski is revising the codes of haute modern dressing for this equestrian-routed French maison.

www.hermes.com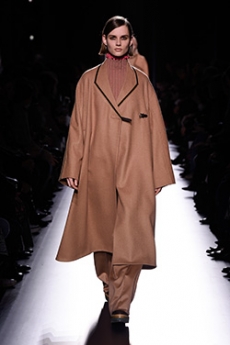 Fashion
Acne Studios Fall/Winter 2017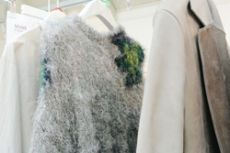 When everyone is playing urban street-wear, Jonny Johansson used a romantic and soft approach for his Acne Studios Fall/Winter 2017.

The creative director is transforming the Scandinavian brand known for years as a denim forward label with a minimalist approach. For a while now we have seen Acne Studios feeding a new direction, a new light in terms of the brand's identity increasingly far from the street. Acne Fall Winter 2017 is a spontaneous and playful collection with a strong sense of individuality and easiness.

Soft oversized mohair knits with polka dots, gently alluding to a sense of naiveté. Floral prints combined on a big selection of fabrics, from cotton to silk plissé. Long coats, in beautiful classic textiles, pin striped or checked, evolving into tunic-like dresses turned back-to front.

Johansson plays with the notion of tailoring almost as an ironic gesture, to vouch for the idea of an uncomplicated way of living, a different way of feeling the notion of femininity itself.

The designer's love for accessory research once again was expressed with the beautiful statement jewellery in metal and enamel, together with the large oversized bags with wide straps and graphic knots. The asymmetric shades matching the floral deconstructed dresses and creating a further contrast to the soft organic feel of the whole collection gave the perfect youthful accent. We see a confident woman, she is intuitive and optimistic. No matter what.

www.acnestudios.com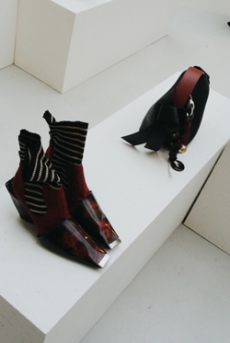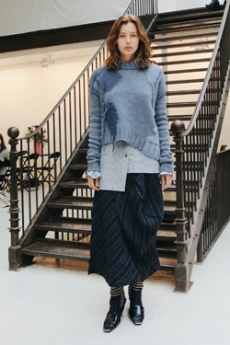 Fashion
Dries van Noten Fall/Winter 2017 Ready-to-Wear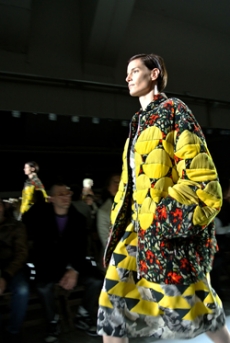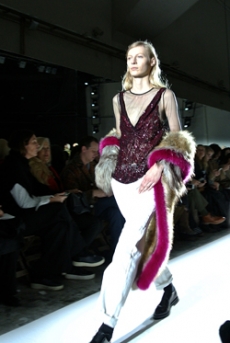 Imagine a tribe of legendary models from the 90s, with their ageless beauty, power walk and barely-there makeup. Imagine them now walking for the most loved and respected fashion designer of our time for his 100th show.

Dries van Noten surprised everyone when the show started: all the models who walked for him, from the very beginning, were all present: Amber Valletta, Caroline de Maigret, Malgosia Bela, Kirsten Owen, Trish Goff, Kim Noorda, Guinevere Van Seenus and legendary Kristina de Coninck opening the show. Together with the more recent favourites. It was an overwhelming flow of emotions for whomever has followed and worked with this acclaimed Belgian designer since 1993.

The collection was a parade of all the prints, the cuts, the colours from past collections, the story of Dries van Noten in toto. It was an incredible archive research, as some of the print designs didn't exist anymore. The strong sentiment of timeless style and ageless beauty was pervasive, look after look. The oversized coat, the relaxed long dresses, the denim, velvet, and beautiful fur stoles. The mix-matched colours with a lemon yellow splashing the entire collection. It was a celebration of joy, of positivity, of the essence of femininity itself.

The sound of a crowded street, the cars, the people, a dog barking accompanied the vastitude of a collection of music and movies extracts played: from Jun Miyake's Lilies of The Valley - the musician who closely worked together with Pina Bausch, one of Dries Van Noten's dearest muses – to the late David Bowie singing Heroes in the a cappella finale. "…you, you can be mean. And I , I'll drink all the time. Because we are lovers. That is a fact"

www.driesvannoten.com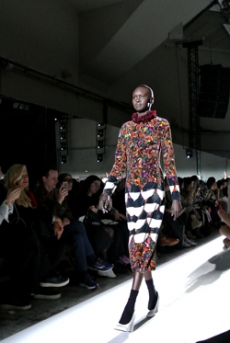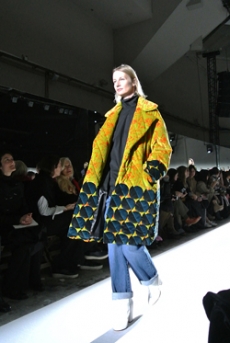 Fashion
Gucci Fall/Winter 2017-18 The Alchemist's Garden
An air of magical curiosity filled the air as Alessandro Michele's Fall/Winter 2017 Gucci collection was presented at Milan Fashion Week. Complete with streetwear elements, fused with historical costumes and oversized floppy hat featured alongside vest tops with anarchic messaging, the collection was vibrant, exciting and oh-so Gucci.

There's a garden of plants and animals. Inhabited by signs, symbols and archetypes invoking and recalling remote worlds, blending the conscious with the unconscious as imagination forces the inertia of reality. This alchemist's garden is an anti-modern laboratory that refutes rigidity and determinism, aiming instead to recover the complexity of existence with the contradictions that permeate it.

This ubiquitous cycle is perfectly embodied in the Ouroboros, an ancient Egyptian symbol of a snake eating up its own tail. It destroys and conceives in a never ending cycle of self renewal and reflects Alessandro Michele's fascination with the role of fashion in modern society.

www.gucci.com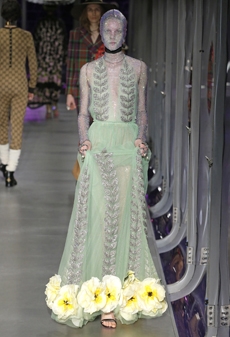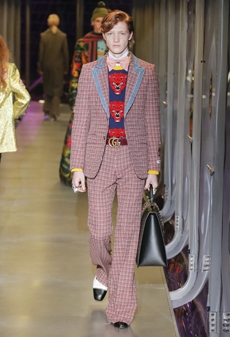 Art
Iris Schomaker – Come to the Edge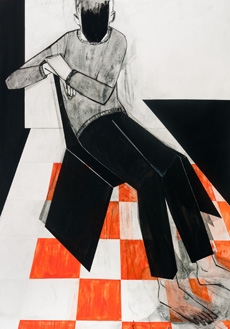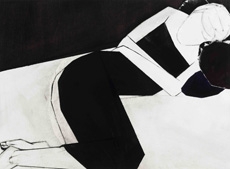 Berlin based artist Iris Schomaker, will display her first Benelux exhibition "Come to the Edge" at the Reflex Gallery in Amsterdam showing off her expressive large-scale watercolor and oil-works on paper featuring figures in various states of repose.

The show will consist purely of new works representing an arresting close-up of a single figure, lying reading, resting, sitting curled up, unaware of the viewer's gaze because "it's more like a sudden glimpse-something unexpected. These figures do not offer contact. Their faces are blank, vanishing." As the artist herself said.

Is exactly this blankness that took Iris to project on to the image looking at the very anonymity of those faces as an invitation to the viewers to bring something of their own being surrounded by powerfully immersive and contemplative figures. Moreover the figures in the newer works from the German artist are often accompanied by a symbolic animal that is more idea, atmosphere, and energy, more a sprit guide that brings a strange, irritating and inspiring energy rather than a flesh and bones companion.

In muted shades of black and grey, with only the thinnest veil of oil wash in faded aquamarine or yellow, the overall impression of the palette is decidedly monochrome. The figures are resolutely not portraits; the final creation is given by a work of research through images of unknown people like photos, sketches, ripped pages of magazines, combined with her drawing and creativity, in order to give birth to an incredible mix between classic paintings and current graphic novels.

The exhibition will run until April 26th 2017

www.irisschomaker.de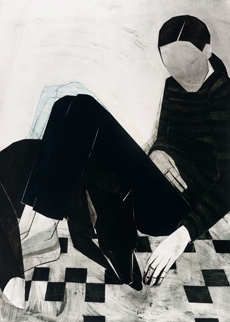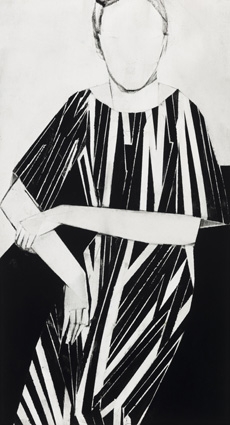 Fashion
Ermenegildo Zegna's Defining Moments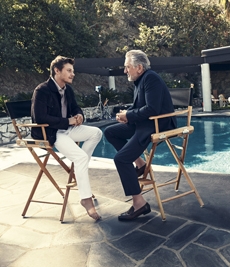 Every story worth being recounted begins with a defining moment. Ermenegildo Zegna's latest campaign focuses on just that: precious interactions, settings and conversations that trigger potentially life-changing reactions for its participants.

Robert De Niro, an actor known and revered the world over requires no introduction but it is safe to say he is no fashion ad regular. Alongside him, American Honey break-out star McCaul Lombardi whose performance generated Hollywood buzz at the end of last year. Actors of different generations, with wildly different experience levels but with an affinity that transcends age.

The campaign, shot by film-maker Francesco Carrozzi sees the actors interacting both with each other and the Zegna garments they have chose to wear and recalling their Defining Moments. De Niro's mentors, his philosophy of risk-taking and what draws him to a role are all put to the table. Lombardi appears genuinely awe-struck and profoundly respectful of his older, more experienced counterpart as he shares his experiences.

A free, real and passionate exchange that bridges a generational gap and lies at the heart of Ermenegildo Zegna's philosophy. A merging of the intensely artisanal and industrial elements that form the brand's DNA and expresses its values.

www.zegna.com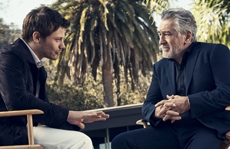 Fashion
Y/PROJECT Fall/Winter 2017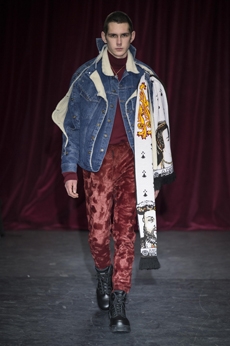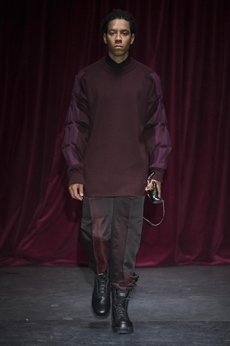 A mobius of forms, shaped in the seam lines, leading to dramatic volumes. Beautifully balanced but also true to his roots, Glenn Martens created a collection where Y/Project's identity is declined to a new sphere, all played through Martens' all-time favourite ironic approach to dualities.

The low and the high, the elites and the masses, deconstructed garments and slouchy fits. Between historical reinvention and street culture, Y/Project's Menswear collection for Fall/Winter 2017 continues to master that relaxed and youthful attitude that has characterized Martens' work from the start.

Doubled silk shirts, deconstructed faux fur, reinvented corduroy suits, slouchy oversized track suits straight from a rapper's videoclip, followed by the impressive sweatsuits with wired piping in a blobbing volume, reminiscent of that mantle draping we have seen on 1808 Jean-Auguste-Dominique Ingres's portrait of Napoleon.

As Napoleon and consort printed on scarves in football merch fashion - part of Martens' playful reference along with other royal couples such as Louis XVI and Marie Antoinette - steal the scene and we cannot choose. We can only root for this talented Belgian designer.

www.yproject.fr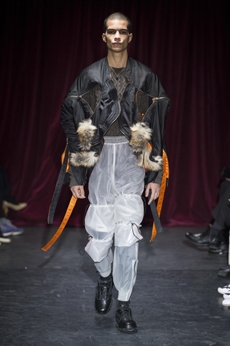 Fashion
The adventurous gentlemen of BOSS Fall/Winter 2017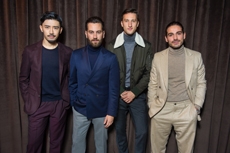 Gentlemen who voyage across the world without ever losing their style, inspired Hugo Boss for its latest collection, dedicated to those ready to take on the world.

Adventurers and explorers' outfits that combine performance and functionality with Boss' key foundations: precise cuts and construction. The modern traveller wardrobe will be composed of wider 80s silhouettes mixed with slimmer, modern cuts and long and short designs. Love for details is never forgotten by the brand that for this collection added a touch of maritime influence in pea coats and duffels secured with buckled straps and chunky fastenings in the style of nautical equipment.

Fabric research is just an added value to a proposal that puts quality first. Boiled wool, bonded leather and cotton to provide protection and create incredibly à la mode oversized shapes. Fisherman-style knitwear is crafted in chunky constructions and zipped closed with ring pulls to be functional and masculine at the same time. The color palette varies from off-white to burgundy and olive green passing through navy shades.

Modern travellers can sleep soundly: their luggage will always be fashionable.

www.hugoboss.com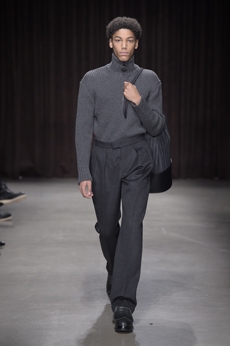 Fashion
SANKUANZ Fall/winter 2017: the chemistry collection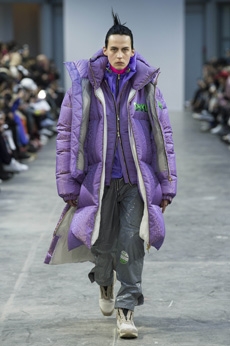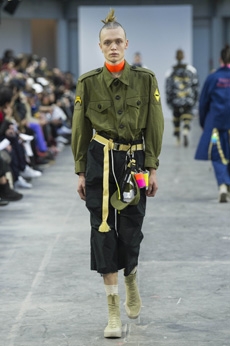 Standing for the reversal of an established system and breaking away from political correctness, that is what epitomises the Sankuanz Fall/Winter 2017 collection that explores space and chemistry.

Designer Shangguan Zhe's latest collection holds man's relationship with space and chemistry at its core, proposing garments that overlap with the idea of consuetude. Military uniforms with raw edges, primitive top-stitched suits and parkas, jumpsuits with industrial strap and bio-chemical protections, just a few examples of Zhe's research-based project. Zhe, indeed, created his own textiles mixing industrial materials and aramid fibers, usually used for spacesuits to give birth to his undoubtedly contemporary and updated vision.

Silhouettes are completed with accessories like visored bucket hats, pop military backpacks and high-top sock sneakers in a color palette that is everything but boring.

www.sankuanz.com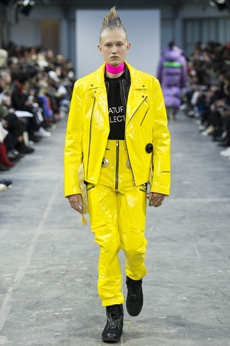 Fashion
Plein Sport Fall/Winter 2017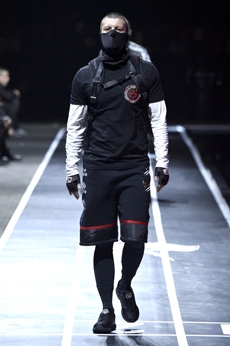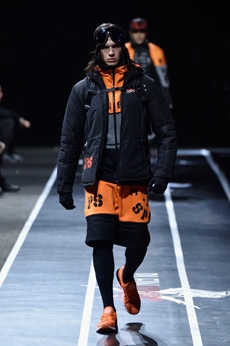 Sport and fitness are the latest addiction of modern society and that's a fact. It's not all about keeping fit anymore, it's a lifestyle. Designers have also caught the athleisure bug and among them is Phillip Plein who delivered a Fall/Winter 2017 collection dedicated to sportswear during this year's Milan Fashion Week.

On a runway made over to resemble a racetrack, models, boxers and workout fanatics presented the first ever Plein Sport line. The collection features sweatshirts, puffer gilets and bombers, among many other fitness apparel favourites, fusing cutting-edge technology with luxurious materials.

Innovation is Philipp Plein's mantra and a key word for his collection that also offered sleeve pockets for iPhones and pioneered lightweight footwear and anti-sweat fabrics.

www.philipp-plein.com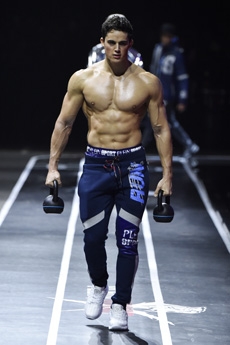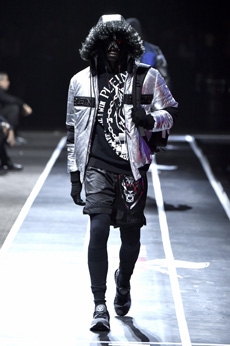 Fashion
Take a walk on the wild side with Christian Dada's "Blue" collection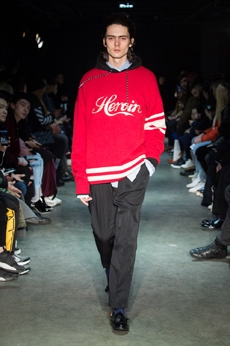 In the name of "Blue", Christian Dada's latest collection is a hymn to Japanese color traditions. Blue evokes feelings of rebellion, frustration, incomprehension that surround troubled youth.

Reaching out to our inner adolescent, the collection revolves around the concept of deconstruction that is obtained with sophisticated methods of shaping and layering. Mixing Eastern and Dadaist aesthetics, designer Masanori Morikawa plays with classic tailored jackets worn like kimonos wrapped around T-shirts and striped pajamas. Trench coats morph into tunics and army bombers and denim jackets are ripped into and skinned to expose their bone structure.

Tartan motifs and schoolboy sheepskin jackets collectively pay homage to College fashion. With slogans like "I Don't Like Drugs but Drugs Like Me" or "Too Fast to Live Too Young to Die" making appearances throughout the line, Morikawa's collection echoes messages from modern society.

Playing with double entendres is a trademark of the Dadaist mood board that definitely urges one to take a walk on the wild side.

www.christiandada.jp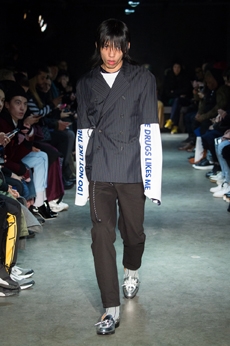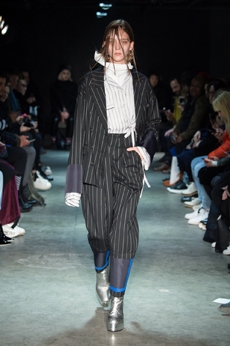 Fashion
Out Of The Blue comes Peuterey
Peuterey wraps its timeless designs into the most diverse shades of blue for its Spring/Summer 2017 collection.

In Out of the Blue, a name that perfectly encapsulates the collection's essence, Italian elegance meets functionality, conceiving a wide range of models that suit our everyday life perfectly, just like their key-color does.

Whether it's trench coats, leatherjackets or blazers – creative director Federico Curradi, has definitely set a new trend for this Spring/ Summer season.

www.peuterey.com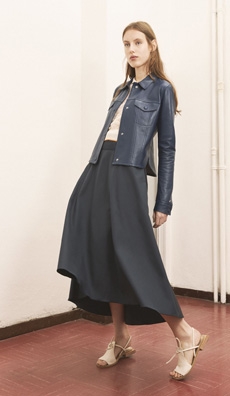 Art
Bottega Veneta and SCoP: when fashion supports art
Tomas Maier, Bottega Veneta's creative director, has never hid his passion for art, making it a proper flagship of the Venetian brand's attitude. Bottega Veneta showed for the first time its strong commitment to art and culture in 2001, when Maier introduced the "Art of Collaboration": an ongoing project which invites photographers and visual artists in order to reflect brand's aesthetic inside its campaigns.

This year the brand confirms its ever-lasting addiction to art, partnering with the Shanghai Centre of Photography in order to support four key international exhibitions hold at the most prestigious photography institute in China. SCoP is indeed considered worldwide the city's very first place entirely dedicated to photography showcasing its best and diverse genres.

"Made in Germany: German photography from the 19th century to today" will be the first exhibition supported by Bottega Veneta. The projects will comprises an unparalleled selection of iconic masterpieces that together with contemporary examples will give an up-to-date and fresh touch to the entire exhibition.

The exhibition will run until April 2nd 2017
www.bottegaveneta.com

Fashion
Colette x UNDEFETEAD: the hypes' sneaker exchange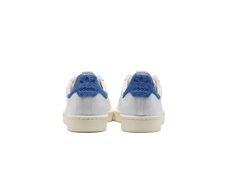 The hype around sneakers has never been so present. Parisian it store Colette, one of Europe's biggest go-to destinations for street-wear designer apparel has partnered with LA-based label UNDEFEATED for the much-anticipate "Sneaker Exchange". Included in the exchange are no less than 84 brands like Bodega, END, Kith and Slam Jam just to name a few.

Two limited edition and revamped Adidas sneakers to be launched during Paris Fashion Week will be part of this January's exchange. The redesigned editions of iconic models, the Campus 80 and EQT Support. The Campus 80 is bright, in white leather with a royal blue heel while the EQT Support's darker influences are manifested through its deep navy blue shades.

Both models are playing with the concept of opposites, pairing and simultaneously contrasting influences, ideas and cultural currencies, personifying perfectly the concept of the exchange.

www.colette.fr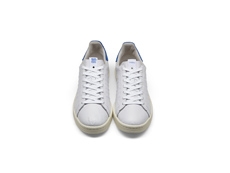 Fashion
VERSACE Spring/Summer 2017: enjoy the ride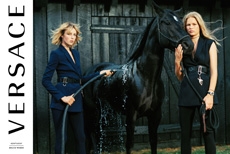 Savagery and freedom have always been messages carried by Versace that since its birth thanks to its innovative ways of conceiving fashion has endlessly imposed its creative dynamism among the highest fashion brands.

From attitudes to backgrounds, the Spring/Summer 2017 campaign shot by Bruce Weber is the proper representation of what Versace has always meant in the haute couture. Conceived by artistic director Donatella Versace, the freedom and dynamism of summer and the active mood are perfectly encapsulated in these shoots. Models Edie Campbell, Anna Ewers, Mitchell Slaggert and Jake Lahrman, found themselves in the Kentucky countryside surrounded by horses, perfect symbols of this "freedom" collection.

Freedom of choice, freedom of expression and freedom of speech, These are the messages carried by this collection and Versace in general, because as Bruce Weber said: "it's always interesting that fashion can carry messages in a subtle way and make people think about their own lives and how they can make it better."

www.versace.com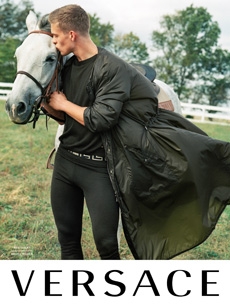 Fashion
Acne Studios Resort 2017 collection's film is now out, and it's all about Hype Fever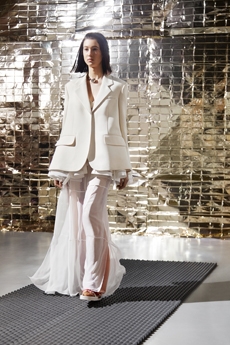 Highlighted shades, slow motion pictures and pop vibes merge together to give birth to the new Resort 2017 collections film by Acne Studios.

Inspired by musical counter culture, free and fluid silhouettes mixed and matched with generous draping, patterned knitwear and elongated evening wear. Sneak peeks from the runway are given together with backstage scenes to present a collection that is nothing but common.

Resort 2017 is all about shapes and prints that are achieved through a variety of dyeing techniques from tie-dyeing to oil-dyeing, in order to create a look that is both soft and romantic without ever forgetting a taste of sane hippie-rock attitude.

www.acnestudios.com
Fashion
Levi's and JUGEND GEGEN AIDS: T-shirts with a good cause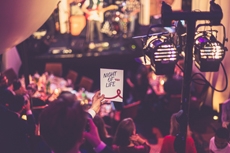 On world's AIDS day Levi's decided not to stay in the corner, taking part together with the JUGEND GEGEN AIDS association to a special night that merged fashion, music and sexual education.

In order to make a difference and let young people feel close to the cause, the denim brand organized the "Night of Life" in association with DJs and starred chefs in order to turn a pool party at the Hamburg East Hotel into something unforgettable.

The 'STOP AIDS' sign was shown on black and white limited edition Levi's T-shirts during the party, whose proceeds will go to the benefit association JGA that since years fight to create awareness around AIDS.

"Do what you want. Do it with love, respect and condoms"

www.levi.com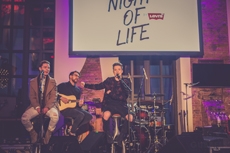 Art
Sumo and the three boys from Pasadena
The Helmut Newton Foundation unveils its new exhibition, combining the photographic work ''SUMO'' of Helmut Newton, his private collection, developed with his wife June Newtown and Three Boys From Pasadena by his three apprentices Mark Arbeit, George Holz and Just Loomis.

Newton's masterpiece SUMO was created 20 years ago and first exhibited a decade later. Consisting of 400 iconic images, from the genres fashion, portraiture and nudes in black and white and colour, they include, to only mention a few, his famous portraits of artists like Salvadór Dalí and Andy Warhol as well as his work for various magazines, like Vogue or Vanity Fair.

His three apprentices augment their Three Boys From Pasadena, created ten years ago, with new works. The additions are a combination of life-sized photograms of models by Mark Areit, Hollywood portraits of legends by George Holz and intimate 'Backstage' works, showcasing the hidden, less glamorous facets of fashion, by Just Loomis.

Furthermore, we are offered an insight into the couple's exquisite photo collection, featuring 50 valuable vintage prints in original frame of the 20th century's most influential and important photographers.

The exhibition opens on the 6th of June at the Helmut Newton Foundation in Berlin.
Fashion
Dunhill Aquarium Limited Edition Capsule Collection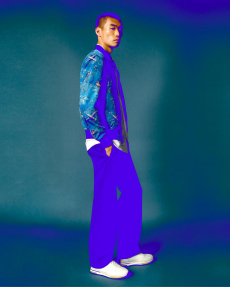 London-based house Dunhill looks back into its past and rediscovers a series of hand-painted illustrations first introduced with the Aquarium lighters in 1949. They received their name, due the material's optical reflection of the light, giving them the appearance of a large fish tank. These intricate nature-inspired motifs of fish and birds, were re-contexualised and reimagined as prints for a series of modern pieces, such as bombers, swim short or sneakers.

As expressed by Mark Weston, the whole collection expresses a certain tension in parts due to the old reinterpreted in new forms, the ageing motifs with a newfound relevance, so as the Art deco inspired motifs on hand-painted lighters become fabric prints for items such as belt bag.

Despite the new polished format of these prints, Dunhill keeps in touch with their origins. Aside the summery capsule collections of modern clothes, they also feature an exclusive revamp of the original lighter, using the same traditional methods and a exquisite palladium or gold plated finish. This very limited edition only consists of 15 lighters per colorway, each individually engraved and numbered.

www.dunhill.com
Fashion
Double Birthday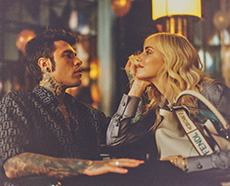 To celebrate the ten year anniversary of its signature Peekaboo bag, the Italian luxury house FENDI continues its #MeAndMyPeekaboo campaign. With a series of videos in an intimate setting, featuring famous families, the Peekaboo bag is celebrated as if it had become an invaluable family member itself.

Following the likes of the Kardashians, the McGregor sisters or the pink-haired twins Ami and Aya, is the Italian businesswoman, entrepreneur and influencer Chiara Ferragni. It is for the occasion of her birthday, that FENDI has thrown the Italian an absolute dream of an luxury surprise party in its own Palazzo FENDI in Rome. The invited guests only counted the most inner circle of her family, the husband, rapper Fedez, her mother Marina di Guardo and the two sisters, Francesca and Valentina.

FENDI spares no cost, presenting her an imposing birthday cake, matching the breathtaking setting, which had been additionally decorated with a variety the brands exquisite leather bags.

With its campaign, FENDI celebrates family values. Just as you become part of the FENDI family, the Peekaboo bag will become a part of yours.

www.fendi.com
Fashion
#MYCALVINS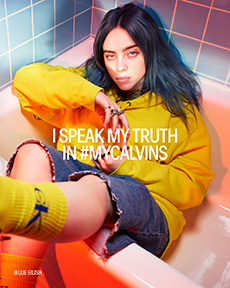 Calvin Klein launches their new #MYTRUTH campaign, creating an additional stage for some of the most influential voices to tell their story in their own words while inviting the world to do the same. A campaign that fits the brands' provoke history and celebrates freedom and self-expression. The campaign is a call to action to speak your mind, creating a movement with artists like A$AP Rocky, Bella Hadid, Billie Eilish, Kendell Jenner, Shawn Mendes, Troye Sivan and many others. The campaign will be released worldwide in installments beginning on May 9th #MYTRUTH #MYCALVINS
Art
ES Exhibition - JOHAN TAHON, TILL LINDEMANN, SANDOR LUBBE
'The collective unconscious consists of the sum of the instincts and their correlates, the archetypes. Just as everybody possesses instincts, so he also possesses a stock of archetypal images.'
- CARL GUSTAV JUNG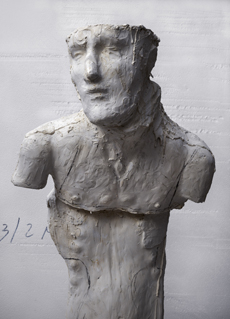 Following on from the mighty success of the 2018 retrospective exhibition at the Bonnefanten Museum in the Netherlands 'Wir uberleben das Licht', which documented Belgium visual artist Johan Tahon's career exploring the physical and the philosophical through the art form of sculpting, New York now hosts ES.
From 29th March through to the 18th May 2019, a unique opportunity to experience the work of Johan Tahon and his collaborations presents itself to the public. Sculpture, poetry and photography all coalesce to form an immersive, united exhibition.
Sharing the same sensibilities and sentiments as Johan Tahon, German frontman Till Lindermann of Rammstein has specifically written poems to accompany the exhibition. Our editor-in-chief Sandor Lubbe's photography also plays a part alongside Tahon's pieces, the culmination from which ES has developed.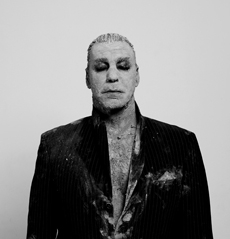 Wednesday to Saturday 18:00-20:00 at 87 Rivington Street, New York, the exhibition at 'Empirical Nonsense' runs from 29th – 18th May 2019.
Music
NAO At Paradiso
The effect of NAO's sound, songwriting and stage presence can be firstly be described as physically impactful. Soul-splitting, heart-wrenching lyrics paired with a vocal ability on par with the R&B greats leave an unexpected bodily impression that hits you direct in the gut. Bold and boundless, NAO taps into all shades of the human experience in a honest, exposing way that escapes any risks of pretension or disingenuinity.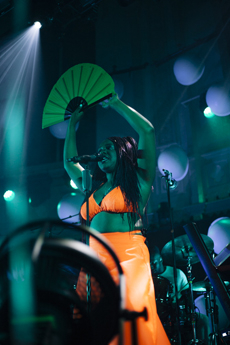 NAO very much takes the reigns of the show at Paradiso, Amsterdam, ensuring that the experience is truly a shared one, not merely a screen projected for the audience to neutrally detach from. Riffing with the crowd, she guides them through a full orbit of emotions, through every peak and trough, celebrating all the experiences symptomatic of the human condition. 'A Life Like This' and 'Another Lifetime' are particularly striking, stop you in your tracks and capture your heart.
This intensity would most certainly be too overwhelming if it were not for the dam-like burst of unrelenting joy in 'Get To Know Ya', 'If You Ever' and 'Inhale/Exhale' as NAO joyously bounces around the stage, actively engaging the audience to the point where you catch your unwitting grin begin to ache. 'Drive and Disconnect' is just effortlessly cool. This ability as a performer is only supported by an exemplary sense of musicality, phrasing and rhythm. Her vocal acrobatics are nothing short of impressive, particularly in the melismatic stretching from the piercingly high then dipping into a resounding, hearty register.
There is no sense of censorship or false cultivation. NAO genuinely feels like a passion artist, writing and singing for the sheer love of and need for it, relishing in the live experience and exhibiting a colorful, refreshing force of unshackled expression as she does so.
NAO is a English musician from East-London currently touring her second studio album around Europe, 'Saturn', the follow up to her debut 'For All We Know'. Her style is self-described as 'wonky funk' fusing the electronic with the soulful. Having performed with the likes of Bon Iver, Lauryn Hill and Nile Rodgers to date, she has very early on established herself as a promising musician to look out for.


www.thisnao.com
Fashion
Karl's Winter Wonderland
Snow capped peaks and cosy chalets welcome the CHANEL Fall-Winter Ready-to-Wear collection at the Grand Palais in Paris. This metamorphosis envisioned by the late Karl Lagerfeld with Virginie Viard makes for an romantic, emotional event, fondly and fittingly exhibiting everything about the brand that Karl so loved and fought for.
Radiating elegance and class, the collection is quintessentially CHANEL, silhouettes are accentuated with both the masculine and feminine cuts in a palette of clean winter whites, beige, navy blue and black, the perfect foundational coat for the flashes of emerald, purple, brick reds and fuchsia.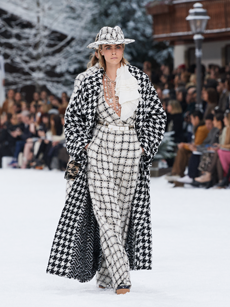 Tweed fedoras are dusted with snowflakes, paired with tartan, houndstooth and big check motifs. Tweed is certainly a core fabric this collection, both top stitched and quilted, asserting its masculinity with high-waisted wide-cut trousers and layered with great enveloping mini capes and overcoats that warmly wrap the silhouette in a blanket like fashion. All motifs and small touches evoke the theme and setting. Soft knit pullovers and sweaters are detailed with crystals and maxi pockets that create a trompe-l'oeil effect.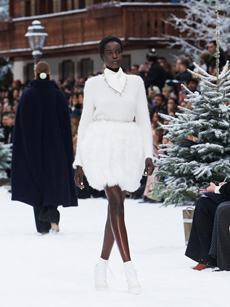 Although confident and crisp, there is a distinct softness to the collection. White pearl earrings and knitted scarves in embroidered chiffon are just some of the details that emanate an air of sophistication. The feminine of course is unavoidable with floaty maxi volumes in Claudine collars and delicate shirts. Snowball skirts and chiffon feathers bring in a sense of modernity and youth.
Fashion
CELINE Fall/Winter 2019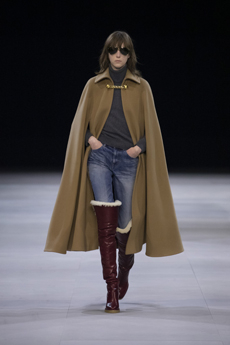 At the Winter 2019 show in Paris, Hedi Slimane premieres his winter collection for Celine. Whilst distancing himself from his predecessor, Slimane still manages to meet the brand's iconic style somewhere aptly in the middle. A solid and stable collection displays a wearable collection of blazers, jeans, sweaters and skirts with a consistent thread of colour and fabric throughout.
It would be hard to miss the references to the 70s. The palette is unmistakably so, camels outer-layers are naturally paired with browns. Creams and denims all tie together with thick knee-high boots. Scrunchy leather boots, wide lapel blazers and aviators play up to this feel also.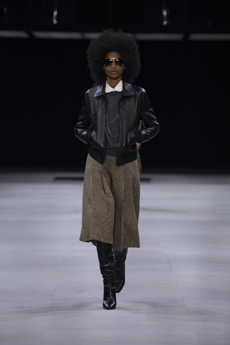 Although Slimane's typical staple is largely subverted by virtue of not having included his characteristic tight and short style, his touch is palpable and present. Leather jackets, the occasional dash of sequins and soft trimmings are identifiable and for a first collection, it is harmonious and marks a strong, clear foundation for evolution in the brand.
Fashion
Boggi 's Conscientious Collection for the Casual and Sophisticated
Boggi's SS19 collection firmly repudiates a common misconception that elegance is a necessary sacrifice in favour of practicality. The collection asserts that sophistication can be achieved in one's leisure time, featuring lightweight pieces with crease-proof properties. Promoting versatility, breathability and comfort, two strong marks of the brand's identity – simplicity and class – are neatly woven throughout the collection with vintage designs in wool, linen, soft knitwear and silk.

An exciting aspect of the collection demanding mention is the eco-sustainable fabrics. Garment dyed jackets and flowing long-sleeved shirts are exceptionally made from biodegradable fibers extracted from eucalyptus trees targeting the environmentally conscious Boggi Milano man and offering a newfangled language and approach to fashion.

In the formal-casual line, the completely unlined pinstripe suit is made from bouclé fabric, interweaving red and navy blue yarn. Other suits come in sienna red earth and ice grey. The highly popular bestseller polo-shirt is available in an updated range of colours and fibers. Another highlight is the reversible raincoat: one side, high-tech water-repellent and windproof fabric and the other wool. This use of hybrid elements is replicated in the exceptionally lightweight Aria jacket-shirt. Textured printed jerseys atop jackets add a third dimension to the piece, and monochromatic, warm, earthy colours are split up with detailed, decorative patterns.

Designed with a sense of practicality and understated class, the collection is ideal for Spring weekends of outdoor exploration and urban travel.

www.boggi.com
Fashion
Apocalyptic fantasy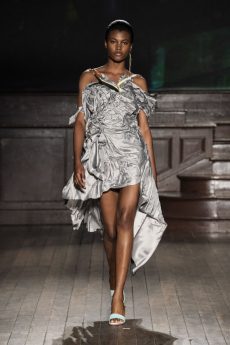 "When control is released, chaos is created that will lead to innovation and a new imaginative realism."

With this thought, Christa Bösch and Cosima Gadient designed the new futuristic collection for Ottolinger. The old wooden theater of the Lycee Jacques Decour turned into a perception-disturbing environment, where lights flashed and overwhelming metallic sounds filled the room. Chaos was clearly the key to a new sort of innovation in this collection.

The aesthetic codes are emphatically based on the unusual; for example psychedelic check knits are incorporated in denim and sportswear. Asymetric tops and trousers are executed in torn fabrics, body-outfits made of flannel. The creative duo focused on completely technical textile looks. Ski outfits shaped as spatial uniforms enhanced the female silhouette. They are tailor-made copies, easy to carry, creative but very elegant.

Ottolinger tells the story of a civilization that is led by unpredictable movements - another planetary system. The elaboration is based on speculative dreams that leave much to the imagination.

www.ottolinger.com
Fashion
A Final Inheritance of Karl Lagerfeld
The Fendi Women's Fall / Winter 2019-2020 collection contains Karl Lagerfeld's last creations. Karl started his career as a design consultant for Fendi in 1965. He developed a special bond with the brand, which is characterized through unprecedented perseverance. Karl gave everything to his collections, whether it was Balmain, Valentino, Chloe, Stella McCartney, Chanel, Fendi or his own brand Karl Lagerfeld. For Lagerfeld, fashion was an endless thought about the expression of wealth and beauty, thoughts that will always live with Fendi, according to creative director Silvia Venturini Fendi.

The collection embodies the extremely creative, romantic track that Karl was always on. His work was a form of personal expression. In his career, Karl was always deeply engaged with the simplicity of the silhouette. Trompe l'oeil - a lasting signature – one he defined in this collection with dreamy and luxuriant scenes in contrast with the sharp geometric forms that were irresistibly illuminated. A beautiful game is played with neutral tones that are highlighted by counterparts such as light ivory tulle, warm cognac patent and terracotta calfskin, alternated with sublime shades such as sea green, mandarin and azure.

Cloque, organza and satin are leading. To compensate for these soft textures, large buttons, double zippers and extra large floating snare straps are added. Karl's own signature is also subtly processed; the collar of the pointy shirt is high and combined with fully pleated trousers, jacket pockets and asymmetrical revers. The geometry contains playful shifting lines that refer to sharp diamond shapes.

A nice detail is Karl's curling 'Karligraphy' FF logo monogram, which Karl designed in 1981 and is depicted on the cabochon buttons. The accompanying accessory collection is a wonderful addition. The classic baguette is available in pillow patent, topstitched vegetal leather with a multi-strap utility harness. There is also a spacious metal frame tote executed in shiny calf. Shoes include flat heels or pointed heels with high heels and contrast soles in shiny neoprene.

A collection that is almost a true blueprint of Karl's artistic heritage.

www.fendi.com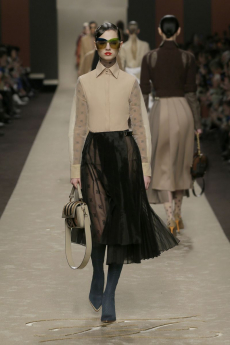 Fashion
Crystallized Flamboyance
The magical, pure rays of the Northern Lights are an intrinsic source of inspiration for Byblos's creative director Manuel Facchini. The pristine polar areas that have hardly been affected by humanity are an example of dedication to a more sustainable life. The colors that come together through the interaction of light, ice and temperature on the Aurora Borealis create a natural, flamboyant atmosphere.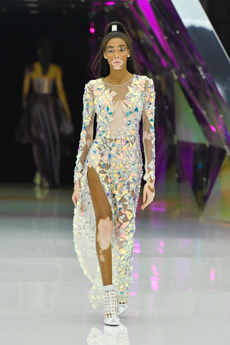 Facchini's aim in this Fall Winter collection is a more sustainable luxury life; plastic recycled bottles are reused by being turned into magical eco-friendly pearls that pursue the same aesthetics of the durable ice crystals and mountain diamonds. By imitating luxurious flamboyance in recycled plastic, Facchini shows that this graceful lifestyle does not only have exist at the expense of our fragile living environment.
Byblos's signature is characterized by all sorts of sports. Elegance and sportiness come effortlessly together in ergonomic constructions from cozy buffers to tight streamlined dresses, all embellished with classic 3D sport protection. Structured silhouettes alternate origami-styled suits with molecular ice structures that seem to melt slowly. Coconbomber jackets, hoodies and crystallized parkas are lined with beautiful graphic and geometric motifs, all are inspired by our own natural, nothern atemporal cosmos. The forms of the prints in this collection are copied from the effects of the Aurora borealis; collisions between electrically charged particles produced by the sun that slowly penetrate the earth's atmosphere. Footwear is characterized by sturdy, cool "cocoon" sneakers, eco-furry booties and hockey-inspired over-the-knee boots.
This new collection is a kaleidoscopic range of practical natural wonders with an inventive, sustainable, extravagant flair. By re-using materials and resemble terrestrial sources, a new challenge arises to save this planet and still live in luxury.
Fashion
Flooded in News
Jeremy Scott, NY Fashion week Fall/Winter 2019
Jeremy Scott thinks that we are guided by the order of the day: the news cycle. Sensational and earth-shaking headlines keep us in their grips, a trap that is hard to escape. Scott wants to make people aware of this issue and designed this collection together with artist Aleksandra Mir, who does not hesitate about mapping the present in a confrontational way.

The endless news cycle does not only make us spectators but also witnesses, victims and perpetrators of an event, something that does not only affect our view on politics, but also pop-culture. Scott's Autumn / Winter collection 2019 forms therefore a declaration on this tendency.

Mir brought the New York Post and the New York Daily news to life by enlarging the blown-up headlines into large graphic expressions, which are displayed large on the clothing. The collective obsession with salubrious headlines, false scenarios and click-bait drama causes unnecessary tension and divides societies into different groups, something that according to Scott is an unnecessary pattern and must be broken. His designs reflect the latest news that penetrates our lives so uninvitedly. Only black and white have been used to emphasize the contrast and to get into the graphic atmosphere.

Fabrics such as soft and liquid vinyl printed with blazing headlines formed in geometric dresses with a full zoom give the headlines a new context. Denim and leather also dominate and are embellished with a precious counterpart: Swarovski crystals.

Preformed bustiers are interspersed with layered feather-light tulle skirts - again transparency and layering play an important role. Today's catastrophes are covered in chiffon, the scandals of tomorrow in sequins, silk and tulle to express the horror and displeasure of this time.

By placing the powerful images in a different context, another meaning is created and that is exactly what Scott wants to give us.

www.jeremyscott.com
Fashion
Movement and Color
What was once familiar is now unrecognisable. Coach's house signature has been playfully dismantled and reassembled, rendering the familiar now unfamiliar, all courtesy of Coach's creative director Stuart Vevers who premiered his Fall 2019 Men and Women's collection at the American Stock Exchange in New York City.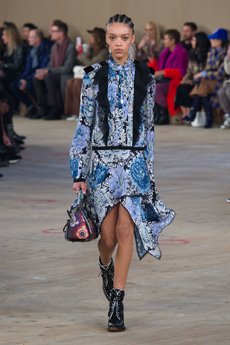 A joyful collection, handmade from artisanal fabrics and quilts that are juxtaposed with bold and enhanced outerwear, offers a heightened sense of color, nature and emotion. Painting with both light and dark colours and all psychedelic prints in between, a mash-up between freedom and defiance unravels.
Movement and distortion are also key, kaleidoscopic print dresses cascade down the form gently trailing behind. Kaffe Fassett's floral work stamps the collection, as do oceanic shades that instills a vibe of prismatic optimism.
Fashion
Tambour Horizon
Louis Vuitton introduces the Tambour Horizon watch; this fully connected piece embodies the spirit of travel and authentic craftsmanship. In contrast to the previous designs, this model allows you to personalise the dial with your own chosen watch face. Very extraordinary is the watch face; the design aesthetic refers to a classical Louis Vuitton runway show.

Louis Vuitton as a brand has symbolized "the art of traveling" for a very long time already. This watch is subversive, since it is able to synchronize all your travel information together in one place together with your agenda. Because the world has become increasingly polluted, Louis Vuitton has integrated a "Pollution" function that continuously displays the current air quality index on the dial.

The Tambour Horizon has a unisex case with a unique shape and is available in polished white ceramics, polished steel, matte black and brown Pvd and white with gem-set horns. The Tambour Horizon is the ultimate combination of smart and refined craftsmanship and technical excellence. The brown Pvd is especially symbolic; this color has been an integral part of Louis Vuitton's aesthetic since 1854, used most prominently in the emblematic Monogram design.

www.louisvuitton.com
Fashion
TECHMERINO™ Wash&Go by Z Zegna starring Alexander Zverev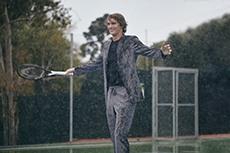 Today Z Zegna introduces the new TECHMERINO™ Wash&Go collection tested and presented by the youngest tennis winner of the ATP Finals and face of Z Zegna, Alexander Zverev. During playing, Zverev can fully count on high quality performance-capable material, encompassing lightweight comfort and sustained flexibility.

Zegna has an unprecedented passion for tennis and designed the TECHMERINO™ Wash&Go wardrobe with this obsession in mind. This assemblage includes suits, jackets, bombers, t-shirts, and pants, all with a fast-drying wool fabric for optimal comfort and performance. This collection contains best of both worlds; elegance and ultimate convenience. This can be seen in the variety of fabrics: maxi meshes playing with transparency executed in an inspiring spring color palette. This apparel shows how the limits of active wear can be re-interpreted with innovative techniques that lead into a sophisticated look.

TECHMERINO™ Wash&Go breathes well by offering a continuing thermo regulation that keeps the body on a constant temperature in both heat and cold. All the pieces are made out of the natural fabric; pure Merino wool treated with special finishing techniques so that it will be easy to wash and maintains its rich quality.

www.zegna.com
Fashion
Escaping Routine
In the AW 19/20 show, William Fan dived into the eclectic karaoke nightlife of Hong Kong. An environment in which everyday culture diminishes as soon as it becomes night, and the alter ego emerges. Fan, is fascinated by the diverse palette of personalities that this city and its karaoke bars by night posses: from formal suit wearers to colorfull adolescents. As soon as they show up under the neonlights, old memories emerge and they all come closer to their icons and idols.

This euphoric change is an immense inspiration for Fan. His collection forms a tribute to various personalities, individual songs and memories from back in the day. By using animal prints, variations of loud colors and textures, a playful effect arises in the light of the mirror pole that characterizes the mystique of the karaoke nightlife.

www.williamfan.com
Fashion
Sacai Fall 2019 Menswear / Pre-Sacai Fall 2019 Menswear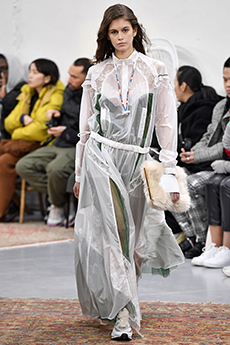 When the morning of the yellow vest protests we all tried to arrive on time for Sacai held at the Grand Palais, Paris seemed a ghost city, lost in space and time. With the Grand Palais in the middle of the restricted area and dozens of police's special forces at every single corner surrounding the area it was surreal. In 2 hours the people fighting for their future would march those streets.

Feeling blessed to have succeeded to arrive on time at the show after several attempt to enter the area, as we saw this beautiful collection full of all Sacai's signature traits playing with the construction of silhouettes and juxtaposition of materials: the deconstructed pleated asymmetrical skirts, performance fabrics hybridizing formal garments, coats where the liner becomes a pumped up outer layer, a sweater traditionally worn under a jacket instead becomes its outer shell.

Chitose Abe mentioned a "cultural melting pot", in her show notes and the importance of feeling "the freedom to be different, to be an individual". Symbolized by the iconic London's Bar Italia collaboration for t-shits and hoodies, where Abe spent time as student.

www.sacai.jp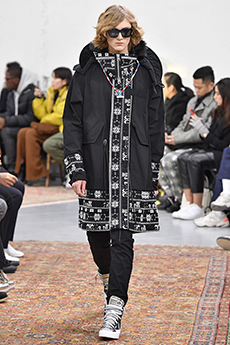 Fashion
Berluti Fall 2019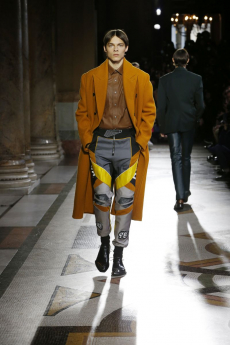 When Kris Van Assche was appointed new creative director at Berluti, the legendary Italian brand famous for its custom made shoes, there was a lot of excitement and anticipation for the new breeze this visionary designer would be able to bring.

We have been all following him in the developing of his codes along the years: the fascination to the New Wave music, the nod to a new modern tailoring with that sharp body-conscious blazer ushed further for the last collections at Dior Homme inspired by the Bar Suit.

Kris Van Assche knows how to take the elements of a brand's heritage and bring them into his own aesthetic. For his Berluti first show he worked on emotional elements dear to the brand: the white marble table used by Berluti's artisans since 1895 to polish the renowned shoes, photographed and used as print for shirt, coats, sweaters. You can see every mark left by the coloured shoe polish in the years, the craft, the spirit of the time.

The appeal of manipulated leather was used since the fist look: a brown leather suit with a patina finish (a technique known for the famous shoes of the Maison), a beautiful grey double breasted overcoat matched with a relaxed pinstripe suit marbled shirt + tie combo, smart bags.

The vibrancy of the colours found on the iconic Ferrara headquarters' marble table were back in the suits and coats: ruby, brilliant green, blue, ochre, also carefully declined on few female models. The majestic show location of Garnier Opera resulted the perfect set for Van Assche's new modernity, where backstage all his old and new supporters warmly welcomed this new course.

www.berluti.com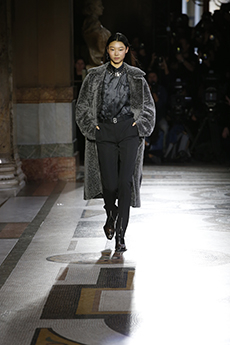 Fashion
Yohji Yamamoto Fall 2019 Mens
When not long ago Yohji Yamamoto himself held a live concert in Tokyo playing his beloved guitar we couldn't help but be extremely excited. The reserved - at times almost introvert – Japanese maestro performing his music on a real stage!

For us who love his poetic and admire him unconditionally it was a natural gesture. We all wanted to be there. And when the sound of his soft voice pervaded the show venue for his Fall 2019 Menswear a soft melancholy, recalling that iconic moment surfaced embracing the whole collection.

The same soft melancholy of the silk thread on blazers and coats, the layered volumes signature of Yamamoto's poetic: fluid large pants tucked in laced boots, coats on jackets approaching and slowly – in the Yamamoto's signature models pace – as out of a majestic army.

It is not a stretch to feel the pathos recalling the uniform of the late Hijikata Toshiz? in Shinsengumi's final battle in 1868.

Backstage Yamamoto playfully stated to some journalists the reason of the floating treads was due to having forgotten to cut them away, but we know his extreme humble nature drives miles away from the fashion circus where every gesture needs to be overly hyped.

Once again Yohji Yamamoto stays true to his integrity.

www.yohjiyamamoto.com
Fashion
Paris meets Munich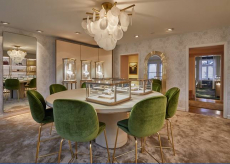 Parisian Cartier opens a new pop-up Boutique in Münich this week. A traditional Cartier store divided into three different themes, all characterized by classical Parisian charm and designed by famous Parisian interior architect Laura Gonzalez.

First you enter the bar, which gives you the feeling of stepping into a typical bistro in Marais. The luxury velvet, marble and oak details underline the elegant and chic French aesthetics and give you the feeling that you never want to leave.

The second entry is into the salon; an area that breathes the so-called savoir-vivre feeling. The mirror wall in combination with an extraordinary monumental chandelier and dining table are the perfect combination between a typical French romantic Burgundian lifestyle and the Parisian metropolitan spirit. Artistic atmospheres and individual design furniture give this boutique an innovative touch and translate the classical French/Parisian concepts into a new experience.

Lastly you arrive at the boudoir in which two large chaise longues and dark green color scents immediately attract attention. Iconic Cartier images through time adorn the walls in a playful way and take you through the empire of Cartier as a jewellery maison.

The Paris apartment is located on the fourth floor of the current boutique's house at the Maximilianstrasse and will remain open until Fall 2019.

www.cartier.com
Fashion
Mr Porter Collaborates with Off-White
In a partnership with Off-White and under the direction of founder Mr Virgil Abloh, Mr Porter premieres an exclusively available 44-piece capsule collection 'Modern Office.' As indicated by the title, the collection revises traditional sportswear dress codes, synthesises them with the game-changing luxury Italian streetwear of Off-White, all the while underpinned by a refreshing exploration of modernity inspired by an upcoming generation of workers and their environments.

Bold and intrepid yet comfortable and minimalist. The skate sub-culture is retained through the individualistic, personalized style items and that sense of independent-minded, carefree disregard subsequently permeates the collection. Flux is revealed through the utilisation of a synergy of wool, felt, heavy canvas and cotton highlighted by muted, tonal colors and graphic visuals.


Mr Porter will debut the collection 'Modern Office' on 21st January 2019 as part of a thrilling collaboration available only at Mr Porter.

www.mrporter.com
Fashion
Imaginative, Quirky Couture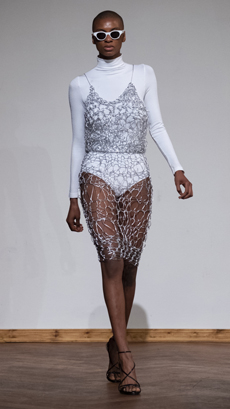 Odély Teboul has moved on from her days as part of the design duo Augustin Teboul. During the FW19 showcases at Berlin Fashion Week she presented the designs of her own label, Lou de Bètoly. Following stints at Vogue Salon this was her first major showcase on her own. The label had already gained traction this past year with pop star SZA or it-girl Delilah Belle Hamlin wearing Odély Teboul's designs last year. Each one of her designs is handmade using couture techniques and features strange details that con only be produced by wild imagination. In a city that never really conforms or grows up, these quirky looks work.

This ethno-dada draws from her childhood in the 90s and seems deliberately narrated from a child's point of view paired with a bit naïvety. And everything is blurred. We see a shirt with balloons and crocheted cords that could've been stolen from her father's closet. Or a denim jacket, which is covered all over with small hand puppets. And those alluring 1920s that Odeeh found inspiration in, also played into the Lou de Bètoly A/W 19-20 collection with the understanding of the "decadence and nonchalance" of the decade. One great example of this are the extra-long gloves made of neon hair ties.

www.loudebetoly.com

Fashion
Roman Nonchalance
Brioni showed in Milan its Fall/Winter 2019 collection presenting a masculine wardrobe repertoire with a tailoring formality. On the other hand they simultaneously exhibit a sense of informality making the collection one open to personal interpretation. Brioni's authentic tailoring and precision is shaped again in a niche way, in an item called the primo suit. This slim-fit silhouette expresses a confident and exceptional, social spirited character.

An identity that embodies the idea of Roman nonchalance; an attitude that is characterized by pieces that move smoothly and lightly over the body made out of precious, refined materials with interesting details. This philosophy is central due to the representation of a man who instinctively follows his whims. An elegant gent with a well considered wardrobe, which obeys a special repertoire of style codes.

The collection indicates a mix of traditional and trending items: From trench coats to blousons, from morning suits to tailored or military pants. The items are released in materials such as cashmere, camel, wool, silk, leather, crocodile leather, velvet and knits with a fused color palette of neutral tones, whites, greys with touches of light blue and accents of rusted notes.

www.brioni.com
Art
Ulay's Exhibition at Richard Saltoun, London
The very nature of Ulay's art inadvertently resists all attempts at classification and defies categorisation. A self-proclaimed anarchist, Ulay's work spans multiple platforms and offers a stark exploration of the dichotomy between the masculine and the feminine, exploring the fluidity of the self and the constant potential for transformation and experimentation with new identities. Ulay is one of our long-time favourite artists with whom we have previously had the incredible honour to work with on two separate projects.

From an early affection for the fleeting, transient and instantaneous process of the Polaroid to a traceable crossover in utilising the physical form through performance and body art, it is strikingly evident that the single common thread of Ulay's work is awareness — in the obvious performative, physical sense of course but also in his social commentary.

Ulay's unyielding lifetime commitment to dismantling and subverting the roots of complex themes of identity, particularly gender, by tackling the harmful human conflicts that arise from externally enforced notions of identity through his unprecedented format, are what have comfortably established his status as a true icon of polaroid photography and as the father of performance art.

From 11th January – 23 February 2019, the Richard Saltoun Gallery in London will host its first solo exhibition of Ulay's work dating back to the 1970s and progressing right through to new works exhibited in public for the first time.

www.richardsaltoun.com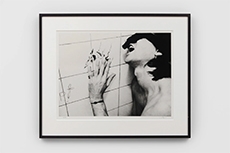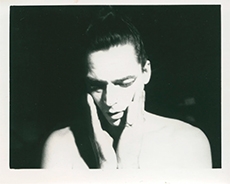 Fashion
FENDI: ART & CULTURE
"My work is dealing with volumes shaped by lights and shadows, highlighting the forms with light, creating visual relations between projection and the use of lights and stroboscopes. The light is something smooth, untouchable, soft".

Laslzo Bordos, the internationally renowned Hungarian artist, considered a pioneer of digital arts and architectural mapping, created "Lux Formae", a visual installation supported by FENDI and produced by Solid Light Festival within Videocittà series of Events in the city of Rome. Using Palazzo della Civiltà Italiana - home of the roman maison FENDI- as its canvas he created a spectacular 3d projection on the building triggering new perceptions and symbolism of this iconic Italian architecture: "The building is a massive, heavy construction. I would like to create the illusion of the lights "holding" the building, bringing a contradictory situation where the lights become solid and the concrete becomes a floating element, supported by lights"- Bordos explained.

Having its deep roots already in the work of legendary artists like Laszlo Moholy-Nagy or George Kepes, Light Art had incredibly developed in the last decades, taking shape into the new forms of Light Projection on building using 3D mapping, where the urban and architectural environment is completely reproduced virtually in 3D to create an extremely precise and three-dimensional installation. When the projection is performed in situ on the building, its visual power derails the viewers customary schemes of perception and observation, creating a new reality, where the boundary of what is real and what is seen become blurry.
With the support of Fendi and its cutting edge approach to art, the video mapping projection by Laslzo Bordos took shape and brought a new meaning to Palazzo della Civiltà Italiana, one of the most fascinating contemporary architectures in Roma.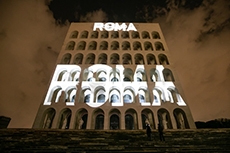 Fashion
Dries van Noten Spring Summer 2018
Dries Van Noten has been synonymous of effortless since the beginning, more than 25 years ago. We have tasted surely during his 100th show where pieces of all past collection where carefully selected and carefully re-arranged together. The Spring Summer 2019, the first Womenswear show after the news of the recent majority acquisition by Spanish conglomerate Puig, was set at Palais the Tokyo and its clean environment. Many saw it as a symbol of a new start, a new beginning.  

But the collection proved that Dries van Noten aesthetic is as strong as ever.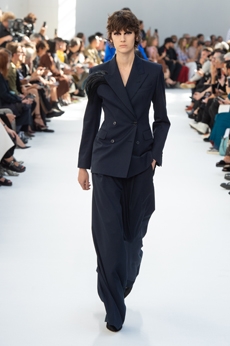 That relaxed attitude, that playful side to mix prints and certainly the ability to wear masculine oversized cotton suits in white or black with anything borrowed from eveningwear like sheer knits and maxi sequins in aqua green, yellow and Yves Klein's blue, one of Dries favorite references. The blue splashed a great part of the collection also adorning a couple of models' head in form of feathers swim caps.

As the collection developed into evening dresses we all felt the mastery of Dries' cut and ability to create couture-like dresses without feeling too Haute.

The workwear jumpsuit with the upper part pulled down at the waist and work as a decorative bow belt felt the quintessential Dries van Noten: infinitively savoir-faire.

www.driesvannoten.com
Fashion
Moose Knuckles AW18 Collection features a Horror movie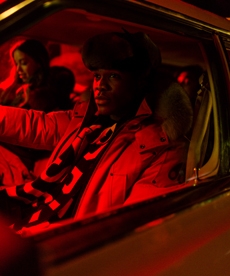 In slang, Moose Knuckles defines the splitting of one's bean bag as a result of pants that are hiked too high. In the realm of outerwear, Moose Knuckles sounds alarms as the benchmark of style for those who live in the cold.

To mark the release of their Fall Winter 2018 campaign, the moose tribe created a short, campy horror movie – Shady Maple Motel. Toronto's own four-time MTV video award nominee, Kid. Studio directed the short, taking inspiration from the hyper-real sexually charged photography of Steven Klein. With previous high-profile clients Big Sean and the Weekend to his name Kid, employed the cream of Toronto's crop for the stylish, sarcastic and gory short.
The leanest, toughest and most luxurious outerwear brand consciously pounds the path less travelled. Playing it safe has never been in Moose Knuckles DNA, and never will be. The contemporary Canadian counter-culture prefers to be known for its grit, dexterity and heritage. Creative Director Steph Hoff prides the brand on an instinctive, organic ethos.

'If I wasn't making a campy horror trailer with my friends for Moose Knuckles, I would probably be making campy horror movies with my friends for fun. Like everything we do at Moose Knuckles, it was completely natural to create a campaign around my lifelong love of cheesy drive-in movies, in my home town.'

Fall Winter 2018 includes an array of shearling jackets, transitional coats; combat pieces and over-the-top colorful fur-trimmed parkas, sweatshirts, oversized knits and draped football scarves. To really put the knife in, the collection increases the seminal core of Moose Knuckles with new Army Green, Redwood and Driftwood colorways. Canada to its core Moose Knuckles lives to innovate - to lead.

www.mooseknucklescanada.com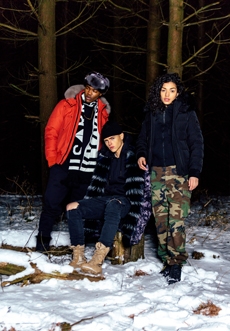 Travel
Introducing BMW's iNext

Touch entry, touch seating, touch steering, lights on lights, touch on touch, screens on screens. This is the automobile of the future. Your favorite place on wheels - BMW's Vision iNext - is a dramatic, awe-inspiring SAV (Sports activity vehicle), synonymous with pioneering spirit built to deconstruct dogmas. The iNext is a divisive innovation that reaches further than expectations can begin to fathom.

To cast an eye upon BMW's latest creation will only begin to scratch the surface. However, this is the best place to start. The meticulous exterior harmonizes precision design. Every single line is conscious and purposeful. The wheels look as though they have escaped from Area 51 at their own free will, while the interlinked double-kidney grille evokes authority through clearly sculpted form and surfaces. Even the paintwork traveled back in time, the Liquid Greyrose Copper exterior changes in shade and humidity injecting the vehicle with a charismatic flair.

A gentle swipe, where one would imagine a handle to exist, triggers a crisp opening. The world beyond beckons. Every object is designed as if it were a single piece of furniture, reminiscent of your living room. For BMW's vision, the question was, how to gain time to live. The result is an utterly human car, released from everything. The evocative nude tones marry seamlessly with warm green turquoise micro-fiber, lined with purple jacquard, a traditional method that finds itself a place in the new world.

The grace and splendor of the iNext alone are astounding, yet there is more. Shy technology. Shy tech abolishes physical controls from the entire cabin and replaces them with a gesture control system that is both intuitive and natural. The simple task of outlining a music symbol on the fabric of the rear seat allows passengers to take control of the vehicles audio, yet another step toward an autonomous future.

The iNext will not be an entirely autonomous automobile and will instead promise two driving modes, Boost and Ease. Boost is the human interaction and Ease being the control of the vehicle itself. For now, the real-world driving experience is thin on the ground. Clearly, the truth that we can't predict the future will not stop us from trying.

www.bmw.com


Fashion
Highlights from New York Fashion Week
CALVIN KLEIN 205W39NYC Spring 2019
Creative Director RAF Simons' cinematic eye has transformed the landscape for Calvin Klein 205W39NYC since his arrival. On this occasion the often-polarizing original Hollywood blockbuster Jaws and the eerie yet sublime Dustin Hoffman classic The Graduate set the tone. Jaws Merch-tee's will undoubtedly sweep the upper echelons of fashion while Mortarboards felt more necessary as mood setting props. Rubber Scuba gear that paid homage to both cinematic triumphs will be the talk of the town for months to come.

www.calvinklein.com
BOSS Spring 2019
Few expected a fine-knit dress and nylon trench to open Boss' Spring 2019 at New York fashion week. Ingo Wilts delivered a light collection combining the men and women's effort with relative ease. Perhaps Hugo Boss are better without their bread and butter.

www.hugoboss.com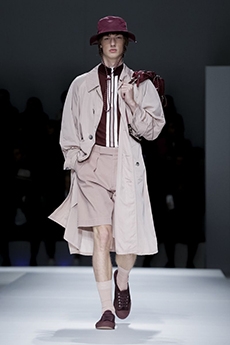 Longchamp Spring 2019
To celebrate their 70th anniversary Longchamp continued their soiree into the world of ready-to-wear. Fall 2018 piled heavy emphasis on outerwear with seductive layering, delicate fringes and fabulous braids all set to inspire the spirit of playfulness often associated with the French leather brand.

www.longchamp.com
Proenza Schouler Spring 2019
Denim. Proenza Shouler pair Lazro Hernandez and Jack McCollough rejuvenated the eternally loved work wear textile in an attempt to reinstate reality. We want the clothes to be fashion, but also to be more real," Hernandez said. "That's what feels right in the world today. It's kind of a cliché, but it's gotta be real."

www.proenzaschouler.com
Fashion
Prada opens a new boutique at Via della Spiga, Milan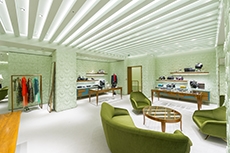 Italian fashion house Prada is pleased to announce its opening of the new clothing boutique at Via della Spiga in Milan. The new 400 sq m corner store, designed according to Prada's aesthetics, showcases a large, beautiful and fresh interior with large windows, inserted in the stone frame of the building. All display elements are made exclusively for Prada by Osvaldo Borsani and Giò Ponti.

While the first floor is dedicated to leather goods, accessories and footwear collections, the second floor will stock the clothing collections. To celebrate the opening of the Via della Spiga store, from the 10th of September on, the Italian fashion brand will offer the Prada Sidonie bag — from the Prada Resort 2019 collection — in two styles, made of city calf leather in a different range of colors.

www.prada.com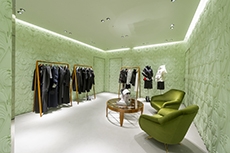 Fashion
Joey Fung and her mother Kam in new Fendi campaign
Joey Yung is one of the most popular singers and actressas in Asia at this moment. She became one of the most best selling Asian female singers of the 21st Century after she released her debut IEP in 1999. Joey Fung won numerous music awards and released almost 40 albums. In 2013 she proudly performed at the Royal Albert hall in London, becoming the first Chinese singer to perform on that stage. Joey Fung was ranked 63rd on the 2014 Forbes China Celebrity 100, making her the most influential Hong Kong-based female singer that year.

She participated in the Hong Kong Peekaboo Project and customized the Peekaboo, which pays homage to her mother Kam Fung. Kam Fung is not a public figure and did not appear on TV shows or TVC, but made an exception for this special Fendi project.

www.fendi.com
Fashion
Back to the 80's
In the new Fall/Winter 2018 Advertising Campaign Italian fashion House Miu Miu presented a series of pictures with British fashion model Adwoa Aboah, Georgia May Jagger, Kesewa Aboah, Ariel Nicholson, Zoe Thaets — all of them shot by British photographer Alasdair McLellan.

The starlets company was joined by Hollywood's renegade spirit Raffey Cassidy, Rowan Blanchard and Elle Fanning. All of them posing in iconic clothes from the season: denim total-look, drape coats, polka dot dresses and shoes with socks.

The reference comes from the 80's and hairstyles of famous singer Cindy Lauper and Bonnie Tyler. In the movie "Steel Magnolia" Dolly Parton explains: 'The higher the hair, the closer to God'. But what if she was wrong? There is something devilish about the exploration of the contemporary beehive. What if bad girls want to wear high hair too?

www.miumiu.com
Fashion
Suitcase with the secret: Off-White&Rimowa Collaboration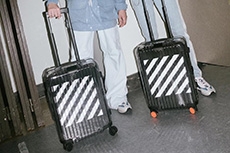 The king of collaboration Virgil Abloh — founder of the Off-White brand and Creative Director of the men's line of French fashion house Louis Vuitton — continues his cooperation with German brand Rimowa.

After the Off-White fashion show for Men's Spring/Summer 2019 at Paris Fashion Week, the two companies officially launched their partnership. Virgil Abloh presented a new transparent case with a ribbed surface, calling it a new level of design. " It's like 3.0 of personalisation.

It's not just putting your initials on it but allowing another layer to come in play.'' — said Virgin. From July 2nd everyone has the opportunity to buy the limited-edition case online and at selected RIMOWA and OFF-WHITE stores in the US and Asia.

www.rimowa.com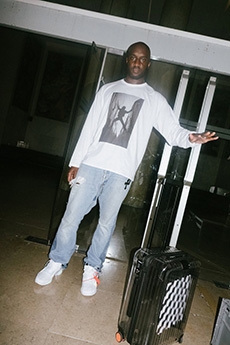 Fashion
Breathing Change: Highlights from PFW
Creativity, newness and powerful vibes of change. This is the fresh air anyone could breath if looking from the Tour Eiffel during the Paris Fashion Week, which has celebrated masculine elegance as well as the debut of several designers at the lead of iconic brands.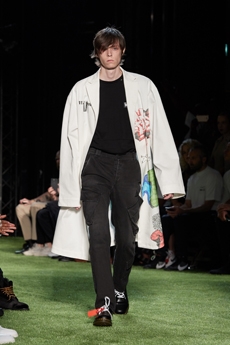 Maintaining a structured and industrial look that runs over wide denim trousers and T-shirts, Virgil Abloh's personal brand Off-White brings flashes of American pop and underground culture. Particularly, the use of graphics ornamentations pays homage to graffiti of iconic artist Dondi as well as The Simpsons prints underline the statement of a subversive yet relaxed contemporary appeal.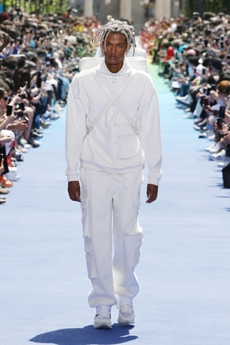 New Louis Vuitton's Creative Director makes a great debut, defining a precise and sophisticated new vocabulary for the brand. A bright (off-)white palette spreads into an extended prism of colours, prints and graphics.
From red poppy flowers taking over anoraks to the renovation of zoot-suit monochromatic looks, Virgil Abloh presents a collection that clearly speaks the language of Millennials, without compromising the distinctive notion of masculine elegance.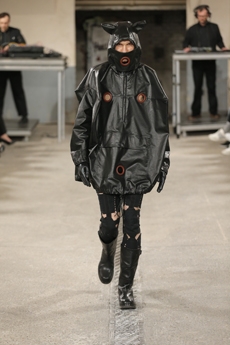 On the other way around, Belgian designer Walter van Beirendonck irradiating collection playfully works on structures and subversive imaginaries. On the one hand sparkling primary colours, graphics and patterns run over oversized sweaters and outerwear staples, underlining the label's eclectic identity. On the other hand, a fetish-like abundance of leather marks the rebellious outlines of blue electric jackets and black pants.
A free dialogue of lines, shapes and drawings introduces to the fluid collection presented by Hermes for Fall 2018. Working on textiles such as cotton poplin or technical calfskin and a colour palette that includes monochromatic staples in pop orange, english green and greyish tones, the proposals define a sober yet self confident masculinity.
Inspired by Hawaii, travelling and island living, Yoon Ahn's label Ambush creates a collection focusing on natural materials, such as cotton, wool and linen. Moreover, the jewellery range unveils literal pearls of wisdom on earrings, bracelets and rings, keeping in mind the ebb and flow of waves that mirror the motions of life experience.
Another promising beginning has been signed by Dior's runway. With Kim Jones interpreting the codes of Monsieur Dior himself, the collection is a dual tribute to fantasy and Dior's creativity. Both urban and soft, finding a balance between floral motifs, embroideries, delicate colours and streetwear structures, Jones spaces between the House iconic past, Dior's personal life and celebrate the birth of a new out-look.
Fashion
Here and Now – Roberto Cavalli SS19
Immediacy is the leading mood presented by Paul Surridge for Roberto Cavalli Spring Summer 2019 Menswear collection.

The astute combination of athletic tailoring and clean proportions determines the contemporary spirit of the outerwear, knitwear chinos, slouchy bermudas and shorts proposals.

Stretching from pure white to decisive black, the range explores the full chromatic scale and especially focuses on hybridized animal motifs, which enhance the sensation of a concrete jungle.

Functional rather than decorative, the artisanal feel is still evident, sophisticatedly recalled through precious intarsia and Macrame details on the knitwear.
On the occasion of Roberto Cavalli Menswear Show at the Pitti Immagine Uomo, the brand launches also the men's eyewear collection developed with Marcolin.

As well, all the accessories accentuate a juvenile, swagger attitude. Materials play a key role in the determination of this new urban vocabulary.

Eye-shelding visors and and polymath running shoes define the outlines of the ultimate luxury, which follows the speed of the concrete landscape, here and now.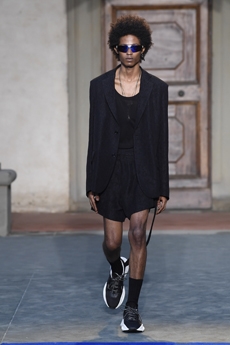 Fashion
Automotive masterpieces with Idris Elba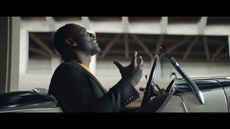 This September, Grand Basel, the show for automotive masterpieces that presents vehicles in combination with art, design and architecture, is starting a global tour. Therefor, actor Idris Elba is looking for answers about what gives cars their soul in a new film he's starring in made for Grand Basel.

The new film features four of the event's exhibitions that reflect the past, present and future. Exceptional automobiles will be presented in extraordinary settings during the contemporary exhibition concept where sophisticated culture, aesthetics and technology engage with international audiences.

The Grand Basel show will be from 6 to 9 September 2018 in Basel, Switzerland. After that the show will be in Miami Beach from 22 to 24 February and Hong Kong 2019.

www.grandbasel.com
Fashion
No matters where: Woolrich SS18 Footwear Collection
Calibrating the balance between urban outlines and high-performance features, the Spring 2018 footwear collection by Woolrich keeps strengthening the statement of contemporary functionality.

The shoes' construction presents a solid sole made by Vibram, suitable for both journeys outdoor and urban walks thanks to a contemporary design.

Part of the menswear collection, the Trail Boot is available in high and low top versions, featuring minimalist outlines in contrast with fluorescent details. With a focus on confortability, the Air Mash model is characterised by a lined sole, while the overall collection of light snearkers, sleepers and slip-ons are enriched with colorful bands to best embrace the bright spirit of summer.

For the women, mountain boots with performance laces, trainers in nubuck and slip-ons unveiling a suede trim explore the coasts of the New World, balancing their technical structure with the use of natural materials.

Available in Woolrich flagship stores and distributed to the best multibrand stores in Europe, USA and Asia, the footwear collection can be purchased also trough their website.

 www.woolrich.eu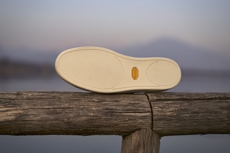 Music
The Smashing Pumpkins announce their "Shiny And Oh So Bright" Tour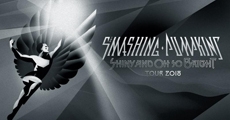 Formed in Chicago 1988, The Smashing Pumpkins have marked a chapter for the history of alternative rock.

They released their debut album Gish in 1991, reaching mainstream success later on in 1993 and 1995 with respectively 4x multi-platinum Siamese Dream and 10x multi-platinum Mellon Collie and the Infinite Sadness.

Overtime, they gained worldwide attention as well as influenced several groups for a very distinctive sound, exploring the more diverse genres and music styles, such as heavy metal, progressive rock, psychedelic rock and more recently electronica.

After several changes in their line up and 30 years later, the band has announced their "Shiny And Oh So Bright Tour", which will be the first in nearly 20 years to feature founding members Billy Corgan, Jimmy Chamberlin and James Iha, including also guitarist Jeff Schroeder.

Produced by Live Nation, the tour will feature material from their debut trough 2000 and kick off in Glendale, AZ on July 12, 2018 and North American arenas throughout the season.

At ZOO we wished it was already "Tonight, Tonight ", yet we'll make a count down because we can't wait for seeing them live this summer!
Fashion
LIFEWEAR: Uniqlo + Tomas Maier
Japanese brand Uniqlo has announced the launch of their very first resort collection, released in collaboration of iconic Tomas Maier. Thought as a versatile escape from everyday life, the new series for both men and women will combine the two houses' aesthetics, with a key focus on confort and wide use of innovative and high quality materials, such as AIRism fabric, extra-fine cotton and 100% cashmere for the knitwear. The womenswear includes tops, dresses, a polo-shirt and a stylish swimwear piece that can be used as loungewear too. The mens' proposals focus on jackets, t-shirts, polo shirts and shorts that function as swimming trunks, unveiling a color range of navy blue, black and khaki hues. Starting from Thursday the 17th of May the LifeWear series will be available online and in 19 stores worldwide, celebrating the flexible, relaxed freedom of modern elegance.
Fashion
Givenchy launches their new platform to main European markets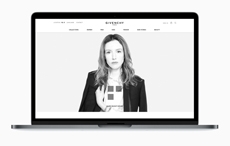 Now closer to their customers than ever before, on the 5th March 2018 historical Fashion House Givenchy has launched their new omni-channel platform to its five main European markets: the UK, Italy, Netherlands, Germany and Spain. The new platform, which has been designed in collaboration with the London-based agency R/GA and curated by artistic director Clare Waight Keller, is characterized by a very fluid layout and clean structure blending real-time access to fashion shows, in-depth features and a mix of news.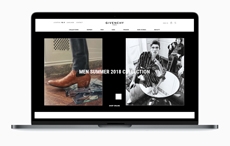 Coinciding with product availability in-store, the platform will satisfy consumers desire to purchase several pieces from the designer Spring Summer 2018 collection, including front-of line access to monthly-product drops and online-only capsule pieces. Presenting all products in high resolution, Givenchy's new strategy (covering also online media, e-mail and social media) celebrates a future-oriented approach to shopping and unique ability to combine very distinctivr web design aesthetics with the increasing improvement of user experiences.

www.givenchy.com
Fashion
Highlights from Milan Fashion Week
On the wave of intelligent feminism, Max Mara centres on how modern women perceive their freedom. If in the 80s structural elements from the male wardrobe would have symbolised the status of achieved empowerment, nowadays the feeling is different. Collaborating with French artist François Berthoud for sweaters and T-shirts, the range includes skinny pants and pencil skirts, while for the outerwear a teddy bear coat featuring a Western Fringe, leopard printed coats and the iconic camel coat featuring a classic cut that design the outlines of a spontaneous, comfortable self-expression.
On the other way around, Sportmax is a layered conjunction of technical materials and urban outlines, determined by bright colored puffers and and down vests. The skirts are embellished with zippers, while the dresses' flowing shapes enhance the sporty feel the athletic silhouettes.
Inspired by the intriguing Sharon Stone in Basic Instinct (1992), for Paul Surridge fashion is a matter of sensuality. Without abandoning Roberto Cavalli historical trademarks, the collection combines together womenswear and menswear, highlighting opulent looks featuring multicolor animalier prints, leather shirts, aviator jackets, flowing maxi dresses best enhanced by ochre, turquoise and amethyst colors.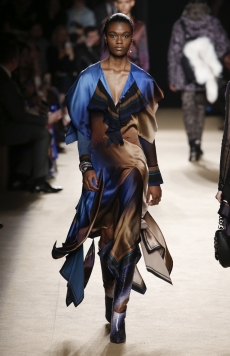 Strong, loud, confident. The charming women of Versace bring back all the energetic enthusiasm of glamorous eighties. With a powerful visual impact and honouring the brand tradition as well as the mixing of different cultures and subcultures, the proposals feature total looks and bold logos, which are in turn underlined by architectural shoulders, multi-layered kilts in contrasting full yellow and blue, corsets and mini-skirts.
With Paul Andrew taking the reins of the women's brand, Ferragamo presents nothing but a very a sophisticated collection focusing on classicism. Symmetrical cuts are in total harmony with fluid fabrics in monochromatic hues that softly intensify the feel of a sober elegance over foulard and long dresses. Moreover, suede trenches come in full green or red hues highlights the brand's leather heritage in balance with the immediateness of contemporary fashion.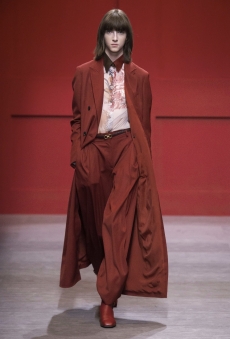 Working on the coexistence of different cultures, Giorgio Armani proposals are quite a number. Total looks in black velvet take central stages, mostly embellished with crystals, watercolor florals that do not compromise the brand's smooth elegance, yet transform the precious fabrics in garments wearable any time of the day.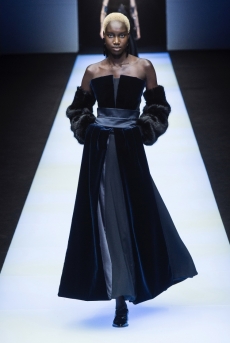 With a similar approach, Emporio Armani creates a strong alliance between the richness of their bright fabrics and the urban and sporty language of the label. Hereafter, everything seems a contemporarily wise update, which focuses on forms and proportions. Several shades of green and watery colors set the mood of the collection, revealing long dark coats, fur and structured tailored jackets.
Travel
Casacau: A Homelike Stay In the Eternal City of Rome
In a 17th century Roman residential building near the Fontana di Trevi, the six unique and luxurious apartments of Casacau have been integrated. Situated in the heart of the eternal city, the historical charm of the house intertwines perfectly with contemporary design. This getaway offers all comforts and services one might expect in the most exclusive hotels in Rome, but with the added touch of a home-like-feeling and more privacy. Each apartement has a different aesthetic atmosphere mixed with its own personality. Vintage-furnishings from the 50s, 60s and 70s blend in with modern comfort and convenience. Some of the rooms are equipped with a Turkish bathroom and one even offers a sauna for that added wellness value. All rooms come complete with a dining space and an open supplied kitchen. Two rooms also feature a balcony, with a view either on the street or the patio.

The hotel is part of the TakeMeRome project by Pino Cau, who has been working in hospitality for thirty years. Aiming to offer guests a carefree stay in Rome, TakeMeRome takes care of all details of their stay. Following this philosophy, Casacau offers its guests the possibility to order fresh groceries if they're feeling up to the task of cooking. If not, the restaurants Stazione di Posta and EIT can deliver to all rooms upon request. What's more, at Casacau, there will always be someone available to fullfil guests' special wishes. The philosphy behind Casacau is to provide a hideaway that makes it easy to discover Rome's hidden gems while making one feel like staying at a friend's place, because human relations are seen as the real luxury.

casacau.com
Fashion
Berlin goes Kiez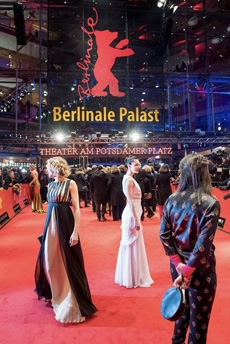 From the 15th of February to the 23rd on the occasion of the renowned Film Festival, Berlinale Goes Kiez is bringing the event to independent cinema's across the city.

With a selection of films and events, the programme is aimed to create a dialogue between the audience and the filmmakers, who will answer the public's questions immediately after the screenings and Anne Lakeberg, head of City Kino Wedding, will moderate the discussions on the behalf of Berlinale.

This initiative is also honouring the work of art-house theatres that kept cinema culture active and vital overtime as well as it is consolidating a charismatic engagement with the annual appointment.

www.berlinale.de
Fashion
Highlights from NYCFW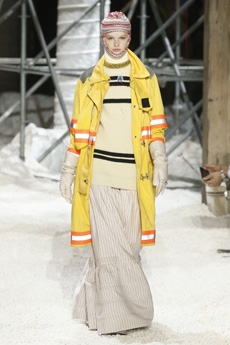 Playing with American culture and inspired by everyday heroes, Raf Simons for Calvin Klein presents a layered collection, sporting long skirts, overcoats, balaclavas, knits. From Sofia Coppola's 2017 The Beguiled to Nasa's aesthetics, Simons' references emboss a rich symbolism on Calvin Klein's minimalistic style, interlacing elements from workwear: cropped jackets, prairie dressed and looks reminiscent of an industrial milieu.
Mentioning baseball without including New York would be an oxymoron. With its 'Sports Tailoring', Hugo Boss celebrates the American's favourite sport and translates it to high tailoring. There is a focus on making extra sizes and volumes for cashmere coats, puffer jackets and raincoats. Baseball graphics along with Hugo Boss initials adorn shirts and jackets, while flashes of neon yellow are added to classic wool pieces in brown and grey, which elaborate a new imagery for American elegance.
Aligning fashion with art and architecture is likely one of the diktats of Mary-Kate and Ashley Olsen, who presented their collection at their showroom in Manhattan's West Village. For the occasion, the studio has been transformed into an exhibition space where 13 sculptures from artist Isamu Noguchi were displayed to enhance The Row's vision. Monochromatic and earthy-toned, the collection unveiled relaxed knitwear dedicated to non-conformist women of the 20th century.
Bondage-style straps and neon orange iconic bob wigs. The reference to Luc Besson's cult movie The Fifth Element is immediate. Over 20 years since the release, Jeremy Scott pays homage to heroine Leelo (marvellous Milla Jovovic) delivering a bright collection with sharp lines saturated by kaleidoscopic prints and tight moon boots. Make-up by Kabuki and hair-styles by Eugene Souleiman was the perfect backdrop.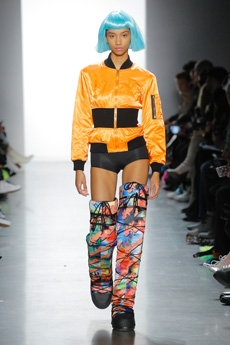 For Zadig & Voltaire, Art Director Cecilia Bonstrom focuses on sensual femininity, with white T-shirts and tight vinyls. The collection features both men and women's looks in oversized soft sweaters in red and creamy hues, as well as leather jackets interpreted in new different cuts. To complete the outfits, relaxed blousons are worn under sculptural trenches, while jackets add a touch of balanced androgyny to the full range.
Fashion
KENZO Fall/Winter 2018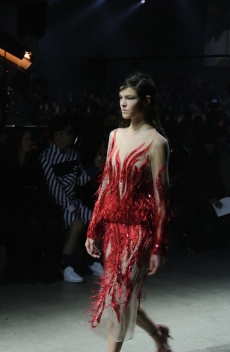 A young woman stands up in front of her best friend's family gathering. That same day he shocked everyone when arriving with dyed blond hair. At the end of the evening she is having a letter in her hands, a handwritten note to herself.

With a soft and emotional voice she reads: "I know I felt like this before, But now I'm feeling it even more, because it came from you. Then I open up and see the person falling here is me, a different way to be. I want more, impossible to ignore. Impossible to ignore"

As the girl ends reading, they both walk under a shower of confetti, a metaphor of the shower of dreams we all somehow experienced in our youth. A girl and a boy. They have been friends forever. They are Carol and Humberto, or better known as Carol Lim and Humberto Leon.

In the past seasons Kenzo's creative directors have been looking at the roots of the brand and his founder Kenzo Takada. See the Spring Summer 2018 with its references to musician Ryuichi Sakamoto and iconic model Sayoko Yamaguchi, both muses of Takada back in the days.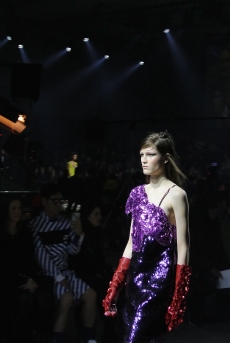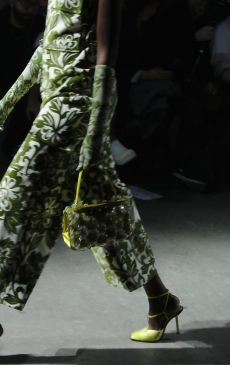 This season, Lim and Leon looked at their own story.

Arriving at the show's venue we found a cinematographic set at the centre of the runway. Seconds before the lights went on too little we all knew that a live-shot movie was about to start, telling a story inspired by that time when Humberto Leon truly bleached his hair at his sister's wedding in '98.

As the real-time shooting was ongoing the lineup of models stormed in.

The 90s subtly permeated through the entire collection. But also that atmosphere we find in the oeuvre of one of the most acclaimed Hong Kong director: Wong Kar Wai. Knitted vests, boxy silhouettes, and a clash of prints with checks and florals. But also high waist pants paired with lengthened bomber jackets: the menswear collection hinted at a myriad of classic references. The use of technical nylon with an iridescent finish together with leopard print faux fur coats delivered still a youthful approach.

For Womens there was a sense of romantic nostalgia, with floral velvet and silk satin cherry blossom dresses, the latter styled with knit twin set. Bustier dresses in heavy denim were matched with t-shirts where accessories reminiscent of a vintage dimension with clasp bags were declined in satin, leather or with crystals beading.

As those final words from actress Ayumi Roux impersonating young Carol were no other than the lyric of Cramberries's Dream, also chosen as closing soundtrack of the show, we join in remembrance of the recent and unexpected passing away of its lead singer Dolores O'Rien.

www.kenzo.com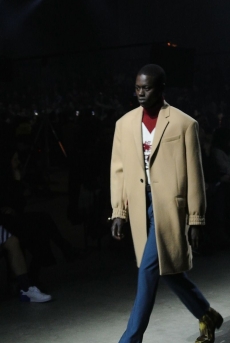 Fashion
Hermès Menswear Fall 2018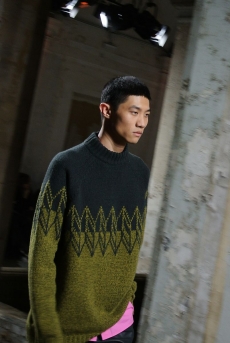 The power of senses. The power of what a particular scent can evoke. The smell of winter, of nature, of an alluring simple life.

As we walked in the Hotel de l'Artillerie, a beautiful monastery built at the end of the 17th century in the 7th arrondissement, the magical vision of eight tall narrow bonfires sat at the centre of the cloister. The smell of wood and the dramatically increasing height of the flame, triggered by the sudden wind arose in the evening, gave a extraordinary romantic feeling of warmth and cosiness increased by the woollen blankets waiting at each seat.

We only later discovered that the models were to walk in between those flames and the then dangerously sparkling wood.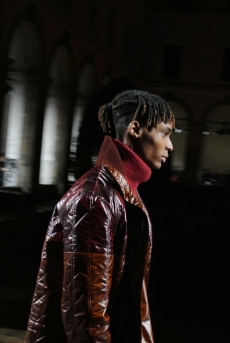 It is a fact that the set design by Villa Eugenie gave the perfect background to the collection.

Véronique Nichanian created once again a timeless collection for Hermes Menswear imbued with classic staples pieces. Beautiful sweaters at times slightly slouchy, leathers outwear with a delicate youthful charm like the glossy leather matelassé jackets.

At Hermès the leatherwork Hermes is always outstanding. The butter-soft intarsia leather sweatshirts are only one of the several pieces that caught our eyes. If the evening pieces played around slim silhouettes with lustre finish, oversized and cloudy woollen coats balanced the final look. Nichanian delivered a new spirit in this iconic maison. We are excited to see the developing traits of these sparks.

www.hermes.com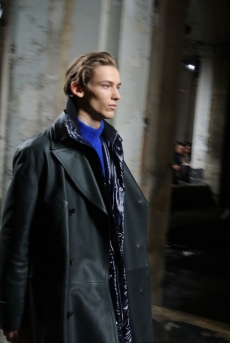 Fashion
Alexander McQueen Menswear Fall 2018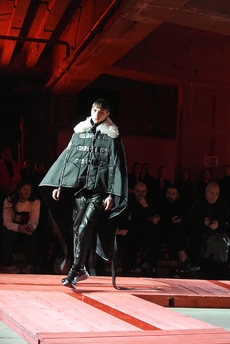 An updated sleek suiting with an hourglass waist, prominent shoulders and cropped flare trousers.

Sarah Burton knows exactly what is one of the main strength at McQueen and never fail to update new elements season after season.

Fall Winter 2018 presented pinstripe and English check suits with overcoats in black cashmere and paisley embroidered camel. Floating kite-like trench coats were styled tightened around the waist. A dialogue between a modern take on traditional tailoring and a more street-like and utilitarian story.

It's Alexander McQueen heritage to explore contrasting elements.
The collection continued with parkas and bombers in leather with what looked like a double inlay but at a closer glance revealed to be an embellishment on its zipped closure. The play of double progresses when a cashmere lined leather horse blanket as cape with shearling collar is paired with leather pants.

Austere precision is faced with opulent and romantic elements: beautiful hand painted English roses adorn silk suits and jet beading seen in the previous season embellish silk dressing gowns and evening blazers with matching track pants. All paired with white trainers with moulded soles.

Black, burgundy, silver, khaki and a splash of what the show notes called London fire engine red. Like the red lights at the show location, with all its English underground connotation set the mood for an increasingly powerful menswear identity at Alexander McQueen.

www.alexandermcqueen.com
Fashion
Woolrich's New Store Experience
Woolrich hosted a private cocktail in its first Milan flagship store located on Corso Venezia 3. Taking place on the opening day of Milan Men's Fashion Week, the event featured a live DJ set by François Pochez. The boutique, spanning 700 square meters, was designed by Japanese studio Wonderwall under the guidance of Masamichi Katayama. The store's interactive concept comprises a lounge area, a dedicated space for customization, a green area curated by Green Fingers and an Extreme Weather Experience Room, all of which offer an innovative and fully engaging in-store experience.

www.woolrich.com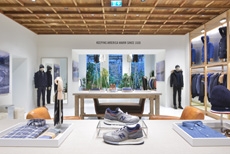 Fashion
Celebrating Diversity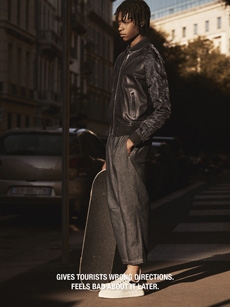 "Everyone has a different story… and everyone wears Emporio Armani". For the launch of its Spring/Summer 2018 campaign, Emporio Armani decided to feature men and women of different ages and coming from all over the world, all selected trough street casting.

Shot in Milan by Photographers Ben Weller, Mark Peckmezian and Pawel Pysz, the campaign comes with a serie of pictures portraying the lucky ones, who bring a personal and original interpretation to Emporio Armani's exclusive style, as the merging outcome of individual attitude and group's identity.

With their charismatic attitude and ironic descriptions, the shots intensify the spontaneous freshness of the brand's spirit and put emphasis on the authentic diversity that makes people unique.

www.armani.com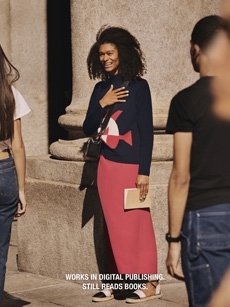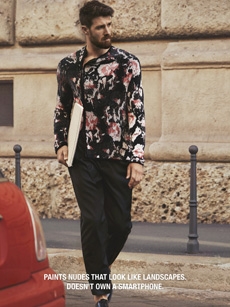 Fashion
The Paris Polo
In line with its precise identity and redefining the modern codes of urban elegance, Lacoste launches their R-T-W brand new polo shirt.

Characterised by a slim concealed button placket and a collar band, the shirt is proposed with shorter length and a straight fit that highlight the silhouette. The use of light materials like the stretch cotton mini piqué allows a comfortable and practical wear, while a tone-on-tone embroidered logo remarks the clean essentiality of the label, aiming to create a timeless look easy to combine with different styles.

Available in 15 shades, the Paris Polo will be available online and in all Lacoste stores from February 2018.

wwww.lacoste.com
Fashion
dunhill introduces the London ICON Racing Fragrance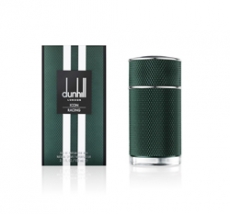 The thrill of the open road and the picture of a man driving through the British landscape in an open-top sports car in racing green were the inspiration for the latest frangrance by dunhill. The racing green was the team color of the English racing drivers at the dawn of motor racing, which is associated with glorious victories and the cutting-edge machinery of Britain's golden age of engineering. The dunhill London ICON Racing fragrance stands for speed, masculinity and freedom.

As dunhill has always been connected with the history of motoring, an engine turn finish was chosen to decorate the bottle, sporting the automotive engineering technique knurling, which creates a textured geometric pattern and was first used on dunhill metal lighters in 1924. Considered being effortlessly impeccable in manners and appearance, the ICON Racing man is stylish not fashionable.

This energy and masculine sophistication is distiled in every bottle of ICON Racing featuring Guaiac wood, vetiver and musk as warm base notes. Italian bergamot, grapefruit and cardamom note enhance the scent of black pepper and lavender making it the ideal aroma for men on the move.

www.dunhill.com
Fashion
Moon Boot x Moncler
Two brands that are somehow synonymous with winter in fashion, just announced a collaboration with each other. The French outerwear brand Moncler, that connects the extreme demands of nature with those of city life, breathes life into a collection with Moon Boot, the iconic brand for aprés ski shoes. A capsule collection that fuses the stylistic elements of both brands, creating minimal to opulent boot models.

They are playing with colors, but a brillant black, that blends the classical with the traditional, is always prevalent. The collection is featuring boots in complete black, characterised by the typical Moon Boot tone-on-tone graphics, in sand, kaki, with shearling wool or a greige canvas effect. Various typical designs have been revisited concernig content, proportions and height.

The softness and exclusivity of silvery fox fur transforms the pieces in something even more desirable and timeless. With this collaboration a simple winter and sports shoe has become an iconic object and must-have of modern times offering cosy wintertime chic.

www.moncler.com
Travel
A Special Hideaway In the Historic Heart of Rome
In the middle of baroque Roman buildings, emanating the extraordinary presence of history, the exquisite private residence and boutique hotel Le Quattro Dame is located in a traditional palazzo between Piazza Venezia and Largo di Torre Argentina. The name of the residence and its philosophical inspiration comes from the four famous profile paintings, Portrait of a Woman, by Florentine renaissance artist Piero del Pollaiuolo, displayed throughout a few of the rooms. Entering the builiding, one has the choice to either walk up an impressive marble staircase that leads to the second floor, or enter a nostalgic elevator that dates back to the beginning of the 20th century. Muted earthy tones at the reception area have a soothing effect on the visitor, and lounge sofas serving an inviting space to sit and unwind. A gallery of renaissance artworks by selected artists such as Bronzino, Raffaello and Lorenzo Lotto adorn the walls, instilling the space with an independent and authentic vibe. Classical features such as high ceilings, wooden floors and wide windows are fused with modern but timeless interior design.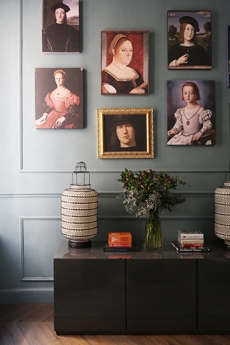 Only minutes from the Pantheon, Le Quattro Dame houses six different styles of rooms: three deluxe rooms, two junior suites, and a more secluded apartment. All of them are eclectically furnished and decorated in a chic, sophisticated Italian style. From the Sand Suite's balcony, one can see the spot where Julius Caesar likely passed away. Viabuzzuno and Kartel lamps light up the rooms, Dedar and Sahco provide wooden flooring and curtains for a homey feel, while cosy Meridiani and Flou beds tempt you to lie in for longer. The bathrooms are furnished with glass doors, resin floors and steel accessories by Agape and Gessi. As Le Quattro Dame provides more of a self-contained apartment stay than a traditional hotel, all rooms are equipped with a kitchenette, Nespresso machine, kettle, minibar, glassware and Villeroy & Boch china.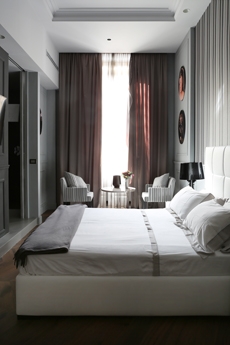 During the stay, the manager Dori is reachable by phone, and mulitilingual staff members are available daily from 8.30 am to 6.30pm for inquiries about sightseeing, museum visits, tansfers, car hires, table reservations and everything else. Walking in and out of this typical Italian residence, feeling as if it were your own home, makes one blend in with the locals immediately. Le Quattro Dame is the ideal choice when looking for a high quality luxury hideaway with a romantic and stylish twist in the centre of beautiful Rome.

www.lequattrodame.com
Fashion
Versace Reopens Boutique in Frankfurt
When entering the newly designed and reopened Versace boutique in Frankfurt, one is greeted by a blend of traditional Italian architectural values and the incomparable dynamism and energy of Versace. Fior di bosco marble, onyx and brass elements create an ambience with a contemporary twist and emphasise the mood of supreme luxury. The boutique is a meeting point between the past and the future. The store is a unique and exclusive area of 345 square meters, which is perfect to present the Versace prêt-à-porter collections and accessories for men and women. According to Donnatella Versace, the interior design pays tribute to Italy's cultural heritage and represents the spirit of the brand.

www.versace.com
Fashion
Paris By Night
With its new capsule collection, Highlight, the french brand Sandro presents an evening wardrobe with Parisian flair just in time for the party season. The 15 pieces are inspired by different decades of party wardrobe, offering the ideal outfit for each taste and occasion. Shades of black, silver and white, geometric shapes and volumes meet asymmetries. Pleats and frills bring twists to a feminine silhouette. The looks are formal but have the typical oh-so Parisian casual edge to them. The lustrous moiré of a draped bustier is combined with a full-circle skirt, silvery sequins can be found on a shawl-collar smoking jacket, worn over a short skirt in draped lurex and a white top with gigot sleeves contrasts with the deep black of a skirt enhanced with an asymmetric frill. Details of lace and brocade capture the final glow of Paris at dusk. The Sandro Highlight collection knows how to play with the dreams and desires of a starry night and channel chic femininity.

www.sandro-paris.com
Fashion
Hogan Christmas Special Edition: Glam It Up!
To accompany the upcoming festive and joyous mood before and after Christmas with style and grace, Italian shoe brand Hogan releases a special collection. The 2017 Christmas Edition can't be beaten in glamour and festiveness. The brand's maxiplatform H222 signature sneakers have been revisited and are proposed in two bright versions. The first one is a black patent leather edition with allover golden motifs and a laminated sole and the second comes in black suede with silver decorations and a metallic platform. A bright-touch clutch bag completes the Hogan XMAS Capsule Collection making it a perfect match for the shoes. These pieces are a secure entry on this year's wish list!

www.hogan.com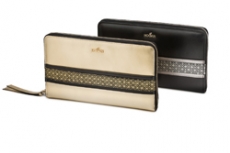 Fashion
The Lady Dior Art Bag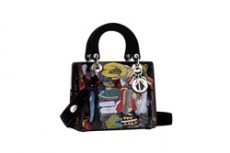 The iconic Lady Dior bag was born in Dior's workshops in 1995 and made famous in 1996 when Princess Diana was showing her admiration for it on a visit to Paris. This instantly recognizable bag carries the house's inimitable style but is also open to interpretation and artistic reinvention. Last year, the maison invited a handful of British and American artists to reimagine the accessory with a limited edition. After the big success of this project on the runway, Dior decided to make it even more diverse and creative by inviting ten artists from around the world, of different ages and backgrounds. The fashion house gave "carte blanche" to the artists to transfer their creativity into Dior's leatherworking language. Everything, from the bag's fabric, to its charms, size, color, jewellry, handles and stitching were all adjusted to the artist's specifications. The outcome is a great collection of exceptional bags, which makes it hard to choose only one Lady Dior Art Bag.

www.dior.com
Fashion
The Handmade Derby by Sandro Homme
The french brand Sandro combines a focus on the future with the exploration of its past heritage. For the Sandro Homme shoes winter collection 2017, Ilan Cherite has revisited the iconic laced derby and added some character and class. These quirky shoes are a product of traditional savoir-faire, entirely hand made in England. To make it durable, they are constructed with Goodyear stitching. The first seam binds the upper, the inner sole and the welt. A second seam binds the welt to the outer sole, which makes it easily to replace. The inner sole out of natural cork fits to the shape of the foot and provides comfort like a tailor-made model. The timeless derby comes in box-calf black leather, which enhances the classic. This classy english shoe style is convincing with its versatility and can be worn with a city suit or less formal attire. In each pair Sandro expresses its aspirations and values, which are elegance, quality, discreet luxury and refinement. These high-end shoes are also intentionally affordable, which makes it easier to achieve that desireable dandy look.

www.sandro-paris.com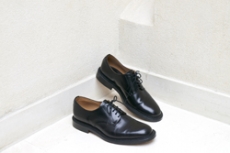 Fashion
Sacai Spring/Summer 2018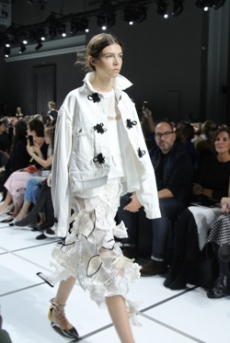 Chitose Abe returns to her DNA with transformable-layered silhouettes in a trompe l'oeil language. Tops and outwear were worn on the bust line with the sleeves tied as to create a seamless corset with a floating volume, held together by big sporty straps. The second look to storm in the catwalk already anticipated Abe's vision for the season: a wind jacket in tech nylon tied over a silk light blue short dress. It's a language Abe has been using since the start. Deconstructed skirts in denim or cotton lace patchwork-frayed paired with knits delivered a youthful look that felt confident and effortless.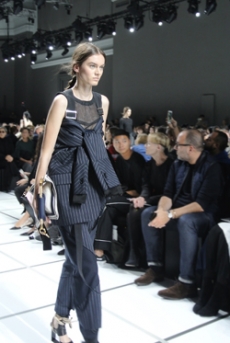 Fluid floral tops with matching jackets knotted over them and long dresses in several tartan patterns patched with transparent chiffon, created a fresh ethereal and appealing atmosphere full of that cool but feminine attitude Abe's vision is always set on. It is the intricate match of textiles and codes: camouflage cotton, trench textile, lightweight fabrics, all just in one singular dress in a play of hybrids where what seems to be a belt is in fact a soft blazer.
The colour palette was vivid: magenta, bright blue, green, yellow, all the colours that slowly became the signature of the brand. Chitose Abe, the famous protégé of Rei Kawakubo first and Junya Watanabe later, has been always mixing versatility and layered silhouettes. But this season felt extremely genuine and intuitive.

www.sacai.jp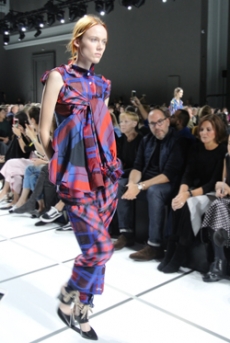 Fashion
Claudia Schiffer presenting book and new products in Paris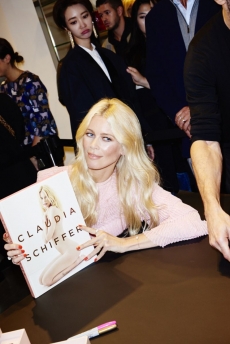 Claudia Schiffer has become a modern icon and her face is one of the most photographed of our times. On September 28th she arrived in Paris and headed straight to the exclusive signing of her book at the legendary boutique Colette, wearing Balmain Resort 2018. At the event she also unveiled her new limited edition make-up collection with ARTDECO. "Throughout my career, make-up has played a starring role," Claudia Schiffer tells. The collection features the products she considers essential: starting with a natural mascara-only look, right through to a glamorous red carpet style. The collection was introduced together with a new invention: The Beauty Bot. The mechanical creation - inspired and co-created by Claudia - plays a robotic beautician in the movie "Kingsman: The Golden Circle". Two beauty products, the Poppy Land red lipstick and the Kingsman red nail polish, are even inspired by the movie's villain Poppy, acted by Julianne Moore. "Every woman needs a bold red lipstick and a glossy red nail polish in her make-up bag - and what could be sexier than one inspired by the Kingsman's vibrant villain played by Julianne Moore?" said Schiffer. Following the launch at Colette, Claudia was sitting front-row at the Balmain SS18 show before hosting a cocktail party celebrating the launch of the Claudia Schiffer x Aquazzura collection at Hotel D'Evreux.
Fashion
Lacoste Spring/Summer 2018
Lacoste celebrates its 85th anniversary with a collection full of humour and new declinations of their iconic polo shirt. Creative director Felipe Oliveira Baptista draws inspiration from classic French cinema from the mid 90s with two particular titles : the controversial Kassovits's "La Haine" and Eric Rohmer's "Conte d'été" exploring their portrayals of youth and the clashing realities between these two very different movies. 

Oliveira Baptista questions the themes of formal and informal, of classic and sportswear in a play between contradiction elements and codes. If for women the polo shirt becomes an off the shoulder mini dress that wraps around the body, for men it appears oversized worn over denim.
The 90s reappear in the windbreakers, pea jackets and tracksuits reminiscent of the youth of that time, now released in high-tech versions. This is a collection where the beauty is in the cuts and its new sensuality and where the sportswear pieces made from openwork mesh nylon create a new sensuality. A celebration of the heritage of the brand, the iconic colours red 240, navy 166, white 001 and green 132 reissued together with pastels of the 80s, with the crocodile logo inhabiting the buttons of a piped cardigan or "climbing" over the shoulders of a dress.

A playful approach full of Lacoste's history and its contemporary innovation.

www.lacoste.com
Art
Museo del Novecento and Fondazione Furla present Simone Forti: To Play the Flute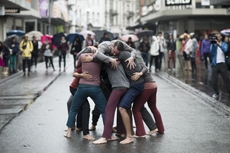 Museo del Novecento and Fondazione Furla present Simone Forti: To Play the Flute – a selection of performances by this Italian-born American artist, choreographer and dancer that will fill the Museo del Novecento's Sala Fontana with sound and movement for three days.

This marks the first event of the Furla Series #01 – Time after Time, Space after Space, a performance- centred program that will feature five events from five different artists with varying backgrounds, influences and approaches to this form of expression.
Simone Forti, has been a leading figure in postmodern dance for over fifty years and has helped shaped the landscape of contemporary dance with performances that range from minimalist movement to improvisations that also featured spoken word. To Play the Flute is a reenactment of four seminal performance moments in Forti's career that highlights her approach to the interplay of actions and objects, and they key role assigned to sound.

Forti's famous Dance Constructions – now part of New York's MoMa permanent collection – served as the foundation of her solid reputation in the 60's art world thanks to her innovative ways of experimenting with the language of movement. The performances rethink the relationship between body and object, movement and sculpture, rules and improvisation and are based on everyday movements or interactions with objects. Personal expression and improvisation always appear to be hampered by the effort required to carry out a given physical task or follow certain rules.
The first Time after Time, Space after Space event will take place on the 21st to the 23rd of September in the Sala Fontana of Milan's Novecento Museum. The program for Time after Time, Space after Space will include four more events featuring artists from around the world, at bimonthly intervals: Alexandra Bachzetsis (November 2017), Adelita Husni-Bey (January 2018), Paulina Olowska (March 2018) and Christian Marclay (April 2018)

www.museodelnovecento.org
www.fondazionefurla.org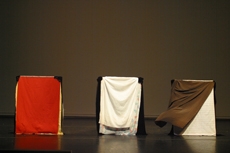 Fashion
Philipp Plein Spring/Summer 2018
The Philipp Plein show, held at the Hammerstein Ballroom, was one of the hottest tickets of New York Fashion Week. Crowds lined up around the corner on 34th street hoping for a spot to witness the VMAs-worthy spectacle.

The tone of the show was Alice in Wonderland goes BDSM goes streetwear - coincidentally, a mix of most of the trends we've seen in recent years. The over-sexualized collection, complete with leather garters, dark lipstick, whip-like hair, and forgotten pants, caters perfectly to millennial listeners of Fifth Harmony and present-day MTV: truly an Instagram-worthy show.
Despite lacking in the subtlety department, the show didn't disappoint on an entertainment level. Most likely costing in the seven figures, Philipp Plein brought dazzling star power: Nicki Minaj sat front row, Future provided the raw soundtrack, Teyana Taylor's swagger lit up the runway... Anywhere else, this would have felt dramatically out of place. But in New York, where one can see a Yeezy show before rushing off to Carolina Herrera, perhaps anything goes.
Fashion
FENDI: F IS FOR…
Fearless.


This season, Fendi have partnered with Los Angeles Lakers point guard Jordan Clarkson. In the campaign video, the young 25-year-old basketball prodigy, who was named to the NBA All-Rookie First Team, challenges his skills by shooting hoops at the top of the Palazzo Della Civilta? Italiana in Rome. "It's important to be fearless on and off the court," he says. "When you look good, play good, it gives you that sense of confidence. In basketball, it's all about confidence. Show them who you are, before you get in the arena and express yourself. That's what it all comes down to."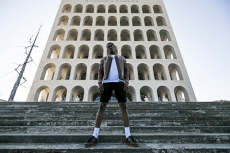 The campaign was created and curated by Leonetta Luciano Fendi, the daughter of Silvia Venturini Fendi and the fourth generation of the famous fashion family, poised to take over the helm and bring the brand deep into the new millennium. Together with Ciristiana Monfardini, Leonetta Fendi is shaping fresh content which celebrates young talent, creativity, optimism and fearless confidence: values solidly ingrained in the core of FENDI.

www.instagram.com/fisforfendi
www.fendi.com/nl/fisfor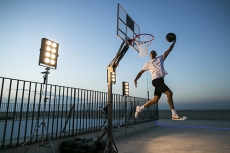 Art
POWERMASK: Walter van Beirendonk at the Wereldmuseum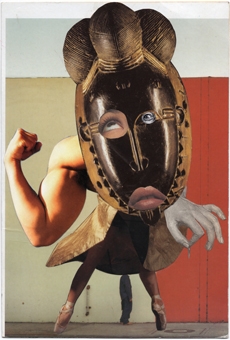 From the 1st of September 2017 until the 7th of January 2018, the ethnographic Wereldmuseum in Rotterdam will host POWERMASK, an exhibition curated by Antwerp fashion designer Walter van Beirendonck. The exhibition is a journey through the deeply symbolic, totemic and patrimonial world of masks, an often underrated accessory in contemporary fashion. Van Beirendonck has incorporated masks into his fashion collections since the 1990s, sourcing inspiration from André Breton, Pablo Picasso and Pieter Bruegel's caricatural portraits.
The exhibition will examine links between Western art and African masks, the supernatural rituals surrounding masks, masks in fashion, masks as fetishes, and numerous other aspects. Van Beirendonck has styled the 125 masks, unpacked from the Wereldmuseum's archive, with colorful costumes and fashion silhouettes. The backdrop of the exhibition is a delightful patchwork of wall installations by contemporary artists such as Brian Kenny, Coco Fronsac and Charles Fréger, macabre paintings of James Ensor, playful illustrations by Keith Haring, and designs by haute couture heavyweights Viktor & Rolf and Jean Paul Gaultier.

www.wereldmuseum.nl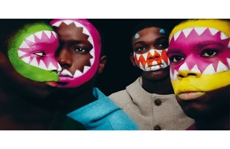 Fashion
Kenzo Spring/Summer 2018
Asian models, only. Humberto Leon and Carol Lim celebrated two icons of Japan where Kenzo as brand finds its deep roots back to founder Kenzo Takada.

The collection explores the personalities of master musician Ryuichi Sakamoto and topmodel Sayoko Yamaguchi for Spring Summer 2018 menswear and Womenswear respectively. A beautiful look at their world, their time, their influences to Kenzo.
It's as we were allowed to jump back into the past where Ryuichi Sakamoto was playing with its pioneer electronic group "Yellow Magic Orchestra" in the late 70s, and during the solo years composing the spectacular soundtracks for Bernardo Bertolucci's "The Last Emperor" in the late 80s first and "The little Buddha" in the early 90s.

His individualism hinting to classic English tailoring mixed with Japanese 50s baseball culture is the main inspiration for Leon and Lim. It is a beautiful collection, eclectic in its preppy style and avant-garde attitude.
The extremely high-waisted trousers are matched with graphic tees printed with original images by Sakamoto himself. It's the late 70s, the 80s, but more than a specific decade it's the unique creative persona of Sakamoto.

For the Womenswear collection Leon and Lim channelled Sayoko Yamaguchi personality in the clashing of stripes, prints, coloured and bold sequined look: a love letter to the iconic top model and Kenzo Takada's muse. Frills, feminine pieces next to more graphic ones.
The accessories are a striking element. Reminiscent of traditional Japanese accessories, they are reworked with pop colour, neon materials or stripes. The bags recall the beautiful satin pouches carried by Japanese women dressed up in kimonos during summer festivals with all that vintage allure.

All framed in a spectacular live performance by singer Lafawndah and aerial dancers on the façade's courtyard of the show venue. An inspiring ending of this fashion week.

www.kenzo.com
Fashion
Dior Homme Spring/Summer 2018
Late summer nights. Kris van Assche's new Dior Homme storms in the Grand Palais with a collection imbued with that irreverent and smart spirit we have seen since last Summer show one year ago.

The new wave, the 90s rock, the punk, the party kids, the rave. It's all here, this time declined in beautiful reinvented tailoring with the mesmerizing sound of the pulsing show soundtrack composed by sound artist Frederic Sanchez as backdrop.
A black sleeveless t-shits with a printed "Christian Dior Atelier", paired with tailored fluid pants with a sort of half blazer attached on top at the waistline. A trompe l'oeil recalling the sleeveless suits walking immediately before.

It is again a sophisticate tale of details, of research, new silhouettes for suiting. Kris van Assche channels again his memories, his early years fascinations in music, art, youth subcultures.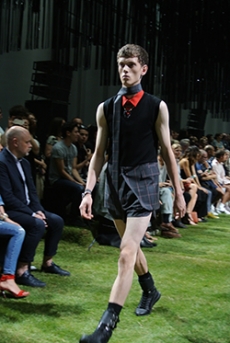 The colour palette is mirroring that dark attitude Dior Homme has been channelling lately: black, red, grey, and classic checks on the same tones, with a splash of mauve and blue.

It's the rave boy, it's the cool kid on the block but it is also the duality of dressing up in the night. Leather bomber jackets, shorts, preppy knitted waistcoats, with tie-like scarf casually wrapped around the neck.

It's this "new cool" on suiting.

The set design made possible an extremely close look on the pieces as they walked in. The signature's detailing, the stitching, the perfection of the cut. And that atmosphere just out of a late night summer music festival.

www.dior.com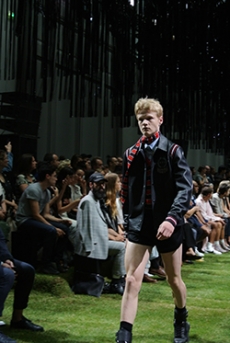 Fashion
Yohji Yamamoto Spring/Summer 2018 Menswear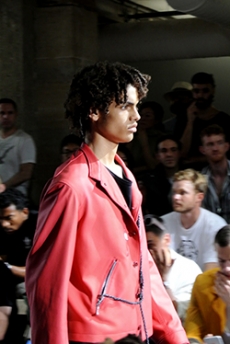 "Too old to die", "Don't be body shaming", "Give me one more chance"

It's rare to see an icon like Yohji Yamamoto reinventing himself with such a savoir faire season after season. For Men's SS18 Yohji Yamamoto channelled his vision in a poetic exercise aiming to discover the younger generations in his team, keeping that signature we have loved long since. Spectacular ethereal velvet, leather bomber jackets in pop colours and notes scribbled all over this touching collection.

Yohji Yamamoto reflects on the afterlife, on the future of the brand once he will depart this world. It is a collection with the signature's black palette and those powerful and visceral scribbles we have seen often in Yohji Yamamoto's oeuvre, with Japanese calligraphy and its English counterpart next to it. Messages to the future. Sentences echoing in space look after look. As the models enter the catwalk in the Headquarters of the brand we have felt all these emotional connotations. The future of Yohji Yamamoto's legacy, the integrity of his signature in the time soon to come. There were beautiful coloured leather jackets painted in collaboration with artist Saitoh Yusuke with portraits of Japanese actress Eiko KOIKE who will be the new face for the upcoming Yohji Yamamoto's catalogues.But also the self portraits of artist Suzume Uchida, depicting herself as ghost.

It's the circle of life, as seen in Buddhist philosophy, repeating itself: death, rebirth, and the continuation of life in loop.

www.yohjiyamamoto.co.jp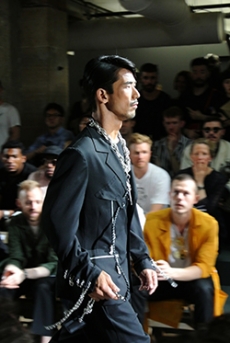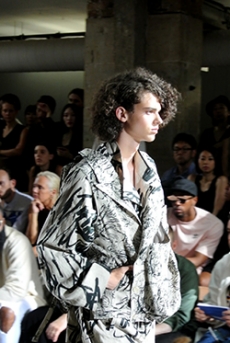 Fashion
Valentino Spring/Summer 2018 Menswear
Pierpaolo Piccioli looks at the strength of sportswear language and the fascinating realm of competition, of the authentic research of the self expression. Fresh, modern, looking at the street in a creative exercise to conquer the nowness and youthful audience.

Valentino Menswear for Spring Summer 2018 is a powerful collection channelling that empowering energy of sport exploring undiscovered territories, far away grounds in search of new moments. Anorak, track jackets, chinos, relaxed shirts, volumes and a wonderful urban appeal. This new journey of Pierpaolo Piccioli at the reign of the brand bonds this new fresh appeal to the craftsmanship, to the Atelier, and that Valentino etherealness.

A geometric graphical approach and a broad colour palette like khaki, a mint, pink, red, brown, next to black and electric blue.

VLTN, a new lettering reworking Valentino logo in black capital letters emblazoned in shirts and outwear gave new dynamics to the menswear approach of the brand It's a relaxed collection with a strong identity.

The sporty volumes of jackets and the impressive collection of sneakers– the protagonists of the collection - with the cross stitching, embroideries, beaded details and handwork embellishments recalling a distant tribal folklore bring the Menswear ground of Valentino one step further to a new fresh sophisticated DNA.

www.valentino.com
Fashion
MSGM Spring/Summer 2018 Menswear
This season marks a new chapter for Massimo Giorgetti's MSGM after his departure from Emilio Pucci earlier this year. The move has been a catalyst for him to dedicate himself fully to his own brand MSGM, that's been making street wear waves for quite some times now and shows no sign of slowing down.

Giorgetti's MSGM Spring/summer 2018 Menswear collection was a well-travelled one. Drawing inspiration from modern street culture has been a constant for the designer who, this time, travelled to sunny California picking up on the inimitable vibes the west coast has to offer. From skaters and latter-day hippies to Burning Man festival-goers, Giorgetti's references are as current as they are multi-faceted.
This season is all about workwear-inspired apparel in the form of madras parkas reworked into oversized volumes, paired with extra large backpacks. But colour is never far from the designer's mind who offered his sports-alluding shapes an extra pop by pairing army green with bubblegum pink or turquoise while elsewhere graffiti and watercolour flower motifs elevated nylon ponchos and a chino pantsuit. Thick, cosy knitwear pieces embroidered with boisterous lettering were paired with short shorts and blousons were seen layered over boxy t-shirts.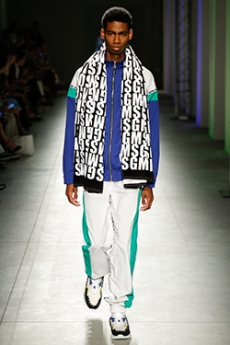 The MSGM man's sartorial identity may seem hard to pin down, but that's exactly where the beauty is: as he floats between identities, influences and moods he picks his battles of rebellion carefully while remaining in the now.

www.msgm.it
Fashion
Missoni Spring/Summer 2018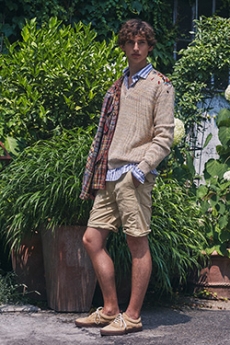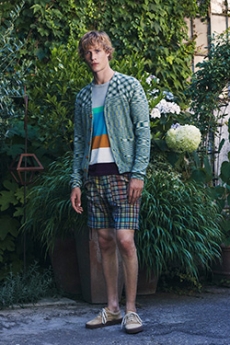 Even though it wasn't made explicitly clear, all elements point to a collection dedicated to an urban gardener, quite possibly Angela Missoni's father whom her mother fondly referred to as 'her gardener'. With a long-standing love for gardening that spans across generations of Missoni offsprings, this appears to be a well-founded claim.

Missoni's style has always been characterised by an ease and effortlessness that many brands have tried to emulate throughout the years. Tried being the operative word here as this is exactly the element that should be missing from such an equation.

Lavender, periwinkle, indigo, cherry, blossom, apricot, shadow blue, mint, bamboo and red birch fabrics were dyed, blended and then washed to achieve that faded, almost blurred effect that screams Missoni from miles away.

The silhouettes were relaxed in a way that oozes stylish comfort, accentuated by fabrics that enhance that same aesthetic: slouchy utility pants with a lived-in feel in linen, for example or lightweight wools and cotton crepes. Denim was also given its time to shine in Missoni's Spring/Summer 2018 Menswear collection – it was washed an appeared to have accompanied the man wearing it on many a relaxed adventures.

A bright and summery mood without trends or frills, bells or whistles, a calm joyfulness that exudes happiness much like a well-tended garden under the summer sun.

www.missoni.com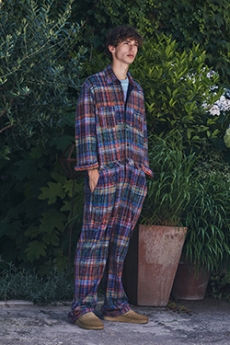 Fashion
Palm Angels Spring/Summer 2018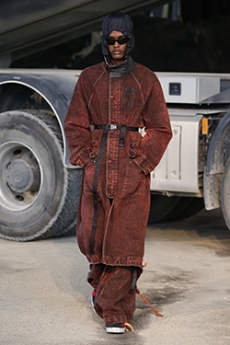 The starting point for any creation, whether this refers to fashion, art or any other medium of expression, is a clear and defined point of view. The rest will inevitably follow suit. Palm Angels' artistic director Francesco Ragazzi brought that to the table in abundance for the brand's Spring/Summer 2018 collection.

LA's skater culture is reinterpreted through Ragazzi's Italian frame of mind, highlighting its laissez faire attitude and the idea of a life lived according to ones individual rulebook. Palm Angels stems from that same appreciation for American cultures and subcultures as it merges an appreciation for sartorial codes and a penchant for clothes being utilised as identity tropes and zeitgeist signifiers.

The Spring/Summer 2018 collection is entitled Black Sun and it pays homage to yet another enduring American subculture: surfing. Bold silhouettes and pragmatic forms are visible in the offering of parkas, duster coats, field jackets and boxy shirts that walked the runway in Milan Fashion Week. Boarding shorts, miniskirts and scuba suits were not neglected either.

Presented with the addition of functional details such as drawstrings and dangling straps, the collection also featured hints of formality in the shape of a tailored blazer that veered off the beaten path to the office and ended up beachside.

In a palette of red, black, orange, sand and grey with sun-faded effects that afford it a disobedient tone, Palm Angels' sporty physicality acts as the link between the men's and women's collection.

www.store.palmangels.com
Fashion
Moncler Gamme Bleu Spring/Summer 2018 Menswear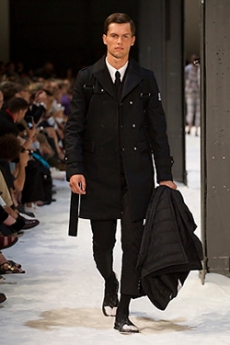 Thom Browne brought his signature hand-made tailoring sensibility to Moncler Gamme Bleu Spring Summer 2018 Menswear collection. Thus was born a perfect conflation between Browne's flair and the brand's expertise in active sportswear and outerwear for a collection that highlights an ease in seasonal transitions.

Down-filled looks made with over-sized plastic zippers and worn over identical looks without the down-filling epitomise the concept of smooth change. The collection was split into three colour-coded subcategories: grey and grey and white, red, white and blue and formal.

Trademark Thom Browne tailored pieces were present in traditional suit material iterations as well as more technical versions that incorporated highly functional fabrics such as technical wool and cashmere, nylon, ripstop, mesh and rainproof slicker.

www.moncler.com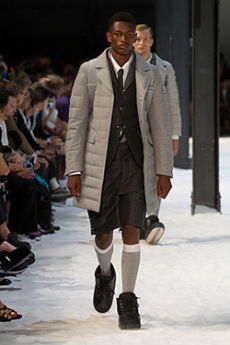 Fashion
HUGO Spring/Summer 2018 Fashion Show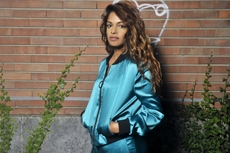 Presenting its mens- and womenswear Spring/Summer 2018 collection, HUGO transformed a factory in Florence into a candle-lit fashion show.

As a tribute to the spirit of the artist, the collection and the space itself illustrated all kinds of sketches and paint strokes that symbolises art and expression. An artist's unconventional perspective upon things, living according to his own rules with an sensitive yet careless attitude, just like the brand characteristics of HUGO, served as inspiration for the collection.

Many of the styles are in collaboration with the Designer Charles Jeffrey, with cut and shape inspired from the first HUGO collection from the year 1993, alongside completely redefined tailoring. The collection also presented oversize jackets and jumpsuits to create a unisex look with a color palette inspired from the artist's studio, reaching from neutral tones to shades of blue, yellow and of course the classic HUGO red.

For HUGO, this Spring/Summer collection is also all about the accessories. From oversized men's bags, sneakers with chunky soles, to long earrings or pearl chains, they all contributed to a playful look.

Amongst M.I.A, Anwar Hadid and many others, present at the show was also ZOO Magazine's current cover star, Gabriel-Kane Day-Lewis, all wearing head-to-toe HUGO.

hugoboss.com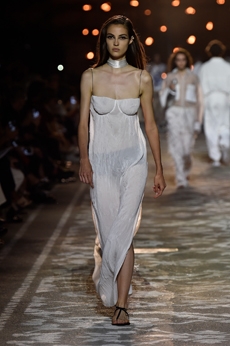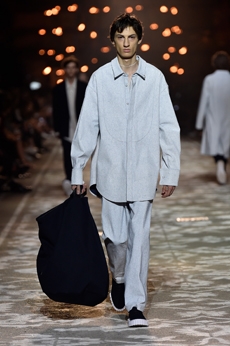 Art
The Beats and The Vanities, Larry Fink Exhibition at Armani/SIlos
A collection of exquisite black and white photographs from Larry Fink's The Beats and The Vanities books will comprise the latest exhibition at Armani/Silos. The exhibition presents a unique opportunity for the legendary photographer's work and idiosyncratic vision to be experienced as one as they have never before been shown together before.

Giorgio Armani himself is a great fan of Larry Fink's work, finding his ability to capture form and line in such a fluid way something he can relate to as well as a designer. "Fink is a jazz fan, and you can almost view these images in terms of musical composition – people in flow, surprising us, possessing an unconscious sensuality", he adds.

Born in Brooklyn and raised in a progressive and politically active family, Fink cut his teeth as a photographer as part of the late beat generation, when he hooked up with a group of beats at the age of 17. Political activism, protests and marches formed the photographers worldview who documented the times through his medium-format camera.

His pictures serve as a time capsule and a candid look into his world, perfectly capturing the sense of romance and rebellion that characterised the underground jazz-fuelled youth movement of the time. A regular editorial contributor for prestigious titles such as The New Yorker and Vanity Fair, it was the latter that recognised his ability to bring them something different if let loose to create.

His visual record of the famous and their surrounding courtiers is not concerned with who's who – rather it focuses on what's happening. As Fink himself describes it, he tries to embrace the souls of all people, regardless of their conditions.

The Beats and The Vanities, Photographs by Larry Fink will be on show at the Armani/Silos until the end of July 2017.

www.armanisilos.com


Fashion
Dior Fall/Winter 2017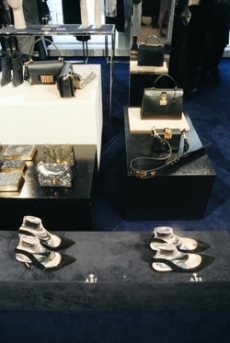 Taking the reins of a legendary fashion house is always a challenge. Maria Grazia Chiuri is not new to the job. She, together with Pier Paolo Piccioli, took the helm of Valentino one year after Sir Garavani's retirement, keeping high the stakes of the house, bringing it back to international acclaim.

At her second collection for Dior, Chiuri's wish to bring a revolution and play with the house's codes is even more clear. She is a woman, and as every Italian woman, she is naturally engaged in elevating women's power and society's perception of the female stance. If you were expecting a Valentino's modus operandi you were mistaken.

Maria Grazia Chiuri is not easily affected by predictions. She has a vision and she is certainly not playing the safe card. Dior Fall Winter 2017 was entirely declined in shades of blue, a blue that Chiuri found in the archives of Dior – particularly on a taffeta silk dress designed in '54 - and quickly got fascinated by. It's the blue of uniforms, of elegant evening dresses and certainly of denim. It's a young contemporary collection. Chiuri wishes to picture the contemporary woman emerging the tense political climate of our time.

Last season's motto "We should be all feminists" left the place to a more consistent and strong statement where the clothes speak by themselves. The basques created by Stephen Jones give a further accent in this sense. It almost as we see a troupe of suffragettes, marching one after the other advocating women's freedom to dress however they find fit.

www.dior.com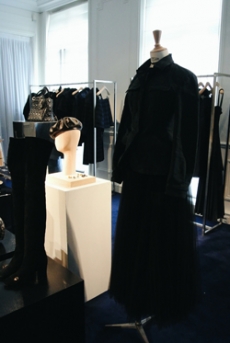 Fashion
Loewe Fall/Winter 2017
Loewe's creative director J.W. Anderson is transforming this luxury Spanish leather brand into an impressive fashion house where cultural references, design, architecture, and the beautiful leather craftsmanship coexist.

Like for his eponymous label, Anderson is able to create a dialogue between the arts, where fashion is at its centre, without any stretch. The romantic and enchanting feeling reminiscent of Gone with the Wind's Rossella O'Hara ball gowns together with a playful splash of Commedia Dell'Arte's Pierrot and Harlequin, where the polka dots and the western hat felt perfectly parts of the same image. But also the signature handkerchief hem dresses and a parade of countless accessories declined in new colours like the polka dot iconic puzzle bag.

As in every season we see experimentations with butter lamb leather in exceptional peplum waist-cinching tops, dresses, suits, outwear in a variety of colours: lipstick red, moss green, and the forever favourite almond and black. There are so many fascinations Anderson took into account for Loewe Fall Winter 2017 and it just feel fresh and captivating.

www.loewe.com
Fashion
Yohji Yamamoto Fall/Winter 2017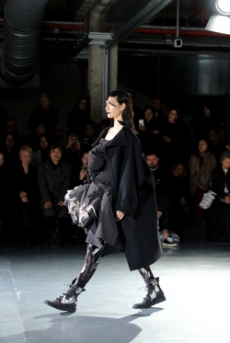 Declinations of deconstructed silhouettes in shades of black. Pleated, wrapped, twisted. Yohji Yamamoto Fall/Winter 2017 celebrates the roots of the acclaimed Japanese master himself in all the aspects that have been constantly accompanying his vision.

Forty-four looks of pure architectural shapes, and virtuosic silhouettes in a crescendo of emotions. As Yamamoto once again recorded his own guitar playing for the show music, it's almost as if we could see him, in his home, sitting down and casually strumming his acoustic guitar, in search for fragments of time, emotions, images. Singing about a woman, the archetype of the woman itself.

And it's the search for the perfect balance of draping around the female body the protagonist of the collection. The gracious volumes protruding along the figure with bias cut, deconstructed, rigorously in black with hand-painted splash of purple and blue. Painting has always been a beautiful obsession for the Japanese designer and we know he would never refrain from expressing the refuse to use print patterns.

The collection synthesizes magnetically these feelings of attachments to identity and the exciting search for the new. Yohji Yamamoto showed once again the unconditional pure beauty of staying true to oneself.

www.yohjiyamamoto.co.jp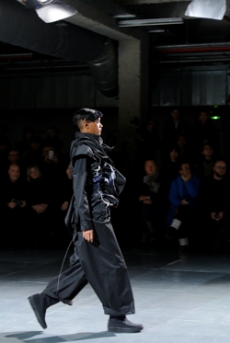 Fashion
Saint Laurent Fall/Winter 2017 Ready-to-Wear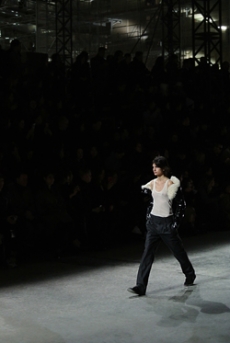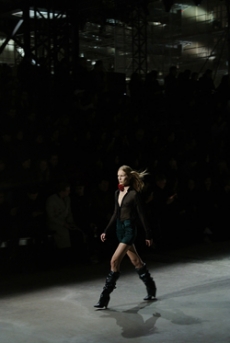 We have come to a point in fashion when history has been elevated without precedent. There is a lot of the 80s Monsieur Yves we know in the new Saint Laurent by Anthony Vaccarello. For Saint Laurent Fall Winter 2017 there is again a respectful reference to the history but also a lot of the Vaccarello DNA that we have seen in his eponymous label for many years.

That sexiness, that daring and fierce attitude the Italo-Belgian designer infused in his own shows season after season before becoming the new creative director of the historical Maison. And then there is the show vibe. Anthony Vaccarello presented his second collection for Saint Laurent in a surreal, and provoking atmosphere inside the under-construction site of the new brand's head quarters in rue Bellechasse at the Left Bank of the Seine. The rain pouring down, the scaffolding as backdrop, the loud pulsing music as in any squat party, was the perfect set as to declare a new beginning, the shaping of the new identity of Saint Laurent in fieri.

Bold short dresses in velvet, caramel and black leather matched with long up-to-the-neck gloves as to create a tromp l'oeil effect for maxi shoulders. Thigh-high boots in patent leather and rhinestones with ruches - sure to become the obsession of next season. But also strong day looks with an invasive sense of masculinity: denim with mohair sweaters, shearling jackets, or a simple tee. It's that subversive soul that Yves Saint Laurent himself was known for. It's that unexpected atmosphere that everyone is waiting with anticipation at this fashion house. As his predecessor, Vaccarello will make everyone want to wear his clothes. With no exceptions.

www.ysl.com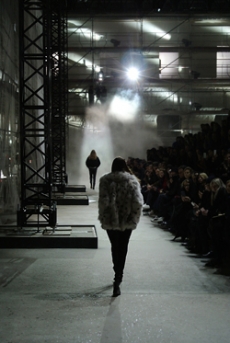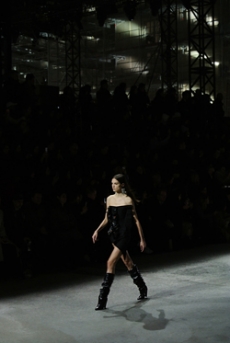 Travel
Burlesque for the Senses
Few cities come close to Berlin's notoriety — renowned for its progressive art scene and home to internationally-famed nightclubs, the city seems to constantly reel in artists, free thinkers and hipsters from all over the world, creating a buzzing, infectious atmosphere that gives way to a thriving art scene. But something unique and glamorous lies behind the doors of the Berlin Provocateur, the latest gem in hospitality that opened its doors to the public in March 2017.
An other-timely experience that is patiently waiting to be discovered channels the exuberance of Parisian 1920s style, and places creativity and joie de vivre at the forefront. Think of enigmatic songstress édith Piaf and the dandy gentleman that was Oscar Wilde. Where would these legends choose to sojourn, relax and recline should they have been transported to modern day Berlin through some inexplicable twist of fate? With that very concept in mind, Micky Rosen and Alex Urseanu, the Frankfurt visionaries and hoteliers behind Gekko Group, brought to life an oh-so Parisian oasis in the heart of the German capital. Describing the immersive experience that greets guests upon arrival, but also permeates the Provocateur's modus operandi in its entirety, is no easy feat. Rarely are you able to truly feel transported to an iconic city, let alone a seminal era for the arts and culture.
But the Provocateur and its fifty-eight stunning rooms, bar and restaurant beg to differ — and rightly so, as they give 'hospitality with a passion', Gekko Group's motto,an entirely new meaning. Amsterdam-based designer Saar Zafrir is the creative mastermind behind the hotel's modern burlesque character. Sensual yet intricate details coupled with warm colours and intriguing textures comprise a beautifully serene ambiance. The journey begins at the lobby, where an elevator from 1912 fulfils its prescribed function, while simultaneously acting as a portal to French je ne sais quoi. What's more, the guest rooms hold further surprises: at the simple push of a button, guests are given the opportunity to delve further into the reverie of the Parisian past, guided by music and images that are projected on the walls. Unapologetic in its Frenchness, yet somehow contemporary as ever, the Provocateur's interiors feature luxurious, plush furnishings in warm hues and details that accentuate its glamorous influences. Duc Ngo, one of the most influential figures on Berlin's flourishing restaurant scene, is responsible for the Golden Phoenix restaurant, where he brings to life his personal vision of fusion cuisine. At the Provocateur bar, arguably the establishment's beating heart, guests are invited to taste a menu that boasts several creations with clear Franco-Chinese influences and a tastefully provocative burlesque attitude. With its hotel, restaurant, bar and event room, the Provocateur offers all that matters for a stay in Berlin. No sense is left unsatisfied — and that is without even leaving the premises. A case of 'stay up all night and sleep all day'.

www.provocateur-hotel.com
Fashion
Make Love Not Walls
Through photographic material and a series of global actions, Diesels breaks down all barriers in communication with its #makelovenotwalls movement and tears down the mental and physical walls that separate us. In a time where hate, walls and fear seem to prevail, the brand urges us all to unite for the greater good.

"At Diesel we have a strong position against hate and more than ever we want the worlds to know that. Love and togetherness is crucial in creating a society we all want to live in, and the future we all deserve" explains Diesel Artistic Director Nicola Formichetti.

For this campaign, Formichetti collaborates with legendary artist and photographer David LaChapelle using the Wall as a symbol of separation and breaking it down to create strong stories through a simple yet powerful narrative: walls are built and the heart-shaped Diesel love tank tears them down. As a symbol of separation is reinterpreted into a symbol of unison and flowers fills the space, a celebration of freedom and love is born. Diesel is known for pushing the boundaries creatively.

From its 1995 LaChapelle campaign with two kissing sailors, to this year's anti-wall ads, it encourages us to let fear aside and focus on what brings us all together rather than what divides us. If You've got walls, Diesel's got wrecking balls!

www.diesel.com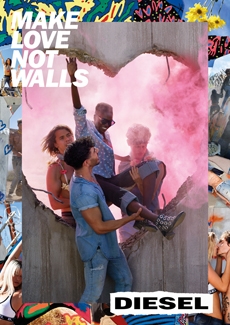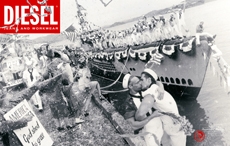 Fashion
Lala Berlin's Persian Punk revolution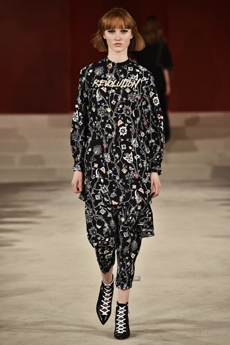 Lala Berlin's Fall/Winter 2017 collection epitomises the metropolis of Berlin in an anarchic big-city chic way with a fresh attitude. Thus is born an ode to the unconventional yet elegant women that reinvented themselves as Persian punks.

Beautiful arts and crafts in architecture and textiles are the inspirations for a wardrobe that mixes punk and ethnic elements in such an authentic and modern way. A boheme and avant-garde style is conveyed in a variety of silhouettes from H-lines to flowy A-silhouettes and oversized asymmetric overlays. Feminine cuts, kimonos and tunic dresses give birth to the Lala's punk-chic evening wear.

The color palette fades within dark chic colors like khaki, dark red, ink blue and black mixed with warm saffron yellow and cream interjected with vibrant and lush elements from middle eastern traditional art. Vibrant print ideas are reimagined in Berlin 80's punk fused with Persian décor and floral elements are transformed into something new and fresh that reminds us of a mosaic print.

Frayed edges and star lace trimmings give a certain sense of poetic punk bohemia to dresses, skirts and shirting. Knits, iconic elements of Lala's wardrobe that incorporate jacquards with frayed details are a sumptuous tapestry of textures.

The Persian punk girl gets out her Dr. Martens and leather accessories to inspire an anarchic revolution, to think about the future while redefining her style and inspiring change for the better.

www.lalaberlin.com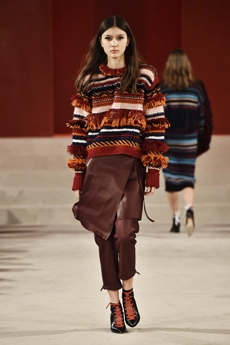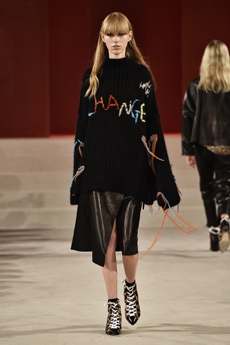 Fashion
Paul Smith Menswear Fall/Winter 2017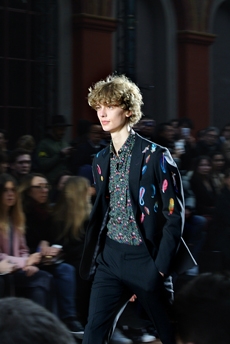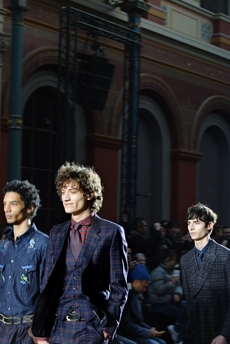 Paul Smith is one of the few brands that gives you the feeling of security, of home and the certainty of effortless style.

With its timeless tailoring, the classic yet fun twistS in textiles and cuts, for his Fall/Winter 2017 Sir Paul Smith presented Menswear and Womenswear together. It was a storm of several declinations of what it could be Paul Smith now, and how any person, especially young, could sport it. Lush checked classic English fabrics, for men and women, silk dresses both in solid colours and printed with hundreds of feathers as taken from a XIX century treatise on naturalia.

Paul Smith with his masterly style showed us how we can wear a shearling short jacket over a suit. Or how a woman can sport a deep blue velvet suit and look so sexy. Coral, blue, green, khaki, grey: a colourful palette true to the brand's signature identity. We particularly loved the relaxed blazer suits – womens' were long, below the hips - and the coats over them, for him and her, a full dive into that Smith heritage of effortless elegance.

www.paulsmith.co.uk
Fashion
JUUN.J Fall/Winter 2017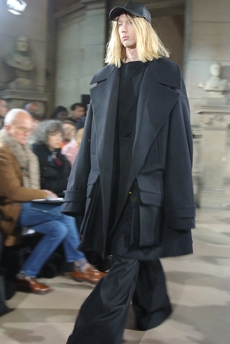 As the models stormed inside Universite Rene Decartes's suggestive neoclassic space, and the fluid body of Juun J's work floated around, we caught the power of history. The history of this brand evolved within the last ten years into an acclaimed fashion forward entity. for this celebratory collection Juun J - in name of a decade spent imagining the future of his eponymous label - choose the emblematic subtitle: "Archive".

Oversized long sweaters, heavy, massive, almost suffocating in all their fierce presence. The architectural outwear, the brand's signature trench coat and the MA1 bomber jacket. All the iconic pieces of Juun J's past collections, in a splendid parade, as an ode to this Korean designer who has influenced the wardrobe of boys and girls in recent years. The girl who has been wearing Juun J forever and who got a special place in the future course: the new Juun J will have from now on feature a Womenswear collection.

And so the oversized cargo pants transformed into high waist long skirts with maxi pockets on the hips and slits on both sides which will be a hot piece for next season. Khaki, military green, black, white and pin-striped blue: the palette focused on the brand's favoured colours. The large parachute hooded outwear with a myriad of swinging straps were certainly the protagonists, underlined in the closing act when all the possible declinations marched in, as if to suggest the impetuous movement and space of Juun J in the upcoming decade.

www.juunj.com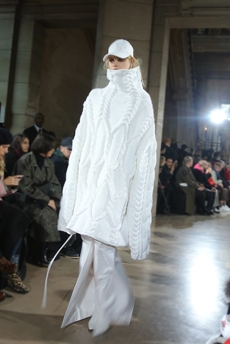 Fashion
NEW TENDENCY x Meiré und Meiré
New Tendency showed its 2017 product innovations at the Meiré und Meiré Factory.

The Bauhaus tradition has influenced the development process of everyday contemporary objects for New Tendency. Their furnishings serve to compose an ideal setting for modern working environments. With the emergence of co-working spaces, New Tendency have picked up on the need of flexible and functional configurations and strive to inspire those who are surrounded by their creations in their daily lives and their professional environments.

Showcasing their work in one of the leading creative agencies in Germany was therefore a natural progression.

Among other objects, New Tendency presented its December Edition at the Meiré und Meiré factory, a line that was the result of a fruitful collaboration with the agency, furthering their devotion to creative partnerships. The Artist's Edition of the lamp served as the inspirational springboard for the creation of New Tendency's premium line, Black Label that will soon be expanded to include more exclusive pieces with clear geometrical components.

Raw structures, industrial materials and natural elements formed the perfect hybrid framework for New Tendency's minimalist yet progressive designs. The presentation at the Meiré und Meiré factory didn't treat New Tendency's furnishings as conventional exhibits; they were instead integrated in the agency's daily goings-on serving as both a working space and a meeting point.

For New Tendency's exhibition at the Meiré und Meiré Factory, Mike Meire grouped the December edition pieces with side tables from the META line to create an island in the middle of the space. The installation was staged on raw concrete and stone slabs between dry plants, paint buckets and cardboard boxes. Fluorescent lights floated above it, different colours and textures of plastic foil sheets hanging over the top. The industrial ensemble was characterised by deliberately rudimentary fragmented elements that served as a beautiful contrast to the high-end claim of the products on display.

In the age of digitalisation, where products are becoming increasingly perfect Mike Meiré  felt the need to infuse the products with textural and tactile elements proposing 'Brutalism x Redefining Nature' and paying tribute to Le Corbusier's New Brutalism.

www.newtendency.com
www.meireundmeire.com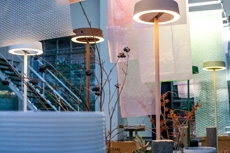 Fashion
GmbH Fall/Winter 2017: When a thought becomes you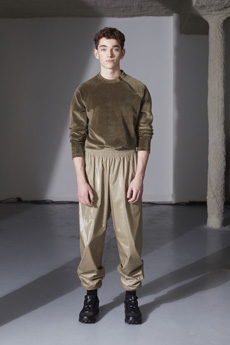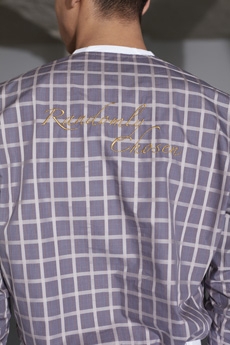 In a Society of Limitations where people are together yet alone, GmbH addresses the situation with an inclusive Fall/Winter 2017 collection dedicated to different shapes, gestures and manners.

The collection paired fashion with sustainability featuring bi-colour cropped GmbH biker jackets reworked from recycled, reversible Helly Hansen puffer coats, cropped jersey hoodies and fine knit athletic bodies of partially recycled fibres. A shot of glamour is given by tight lycra and velvet long-sleeved jumpers in a color palette inspired by artist Alexandra Bircken. Moreover traditional carpenter's guild trousers and gold embroideries enrich the outfits for an even more personal touch.

As GmbH declared: "These are directives for care and wear, eine wahre Geschichte, eine Warengeschichte, a true story a history of wares."

www.gmbhofficial.com
Fashion
Kenzo Fall/Winter Menswear 2017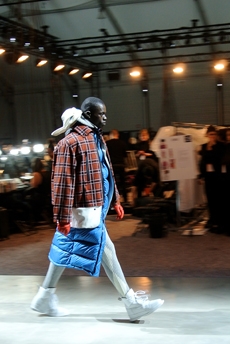 Imagine the backstage of a show brought on stage, in the spotlight, able to witness it at 360°, as in Walter Gropius's Total Theatre: from the make-up to the models line-up, from the food banquet to the backstage photographers roaming around, from the seamstress fixing the last detail seconds before the start to the laughs between models.

Humberto Leon and Carol Lim created this unexpected backdrop for Kenzo Menswear and Womenswear Fall/Winter 2017 collection in the name of the environment, making clothes the real stars of the runway and leaving the backdrop in its neutrality in order to give funds to environment organizations instead of making a wonderful yet costly set.

A vision that was reflected all over this Arctic inspired collection. The triggering Arctic changes and the – unknown to many – Arctic surfing were, indeed, the paths followed by Leon and Lim who presented a multitude of over-layered looks in an impressive colour palette. It was overwhelming and, as Kenzo's signature, fun and youthful.

The dip-dyed long knits in rainbow colours with matching ski masks worn under solid coloured puffa jackets and graphic digitally printed technical ski suits.

The Womenswear collection followed up in a more gentle and feminine declination. We saw easy urban long cable knit dresses, A –line coats, teddy handbags and delicate dresses with transversal side cuts, revealing floating strings, as a sort of intellectual reference to the increasingly undergoing destruction of our Mother Earth.

www.kenzo.com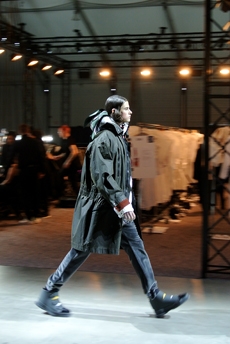 Fashion
A dandy poem by Alexander McQueen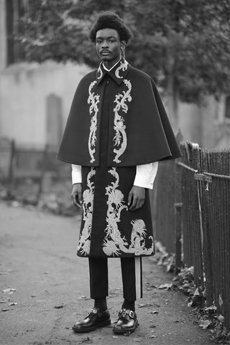 A dandy spirit that explores the deepest sides of Oscar Wilde's soul during an esoteric trip that Germans call Wanderlust. A contemporary gentleman traveling from London's Tite Street to Paris Saint Germain seeking inspiration from the world that surrounds him.

Alexander McQueen documents this journey through his latest menswear collection, paying homage to the man who has become synonymous with the term 'esthete'. British tailoring plays a central role in a collection that encapsulates and celebrates the house's trademark codes. Precise and elongated cuts in suits with peaked shoulders and legged or flare trouser silhouettes – worn cropped above the ankle and sometimes with a satin or velvet band on the sides, offer their elegance to coats and jackets alongside jacquards with peacock feathers for the most daring dandies. The collection also explores and plays with proportions, combining classic and more of-the-moment oversized fits to give birth to a new hybrid of men's shirt-dresses. A worn-in feel is brought forward by mohair knits, frayed at the edges and laddered with holes. For the evening, Alexander McQueen's Fall/Winter 2017 features tuxedos, smoking jackets and robes with satin quilted reveres, embroidered velvet and jacquard to give an incredible taste of elegance to a collection that is worth of an old-fashioned gentleman.

McQueen's latest collection is a true ode to Oscar Wilde, done in incomparable style and honing in on elements that have granted the brand the status it holds today. No doubt it will be at the receiving end of countless praises this season.

www.alexandermcqueen.com
Fashion
Rocking it with Dior Homme
A utopian sense of refined grunge has always characterized Kris Van Assche's creative direction at Dior. For Dior Homme Summer 2017, Van Assche's dynamic energy is reflected through a new generation of four inspired characters: A$AP ROCKY, Boy George, Rami Malek and Ernst Klimko.

A 'do it Yourself' attitude runs through the brand's creative direction this season, a path that the four diverse Dior Homme personalities will follow, eventually converging to personify the house's vision of Homme. The campaign's four faces may embody different disciplines of modern art but through Van Assche's direction, they provide an all-encompassing, cohesive undertone for the French house's men's collection.

Interestingly, hip-hop is made elegant in this line giving birth to intriguing pieces such as the dark floral garments designed by Japanese artist Toru Kamei.

Shot through the streets of Paris and in studio by photographer Willy Vanderperre, the campaign pairs heritage and an innovative rock, raw-edge mood that will undoubtedly make it a key player in Dior's already impressive campaign portfolio.

www.dior.com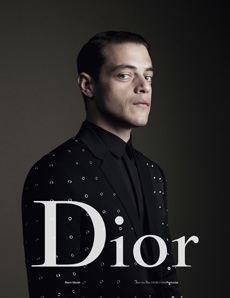 Fashion
Schiaparelli's Haute Couture moment has come
Schiaparelli Maison, Chanel's historical rival is definitely back on the scene after a long hiatus. This January marks a milestone for the celebrated maison as the French Chambre Syndicale de la Haute Couture decided to enlist Schiaparelli among the 15 fashion haute couture brands existing in the world.

Ravaged by the aftermath of the war, Elsa Schiaparelli closed her iconic Paris "Schiap Shop" in 1954, the very same year that saw the release of her autobiography "Shocking Life". It was only three years ago that Italian businessman Diego Della Valle decided to revive Schiaparelli, believing in the power of its indomitable style and unparalleled innovative techniques.

Alongside stores of long-established brands in the field such as Chanel, Givenchy and Dior to name a few, Elsa's shop in Paris' Place Vendome is opening its doors again to pick up where it left of, starting a new chapter in haute couture history.

www.schiaparelli.com
Fashion
LOUIS VUITTON CELEBRATES 30TH ANNIVERSARY IN BERLIN
France and Germany join in for the celebration of 30 years of Louis Vuitton, the brand synonymous in everyone's mind and many hearts with élégance française.

Louis Vuitton celebrated its birthday with the opening of its latest concept store in Berlin's Kurfürstendamm. Celebrities and influencers from the world of fashion were present to mark the joyous occasion. A combination of craftsmanship, savoir-faire, continuous innovation and heritage - all keywords for the long established brand as well as the city that played host to its celebrations.

Berlin incomparably contemporary dynamism and Parisian haute couture give birth to 'amour toujours'.

www.louisvuitton.com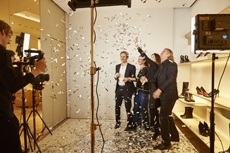 Art
The world through Henk Schiffmacher's "camereyes"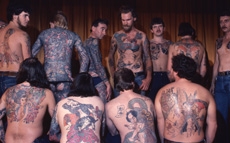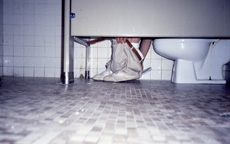 When Texas, Henk Schffmacher's daughter discovered her father's old 35mm negatives in a dusty drawer, she knew they had to be exposed for the world to see.

Dutch tattoo artist, Henk Schiffmacher has become known for his energetic and observational photographic work that is now being collected and exhibited for the first time ever. Highlighting the best and worst facets of modern society, this eclectic ensemble of pictures is a real representation of the world we live in through Schiffmacher's camera.

Taken between 1970 and 1985 these pictures give us a raw insight into the world of youths, bikers and tattoo fetishists from all around the globe – from Las Vegas, L.A., Amsterdam, and Tokyo to Mumbai, Manila, San Francisco and Kuala Lumpur.

This makes for an interesting juxtaposition: a wild mix of cultures, nationalities and excess against the backdrop of vintage cityscapes and timeless scenarios. Schiffmacher's photography offers a unique and brilliant view of the world as it was four decades ago.

Pure, direct and unprecedented just like photography should be.

www.schiffmachershoots.com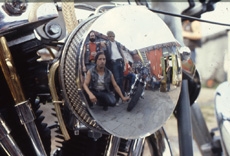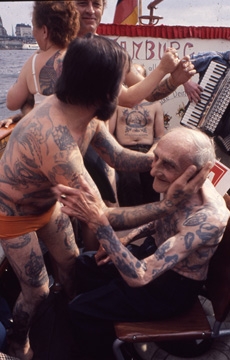 Fashion
KENZO X EASTPAK…and CHARITY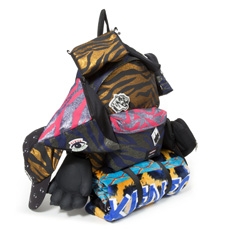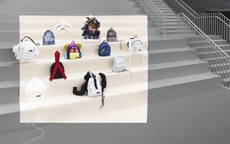 Once again the iconic Padded Pak'r® backpack by Eastpak will serve as the "carte blanche" given to a selection of the world's most influential designers to create a unique work of art.

When it comes to creativity and eccentricity, Kenzo, one of the brands participating in Eastpak's Artist Studio competition along with Giambattista Valli and Vêtements, never disappoints giving birth to a "never-seen-before" piece. Humberto Leon and Carol Lim's prints trimmed with a tiger claw key holder and a graphic Kenzo towel and hat, were assembled in a collage that not only twins Eastpak and Kenzo, but fashion and charity too.

The collection, comprised of one-off creations from each designer will drop on the 1st of December, World AIDS day. And for a good cause too: all proceeds go to the Designers Against AIDS organization to raise awareness, even among fashion victims, for HIV/AIDS.

www.kenzo.com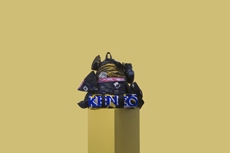 Art
Exhibition Brigitte Waldach
German artist Brigitte Waldach has gained national and international reputation over the last few years due to her large format drawings and installations. She creates pieces that exceed the two-dimensional canvas, combining bands and strings, drawings, sounds and text into a multi-sensual experience. The installation EXISTENZ, making use of the interplay of bands and strings, creates an interconnection between her works and elevates them to a new dimension.

Famous for her work on existential and sociopolitical subjects, the dynamic tangle of strings represent the relations between time and space, life and death as well as individuality and collective. Having found inspiration in the thinking and work of Felix Nussbaum, his presence and words become ever-present, at times through personal words or letters or through reference to key moments in his life, so closely tied with fate of the German Jewish community in the 20th century.

The exhibition showcases the artist's combination of notions of the past and present with biographical components. The exhibition is open until the 10th of November in the Felix-Nussbaum-Haus in Osnarbrück.
Fashion
Berluti x Thélios
When Kris Van Assche was appointed new Creative Director at Berluti, the legendary Italian brand famous for its custom made shoes, there was a lot of excitement and anticipation for the new breeze this visionary designer would be able to bring.

Kris Van Assche knows how to take the elements of a brand's heritage and bring them into his own aesthetic. For his Berluti first show, he worked on emotional elements dear to the brand: the white marble table used by Berluti's artisans since 1895 in Ferrara to polish the renowned shoes, photographed and used in the entire FW19 collection. You can see every mark left by the colored shoe polish over the years – the spirit of the time.

But also the appeal of manipulated leather with the legendary patina finish (a technique known for the iconic shoes of the Maison) used since the fists look from garments to accessories.

Introducing the very first Berluti and Thélios collaboration, the collection of sunglasses for FW19 presents several variations on Kris Van Assche's main points of fascination at Berluti, in green, red, yellow and blue hues giving a new light to the maison's heritage.

From aviator to acetate round shapes, Kris Van Assche designs merge timeless shapes with understated luxury details like the "B" logo discreetly placed over the hinges or nose pads. The sunglasses feature lenses crafted with a mirror treatment in blue and red. Available in stores from 1 July 2019.

www.berluti.com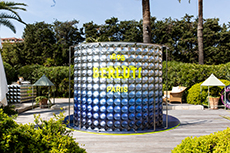 Fashion
Everything is going to restart
When did we enter this state of war with each other? The feeling of defeat used to be rare, a symptom of testing the limits. Now, it feels more like the kind of dull ache you'd develop if you lived in a house with leaky pipes; a vague, tolerable heaviness that doesn't go away. British designer Claire Barrow offers some hope that the end is in sight. The third installment of her Xtreme Sports mini-collections, Les Sports Extréme, pours thought on the theme of battles – both political and personal, socially and for the sake of the self. Her multidisciplinary entry point to art has fostered an illustrative capsule clothing line and short film, created by regular collaborator Daniel Swan, soundtracked by a self-authored song that jars lines from Les Misérables and new phrases that feel urgent to our time, fractured with the ad-libs and manic laughing of a characterful cast.

"You sometimes forget that the battle is still ongoing," says Barrow, "things just seem hard now. There's still hope, but I can't help feel defeated by some of the evils. I wanted to embrace that despair in the collection a little." The chaos that comes with losing control translates to the casual silhouettes of T-shirts, hoodies, silk wide-legs and scarves. Barrow breaks a dominant night blue base with innocent licks of baby pink, blue and yellow – sweet tones marred by distressing, patched with crying baby faces. Fantastical and historical figures form the intricate illustrations: dreamlike drawings of knights and teddy bears, pigeons and mermaids, clinging tightly to one another, hands held to harness the strength of a circle, while the rising figure of Lady Liberty, as immortalized by Eugène Delacroix, waves a flag into the new dawn. With their graffiti signatures, rips and ragged stitching, the Trash Barricade tees speak of resistance and division, imploring all around to declare their loyalties with the question, "What side are you on?" stamped at the back of the body.

"I was interested in how things are still left open, even after conflict," Barrow says, "nothing is ever really resolved. Like the French Revolution: the people won, but we are still entrenched in the same discussion as we were then." For once, someone is wrestling with the grey area, rather than falling by the fault lines of the black and white; with that, Barrow serves the solution of solidarity alongside the still-raw wounds of rivalry, hopefully a sign that peacetime will soon come.

www.clairebarrow.com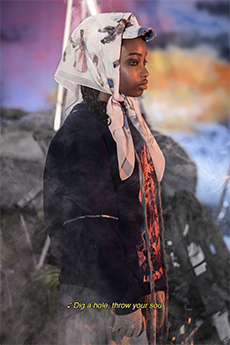 Art
Aneta Bartos: Family Portrait 2014-2018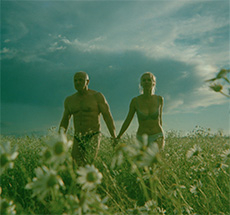 With her first solo exhibition Family Portrait 2014-2018 at Tommy Simoens Gallery in Antwerpen, Polish-born photographer Aneta Bartos offered a first cohesive overview of her ongoing project, which has been four years in the making.

Daughter of a lifelong bodybuilder, the photographer offers an insight into her psyche formed by an unusually liberal upbringing, surrounded by nudeness in an otherwise stern Catholic environment. Each photograph features her own ageing father, caught in his obsession with the perfect physique, as well as herself, the daughter, now as a grown woman intensely aware of her own sexuality.
The exhibition highlights the complex dynamics of this very personal relationship, displaying a fa-ther and a daughter sometimes close, but also so far apart that they are seemingly invisible to each other.

The personal feel is not limited to the photographic work but is supported by the installation itself, which features bodybuilding equipment transported from the father's gym in Poland.

The exhibition is extended until 18th of May at Tommy Simoens Gallery in Antwerpen.

www.tommysimoens.com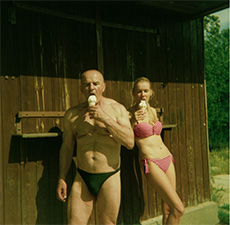 Art
Autonomous Intimacy
Every house is unique and has therefore its very own autonomous intimacy. It has an atmosphere that emerges out of a few characteristic factors; the place where it is situated, the people who live in that house, and their specific interests are aspects that create a certain interior. Rugstar decided to delve deeper into these autonomous spheres to find out more about the underlying influences of houses and how Rugstar's carpets became part of their very own intimate interior.
Starting in Berlin, one of the most eccentric cities of Europe with a very autonomous identity.18 interiors styled by Rugstar were shot by Local photographer Michael Tewes. Each picture tells the home its intimate individual story. The setting appeals to your imagination about the people, their relationship and their lives that largely take place here. Berlin is a very open-minded city and also the people who live here have largely incorporated this thought into their personal environments. Styles are provocatively combined with each other and produce fascinating compositions that create a layered and profound story about what is going on inside these walls. Rugstar's beautiful rugs are off course leading and add an individual element to each interior with themes like Adam & Eve, The Garden of Eden, and many more.
The second city is Portland, one of the most environmentally friendly cities in the world with a very urban lifestyle. Photographer Laurie Black based in Portland took Rugstar to all the different kinds of homes in this very green metropolitan. Classic, authentic interiors are embellished with carpets containing graphic natural animal and plant prints executed in soft colors. These prints embody the Portland lifestyle wherein nature is fully coalesced with the urban city life. The inhabitants here have found a way to create an intimate urban design place that honors nature to the fullest.
The intimacy project is an expression of love for personal stories and through which inspirations they came about. In exchange for these, the Rugstar team will cook and share their vision about styling, designing and craftsmanship. Next stop: Beijing! Are you ready to share your autonomous story?

www.rugstar.com
Fashion
A Magical Place Where Devils are Good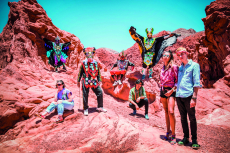 The only connection that matters is the one with mother earth. In the middle of the Argentinian Andes, near the frontiers of the west, is a small town where everything is the opposite in order to re-define meaning. This place is called Uquía, which is located between Tilcsara en Humuaca and contains many different cultures and ethnical groups who already live together in harmony for ages. These people have one happening in common: Carnival! The northern Carnival connects everyone and is a festive whereon devils are good.

This magical place formed the ultimate podia to tell the story of the Premiata Spring / Summer 2019 collection. In this town can you find the impressive Iglesia San Francisco de Paula, a church that has two versions the other one is located in Havana, Cuba. The church is a magical place because it is on the Salinas Grandes, a large salty plateau located 3350 meters above sea level that emerged from a lake that dried up during the Holocene. This exact point is able to bring light, earth and sky all together in a magical way, so at night you can admire one of the most bright starry skies in the world.

Besides the great variety of cultures and ethnical groups, also a fusion originated through the years. One that is dominated by colorful devil costumes, adorned with mirrors to keep real evil spirits away. The Carnival is a ritual in which each individual and the community itself will re-connect with the purest joy in life. Premiata decided to support this very special celebration to maintain the survival of these authentic cultures.

www.premiata.it
Fashion
Seriously Studious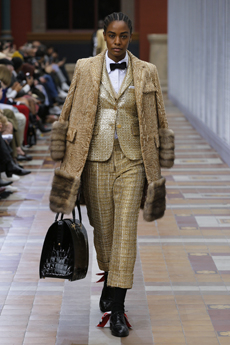 In Paris this week, as a celebration of the tailored sensibilities in menswear, Thom Browne presents its studious, sturdy looks catered for women. Serious, scholarly looking models appear bespectacled, donning attire displaying rigorous couture craftsmanship.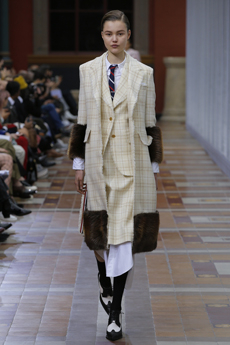 A decade since Manhattan based Thom Browne first launched his vision in Europe, the seed of an idea that has ignited an ever-evolving and expanding brand, is resown and replicated for this Fall / Winter collection. Full wardrobes are strictly tailored, aptly reinvented for a modern climate where women adopt the roles traditionally dominated by men; socks, briefcases and brogues. Here the fashion follows, yet retains a strictness and playfulness full of charisma and character.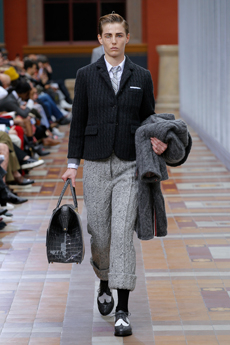 The clear base of the looks leaves ample room for experimental invention and creation and it is here that Thom Browne's brand signature is full realised and used as a canvas for playful exploration with plenty of embellishments, grosgrain tape and duck motifs. All the outfits, from chesterfield coats and checked tweeds and wools, create a trompe l'oeil effect showing off details born from a real technical prowess.

www.thombrowne.com
Fashion
Restrained Classicism
In Paris this week, Hermes proves time again that conservative fashion rules this season, presenting garments that are subtly constructed to last for generations. Proving less is more, the collection is classically chic and brimming with Parisian style, restrained yet by no means dull. Classicism here is interpreted rather as a modern way of viewing life, resisting wastefulness, rejecting whims and crafting garments with longevity.
Bourgeois looks are stapled with simplicity and this is key to the entire collection. Leather skirts are textured, nipping in long sleeved printed silks at the waistline. Leather is utilised to the absolute maximum; a textile in its own singular right.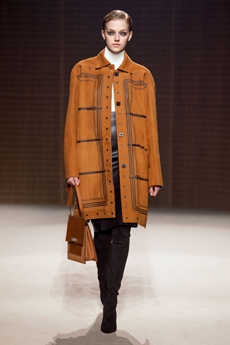 Outerwear is of course taken account for, calfskin dressings exhibit meticulous seamings that contour the silhouette in a breathtaking and striking manner. Camel-hair cocoon coats are adorned with polyhedron shaped buttons, this and exterior leathers concealing soft goose feather interiors that offer style and utility. Layers play an important role, contributing a sense of comfort and effortless attitude spearheaded by the wearer. Hermes at their best  champion well-made pieces and unyieldingly showcase their timeless values.
Fashion
LEE Jeans Campaign by Legend Jamel Shabazz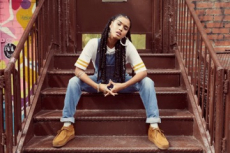 Steeped in 130 years of denim excellence, the Lee Jeans aesthetic is imbued with authentic hip hop stylings, its legacy sustained by the likes of LL Cool J, RUN DMC and Grandmaster Flash who all reference the heritage brand in their music, making Lee Jeans one of the most coveted pair of pants on the street and stapling its legacy and presence as a proud cultural icon.

Grounding the collection in its own rich history, Lee Jeans have sifted through their archives reimaging the old school attitude and iconic hip-hop aesthetic of the 1980s for their Spring/Summer 2019 line.

The generation-defining and legendary streetstyle photographer Jamel Shabazz who is responsible for having captured some of the most enduring imagery of the era has been enlisted for Lee's Spring/Summer 2019 campaign. To mark the occasion, this collaboration between Shabazz and Lee Jeans will culminate in a limited-edition tribute book titled 'Back in the Days'; a throw back to his original book of the same name containing the very best photographs from the SS19 campaign shoot in the original streets and neighbourhoods.

Straight-legged Lee Jeans double layered with Lee Rider Jackets are completed with tan, suede Wallabees and Adidas superstars in traditional urban street style finished with Kangol Bucket Hats and Cazal Sunglasses, savouring the spirit of the era for a new generation.

www.lee.com
Fashion
Re interpreting Dior's "New Look"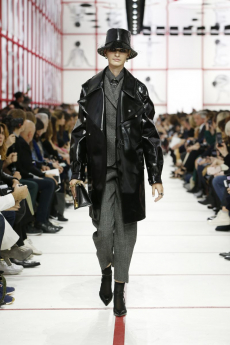 Each collection of Dior forms a new alchemy born of a confrontation between images, bodies, silhouettes and language. By reconnecting these elements over and over again, a new contemporary spirit emerges. It is a new gateway to reinventing the wealth and style codes that have made the Dior atelier so big.

Artistic director Maria Grazia Chiuri went back to the 1950s and used the pioneering "New Look" as a new research object in combination with an feminine counterpoint: the Teddy Girls.

The teddy girls were brutal characters originated from Edwardian times and were at odds with everything that was the norm. The women were rebellious; they wore leather men's coats, velvet scarves, and large skirts. This counter reaction created a new female fashion perspective. Princess Margaret was at this time the leading icon of the trend by being one of the first who worn creations from Dior's "New Look" line.

There is obviously a clear fascination with the mix of English classicism and subversion, elegance and rebellion that can also be seen in the exhibition Christian Dior: Designer of Dreams, now at the Victoria & Albert Museum in London. The concept of the "New Look" has now been applied to extremely elegant sportswear. The collection is a tribute to the heritage of Dior equipped in the codes of our time. The iconic silhouette of the Miss Dior dress has been re-released and radiates artistic strength and grace. Evening dresses are made out of bodysuits and skirts with embroidery and transparent sequins are decorated with flowers in relief.

The collection contains more odes and references, such as a pal tree print (Toile de Jouy) that refers to artist Mario Schifano. You also recognize the literary work of the American feminist poet Robin Morgan with elements from Sisterhood Is Forever (2003). The scenography of the show is based on ABCs representing a woman made by the Italian artist Tomaso Binga.

The collection transcends the idea of gender and promotes the reinterpretations around identity discovery; an idea that has been supported by Dior for a long time already.

www.dior.com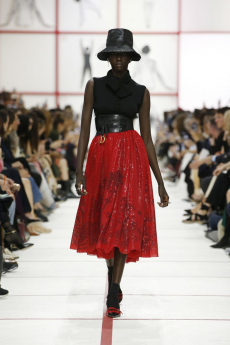 Fashion
It's All About Glamour
MaxMara makes crystal clear in their Fall / Winter line that women need not suppress their glamorous side in order to be taken seriously. The old age debate has been settled. Not only does glamour empower women but it is all about the clothes and how they make you feel that allows you to shine and ultimately triumph.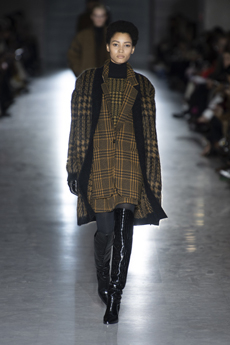 Defying all conventions of dress, the collection exhibits strong silhouettes at the shoulder that expand wider, boxier and leggier down the form. Artfully bound in leather, plush alpaca, camel and cashmere, all the fabrics sink into one another and are fabulously topped off with statement thigh high boots.
Skirts appear cut from men's pants, hanging softly both above the knee and grazing the ankles and svelte polo sweaters put the power in power dressing.
For the working women, beautifully tailored utility vests, jackets and cargo shorts are adorned with multiple zips and pockets. Technicolour total looks bring a refreshing lightness and positivity to the line. MaxMara at their very best, designing and making clothes that put you in the mood to take on the workplace, the party, the world, even when you do not at first in the right state to do so. The collection presents the best and boldest of women's ability and potential in universally flattering tones and movable, soft fabrics.

www.maxmarafashiongroup.com
Fashion
Zegna Brings Italy To Manhattan
Down Manhattan's 4 West 57th Street in the historic Crown Building, Zegna launches their three-story high global store. A world leader in luxury menswear, Zegna have enlisted renowned architect Peter Marino for this bold chapter in Zegna's history.

Within this expansive retail space of 600 square maters, customers can begin their virtual journey through the Zegna world, following the ever-changing ephemeral installation all year round. Façade metallic strings overlay two stories of glass, illuminated by LED lights when the sun goes down. The effect is an emotional fil rouge shadowing the visitor right from the external window display to the very heart of the store.
The ground floor presents leather goods and shoes, all uplifted by neutral tones of cerused ashwood, mahogany and vals stone. An unusual wooden box structure envelops the entire space, creating an aesthetic thread that runs seamlessly between the three levels.

The third floor showcases Sartoria, Luxury Leisurewear, Couture and a specially designed personalised room: the open space hosted by a master tailor to assist meet all needs. A glance around reveals a fusion of modernist and vintage elements with matte teak and laquered wood. Extra details include a welcoming Italian bar, a Gardella lounge chair on a geometric patterned carpet and historical photos that surround the space.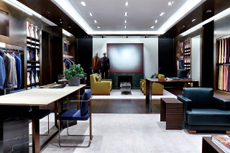 An intimate environment showcasing bespoke clothing speaks right to the brand's heritage; the very notebook Ermenegildo Zegna carried on his founding trip to NY in 1938 inspiring the collection. Now, a new generation of American men can uncover modern luxury rooted in quintessential Italian style.


www.zegna.us
Fashion
Travel Essentials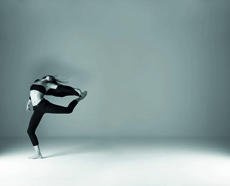 A front leader in efficient and ergonomic clothing design, Roberto Ricci Design have synthesised clean, essential cuts with unexpected nuances for their Spring / Summer 2019 collection. The outerwear emanates warm tones of yellow that transcend into almost neon flourescence along with intense oranges, optical whites and classic blue denims. Silver and gold metal fibres also make an appearance.

The garments are simply ideal for the traveller in virtue of being extremely light and foldable, able to be fitted into travel luggage and smaller cases. The urban section features lightweight lycras that are highly breathable and suited for warm Spring temperatures. Classicism also infiltrates the entire collection with simple cut shirts and trousers from sartorial models. Soft to the touch fleeces are enriched with Oxford fabrics.

Fuss and excess are deliberately stripped away in the search for pure essentiality and necessity in designs. Technical glamour blends with colours, shapes and fabrics in perfect Italian style.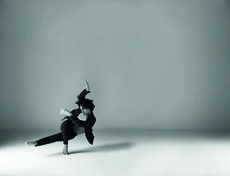 Fashion
An Intriguing Her-interpretation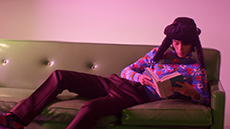 Prada unveils its 2019 Spring/Summer collection in a very special manner; the campaigns give the impression of scenes coming from early film posters. The collection will be presented into two films conducted by directors Willy Vanderperre and Benoît Debie.

The settings are classical, re-contextualized, enigmatic film scenes, which have been an endless source of inspiration and fascination for these collections. Each short film is an attractive puzzle piece, part of a larger whole that refers to the classic Hollywood genre. The unique sound pieces arranged by composer Frédéric Sanchez emphasize deeply this esoteric atmosphere even more.

The film-inspired stills do not show what you would expect; these do not conform to what already exists. The films are little portraits each containing an intriguing underlying message. A duality between what is already there and what reality could have been. Every protagonist including Daan Duez, Freja Beha Erichsen and Liu Wen discovers their different personal characters through the versatile facets of this Spring/Summer collection. The short films are an artistic stylized biographical documentary in which the viewer is exposed to the many possibilities that our reality may contain.

These short films will be revealed gradually on Prada's social media channels.

www.prada.com
Art
Hate Speech
Aggression and Intimacy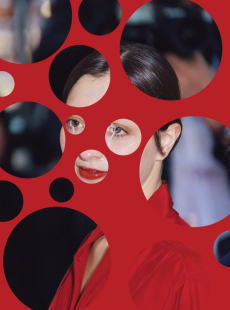 Hate Speech is a collaborated art project with artists: Thomas Baumann, Candice Breitz, Elena Aya Bundurakis, Tony Cokes, Petra Cortright, Folkert de Jong, Verena Dengler, Ryan Gander, Yuri Pattison, Signe Pierce, Jim Shaw, Gunther Skreiner, Markus Sworcik, Amalia Ulman, Martha Wilson, Joseph Zehrer. Presented until 18 April 2019 in the Künstlerhaus, Halle für Kunst & Medien (KM-) in Graz, Austria. The exhibition addresses the function of the institution as a place for societal, free debate and democratic discussion.

Free speech and freedom of public expression are an ever returning and essential element in human life. In order to live alongside each other, it is always necessary to keep searching for a way to live next to each other. Interacting means developing. By "picking" interactions as a human being, you choose to connect, which means blending yourself with the public and private.

This artwork was developed in response to current relationships between politics and multi-media. Communication contains so many layers today, layers within which humanity needs to wonder whether there is still real freedom of speech within the use and especially abuse of media.

The individual partakes in the interaction process, subconsciously searching for individual meaning and with that, the possible connotations of their own personal intimacy. Interaction arises from people responding to the social and political happenings around them, becoming more sensitive and their psyche becoming more aware.

The way people are connected to online social channels today and how they interact to one another is a tendency that determines a whole new order in communication. Users develop an extraordinary urge for connection, which often seems to be in conflict with their personal boundaries. Questions about identity arise and create an inner intimate crisis. The media has been a dominant middleman for a long time, and has become even more powerful due to the rise of social media platforms. These channels do not only report and interpret the news. Interaction is unfiltered and not viewed in light of context. This creates a solid breeding ground for fake-news and the manipulation of public opinion resulting in an overly sensitive personal psyche.

Online communication results in a contrasting combat between dedication and discarding, visibility and anonymity. The collective reaction to this has resulted in people challenging each other in a hostile manner. Users dare not express their real desires in this uncertain, undetermined environment where only roles are adopted, instead of real personalities. "Intimacy" is central in this collection; it conveys a need for demarcation from outside space and 'The Other', for retreat and silence, so as to be able to recognize and describe one's own personal self.

www.km-k.at
Cinema
Soggettiva 4 - Expressway Milano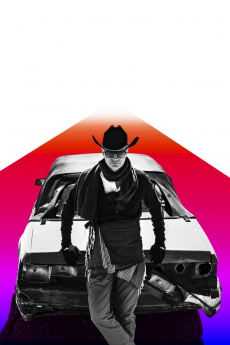 Fondazione Prada's Cinema presents the fourth chapter of the series "Soggettiva" with the title Expressway Milano made by Danish director Nicolas Winding. This chapter is a "cinematic journey into the rare and unknown" screening 13 forgotten American 1960's/1970's films from the online archive by Nicolas Winding Refn.

The oeuvre contains several genres from drive-in movies to lost avant-garde cinema, horror and gothic fantasy films to musicals, "nudie cutie" movies to religious and propaganda cinema. All are divided into 4 volumes: Volume 1 "Regional Renegades" constitutes: The Nest of The Cuckoo Birds (1965) by Bert Williams, Hot Thrills and Warm Chills (1967) by Dale Berry and Shanty Tramp (1967) by Joseph P. Mawra.

Volume 2 "Missing Links" covers: Night Tide (1961) by Curtis Harrington, If Footmen Tire You, What Will Horses Do? (1972) by Ron Ormond, The Burning Hell (1974) by Ron Ormond and Spring Night, Summer Night (1967) by Joseph L. Anderson.

Volume 3 called "Hillbillies, Hustlers, and Fallen Idols" composes: Cottonpickin' Chickenpickers (1967) by Larry E. Jackson, Wild Guitar (1962) by Ray Dennis Steckler and House on Bare Mountain (1962) by Lee Frost.

And lastly Volume 4 "Smell of Female" span Chained Girls (1965) by Joseph P. Mawra, Satan in High Heels (1962) by Jerald Intrator and Maidens of Fetish Street (1966) by Saul Resnick.

On Friday 22 February 2019 the Fondazione Prada's Cinema stages "Soggetiva Nicolas Winding Refn" and holds a special conversation between Nicolas Winding, Jimmy McDonough (Managing editor), David Frost (director of BUREAU) and film critic Manlio Gomarasca about Nicolas Winding Refn's new adventure known as 'NWR'. This revolutionary online archive in form of a platform was presented in 2018 and developed in collaboration with London-based agency BUREAU.

"What we've created is not a film, TV, fashion, photography, lifestyle or political site. It's an installation, an online museum inclusive of everything. There's a movie presented each month, but that film is merely the jumping off point. It's the seed to inspire creativity, provoke a state of mind. The result isn't easy to explain in a soundbite, you have to experience it. byNWR comes with a mystery attached".

All the public screenings of "Soggettiva Nicolas Winding Refn," are taking place at Fondazione Prada's Cinema on Fridays from 1 March to 24 May 2019, and will be free, but are only accessible on reservation.

www.fondazioneprada.org
Fashion
Dunhill Fall 2019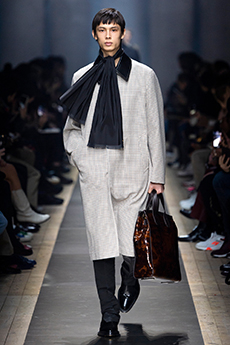 The British luxury brand Dunhill has become one of the best-known global luxury brands with a presence in all the world's greatest retail cities. 

Since 2017 with a renewed team where Andrew Maag and Mark Weston are respectively CEO and Creative Director both previously at Burberry, a new wave has been building up into the brand.

Dunhill started as a motoring accessories brand, and in the late '60s moved to the tobacco business, standing for a strong masculinity.

For Fall 2019 Weston continued working on those elements started already since his first season at Dunhill: leather, beautifully declined in the outwear. A brown marbled print was declined in shirt and bags creating a vibrant variation.

Pants were wide and fluid, slashing a relaxed and modern style with slits at their long swiping floor hems: it is a nice continuation from the previous Summer season providing a new code for the brand.
Dunhill for Fall 2019 was convincing and appealing. We are looking forward to seeing the growth of the brand's new course. 
www.dunhill.com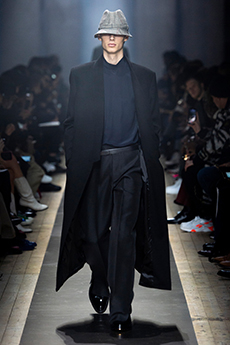 Fashion
Thom Browne Fall 2019 Mens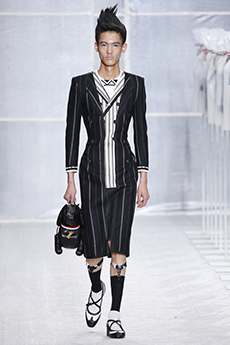 Thom Browne is a master in staging a theatrical spectacle with several acts and characters playing. Last Womenswear show was a tale of sea creatures. For Fall 2019 Menswear it is the Bubble Wrap Odyssey.

With a set composed by 36 bubble wrap stands along the runway the first 8 looks were completely composed by bubble wrap gloves and dresses. Thom Browne' playful overture anticipated the main acts: a Menswear collection designed by researching the essence od Womenswear codes: corsets, jackets draped and juxtaposed to create trompe l'oeil dresses. Looks were declined in two perfectly identical version, pant and skirt matching different tartan coats, all wearing Mary Jane.

It was a beautiful show imbued with Thom Browne's signature poetic and definitely a collection we would love to own, regardless of gender.

www.thombrowne.com
Fashion
Off-White Fall 2019 Mens / Pre-fall 2019 Womens
Spontaneous vegetation growing in hostile conditions, around abandoned industrial landscapes, resurfacing lacerated concrete, fading away from one place to blossom in another corner meters further. It's the interstitial landscape in Gilles Clément's "Manifeste du Tiers-Paysage" where plants serve as aid to observe the space with all its social, political, urban connotations.

Virgil Abloh's setting for Off White is imbued with this rich fragmentary landscape, suspended, in constant evolution and change. Like Abloh's creative ambition and know-how.

Moving into this residual landscape - constructed as a huge green-screen noddig to the 80's and 90s "Pubblic Television" - Off-White new collection for Fall 2019 stormed in , with all its codes where the formal clothing and the attention to tailoring surfaced amongst Off-White's repertoire confirmed Virgil Abloh's voice and personal baggage starting his adventure at Louis Vuitton.

www.off---white.com
Fashion
Dries Van Noten Fall 2019 Mens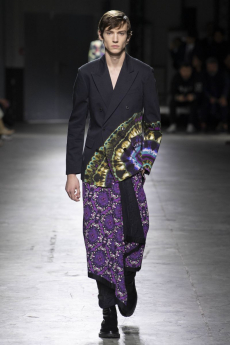 The sound of cicadas, and summer breeze. A warm male voice starts talking in Italian: "According to Proust the only true paradise is a paradise lost. It is a famous quote. But I dare to add that there might exist paradises even more appealing than the lost ones: the ones we never lived, the places and the adventures we barely see afar, not at our back like the lost paradise filling us with nostalgia but in front of us, in a future that maybe as a dream coming true we can finally reach... Maybe the we really stop being young when we miss and love only the paradise lost". It's no other than Marcello Mastroianni's voice in his "Mi ricordo, si io mi ricordo", filmed in September 1996 in Portugal with a small troupe of close friends . A collection of memories, reflections around his life and the human nature itself.

For his Fall 2019 Menswear 's soundtrack Dries Van Noten choose these words together with fragments of other notable man who inspires him since the beginning: John Lennon, David Hockney, David Bowie, amongst the others.

As Mastroianni's words are an ode to youth and a spur to life the fullest, Dries Van Noten addressed his elegant collection to a younger audience, striving to live free from stereotypes: beautifully floating boxy suits are styled with quilted scarves wrapped around them rendering them an appealing staple for the young client, far from streetwear. Oversized double-breasted blazers are presented next to hourglass silhouettes, belted jackets - at times in leather - suits. A splash of colourful tie-dye prints on coats, shirts and sweaters provided that nonchalant playful personality Dries is known for. David Bowie melancholy echoed in the finale "For we're creatures of the wind. And wild is the wind"

www.driesvannoten.be
Fashion
Colmar to Protect Against the Elements
Colmar shows off their carefully cultivated experience and expertise that have been trialed and tested over the course of almost a century, catering clothing for the most challenging of open air sports. The Spring/Summer 2019 collection showcases exceedingly technical pieces, conscious of the multifarious challenges and restrictions that are thrust upon the active sport enthusiast facing disparate and at times harsh climates and conditions. The pieces are fit for function and ensure reliable elemental protection and safety, proving the garments up to the task presented by even the most demanding of sports.
Colmar consistently demonstrates its close connection to and understanding of the needs facing athletes and enthusiasts through regular, self-reflective frugal research and development. No more is this evident in this collection than in the slim, compressible jackets occupying only minimal space, ideal for seamless slipping into your backpack. All stretch pieces are created using anti-bacterial and anti-odour fabrics allowing for uninhibited and carefree movement. Other additional details include hoods, breathing inserts and glowing, reflective prints heightening visibility in the darkness. Polartec Alpha technology allows for thermo-regulation in one piece, managing the body heat produced alongside the circulation of air it comes into contact with. Wadding-filled sleeve and sleeveless outerwear have high absorption capacities combating wind, water and cold. All these essential functions are paired with a look that is simultaneously bright, bold and vibrant; so you can look, feel and be the part. The women's jacket line is decorated with punctilious woven shoulder strap details and prints and the collection is cleanly rounded off with a wide selection of men's swimwear.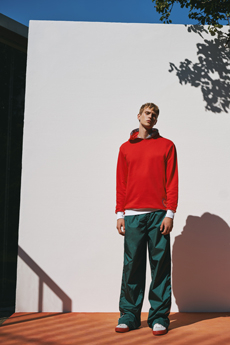 Colmar's Spring/Summer collection is skilfully crafted and harmoniously structured offering colour combinations that can be playfully layered together. The balance of the functional properties demonstrates Colmar's sheer commitment to change in the pursuit of high quality, accommodating for both the athlete and the part-time sport enthusiast.
Fashion
90's Maverick Individualism
The Parisian brand Givenchy chose this season to present a new vision characterized by contrasts and eclectic tones. This look finds its roots in 90's maverick; an attitude that is represented by personal color-blocked suits with special embellished pieces in embroidered leather.

Artistic director Clare Waight Keller introduced a new way of creating in this collection by playing with different volumes, and mixing lean lines with loose and oversized pieces. The mix of bright colors interspersed with formal shades gives a dynamic, surprising feeling to the classical Givenchy textures. Casual pieces have been given a luxurious couture finish with edgy materials such as pallets, down and móire, which will give the traditional Givenchy man a new spirit to his elegant appearance. Experimental forms such as three-headed monk shoes are alternated with mid-calf shoes. Also thick platform shoes from the Givenchy pre-fall collection, together with the higher biker boots, the talisman charms and the seal rings are still Givenchy's leading niche.

Style codes dualate on each other's borders but still express the elegant Parisian spirit. Givenchy chose to display the collection in the Palais Brongniart, The Paris Bourse Stock Market built on request by Napoleon. The allegorical statues and majestic peristyle give a playful edgy perspective against the maverick attitude of Givenchy's collection.

www.givenchy.com
Fashion
Pop-Up Store In Berlin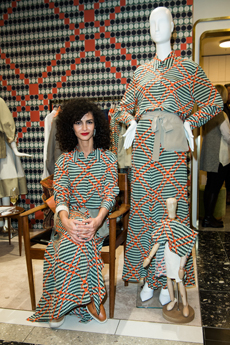 Another Berlin-based label, Nobi Talai, took the opportunity to launch it's pop-up store at KadeWe during Berlin Fashion Week. The store will be open to the public until February 16th. Designer Nobieh Talaei - inspired by the aesthetics of the Danish designer Finn Juhl - found inspiration in his famous designs such as the Circle Rug or the Pelican Chair for her S/S 19 collection that is being sold at the pop-up. As with all her designs she is forging a link between tradition and modernity, creating a collection for the urban explorers of today.

www.nobitalai.com
Fashion
Walks of Life by Ermenegildo Zegna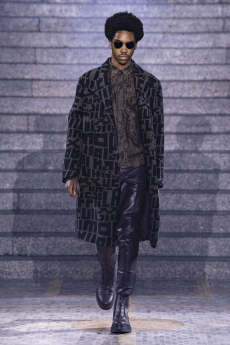 For the Fall/Winter 2019 show of Milan fashion week, the hall of Milano Central turned into a metropolitan catwalk for Ermenegildo Zegna. The brand wanted to make a statement to the many borders throughout the world that are still narrowed. This metropolitan orientated collection expresses the awareness of the pursuit for an open and multicultural world.

Sections are mixed and hybridized: like shirts and jackets merged into functional one-pieces. The silhouette is central, personal, and must be easily wearable but formal. Outerwear is voluminous and expressive, while coats are longer and look more slender and geometric shaped. An interesting mix of patterns and fabrics portray the coalescence with weaves of cashmere, paper, and leather lead to interesting bold visual abstractions. The chosen color palette is characterized by white, Felt, Commissar and Warsaw grays, Beluga black, Notte blue, khaki, Syberian green, lit up by touches of Absinthe and Citrine quartz and amalgamated. These are all made out of exclusive modular solutions with the use of fusion and manipulation. More information can be found under the slogan #UseTheExisting.

All the looks can be completely customized and personalized all over the world with the iconic My Cesare.

www.zegna.us
Fashion
The Zegna Way to Play: Holiday Gifts, Iconic Leather
Italian luxury fashion house Zegra celebrates the magic of this holiday season. Ermenegildo Zegna created three new characters: Romeo, Enzo and Luigi. All of them are made from iconic fabrics, whose playfulness and sense of humor reflect the joy of the festive season.

For the stylish, the sporty, or the man about town, Zegna presents an exclusive gifts collection which is made from lightweight and versatile leather - pelletessuta. A story in fabric, this woven leather is made from placing extremely thin strips of nappa leather on special looms, thereby replicating the traditional way of weaving cloth. Holiday Gifts available in major Ermenegildo Zegna stores and also online.

www.zegna.com
Fashion
Parisian Femininity
Femininity defies definition, every woman has her own femininity, and it comes from the charisma she exudes. In years past, lingerie was simply the ladies undergarment. Now it means far more – lingerie has become the language for women to appropriate their own femininity through shape and form.

Parisian Lingerie experts Aubade helped to free the women form allowing ladies to celebrate their independence. With this freedom lingerie's requirements began to evolve. Physical support no longer dictated - glamour, sensuality, and seduction took the helm.

To honor sixty years of vigorous devotion Aubade has dedicated the year 2018 to love and creativity. Their autumn-winter collection encapsulates the range of emotions that flutter through the soul as romance ensues, from the frivolity of flirtation to the seduction, sensuality, and passion that follows.

Over the past sixty years, the Parisian brand tirelessly drew inspiration from the ladies of the day interpreting their desires in the world of emotion. Aubade champions the craft refining their skills throughout their evolution, now, luxurious embroidery, refined silks, and decadent lace epitomize the collection.

Autumn-Winter is a delightful collection for those who wear it and those who are lucky enough to see.

www.aubade.fr
Fashion
Stone Island launches Iridescent Tela Collection
Stone Island is a brand that lives to explore — their military logo symbolizes love for the sea and constant search, discovery is in their blood. This penchant for discovery has led Stone Island on a quest for innovation.

During the embryonic phase, before their inception into the fashion world, the company worked with a new fabric: 'Tela Stella' — a cloth with different colors on each side that was to be used to make tarpaulins for trucks. This heavy-duty material later took life as seven utilitarian coats, and became a benchmark for Stone Island's creativity.

Now, the desire for continual experimentation has given life to the Iridescent Coating Tela collection. Iridescent nylon bonded to a golden pink polyurethane film fuses with Reflex Mat: a reflective nylon canvas with a matte coating made with thousands of glass microspheres to create six intergalactic garments. The collection is availble now.

Check out the preview here or on the brand's website.

www.stoneisland.com
Fashion
Highlights from Milan Fashion Week
Prada Spring 2019
Defiant as ever  —  for Spring 2019 —  Prada continued the battle against tradition. An aura of a 60's girls swept the Prada Fondazione space in Milan, an ode to the daywear of that time and captured the aggression of the era with a typical Prada ease.

At first glance, te collection seems otherworldly, almost alien. Soon after, the oxymoron reveals itself. Spring 2019 is a collection of conservatism, personality, and sheer beauty. The result is a highly wearable collection of plunging bodysuits with straps below the breasts, very typical Prada A-line silhouettes in the shape of coats, jackets, and dresses along with juxtaposing experimental tie-dye skirts and dress that are equally mesmerizing.

This was a very out-spoken Prada collection. During Prada's pre-show press conference she mused about the fact that —  "Fashion shouldn't follow excessive simplification, because the more you simplify, the more slogan you use, the less content there is".

www.prada.com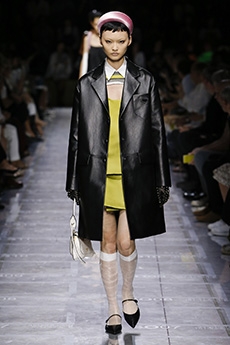 Sportmax Spring 2019
The Sportmax runway approach is uniquely, unique. This is an essential collection, a sporty parade that has been revved to the max.

Surf references were rife throughout the Spring 2019 collection. Men's tailoring may have accented the start of the show, but what was to follow was utter femininity. Bikini tops were casually paired with multifaceted jackets that boasted layers of intricacy. Barefoot outfits demonstrated the ease of the brand while dresses stole the show with their splendour; each garment took the show to a new level evolving the concept radically one step at a time. The sheer range of Sportmax's Spring 2019 collection is quite astounding.

www.sportmax.com
Roberto Cavalli Spring 2019
Notorious for his exploits in the men's business Paul Surridge demonstrated his precision tailoring for Roberto Cavalli's Spring 2019 collection. Here, Surridge demonstrated the flexibility of the bike short, while showing off its sex appeal. Taking many forms the traditional formal wear paired with; plain blazers, printed blazers, loose shirts, blouses and dresses. Spring 2019 exhibited an authentic abundance, particularly in the choice of prints. This abundance carried through to the unique variety of dresses. Intentional or not, Surridge has inched the gap between male and female fashion even closer.

www.robertocavalli.com
Fashion
Sonos and Faberyayo partner up to celebrate Fall as the Comfy season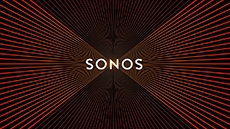 Is he serious? Is he joking? Is he highlighting faults in society or is he laughing for the fun of laughing? Pizza love songs, puppet shows and short novels about dwarfs, Dutch Rapper Faberyayo's aesthetic is one of neon-normality. Faberyayo has carved a lane through the centre of Dutch hip-hop with his pioneering work ethic and an innate sense of originality. This Fall 'Yayo has reinvented himself again as his own barmy galaxy collides with the luminous effervescent planet of Abel.

This weekend Faberyayo and Abel take over the Sonos Home in Amsterdam to celebrate the release of their album. The duo has fused their unique minds to produce a brainchild like no other, Comfy. Now that the light is faded, summer has decided it is time for fall, the leaves begin to glide to the ground, this is the season for Comfy.

''Comfy Season means the summer is finally over and everyone gets back inside. It's the season of dressing in Comfy style, the season of takeaway latte macchiato's, the season of online shopping and enjoying a bit of romance at home. Fall is more than a season, it's a vibe! Dear Fans and Fanettes, come and get Comfy with me, it's the season!'' — Faberyayo.

Sonos transformed their Amsterdam home completely to shoot the music video of the first track of the album called "Online Shoppen". The result is everything you might expect when you let Faberyayo and Abel take over your home. An exciting experience bringing the world of Faberyayo and Abel to life visually and sonically. Fans will be the first to step in the world that's called Comfy season and enjoy the experience and get an exclusive screening of the video in Sonos Home Amsterdam before it goes live.

Join ZOO at the Sonos Home Amsterdam on the 22nd and 23rd of September. Visit the experience in the Sonos Home Amsterdam and be the first to see and listen to the new music video, book a free time slot, receive your personal invite, bring a friend and immerse yourself in the world of Comfy Season. You can register here.
Fashion
Breathing Change: Highlights from NYFW
The Row Spring 2019
Calm, free, fresh, angelic. The Row. In 2019 so much attention is fostered toward creating originality in fashion. So much so that this very idea often breeds stale, unoriginal, regenerated mush. Mary-Kate and Ashley Olsen are the antithesis of this very process. Allowing their serene collection to speak for itself as guests interact solely with their collection directly, quietly and intimately.

www.therow.com
Eckhaus Latta Spring 2019
Eckhaus Latta push new limits. Together Mike and Zoe fuse cool with raw. Spring 2019 combines digital prints, fluttery plaid dresses with dip dyed and tie dyed pastels on gimmick free, real, authentic models that live the brand. Eckhaus Latta is growing up.

www.eckhauslatta.com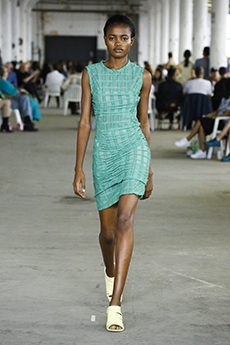 Sies Marjan Spring 2019
Sander Lak's sixth Sies Marjan collection is his most mature to date (at least according to his stepdad). Cargo elements and nautical stripes pay homage to memories of his father with a bold variety of textures that echo Sander's journeyman child hood. The intense emotional occasion reached a crescendo as Sanders' mother took to the runway with a smile.

www.siesmarjan.com
Coach 1941 Spring 2019
Leather goods may be Coach 1941's main bag but that hasn't stopped Stuart Vevers' from using spring 2019 to playfully modernize their practical approach. Iron Dinosaurs, gritty ground, and Disney motifs New York 2018 was not a typical Coach runway show.

www.coach.com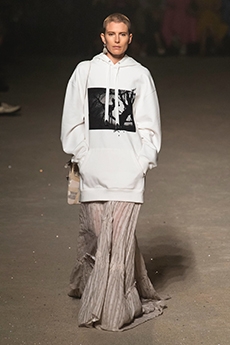 Camper FW18 Campaign
Spanish footwear brand Camper has released its Fall/Winter 2018 collection with a new campaign. This time, creative director Romain Kremer stretches the imagination and blurs the line between the abstract and the absolute. Photographed by Daniel Sannwald, the brand demonstrates a real-life take on the virtual experience and questions the future of digital interaction — inviting spectators alongside otherworldly avatars raining from fantastical to post-apocalyptic.

Debuting with this collection, the popular footwear company presents nine new styles of advanced unisex shoes including newcomers Rolling and Pix, Helix and Brutus and chunky-heeled Thelma for woman.

www.camper.com
Fashion
Jessica and Krystal Jung celebrate anniversary of iconic Fendi Peekaboo Bag
Jessica Jung — an American singer, songwriter, actress, model, fashion designer, and businesswoman who was born and raised in California with Korean roots together with her little sister Krystal. In 2007 Jung debuted as a member of the South Korean girl group Girls' Generation.

Her sister Krystal Jung is a singer and actress in South Korea. In 2002, Krystal began appearing in television commercials. In 2017, she starred in the comedy drama "Wise Prison Life" and received good reviews for her performance. She was also named 'Woman of the Year' by GQ Korea in the same year. Jessica and Krystal are the most popular sisters in Korea. Together they're staring in the new Fendi Peekaboo Bag campaign celebrating the 10th anniversary.

www.fendi.com
Fashion
Roberto Cavalli opens first German store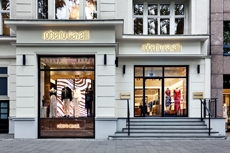 Located in Berlin's elegant shopping heart Charlottenburg, Roberto Cavalli is opening its first German store, welcoming customers to shop the brand's modern and dynamic collection covered by their authentic Italian experience.

Balancing between space, sofas, gold lamps and armchairs the store represents a wide collection for men and women, offering ready-to-wear clothing, shoes, bags, watches, jewellery, eyewear, fragrances, home accessories and tableware.

The store embodies Roberto Cavalli's international and cosmopolitan spirit inspired by Tuscany's sophisticated color combinations. Precious marble floors and elegant vaulted ceilings mixed with freestanding furniture pieces and brushed brass tracks define the new direction and straightforward vision of the luxury brand.

www.robertocavalli.com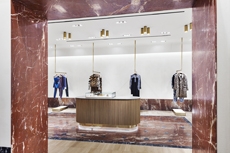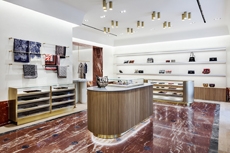 Fashion
Versace Menswear Spring Summer 2019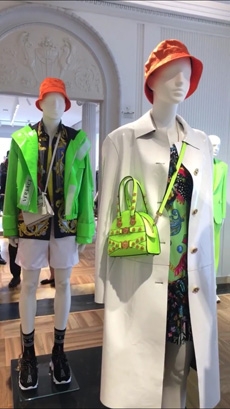 "Versace, Versace, Versace, Versace, Versace…" the campaign video featuring a noticeable selection of supermodel reciting the brand's name infinitely in a sort of spell-like chant for the Spring Summer 2018 marked a new air in the house in celebration of this iconic Italian maison's 40th anniversary.

For Men's Spring Summer 2019 the powerful link between past and present, that attitude on life "so Versace", defines once again the new collection.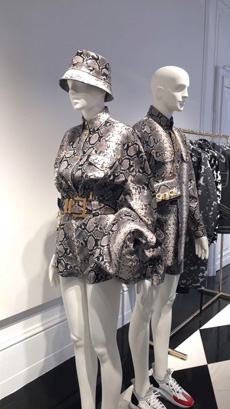 In the show notes Donatella Versace mentioned how this collection takes into account the free spirit of Versace's men. "These are men who do not care about the rules and that is exactly what it love: they have an opinion and make their own style choices", hinting also to the various range of garments, inspired by many different kinds of masculinity.

Printed piton ensembles, powers suits in neon colours, relaxed knits, but also track suits with newspaper print where the season's motto "It's Versace not Versachee!" delivered a playful collection with contrasting elements through a contemporary take.

Also this season a Womenswear capsule collection joined the show at the stunning family palazzo in via Gesù, where a cascade of wisteria adorned the inner courtyard ceiling in a mesmerising backdrop.

www.versace.com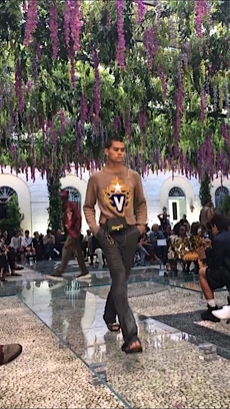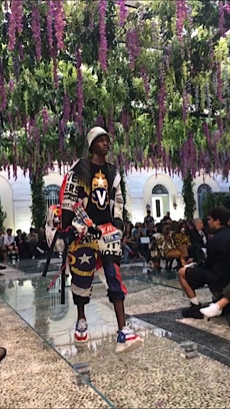 Fashion
Giorgio Armani Spring/Summer 2019
Free and mindful, loose and genteel. Giorgio Armani proposals for Summer 2019 effectively have the power of sewing a traditional, masculine elegance with a contemporary sense of ease.

Soft figures in light shades of chalk white, hemp grey and delicate flashes of blue and turquoise celebrate the spontaneous classicism of formal yet sporty jackets and blousons.

The double-breasted jacket confirms this idea playing with different fabrics and patterns, while the modern waistcoat enhances a fresh feel of versatility.

As well, a sandy filter underlines the naturalness of the collection that introduces refined variations on the definition of what Giorgio Armani means for a very sophisticated style.

www.giorgioarmani.com
Fashion
Prada's Cartesian Space
A psychedelic, futuristic atmosphere unveils the unreal set that Prada has chosen for the Spring Summer 2019 Fashion Show.

The normally rough architecture of the venue in Via Fogazzaro in Milan, is transformed into a a grid, reinforcing the idea of a serial design. Numbers and symbols allude to geographic coordinates of remote locations.

Like in a cyber punk movie, cold lights projected on the inflatable stools by Verner Panton, produced by Verpan for Prada, intensify the surreal sense of lightness and transparency, questioning the recent practice that sees show sets as explanatory efforts to contextualize collections.

www.prada.com
Fashion
An eclectic journey
FENDI is always looking for exciting initiatives to present their Eyewear collection. This time the brand collaborated with model, actor and bandleader of Counterfeit, Jamie Campbell Bower, showing the in-depth voyage of his soul-searching journey, embodying the FENDI Man values.

Off-duty dressing rooms and phone calls while chilling out were captured by a privet camera as well as his creative on-stage rock performance, remaining true to his inner child, hidden behind FENDI's SS18 sunglasses.

Watch the full series of videos on our social platforms.

www.facebook.com/zoomagazine
www.instagram.com/zoomagazine
www.fendi.com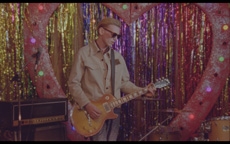 Fashion
Karl Lagerfeld first flagship store opening in New York City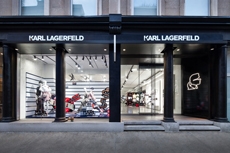 Sited at 420 W. Broadway in New York in the heart of SoHo shopping district, KARL LAGERFELD celebrates the opening of their new flagship store, the first one in the United States.

The open feel of the boutique is best intensified by its 3230 square feet, where the overall interior design takes inspiration from Karl Lagerfeld's private home and studio. Marble finishes, velvet chairs and vintage mirrors create a unique atmosphere, while others elements, such as the red border around the carpet's edges, tell little stories about the wide imagery of the iconic designer.

The New York boutique will include KARL LAGERFELD and KARL LAGERFELD PARIS ready-to-wear collections for both men and women, as well as accessories and footwear.

In addition to that, Karl Ikonik, the playful collection featuring Karl Lagerfeld and Choupette graphics is also presented. Yet besides clothing, the boutique will also introduce a collection of cosmetics, realised in collaboration with Australian Beauty brand ModelCo.

Keeping the eye focused on future initiatives, the house will surprise customers with the launch of the special collection KARL LAGERFELD x Kaia, which will be available from September 2018.

As Paolo Righi, CEO of the brand, declared: "Opening the first KARL LAGERFELD store in the United States is an exciting milestone in our brand's continued growth. […] New York is an international fashion capital with a modern spirit and energy that make it ideal setting for our new flagship."

Innovative, timeless, contemporary. The World of Karl is an open invitation to observe how the future of high-end retail experience looks like.
Fashion
Berluti new store opening in Munich
The immediate sensation is that of a quiet intimacy, as if one could slighlty hear the clock tickings spread over a place that has always been there.

The new Berluti flagship store in Munich is the second one to be opened in Germany, yet it is the first in Europe to launch a totally new concept for the interiors.

Located on prestigious Maximilianstrasse and in a Neo-Renaissance building, the design highlights the brand's luxury heritage, yet respecting the typical Munich architecture.
On the one hand, the preference for a square, clean design suggests Berluti affinity with sobriety and composure, which is in turn calibrated with the presence of delicate textures that characterise the stone finished beige walls.

As well, the hand-polished bronze shelves and frames, the marble tables, the polished wood cabinet and the herringbone pattern over the matte wooden floor seem to complete each other.
More elements, such as a dramatic wall lined with symbolic tincture bottles, a wooden display cabinet and classic club armchair intensify the relaxed atmosphere, gently illuminated by pale lightings that unveil the precious details of Berluti collections.

The new Berluti boutique is the perfect place where contemporary gentlemen can talk about elegance in detail.
Fashion
Peuterey Icon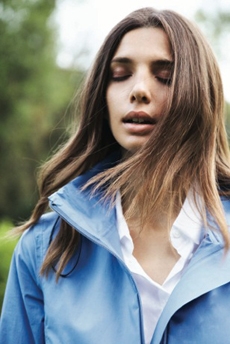 With two new proposals Peuterey continues working on their innovative Icon Project, which this season introduces two pieces for the outerwear. Bail for men and Corduroy for women are down jackets made of cotton poplin, featuring a water repellent surface and thermo-taped internal seams. A detachable hood with drawstring, wind protection and reflective details underline the urban design and feel for technology. On the other way around, Carve and Shaka are regular fitting parkas introducing a bond technology that allows for a reduced thickness. Light and versatile, Peuterey products are future-oriented, yet perfectly communicating that balance between contemporary style and the highest functionality.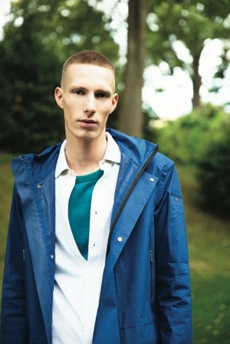 Fashion
Highlights from Paris Fashion Week
When French painter Henri Rousseau realised renowned artwork "The Dream", he recreated a jungle scenario only observing tropical plants and flowers at Paris Museum of Natural History. For Fall 2018, designers Carol Lim and Humberto Leon bring the surreal painting into a dreamlike collection, melting the brand language with inspirational references taken from the past. Therefore, soft knit sweaters, parkas and skirts function as a canvas and accurately reproduce lotus flowers, jungle animals and natural landscape. By contrast, bright colors over striped knitwear pieces recall Kenzo graphic identity, remarking brand prowess in combining art and contemporary fashion.
Atavistic yet extraordinarily conceptual, Rick Owens is a master in transcending fashion discussion to the highest level. Hence, ancient myth of Sisyphus is reinterpreted with approach recalling the radical language of Arte Povera. Femininity turns abstracts and is deconstructed and layered trough a brown color palette unveiling pilled fabrics and padded swaddling. Mythology is recalled by bulky and extravagant panniers, yet balanced by a sporty feel that runs over the entire collection.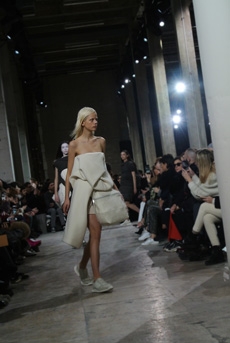 Oversized coats and over-the-knee cowboy boots introduces us to Isabel Marant's imagery, which this time takes inspiration from old American westerns. Paisley motifs, fringed decorations, lace details over delicate blouses and a warm color palette alternate with pieces that recall 80s glamorous femininity trough ruffled mini-dresses and wide shoulders. For both men and women, the collection evokes a strong sense of sophisticated comfort, assuring a distinctive take on this modern reinterpretation of America.
Set in the Unesco building, Loewe show under creative director Jonathan Anderson unveils an intriguing collection, which seems to support the need for a comfortable wear. Although, the relaxed outlines face with a more contemporary approach to fashion aesthetics, as well as they reveal a strong focus on classic tailoring and enhancement of volumes. Flowing dresses and shirts are adorned with ruffled sleeves, leather collars external pockets and eventually silk bra attached in the front, offering women a very variegated range.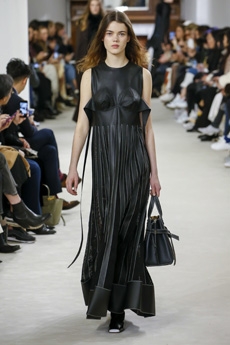 With his collection, Haider Ackermann deliberately points out the fragility of our times. Models are perceptibly androgynous, yet their silhouettes remark the presence of a sober, linear elegance. The bitter shines trough the color palette, including light olive green, pink, caramel and sky blue tones emphasizes the richness of fabrics, which in turn reveal interesting embroideries and ruffles over suits in jacquard and velvet dresses.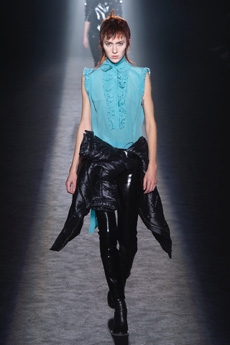 At Hermes Vanhee-Cybulski presents a women collection that is nothing but an attentive work on details and hourglass silhouettes. This is a collection that cover up the body to let the clothes speak for a classic elegance. The abundance of dark leather (alongside different proposals in light olive green, red and caramel) that would be conventionally associated with a subversive seductiveness, here is sophisticatedly transformed in a sober yet luxurious take on classic pencil midi-skirts and jackets in what seems to recall the compelling fascination of noir movies.
Fashion
The future starts now - Moncler Genius
Creativity is our energy, multiplicity is our strength. Truthfulness is our credo. Change is what drives us forward. Moncler is continuing to explore the surrounding spirit of its uniqueness. The future starts now."

On the 20th of February and with a powerful manifesto, new forms of expression for iconic duvet brand have been announced. Conceived by Remo Ruffini, Moncler Genius is the result of a consistent work of research culminating in different languages that narrate only one identity.
Using the jacket as a starting point, fragmentation becomes the main concept and guideline. Eight projects turn the product in an object and communication mean, strongly oriented to functionality and newness.

The new Moncler building hosts several areas identified by a number, each of them dedicated to a single project (which will be realised monthly) interrelating with others and interpreting the singularity of Moncler consumers.
Starting from 1 Moncler Pierpaolo Piccioli that focuses on purity of forms, Moncler 1952 instead pays tribute to the brand's year of birth, adopting a curatorial approach.

The journey into the exhibtion-like space continues with Monocle Grenoble focusing on prints and fabrics, Moncler Simone Rocha on deconstruction, Moncler Craig Green on the dialogue between clothing and the body, Noir Kei Nimomiya on wereable geometries, Fragment Hiroshi Fujiwara on reinforcing the duvet cult-status and eventually Palm Angels working on logos and slogans.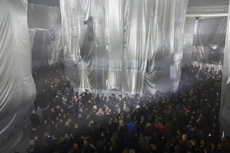 With Moncler Genius, a new and really clever direction for the company has been set up, extraordinarily combining those diverse medium that celebrate imagination and uniqueness.
Fashion
Inner Landscape by Prada Journal
In cooperation with Italian leading publishig house Giangiacomo Feltrinelli Editore and Eyewear brand Luxottica, Prada Journal unveils the winners name for the a competition which has seen 5 tesimonials, 75 contributors and 267 selected Prada Journalists sharing their own Inner Landscape.

The projects explores the theme of relationship between the personal sphere and the outside world, asking the participants to use texts and images (photographs, video or illustrations) to best suit the creation of a compelling digital content that translates what can be a personal perspective into a collective, sharable overview. The three winners Giorgia Ascolani (video), Isabella Giambitto (image) and Nadya Zakharova (gallery) have been selected by Davide Monteleone, Mimi Xu and Margaret Zhang, testimonials of the project.

In addition to the context, Prada Journal in collaboration with Luxottica have realised an elegant yet essential Eyewear collection, featuring metal frames, double bridges and acetate inserts, which enhance both brands affinity with high craftmanship and offer an exclusive tool with which observing the inner world and the outside reality.

www.prada.com/pradajournal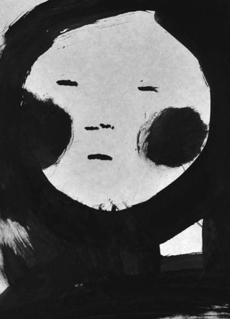 Fashion
L'Eau delà-Émoi – Longchamp's new store opening in New York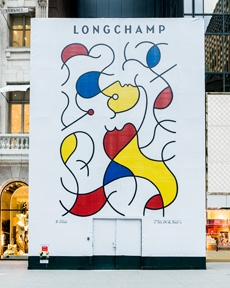 In anticipation of Spring 2018, the new Longchamp flagship store on Fifth Avenue in New York inaugurates the building façade with an illustration from Paris-born artist Guillame Alby, also known as Remed.

The visual work, which has been named 'L'Eau delà-Émoi' (Water from there, Emotion), is part of the technique series and echoes an "ode to the present trough the worship of the line, for the love of a gesture that most resembles the essence of intention, or the state of awareness" as Remed declared. The result is a mathematical conjunction of lines and letters that hypnotically captures the viewers' eyes trough simple curves and vivid primary colors, yet dramatically enhance their personification due to a creative process that involves the use of permanent tools, namely not allowing for anything to be erased.

Before, artists Ryan McGinnes and Franz Ackerman curated the first and second installations. Remed is the third one being commissioned by Longchamp trough their Artwalk Movement, successfully transforming retail sites into large-scale artworks available for the wide public.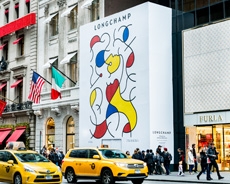 Fashion
Highlights from NYCFW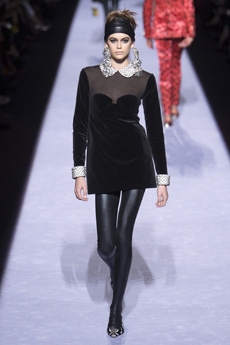 A look back at the structured shapes of the eighties enhanced by black leather head-band accessories, Tom Ford delivered a roaring, eccentric spirit that highlights shimmering animalier prints over constructed suits and tight mini-dresses, reinforcing the idea of eccentric glamour.
With his extreme love for excess, Philipp Plein presented a space-odyssey runway, catapulting us in an ultra-artificial world dominated by robots, fake snow and floating spaceships. Skin-tight catsuits, sported by Irina Shayk, and bodysuits in latex or adorned with crystals strongly underlining the silhouettes, while logo straps appear on oversized puffers. The collection features metallic crop tops and plastic coats true to Plein's subversive spirit.
Victoria Beckham's work has always been an aesthetic devoted to femininity. For ten years now, the vision is still the same, adding a modernist, utilitarian feel to the collection presented last Sunday at James Burden Maison in Manhattan. Dresses in felted wool with sculptural silhouettes feature full-length back zips. The collection includes also khaki trousers and structured coats that add a touch of rigorous military mood. By contrast, long skirts in earthy tones are enriched with silk pleats paired with oversized bags enhancing the feel of a relaxed high-end allure.
Inspired by Berlin's beats of Barghain and fascinated by the cult book-turned-movie Christiane F. – Wir Kinder vom Banhof Zoo, Raf Simons unveils a youthful and underground collection. With graphic prints on T-shirts featuring actors Thomas Haustein and Natja Brunkhorst (main characters of the movie), sleeveless hoodies controversially embellished with "DRUGS" caption (which actually refer to Cookie Mueller and Glenn O'Brian) and eventually latex gloves, Simons cleverly portrays the club scene, offering an exclusive high-end rave-wear.
Italian house Bottega Veneta unveils their opulent collection by German designer Tomas Maier, with a tender homage to New York City. Silk pyjamas, multi-chromatic dresses and geometric design tell us something about the architectural landscape of the City and its multicultural, immersive aesthetics.
Fashion
New Dior Boutique Opening in Berlin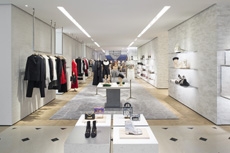 Last 27th January, Dior has inaugurated a new boutique located in Kurfürstendamm 56, one of the most well known avenues in Berlin.

The store, which hosts both menswear and womenswear collections, jewelry and perfumes, has been decorated by designer Stefan Leo with furniture in recycled-metal that create a tromp-l'oeil effect. The LB bubble artwork by abstract artist Jan Kalab adds a contemporary tone to the gentle atmosphere, softly in balance with the Versailles Parquet floor, that instead recalls Christian Dior passion for 18th century aesthetics.

www.dior.com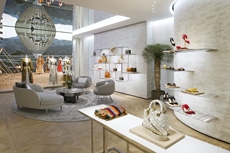 Fashion
Dries van Noten Menswear Fall/Winter 2018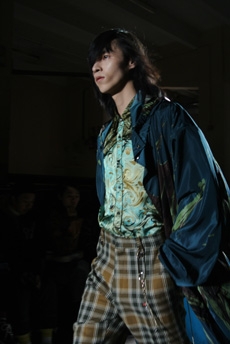 A warehouse in raw concrete, with all its stripped down connotations, once the distribution centre of the French Post. Like last's season venue - the former Liberation offices - it gave a feeling of nostalgia, and a sense of austerity.

As the model walked in the space above the audience pit, on the notes of Underground's Born Slippy in a 2008 remix by Get Well Soon, we felt that play between contrast Dries Van Noten has often chosen in his poetic.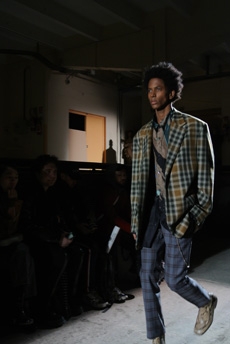 The collection is as complex and intricate in mixing different styles and influences as it could be the individual course of a lifetime, with different patterns, mood swings, travels and ages.

There is an incredibly appealing modern take on tartans and Prince of Wales plaid with the warm tones of traditional suiting.

But also slightly oversized silhouettes next to slim and elongated ones; fringed embellishments reminiscent of a Western age; half kilts styled on top of matching pants; white cotton trousers with broderie anglaise; jackets hand embroidered next to boxy sporty trench coats; pongee silk for the most alluring pyjamas.

The show note mentions "the tension and spark of the habitually incongruent".

Dries Van Noten has created a collection beautifully balanced with all the elements that have been classics staples in his oeuvre – modern English tailoring, sporty, lush prints, florals, dark colours next to a vibrant palette – while delivering a show that didn't fail to deeply touch us in a crescendo peaked in the finale lineup: over 40 billowy raincoats declined in a rainbow of variations featuring hand painted marbling technique used traditionally on paper.

There was a sense of joy, of youthful atmosphere, of life.

www.driesvannoten.com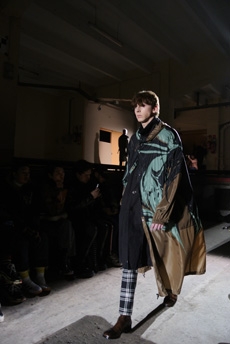 Fashion
THIS IS NOT A F*CKING STREET STYLE BOOK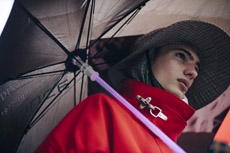 The one about streetstyle being a hardened enemy of high fashion is such an old story. In the digital era and trough the empowerment of individual communication over everyday aesthetics, we witness continuous splices between collection proposals and catwalk attenders.

Thanks to the amazing works of photographers like Adam Katz Sinding aka Le 21eme, it has been shown how streetstyle has gradually evolved into trend empowering new emerging figures, especially in the fashion area.

In facts, the influencer and photographer has attended more than 20 Fashion shows around the globe, capturing with his camera the greatest designers, models, stylists and contemporary fashion icons.

With the publication of "This Is Not a F*cking Street Style Book" Sinding's first monograph, fashion and photography lovers will have the chance to leafing trough a captivating documentary on paper, which gathers the best images taken on the street and behind the stages.

The book is also accompanied by a conversation about the streetwear phenomenon between Adam Katz Sinding, Virgil Abloh and MENDO. Made by MENDO, it is available for pre-order now and will be released by February 2018.

www.mendo.nl
Fashion
Marni Market
For five months, at 231 Rue Saint Honore, Marni Market settles in Paris. The firm's playful universe is revealed through an exhibition where visitors can explore and interact within Marni's colorful world and purchase special items during three different periods.

In January 2018, Marni Visitor Market keeps the traditional Christmas charitable donation —addressing the profits to Piccolo Principe Association for helping children in difficulty within the province of Milan — with the sale of funny marionettes, half toy and half sculpture, made of painted wood and resin.

From the 1st of February until the 12th of April, Marni Playful Market will turn in an interactive space, where visitors can play freely within the elements showcased in the area.

The last period, from the 13th of April until the 18th of May, Marni House Market will be dedicated the exposition of Colombia hand-made items, celebrating creativity and workmanship.

www.marni.com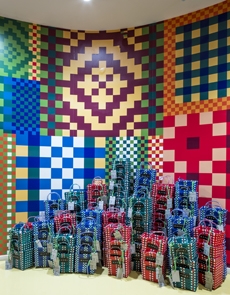 Fashion
Lana Mueller Launches Fall/Winter 2018-19 Collection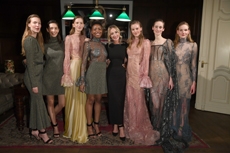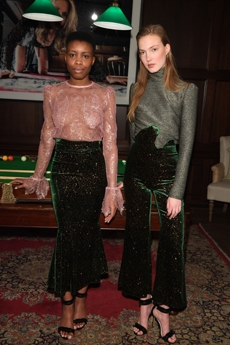 On the exclusive 1st floor of Restaurant Borchart, Lana Mueller unveils the traits of her woman: extremely feminine and pleasantly delicate.

A sober elegance is suggested by the color palette, which prefers pale blue, full green or light sorbet shades and even more highlighted by sophisticated fabrics, such as a classy lace combined with hand-painted velvet and light chiffon that celebrate the beauty of organic forms.

www.lanamueller.com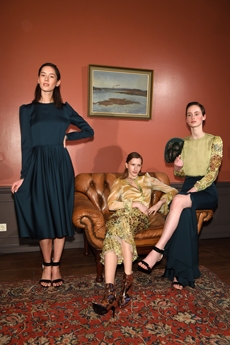 Fashion
Fendi Spring/Summer 2018 Menswear Collection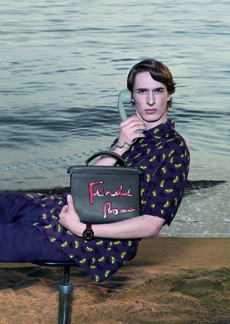 This is an incredible era of change. The extraordinary enhancements that tecnology is introducing in the job industry are simplifying the way we approach daily chanllenges and creating new exciting opportunities for a new generation of creative minds.

Being aware of this overwhelming revolution, Fendi Men's SS18 ad campaign establishes the features of the businessmen of today, who are costantly floating between high professionalism and flawless humour.

Shot in Rome's brand headquarter and on the beach of Gaeta, a treasure of Lazio Region, the campaign stars a young Dylan Fender wearing a neutral palette made of casual yet classic outfits. The collection introduces us to the new vocabulary of menswear and combines refined tailoring with sportswear and streetwear.

The vibe of creative freshness and entrepeuneurial spirit is perfectly commmunicated by the new Mini Peekaboo Fit briefcase, vivaciously erniched by illustrations by guest artist Sue Tilley. "Be open minded and use creativity". In Silvia Venturini Fendi's statement lies the whole essence of the collection, and we ebrace her captivating enthusiasm towards 2018.

www.fendi.com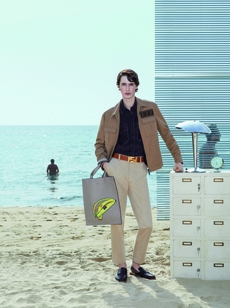 Fashion
Karl Lagerfeld Jewelry Spring/Summer 2018 Collection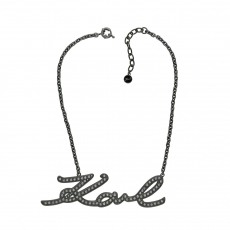 The icon Karl Lagerfeld is widely known for his cutting-edge approach to fashion. The KARL LAGERFELD fashion house, which is creative directed by the designer himself, has its roots in a DNA that stands for accessible luxury and coolness. For the SS18 jewelry collection, the brand combines elegant elements with a rock-chic style and playful embellishments. A palette of multi-colored pastel Swarovski crystals gives the pieces a timeless feel.

Divided into three groups, the collection covers every kind of style. Klassik Karl is inspired by the personality of Karl Lagerfeld himself. His world famous cat Choupette and his handwritten signature appear in pavé Swarovski crystal finishes. A collection of necklaces, bracelets and earrings is featuring the letter "K" as a pendant, embellished with Lagerfeld's silhouette.
The Ikonik-part of the collection is rooted in the brand's cool creative aesthetic and characterized by celestial stars and hearts paired with sketchbooks and safety pins. The pieces are made out of rhodium, gunmetal, gold and rose gold plating with Swarovski crystals. Further, the range offers an interchangeable charm program allowing the wearer a customized look.

Exuding an elegant and sophisticated aesthetic, the third part of the jewelry collection, called Essentials, makes the day-to-night look an effortless transition. Centered around faceted pyramids and Swarovski crystals, these pieces provide dramatic looks that are modern, rocky and cool at the same time.

The necklaces, pendants, ear jackets, hoop earrings, bracelets and rings all come in a mix of geometric pyramid shapes. The KARL LAGERFELD Spring/Summer 2018 jewelry collection will be available from the end of January in stores and online.

www.karl.com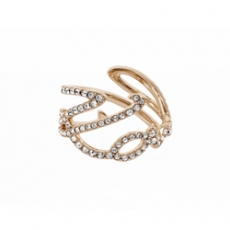 Fashion
G-Star RAW Research III BY Aitor Throup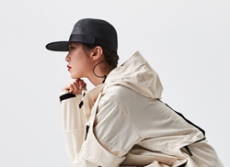 In the G-Star RAW innovation lab, which is led by the British designer, artist and creative director Aitor Throup, denim is being deconstructed to its purest form. The third collection of the RAW Research for men and very first for women, presents new denim constructions, silhouettes and shapes.

The collection features ten pieces in undyed and unwashed calico denim and challenges the conventional perception of the popular fabric. The same collection goes through a process of hand dyeing, where the indigo is added to the raw garments, resulting in an organically irregular visual effect. The G-Star innovation lab separates, analyzes and utilizes the core elements of denim in experimental ways.
RAW Research is known for launching a new 3D denim construction each season. This time, it is the Spiraq jean. Crafted from a single piece of denim, that is wrapped around the leg, the model is carefully molded to provide the perfect fit.

The third RAW Research collection also represents Throup's first ever work of womenswear. Reflecting the overall design pilosophy of RAW Research III, the pieces are blending minimalism and functionality without compromising femininity. For both the men's and women's collection the in-house laboratory of G-Star follows the same untreated approach, while pushing the boundaries of product design through an explorative process.

The G-Star RAW Research III collection wil be available in selected concept stores from the 15th of December.

www.g-star.com
Fashion
Moncler Collaborates With Lifestyle Brand Kith and Asics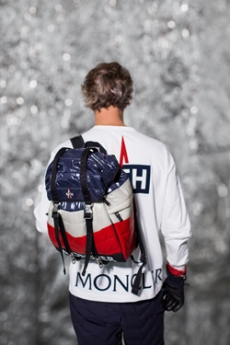 It seems like the luxury outerwear brand Moncler can't stop to make common cause with other great brands. After a collaboration with Junya watanabe, Balenciaga, Katrantzou, Sacai, Ami, Virgil Abloh and Craig Green, the brand now presents two more. For FW17/18 the brand has collaborated with New York-based lifestyle brand Kith.

The main collection includes a range of T-shirts, sweatshirts, graphic outerwear made from iconic lacquered nylon, trousers with thick-weave biker padding jackets and waistcoats of clean geometric lines. This is topped by accessories like gloves, backpacks and balaclavas, and, not to be missed when collaborating with Kith, footwear. The footwear comes in a variety of boots made of nubuk or calf leather with shearling lining.


The color palette represents the colors of the French flag, deployed in linear and geometric form for maximum style and renewed appeal. The collection is a match of names and symbols of both Moncler and Kith.

The second drop of the collection is the collaboration with Asics featuring exclusive sheepskin-lined suede trainers, named KITH x MONCLER x ASICS, blends different manufacturing techniques in unique pieces. Ranging in calf and suede leather, the shoes are available in navy red and off-white colors.

The launch of the main collection will take place on December the 2nd in Moncler and Kith stores as well as online. From December the 8th the second part of the collaboration with Asics will be available.

www.moncler.com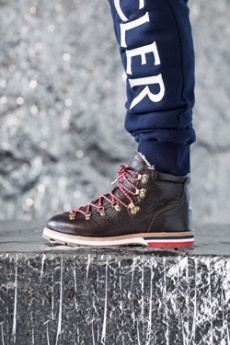 Fashion
Kenzo: To Keep And To Hold
Kenzo Takada's impact on the fashion landscape is one that can still be felt far and wide. The designer's ground-breaking success paved the way for many other foreign designers to venture towards the French capital, often times with nothing more than dreams in their suitcases and insatiable ambition fuelling their drive. Current creative directors Carol Lim and Humberto Leon have always strived to keep that feeling of openness alive since joining the brand in 2011.

By honing in on the boundless energy and creativity that characterised the maison's founding father, the pair's creations honour the house's legacy, including its original spirit and visual language. La Collection Memento No 1 – rooted in pieces that were created during Takada's journey – is a new series that echoes the now-established brand's history, celebrating its rich archives with pieces that are Kenzo through and through. What's more, this isn't a one-off – it is merely the first chapter of a story that is bound to keep us coming back for more. It was Takada's collaboration with image maker Hans Feurer on a ground-breaking advertising campaign that inspired the first instalment of this retrospective. Shot in Lanzarote and featuring modelling icons Sayoko and Iman, the campaign challenged the boundaries of fashion advertising and artistic imagery, ushering in a fresh take for Kenzo's collections.
The floral prints of that very collection serve as the foundation for Lim and Leon's modern interpretation, spurring them on to delve even deeper into the archives – a veritable treasure trove of references for any self-respecting fashion enthusiast. Knitwear and dresses from Fall 1981, and a wool beret from ten years before, inspired the tailoring evident in the women's collection. High collars on ruffled smock dresses and floral prints are combined with iconic Kenzo detailing, like lion, elephant and wild animal prints paired with platform sandals and socks. For menswear, warm winter down coats are shown alongside cotton poplin printed pyjamas. Reversible coach jackets with eagle jacquard and varsity jackets walk alongside each other, and denim backpacks from the darkest corners of the archives are transformed with the addition of Kenzo's floral prints from Fall 1983. In advance of the in-store arrival of La Collection Memento No.1, the American duo also announced the launch of their new unisex sneaker, the Kenzo Move. With the versatility of sneakers for everyday life, including their ability to stand their ground for all occasions, the Kenzo Move follows the same trajectory as the collection itself. An archival tiger motif adorns the sneakers whose simple, clean lines are the perfect pairing for the accompanying bright colourways. Bright red and flashy pink, cool mint, blue and black – these will be pounding pavement near you before you know it!

www.kenzo.com
Art
Fondazione Prada Presents "Slight Agitation 3/4: Gelitin"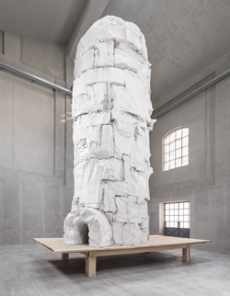 "Slight Agitation" is a four part-project of newly commisioned, site-specific works hosted within the Cisterna of the Milan venue of Fondazione Prada. The third chapter of this exhibition project is an instalment by the Austrian collective Gelitin and called "Slight Agitation 3/4: Gelitin". The project, titled POKALYPSEA-APOKALYPSE-OKALYPSEAP, features three large sculptures, which explicitly address classical architectural archetypes: the triumphal arch, the obelisk and the amphitheater. These rhetoric and monumental components are symbols as much as structures conceived for everyday inhabitation. The sculptures draw an arc from the insular and individual to the open-ended and collective, from the overtly erotic to the sublimated joy of togetherness. The central space of the Cisterna is occupied by Arc de Triomphe (2003/2017), which is a reproduction of an elephant-high male figure, bending over backwards, made of plasticine.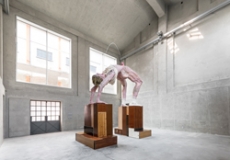 The presence of a fully functioning water fountain transforms the exhibition space into a collective one, manifesting Gelitin's liberating artistic approach. In the left side of the space, another gigantic sculpture, made up of polystyrene blocks, resembles a typical Inuit construction or a cigarette on top of a big table. The third sculpture, a wooden upward spiral, is reminiscent of an antique amphitheater. Visitors can enter the sculpture and are even invited to smoke a cigarette in the center of the installation. This banal act makes them instant protagonists of a short, ephemeral act that positions itself, according to Gelitin, somewhere between Samuel Beckett's Theater of the Absurd and a karaoke performance. The exhibition will be open until the 26th of February 2018.

www.fondazioneprada.org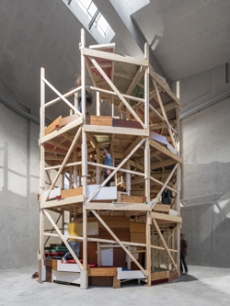 Fashion
The Piazza by Bottega Veneta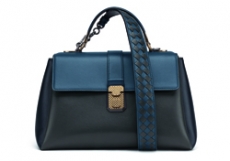 The ideal bag is often described as versatile, elegant and convertible. The newest bag Bottega Veneta created for their Cruise 2018 collection is combining all these attributes. It is a fresh take on the classical top-handle style. With The Piazza the Italian fashion house has transformed the traditional silhouette for today. Sleek, timeless lines and graceful design make the bag, crafted out of calf skin, an epitome of modern elegance. A soft construction, an internal compartment and a cross-body-strap, for some styles with an intruiging intrecciato detail, combine design and function successfully. A wide color palette of neutral tones as well as reds, greens and blues makes sure there is a The Piazza for every taste.

www.bottegaveneta.com
Fashion
The Plunge
At the poolside on a summer's day, Bono and Jack Nicholson are having a casual conversation. Captured in black and white, it's a spontaneous snap of a private moment, caught on camera by Jean Pigozzi. He brought them together at the villa, which was built for his father in Cap d'Antibes in 1953. There is a saying: Great minds think alike. Apparently, they also vacation alike. Pigozzi's small format exhibition Pool Party brings genius musicians such as Mick Jagger and iconic models like Naomi Campbell together in portraiture, enjoying sunny days at his private pool parties in the south of France in the early 90s. It is currently being shown at the Museum of Photography and Helmut Newton Foundation in Berlin, in June's room. Helmut and June Newton frequented his summer parties as well – a secret getaway. While Pigozzi's images let the viewer take a plunge into a summery setting to explore the life of the rich and the famous, this is only one aspect of the tripartite mix of exhibitions. Another friend and colleague of Newton shares the space, in the form of Mario Testino's site-specific installation called Undressed.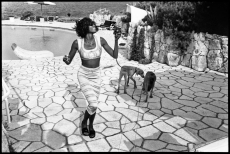 It's a combination of a number of previously unpublished fashion and nude portraits, which analyses the physical notion of undressing. It blurs the boundaries between fashion and eroticism, between anatomy and art. The presentation of the images is especially a sight to behold. 50 larger-than-life images are affixed to the walls of three exhibition halls, reaching into the corners of the room and touching the ceiling, thereby creating a landscape of human bodies. Nudity becomes nature. Unseen rounds off the complementary selection of exhibitions with original prints of Newton's own images, mainly focusing on photographs combining nudity and fashion in a subtle way. There are many never-before-seen images from the archives mixed with famous portraits of Jeremy Irons at the Ritz Hotel in London, or Michael Gross at a swimming pool in Dortmund, reuniting the returning themes of all exhibitions. The arrangement of images goes full circle. The exhibitions "Mario Testino. Undressed / Helmut Newton. Unseen / Jean Pigozzi. Pool Party" are on display until November 19, 2017. The Museum of Photography / Helmut Newton Foundation is located at Jebensstraße 2, 10623 Berlin, Germany.

www.smb.museum
Fashion
Hermès Women's Ready to Wear Spring/Summer 2018: A Playful Colour Story
For the Hermès Women's Ready to Wear Collection SS18 Nadège Vanhee-Cybulski was inspired by the classic bourgeoisie codes of the French maison and the 1990s. Playful deconstruction and reconstruction were the leading motives for the designs. Well-known Hermès silk-prints reappear on blouses, pants and coats shaped into feminine and modern silhouettes. An equestrian touch is added by a saddle blanket, reinvented as a cape, and colourful tartan prints. Neutrals and earth tones add a modern feel to the collection. Elegant dresses are wrapped around the models in a special way and indicate femininity. The modern and artful pieces are honoring the savoir-faire of Hermès and the cheerful colours make us wait for the warmer season with anticipation.

www.hermes.com
Fashion
Yohji Yamamoto Spring/Summer 2018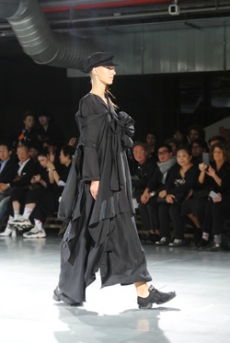 The sound of Yohji Yamamoto's guitar and his slow chant of a few verses in French that sounded like a melancholic ode to the passing of time served as the backdrop of his show in the harsh concrete space of Cité de Mode et du Design along the river Seine. Walking at a slow, almost meditative pace, forty looks slowly approached the audience. It's not the first time that Yohji Yamamoto staged a show far from the usual fashion speed where models storm in walking at a frantic tempo. It's his own way of refusing the routine of the fashion system, the unbearable seasonal timing and the glossy world in toto.
For Spring Summer 2018, the Japanese master worked on one of his favourite elements: the button. Appearing in white, black and red it served as the focal element in order to form impressive deconstructed silhouettes in the designer's signature black, with splashes of white, grey and red. Intricate forms were the absolute protagonists. Knotted, layered, attached, draped in outwear, jackets and dresses.

It felt like a return to the radical Yohji Yamamoto from the early years, the Yohji Yamamoto who, just last season, reflected on the passing of time, on death, on the future of his brand. Few dresses with organic transparencies and the floating scarves in skirts in other looks suggested the soft fragility of the feminine identity, its fluctuant form in constant motion. The final dresses with an unexpected open back on a pristine and composed front like that of a shirt and high collar dress, once again played with the idea of duality, of contradiction. Themes dear to this master whose vision is still as strong as ever.

www.yohjiyamamoto.co.jp


Art
FENDI announces partnership with Galleria Borghese
The Italian fashion house Fendi has always had a strong connection to Rome and the fine arts. It all started, amongst others, with the restauration of the Trevi Fountain in 2015, followed by the opening of the first floor of Palazzo della Civiltà Italiana to the public, where Fendi's headquarters are now. The brand recently announced a three-year-partnership with the prestigious Galleria Borghese in Rome, which is guarding the most relevant and best preserved paintings by Italian painter Caravaggio. Hence Fendi will be supporting the Caravaggio Research Institute, which sees the constitution at Galleria Borghese as a center of studies, diagnostics and artistic-historical research aiming to become a primary reference. To spread the word about the project, Fendi and the Galleria Borghese created an exhibition on the artist which will be taking place all over the world at the most high-end-venues. However, the first exhibiton that Fendi will be supporting is the "solo one", which is dedicated to Gian Lorenzo Bernini, the most representative artist of the Baroque period in Rome. The exhibition will be inaugurated on the 31st of October and will be open to the public from November 1st 2017 to February 4th 2018.

www.fendi.com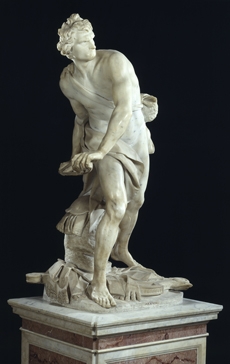 Fashion
Dries Van Noten Spring/Summer 2018
A little white silk scarf as the invitation. The dual meaning of its simplicity and its connotation as a blank canvas upon which to create anything possible.

The canvas of what Dries Van Noten declared to be one of his main inspiration for this season? Picasso's Femmes à Leur Toilette, the artwork created in 1938 by using the technique of collage comprised mostly of found wallpapers scraps.
Within that same spirit Dries Van Noten's Spring Summer 2018 is a collage of different prints, silhouettes, textiles, and decades, carefully and exceptionally matched together as only Dries Van Noten is able to create, with a splash of pink hues over the entire collection.

A joyful and positive message against the dark times we are facing daily, as the Belgian designer declared backstage
There were slip dresses in monochrome powder pink, followed by checked suits with 90s shoulders and a tulle veiling over it, beautiful scarf-dresses reminiscent of the 70s, and of course the kimonos, the sparkling jacquard , the bomber jacket, the oversized sweaters over silk scarf-skirts .

All the Dries Van Noten elements in a vortex of mismatched prints and colours. It is almost contradictory how the collection comprised of all these motifs resulted in an extreme elegance, whispered, confident. Dries Van Noten is one of the few designers who can work with such a broad palette of codes and emotions while staying true to his rhetoric.
As the collection was presented in the dazzling space of the Hotel de Ville - dazzling as the make up created by Peter Philips with crystals laid along the lower lip and around the eyes – it gave a sense of romantic nostalgia when the a cappella version of "Be my Baby" resonated as the first look walked in. And we can't help but humming that tune.

www.driesvannoten.com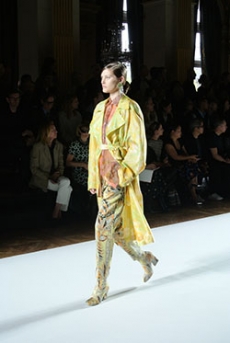 Fashion
Welcome to G-Star Mat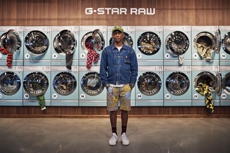 In the presence of esteemed guests from the realms of fashion, music and cinema, Pharrell Williams toasted the launch of the G-Star Elwood X25 at G-Star Mat, a space that embodies creativity and self-expression.
The classic G-Star Elwood was reimagined in 25 bright and beautiful prints that meld motifs from the natural world – from poison dart frogs and butterfly fish to leopards and whale sharks – with renderings that pay homage to cultural diversity and include ornate Indian paisley prints and Japanese kimono embroidery.
Like the prints, the space itself was also designed to champion creativity by way of transforming an otherwise ordinary space into a surprising, aesthetically pleasing environment. Sleek Laundromat machines, each containing different print iterations whirred with activity, allowing guests to see the inspiration behind each print and encouraging them to interact with the space itself and one another as if on a movie set.

www.g-star.com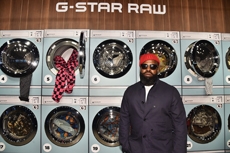 Fashion
Zegna's 'Defining Moments'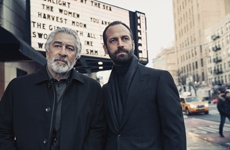 For the second iteration of its 'Defining Moments' campaign, Ermenegildo Zegna has brought on Hollywood legend Robert De Niro and Benjamin Millepied, the French choreographer responsible for Natalie Portman's dramatic dancing in Black Swan. The global advertising campaign will run starting August 22nd on a multitude of platforms. The 'Defining Moments' omni channel initiative was first introduced for the Spring/Summer 2017 season, and reflects the emotion and people-centered voice that Ermenegildo Zegna supports in its brand statement.
Both De Niro and Millepied come from different eras, countries and fields. But surprisingly, they have a lot in common: both share a love for New York, sophistication, elegance, and culture. Together with Alessandro Sartori, the Artistic Director for Ermenegildo Zegna, and film-maker Francesco Carrozzini, a dialogue is formed between De Niro and Millepied. Together they discuss their passions, values, and defining moments in their careers: an insightful and intimate conversation which covers their artistic expressions, and how it has framed their life choices.

www.zegna.com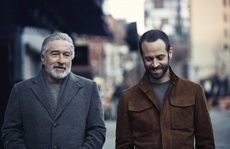 Fashion
Go With the Flaw!
Always eager to challenge conformity and outdated notions of flawlessness exacerbated by social media and endless filtering as a means to perfection, Diesel strikes again with a new campaign bursting at the seams with positivity.

It's time to Go With the Flaw! You got that right, forget the flow, embrace the flaws and find the bravery to wear them with pride as an intrinsic part of your true self.
The campaign is focused around a film by François Rousselet, the French director behind collaborations with the likes of Snoop Dogg, Madonna and The Rolling Stones while print and billboard imagery was shot by photographer Tom Sloan.

Edith Piaf provocative and unapologetic 'Je ne regrette rien' provides the perfect soundtrack as the cast embrace the uncomfortable imperfections of everyday life and rise above it with smiles on their faces.
A carefully curated cast of people with interesting features front the brand's latest campaign. Each and every one of them selected by Diesel's Artistic Director Nicola Formichetti for one simple reason: "Being unique is much more beautiful than being perfect".

The official launch of the 2017 Fall Winter campaign will take place in Beijing on Wednesday, September 6th and will be accompanied by a limited edition capsule collection with Chinese music idol, Chris Lee, that advocates a candid approach towards one's ego and celebrating imperfection.

www.diesel.com
Fashion
SKEPTA x NIKE
Skepta's collaboration with Nike is launching on September 2nd. The British grime artist worked with the sportswear giant on a fresh look for their classic Air Max 97 model, sourcing inspiration from his London council estate upbringing, his Nigerian heritage and from a recent trip to Marrakesh.

Talking about the Moroccan city, Skepta gushed over its pastel colors, geometric architecture, lively taxis, and the magical worlds hidden deep in the souqs. Local street style merged with traditional clothing was a huge influence in his design decisions as well: "The style reminded me of Nigeria — the way people wear such casual and practical clothing," he said. "I wanted to introduce embroidery to the streets, a place where people don't feel entitled to certain things; I wanted to make us feel good, really." He is referring to the braided embroidery detail on the tongue and on the back that, along with the playful print on the insole, harken back to these North African roots.
The dark burgundy and olive shiny finish is a throwback to another '90s Nike classic – the Air Tuned Max – which Skepta owned as a child. He recalls: "That was the first shoe I ever saved up money to buy, so I wanted to bring its magic to the 97 – the magic that made me first love Air Max when I saw it as a child." A deeply personal and culturally rich project, Skepta's Nike Air Max 97's are likely to go down as one of the brand's most successful collaborations.

www.nike.com
Fashion
Loewe Spring/Summer 2018 Menswear
A sea of Mimosa flowers. This tiny yellow common Mediterranean flower welcomed us in the HQ of Loewe in Paris.

Stripes – multicoloured or bitonal – fresh cotton, canvas with the signature's leather details. Loewe Menswear Spring Summer 2018 it has all that summery allure of Spanish Riviera.
Sometimes you would see "Loewe Beach Club" or "Summer Love Loewe" on tees, maxi totes with nautical references in cord or raffia.

Jonathan Anderson choose Salvador Dalì's hose in Catalonia as place for the seasonal lookbook shooting, the surrealist and playful atmosphere.
It's a fresh and youthful collection with a relaxed feeling compared to the previous season but keeping Anderson's signature: the little objets trouvé as key chain and charms, tapestry details, the anchor motif and spectacular details.

As Loewe Menswear collection is evolving season after season finding its audience, its market and vision, we keep seeing that exquisite naiveté and a nostalgic sense of memoire retrieving that Anderson has been working on for a while now.

www.loewe.com
Fashion
Sacai Spring/Summer Menswear & Women's Pre-Spring 2018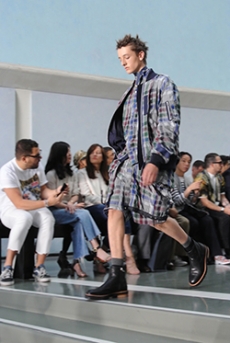 Chitose Abe's new collection for Sacai is a tribute to the duality of genders, the investigation in terms of Men/Women clothing. This season the show was featuring men's Spring Summer together with Pre-Spring Womenswear.

As the models walked in squads, there was a strong sense of group, of subtle genderless interpretations.
Like the beautiful Menswear checked looks entering the spectacular venue of Cité de la Musique together with their female counterparts. Oversized sporty for him, layered - at a time short - dress for her.
Abe's playing with different elements between the formal and the sporty, the sculptural and the sleek almost in an ode to freedom at its core.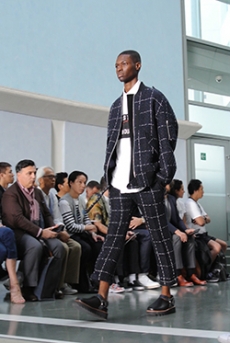 There was a lot of that deconstructed and cut-ups from Abe's DNA. But also a new streetwear simplicity declined for both sexes. Oversized, sculptural jackets with fringes hinting to Western Americana with sculptural bell sleeves for her or a sporty silhouette for him. The beautiful declinations of checked looks, a signature pattern for Sacai's vision, were the most outstanding in terms of layering and transparencies play. The collaboration with pioneer conceptual artist Lawrence Weiner and his typographic artwork was another take in terms of that freedom of expression Chitose Abe reaffirmed looks after look.

"STATIS AS ON VECTOR ALL IN DUE COURSE", featured almost as graphical pattern on full looks in black over white and vice versa felt minimal but once again provocative.

www.sacai.jp
Fashion
Dries Van Noten Spring/Summer 2018 Menswear
The fluidity of a soft blazer, a silk kimono wrapped over relaxed pants and a shirt. A confident look without being loud. A soft toned collection, with a hint to workwear and a beautiful relaxed tailoring.

This is Dries Van Noten at his core, the Dries Van Noten who voices the darkness of life and doesn't feel the urgency to talk always in bright coloured notes. The Dries van Noten from the early years.

It is always extremely overwhelming to experience a show of this celebrated master. The integrity and the strength of his poetic vision. For this season the show was held in the historical offices of the iconic left wing French newspaper Liberation.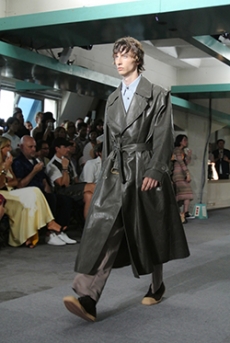 As we climbed up to the venue at the top floors of the 8-storey building from its parking ramps, we were gradually feeling this atmosphere, the weight of history, of knowledge and of thoughts.

Mustard, khaki, or zabaione as the show notes pointed out, the colour palette led to an elegant but youthful menswear collection true to the brand's signature.  

Shorts with linen boxy shirts, oversized and slouchy sky blue blazer paired with a shirt in cerulean shade and classic pants, belted trench coats.

It's that relaxed attitude in Menswear that several designers have been embarking on lately, that cool oversized look that Dries van Noten has created 25 years ago.

www.driesvannoten.com
Art
Lunar Garden
"After spending many years traveling to Japan I became fascinated with the dry gardens in Kyoto, specifically the way in which the gardens are permanent yet completely ephemeral and remade every day," said Daniel Arsham, an american artist who studied at the Cooper Union in New York. His new solo exhibition is on view at Visionaire in New York until the 5th of November.


The work, titled "Lunar Garden," is a combination of architecture, sound, and an immersive environment that reinterprets the traditional Japanese rock garden: surreal and dreamlike, Arsham's oasis uses a vibrant pink color scheme, features a moon-like orb spanning 3 meters, and peculiar patterns in the sand that the artist freshly rakes every day. Traditional greenery, such as the bonsai, has been replaced by a petrified tree and a lantern. For Arsham, the use of color is a new experiment. Previously, he has relied on a palette of black, white and gray tones. The reason for this shift is that Arsham is colorblind, but has recently been able to see vibrant colors thanks to special glasses: the radical change is his sense of sight and perception of color has prompted an important new visual language for the artist which can be witnessed for the first time in "Lunar Garden."
Fashion
Wood Wood Spring/Summer 2018
Wood Wood takes a trip to the Italian province of Campania for its Spring Summer 2018 collection. The Italian coastlines have provided many a designer with tons of inspiration in the past and continue to do so regularly: steep mountains rise from the Tyrrhenian Sea and rugged sceneries intermingle with country landscapes giving birth to this season's colour palette.

While journeying through the picturesque island of Capri the designers were greeted by the incomparable carefree and comfortable way of local life. It wasn't long before they were infatuated; could it have been the food, the wine or the late night dinners? It could have well been all of the above, elements that compose that general feeling of Mondanità that we so lack nowadays.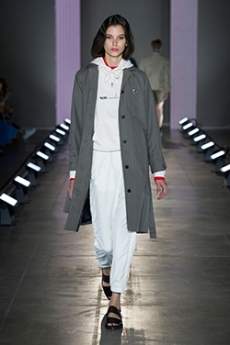 Vintage signs and powerful quotes from noted Italians such as Federico Fellini and Ettore Sottsass, manifest themselves in the print stories and graphics of the Spring Sumer 2018 collection that harken back to Anthony Minghella's "The Talented Mr. Ripley".

For Wood Wood's Mondano collection, Italian stlye and bright colours intermingle, creating a fresh and optimistic offering that stays loyal to the brand's attitude. Streetwear is mixed with contemporary detailing and performance styling. Formal suiting is blended with contemporary sports and streetwear codes in a bright and optimistic colour palette dominated by bright reds, yellos, deep green, orange and grounded by the addition of beige and brown.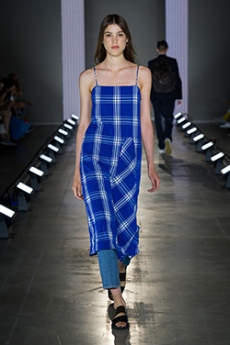 Fashion
Prada Spring/Summer 2018 Menswear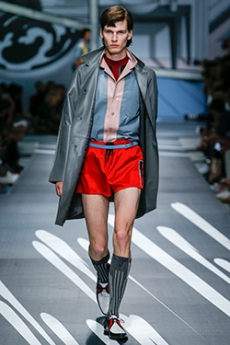 Remaining faithful to her eclectic style that has the ability to transform everything, from the most mundane to the most regal, into high fashion, Miuccia Prada turned her gaze to comic books for her Spring/Summer 2018 Menswear collection. You may be thinking of oversized capes a la Superman billowing in the wind but there was none of that!
"On one side there's virtual reality and on the other the reality of the human part" said Miuccia Prada backstage justifying this season's inspirations and how these shaped the sporty and streamlined collection presented in a space lined with oversize comic book graphics complete with a light beam-shooting Prada spaceship and speedy steam trains.

Even though comic books may deal at times with the realm of the fantastical, the sci-fi and the bizarre, for Miuccia Prada, it was a different quality they possess that propelled her to utilise them as the central theme of both her collection and runway décor. "They are hand-drawn, human, simple and real", she said. Need we say more? Shirts with ample shoulders in red or black nylon and sleeves rolled up high, fanny packs and popped collars once reserved to the frat-boy look get the Prada seal of approval this season. Silhouettes were super cinched-in at the waist, a pattern visible throughout many ensembles.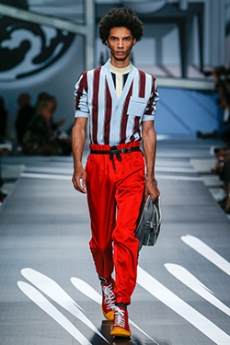 Elsewhere, high technical knit socks were paired with short shorts in bright red or cool, steely grey as if harking back to something that wouldn't have looked out of place on a 1970s baseball court. Steering away from such a literal interpretation, however, Prada paired the micro shorts with pointed oxfords – there was no Chuck Taylor All Star in sight. For those less keen on showing off their pins, enter the jumpsuit proposed by the iconic fashion house in navy or black, a clear continuation of the utilitarian dressing trend.

www.prada.com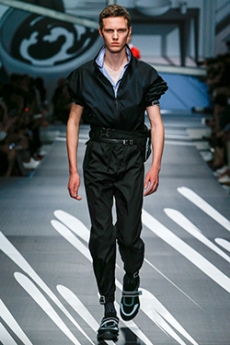 Fashion
Plein Sport Spring/Summer 2018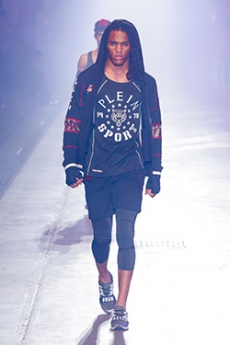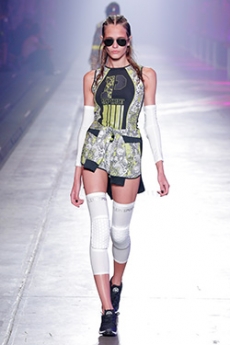 This season the vision for Plein Sport was a futuristic gladiatorial combat, in a world where survival of the fittest becomes a way of life. As pole dancers perform on stage, fighting cages are lowered into the arena and twenty pro wrestlers and boxers set the tone for what's sure to be a fashion show that has Plein written all over it. Both literally and metaphorically.

As Plein Sport warriors take to the runway, one thing becomes apparent, functionality is of the utmost importance: sweatshirts, hoodies, leggings and vests are produced with technical, intelligent fabrics for a line that strives to be perceived as an innovative performance kit rather than a series of fashion statements in leisure wear.

Pieces are designed to move with the body, accompanying its every step with stretch materials and netting that stand the test of intense exercise and high temperatures whether you're on the streets, the ski slopes of the treadmill of your gym. Motivational mantras complete the garments, emblazoned across sear pants while metallic fabrics pay tribute to the silver masks of El Santo, Mexico's iconic wrestling hero.

Harder, Better, Faster, Stronger… Plein Sport shows no signs of slowing down just like a determined, disciplined athlete hungry for the win.

www.philipp-plein.com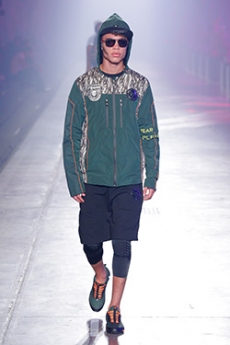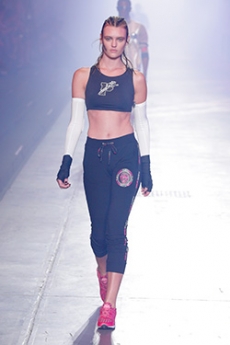 Fashion
Versace Spring/Sumer 2018 Menswear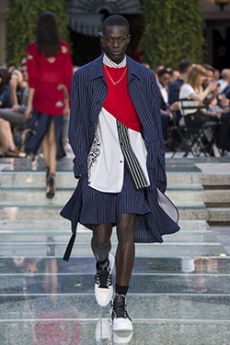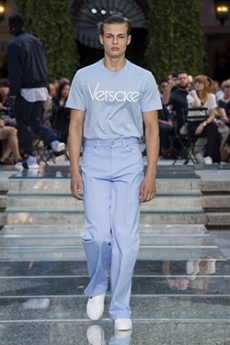 Passion for the craft of fashion is something that runs deeps at Versace. Hate it or love it, it's a fact that the roots of the Maison's values run deep and are intrinsically connected to family. As this year marks the 20th anniversary of Gianni Versace's tragic death, it may come as no surprise that this collection was partly a homage to Gianni himself, a fresher take on the codes that cemented him as a household name in fashion.

Pinstripes are refreshed and remixed with stong-shouldered tailoring or shirts where pinstripes are made to contrast and clash with one another. Powerful prints were added to the mix this season: the utility of a tech blouson is contrasted with the romantic "Balletto" print while the "Angelo" print that appears on a sharp quilted bomber. Elsewhere, a classic Versace logo looks totally new, embroidered in white stitches on a baby blue or pale pink T-shirt, worn with matching straight leg jeans.

The menswear offering was accompanied by a special womenswear capsule collection designed and presented entirely to complement the men's. Chock-full of pinstripes, cut-and-clashed prints and rich embroideries the models strutted down the catwalk with black headbands reminiscent of Gianni's last couture show.

"This collection is like a homecoming. It's about the passions that define Versace, the complexity of men, the energy of today," said Donatella Versace.

www.versace.com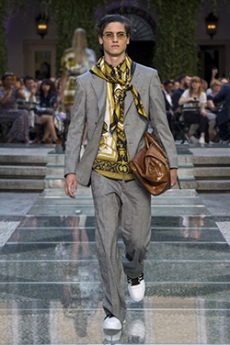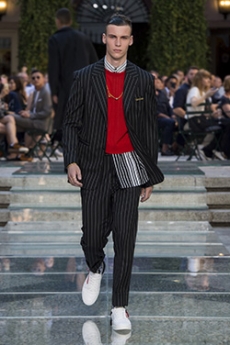 Art
Fendi pays homage to Rome with Giuseppe Penone's Foglie di Pietra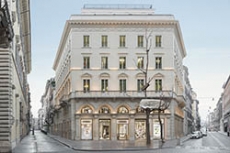 Following Giuseppe Penone's Matrice exhibition hosted at Fendi's headquarters in Rome's Palazzo della Civiltà Italiana, Fendi installs a new site specific artwork by the artist entitled Foglie di Pietra in Largo Goldoni. Thus, FENDI renews and highlights its undying bond with Rome by gifting the city and its people important artwork from one of the most celebrated contemporary sculptors.

Foglie di Petra (Leaves of Stone, 2016) is one of Penone's most complex artworks: two tall bronze trees standing at 18 and 9 metres respectively, interlace their branches five metres above an 11-tonne sculpted marble rock. Archaeology and ruins, history and biology are intertwined with one another bringing attention to the permanent bond between nature and culture. A celebration of a deep synthesis between the flowing of natural and human time through a longing and romantic nostalgia for lost civilisations.

Through virtuous use of precious materials such as bronze and marble, Penone's Foglie di Petra recalls the illusionism and marvel of Roman Baroque, while the fragments and the ruins inserted in the sculpture's branches harken back to the Classic and Medieval era. What's more, the artwork is the first oeuvre of a contemporary artist to be permanently installed in Rome's public spaces and is bound to become a symbol of the identity of an ever-changing city that remains steadfastly linked to its historical roots.

www.fendi.com
Fashion
Ermenegildo Zegna launches Bespoke Atelier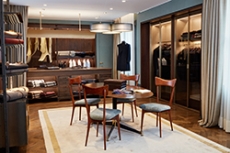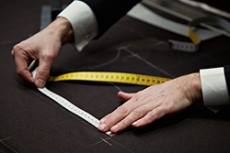 March 15th 2017, marks a pivotal stage for Ermenegildo Zegna, as it announces the opening of the first Bespoke Atelier. The space is dedicated to the label's bespoke service and is locate at the top floor of the Zegna building in Milan's renowned via Montenapoleone.

The stand-alone project revolves around the idea of intimate elegance with a distinctly Milanese feel and treats its bespoke services with a precise ritual. The experience begins right at the entrance where clients are welcomed by a valet and ushered in the Atelier which is conceived to comply with aesthetics and functionality of traditional tailoring ateliers: an apartment cum workshop with the public and working areas connected yet separable.

The large space is furnished with both vintage and new pieces as well as pieces that hark back to Zegna's very own history. Warmth and charm intermingle with a domestic feel making this a truly unique tailoring experience that strengthens the dialogue between the Milanese brand and its customer base of men of discerning taste who aim to have their wardrobe made according tot heir own desires, demands and lifestyles.

www.zegna.com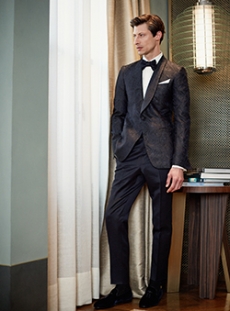 Fashion
Céline Fall/Winter 2017
"The spectator is caught under a cloudy or a starry sky, surrounded by ocean waves or masses of people running towards him, while he is entranced by the dramatic actions of the central round arena. The division between acting and the audience no longer exists. Words, light and music no longer have a set place […] The director alters position and spatial forms and mercilessly subjects the audience to the dynamics of his imaginations".

Walter Gropius's words during 1934 Volta congress in Rome resonate strong in Phoebe Philo's setting choice for her Celine Fall/Winter 2017 show. It's not the first time that a fashion designer is fascinated by the visionary ideas of the Bauhaus pioneer for his Total Theater, where the audience was supposed to revolve during the performance, shifting the spectators and the stage area to alter the viewer's scale of values and forcing them to participate in the act.

We have known Phoebe Philo for her no-nonsense vision and relaxed, elegant silhouettes as the embodying of the powerful, confident working woman who has no time for superfluous fuss. The catwalk was populated by a tribe of women, with their different life, different tempo, like we would find in any busy street.

At first glance Celine Fall Winter 2017 is just all that. Exceptional tailoring and gimmick-free looks: the long trench coat, oversized tuxedo blazers, long tunics with matching fluent pants for the day and a modern version of emperor dresses for a more dress-up feel, a crisp white shirt.

But Philo's masterly created a collection again beautifully lying in the details, revealing its stance dramatically at a closer look.

The collection featured beautiful origami-like seam lines as mimicking the movement of the body and its presence. Like when you bend your harm and a crisp fabric would inevitably crease. It's real life that Philo delicately suggests. Real women who don't need to scream.

www.celine.com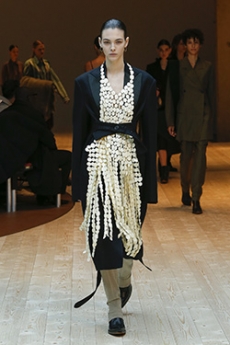 Fashion
Mugler Fall/Winter 2017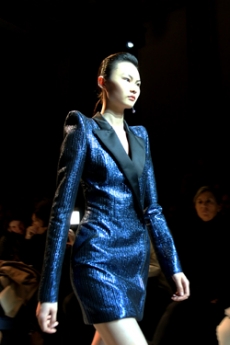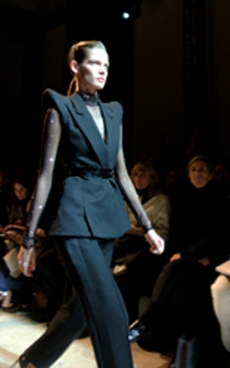 Natasha Poli storming the catwalk in a blue patent leather blazer with arched shoulders and slim pantsuit. The atmosphere was fierce and as the models powerfully marched in one after the other, the message that creative director David Koma surely had in mind was clear: effortless and daring, Mugler's woman will not be unnoticed.

Don't be mistaken: this is a powerful and confident woman who will embrace her body, in all the declinations, with no fear.

David Koma created a collection constellated mainly with evening looks. Vertiginous minidresses with cut-out star details at the bottom hemline or embroidered on the bodice, hourglass silhouettes with pleated lamé in acid green and electric blue, a long white gown with pleated contrast silver lamé. But also power suits with sharp sculptural shoulders in contrasting colours, pants-blazer combo in white, silver, black.

The last look, a dress deconstructing the idea of a smoking suit into an evening gown, said it all: Koma is in search of reinventing the house codes, keeping the identity of this iconic brand strong.

www.mugler.com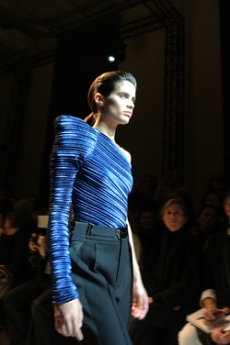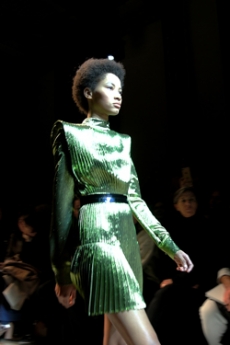 Fashion
UNDERCOVER Fall/Winter 2017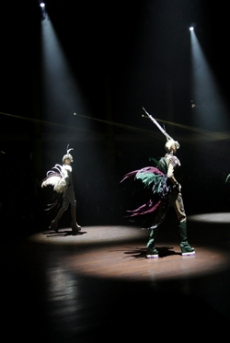 The Faun, the nomads, the young rebels. But also the aristocracy and new gracious creatures. Jun Takahashi's imaginary world for Undercover Fall Winter 2017 had the feeling of a long distant fairy tale fostering castles and princesses with gargantuan costumes and an ethereal atmosphere.

Like voices from afar, whispering a secret message, the sound of wind chimes as hung to push the spirits away, turning at the very end in a mesmerizing voice, singing on an incredible piano melody. Radiohead Thom Yorke's fantasy, created ad oc for the show, was the perfect stage for Takahashi's Utopia.

It was not just a spectacle. It was a beautiful collection where the clothes stood strong, masterly styled, layered and carefully balanced. Knitwear in long dresses, tunics and sculptural coats as out from Coppola's brash "Marie Antoinette". Fur trimmed puffa jackets and long velvet skirts. Sweatshirts with metal studs, embroidered with unicorns and insects. A beautiful crimson red, moss green, shades of cerulean blue and a bold yellow, painted this beautiful story. A story of humanity itself. The platform shoes and boots, reminiscent of the faun's goat legs pushed this narrative image even further, in an enchanting atmosphere.

The Undercover show was a breeze of fresh air during a fashion week heavily politicised.

www.undercoverism.com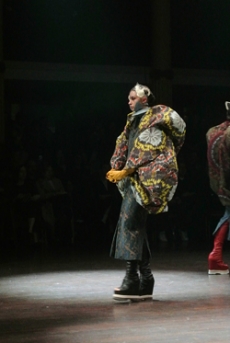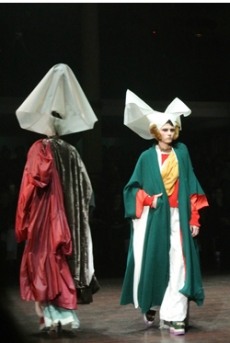 Fashion
Louis Vuitton Fall/Winter 2017: Forging Frontiers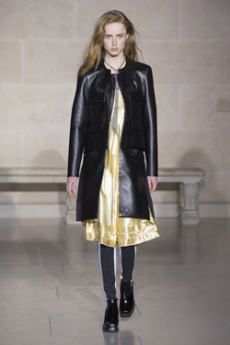 Nicolas Ghesquière had one goal in mind for his Fall/Winter 2017 collection as head of Louis Vuitton – pushing boundaries like the legendary French fashion house has been doing since its 1854 beginnings. Frontiers are meant to be broken down and Louis Vuitton has been at the forefront of innovation, know-how, design and travel, all elements that set it apart from its counterparts are continue to characterise its offerings every season.

Ghesquière wanted to re-create that very sense of boundarylessness that doubled as more of a directional seasonal messages rather that an array of options for city living. This was an evocation of the nomadic, where the city blends with distant landscapes, the masculine blurs with the feminine and Louis Vuitton heritage meets a thirst for the future. A new play of stylistic lines emerges: great American sportswear classics and Slavic accents, inspirations from fashions of the past translated into the world of today, urban classics fused with the magnetic pull of folklore.

This may come as no surprise but beautifully-treated leather was central to this collection: super polished or crackled giving the impression of age and wear. What was perhaps more noteworthy is the attention that designer paid to fur this season. Short-sleeved, patch-worked jackets were paired with relaxed, cropped flares but could up the ante when thrown over an evening dress.

Ghesquière's evening wear offering moved away from last season's dramatic naked dresses. He opted instead for knee-length slip dresses with elaborate pleats, lace insets, sheer details and fabrics with clashing prints in an attempt to infuse the collection with an easy-going, laid-back attitude.

www.louisvuitton.com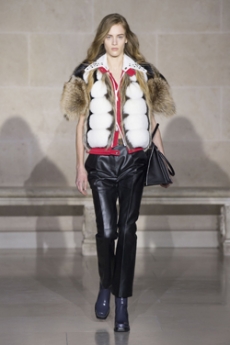 Fashion
UGG is REAL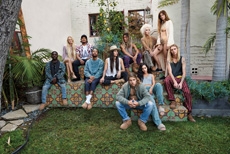 A new global marketing Spring/Summer 2017 campaign has been launched by UGG to break down stereotypes.

Aptly titled "REAL" and bearer of a strong message, the campaign features a collective of authentic Californian artists, musicians, surfers, creatives and eccentrics that in their provocative, progressive and free spirited attitudes mirror the core values of the Californian fashion apparel.

Inspired by the beaches, mountains and iconic architecture of California, the stories of Tasya, the songs of Warm Brew, the trips of Colleen and many others will mix together to give birth to a whole contemporary romance where diversity is the main splendid character.

www.ugg.com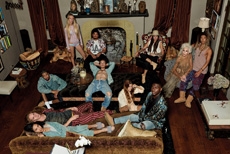 Fashion
Pal Zileri Spring/Summer 2017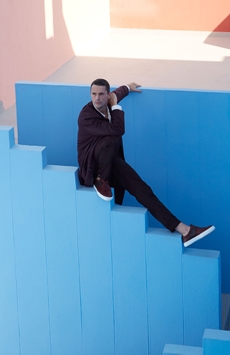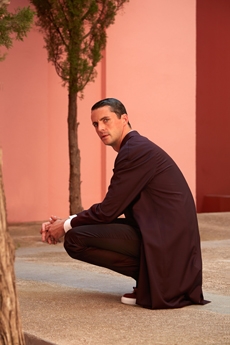 British actor Matthew Goode fronts the new Pal Zileri Spring/Summer 2017 ad campaign perfectly embodying the mix of elegance and contemporary tradition that defines the brand's aesthetic.

Shot by German photographer Dylan Don outdoors in the ground-breaking Muralla Roja compound is Calpe, Spain, designed by Spanish architect Ricardo Bofil, Goode displays a unique and controlled attitude against the sun-soaked hues of the buildings.

Color, light and the graphic lines of both the location and the clothes play a key role in expressing the essence of the collection and its distinctive mismatch of 3D textures, volumes and shiny/matte effects, all awash in terracotta red, turquoise, plum, sky blue and burnt orange. The striking architecture of the Muralla Roja building, characterized by interlocking strairs, platforms and bridges, exalts a lifestyle appeal that Goode elevates with his effortless and dynamic sprit, melding time-honored savoir-faire with a fashion-forward twist.

www.palzileri.com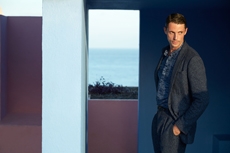 Fashion
Mode Suisse Edition 11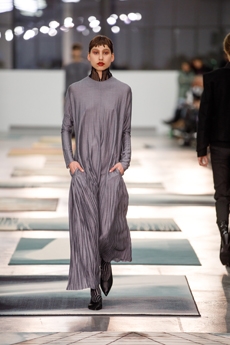 February 8th 2017 marked the showcase of Mode Suisse Edition 11 at the Migros Museum fur Gegenwartskunst in Zurich. Once again, a wealth of design talent was represented. Among them high-flying label Julia Seeman, Garnison's post-dandy menswear, LYN Lingerie's luxury handmande collection, Julian Zigerli's second appearance of womenswear and gender-fluid menswear that have made him a household name as well as Berlin-based experimentalist womenswear label studiowinkler. Additionally WUETHRICHFUERST made their much-anticipated debut.

The evening's highlights included the showcase of Masters' students Jeremy Gaillard, Flore Girard de Langlade and Vanessa Schindler, who is the winner of the Prix d'Excellene Hans Wildorf. Additonally Zurich favourites enSoie had the audience craving for its nonchalant style while Vivienne Rohner strutted the catwalk laid with previously unseen carpets by Schonstaub. Special guest designerDorothee Vogel's desirable duvet coats and floaty dresses ended the show.

Edition 12 of Mode Suisse will take place in Zurich in September 2017.

www.modesuisse.com
Fashion
Christian Dada Fall/Winter 2017
 "It was boundless blue, almost transparent. I stood up, and as I walked toward my own apartment, I thought, I want to become like this glass. And then I want to reflect this smooth white curving myself. I want to show other people these splendid curves reflected in me" The melancholic closing words of Ryu Murakami's Almost transparent blue - one of the most striking Japanese contemporary novelists exploring the themes of youth and drug abuse - echoed in Masanori Morikawa's new Fall Winter 2017 collection for Christian Dada.

Puffer jackets in aluminium silver as reminiscent of drug wrappers, Coca Cola-red sweatshirts with Heroin written in the same typography as the iconic American drink, sweaters in psychedelic orange and blue tones serving as glimpse of post-drug hallucinations.

Morikawa's collection is imbued with duality - certainly the epitome of youth itself – and that uncertainty and struggle of reaffirmation of young individuals. We see relaxed men's cut shirts that reveal an incredible heavy textile at the touch, deconstructed jackets that show the lining on the outside, lurex raw materials, all surprisingly soft to the touch.

The T-shirt and leather sweatshirts in collaboration with former English fashion designer and illustrator Charles Anastase, all point in the same direction.

Yet Morikawa presented a collection with a composite of Japanese nostalgia. Like the summer nights spent wearing Jinbei – but here transposed in leather and denim – or those high school times – with the tartan motifs from school uniforms juxtaposed here with urban silhouettes. Christian Dada is beautifully grown up and we are looking forward to seeing the evolution of the brand.

www.christiandada.jp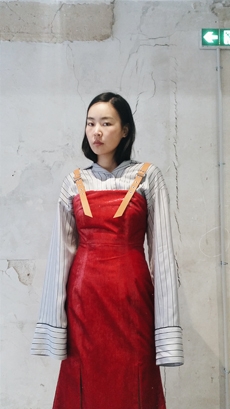 Fashion
OFF WHITE Fall/Winter 2017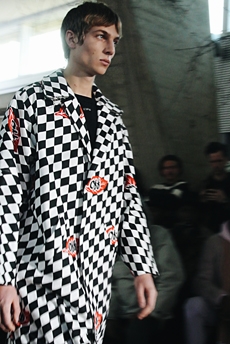 "The show is real" Virgil Abloh told us backstage after the show. Real and now, much like the urge to touch the everyday life of many in various forms. For OFF-WHITE Menswear Fall/Winter 2017 collection Abloh stood up for a new chapter of the brand. Oversized outwear gives way to tailored silhouettes. The extreme youthful approach is now moving into a more grownup vision.

The spectacular set design featuring real fading leaves and shedding trees inside the harsh concrete brutalist UNESCO building, wraps the collection in a surreal atmosphere. As we walk inside the venue we feel overwhelmed by this recreated landscape. It almost urges you to just take a stroll and roll in what looks like a wintery park's forgotten route.

Checked coats with embroidered foliage, denim printed with flying doves and adorned with golden leaves by London based jeweller Duffy. Exquisite knitwear permeates the whole collection, both for men and women, featuring the brand's signature bar logo. In all its wearability Seeing Things – as named by Abloh - is a romantic and ambitious collection yet staying true to OFF-WHITE's identity rooted in the streets.

A new way of seeing, as resonating in the words of British writer John Berger's Ways of Seeing, was chosen as the opening narration for the show: "The images has come to you, you don't go to them. The days of pilgrimage are over. It is the image of the painting which travels now".

www.off---white.com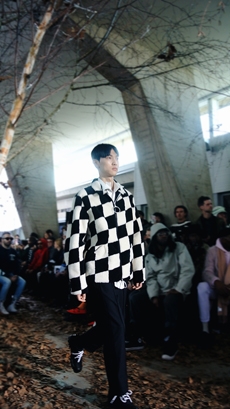 Fashion
Osservatorio Prada: the love story between cultural statements and fashion
An invisible thread silently connects fashion with art, a thread that only a few can pick up and follow. A feat that when achieved unlocks the secret behind timeless designers like Miuccia Prada.

Famous not only for creating garments and accessories that are considered pieces of art, Miuccia, has never hidden her devotion to art. Therefore, dedicating the famous Fondazione Prada based in Milan to art, seemed only natural. Collecting the most interesting exhibitions and pieces from contemporary and modern artists, Fondazione has become one of the most coveted destination for art-o-holics. Last December saw the opening of a new venue of Fondazione Prada that pays homage to photography and celebrates visual languages: Ossevatorio Prada.

Based in the Galleria Vittorio Emanuele, the core of the Milanese fashion area, Osservatorio is a place of exploration and research of the latest tendencies and expressions of contemporary photography. Photography is, indeed, the contemporary epicenter of the global flux that digital communication is going through; that is why Osservatorio wants to unveil the cultural implications that it has on our society.

"Give Me Yesterday" by Francesco Zanot was the inaugural exhibition for Fondazione Prada's latest venue. A collection of more than fifty pieces of Italian and international artists that explores the usage of photography presented like a personal diary that travels from the 2000's to the present day.

Fondazione Prada's contribution to the Italian art scene will leave an indelible mark, just like a photograph does.

www.fondazioneprada.org
Fashion
Vivienne Westwood summer trip to the Mediterranean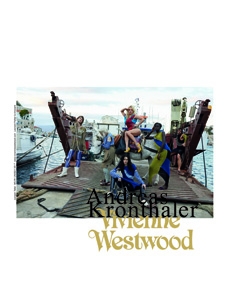 The Mediterranean has always served as a source of inspiration for poets and artists. A symbol of eternal beauty, of endless summers. A beauty that many have attempted to explain with words but that is better left to feelings and emotions.

Andreas Kronthaler's Spring/Summer 2017 'Europa' collection for Vivienne Westwood is a case in point. The collection is an ode to the Mediterranean's laid-back summer vibes and evokes images of sandy beaches, sunsets by the sea and days spent in nothing more than a bikini. But much like everything that bear's Vivienne Westwood's signature, there's a political statement to be read between the lines: 'Europa' is a continent in crisis, struggling to come to grips with the humanitarian crisis of mass migration, an issue that stains its reputation but somehow doesn't distract from its charm.

Legendary photographer Juergen Teller shot the campaign in Greece, with the picturesque white houses and blue waters serving as the perfect backdrop. Showcasing the garments as well as the scenery beautifully, Teller also managed to highlight the Mediterranean's grotesque facade with a mixture of sophistication and grunge very synonymous with the Vivienne Westwood brand.

Former sex-symbol Pamela Anderson features in the campaign providing a contrast that also links to the power of Mother Nature. The result is simple and delicious, just like a plate of spaghetti.

www.viviennewestwood.com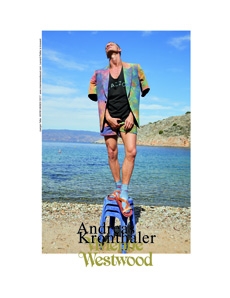 Fashion
Dior Homme Fall/Winter 2017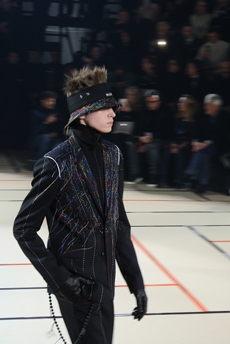 Thousands of little flags suspended from the Grand Palais ceiling, as one of those summer festivals when the night breeze brush them gently. The coloured lights illuminating the room mimicking the stage reflectors of any hard rock concert we have attended in our teens.

When the Depeche Mode lyrics started to play and the lights went up revealing the cardboard boxes and "HARDIOR" packing tape paving the regal space, it all came together.

Kris Van Assche channelled his childhood memories in 90s Antwerp clubs, the music, the parties, creating an electrifying collection that explored not only the new course of Dior Homme after 10 years at its reigns but also the possible declination of modern tailoring.

Van Assche designed the suit for the young man, a dialogue between the cool boy party animal and formal clothing. Close fit blazer revealing baste stitching matched with relaxed loose high waist trousers worn with trainers and white socks. Winking to street-wear.

A sweater with the clustered image of monsieur Christian Dior himself - whose birthday was surprisingly the day of the show - and the sentence written right below "They should just let us rave" turned quickly the attention to a more rebellious side of Van Assche: the gothic sweeping floor length capes and teddy bear chain trousers, the hand painted short fur bomber jackets, the aquamarine jumpers and the orange pony double breasted trench coat.

The Belgian designer picked the candy boys, the gabba, the new wave and the mosch pits at raves as his references. The latter, illustrated by the hand of American artist Dan Witz and printed in few closing looks - like the intricate reverse sequins suit - gave a poignant accent to the whole collection.

Dior Homme is beautifully evolving into a strong luxury fashion brand and as the light goes down we can't help but be excited, like the post feeling of any great concert.

www.dior.com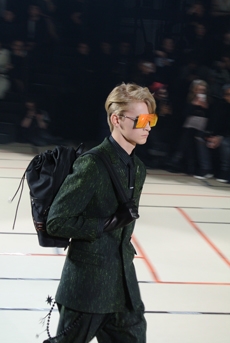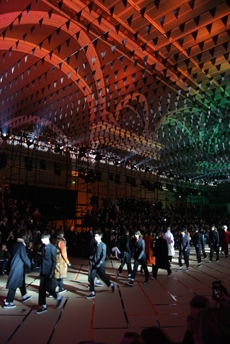 Fashion
PORTS 1961 LOVERS ARMY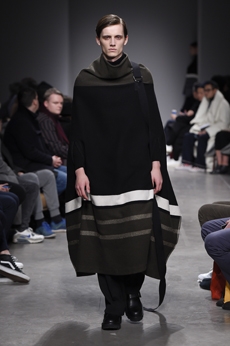 PORTS 1961 Fall/Winter 2017 collection is all about love and its universal meaning. A collection that is minimalist and gives off a younger appeal than past seasons, will definitely warm your wardrobe and your heart.

The Ports 1961 man is ready to face whatever the day has in store. From protective sports clothing inspired by urban workwear to construction suits. Materials are primarily sober, solid and thick, giving a touch of virility to a pretty chic sportswear collection. In the contrasting palette of black, grey, red and orange, reversible bombers, slit sleeves' coats, studded blousons and piped trousers are just a bite of this collection that sees heart and love all over it.

Details are what bring this collection its tempo – camouflage prints adored by Milan Vukmirovic are reworked and the quintessential white shirt is embellished with a blood red embroidered heart.

www.ports1961.com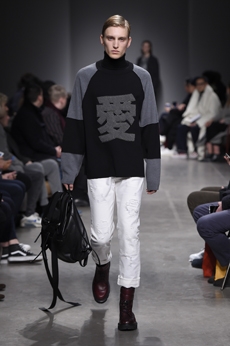 Fashion
FENDI Spring/Summer 2017: it it girls in a pink pink world
Sisters Bella and Gigi Hadid are undoubtedly a winning model duo in this day and age. For Fendi's Spring/Summer 2017 campaign the Hadid siblings join forces with Italian model Vittoria Ceretti to bring the brand's latest collection to life.

Set in a Parisian apartment, Karl Lagerfeld created a pastel-coloured world with floral wallpapers, infusing a fresh, young campaign with a delicate touch. Bella, Gigi and Vittoria reflect the brand's proposed shabby chic aesthetic while paying homage to Fendi's DNA in an ultra feminine way.

Fendi's Peeakaboo, Dotcom and Strap You bags are given candy-coloured makeovers, further enhancing their status as must-have accessories for the summer season. Fun fur details transform these into the perfect companions for these contemporary Marie Antoinettes.

The intimate, romantic and magical atmosphere created is made current with the addition of an edgy, sporty twist. Classic, yet current and so very Fendi.

www.fendi.com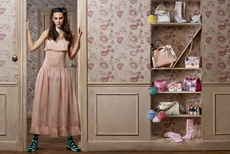 Fashion
Invictus and Olympéa Intense: Paco Rabanne's divine fragrances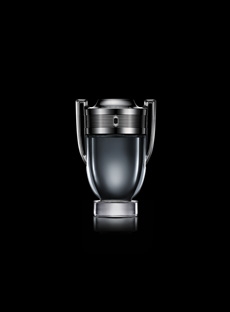 Radical, free, avant-garde. These codes are at the core of Paco Rabanne both in fashion and scents. Invictus and Olympéa Intense are the ultimate unconventional and open to fantasy scents representing two exceptional figures that together create an explosive encounter.

Invictus is man in all his force, robustly pure and athletic. It plays on the shock between blazing amber woods and a marine "salty skin" accord, in a woody-fresh wake. Green-aromatic laurel leaf and orange blossom electrified by notes of black pepper are added to give an intensified, sensual effect. The bottle, dark and sculptural, represents what the Invictus man is all about: an infallible hero who never gives in, a God on earth.

Olympéa empowers women by taking sensuality up a notch. Salty vanilla wrapped up in cashmere wood is at the base of the scent enriched by a duel in which opposites attract. On one side a floral pulse given by white pepper, orange flower and grapefruit blossom. On the other, the warmth of white amber and cedar wood. A glass circular bottle in metal colors represents the perfect construction between geometrical strength and curves, embodying the sacred female of Olympéa, the divine queen.

www.pacorabanne.com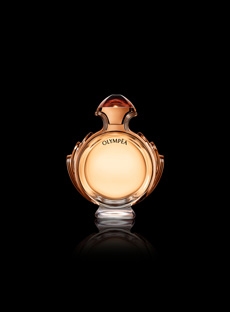 Fashion
Nike Air Max 97: the Silver side of Italians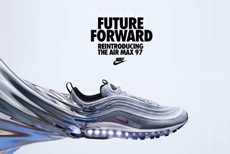 As the homeland of prêt-à-porter, Italy has always introduced new ways of fashion appreciation that we've all emulated at some point or another. Nike's 'La Silver' sneaker has been, and remains to this day, a strong example of this very concept.

When this sneaker made its first appearance in the fashion market in 1997, it failed to capture the hearts of fashion-forward Italians. It was snubbed, regarded as ugly, weird, otherworldly even. For others, those were La Silver's winning characteristics, making this model the star of 20th century footwear trends in Italy.

For a decade, its ostentatious shine and sleek lines made it a staple in many young Italians' Christmas wish lists. As a symbol of Italian gabber dancing culture and futurism, this sneaker was offered in colour variations that never went unnoticed. It wasn't long before La Silver had snuck its way into the hearts and wardrobes of both fashion addicts and proponents of a more 'chav chic' aesthetic.

Straight out of its homeland, "La Silver" by Nike is back on the market after 20 years. This makes us wonder: is this a new icon for this generation or a mere throwback for those who were there from the start?

www.nike.com


Fashion
DIESEL creates ALRITE: the timeless watch that takes art to the street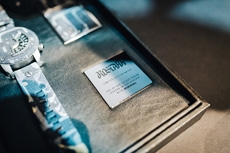 To do good and in an innovative way has always been considered one of Diesel's mottos. This winter and in collaboration with Fossil, the Italian brand has undoubtedly hit its target with its latest project: the Diesel ALRITE timepieces.

Cut out from 150 square meters of original artwork by Rostarr, who collaborated in the design of this accessory, ALRITE is literally a work of art that endures the passage of time while paying homage to both art and Diesel's DNA.

The 555 pieces that make up this Limited edition collection are completely unique and each different from one another, making for one-of-a-kind watches. This feeling of exclusivity is exactly what this hand-wrapped genuine leathers watch brings to the wearer by intertwining the aspects of time and timelessness.

Moreover Diesel ALRITE teams up with Sotheby's to reinforce the message of not only bringing art back, but also doing so for a good cause. Three pieces from this unique collection will be auctioned via e-bay for charity. Funds will be donated to the Only The Brave Foundation that has been working with Diesel for many years to fight against social inequality and working on sustainable development across the world.

"Create products that draw the line between pragmatic and fashion forward" this mission has been definitely brought to life.

www.diesel.com
Fashion
PIRELLI CALENDAR 2017: An Unfiltered Emotion
"In a time when women are represented in the media and everywhere else, as ambassadors of perfection and youth, I thought it was important to remind everyone that there is a different beauty"

'Emotional', the title chosen by Peter Lindbergh for the 2017 edition of the iconic Pirelli Calendar. No other word could strike such a chord in women's hearts that, nowadays, find themselves fighting against unrealistic beauty standards imposed by society. Fighting to fit in a world in which all things beauty are accompanied by a certain degree of fakery.

Pirelli Calendars have always been seen as conveyors of a specific message of perfection that could be hardly afforded by us, mere mortals. Following Annie Leibovitz's thread of last year, Lindbergh decided to let beloved actresses shine through their nakedness. Not a nakedness imposed by the lack of garments but by the absence of filters.

The choice of abstaining from Photoshop editing is indeed the leading theme of the 2017 Calendar, which includes actresses like Uma Thurman, Penelope Cruz, Nicole Kidman, Kate Winslet and Julianne Moore in all their natural feminine splendor. The beauty that speaks about the courage of being yourself in your own sensibility.

Lindbergh's message wants to reach all women who feel worthless, despicable, and inadequate in a way that only an artist of his caliber could achieve.

www.pirelli.com