Fashion
Philips Docking Station
Providing a pure and authentic sound, the Philips docking station allows music lovers to experience superior audio fidelity and unparalleled sound quality. Featuring a ring radiator tweeter and an AirPlay music streaming system, the docking station allows people to stream entire iTunes music collections wirelessly onto any AirPlay-enabled speaker system. Stylishly designed with a curved back, the curved surface enhances the stability of the speaker cabinet and allows for amazing crystal clear sound. Producing exceptional sound quality and an easy, workable system in a sleek and modern design, the Philips Docking Station is an ideal way to play your music collection. 

www.philips.com
Fashion
Akris Pre Fall 2014
A bold colour palette and slick silhouettes composed the Akris Pre Fall 2014 collection with distinct prints, chic suits and shapely jackets.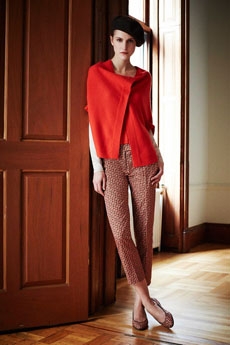 Inspired by the 1967 film Bonnie and Clyde, the collection fuses stylish sophistication with cool elegance to create a slick and sleek amalgamation. High waist trousers paired with smart shirts, nude heels and berets exuded cultivated style while sharp leather jackets added a contemporary aesthetic.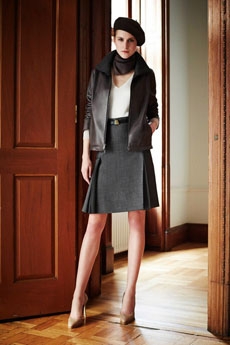 Creative director Albert Kriemler embodied the iconic style of actress Faye Dunaway through red, white and black prints producing a 'sleek glamour' style and a strong disposition. 

www.akris.ch
Fashion
Sissi Goetze at Berlin Fashion Week Spring/Summer 2015
Menswear has been given more and more of a platform at Mercedes-Benz Fashion Week Berlin. One of the stand-out designers in this respect is Sissi Goetze. Her SS15 showcase is marked by muted colors, structured menswear cuts and an array of prints. Hibiscus prints in rusty shades of brown brought intrigue to tailored slacks. Goetze matched those with crisp white button downs and gray shirts. Sartorial sportiness shone through in her mix of relaxed jackets and knee length shorts– the perfect outfit for the grown-up urban man. 
On the upper body, Goetze sees men wear layers upon layers for SS15, adding surprising combinations to the usually bland summer uniform. Her entire collection is a continuation of seasons past, as the designer does not believe in the quick fluctuation of fashion, but rather in a stylish and sustainable wardrobe. Her pieces for SS15 are exactly those coveted items one has to have in his closet for season to come. 

www.sissigoetze.com
Fashion
Sandro Fall/Winter 2014 Campaign
Capturing "two young artists in their element" the Sandro Fall/Winter 2014 Campaign epitomizes dark and stylish elegance.
Starring model Edie Campaign in her third collaboration with Sandro, the womenswear is chic and casual yet sophisticated. The menswear, modelled by Elliot Vulliod comprises of sleek and laid back proportions and silhouettes, combining the relaxed with the cosmopolitan. 
The campaign, shot by photographer Karim Sadli will appear in the September issues of magazines.

www.sandro-paris.com
Fashion
Laurèl at Berlin Fashion Week Spring/Summer 2015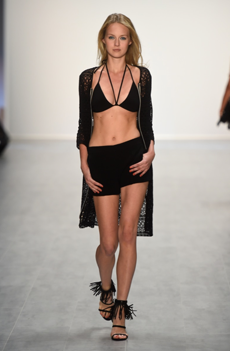 Elisabeth Schwaiger was obviously in the mood for a sun-downer when designing Laurèl's SS15 collection. Tropical prints, tie-dye, fringe, crochet and ethno appliqué are the codes by which the quintessential hippie look goes by, and strutted down the runway here. In tried and tested Laurèl fashion, designs didn't go overboard, making sure that the holiday vibe may carry over to the office during the glimmering summer months. Pant suits, leather pants and jumpers for work, mini and maxi dresses as well as kaftans for play are the staples of this SS15 showcase. Vibrant turquoise, azure and grass green furthered the summer holiday feel of Schwaiger's versatile and wearable SS15 collection.

www.laurel.de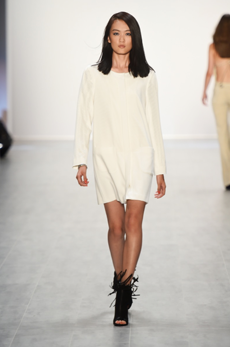 Fashion
Marcel Ostertag at Berlin Fashion Week Spring/Summer 2015
Photos by Mercedes-Benz Fashion
The motto "Modern Bohemian Rhapsody" set the tone for Marcel Ostertag's SS15 show during Berlin Fashion Week. The collection aimed at celebrating versatility first and foremost by employing Ostertag's characteristic design elements such as material mixes. Chiffon, cotton and high-tech fabrics marry to create intricate design details. Overall, floor length gowns and étoile dresses are spiced up with neon prints. Almost understated sweaters do pop afterall in shades of neon green an orange. Ostertag puts the boho in his rhapsody by adding fringe to skirts and coats – an all time classic. Towards the end of his showcase Ostertag calmed the runway down by sending out slightly quieter styles in black and brown, see-through shirts and the classic trench, proving himself to be a jack of all trades that never seizes to amaze.

www.marcelostertag.com
Fashion
Patrick Mohr x Reebok Classics
Photos by Mercedes-Benz Fashion
Sportswear brand Reebok teamed up with designer Patrick Mohr to create an incredible collaboration that is testament to the designer's Goth aesthetic and the sportswear giant's core values. Renowned Reebok styles such as the Ex-O-Fit Hi and the Womens Freestyle Hi - two classic high-tops - were designed by Mohr unison with his dazing style. Luxe materials and textures from calfskin to ostrich leg and salmon skin with a little rock star attitude in the form of studs mark the, collaboration. Mohr's colors of choice here are ubiquitous black and loud purple. The collection collaboration will be available exclusively at Solebox, Berlin, and online.

www.patrick-mohr.com
www.reebok.de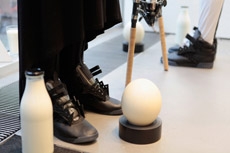 Fashion
Lala Berlin at Berlin Fashion Week Spring/Summer 2015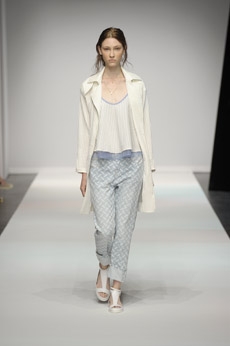 Exhibiting at the Mercedes Benz Fashion Week Berlin, the Lala Berlin Spring/ Summer collection presented relaxed silhouettes, stylish patterns and creative layering. Adhering to the theme of "Illusion & Delusion", the collection fused contemporary and chic pieces with inventive sheer dresses to produce a laid back yet effortlessly cool aesthetic. Smart blazers were paired with loose fitted trousers and sleek leather jackets added a dominant edge. The showcase, presented on the 9th July at the Deutsche Oper attracted actresses Fritzi Haberlandt and Friederike Kempter as well as fashion icons including Gala Gonzalez and Camille Charriere.

www.lalaberlin.com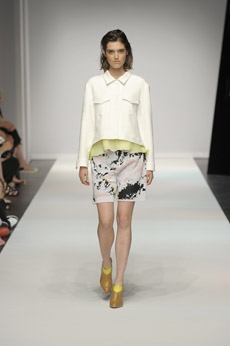 Fashion
Atelier Versace Haute Couture Fall 2014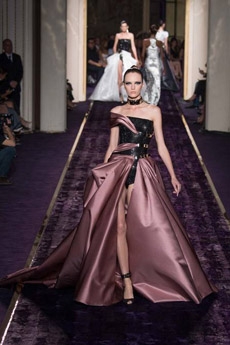 Not shy of the Avant-garde, the Atelier Versace Fall 2014 Haute Couture show adhered to classic Versace extravagance. Exaggerated, powerful shoulders graced snazzy jackets, excessive fringing was incorporated onto jackets, dresses, trousers and gloves and leg revealing slit dresses were covered in shades of deep blue, purple,black and white. Buckle detailing was placed onto dresses, jackets, skirts and tops producing a strong aesthetic and colored fur coats and sparkling glitter made for a flashy and dramatic finale.

www.versace.com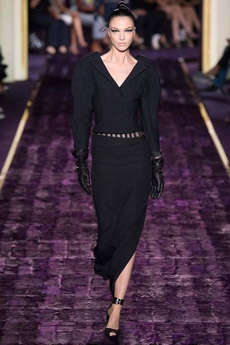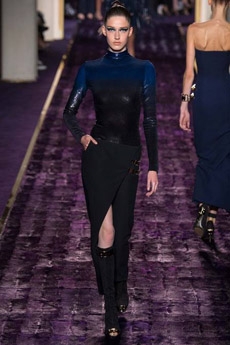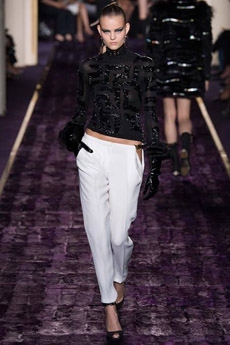 Fashion
CHANEL Haute Couture Fall 2014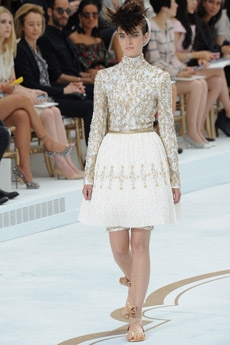 Presenting an amalgamation of embellishments, texture and patterns, the CHANEL Fall 2014 Haute Couture show fused classic CHANEL sharp silhouettes with intricate details, producing an emaculate aesthetic. Sandals with ballet style ribbons were the footwear of choice, providing an easy way to walk in the glitter decorated suits, well - tailored, refined coats and exquisitely embroidered dresses. Stunning jewels adorned elegant sweaters and dresses and exploratory pieces were displayed through intriguing embellishments and innovative shapes.

www.chanel.com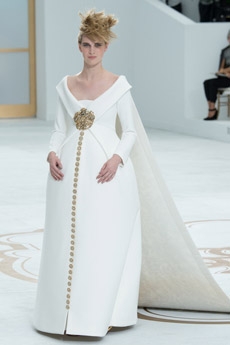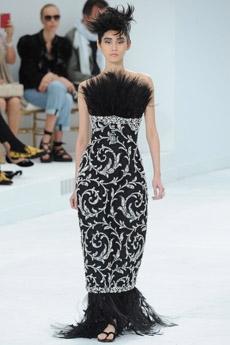 Fashion
PHILIPP PLEIN Fall/Winter 2014 Campaign
Entitled 'My American Dream', the PHILIPP PLEIN Fall/Winter 2014 campaign presents the dynamic creations exhibited in his Fall/Winter 2014 Milan fashion show.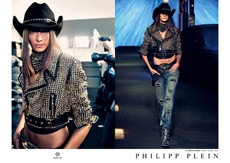 A cowgirl style fused with rock and roll influences formulated the Milan show with outfits heavily embellished with gold studs, stylish all black leather pieces, extravagant fur and bold glitter.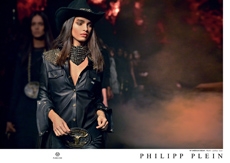 Incorporating footage from the show including images shot live during the event as well as backstage, the campaign captures the vivacious spirit of the collection and translates the thrill of the show onto captivating still images.

www.philipp-plein.com
Fashion
Maison Martin Margiela at Paris Fashion Week Spring/Summer 2015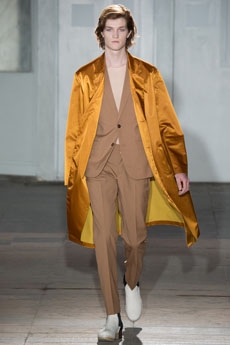 Embodying the word deconstructed, the Maison Martin Margiela Spring 2015 Menswear show presented an eclectic and inventive collection. Adhering to the theme of disassembling, Margiela provided an intriguing mix; outfits were worn without trousers, sports bomber jackets were worn over suits and tattoo inspired beaded tops were paired with colourful trousers. This motif continued with trousers composed of half jean material and half suit trouser, transparent vests and slick metallic suits. 

www.maisonmartinmargiela.com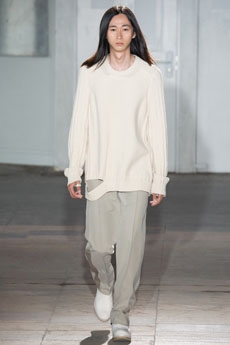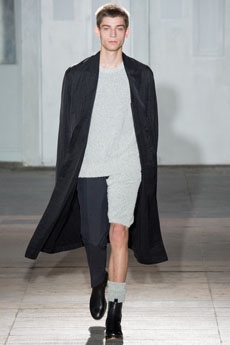 Fashion
Bottega Veneta Fall/Winter 2014 Campaign
Featuring both the men' s and women's collections, the Bottega Veneta Fall/Winter 2014 campaign is the brands latest creative collaboration, this time with British photographer David Sims.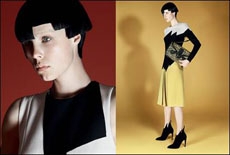 Representing a delicate strength and confidence, the womenswear collection presents a streamlined silhouette with a pale color palette. Influenced by activewear, the men's collection includes woolen, calf suede and lamb skin materials incorporated into a relaxed silhouette.
Collaborated with the modernistic work of David Sims who has influenced a generation of contemporary image makers, the campaign features stunning shots of model Edie Campbell against a plain and understated backdrop.
The campaign will be released in the August issues of selected global magazines and a video documentary depicting the photoshoot  will be available to view in July at
www.bottegaveneta.com.
Fashion
Thom Browne at Paris Fashion Week Spring/Summer 2015
In an experimental amalgamation, the Thom Browne Spring 2015 Menswear collection used intriguing and unique prints to create an eccentric and exploratory collection. Suits were deconstructed by using exaggerated shoulders, lines cut sharply and ankle baring trousers. Textured, action figure-esque jackets and trousers were worn with white shirts and cut out fabric flowers were emblazoned onto shirts, trousers and socks. Models sported plastic face masks and colour blocked brogues in a collection that defied rules to produce something inventive and original.

www.thombrowne.com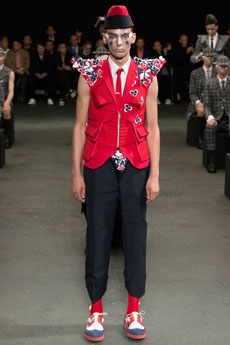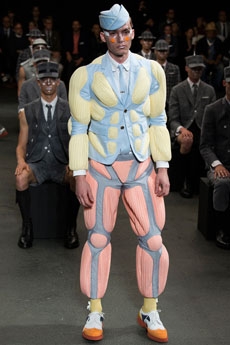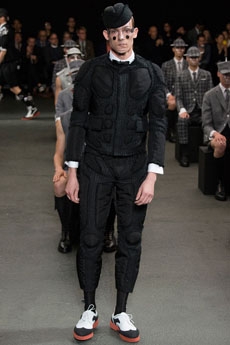 Fashion
DENHAM store Berlin
Amsterdam store DENHAM famous for being 'the jeanmaker' will open their first stand alone store in Berlin Mitte.
As well as the seasonal ready to wear collections, the full range of premium 5 pocket denim will be available across the 117sqm store. The store launches after the success of the 14oz pop up in the Blue Yard shopping center which will serve as an anchor to the standalone DENHAM store.
The new store will also feature DENHAM's signature on site sewing repair concept with a denim wash service also being offered. Already popular in the Amsterdam and Tokyo stores, this service will give customers a personalized and unique shopping experience while adhering the the DENHAM ethos. Complying with the brands modernist and rich vintage aesthetic, the new store will feature key retail fixtures and fittings and will celebrate its opening on Tuesday 8th July.

www.denhamthejeanmaker.com
Fashion
Raf Simons at Paris Fashion Week Spring/Summer 2015
Adopting a dark and storytelling aesthetic, the Raf Simons Menswear show provided an eclectic mix of bold and sophisticated fashion. Models sported wet hair as they graced the runway in mesh, denim and vivid prints. The footwear consisted of sleek slip on sandals and vividly bright sneakers. Mood board style motifs including images of Simons friends, family, a swimmer and an astronaut decorated the back of shapely jackets and depicted Simons life and successes. Silhouettes were kept clean and sharp with exaggerated shoulders on coats adding drama. Laid back layering was contrasted with bright oversize coats and vests artistically decorated with scenes of nature.

www.rafsimons.com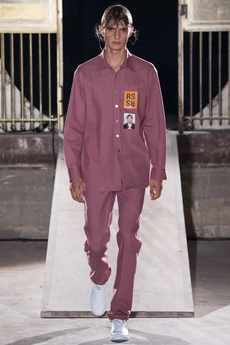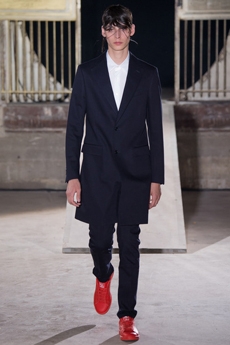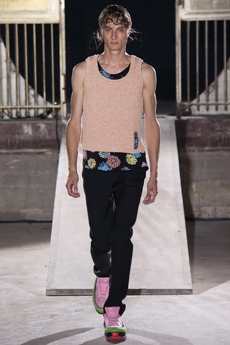 Fashion
Tru Trussardi at Milan Fashion Week Spring/Summer 2015
Being the most "playfgul, creative and fashion forward" of the Trussardi Group lines, the Tru Trusssrdi Spring Summer collection fused bright colours with eye catching and bold prints. Creating a relaxed elegance, the womenswear used vintage prints and fused casual wear with sleek lines, the result exuded "David Bowie glam". Feminine and relaxed silhouettes accompanied creative colour blocking producing a distinct look whist remaining hip and cool.The Menswear was of a similar aesthetic; loud and bold prints were paired with laid back garments and slick tailoring. Inspired by sports, the designs adopted "tongue in cheek" styling and used layering to keep outfits chic and cool. The collection presented a futuristic style yet kept to being edgy and modern.

www.trussardi.com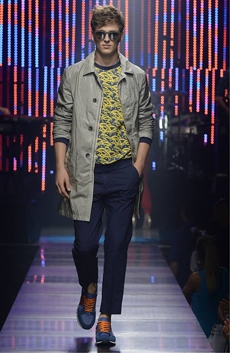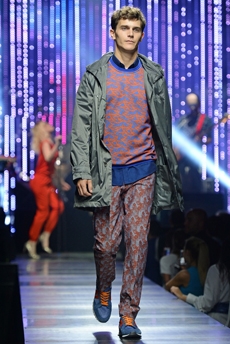 Fashion
Gucci at Milan Fashion Week Spring/Summer 2015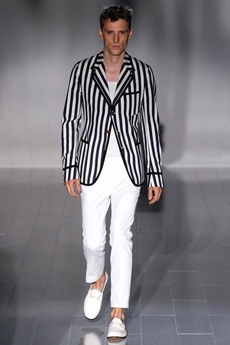 Presenting an array of monochrome pieces, Gucci applied a nonchalant design to their Spring 2015 Menswear collection. Jackets with sailor like button detail were combined with striped monochrome trousers and the same large buttons continued onto the top of loose fitting trousers. The mellow theme progressed onto casual trainers and luxurious loafers and bright bursts of vivid red and turquoise added eccentricity to the laid back collection. 

www.gucci.com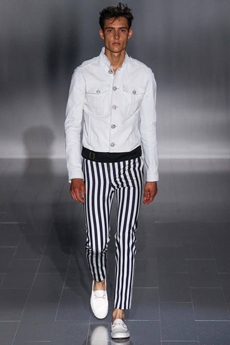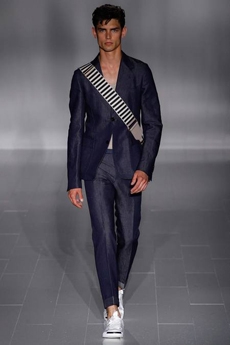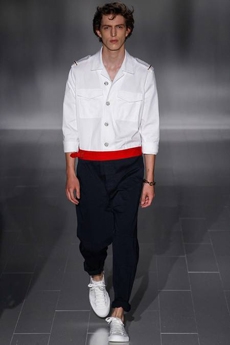 Fashion
PHILIPP PLEIN opened the second store in Milan
On Tuesday 24th June, PHILIPP PLEIN opened his second flagship store in Milan. Located on via Montenapoleone 23, the brand new flagship covers over 150 square metres and has been jointly designed by Philipp Plein and the Milanese architectural firm AquiliAlberg.
The swank and contemporary black, white and grey store consists of blocks of marble, PHILIPP PLEIN's hexagonal logo and CRYSTALLIZED™- Swarovski Elements studded onto the iconic skull. With space dedicated to both women's and childrens clothing and areas of constrasting light and shade, the flagship creates a relaxing, serene and exclusive shopping experience.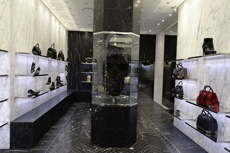 The opening which coincided with men's fashion week was greeted by a DJ set by David Vivirido and Francesco Sourigues from Hercules magazine and included a live performance from American rapper Theophilus London.
Speaking on the opening, Plein stated "I am both proud and thrilled to open on this renowned street, and I decided to create a true work of art for this special flagship, a tribute to a city that has contributed so much to my success."

www.philipp-plein.com
Fashion
Jil Sander at Milan Fashion Week Spring/Summer 2015
Soft colours juxtaposed sharp lines and clean tailoring at the Jil Sander Menswear 2015 show. Bright white and soft yellow ensembles were clean cut and sophisticated whilst remaining relaxed and underemphasized. Loose fitting, relaxed suits were covered in deep navy blue and a simple yet intricate print and were worn with flat form sandals and black socks. Summery shorts and trousers with yellow stripe detailing were styled with cool, modern backpacks and laid back trousers were paired with smart blazers and shirts. The collection verged on a feminine aesthetic yet remained sharp and distinct.

www.jilsander.com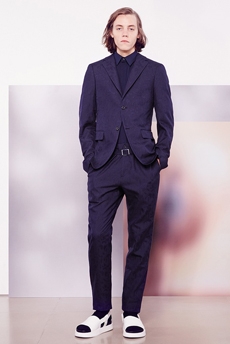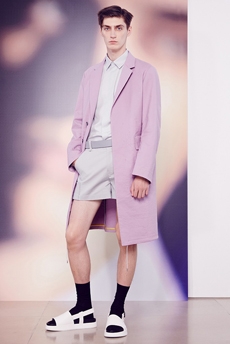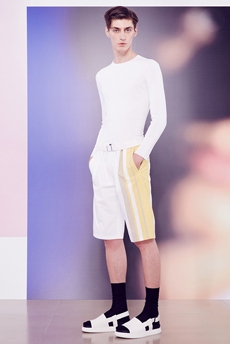 Fashion
PHILIPP PLEIN at Milan Fashion Week Spring/Summer 2015
Fusing refinement with edginess, PHILIPP PLEIN sent garments down the runway heavily emblazoned with skull and bones logos as well as rhinestone-studded jackets and sequin embellished blazers. Dipping in and out and casual and smart wear, the collection incorporated sleek blazers worn with matching trousers and loafers and laid back embroidered denim shirts, ripped jeans and causal sweatpants. Making a statement through the vividness of the garments, Plein presented an energetic and dynamic amalgamation that transcended into a coherent and wearable collection.

www.philipp-plein.com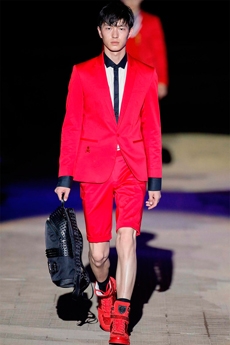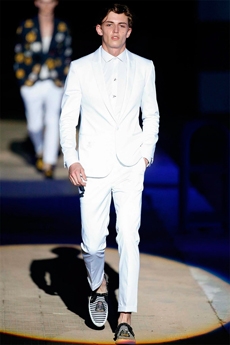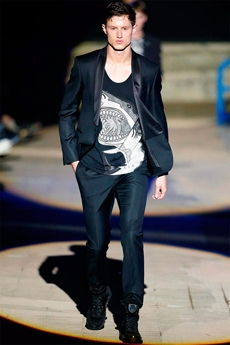 Fashion
Iceberg at Milan Fashion Week Spring/Summer 2015
Casual lines and textures were worked around a black and white tree print in the Iceberg Menswear Spring 2015 collection. A sports luxe aesthetic was applied to loose fitting sweatpants, sweaters and shorts and metallic material gave a luxurious edge. Relaxed silhouettes were complimented by sleek layering whilst bucket hats and colour blocking offered something playful. The collection embodied an effortlessly thrown together yet modern and contemporary design.  

www.iceberg.com
Fashion
Brioni opens Flagship in Milan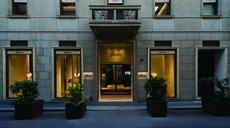 Italian luxury menswear couture house Brioni has opened their largest Flagship in Milan located in the city's luxury shopping area. Conceived by Creative Director Brendan Mullane, the 1,200 square meter flagship spans across three floors and comprises of formalwear, leisurewear, accessories, eyewear, textiles and footwear.
Sophisticated and refined, the store is a completely renovated historical palazzo and contains plenty of natural light with the entrance opening into a large foyer. The first floor houses leisurewear and the second floor hosts an expansive VIP room where visitors can find time to relax. Six full-time tailors will be present in the flagship, offering an exclusive service to clients and guaranteeing an exquisite experience. Walls, ceilings, floors, tables and chairs are upholstered in a luxurious dark blue suit fabric and a select choice of prized materials are in elegant beiges, taupes and browns.
With the flagship opening on June 19th 2014, the inauguration will take place on Saturday 21st and consist of a structural light installation in collaboration with Greek artist Michael Anastassiade entitled 'Blue Hour'. The installation will be displayed until July 12th.

www.brioni.com
Fashion
London Collections: Men Day 2
The second day of London Collections: Men produced an exciting amalgamation of captivating street style, compelling fashion and lively parties. The relaxed yet stimulating atmosphere continued with catwalks from KTZ, Jimmy Choo, Alexander McQueen and Moschino and presentations from Kit Neale, Christopher Kane and Duchamp.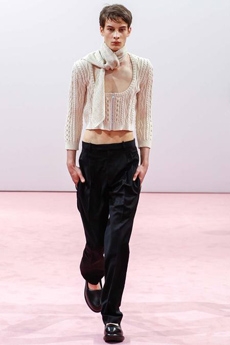 One of the first shows of the day, J.W. Anderson who is known to blend gender presented a similar aesthetic in his Spring/ Summer 2015 collection by merging male and female styles. Masculine suits were exquisitely fitted, smart brogues were given flatforms and large wrap around scarfs were worn as ties. The experimental tone of the collection was continued with suits being deconstructed and knitted crop tops styled with loose fitting suit trousers. A truly original combination, Anderson applied his signature unconventional style to a wearable and unique collection.  
At the Alexander McQueen show abstract designs were displayed onto all white and all black canvases of trousers, jackets and coats. Smart yet chic patterned suits were worn with casual trainers, emulating a stylish yet easy going look. Relaxed silhouettes were seen on loose bomber jackets and culottes and patent leather was incorporated onto oversize coats and jackets. Entirely sleek without losing a unique edge, the collection was smart and creative.  
Before his party hosted by i-D Magazine, Jeremey Scott's first menswear collection for Moschino did not disappoint and embodied a fun, lively and bright vibrancy. No stranger to branding, Scott graced garments with the words 'Moschino' and 'Fauxschino'. In an explosion of colour, logos and smiley faces, the Moschino collection creatively used layering and referenced hip hop through transparent netting, gold chains and dollar signs while also incorporating womenswear.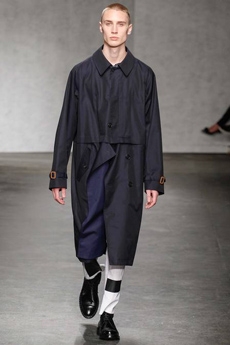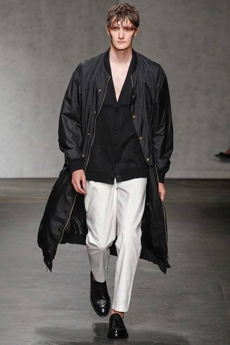 The last catwalk of the day came from Casely-Hayford who integrated the trend normcore into their smart and dapper collection. A gentlemen demeanour was reinvented with pinstripe decorated sports caps, suit blazers transforming into oversize coats with zip detailing and slogan tees worn with traditional pin stripe suit trousers. It was sharp, slick and seemingly effortless, classic menswear was skilfully revived all in a demure colour palette with shades of blue, green and gold. Day two was wrapped up nicely.  
Fashion
Proenza Schouler Resort 2015
Creatively articulating shapes and patterns, the Proenza Schouler Resort 2015 flawlessly embodied laidback elegance and glamorous casual wear.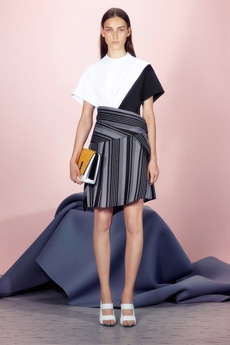 Incorporating layering and contrasts between patterns and colours, the collection presented an amalgamation of bright and bold colour sleekly put together to create a sharp yet feminine ensemble.
Oversize coats and jackets diverged from the femininity by adding a strong yet stylish edge and sheer, chiffon, relaxed knee length dresses adhered to a more serene aesthetic.  
Intriguing patterning was contrasted and presented in a summery yet cool colour palette of royal blue, yellow and bright white while smart tailored blazers and dresses provided a chic alternative.  
The outfits were worn with mid height white heels and unique flat monochrome pointed shoes adhering to both a classy and casual look.  

www.proenzaschouler.com
Art
Urs Fischer at Sadie Coles HQ
Presented by Sadie Coles HQ in London, the Urs Fischer exhibition comprises of new paintings by the artist that consist of four large-scale works and are a part of the first show that Fischer has dedicated exclusively to painting.
Abstract paintwork is placed onto a photographic reproduction of an interior to create pieces of artwork that detail Fischer's everyday environment at his home in Los Angeles and in his studio in Brooklyn. Predominantly featuring still life and abstraction, styles that are well practised by Fischer, the paintings reflect a long-running fixation with insubstantiality and compose of vivid spatters and squeegee-style flourishes.
Switzerland born Urs Fischer has had solo shows throughout Europe and the USA as well as recent major exhibitions at MOCA in Los Angeles, Palazzo Grassi in Venice, Italy, and Kunsthalle Wien in Vienna. The exhibition will run from 5th June to 2nd August 2014.

www.sadiecoles.com
Fashion
Thomas Tait wins LVMH Prize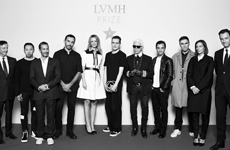 photo Patrick Demarchelier
Beating talented rivals including Simone Rocha, Shayne Oliver's Hood by Air and Jacquemus by Simon Porte Jacquemus, Thomas Tait has been announced winner of the inaugural LVMH Prize for Young Fashion Designers.

Receiving a €300.000 grant and a year's worth of mentoring from a team of special LVMH advisors, Tait was judged by the height of fashion experts including Karl Lagerfeld, Raf Simons, Nicolas Ghesquière, Marc Jacobs and Delphine Arnault. Being "captivated" by his work and naming him a "great talent", the judges were extremely impressed by the 28 year old Central Saint Martins graduate. 

 Tait debuted his first London Fashion Week collection during Spring Summer 2011 and has since progressed to develop clean, structured and exquisite collections.

www.lvmhprize.com
Music
BOWIE IN BERLIN
Curated by the Victoria and Albert Museum, London, the international retrospective David Bowie will be showcased in Berlin.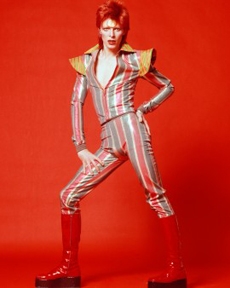 The exhibition illustrates David Bowie's artistic development during his time in Berlin and includes sketches for record covers, drawings and paintings by David Bowie, song lyrics and photographs. Speaking on why the exhibition is being showcased in Berlin, project manager of the exhibition, Sarah Zimmermann explained "we quickly realised that we wanted to highlight Bowie's creative period in the divided city more strongly."
It was in Berlin that Bowie wrote music history at the end of the 1970s and which became the source to some of his most prominent, successful and artistic work such as Low (1977), Heroes (1977) and Lodger (1979). As a frequent visitor to the Brücke Museum in Dahlem, Bowie had a strong interest in the Berlin art scene and German Expressionism, providing him with inspiration for his own work.
Containing work of Bowie's that was previously unseen to the public; the exhibition highlights old and modern Berlin as well as illustrating Bowie's most exquisite work and the inspirations behind them. The exhibition will take place from 20th May to 10th August 2014 at the Martin-Gropius-Bau of the Berliner Festspiele.

www.davidbowie-berlin.de
Art
Paolo Roversi Secrets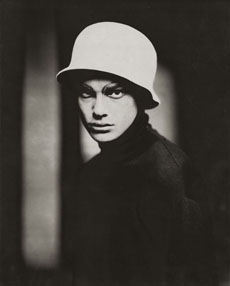 Being showcased from 16th May to 21st June 2014, fashion photographer Paolo Roversi's exhibition "Secrets" will be displayed at the Camera Obscura Gallery in Paris.  
Providing an element of intimacy, the photographs consist of portraits, nudes and self-portraits. They depict a mesmerizing presence and are influenced by everything from Byzantine Ravenna to Roversi's childhood.
Roversi is one of the biggest names in fashion photography and his book 'Secrets' first published in October 2013 was an immediate success with 1500 copies selling out. The exhibition will be open from 12h - 19h on Tuesday to Friday and 11h - 19h on Saturday.

www.galeriecameraobscura.fr
Fashion
Hermes Parfumeur
'A new art of living through perfume' is the thesis behind Hermes new collection of colognes, perfumes and bath time essentials that 'open up a world of perfumed experiences, sensations and images'.
The bath time collection includes creamy bubble bath, revitalising shampoo, hydrating balm and toning gel to make bath times a luxurious and intimately relaxing experience. Comprising of irresistible fragrances and silky soft textures, the Hermes bath time collection makes for a soothing experience.  
The perfumes and colognes incorporate the spirit of travel and use raw materials to create light and satisfying scents to accompany the complete bath time ritual. Hermès Bath time provides the ultimate sensory experience engaging the sight, smell and touch and is available in a range of textures, colours and designs to suit your mood.

www.hermes.com
Art
Marco Brambilla Creation (Megaplex)
The re-contextualization of century old histories by drawing from an array of pop-culture sources is at the center of Marco Brambilla's oeuvre. He once again showcases his deep insight in his Megaplex series of works, in which he continues to investigate our relationship to the concept of spectacle as presented in contemporary film.
Creation (Megaplex) marks the final chapter of a trilogy of 3D video collages which began with Civilization (Megaplex) in 2008 and continued with Evolution (Megaplex) in 2010. Presenting a spectacular cinematic composition that culls from a vast archive of iconic Hollywood films, this instalment will feature large-scale 3D video installations and digital collage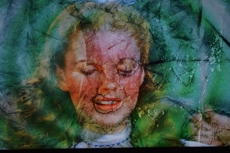 In the exhibition, Brambilla uses digitally assembled images that generate a hyper-realistic landscape of clouds, meadows and burning cityscapes, against which humanity oscillates between a frenzied production and consumption of its own creation. With each cycle of the work, Brambilla's video engulfs viewers in an overload of imagery almost impossible to sustain, while offering them a specific perception of Hollywood - which it both celebrates and satirizes.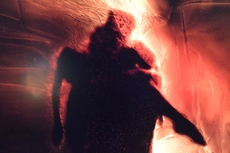 Also presented is a new body of work that contrasts with the super-saturated digital collages of the Megaplex Trilogy; these works focus on a single image, transforming its original presentation and context. The four pieces on view consist of The Searchers 1956, King Kong 1976, The Shining 1980 and Superman 1978, each presenting an iconic film scene played out in full, but only after being returned to its physical analogue source as celluloid.  
The film image is then distressed through a photochemical process to the point of near-abstraction and re-presented as a modulated slow-motion loop. The abstracted but nevertheless familiar moment taps into our collective consciousness; observing a medium on the verge of extinction, an drawing a parallel between the ephemeral quality of celluloid and imagery associated with the "golden age" of cinema.
Brambilla's work has been exhibited extensively at world renowned international institutions and his 3D Megaplex Trilogy is currently on view at Borusan Contemporary in Istanbul, Turkey. Living and working in New York, this is Brambilla's first solo exhibition at Michael Fuchs Galerie.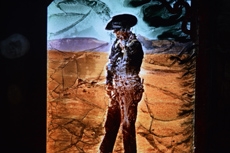 The exhibition will run from May 2nd until May 31st until 2014 at Michael Fuchs Galerie, Auguststraße 11-13, 10117 Berlin.

www.michaelfuchsgalerie.com
Travel
Herengracht Suites Amsterdam
Labelled 'a home away from home' the Herengracht Suites Amsterdam are an idyllic, escapist and tranquil getaway. Situated facing Amsterdam's beautiful canals, the suites offer spectacular and relaxing views that allow guests to watch Amsterdam pass by on water.  
Displaying stunning architecture that incorporates both vintage and modern influences, the lavish suites offer breakfast, a minibar and a flat screen television to ensure the ultimate luxurious stay for guests.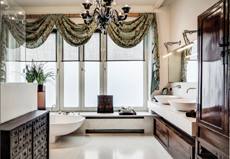 Designed for a variety of occasions, the suites can host important business meetings, special events for family and friends and enchanting romantic getaways. The prestigious designer homes present a master suite consisting of a magnificent fireplace and ensuite bathroom with a rainshower with the second bedroom also hosting an ensuite, queen size bed and outdoor terrace. The suites are located within minutes of the finest restaurants and Amsterdam's most exciting sights as well as a having large sitting lounge to relax and unwind in.  
Located at the heart of Amsterdam's cultural centre, the suites allow guests to have an ideal, picturesque and charming experience.

www.herengrachtsuites.com 
Fashion
Tiger of Sweden Fall/Winter 2014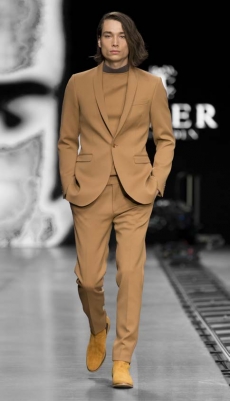 Inspired by timeless rock and roll icons, the Tiger of Sweden AW14 collection epitomises a sleek yet edgy style that is polished without losing the rock and roll roots.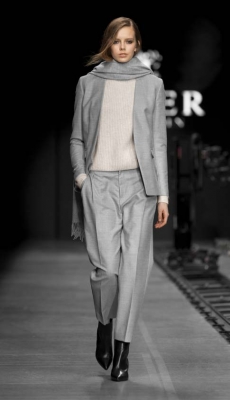 Offering a compromise between sophistication and spirit, the collection uses layering, exciting combinations and a neutral colour palette to create a distinctive and effortlessly thrown together aesthetic.
Seeking inspiration from Robert Redford's cult figure from the movie 'Three Days of the Condor', the seventies influenced menswear embodies this inspiration through heavily layered suits in brown, mustard yellow and black leather and tailored suits worn with long oversize overcoats and smart brogues.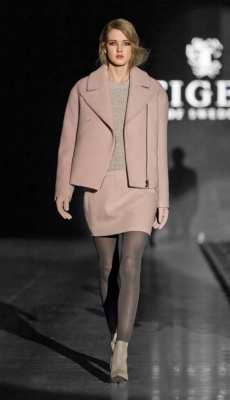 The womenswear collection comprises of a balance between "classically feminine parts and a more pronounced leaner, more masculine silhouette". Based on black, the colour palette incorporates more feminine tones of powder pink, light grey and deep turquoise and fuses minimalism with dynamism.
 Established in 1903 and redefined in 1993, the traditional brand has reinvented itself to become a modern and exciting label that offers contemporary, sleek and stylish fashion for both men and women.

www.tigerofsweden.com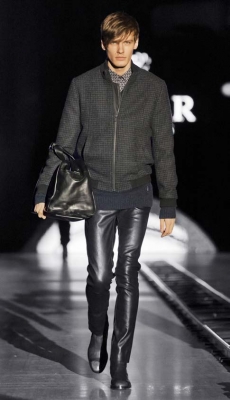 Fashion
Armani/Casa 2014-2015 Collection
The creation of the Armani/Casa Exclusive Wallcoverings Collection is the collaboration between leading Italian furnishings company Jannelli&Volpi and fashion house Giorgio Armani that produces "a style of living and furnishing that expresses a sense of beauty."
Offering a vast range of wall coverings, furnishings and decorations, the sophisticated compilation of designs add a characteristic elegance and cool refinement to a room and adheres to a minimalist yet welcoming aesthetic.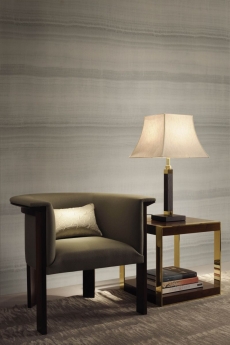 Comprising of a fresh colour palette ranging from warm beige, brown and grey to colder blue, light lime green and metallic grey, the designs provide crisp and refined household decorations that are simultaneously contemporary and traditional. With designs including shell motifs and geometric detailing, the collection is inspired by the Far East, nature and stones.
The sleek and innovative furnishings and wall coverings are available at all Armani/Casa stores worldwide as well as at authorized retailers.

www.armanicasa.com
Fashion
PRADA Advertising Campaign April 2014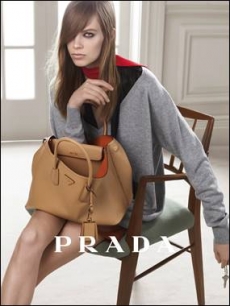 Effortlessly combining femininity and luxury, high end Italian fashion house Prada have launched their April 2014 fashion campaign. Starring sensational model Lexi Bolling, the campaign showcases the dazzling starlet nestling the classic and popular Prada Double bag as well as new styles.
Crafted in lavish yet supple leather, the bags are available in a contrasting array of colours including white, caramel, sand, yellow and red and provide a casual and stylish essential daytime accessory. Shot by Steven Meisel, the photographer depicts the bag as an extension of the model herself and a powerful "combination of skin and leather" and a lustrous "second skin on the model's gamine silhouette".
Displayed in natural calming day light and against an airy, cool white background, Lexi gazes alluringly into the camera's lenses while the desirable PRADA bag sits effortlessly and elegantly on her lap to create a "simple and understated luxury".

www.prada.com
Fashion
Diesel Venice Collection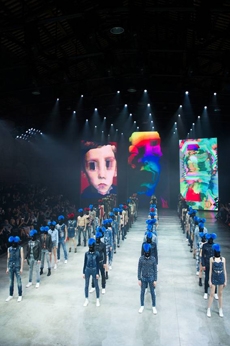 A year on from his appointment as Artistic Director of Diesel, and the world's eyes are still unfalteringly fixed on every ingenious movement of Nicola Formichetti, who premiered his debut collection for the fashion house last week. More than any other director gone before, Formichetti is acutely aware of the 35-year-strong heritage he has commandeered, abiding to his rather gallant take on governance that decrees honour before egoism.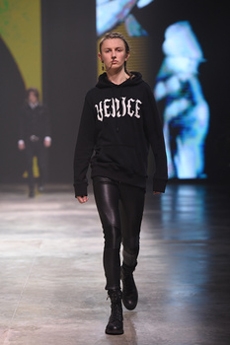 What more apt venture, then, than to revisit the soil that bedded Diesel's roots. 'Welcome to Venice' was the title for Formichetti's inaugural collection, an acknowledgement of its origins in the city of Venice, as much as it served to articulate the global vista of the brand. Built upon Diesel's iconic trinity of denim, rock 'n' roll leather and military utility, each segment accompanied by the filmic vision of friend and long-time collaborator, Nick Knight, and a live performance by Diesel's modern muse, Brooke Candy. For Formichetti, the structured progression of the show mapped out the direction of his unique creative vision, from heritage to innovation until finally, the streets – which is, ostensibly, where Diesel reigns today – the Venetian canals were but a beginning.

www.diesel.com
Art
From Vera to Veruschka: The Unseen Photographs by Johnny Moncada
From the 2nd April to the 1st June Somerset House in London will host the iconic and unseen photographs shot by Johnny Moncada of captivating and stunning supermodel Vera, known as Veruschka.
Detailing glamorous Italian fashion and exotic locations, these unseen and largely forgotten about photographs showcase the fashion and style of the swinging sixties and display Veruschka'statuesque physique and dazzling complexion. The model, who was regarded as one of the world's first supermodels and went on to become one of the highest paid models in the industry, owed her success to photographer Moncada stating that "Everything began in Italy, and it was there that Johnny took my first pictures." She went on to describe that the beginning of her transformation into phenomenal supermodel Veruschka began with Johnny's photographs.
Dressed in Italian fashion labels Valentino, Antonelli, Forquet, and Lancetti, the photographs exhibit Vera upon embarking on the launch of her famous and legendary career as fashion sensation Veruschka. The exhibition was curated by Johnny Mocada's daughter Valentina Mocada upon her discovery of three thousand unpublished photographs concealed in a trunk for over forty years after her father's death in 2011. It will include 20 photographs in black and white and colour as well as a video installation allowing viewers behind the scenes access into the intriguing journey that took Vera to Veruschka.

www.somersethouse.org.uk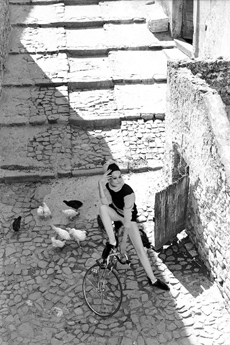 Travel
Hotel Axel Guldsmeden, Copenhagen
Founded on the basis of a love for good hosting, the Hotel Axel Guldsmeden in Copenhagen is an opening to a sphere of unorthodoxy and laid back luxury. The heavily eco conscious chain of hotels pride themselves on being Green Globe certified and employing the 360-degree sustainability management system allowing them to ensure that their commitment to sustainability is adhered to during the daily operations of their hotels. Complying with the Ø-label that is regulated by the Danish Ministry of Food & Agriculture, the hotel ensures that 90% of their food is organic produce and have this audited three times a year.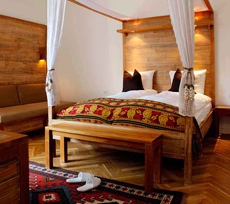 The boutique hotel has been reviewed as being relaxing and tranquil as well as comfortable and accommodating. It's stylish and refreshing design replicates that of a calming spa while still adding in an element of luxury through a largely white décor and flat screen TVs, dvd players and internet being provided in the bedrooms.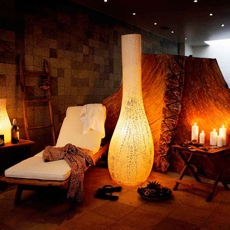 Listed as one of the worlds´ 65 top new hotels, the Axel Guldsmeden hotel provides a spiritually tranquil experience through a luxurious spa, conference facilities and an unwinding lounge and garden and therefore creates a serene experience and beautiful way to enhance the city of Copenhagen.

www.hotelguldsmeden.dk
Art
Yang Yongliang at Sophie Maree Gallery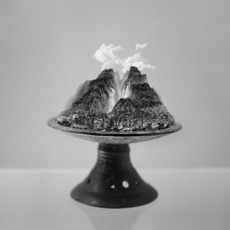 Sophie Maree Gallery will present the highly acclaimed work of Chinese photographer Yang Yongliang from the 1st March to the 16th April. Residing in Shanghai, Yang has been working on this collection of work for the past three years and combines surrealism with strong ancient Chinese cultural references to create extraordinary, one of a kind pieces. A background in painting and calligraphy has contributed to Yang's impeccable skill and intriguing approach to photographic art. His work illustrates contemporary urban scenes such as skyscrapers, power plants and freeways against magnificent natural scenery to highlight the impact of technology in China and create a curious contrast between the past and the present.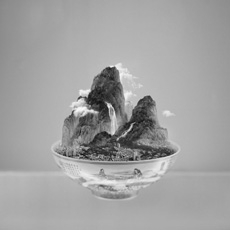 Continuing with this theme, Yang believes in merging new technologies and techniques with old ones which can be seen in his latest work fusing digital manipulation with ancient techniques. Yang's work reflects various paradoxes including old and new China, the surreal and the real and the tranquil with the chaotic. The internationally renowned photographer has had his work exhibited in the Metropolitan Museum of Art in New York, the Saatchi Gallery in London and the British museum as well as receiving a wealth of awards. With a unique take on modern as well as ancient art and photography, this solo exhibition is an eye opening must see.

sophie-maree.com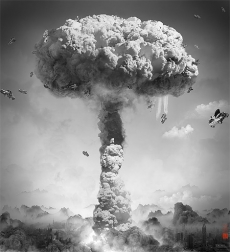 Fashion
WUNDERKIND at Paris Fashion Week Fall/Winter 2014
Amalgamations of powerful yet stylish contrasts were provided at the WUNDERKIND FW14 show. This was demonstrated through the pairing of florals with geometric square prints, hip black oversize biker jackets with floaty dresses and heavy patterned large fur coats contrasted with soft layered dresses. Oriental influenced straight mini dresses were thrown into a clash of colours, styles and shapes to create a collage of extraordinary pieces.

wunderkind.com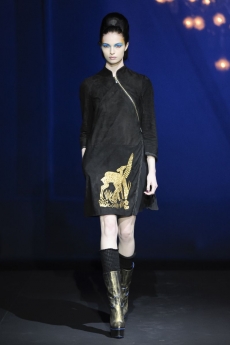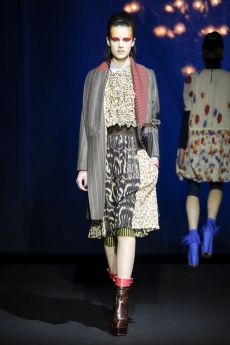 Fashion
CHANEL at Paris Fashion Week Fall/Winter 2014
Set in a CHANEL themed supermarket with each shelf merchandised with CHANEL produce, the FW14 show presented dressed up daywear with sportswear references. Cut up body hugging trousers and crop top combinations were juxtaposed with bright mismatched geometric prints seen on large coats, long dresses and the lining of coats. There was a theme of matching pairs with an added elegance through layered white pearls. Ruffled pink princess yet chic dresses were edged up with knee length laced up trainers and shiny silver metallic leggings were worn under large tweed overcoats. This was a show of successful contrasts.

www.chanel.com
Fashion
Louis Vuitton at Paris Fashion Week Fall/Winter 2014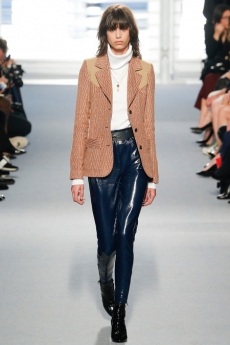 The Louis Vuitton FW14 show paired complimentary silhouettes and applied a relaxed yet stylish aesthetic to their collection. Luxe and luscious fur was used in a toned down way, opting to apply it to an oversize biker jacket cut with a leather middle belt and ultra-modern shiny leather was seen on skinny trousers, long croc coats and strappy zip up croc leather low cut vests. This was contrasted with 70s references made through geometrics printed onto shirts and tops paired with brown and orange skirts and turtle necks, providing a strong and understated look.

www.louisvuitton.com
Fashion
Lanvin at Paris Fashion Week Fall/Winter 2014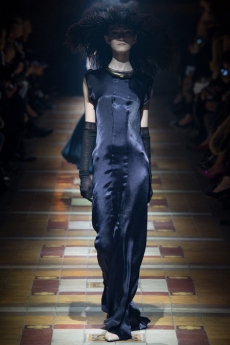 Opulent elegance was apparent at the Lanvin FW14 show with just enough drama to make it spectacular. The collection hinted towards the extravagant with ruffled fabrics, heavily gathered material and head to toe fur pieces whilst still remaining wearable. Black leather long pleated and interestingly cut dresses epitomized the theatrics of the show. The 1920s were referenced through flapper girl style beaded head caps worn with refined silk knee length square dresses. This theme continued onto looks consisting of feather detailed large floppy hats worn with silk floor scraping dresses and sheer gloves. This was avant garde at its best.

www.lanvin.com
Fashion
Balenciaga at Paris Fashion Week Fall/Winter 2014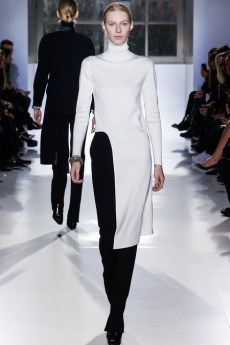 The Balenciaga FW14 show presented a contrast in textures and the creative use of zippers as accessories. Shapes were played with by contrasting oversize silhouettes with cross patterning. Continuing the inventive theme, bright interwoven stripes were applied to sweaters and bright neons were worn with striped knitted dresses. The show provided both outlandish options as well as more demure pieces to create something special.

www.balenciaga.com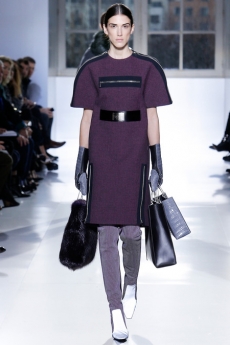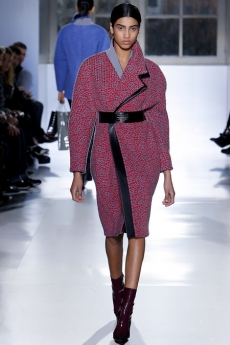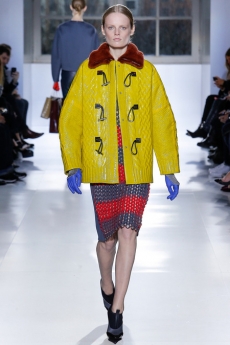 Fashion
Haider Ackermann at Paris Fashion Week Fall/Winter 2014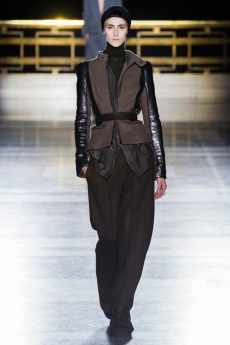 The Haider Ackermann FW14 show presented a satisfying equilibrium between masculinity and femininity. Styles were merged with sophisticated long grey suits paired with thick black sweatband style headbands to give a relaxed edge. Sophistication continued with floor length coats worn with flared suit trousers and head to toe black loose fitting pieces. Haider Ackermann watered down the sophisticated element by offering a high end chic look with short leather jackets paired with all grey outfits and sleek black ankle boots. This provided a wearable and effortlessly elegant demeanor.

www.haiderackermann.com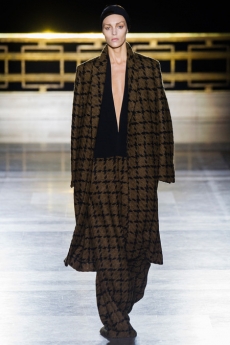 Fashion
Hogan Fall/Winter 2014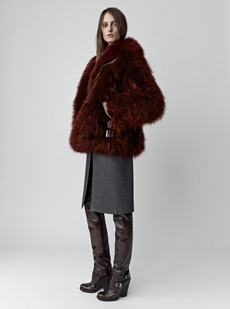 Italian fashion brand Hogan have partnered with British designer Simon Holloway to create an elegant yet chic FW 2014 – 15 collection entitled Neo Romantic. Inspired by 1970s romantic decadence and 1990s Corrine day photography, the collection comprises of an eclectic mix of psychedelic prints, modern and sleek suits paired with casual trainers, oversize biker jackets, fur coats and long hippy style dresses.
A minimalist dandy boy style is referenced through excellently tailored suits, lustrous goatskin biker jackets and wool flannel and moleskin coatsuits. Cashmere fur biker jackets add a modern and trendy edge to classically tailored suits and psychedelic, hip prints by Julie Verhoeven add a funky edge to boots, shoes, dresses and suits. Coming in a colour palette of monochrome, grey, deep purple, magenta and blood red, the collection represents a fuse between the modish and the refined to produce an amalgamation of exciting clothing that adheres to Hogan's versatile urban style.

www.hogan.com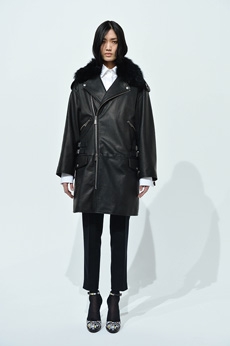 Fashion
Day 2: Fendi, Prada and Moschino at Milan Fashion Week Fall/Winter 2014
Opened by Cara Delevingne wearing a long black overcoat with a hood flamboyantly lined with black fur and carrying a miniature Karl Lagerfeld, the FW Fendi show boasted an extraordinary range of colours, textures and excessive fur. Pairing thigh high black boots with oversized printed sweaters and large coats accessorized with luxurious fur, the show captured edgy elegance in a dazzling array of black, brown, deep blue and orange.

www.fendi.com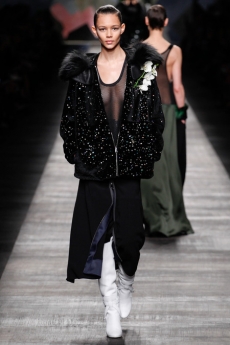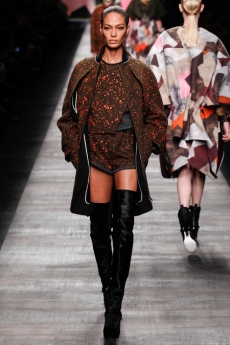 Asymmetrical prints and structured silhouettes personified dominance while bright reds seen on dresses and patent boots exhibited seductive femininity at the Prada FW '14 show. Sharply tailored blazers were lined with lush fur and sheer long dresses were worn with multi coloured, patterned underwear. Sailor style was referenced through gold lined grey overcoats worn with bright red scarfs and exaggeration was incorporated through brightly colour clashed fur coats. 

www.prada.com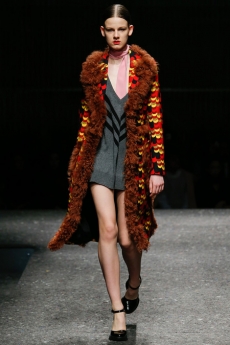 Fast food meets fashion made for an intriguing mix at the Moschino FW '14 show. Models graced the catwalk in archetypal McDonald's emblems and colours of yellow and red and CHANEL detailing was incorporated to fuse quirky and classic. The collection transcended into hip hop chic where bags embellished with the words 'Moschino' were used as necklaces and lavish fur coats were sported alongside metallic gold jackets, gold chains and glitzy black bomber jackets. Jeremy Scott's innovative use of SpongeBob prints and cereal box inspired dresses made for an eclectic show that referenced modern as well as youth culture.

www.moschino.com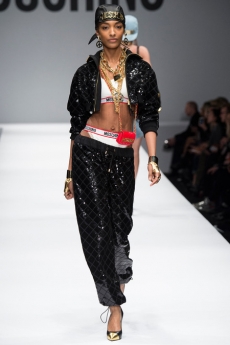 Fashion
Diesel Black Gold at NYFW Fall/Winter 2014/2015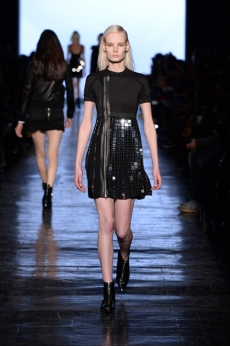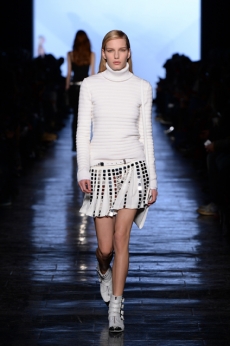 For New York Fashion Week Fall/Winter 2014-2015 creative director Andreas Melbostad took it's spectators on a futuristic Science Fiction journey. On first sight, the collection seemed to be inspired by cosmic space suits and Smart Wear, but on closer inspection the brands typical elements were eminent: denim and leather, accented  by zippers, multiple buckles and mirrored metal discs. Dominated by a rather monochromic colour palette, metallic surfaces and silvery laquered fabrics perfectly matched with neoprene, quilted leather and lightweight jersey. But also the choice of classical materials such as merino wool and 'Prince of Wales' highlighted this marvelous collection.

www.dieselblackgold.com
Fashion
'8 Pieces' by Claes Iversen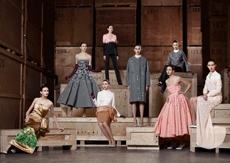 Claes Iversen is proud to present this season's graceful collection: '8 Pieces': a tribute to the brand's signature of authentic couture, the luxurious use of materials and an eye for detail. The eight looks are made of high quality fabrics in bright colours and tailored in fragile, female silhouettes. Elaborately embroidery techniques of beads, crystals and sequins are combined with laser-cutted plexiglass shapes and compose floral patterns.

www.claesiversen.com
Art
FACELESS
How much power has a face or to be exact, how much can an image without a face have? The upcoming exhibition 'FACELESS' curated by artist Bogomir Doringer, explores the common occurrence of images of hidden faces in the fields of fashion, art and media. For Bogomir Doringer, the context of sociopolitical studies led to critical and deep thoughts in art. 9/11 had an impact on his interest on 'facelessness' ever since, as afterwards images of masked faces of terrorists became dominant in the media. And so an on-going process of the idea of masking started and now delves into this ambitious exhibition.
The show will host over hundred pieces from young and renowned artists, furthermore masks by designers such as Maison Martin Margiela, Jun Takahashi and and Katsuya Kamo will be showcased. Under the theme 'to see but not be seen', the exhibition opens on Saturday, the 25th at the Mediamatic with live performances.
The show will be on from the 26th of January till the13th of April 2014 at the Mediamatic, Amsterdam.

www.facelessexhibition.net
Fashion
Christophe Lemaire at Paris Fashion Week Fall/Winter 2014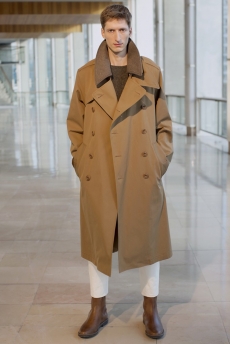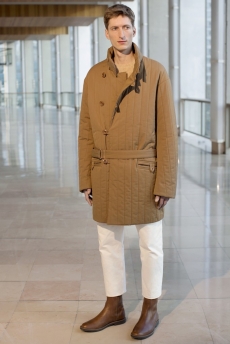 During his menswear Fall/Winter 2014 collection, Christophe Lemaire explained that his collection was an evolution of his work. His roomy silhouettes sometimes were slightly blue-collar, but very nonchalant and chic. Take for instance his big, double breasted coats, robust denim and big pockets. Elsewhere in the collection, the designer looked at the Far East with mao-colars, wider shapes and a luxurious pajama-ensemble. This lookbook was photographed in the circular hall of the Maison de la Radio in Paris to enhance the timelessness and urban character of the collection.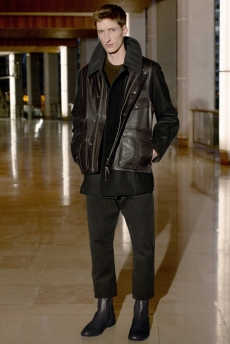 Fashion
Melinda Gloss at Paris Fashion Week Fall/Winter 2014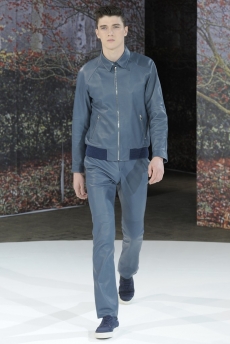 Mathieu de Ménonville and Rémi de Laquintane of Melinda Gloss made a contemporary silhouette with loose shapes and sharp tailoring for their Fall/Winter 2014 collection. Subtle ski-references were made with headbands, elastic hems and big parka's. The color palette was dark but deep with bottle-green, grey and purple.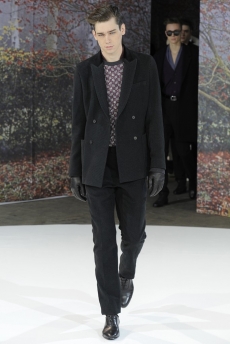 Fashion
IVANMAN at Berlin Fashion Week Fall/Winter 2014
Classicism meets purism in designer Ivan Mandzukic's fall/winter 2014/15 collection. The most recent designs of menswear label IVANMAN were inspired by Alejandro Jodorowsky's 1973 classic La Montaña Sagrada – The Holy Mountain to reflect a play on gender roles. Classical shapes are accentuated femininely by the subtle use of transparency and details in the way the pieces are cut – strong overlapped shoulders and uniform shirts counter for an overall masculine look. IVANMAN's new collection speaks a very personal and purist language while managing to cleverly update classics like trench coats, sweaters and pleated pants.
Mandzukic's distinct sense for proportions paired with severe details like high-necked, stiff collars complete the menswear look for the upcoming fall season. A big selection of quality wool, delicate knits, cotton and heavy sweater fabric dominate the collection. The designer combines heavy hues such as Bordeaux and aubergine with soft beige and classic black and white for a seasonal color palette.

www.ivanman.de
Fashion
John Galliano at Paris Fashion Week Fall/Winter 2014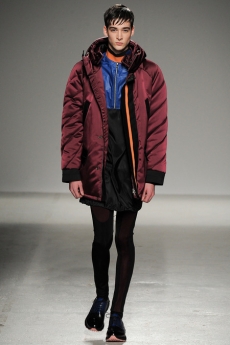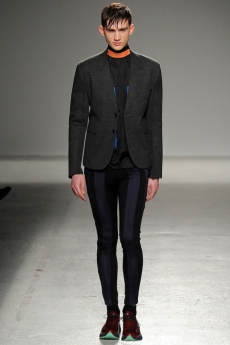 Sport was unmistakably on Bill Gaytten's mind for his latest collection for John Galliano. All looks were based around leggings and sneakers in all sorts of colors and designs. Longer tops had elastic hems to create a rounded effect and parka's had big hoods and cinched waists. Some looks were finished with more urban items like jackets and overcoats, but even they were made out of exquisite technical materials. The collection was given an upbeat touch with shiny surfaces and pop-colors.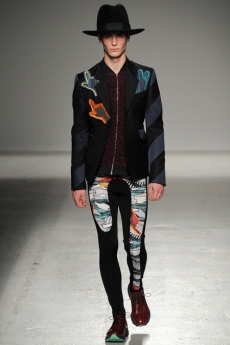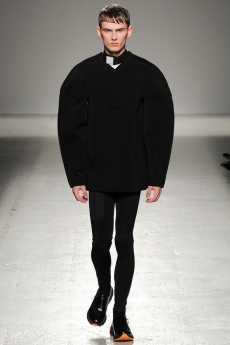 Fashion
Julius at Paris Fashion Week Fall/Winter 2014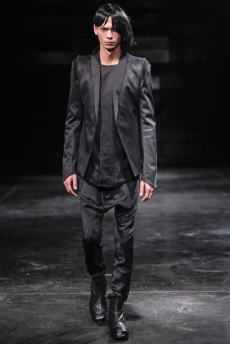 In the presence of more than a few stroboscopes, Tatsuro Horikawa of Julius outed his Fall/Winter 2014 collection and it seemed to come straight from the future. Apparently the designer isn't to optimistic about it, as he mentions "extremely deformed bodies" and "nervous pulses" in the shownotes. Even though the day after tomorrow isn't all that what we hope to be, at least we can protect ourselves (and look cool) with the built-up shoulders and wrapped necklines of Julius. Mostly black, the collection experimented on layering and volume. Later, in white, the most comforting part of the show came: a material that evoked a blanket that was used for tunnel necks and big coats.
Fashion
Dries Van Noten at Paris Fashion Week Fall/Winter 2014
Dries van Noten looked extra confident today when he took his bow after the Fall/Winter 2014 mens presentation. And why wouldn't he? His past seasons have not only gathered him raving reviews but also a loyal fan base and he just delivered another stellar collection. Instead of exploiting the formula he is known for, he took his core and moved on. There was still an aloof and bohemian spirit to the clothes, but Dries infused it with decadence from the sixties and seventies and more surprisingly: neon. Tie-dyed pants and jackets, victorian blouses and furs were all energized by colors as fuchsia, green and lemon. New was the graphic patchwork on flowing parka's and biker jeans.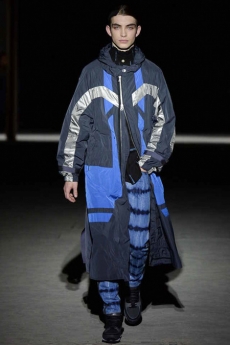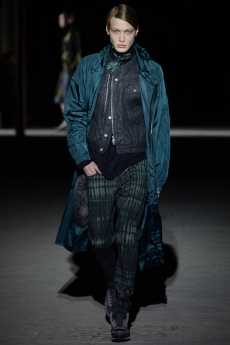 Fashion
22/4_hommes at Paris Fashion Week Fall/Winter 2014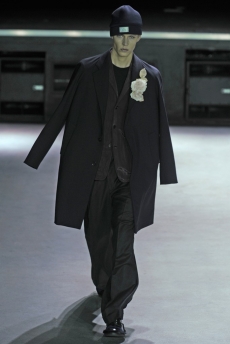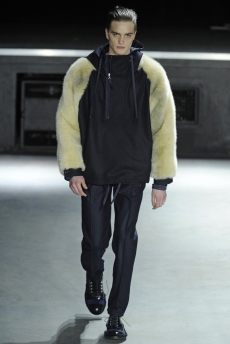 22/4 presented their fall/winter 2014 menswear line in Yoyo in Palais the Tokyo, which now is a popular nightclub but once functioned as the famous cinémathèque. The collection was an exercise in urban sleekness and rigorous brutality. Oversized coats and baggy suits were cinched by colorful elastic bands or wide cummerbund-style belts. Other sporty outings were jogging pants and cropped sweaters, worn over crisp white shirts. The brutality set in with hats, jackets and backs of vests in natural fur. The bomber-jacket, the item pur sang to survive the urban jungle, made several appearances, first draped nonchalantly over a suit but later the recognizable orange lining saw itself transformed in bags and accessories. The balance in those extremes made for an collection both aggressive and delicate.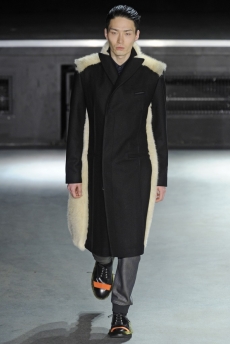 Fashion
Valentino at Paris Fashion Week Fall/Winter 2014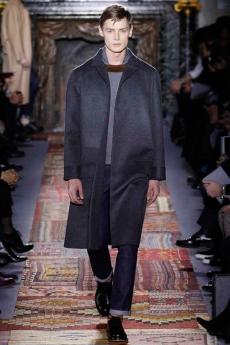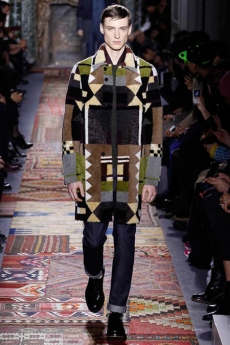 Valentino's head-designers Maria Grazia Chuiri and Pierpaolo Piccioli talked about their idea to bring a nonchalant and comfortable influence to their luxurious menswear. The shownotes explain: "Private becomes public and vice versa." Which resulted in pajamas' in pinstripes or tweeds and big winter coats that feel like robes. The core of the Valentino-brand remains the tradition of Haute Couture and that even manifests itself in the menswear collections. As relaxed as some jackets and coats dance around the body, so much work goes into the inner workings of the garment, balancing it just right on the shoulder. This not only gives a feeling of craftsmanship to the wearer, but also reinforces the idea of comfort and homeliness. That also explains the rug-like materials for some coats and the luscious knits. Quirky details like an owl on the back with wings reaching over the shoulders took the collection out of the house and into the woods. And for that the Valentino-man has a decadent fishers hat.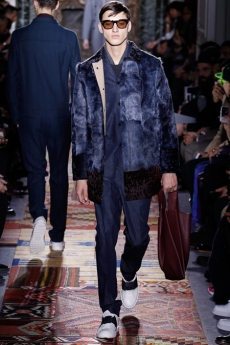 Fashion
Gucci at Milan Fashion Week Fall/Winter 2014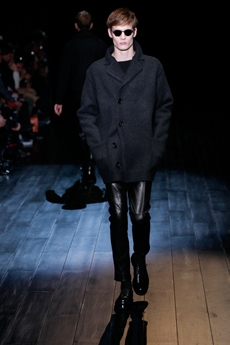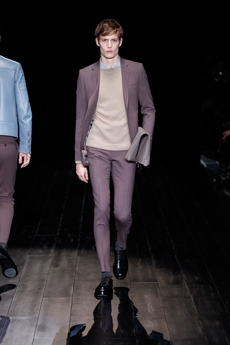 Inspired by the empathetic portraits of Canadian painter Kris Knight, the new Gucci Fall/Winter 2014 collection shows linear, graphic shapes with the precision in design. The Gucci men -during the day- wears sixties pants, nappa leather and biker jacket, and velvet blazers at night. Manifested in Gucci's traditional craftmansship, leather is the protagonist of most garments and occures in almost every look. Creative director Frida Giannini chose a colour pallete, that culminates from deep black into dusty pastels.

www.gucci.com
Fashion
Calvin Klein at Milan Fashion Week Fall/Winter 2014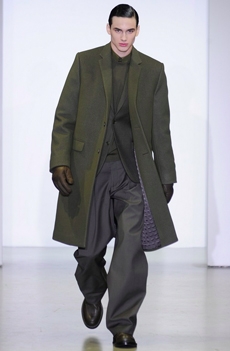 After Calvin Klein has presented the upcoming Fall/Winter 2014 collection during Milan Fashion Week, there are three expressions, that bear in mind: ETERNITY,OBSESSION and ESCAPE. Named after CK fragrances, these slogans, graced numerous of oversized sweaters and underlined how wide-ranging the brand is. The military-inspired collection features baggy metallic pants, leather bombers, backpacks and jean jackets in leather, dominated by earthy warm colours.

www.calvinklein.com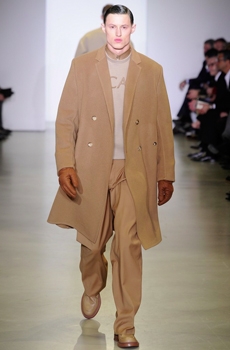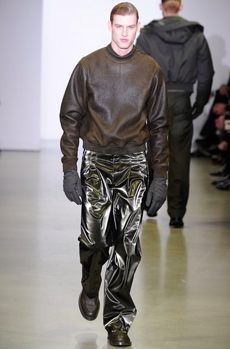 Fashion
J.W.Anderson at London Collections: Men Fall/Winter 2014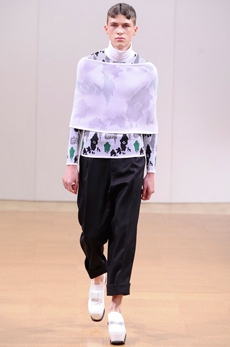 And again, J.W.Anderson blured the lines of gender in his straightforward Fall/Winter 2014 performance at London Collections: Men. Opening the show with a line of tabards, his mannequin's seemed like canvases for his artistic expression stomping down the runway in high-heeled platform boots. Multicolored knitwear, over wide, cuffed trousers and turtlenecks dominated the collection.

www.j-w-anderson.com
Fashion
Saint Laurent at Paris Fashion Week Fall/Winter 2014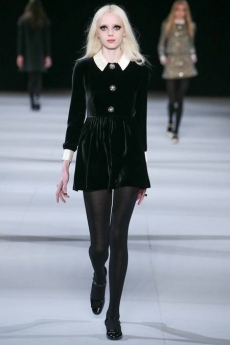 Rock and roll was given a sleek makeover at the Saint Laurent FW14 show. Grungy tartan, leather, velvet and glitter were given a high fashion edge and 60s style mini dresses were worn underneath tailored overcoats to smarten up the dazzle. The collection comprised of just enough rock references to be exciting but used clean and structured lines to comply with a very fashionable look.

www.ysl.com
Fashion
REPLAY For FC Barcelona
As an official partner of the FC Barcelona, the denim brand REPLAY will design the formal outfits and casual wear of the Spanish football team for the next four years. Under the theme 'Denim, made to measure', the exclusive garments are tailor-made from high-quality materials, yet still strongly influenced by the brands denim heritage. For events, the players will wear two different looks in indigo-blue interpreting jeans in a new light. The first look consists of a custom-made suit of blue-gray iridescent comfort denim in combination with a shirt made of 100% cotton. Also the second look -a suit made of pure wool with dark-blue herringbone patterns- shows up the trendy slim-fit.
On top of this, the 'smart casual collection' creates a sporty, yet elegant look, inclu- ding the REPLAY Denim Zero°-Jeans -the highlight of this line- washed with REPLAY's eco-friendly process in which high-pressure ice crystals reduce water consumption by 90%, minimising its en- vironmental impact. Furthermore, overcoats and newly- invented REPLAY footwear -including the Oxford and Brogue model- will complete the football players out-standing looks.
Fans can shop the FC Barcelona Capsule Collection FW 2013/14 including the REPLAY Denim Zero°-Jeans in REPLAY stores and online.

www.replay.com
Cinema
'RAPE' by Joseph Lally
Avant garde filmmaker Joseph Lally and London-based SHOW Studio are delight to present an exclusive cinematic venture entitled 'RAPE' starring charming Belgian model and actress Hannelore Knuts. The unnerving yet absorbing film through different filmic and audio techniques becomes distorted and manipulated leading to a visual outlook of a rape. It tells the story of a woman followed by a man in a dark and surrealistic environment.

www.showstudio.com 
Art
Pierre Huyghe's Retrospective
The prestigious Centre Pompidou is de- voting an exclusive retrospective exhibition to important artist Pierre Huyghe. Being a major figure in the international con- temporary art scene for over 20 years now, Huyghe is mostly known for constructing -often surrealistic- situations, that take place in the observer's own reality. 'I'm interested in the vital aspect of things, in the way an idea, an artefact or a language can flow into contingent, biological, mineral and physical reality', says the french visual artist, who was born in 1962 in Paris. In the 90ies Pierre Huyghe primarily used to be noticed as a video artist, who thematically dealed with the deconstruction of cinema history. In films such as 'DUBBING' (1996) he deals with the different levels of reality movies that are visible, for example, the synchronization or changing the social context.
In the recent few years his creative period transformed into a new creative direction of experimental art - performance and installation projects, embodying the spirit of ingenuity for his enviroments. In 2002, he has been named the recipient of the HUGO BOSS PRIZE 2002, an international highly-regarded award. Since than his work has been presented in numerous outstanding solo exhibitions and represented in notable group exhibitions.
Besides ten installations that never been exposed before in public, Emma Lavigne -curator of the exhibition- has gathered around 50 works of Huyghe, incluiding 'L'EXPÉDITION SCINTILLANTE, A MUSICAL' (2002), 'STREAMSIDE DAY' (2003), various known settings of previous exhibitions, that she is showcasing at the Centre Pompidou. A greyhound dog with a pink leg named 'Human', that was part of the project 'Untitled', at the Documenta 13 in Kassel, next to a sculpture of a lying woman with a beehive on her head. Furthermore, the surrealistic aquarium of Zoodram 4, in which rocks are floating on the surface of the water and a crab has found his home in the copy of a Constantin Brâncusi sculpture.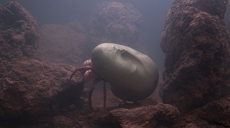 As Pierre Huyghe is a great master in staging atmospheres and moods, where art and nature collide into each other, the on-going retrospective at the French métropole Paris, provides a comprehensive panorama of his practice and research which spread over the past two decades. The show aims to emphasize the live and organic dimension of the artist's propositions. The exhibition space is conceived as a world in itself, a small cosmos, in which the visitor delves into.

The exhibition is on until the 6th of January 2014 at the Centre Pompidou in Paris.

www.centrepompidou.fr
Fashion
#DIESELTRIBUTE by Nicola Formichetti
Nicola Formichetti launched his first exclusive capsule collection for the Italian denim brand Diesel under the promising title 'RE-EXAMINE THE PAST, RE-IMAGINE THE FUTURE'. To underline the fearless Diesel spirit and pay tribute to the DNA of the brand, Nicola 'examined' various legacy pieces in the headquarter factory of Breganze and customized found materials from the 35 -year archive in a new design. Each and every item in the entire collection is handmade and pushing the fashion quotient further than ever before. To keep iconography alive, the newly-appointed Artistic Director used found patches, displaying e.g. moto club images such as the eagle, all cut and laid by hand. Furthermore, red, white and green buttons praise the brands Italian heritage. The men's and women's ready-to-wear includes 45 pieces and consits of two segments, a denim capsule and a leather capsule, including jackets, shirts, vests, jeans and accessories.
Under his vision of the future, Nicola Formichetti was remaining true to the unique ways of distributing Diesel and therefore teamed up with celebrated photographer Nick Knight and his creative team, the SHOW STUDIO, to shoot an revolutionary campaign. The entirely new visual concept was shot with an iPhone, and retouched by filters of photo and video apps such as Instagram, Glitchè, PickPlayPost and Megaphoto. This unique look speakes the true vocabulary of a visionary take into social media.

The denim #DIESELTRIBUTE capsule is ready to shop online and in selected Diesel stores only, the leather #DIESELTRIBUTE capsule will follow in February 2014. Explore the outstanding online campaign at

www.diesel.com
Travel
'Century Spire' by Giorgio Armani and Daniel Libeskind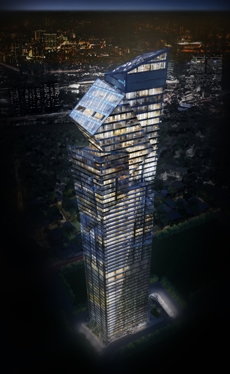 Italian fashion designer Giorgio Armani announced an exclusive collaboration between renowned visionary architect Daniel Libeskind and the leading Philippine real estate developer Century Properties for the latest project Century Spire. The residential luxury building will be located in the heart of Makati, the prestigious economy and financial center of the Philippines. Adding another impressive highlight to the glorious skyline of Makati, the superlative architecture was designed by Daniel Libeskind, who took his inspiration from urban aspects and the cultural heritage of the Island. Libeskind is globally well-known for his outstanding architecture including the Jewish Museum in Berlin and was awarded for rebuilding New York's Ground Zero and many other international, iconic edifices.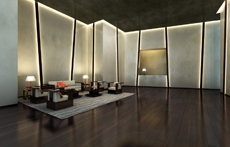 Including high-end office spaces and luxury residential units, next to an amenity section, the tower will branch out in three interlocking segments on top and crystallize into a number of spectacular spaces. This breathtaking scope of architecture will reflect the meaning of cultural and geographical research, and result in a truly remarkable place to live, full of elegance and wonder, symbolizing the growth of the economical future of the Philippines. The exclusive 60-storey tower will be furnished by Giorgio Armani's Interior Design Studio Armani/Casa in highly comfortable and sophisticated designs. Since 2003, the Armani/Casa Interior Design Studio is a world leader in the luxury furnishings sector representing elegance and style and is therefore the equivalent partner for Libeskind's architectural masterpieces. 
The Century Spire is set for completion in 2018.

www.centuryspire.com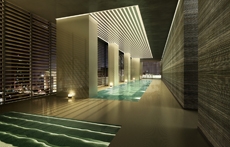 Fashion
REPLAY's Laserblast Club Capsule Collection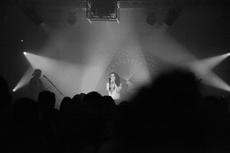 On Wednesday, 23rd of October 2013 Italian denim and casual wear brand REPLAY celebrated the launch of it's Laserblast Club capsule collection at the 'Terrassensaal' in Munich in collaboration with VICE. Stunning British singer Charli XCX -who is the protagonist and new face of this collection and just released her first album 'True Romance' - highlighted this very special event with a vivid live performance, accompanied by flashy computer graphics and laser beamer video projections.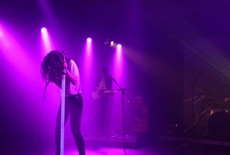 The new REPLAY AW2013-14 line combines club culture with denim, but also points out technological progresses, en- viromental responsibility and eco-oriented thinking. Through using the Laserblast technology to get the typical denim aethetics, REPLAY doesn't need to use big amounts of water, energy and stones or sand to wash the jeans, as the wash is literally put onto the jeans by a laser. Watch the video teaser of Charli XCX for the REPLAY Laserblast Club Capsule Collection on

www.replay.it
Fashion
Azzedine Alaïa and Women
By Ria de Borja
Alaïa, an exhibit chronicling the designer's career and influence in fashion, recently opened at Palais Galliera, musée de la mode de la ville de Paris. The exhibit goes through the designer's history, designs, techniques, inspirations - and his penchant for women, including famous actresses. Azzedine Alaïa was born in Tunisia and attended the country's École des Beaux-arts. "I used to spend my nights oversewing dresses for a local dressmaker in order to pay for my school equipment. I learned the different stitches by doing my sister Hafida's sewing exercises because she wasn't very keen on manual skills," says Alaïa in the exhibition catalogue. Soon after, the designer finished his studies and was encouraged to move to Paris by a family friend.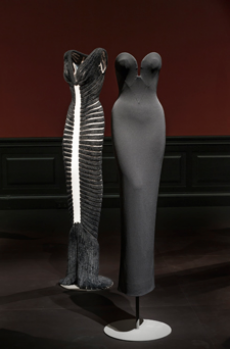 "The designers who have made a lasting impression on the history of fashion are those who have concentrated on celebrating and liberating the body. Of all contemporary creators, it is Alaïa who has best embodied this spirit since the 1980s, using precise seams and darts to produce a silhouette that has become his hallmark," says Olivier de Saillard, director of the Galliera museum and the exhibit's curator. "He drew inspiration from the spirited style and arrogance of personalities like Arletty and Louise de Vilmorin."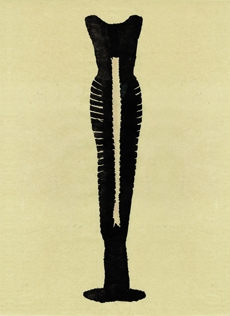 Alaïa met the French actress Arletty in Paris in 1960. "She's the one who gave me the idea of making skin-tight dresses. She was used to adjusting the volume of her skirt with a pin. 'It falls too well, she used to say. It has to be skewed somewhere.'" Towards 1971, he was inspired by Greta Garbo: "She came with a friend, Cécile de Rothschild, and wanted me to make a very full- bodied coat. I remember some fitting sessions and measuring sessions. The coat was never big enough for her taste.
At a time when everything was tight- fitting, the 1970s, I had to make an immense, navy-blue coat for her, with turned- up sleeves. In the 1980s and 1990s, I often presented huge coats with generous shoulders, a definite nod to Garbo, to her inimitable and avant-gardist style." When he met Louise de Vilmorin, he was further schooled in fashion: "Meeting her I realized that Parisian chic was all about the little details. One evening when Louise de Vilmorin was supposed to go to a dinner, she asked me to help her put the finishing touches to her outfit.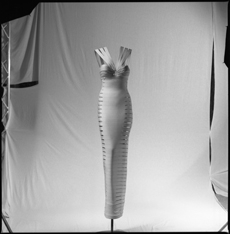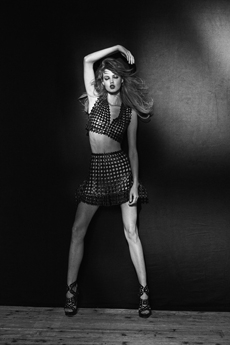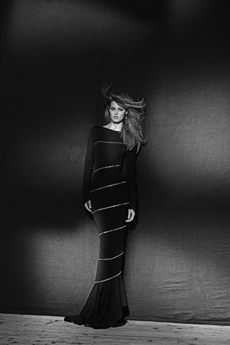 She remembered that she had seen a concierge wearing a cardigan from a department store like Prisunic so we bought it. We replaced the buttons with something more elaborate in metal and put a long ordinary chain around her neck that she rolled up and plunged into a pocket. It was a demonstration in just a few seconds of her inimitable sense of style, and she got a lot of envious looks that evening." Over the course of his career, the designer has created collections that include leather or waxed fabrics perforated with eyelets, skirts laced at the back, metal zippers running from the neckline to the hemline, tight and structured leather suits, seamed stretch jersey dresses, leather tube dress with asymmetrical folds revealing the naked skin, stretch jersey hood dresses and coats with hood collars and reversible boleros with strips of mink. "Alaïa fashioned a new body, like a sculptor working with muslin and leather. Inventing new shapes out of simple interplay between complex stitchings, Alaïa became the creator of a timeless body of work. His influence on today's fashion is fundamental," says Saillard.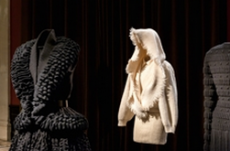 In 1986, Alaïa presented Naomi Campbell in her first fashion show (she was 16).  "Naomi Campbell, Farida Khelfa, Veronica Webb, Stephanie Seymour, Marie-Sophie Wilson, I am grateful to them all for accompanying me through all the research and the long posing, fitting and tweaking sessions. If I don't have models before my eyes I have no ideas. I need to see their bodies near me," says the designer. He acknowledges the profound influence women have had on him: "I have never followed fashion. Women have always dictated my behaviour. I make clothes, women make fashion."

www.alaia.fr
Fashion
Dr. Martens x Gavin Watson
Certainly one of the strongest claims to counterculture, Dr. Martens boots with their trademark yellow stitching, grooved sole and heel-loop have defined a specific look. Countless rebellious streams, subcultures and tribes have adopted the style, which accompanies the journey towards-self expression. Aside from the boot itself, the brand has incorporated accessories and apparel into its collection. Enter renowned British photographer Gavin Watson.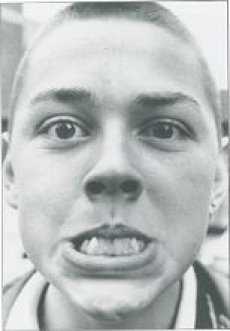 He has been deeply involved with British subculture since adolescence and has documented the scene in his intimate photographs. Born in Northwest London in 1965, Watson started taking pictures at an early age. By the time he was 14 he had become a skinhead and immersed himself into this world of Dr. Martens, 2 Tone and Madness. Through all of it, he documented his buddies' shenanigans as well as those of his 'muse' - his brother Neville - through the lens of his camera. Publications such as 'Skins', 'Skins and Punks' and 'Raving '89' showcased his work to the world and have prone luminaries from Terry Richardson to Shane Meadows to hail him as a genius and even credit much of the look of the 2006 drama 'This is England' to Watson's work.
For the Fall/Winter 2013 season Watson will present a capsule collection of limited edition printed T-shirts, which feature images from his vast archive. The images are captioned as 'Nev flying the flag outside the Watson house in Hawthorne, High Wycombe', 'Dean Spencer outside Camera Press, Coram St, Russell Square, London, 1981', 'Nev's sky blue Sta Press and Docs, Carnaby St. London' and 'The Wycombe Marsh mob, Wycombe Marsh, 1981.' The shirts will be available in two different fits, for men and women respectively and will be available from Dr. Martens own retail stores and online from October.
Travel
Bottega Veneta opened first Maison in Milan
For the opening of the first Maison of Bottega Vaneta in Milan, creative director Tomas Maier hosted a cocktail night. The new exclusive store is set in the heart of the fashion capital, in the prestigious Via Sant'Andrea.The unique concept captures the architectural designs of Maier and makes the customer feel comfortable and relaxed while shopping luxury itmes. Showcasing women's and men's ready-to-wear including handbags, small leather goods, luggage, eyewear, shoes, watches, fragrance and jewelry, as well as furnitures, the Maison features a variety of chic products.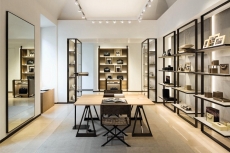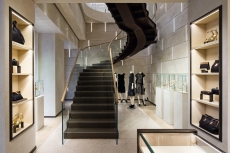 Art
Wolfgang Joop, Richard Müller and Mel Ramons exhibition in Leipzig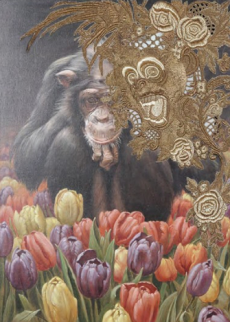 Don't miss the upcoming exhibition of 'Die Schöne und das Biest' ('The Beauty and the Beast') at the 'Museum der bildenden Künste Leipzig'. The exhibition will showcase a total of around 150 paintings, prints and drawings by the three unique artists Mel Ramons, Richard Müller and fashion designer and painter Wolfgang Joop. Renowned artist Mel Ramons -an icon of Pop Art of the 20th century- focuses in his paintings the sense of a female body on a high graphical level. Mel Ramos became known in the 1960s through his commercial erotically-charged paintings, in which he placed Pin-up's next to consumer products such as Coca Cola bottles, chocolate bars or cigars.

The exhibition opens on 12 October 2013 at 18.00 and will be on from 13 October 2013 until 12 Janury 2014.
 
Fashion
Miu Miu at Paris Fashion Week Spring/Summer 2014
For Spring/Summer 2014 Miu Miu adorned the runway with exclusive garments hitting the spirit of the swinging sixties. Miuccia Prada sent out retro looking coats with big buttons, fringe-beaded dresses in a range of vivid and pastel colours. Wool tights were combined with twin set tops and patent leather skirts in pastel colours.Cuts and shapes were slightly remininding of schoolgirl uniforms.Wild patterns and prints of ornaments showing birds, cats and flowers highlighted fluffy coats. Paying attention to those eye-catching details, the collection was playful, girlish yet sophisticated and feminine, what in other words defines Miu Miu as an extravagant brand.

www.miumiu.com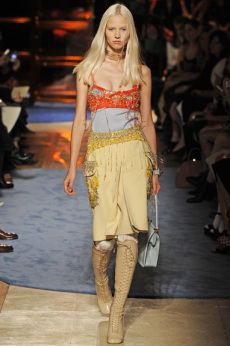 Fashion
Christian Dior at Paris Fashion Week Spring/Summer 2014
The House of Dior for Spring/Summer 2014 conquered the runway with a strong, feminine and very exoctic appearance. This collection was drawing a line of successful new interpretations and a variety of ideas. Raf Simons's creations were built on exclusive fabrics, such as bright silks and jacquards and stunning floral prints related to the impressive runway location, which felt like a surrealistic tropical rainforest setting.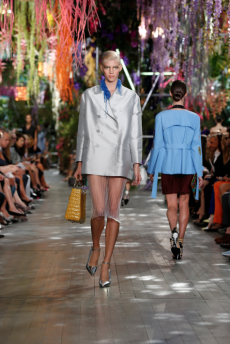 The iconic traditional Dior Bar Jacket appeared next to translucent pleat skirts in neon coulors combined with monochromic metallic garments and very powerful multi-coloured dresses. Wrapped tops emphasized the beauty of a woman's waistline, relating to the sensual spirit Dior is loved for.

www.dior.com
Fashion
Versace at Milan Fashion Week Spring/Summer 2014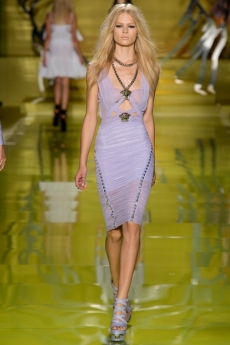 The collection of iconic fashion designer Donatella Versace has been a divine highlight at this Spring/Summer 2014. Bringing up the attitude of rock energy and effortless luxury, it is all going in the direction of creating a fresh streetwear look for the day and a strong appearance at night. The coming season is going to be dominated by leather and denim. Low waisted circle skirts combined with bra's made of gauzy fabrics and again and again heavy silver chains and rivets are the basic substance of this collection. Followed by a range of pieces covered with floral patterns in the shades of lilac, as well as exclusive nightwear dresses made of shining fabrics, this collection is clearly a prelude to a powerful 21st century in the signature of Versace. The show got closed with the legendary summer hit "Versace" by Mikos.
Fashion
Jil Sander at Milan Fashion Week Spring/Summer 2014
Jil Sander's performance on fourth day of Milan Fashion Week was straightforward, linear and dominated by precise cuts. After the german fashion designer has left the brand twice and now is back, this Spring/Summer 2014 feels liberated and relaxed, perhaps because Sander now has finally arrived. According to be the "Queen of less", the show demonstrated, that less sometimes is more. Being loyal towards her standards and principles, this collection was "Joyful Serenity"  and minimalism par excellence. Made of a combination of simple shapes and unique materials, Sander has showcased stunning garments, highlighted by her pure style elements, she is being adored for. Belly tops and midi skirts gave a shimmer of youthness, slightly wide capri pants and buttonless blazers added some elegant key notes, all in a rather restrained colour palatte.

www.jilsander.com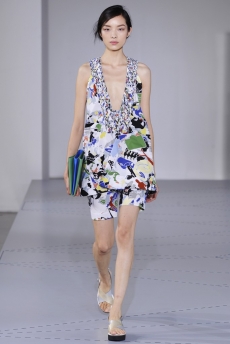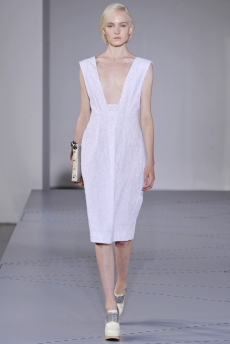 Fashion
Burberry at London Fashion Week Spring/Summer 2014
Burberry Prorsum for Spring/ Summer 2014 season showcased a collection of warmness and fragility. Cashmere cardigans, new construed trench coats, gracile pencil skirts and tops of organza in pastel shades of lavender, rose, mint, and cornflower blue created an idea of something sexy and a little vulnerable but with something protective and safe and top. Laces with floral patterns underlined the romantic approach this collection had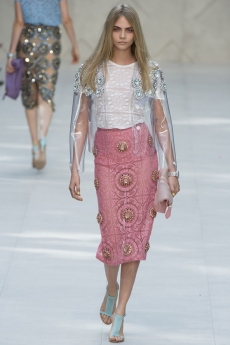 Fashion
Mulberry Spring/ Summer 2014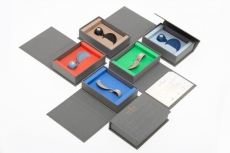 Creative director Emma Hill showcased exclusive garments for the traditional english brand Muberry. To invite guests to its London Fashion Week show, Mulberry decided to send miniature teacups and saucers created by iconic English tableware and lifestyle brand Wedgwood. The miniatures were- held inside a box embossed with a traditional stately home, the guests' first glimpse of the catwalk theme. The 'dolls house' teacup and saucer were based on the Wedgwood Jasperware in traditional Jasperware colours, which also beautifully reflected the seasonal tones in the Mulberry's Spring/ Summer 2014 collection.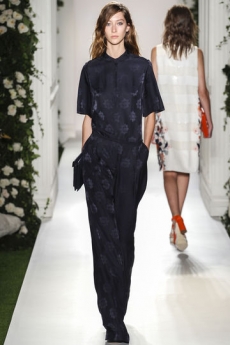 Approaching a playful spirit, the designer managed to showcase a combination on traditional looks on one side and modernism on the other side. Speaking of British Heritage the collection included good quality fabrics such as luxury silk and leathers, all in creamy whites and monochromic colours. Culottes and wide overall's, sleeveless dresses with flower patterns and leather skirts with simple tailored voluminous blouses on top played the key role in this extraordinary selection of pieces.

www.mulberry.com
Fashion
Calvin Klein at NYFW Spring/Summer 2014
Speaking the language of minimalism and innovation, Francisco Costa, who is Creative Director for Clavin Klein since 10 years now, put on the final run at NYFW Spring/ Summer 2014. Simple, oversized and unfinished looking pieces gave an industrial, experimental look.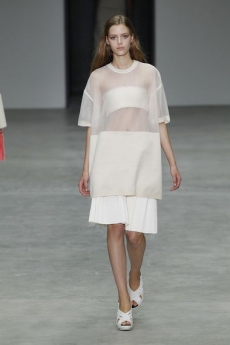 Knee lenght skirts, on top oversized tops and wide-strap dresses were made of unique fabrics like woven snakeskin, silk and multicoloured yarn. Inspired just by a simple boys' T-Shirt and potato bags, Francisco experimented on taking apart, fringing and fraying his exclusive fabrics, that were dominated by white, bright sandy and black colours.

www.explore.calvinklein.com

Fashion
L' Aventure Pop-up Shop opens up in Paris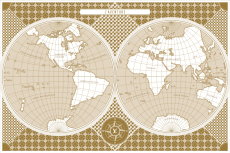 L' Aventure is a pop-up store designed in collaboration with canadian journalist and magazine publisher Tyler Brûlé and his team. 'The Louis Vuitton's experience doesn't stop as soon as you walk out the store with your luggage, they're in it for life with you.' This unpredented space highlights Louis Vuitton's expert authority on travel, since Louis Vuitton's monogram shows up daily on every airport worldwide. The store will offer not only objects, but also a number of unique services, such as offering a wide range of options for customising luggage.
L' Aventure opens on 12 September 2013 on the prestigious Avenue Montaigne in Paris.

Fashion
Diesel Fall/Winter 2013 Campaign
Where would you look to find the fashion's face of today? When many would turn to the catwalks, Diesel – with its hopeful spirit ready to 'Reboot' – has herded an army of outsiders from the fertile soil of the brand's Tumblr page. A practising follower of social media, newly-appointed Artistic Director, Nicola Formichetti, was the main protagonist to what is a refreshing chapter in the Diesel story – a change of narrative and a fresh plot to match. Formichetti's vision is one that unearths and champions the most relevant talent of our time – something he has always been keen to depict through his imagery – and the Fall/Winter 13 campaign is no different.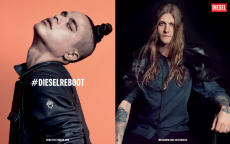 The subjects make for an eclectic cast, comprised of Japan's current obsession (actress Kiko Mizuhara), rosy-haired Bronx graffiti artist (Michelle Calderon) and female Olympian-turned-male model (Casey Legler). Throw in an Italian electro-house DJ (Bob Rifo) and an alienesque Dylan Fosket, and the troupe grows curiouser and curiouser. The styling of each shot was entrusted to the individual, with the vital Diesel staples to hand – a wardrobe of denim and leather pieces, customised by Formichetti himself. Composed in classic-portrait style, the shots frame the atypical models with brilliant nobility, and with Inez van Lamsweerde and Vinnodh Matadin on board as photographers, they strike a formula to render snapshots as artefacts of modern times.

www.diesel.com
Fashion
New Mulberry Bayswater Shoulder Bag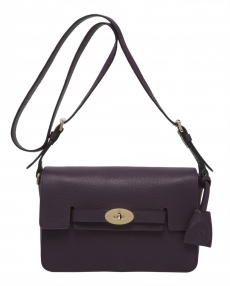 It is surely a testament to design when an accessory comes to be a celebrity in itself; sacrosanct and scrutinised by an adoring public, Mulberry's Bayswater bag is just that – a cult style staple that is at once practical and ever en vogue. Though change is in the air this Fall/Winter, as a handsome adaptation of the label's dearest descendant is sure to cause quite a stir among disciples and decriers alike.
Effortless and unassuming, the new Bayswater Shoulder bag is very much the cooler, cultured cousin to Mulberry's iconic original – insouciant and bare but for its enviable quantities of uncalculated chic. Exquisitely crafted leathers case its humble frame, streamlined to its classic and quintessential components. In Autumnal hues of taupe, crimson, plum and midnight blue, the superb grain of the polished skins comes to surface, from grainy calf and goat hides, to tactile lizard prints. Alongside this novel addition to the lineage, is the Bayswater Double Zip Tote; a distinguishable relation to its ancestor, but reworked, this time with an optimised layout, made possible by a zipped compartment layout. All the while, dependably present is the charming motif of the classic Bayswater – or, rather, any Mulberry handbag worth its salt – in the form of its plated postman's lock – a Royal seal, if ever there were one. Only one element is sure to stay consistent to such a tumultuous collection: it won't be long before the Bayswater Shoulder is seen to be a pin-up in its own right.

Available online and in stores as part of the Fall/Winter 13 Main Collection

www.mulberry.com
Cinema
Armani/Casa for Paranoia by Robert Luketic
Giorgio Armani is no stranger to the silver screen. Since he first dressed Richard Gere and Lauren Hutton in American Gigolo in 1980, his designs have taken a starring role in hundreds of films, from Shaft to The Dark Knight Rises. Set design, however, is a more exotic prospect for the designer.
Working closely with production designer David Brisbin, pieces from the Armani/Casa line furnish the scenes of Robert Luketic's anticipated thriller, Paranoia, fashioned to imbue a clean and contemporary atmosphere that is integral to the ethos of Armani. The character of Adam Cassidy, played by Liam Hemsworth, is a burgeoning young businessman, who has just moved into a new luxury apartment – denoted, of course, by Armani/Casa's sleek and sumptuous scenery; sofas, lamps, tables and chairs frame an aspirational setting, adhering to the sense of sharp, tailored and irrefutably masculine lines for which the brand is best accredited.
Wardrobe, too, received the Armani treatment, together with costume designer Luca Mosca. Two-button notch lapel suits and blazers in midnight blue and cement grey clothe characters played by Harrison Ford and Jock Goddard, working in incisive tailoring, to modern, yet timeless silhouettes. On the project, Giorgio Armani spoke of the fun of dressing a movie villain, and also described the collaboration as an opportunity to showcase the Armani/Casa range in a light that was appropriate and believable to the storyline. Though this may only mark a cinema debut for the range, the promise of this new creative venture is enough to make you yearn for a sequel.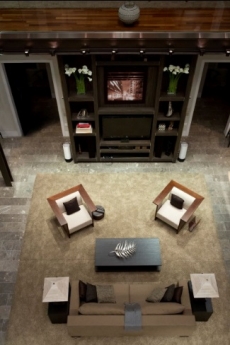 Cinema
Miu Miu at Venice Film Festival 2013
Miu Miu is to make a return to the Venice Film Festival this August, continuing its series of short films, Women's Tales. Each piece the work of an international female director, The Door by Ava DuVernay and Le Donne della Vuccirira by Hiam Abbas will premier on August 29th. Following last year's successful format, the fifth and sixth installments have been produced in partnership with independent film company, Venice Days, and are to be accompanied by a selected discussion panel, exploring the roles and works of women in cinema. The Venice Film Festival runs between August 28th and September 7th.

www.labiennale.org
Fashion
Prada Marks 100th Anniversary with Galleria Restoration Project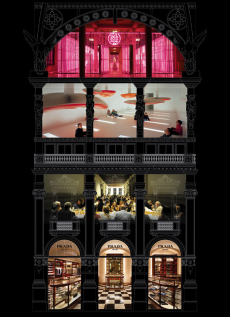 Setting up shop in the Galleria Vittorio Emanuele II in 1913, Mario Prada – father of the legendary fashion house – opened the first of many Prada boutiques under the roof of Milan's most spectacular shopping mall. A neo-classical landmark, the ornate architecture of its breathtaking façade is all part of the romance in the Prada story.
In fitting commemoration to its centenary, Prada plan to reinforce its roots with an extensive restoration of an entire quadrant of the Galleria, opening onto its historic central intersection and adjacent to its current residence. The Prada Galleria was waved in by the launch of a new dedicated menswear store.
At 400m², it occupies not even a tenth of the proposed development, saving room for more sales space, event areas, a restaurant, an exhibition hall for contemporary art under the Prada Foundation and brand headquaters. The ambitious renovation will encompass a thorough reworking of the vicinity, from interior layout to its outer structure, sculpting a complex for culture, business and lifestyle in the heart of the city, and under the magnificent roof of a monumental Milanese fixture.

www.prada.com
Fashion
Levi's 501 Celebrates 140th Anniversary With Book Launch
A 20th century icon, it's hard to believe the immortal Levi 501 jean walked into its 140th year with the turn of the calendar. Ripened and reshaped since 1873, its silhouette has evolved and abstracted definition by the hands of its forebearers, unfurling into an icon itself throughout the course of its unfleeting lifetime.
To document its status as an artifact of modern times, Levi's have complied a catalogue of photographs for the book Levi's 501 Interpretation, the denim the esteemed subject of 501 personal styles. Its compelling personalization makes for compulsive page turning, the unique charmisma of each sitter providing constant refreshment and charm. Limited to a droll 501 special editions, the book was launched last Wednesday with a viewing at Berlin's 032c workshop, to a warm reception which counted Clemens Schick, Coco Krebitz and Hien Le as its guests.

Levi's 501 Interpretation will be available online and in selected stores worldwide from August.

www.levi.com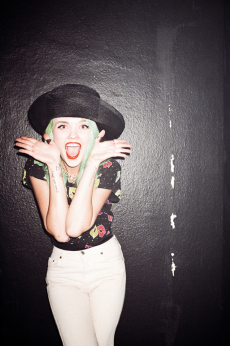 Music
Trentemøller – Lost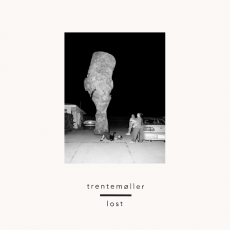 You could say Anders Trentemøller has pulled out a wild card yet again, but what would a more 'predictable' album have conformed to anyway? Though Lost has timbres of the Trentemøller guitar sound of 2010's Into the Great Wide Yonder, his third full-length piece leaps far away from anything the artist has produced before; less cinematic, more track-driven. Club sonics creep in from The Last Resort, but find their own shape in a surprisingly-mixed landscape.
Twelve tracks retain the haunting ambience that defined Lost's predecessors, but a pulsing sub woofer bass tone leads the sound to punk rock – barbarous and raw. Each listen opens the door to an unheard tenor, boundlessly profound in its burying depth. This is the sound of months of isolation. Self-induced insomnia made way for unbridled experimentation; Constantinople is weighed down by heavy organ grooves, while the single Never Stop Running features Jonny Pierce of The Drums in a ghostly electronic wave. Solitary confinement did make exception for the odd considered musical collaboration. Sune Wagner of The Ravonettes is impetuously dropped into a club song to exhilerating effect, while the other appearances from slow-core pioneers Low and the shoegazey dream pop of Kazu Makino weave an elaborate tapestry that is – true to form – expectedly unexpected.

Lost is released September 23rd 2013

www.anderstrentemoller.com
Art
Bourgeoisie, Swing and Molotov Cocktails: Amerika Haus Through the Ages
More than the vacant architectural souvenir from the '50s it currently stands to be, Berlin's Amerika Haus was the backdrop to quite a movement in 20th century social change.

Its beginnings trace back to the late 1940s, originally designed to counteract the Nationalist Socialist past of the location, and dissipate anti-American sentiments that had found their way into politics for decades past. Through the '50s, Amerika Haus offered access to American culture and politics, with German citizens able to explore a library of US literature, magazines, theatre, films and concerts, or attend English courses. Since then, the institution has transformed itself in various incarnations; during the time of the Berlin wall, Amerika Haus became a place for the re-education of the Germans, a location for anti-communist propaganda, and from the '70s, a run-of-the-mill regional cultural centre.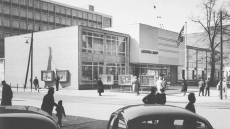 Over the years of anti-American protest that saw eggs and Molotov cocktails thrown at the building, and with the terror attacks on September 11th, the building has become increasingly closed off – almost a fortress with its high fences and rolling grilles. Adopted by C/O Berlin, Amerika Haus is soon to house the gallery's exhibitions, at last reconnecting with its primordial function. Until doors open in Spring 2014, displays will occupy the authentic open-air surroundings of its exterior, with Amerika Haus Through the Ages kicking things off as its first free 24 hour exhibition, on show until September 15th.

www.co-berlin.info
Fashion
John Varvatos Fall/Winter 2013 Campaign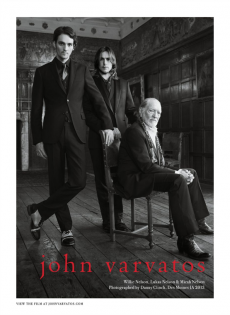 Graciously composed in timeless black and white, the John Varvatos Fall/Winter 13 campaign stars American music legend Wilie Nelson and his sons in what makes for a beautifully fashioned family portrait.
Shot in Des Moines, Iowa by photographer Danny Clinch, Willie, Lukas and Micah – each an established musician – pose nobly before the stately architecture of Salisbury House. Embodying the strength of Varvatos' collection with his compelling presence, Willie's sense of style permiates through the images, as his own boots partner the black Hampton tuxedo and wing-collared shirt.
A short film accompanying the campaign will also premier the John Varvatos website on July 9th, in which the Nelson family perform the song Still is Still Moving to Me. Conversation cuts guitar-playing in this mini-documentary, which affords an intimate insight of music and memories – three minutes just doesn't seem long enough when watching this tender portrayal of a truly treasured musical icon.

www.johnvarvatos.com
Fashion
Isabell de Hillerin Spring/Summer 2014
The beautiful and talented Isabell de Hillerin put forward a smart and relaxed collection for spring/summer 2014. Her label stands for elegance, structured cuts and details which remind of an old tradition. She works with fabric manufacturers from Romania and Moldova, a traditional artisan industry on the verge of extinction, which she is supporting. In her spring/summer 2014 collection, titled 'relief', embroidery either accentuates shoulders and necks or adds intrigue to clear cut shorts or shirts. The color palette spans from white, grayish beige and light lavender to a strong tangerine and royal blue with some black pieces in there. All allude to a midsummer day, when a brewing storm forecasts the imminent relief from the heat of the city. Isabell de Hillerin's designs balance this forceful color story in their almost masculine elegance: sharp Bermuda shorts meet ornamental shirts, wrap-around blouses, strong shift dresses and two pieces. Flowing skirts, deep v-necks, thigh-high slits and geometrical cut-outs add a subdued sexiness to the collection. The urban summer vibe once again showed when the models carried their pretty high heels in hand for final runway, strutting along to Bon Iver's 'Skinny Love'.

Images:© Mercedes Benz Fashion

www.isabelldehillerin.com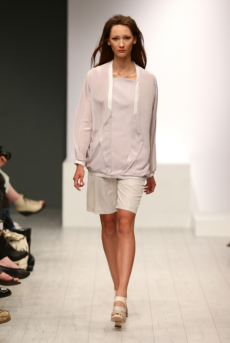 Fashion
Marcel Ostertag Spring/Summer 2014
The most eclectic designer showing during MBFWB is certainly Marcel Ostertag. Always one to take things a little further, the designer himself took to the runway to open his show in a long blush gown jacket. What a way to celebrate his 15th collection thus far. His 'Fragile Explosion' really went for it with vivid colors such as turquoise, green and shimmery gold as well as flower prints, sequins and combos of cotton and jersey or jersey and leather. The almost excessive use of sheer materials brought out the edgy, naughty side of the collection and balanced the more romantic floral and blush pieces. For his anniversary, Ostertag managed to put forward a collection which is cohesive and individual, having a little something of everything.

Images:© Mercedes Benz Fashion

www.marcelostertag.com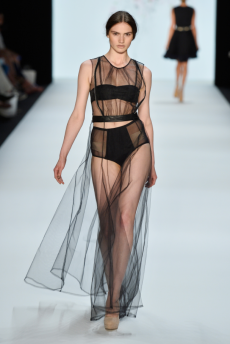 Art
Anton Corbijn Recieves First Raw Leica by G-Star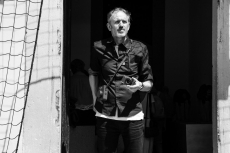 On the week of the Pitti Immagine menswear fair, pioneering denim brand G-Star launched the new RAW Leica camera, presenting the first of the special edition of the Leica D-Lux 6 Series to legendary photographer, Anton Corbijn. After accepting the Leica, Corbijn shared five inspirational photography tips in an online video for the G-Star website. Recognised for his earthy and resonating style, the collaboration between Corbijn and the two companies seemed organic, each upholding ideals that are rooted in the street.
As an affectionate favourite of street photographers since 1925, the Leica is championed for its unmatched functionality. Like its past incarnations, the Leica D-Lux 6 'Edition by G-Star Raw' is designed with practicality in mind; equipped with a fast and compact f/1.4-2.3 lens, media facilities span automatic, manual and Full-HD video recording modes. An improved sense of grip performs for the spontaneous photographer, reinforced by its generous 1.7" CMOS image sensor. Ever trend-aware, G-Star have cased the camera in brown leather – an immortal classic, which, with its shoulder and hand straps, will see it stand the test of time, like the exquisite photographs it will create.

The RAW Leica is available online and in selected Leica boutiques.

www.g-star.com
www.leica-camera.com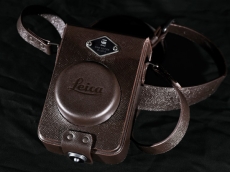 Music
Punk+ by Sheila Rock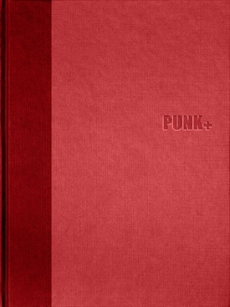 When Punk gatecrashed the seventies, Sheila Rock was part of the party. Having moved to London from Boston "as part of the David Bowie scene", a chance invite from friend and Patti Smith guitarist, Lenny Kaye, made Rock spectator to a then-anonymous outfit, that just so happened to be The Clash. Only clairvoyance could have earmarked that the decision to take her camera that night would have life-changing implications.
Rock became the eyes and ears of the Punk movement, amplifying it's anarchic uprising through photographs which serve to document social history – quite extraordinary for an artist who very much fell into the trade inadvertently.
Raw and rebellious, her images reflect the era candidly. Portraits of musicians and soon-to-be figureheads, Souixsie Soux and the Sex Pistols, are composed with the unassuming honesty that is integral to its time, while snapshots from the street unapologetically catalogue the surging changes in fashion, politics and lifestyle.
Compiled for the release of her limited edition book, Punk+ captures the attitude of the age with unabating energy. Select photographs by Sheila Rock feature at the Met Costume Institute's Punk: Chaos to Couture exhibition, while in London, a collection of images will be exhibited at Rough Trade East until 30th June.

www.sheilarock.com
www.roughtrade.com
Fashion
Fred Perry Gary Hume Blank Canvas Collection
Continuing to collaborate with iconic British artists, fashion brand Fred Perry have announced their Gary Hume Blank Canvas Collection.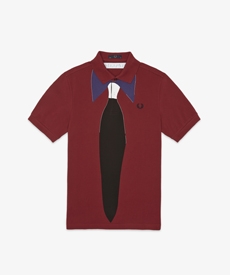 The collection will consist of three screen printed shirts based on original Gary Hume artworks. Chosen to enhance the classic Fred Perry shirt the artworks Spike (2006), Exclamation Mark (2004) and Blue Collar (2013) have been selected for their simple yet striking aesthetic.
Describing Fred Perry as "the uniform of the smart, disgruntled youth" Gary Hume is a successful English painter and printmaker famous for his work in London during the 1990s. The shirts will be available for men in Laurel Wreath collection stores and online from August 2014.

www.fredperry.com
Fashion
The Neo-Neoclassic Diesel Fall/Winter 2014 Campaign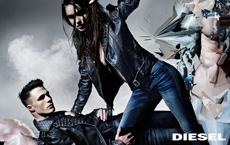 Incorporating Diesel icons, leather rock 'n' roll, denim and military – utility, the Fall/ Winter 2014 Diesel campaign entitled 'The Neo – neoclassic' comprises of an exciting amalgamation of dynamic imagery and explosive backdrops. 
Modelled by actors, models, musicians and internet stars, the campaign fuses the classic with the contemporary to create something distinct and spirited whilst adhering to a 'new vision of the brand and 'the forming of a new kind of tribe'.
Formulated by Nicola Formichetti and Nick Knight, the images capture the sleek and distinctive Diesel collection and showcase 'a new form of Diesel's alternative spirit'.

www.diesel.com
Fashion
Marina Hoermanseder at Berlin Fashion Week Spring/Summer 2015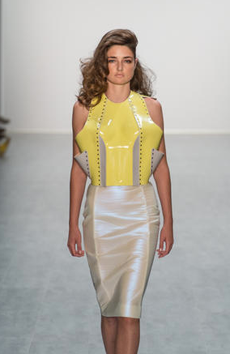 Frank and provocative best describes Marina Hoermanseder's designs. Hoermanseder was one of the finalists of this year's Start Your Own Fashion Business awards and had the audience gasping at the first glimpse of her SS15 collection. This time around the 28-year-old Austrian focused on a particular way of leather treatment. Bags, corsets, dresses and skirts were made from belt-like leather elements, which Hoermanseder combined in a herringbone fashion. The resulting shapes and patterns were interesting and quirky with loads of sex appeal. But Hoermanseder does not simply make clothes, she creates stories and discourse: a high-necked nude leather poncho stiffed the model's movement and covered chin and mouth, silencing here in a way we attribute to veiling.
At the same time the design bared most of the models lower body. Another stand out was an anatomically correct torso-corsage, which suggested the model to be a naked mannequin. This avant-garde SS15 showcase stuck to feminine natural colors, such as nude, coral, soft yellow and apricot, which added to the surreal and disturbing vibe of the collection. Hoermanseder's mix of cheery, bright pieces and surreal details set the mood of David Lynch's Twin Peaks universe, where nothing is quite what it seems and reality and dream are indistinguishable – social commentary included.

www.marina-hoermanseder.com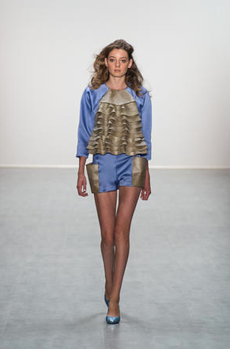 Fashion
Vladimir Karaleev at Berlin Fashion Week Spring/Summer 2015
 Photos by Mercedes-Benz Fashion
Sporty, sporty is the way to go for Vladimir Karaleev. His show for SS15 paired opaque and see-through fabric for light and fresh summer ensembles. Colors are reminiscent of a poolside session - sandy creme, rich shades of blue, sunny yellow, berry hues as yummy as a raspberry margarita, and forgiving favorite black. There is more than meets the eye to Karaleev's looks and it needs a second and often third take to fully grasp the inventive cuts, fabrics and patterns of his designs. Surreal, patchwork-esque even, best describes the SS15 collection in which he sows different color and texture fabrics together right down the middle, reuses scraps of fabric to create prints and patterns, yet manages to never turn clownish in the process. That is true craftsmanship and a unique POV.

www.vladimirkaraleev.com
Fashion
SOPOPULAR at Berlin Fashion Week Spring/Summer 2015
Photos by Mercedes-Benz Fashion
If there is one point of critique about Daniel Blechman's SS15 collection, it'd have to be that he has not yet ventured into womenswear. SOPOPULAR has quickly become a fashion pack favorite during Berlin Fashion Week, leaving female guests extremely jealous of the urban, purist menswear looks. The current collection, called "Wasteland", sticks to black, white and gray, mixed with quiet wooden and dusty prints. Military elements could be seen here and there. Singer Ben Ivory composed a song of the same name as the collection, that set the tone during the presentation. Inspired by tribes and gangs, Blechman send bermudas, biker jackets, blousons and tunics down the runway, all the while paying close attention to his design's sustainability. And now some of those cool pieces for the ladies, please.

www.sopopular.net
Fashion
Isabell de Hillerin at Berlin Fashion Week Spring/Summer 2015
Photos by Mercedes-Benz Fashion
White, black and soft gray are the dominating shades in Isabell de Hillerin's minimalist SS15 collection. Accents of royal blue, soft pink and jade break the understated palette for a summery vibrancy. Flowing fabrics and those exciting hues come together in an elegant, understated and chic ode to femininity. Isabell de Hillerin's current collection is called "Beyond", fitting the designs to a t. They go far beyond your regular summer garb, ensuring to feel comfortable, beautiful and at ease. Straight, clean cuts sheathe the body, in these sport smart creations, that ranged from light summer pants, see-through shirts and button downs to loose fitting blazers and coats. Once again de Hillerin put on a show to lust after until next season.

www.isabelldehillerin.com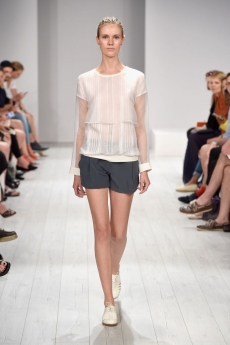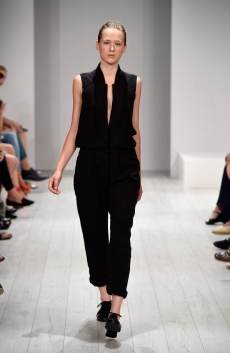 Fashion
MALAIKARAISS at Berlin Fashion Week Spring/Summer 2015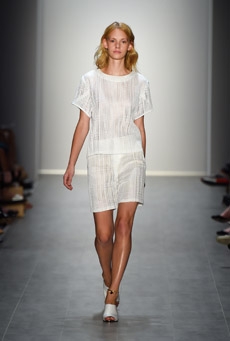 Photos by Mercedes-Benz Fashion
Womenswear label MALAIKARAISS wants us to stay "Wild at Heart" for SS15, and even dares to stray from its comfort zone to convince us. Amazing attention to detail and textiles went into this presentation that caters to the quintessential MALAIKARAISS girl: a contemporary hybrid of Annie Hall and Klimt's Portrait of a Lady. The 2014 Start your Fashion Business finalist mixed playful and straight-forward styles, androgyny and art-deco to showcase a collection for the modern women: tough yet sensual. Soft shades of white, mint and nude clash with vibrant orange and red on a semi-transparent canvas, so that each look shows off just enough skin without being tacky. The quirky Berlin-based designer also incorporated three print trends into her SS15 collection: blink-and-you'll-miss-them stripes, large dots and toucans. All this came together in a youthful and cheeky collection, that hollers "FUN, FUN, FUN!"

www.malaikaraiss.com
Fashion
BRACHMANN at Berlin Fashion Week Spring/Summer 2015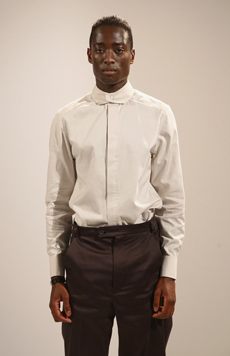 It's a minimalist attitude that the BRACHMANN Spring/Summer 2015 collection conveys. Walter Gropius and the Bauhaus style served as an inspiration for the architectural collection. Classic suits, well-fitted coats and shirts, in different shades of grey, dark blue, black, brown and bordeaux are versatile and work in any combination with the knee long shorts, guaranteeing a simple, but smooth look. Polo shirts with short or rolled up sleeves add a casual and relaxed feel. An interesting detail are the cut off collars, that make for a twist in the traditional menswear, such as the pleats at the back of trousers that make their front look wider.

www.jenniferbrachmann.com
Fashion
Maison Martin Margiela Haute Couture Fall 2014
Exploring and contrasting shapes, patterns and textures, the Maison Martin Margiela's Artisanal collection Fall 2014 Haute Couture show embodied elegant eccentricity. Models wore transparent polka dot decorated face masks as they walked the runway in heavily patterned shirts, asymmetrically cut dresses and sheer polka dot skirts. Unique and striking patterned patchwork squares made up floor length straight dresses and knee length, flat white boots and long, above the elbow white gloves created an air of elegance.

www.maisonmartinmargiela.com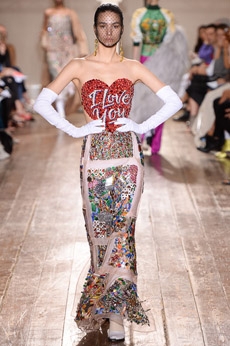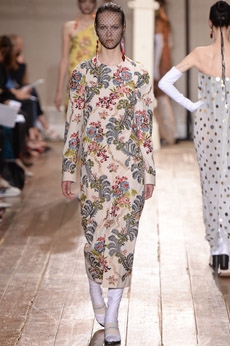 Fashion
Christian Dior Haute Couture Fall 2014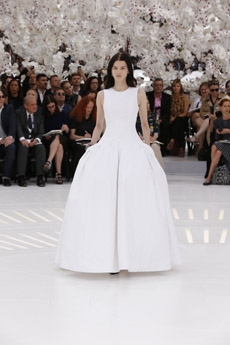 Beginning with exquisite, wedding style dresses that adhered to Christian Dior's classic 1950s new look, the Christian Dior Fall 2014 Haute Couture show presented a modern yet elegant collection. Dresses embellished with subtle and refined jewels and floral patterns exuded grace and luxury while sleek jumpsuits emblazoned with floral patterns and accessorized with waist-clinching belts modernised the classic styles. Zips were intriguingly decorated onto the front of dresses and onto trousers and long, shapely coats were worn as dresses over trousers. Matching mini skirt and top amalgamations made for lively compilations and overall Simons applied historic influencers to a modern aesthetic.

www.dior.com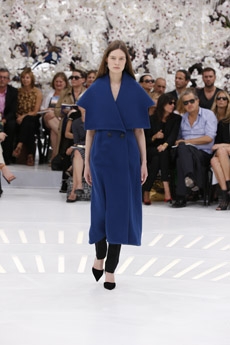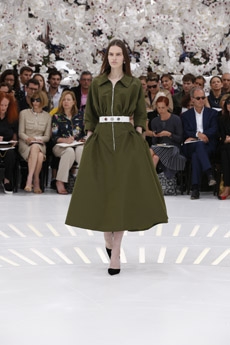 Fashion
HUGO BOSS Fall/Winter 2014 Campaign
Located on the Vasquez rocks north of Los Angeles, the HUGO BOSS 2014 Campaign showcases men's and womenswear in a simple yet strong set of images.
The tranquil and scenic desertscape background is juxtaposed by the powerful and authoritive stance of the models and provides the ideal scenery for the sleek and striking clothing.
Photographed by Pierre Debusschere, the campaign is accompanied by a video which highlights the progressive looks in the Fall/ Winter 2014 collection and displays Debusschere's talent for producing inventive and innovative images. 

www.hugoboss.com
Fashion
Ann Demeulemeester at Paris Fashion Week Spring/Summer 2015
In an chic mix of monochrome, the Ann Demeulemeester Spring 2015 Menswear collection provided a contemporary and casual compilation. Relaxed silhouettes accompanied by loose material resulted in a nonchalant look whilst long, sleek blazers exhibited refinement. The clothing was athletic yet sophisticated with easy going styling and a simplistic colour palette adding to the laid back ambience. 

www.anndemeulemeester.be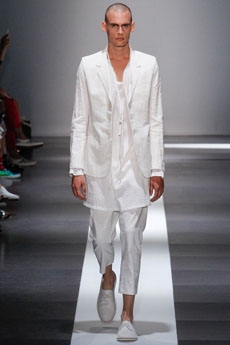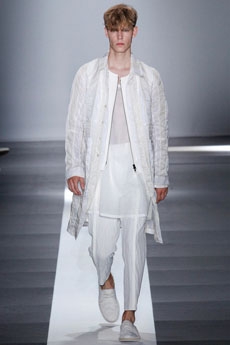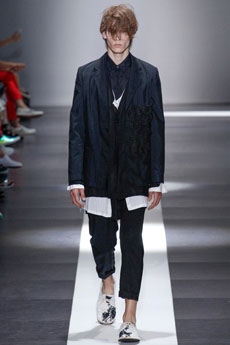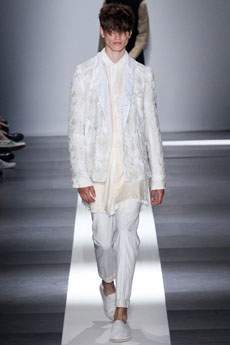 Fashion
Jil Sander Fall/Winter 2014 Campaign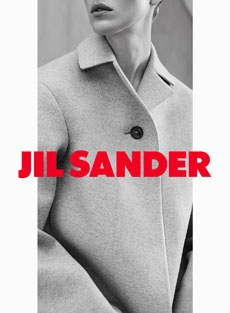 Featuring models Iselin Steiro and Rogier Bosschaart, the Jil Sander Fall/Winter 2014 campaign epitomizes minimalism with entirely black and white images shot against a simplistic and subtle background.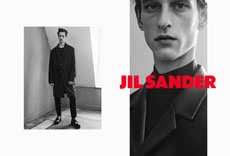 Emulating the refined sophistication key to the Jil Sander aesthetic, the campaign, shot by photographer Karim Sadli captures effective lighting and the sharp silhouettes of the garments next to a plain backdrop allowing the clothes to speak for themselves.

www.jilsander.com
Fashion
Hermès at Paris Fashion Week Spring/Summer 2015
Photos by Jean-François José
Adhering to a demure colour palette of light gray and beige with specks of orange, navy blue and mustard yellow, the Hermès Spring 2015 Menswear collection was causal and cool, consisting of soft cardigans, casual jackets and slim trousers. Signature, distinct Hermès prints and patterns were decorated onto shorts, trousers and skirts and worn with slip on sandals and sneakers. Brightly coloured neck scarfs added vividness into the collection and croc jackets provided nonchalant luxury.

www.hermes.com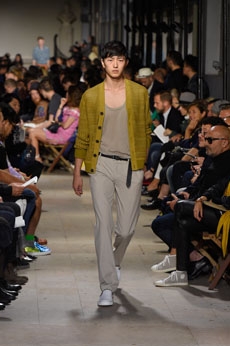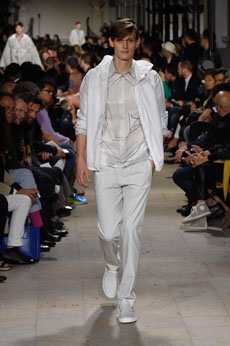 Fashion
Zegna Couture by Stefano Pilati at Milan Fashion Week Spring/Summer 2015
Applying a modern aesthetic to formal menswear, Stefano Pilati's Spring 2015 collection for Zegna Couture incorporated relaxed lines with sleek tailoring to produce a refreshingly contemporary collection. Loose fitting garments were worn with chic brogues and sneakers and colourful shirts were styled with kerchiefs and structured blazers, resulting in a striking and classy amalgamation. 

www.zegna.com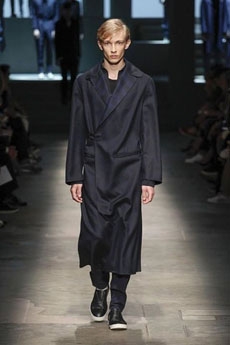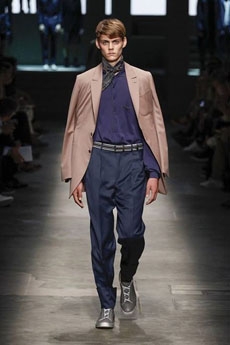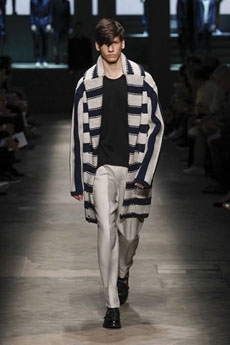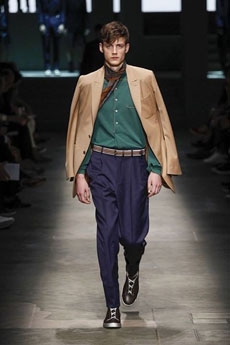 Fashion
Haider Ackermann at Paris Fashion Week Spring/Summer 2015
Rock and roll became colorful, bold and exciting at the Haider Ackermann Spring 2015 Menswear show. It was grungy, edgy and overlylayered whilst remaining sleek and refined. Oversized scarfs were effortlessly wrapped around necks and experimental fabrics including patent black, gold velvet and patterned silk were used. Outfits were effectively created, giving a thrown together look and almost over styled yet undeniably chic. Not following rules, Ackermann mismatched patterns and prints in an impressive amalgamation. 

www.haiderackermann.be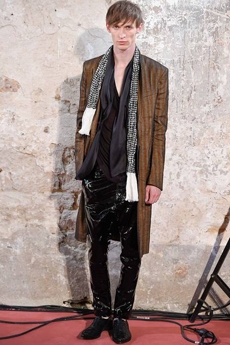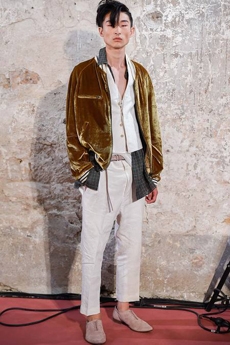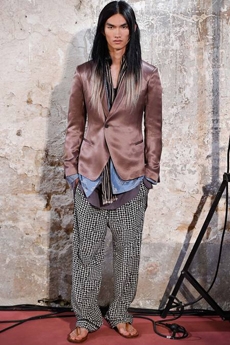 Fashion
Antonio Marras at Milan Fashion Week Spring/Summer 2015
Experimenting with prints, patterns and fabrics, the Antonio Marras Spring 2015 Menswear show combined all three of these to create a unique and exquisite collection. With a world cup and football undertone, models took to the runway sporting shirts with footballs printed onto them, shiny sports hoodies, mesh and nylon. Aside from the football, Marras incorporated a relaxed feel into his clothing; blazers were laidback and slightly oversized and trousers were cutoff to become stylish culottes. Denim was sleek and shiny and paired with leather deep blue sandals. Bold and vivid colour blocked blazers were showcased alongside geometric and bright prints to produce a loud and modern collection.

www.antoniomarras.it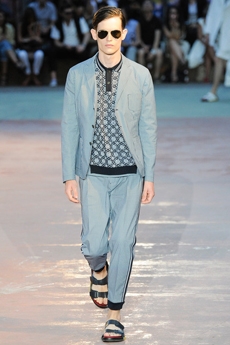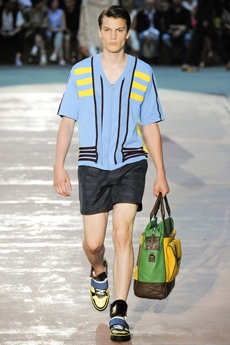 Fashion
Canali at Milan Fashion Week Spring/Summer 2015
The clashing of styles was a key approach in the Canali Spring 2015 Menswear collection. Quirky bucket hats, preppy shirts and shorts and elegant suits and loafers all combined in a unique mixture. White t - shirts, dark blazers and classic white sneakers were worn with bucket hats whilst smart, thick sweaters were tucked into slim trousers and worn with colour blocked, leather loafers. The result was an eclectic collection for the modern man.

www.canali.com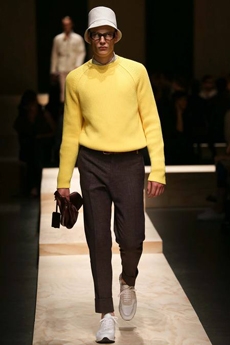 Fashion
Moncler Gamme Bleu at Milan Fashion Week Spring/Summer 2015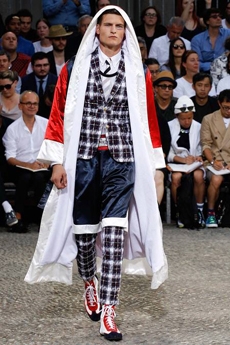 Adhering to a boxing theme, the Moncler Gamme Bleur Spring 2015 Menswear Collection presented a smart, sports luxe aesthetic. Overlayered ensembles worked excellently as they glided down the runway with high top sneakers. In keeping with the sporting theme, the colour palette which also made its way onto the models faces consisted of red, navy blue and white. The collection clashed the loosely fitted with tight fitted ensembles and deconstructed the classic suit by styling smart shirts, high waist trousers and bow tyes with casual hooded sporty jackets and sneakers. The colours transformed into a cool and chic grey mixture with grey, black and white prints clashing. Blazers and shirts were juxtaposed with padded oversize coats, sporty loose fitting shorts and knee length, lace up sneakers. The womenswear remained just as sporty but was kept more restricted and confined and less relaxed and playful.

eng.moncler.com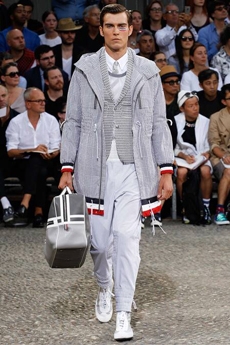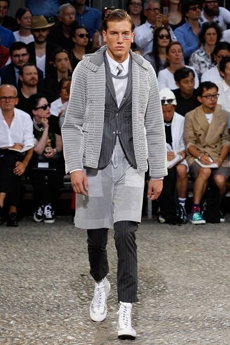 Fashion
Versace at Milan Fashion Week Spring/Summer 2015
Exploring shades of powder pink, deep purple, taupe and blue whilst adhering to a classic Versace aesthetic, the Spring 2015 Versace menswear show offered texture, vibrancy and shape all in an undeniably luxurious manner. Magnificently detailed shirts and trousers were intricately cut to create unique patterns and worn with lavish white leather brogues and artistically decorated and colourful leather jackets were paired with cut-out black trousers and elegant loafers. The collection exuded high end opulence and in true Versace fashion adorned numerous garments with gold embellishments and embroidery.

www.versace.com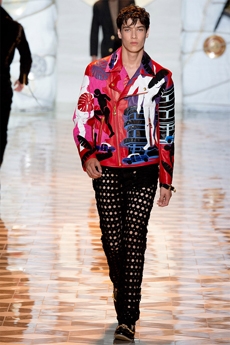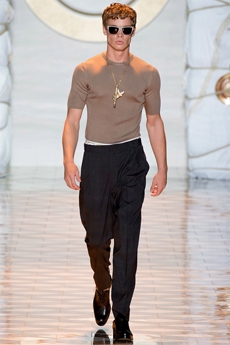 Fashion
Trussardi at Milan Fashion Week Spring/Summer 2015
A casual take on the traditional suit was presented at the Trussardi showcase. Classic blazers were replaced by cool bomber jackets, pinstripe suits were paired with leather flat form sandals and modern and stylish double denim was embraced. Materials and patterns were experimented with; patent black leather was used on loose fitting trousers and bold black, red and white brushstroke prints were emblazoned onto straight trousers. The outcome was contemporary yet cultivated.  

www.trussardi.com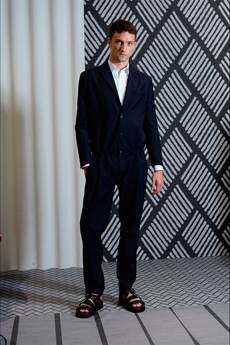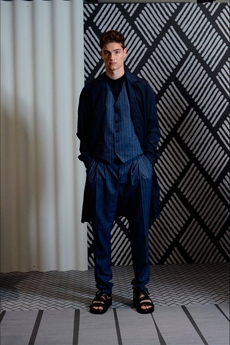 Fashion
Missoni at Milan Fashion Week Spring/Summer 2015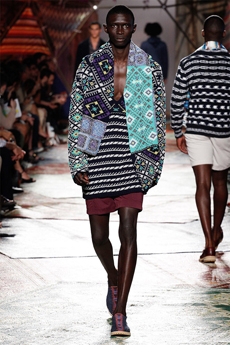 Adopting tribal prints and patterns, the Missoni Spring 2015 menswear collection presented a cool and casual aesthetic. Colours were clashed and knitted materials were decorated with colourful and intriguing stripes. Bare chested models walked down the runway clothed in patterned gilets, shorts and sandals and striped, matching blazers and trousers were worn with relaxed, soft cream brogues. The collection exhibited a vibrant and lively way to sport casualwear.  

www.missoni.com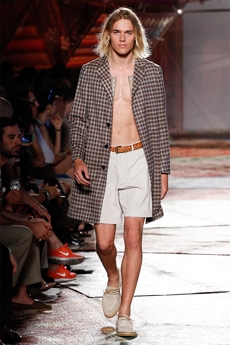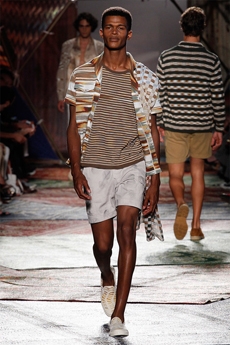 Fashion
RAW for the Oceans wins Grand Prix
Denim brand G – Star RAW's collaboration 'RAW for the Oceans' has won the Grand Prix award for Product Design at Cannes Lions Festival. As a long-term creative exploration between G-Star RAW and Bionic Yarn, 'RAW for the Oceans' innovates denim whilst impacting the plastic pollution in our oceans. In partnership with The Vortex Project and Parley for the Oceans, the initiative is culminated in G-Star collections and made from Bionic Yarn.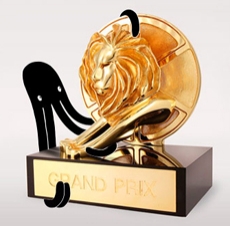 Offering solutions to the issue of ocean pollution, the project aims to tackle this problem through highlighting innovative product design. Described by President of the Cannes Lions Festival Jury, Donghoon Chang as "the Holy Grail", G –Star RAW's campaign underlining denim innovation presents sustainable and functional fashion that is to become part of the collection's design.
G – Star has produced another revolution in the denim industry and Chang goes on to characterize their campaign as a stand out for "form, function, innovation, and a commitment to sustainability and social responsibility."

www.g-star.com
Fashion
London Collections: Men Day 1
As London Fashion Week's quieter, calmer and all together more laid back alternative, London Collections: Men commenced with catwalks from Lou Dalton, Lee Roach and Agi & Sam and presentations from Jonathan Saunders, Nicholas Kirkwood and DKNY MEN.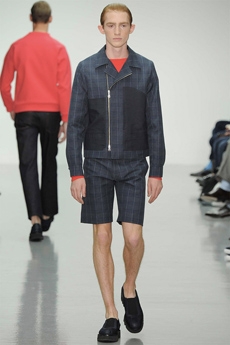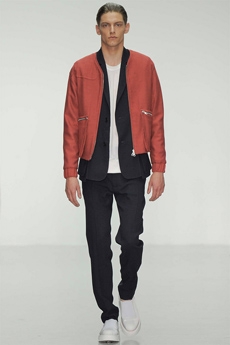 Centered at the prestigious Hospital Club in Covent Garden, the event hosted established as well as upcoming menswear design talent in an exciting combination of runways, showcases and parties. Luxury mens fashion designer Lou Dalton presented a well-tailored and sleek collection with a contemporary and youthful twist at one of the first catwalks of the day. In a cool and summery colour palette of bright whites, powder pinks, blue and silver, the collection comprised of Dalton's signature attention to detail on simple yet distinct patterns and shapes.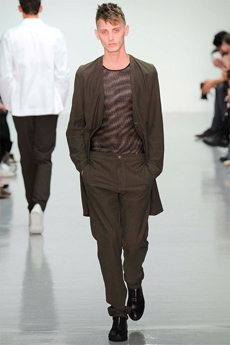 An expansion on his usual minimalism was showcased at the Lee Roach show. Roach offered a relaxed and modish alternative to the traditional suit by pairing logo printed t – shirts with matching blazers and straight trousers and included mesh vests and military references through khaki and circle and stripe emblems. The simple colours contrasted with the experimental layering to produce a sleek yet effortlessly cool aesthetic.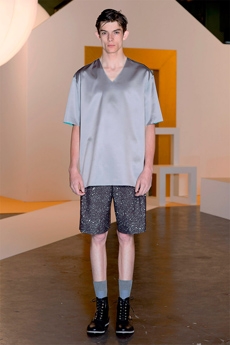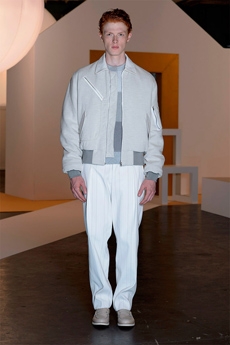 Scottish born designer Jonathan Saunders presented a chic and bright collection incorporating simplistic patterns and clean designs in a distinctive array of colours. As an edgy yet sleek amalgamation of stripes, colour blocking and layering, the collection presented electrifyingly bright yellows accompanied by deep cool blues and galactic silvers. Smart and edgy metallic suits and light, breathable jackets were the standouts amongst sharp and definitive ensembles.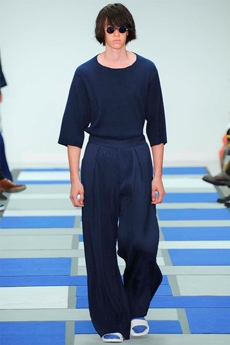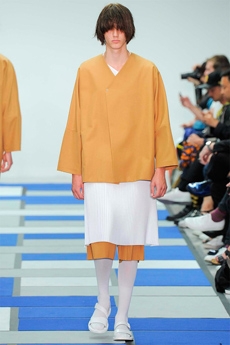 Wrapping up the catwalks of the day, Agi & Sam fused masculinity with femininity in an exciting blend of shapely silhouettes, loose fitting garments and intriguing patterns printed onto two pieces and jackets. Throwing tradition out of the window, the innovative design duo applied an original style pairing knee length socks with sandals, smart pleated trousers and original prints resulting in a strong yet relaxed outcome.  
Day one did not disappoint and launched another year of exhilarating Mens fashion.  
Fashion
BOSS Fall/Winter 2014 Campaign
Under the artistic direction of Jason Wu, the BOSS Fall/ Winter 2014 campaign captures sophistication and refinement for both women and men.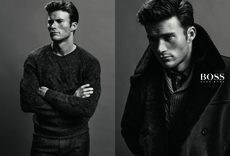 Establishing a contemporary look for the BOSS brand, the campaign styled by Joe McKenna and shot by Inez and Vinoodh presents BOSS's traditional tailoring in a modern fashion. The face of the womenswear, model Edie Campbell embodies a strong, powerful femininity in the campaign while actor Scott Eastwood is formal yet modern in BOSS's timeless and cosmopolitan menswear.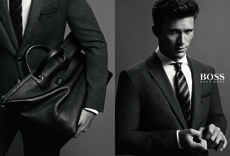 As his first campaign for BOSS, Jason Wu applied a "a fresh, different approach" and expresses how the campaign "not only shows the BOSS clothes, but evokes the BOSS lifestyle."

www.hugoboss.com


Art
MYKITA & Mark Borthwick Art Edition
Eyewear fashion brand MYKITA and experimental British photographer Mark Borthwick have collaborated on the MYKITA 2014 campaign entitled 'Out of this World'.
Set beside the black beaches and volcanic cliffs around the island of Lanzarote, the campaign depicts friends, family and models gathered serenely on the island sporting the chic eyewear. Shot against an otherworldly and tranquil background, Borthwick uses his twenty-five-year old analogue Leica camera to capture minimalist yet enticing scenes that use prism-like colour effects to illustrate the unique surrounding nature as well as the eyewear.  
Receiving an avant-garde fashion photography award in the nineties, Borthwick is well known as a photographer, filmmaker and musician and has collaborated with Mike Mills, Chan Marshal and Chloe Sevigny.  
The campaign will be published as an art edition photo book with a limited art edition print signed and numbered by the artist.  

www.mykita.com
Fashion
The dreamlike dimension of PHILIPP PLEIN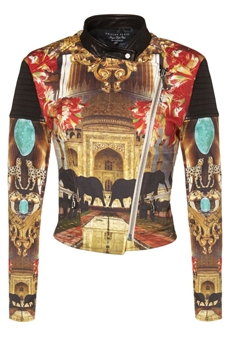 PHILIPP PLEIN's pre fall 2014 collection fuses dreamlike patterns with multicolour photographic collages to create unique designs that are illustrated onto biker jackets, dresses, bags and shoes.
Depicting a dreamy vision, the prints comprise of the jaws of a tiger, a surreal Taj Mahal, images of elephants in the desert and jewelled panthers. Detailed and creative, the kaleidoscopic prints are both intriguing and strikingly stylish, incorporating architecture, nature and far away destinations in a whimsical yet vivid amalgamation.

www.philipp-plein.com
Fashion
Louis Vuitton Cruise 2015 Collection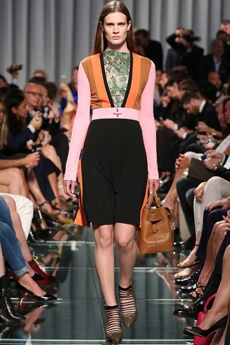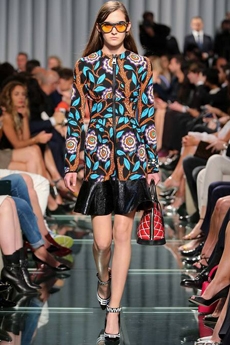 A compilation of bright colours dominated the Louis Vuitton runway at the Cruise 2015 show. Mismatched colourful prints and patterns were illustrated onto structured silhouettes and heavily embellished pieces were worn with distinctive patterns.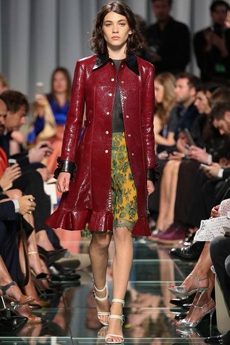 Consisting of a series of well put together outfits, the collection presented bright high waist fitted trousers, slick zip up dresses and eccentric matching suits. Lace was incorporated, softening up the strong and bold lines and adding elegance, whilst shiny and structured leather coats offered a powerful yet polished aesthetic.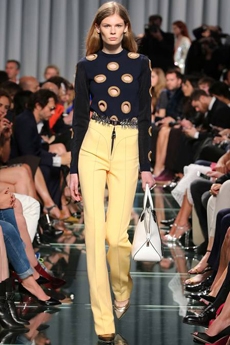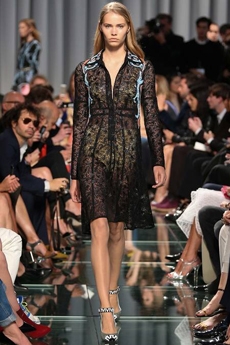 Immaculately put together and refreshingly original, the collection embodied vibrancy whilst remaining exquisitely stylish.  

www.louisvuitton.com
Fashion
CHANEL Cruise 2015 collection
It was print and pattern extraordinaire at the Chanel Cruise 2015 show with mismatched and intriguing shapes and styles and all out artistry. Big hair and exquisite makeup flawlessly complimented the heavily embellished attire, producing an extravagant yet stylish look and a chic colour palette.
Daringly experimenting with shape, pattern and texture, the collection provided lavish holiday dresses, a mixture of glitzy precious and costume jewellery and tailored pieces emulating the classic Chanel suit.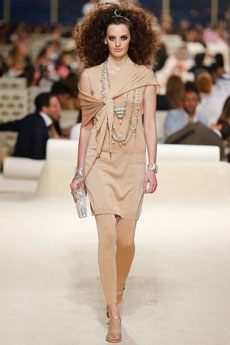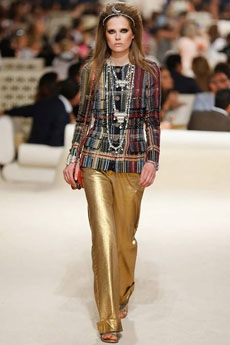 Showcased in Dubai, the collection gave a theatrical essence and emanated luxury through metallic trousers, moon headdresses and beautifully crafted sarees. Models including Lindsey Wixon and Malaika Firth emulated princesses as they wore textured harem pants and all in one patchwork pieces.
Modern and fearless yet still adhering to a classic Chanel aesthetic, Lagerfeld has fused the modern with the classic and the Arabian with the elegant.

www.chanel.com 
Fashion
Christian Dior Resort 2015
The 'it' girl about town provided the motif for the Christian Dior Resort Collection 2015. With a striking amalgamation of prints, texture and colour, there wasn't much this collection did not offer.
Bold graphic, abstract prints juxtaposed ladylike silk camis and waist pinching, knee length shapely skirts to create the perfect balance between femininity and vitality. Minidresses and tops played the part of a canvas; illustrated with dynamic brushstrokes and paired with chic black ankle boots.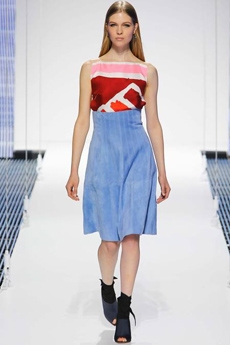 The mood transported us from refined elegance to hip and modish lines with tailored, long knee length overcoats worn with nothing underneath. Raf Simons experimented with texture through scarf like silk patterned skirts and transparent deconstructed dresses with cut out patterning.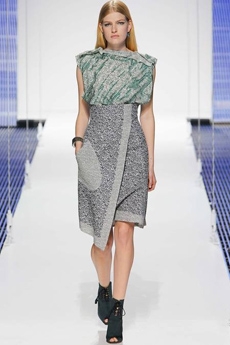 The eclectic theme was embodied through clashed floral and stipe prints and mesh cut out dresses, all in a vivid and captivating colour palette.

www.dior.com 
Art
Berlin Art Weekend
From the 2nd May to the 4th May, Berlin Art Weekend will take place with 50 participating galleries consisting of art, architecture, art production and film. It shines light on Berlin's exciting, exquisite and accomplished art scene and gives exposure to talented and intriguing artists.
 Zofia Kulik
 Tim Eitel
Now in its tenth year, the event has become a prime source for contemporary art in Germany and attracts 1000 visitors from art collectors to enthusiasts from all over the world. With an eclectic fuse of art on show, Berlin Art Weekend offers a fun and inspiring weekend not to be missed.  

www.gallery-weekend-berlin.de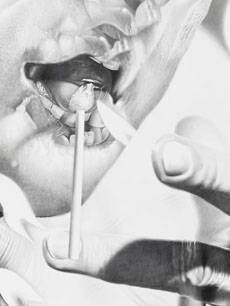 Dennis Scholl
Fashion
G-STAR RAW: MILITARY APPAREL REMIXED WITH A FUTURISTIC MOTIF
Denim specialists G – Star Raw's latest collection inventively combines military attire with a futuristic aesthetic that of course can be worn effortlessly with all types of denim.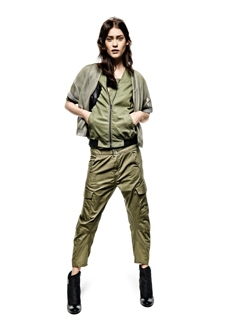 Camouflage patterned bomber jackets are worn with deconstructed denims and white tees that embody a hip and urban demeanor and shiny metallic bombers are worn with black angle boots that exude laid back power.
Both feminine and edgy, the womenswear provides an attractive mix of military style prints, lightweight cottons and nylons and a casual colour palette of silver, copper, and khaki. The menswear consists of khaki and camouflage bombers, pants and shorts and relaxed t –shirts and signature denim jeans.  
The collection is stylish yet functional and epitomises mellow chic. 

www.g-star.com
Fashion
Hermès Launches Lighting Collection
Forget the phrase, "more by accident than by design" when it comes to Hermès - "more by architecture", on the other hand, would be wholly germane. Showcasing the new Home Universe collection, at the Milan Salone del Mobile last week, Hermès joined forces with Italian architect and designer Michele De Lucchi to fashion a series of handsomely imposing structures under the similarly stately surrounds of the Palazzo Serbelloni. Hermès en Lumière presents the brand's debut lighting collection, alongside a fresh offering of luxury interior pieces.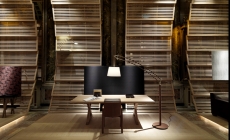 Occupying several rooms, the installation took 10 days to build, and harmonised a plurality of aesthetics with dichotomous splendor. Light took center stage, first peppering the slatted timber panels that soared to the heights of fresco ceilings. Though they did their best, even the unctuous glow of the Palazzo's gold chandeliers couldn't quite overshadow the crisp white modernity of the Hermès LEDs. Part arboreal, part Bauhaus, branching lanterns boughed their slender sprigs over buttery taupe couches. Devised by the expert eye of French light scenographer, Yann Kersalé, contemporary craftsmanship took leverage from old sailing or carriage lamps – antiquated casts reconfigured with rechargeable batteries, granting each modular style a passport to the outdoors. Materials found their roots in nature; softly speckled twills were edged with signature supple leathers to form hardy illuminated drums of shades, suspended from a finely-craned frame.
Alongside these new additions sat renewed classics; Jean-Michel Frank's iconically poised chair, console and bench were specially recommissioned, having made their first appearance with Hermès in 1926. The limited artisan objects are restricted to around 50-100 pieces, each carefully crafted in hand-patinated bridle leather and wrought iron.
French designer Philippe Nigro also played a hand in the collection; Curiosités d' Hermès – a discerning three-piece selection – draws upon the "cabinets of old", revelling in indulgent daily rituals like afternoon tea or taking care of one's shoes. Such a rationale begs the use of equally exquisite materials; graphite Porosus crocodile and ebony Bosphore horsehair, or pear wood finished with ebony, renders a venerable range leaned to legacy.

www.hermes.com
Fashion
Replay: Replay One Off
Italian fashion house Replay have launched a collection entitled Replay One Off for Fall/Winter 2014 that epitomises strong, edgy and playful fashion. Consisting of both men's and womenswear, the collection is effortlessly sophisticated with a casual and laid-back edge.
The men's collection references sportswear pairing thick, quilted duffel coats, relaxed hoodies and jersey chinos whilst still remaining cosmopolitan through clean, structured lines, fitted denim and smart brogues. Equally chic, the womenswear uses high gloss leathers, shiny metallics and luscious fur to create a powerfully sleek collection for the modern, urban women. Sharply cut black bikers combined with classy, tailored trousers exude hip sophistication while lavish fur pieces are contrasted with deconstructed denim to produce an easy-going edginess.
As a denim specialist, Replay One Off puts a particular emphasis on the jeans throughout the collection, using both classic black and blue denim as well as providing a smart element through added leather, tech fabric and brocade appliqués. Claiming to be "a collection all about innovation and experimentation", the clothing caters to the young and stylish consumer whilst producing an individual and playful aesthetic.

www.replay.it
Art
Mark Manders Exhibition
Self-portaits assume a peculiar form under the conceptual eye of Mark Manders, the Dutch artist who, since 1986, has worked to his pioneering discipline of 'self-portrait as a building'. As a mission statement, it sounds nonsensical – abstract, at the very least – but the realised articles bear a surprisingly sensible rationale.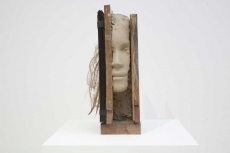 Coarsely-crafted clay sculptures fracture faces with remnants of construction; features peep beneath wooden verticals and piled concrete, while nailed timber beams double as atypical plinths for busts to sit. In each piece he creates, Manders is always acutely aware of the moral of his story: that rational construction cannot conceivably contain the sovereign forms inside. Mighty forms chap and crumble with dust – the fragile failure of mythological's fight against the mundane.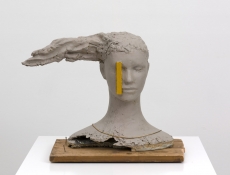 The Mark Manders Solo Exhibition runs from April 23rd – May 31st 2014 at the Zeno X Gallery, Antwerp.
www.zeno-x.com
Fashion
Karl Lagerfeld London boutique opening
Fashion legend Karl Lagerfeld has finally got around to cementing his iconic fashion creations in a new territory. The store, which exhibits a largely black and white minimal aesthetic is a homage to the designer with his famous head motif decorated onto an array of items and apparel has opened in London's uber cool and classy Regent Street.
With classic Lagerfeld pieces available such as black sunglasses, fingerless gloves and a stiff white collar, the new flagship epitomises Karl's undeniable influence and power in the fashion industry and innovative approach to store design. The just opened store is his biggest outlet in Europe and will contain interactive photo booths allowing shoppers to take pictures of themselves while trying on clothes, it will also have a digital guest book and iPad mini's displaying full collections.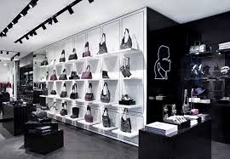 It seems that the store not only offers the latest Lagerfeld creations but an opportunity to buy into the designer's archetypal image with iPhone cases, toy dolls and pillows all with Karl's famous face planted onto them. Upon opening, Lagerfeld arrived in London and celebrated the flagships' launch with British fashion model and friend Cara Delevingne. We expect this fuse of mainstream fashion and high end luxury to be an instant hit.

www.karl.com
Fashion
The Fashion World of Jean Paul Gaultier from the Sidewalk to the Catwalk exhibition
French Fashion extraordinaire Jean Paul Gaultier will have an international exhibition dedicated to his life work that will allow us a vast insight into his remarkable fashion world. A notable name in the industry, Gaultier is known for his challenging approach to fashion and redefining the dress codes of masculinity and femininity.  
The exhibition showcases the variety of world cultures which are amongst Gaultier's most dominant inspirations and displays his most revolutionary work in an interactive and audio-visual form. From Madonna's Blond Ambition tour costumes to the attire of the characters in Pedro Almodóvar and Luc Besson's The Fifth Element, the exhibition showcases Gaultier's life work and wealth of collaborations in an interactive and theatrical format.  
Inviting us to experience the world of Jean Paul Gaultier, the exhibition features around 140 haute couture and prêt-à-porter outfits as well as detailing the journey from sketches and inspirations to the fascinating runways, costumes and avant – garde designs that made his name inextricable with the fashion industry. The exhibition will be at the Barbican Centre from 9th April – 17th August.

www.jeanpaulgaultier.com 
Fashion
Fred Perry Jamie Reid Blank Canvas
In celebration of the Jamie Reid Blank Canvas Collection, fashion label Fred Perry have enlisted a collection of creative concept videos and gif's designed by Belgian artist Peter De Potter. The unique creations are inspired by the artwork of Jamie Reid and will be part of a collaborative installation at Dover Street Market.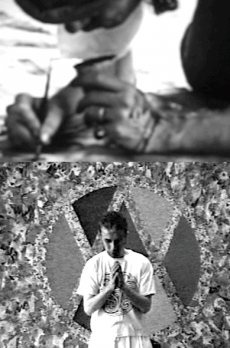 The silent concept videos play with perception and merge stills with repeated moving imagery including the peace sign, angel statues and the naked male aesthetic. The videos combine the spirit of youth revolt with a peaceful calmness and pay homage to the work of Jamie Reid. The Belgian artist, famous for his use of Tumblr studied at the Royal Academy of Fine Arts in Antwerp and incorporates photography with online imagery to create art inspired by the digital age.
Artist Jamie Reid's Blank Canvas Collection consists of three printed shirts that fuse a variety of inspirations and meanings with Jamie's own unique individuality. Based on his own artwork from 1987, the A Short Sharp Shock shirt synthesizes Reid's trademark ransom note cut-out letters with a bronze embroidered Laurel Wreath and a Jamie Reid signature on the hem. The second shirt is inspired by Reid's work with the Sex Pistols and symbolizes Reid's uprising to order and the establishment with the words 'Peace Is Tough' printed across the chest. Time for Magic is the title of Reid's third shirt in the collection and details a hare symbolizing peace with the words 'Time for Magic' embroidered along the back of the shirt.
The highly individualistic and free thinking work of Jamie Reid works flawlessly with iconic fashion brand Fred Perry to produce an exclusive and exciting collection that has an intriguing meaning. The collection will be available from 14th – 22nd March at Dover Street Market and eventually in all Fred Perry Laurel Wreath shops and online.

www.fredperry.com
Travel
JOOP! store opening Düsseldorf
Contemporary and international fashion and lifestyle brand JOOP! have opened their flagship store in Düsseldorf, Germany on March 7th 2014. Said to be the highlight of the JOOP! retail expansions, the newly opened flagship sells a range of menswear, womenswear, shoes, bags, eyewear and jewellery over 460 square meters of space as well as hosting a relaxing and welcoming central lounge area. In celebration of the store opening, a VIP event will commence on the 19th March 2014 with celebrity guests and a fusion of live acts and DJ sets. The brand continues to present the perfect blend of modernity and authenticity and their modern flagship epitomizes their success.

brand.joop.com
Art
Surreal paintings and photography at Gallery 286 London
Gallery 286 in London will host the surreal and intriguing works of painter Larisa Davatz and photographer Marco Sanges. Chinese born Larisa Davatz began to study at Moscow Art School and then the Surikov Art Institute where she perfected and expressed her unique painting talent before travelling to Tashkent, Uzbekistan where she harnessed the inspiration that she found in her artworks. Her canvas oil pieces rework the style of classic Victorian portrait paintings by applying a hypnagogic and surreal element. The paintings deconstruct the old fashioned portraits of a lady by painting in images, using warm tones and dark backgrounds to produce a captivating and alluring compilation of work.
Also experimenting with the surreal, the preconceived and the unconventional, award winning photographer Marco Sanges presents a dark and enchanting collection at Gallery 286 London. The stylistic and cinematic images capture human behaviour and life's experiences as well as themes of love, lust and sexual desire presented in a mesmerizing and individualistic way. The photographs provide a compelling insight into aspects of humanity and life and highlight Marco's individual approach to photography. Being exhibited at many prestigious gallery's worldwide, Marco has more than made a name for himself as an inventive and innovative photographer. The exhibition will run from March 11th – 31st 2014 at Gallery 286 London.

www.gallery286.com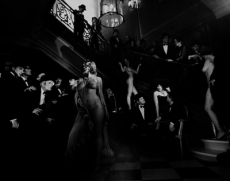 Fashion
Jean Charles de Castelbajac at Paris Fashion Week Fall/Winter 2014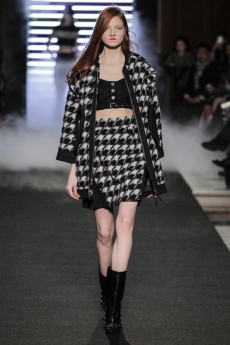 Capturing the Parisian spirit, the Jean Charles de Castelbajac FW14 collection incorporated a largely black and white colour palette with bursts of cobalt blue and bright orange. Square patterns gave the demure cuts a funky edge and large eye covering black floppy hats gave us less is more mystery. Unique creativity was presented through whimsical face motifs applied to dresses, skirts and leather jackets and scissor, paperclip and screw sketches printed onto dress and jumpsuits. The collection excelled in demonstrating a winning combination of classic high end looks with one of a kind statement pieces.

jc-de-castelbajac.com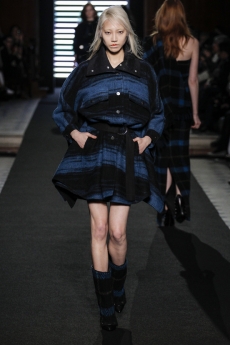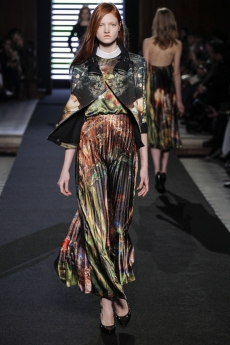 Fashion
Christian Dior at Paris Fashion Week Fall/Winter 2014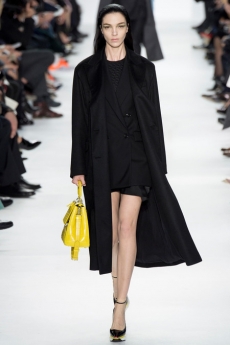 Christian Dior FW14 experimented with texture, colour and shapes to produce a collection of tailored coats in eye catching colours and exhibited an imaginative approach to corset lacing seen down the spines of dresses and along the sides of blazers. Interjections of neon yellow, green and pink dresses accessorized with glitter details added a distinct femininity and sensationally textured dresses gave way to a sleek yet striking aesthetic.

www.dior.com
Fashion
Hermès at Paris Fashion Week Fall/Winter 2014
An oversized, loose fitted yet effortlessly sophisticated look was presented at the Hermès FW14 show. The oversized, structured coat still provides a strong focal point of an FW collection and Hermes simplified this classic piece by pairing it with nothing or a similarly coloured suit. Simplicity was a key theme projected onto all in one black leather outfits, gathered dresses and matching one colour suits until clashing pattern combinations and luxurious silk dresses and suits brought back the lavish element.

www.hermes.com

Fashion
Ann Demeulemeester at Paris Fashion Week Fall/Winter 2014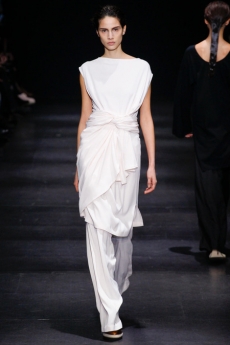 A blanket of black and white with glimpses of luxurious gold constituted the Ann Demeulemeester FW14 show. The collection, consisting of both menswear and womenswear depicted a demure yet distinct darkness that adopted a gothic theme while still adhering to a feminine aesthetic. The womenswear was heavily deconstructed through the folding and wrapping of materials to create a fearless and fiery look whilst the menswear combined clean lines with dark punk that embodied sharpness with edge.

www.anndemeulemeester.be
Fashion
Viktor & Rolf at Paris Fashion Week Fall/Winter 2014
Viktor & Rolf got creative at their FW '14 show, presenting numerous shapely cut long grey dresses, rope style cable knit patterns accessorized onto overcoats, tops and dresses and black buckled creeper style platform shoes. Shapes including faux bustiers and sheer material were inventively applied to jumpsuits and dresses. The designing duo managed to incorporate a sense of originality into a largely shades of grey colour palette and played with classic sophistication with the use of loose fitting velvet and blazers with thick cable knit sleeves, it excelled in elevating simplicity.

www.viktor-rolf.com
Fashion
Day 6: Dsquared² at Milan Fashion Week Fall/Winter 2014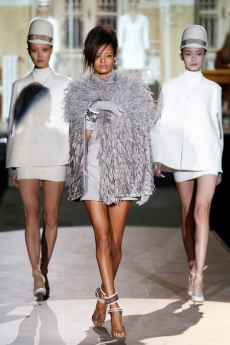 Glitzy glamour met sleek style at the Dsquared² FW '14 show displayed at Milan Fashion Week. Short dresses were worn with extravagant overcoats to create drama and floor length, glamorous dresses were exaggerated with fur jackets and long, embellished capes. 1960's dress silhouettes were referenced through short, buttoned up mini dresses and ostentatiousness was epitomised through heavy embellishments.

www.dsquared2.com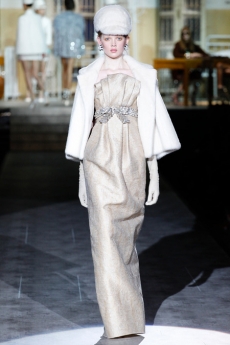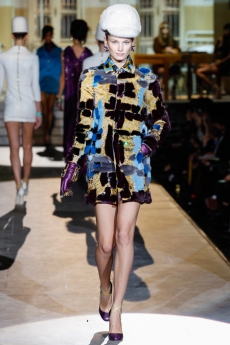 Fashion
Day 1: Gucci at Milan Fashion Week Fall/Winter 2014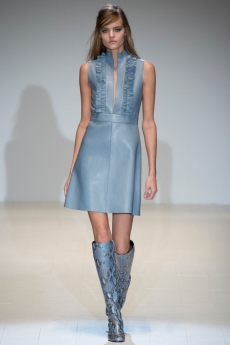 Delicate pastels, structured silhouettes and snakeskin shoes were at the forefront of the Gucci FW '14 show during Milan Fashion Week. The show displayed an array of uniquely cut dresses and luxurious fur coats in a colour palette that transcended from playful pastels to deep burgundies. Metallic silver details embellished deep black dresses and magnificent knee high snakeskin print patent boots.

www.gucci.com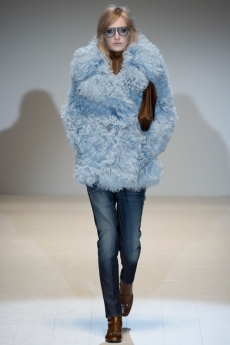 Fashion
MM6 Maison Martin Margiela at NYFW Fall/Winter 2014/2015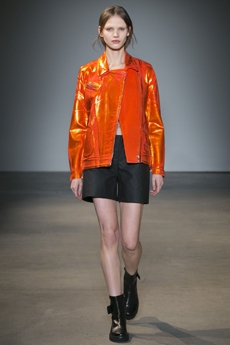 At MM6 Maison Martin Margiela looks were puristic, functional and straight forward. For Fall/Winter 2014-2015 the diffusion line embodied sporty apparel, urban style and absolute perfection. Accompanied by a moving live performance of Canadian singer Sean Nicholas Savage, the show graced with bonded textiles with a paper-inspired finish, laminated denim and cotton twill. Thick rubber-grip soled over-the-knee boots added a perfect finish.

www.maisonmartinmargiela.com
Fashion
NIKE AIR FORCE 1 x RICCARDO TISCI
Designer and taste maker Riccardo Tisci reinterpreted the Air Force 1, a basketball sneaker well beyond a cultural statement. Many different scenes have adapted the shoe and taken it from the courts to the streets. Nike +R.T. Air Force 1 is all about respect: respect for sportsmanship, respect for an authentic aesthetic, respect for those stars of the basketball court who started the hype, and respect for street culture. Both Tisci and Nike are aware that dissonance creates intrigue produces new inspiring designs. And Riccardo Tisci, the creative director behind über-label Givenchy, is just the right designer for the job.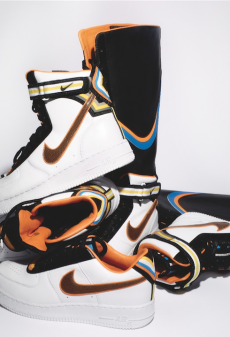 He created four styles with uppers ranging from low-cut to knee-high. With the Air Force 1 Lo and Air Force 1 Mid, he went a more conventional route; all the while the boot-styles Mid Calf and Knee High appear in highly unusual and dramatically new silhouettes. Multi-colored laces catch the eye and resonate with an almost tribal attitude of a global community. With a shoe as universally appealing as this one, yet very personal, Tisci really dug deep to get to the core of its allure and extract the essence of the Air Force 1 for his designs. He found that the sneaker disregards gender, cities and styles. It is much more part of a democratic community.

The different Nike Air Force 1 x Riccardo Tisci will be available by March 2014.
www.nike.com
Fashion
Dior at Paris Fashion Week Haute Couture Spring/Summer 2014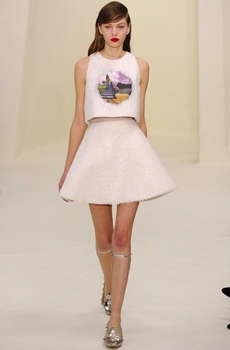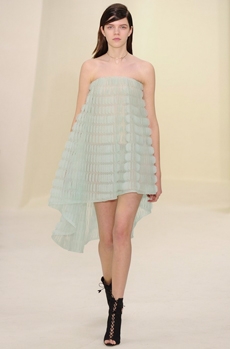 On monday, at the Dior Haute Couture, Raf Simons focused on the idea of intimacy and showcased elaborately designed garments, in which he dealt with the 'idea of woman per se'. Even the location -a white modernist cave- showed the main idea of the show: soft curves and abstract sculptural expressions.
Speaking of delicacy of handwork, Simons designs had a complex, yet light and clean architectural  approach, almost surrounding  the bodys like organic shapes and adjusting to their movements. Silk, chiffon and delicate lace sybolized the intimacy of the female body. Chopped-out balloon cocktail dresses or volounious airy skirts were made of semi-transparent fabrics and embellished with repetitive patterns in white, black and pastel colours. 

www.dior.com
Fashion
Dior Homme at Paris Fashion Week Fall/Winter 2014
During the first part of the Dior Homme Fall/Winter 2014 collection, it seemed as if Kris van Assche was touching a more nostalgic and romantic part of himself. Tailored pinstriped suits were adorned with lily of the valley-embroideries and brooches representing heirlooms of the house. But gradually the modernist in Kris came to the surface as he began to play with these very classical elements. The pinstripes varied in thickness and the flower-motif was manipulated so that it almost became an camouflage-print. This fresh air of youthfulness was fortified when blue jeans were added to the looks with five-pockets, shirts and a great parka. The same was done with army-green. This collection can be considered as an evolution of the Dior house in it's entirety as Homme remains the cool and modern menswear brand, but at the same time the mens- and womenswear are gradually finding each other again. With Kris van Assche at menswear and Raf Simons at womenswear, the two Belgian head designers are both looking at the past of the house, but only to push it to horizons it has never been.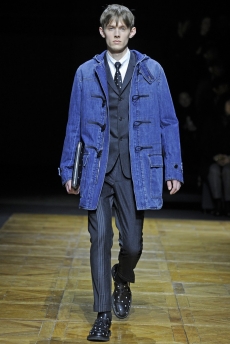 Fashion
Thom Browne at Paris Fashion Week Fall/Winter 2014
Mysterious as the fables by Jean de la Fontaine, the recent collection by Thom Browne veered between the animal and human. The first half of the collection consisted of Browne's trademarks like cropped tweed jackets and pants with the famous red-white-blue ribbon. Seemingly, he put all his imagination in the head dresses, designed by milliner Stephen Jones. Different types of hats depicted all sorts of animals, from elephants to mouses. The second half of the collection brought back Browne's showmanship in clothes. Like couture, the jackets and pants had an imaginative sensibility with broad shoulders and hips while the waist was kept slim. This made for a broad, regal silhouette, highlighted with leaf-prints and -appliqués.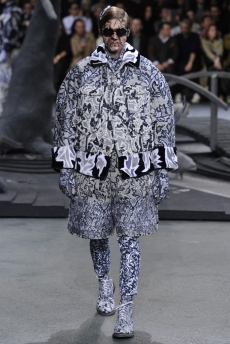 Fashion
SOPOPULAR at Berlin Fashion Week Fall/Winter 2014
Berlin-based menswear label SOPOPULAR took to the runway unveiling its fall/winter 2014/15 collection, aptly entitled 'X'. For the anniversary show designer Daniel Blechmann created 18 looks as a retrospective of seasons past and showcased his personal favorites, all adhering to the modern and severe aesthetic that has defined SOPOPULAR so far. Blechmann's opening look is a manifest to the entire collection: a head-to-toe look in all black consisting of relaxed leather pants, a tank top as well as semi-transparent raglan long sleeve
A leather harness – exclusively designed for SOPOPULAR by designer Marina Hoermanseder – topped off the outfit. At the center of the collection are jackets and coats in manifold variations. Here, a loden cape in poignant army style deserves a commendation. When it comes to pants, SOPOPULAR updated classic cuts such as slim cigarette pants or straight-legged Marlene Dietrich style pants to fit smoothly fit the collection. The all-time favorite Dr. Martens completed each raucous look.

www.sopopular.net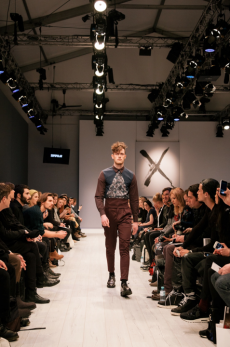 Fashion
Kris van Assche at Paris Fashion Week Fall/Winter 2014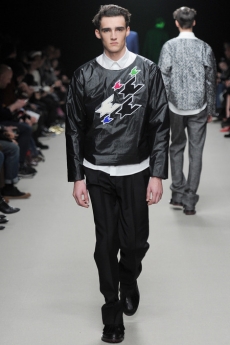 As young as the models at Kris van Assche's Fall/Winter 2014 collection looked, they surely looked ready to take on the world. Big coats made from thick wool or nylon were worn on classics like white shirts and slim pants. Extra layers consisted of round sweaters and sleeveless vests that were sometimes worn over suits to give the idea of a bullet proof vest. Aside from the protective attitude, there was also a time and a place for some fun with pop appliqués in multiple colors and short schoolboy blazers.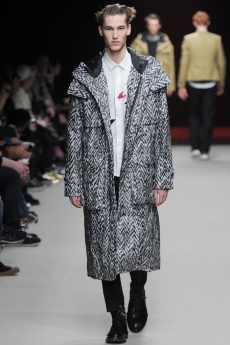 Fashion
Boris Bidjan Saberi at Paris Fashion Week Fall/Winter 2014
The poetic collection Boris Bidjan Saberi showed for this fall and winter came from his vision on the Ottoman Empire and Topkapi architecture. At the same time it was the designer's most essential collection to date, taking his aesthetic and perfecting it with refined tailoring. The balanced collection sported some more athletic details like rucksacks and sneakers as well as subtle prints and long wraps, nonchalantly draped over sharp leather jackets.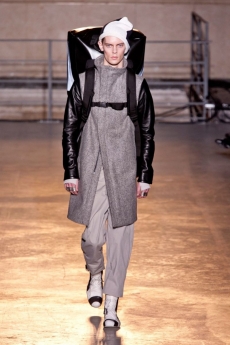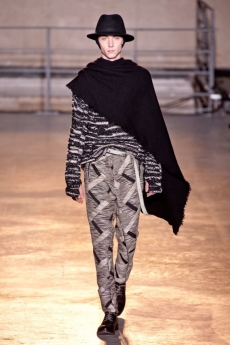 Fashion
ICEBERG at Milan Fashion Week Fall/Winter 2014
The new ICEBERG collection, introduced during Milan Fashion Week Fall/Winter 2014, clearly took inspiration in Bruce Wayne's Gotham City, transforming all it's protagonists into a heroic Batman. The innovative use of textures and prints in combination with luxurious and modern fabrics, underlined the spirit of transformation. Along with mohair knits, jacquard jackets, neoprene sweatshirts, silk and poplin shirts, Federico Curradi did not miss out on embellishing his garments with the brands signiture: 3D graphical prints.

www.iceberg.com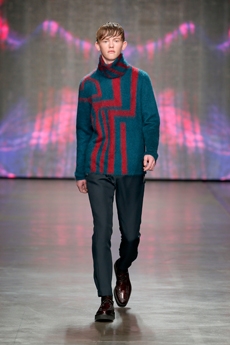 Fashion
Walter van Beirendonck at Paris Fashion Week Fall/Winter 2014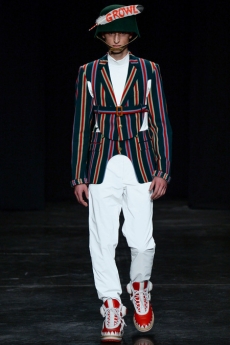 The soundtrack to Walter van Beirendock's fall/winter presentation was Gesaffelstein, a young DJ from France known for his aggressive and loud music. This could not have fit better in a collection so militant as the latest by the Belgian designer. Although the whole presentation was very colorful, most outings came with a felt soldiers helmet which at times was adorned with an enormous Native American head dress. There were some military influences on the clothing itself but they mostly centered around the idea of cut-outs. Side-panels of belted wool coats were left open to reveal colorful prints. Somewhere in the mind of Walter van Beirendonck must have been a schoolboy, which explains the vertically striped suits and emblems on sweaters. 
Fashion
John Varvatos at Milan Fashion Week Fall/Winter 2014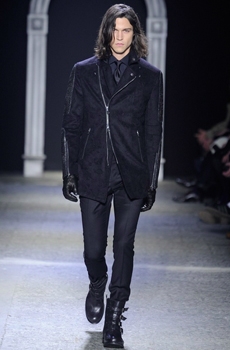 At John Varvatos, looks are fearless, confident and as usual influenced by Varvatos passion for Rock' n' Roll. So of course Kiss, in the main soundtrack accompanied his muses, when they  pranced down the runway. John's leather looks were mainly black, often in shimmery shades, combined with white suits. Throughout the edgy spirit, elegancy is not getting lost. 

www.johnvarvatos.com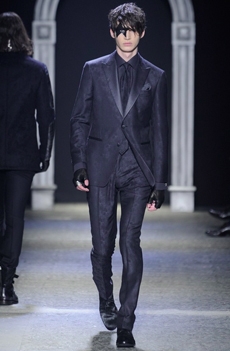 Fashion
Philipp Plein at Milan Fashion Week Fall/Winter 2014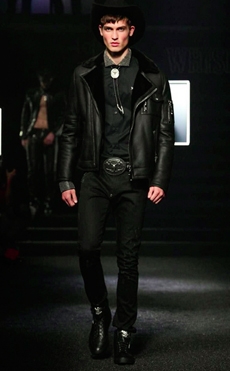 Philipp Plein's cowboy and Wild Western-themed collection, was born out of his childhood memories, when he dreamt of empty saloons, sheriffs on horses and hunted banditos. His looks were sometimes topless and accessorized with saddles, bolo ties, badges, reptile belts and fringes. Crystal studded blazers, biker jackets and sheriff dusters were the highlights of the show, which ended by a performance of legendary rapper Angel Haze.

www.philippplein.com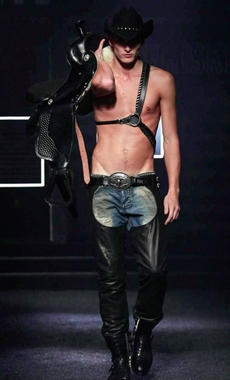 Fashion
Jil Sander at Milan Fashion Week Fall/Winter 2014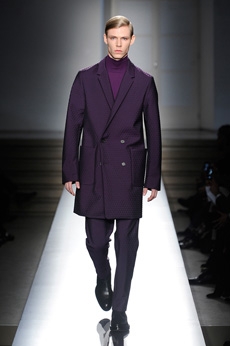 For Fall/Winter 2014, Jil Sander showcased a delciate and subtle collection playing with the senses of structure, surface movement and colour. It almost begs the viewer to touch it's shimmery fabrics and promises a haptic experience. On the contray, purple cashmere sweaters with geometric knits create a rather flattering atmosphere. This season's tailoring resembles to well-known Jil Sander aesthetics: silhouettes are neat. Boxy jackets on top of slim cutted cigarettes pants dominate numerous looks.

www.jilsander.com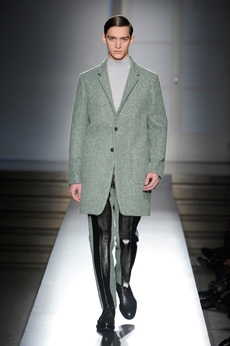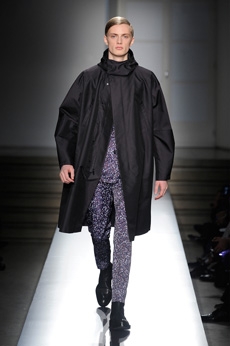 Fashion
Alexander McQueen at London Collections: Men Fall/Winter 2014
As an absolute highlight of second day at London Collections: Men Fall/Winter 2014, fashion label Alexander McQueen showcased a tribute to the brands -very british- loyal high quality tailoring. Sarah Burton's choice of location and soundtrack underlined the collections dark sprit: staged in an old church and accompanied by Bauhaus's 'Bela Lugosi Dead', the collection itself was almost entirely black, sometimes paired with silver or gold accents. Sharp tailored suits, plaids and skinny trousers layered with kilts and skirts got highlighted by John Deakin's photo motive of painter Lucian Freud digitally printed on shirts and long double-breasted coats.

www.alexandermcqueen.com
Travel
Selman Soil
The Selman Marrakech is owned by Saida and Abdeslam Bennani Smires and weaves a visual history that captures Abdeslam's love of Arabian horses with arresting architecture that defines the spirit of Marrakesh.

Passing through the immense portico, the gaze is drawn over the entire property by the geometry of the facades and gardens dotted with fountains. Across the Mechouar, the visitor gets a glimpse of the interior, a sensual contrast to the grandeur of the exterior. At the center of the hotel, there is a large, sunken water feature on to which all rooms and public areas open out. The perspective evokes the Alhambra. Andalusian styles are mixed with Indian and classical styles to round off a distinct, plush version of Marrakech, where precious moments and the joy of living are highlighted. The hotel is situated seven minutes away from Marrakech airport and the ancient Medina, 5 km along the Amizmiz road. It enjoys a close proximity to the city center and offers striking views over the Atlas Mountains.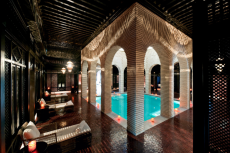 Hotel Selman Marrakech, Km 5, Route d'Amizmiz, 40160, Marrakech, Morocco 

reservations@selman-marrakech.com
www.selman-marrakech.com
Fashion
Iceberg for la Rinascente Milano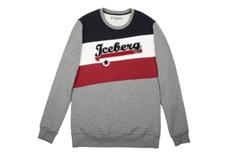 Iceberg launched a sweatshirt limited edition developed exclusively for the prestigious Milan department store 'La Rinascente'. The collection includes two models: a cotton gauzed sweatshirt with neoprene details that highlights the Mickey Mouse embroidery and a 'College' inspirated sweatshirt with the Iceberg historic logo. 

The sweatshirts are now available at la Rinascente Milano, Italy.

www.iceberg.com
Art
Paul Housley at Belmacz Gallery London
The prestigious Belmacz Gallery features a collection of work by iconic London-based artist Paul Housley, entitled 'They Bloom at Night' that spans eighteen years of his career. 'Music from the Studio'  -an exclusive 96-pages artists' monograph- gets launched coinciding with the show. The high-quality hard cover edition captures 'The River' -an essay by writer and critic Martin Herbert-, next to various of Housley's renowned paintings. Born in Stalybridge, Greater Manchester in 1964, Paul was a MA student at the Royal College of Art in 1995. In the following years he produced numerous of small scaled drawings and paintings, executed on reclaimed hardback book covers, often figurative and of a darkly humorous nature. Being inspired by Velazquez, Picasso and Rembrandt, he created unique and highly characteristic artwork featured in various group and solo exhibitions.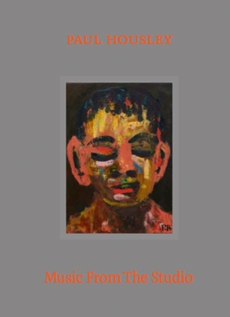 As Housley has explored different mediums and genres within his artistic period, his still-lifes, 3D sculptures, portraits and found canvas frames function as hybrids of different mediums and genres. Assessing Housley's latest body of paintings, he takes his inspiration from found objects, he finds e.g. on fleamarkets. Then, the power of his paintings arises through his endless studies and explorations of these items and seem honest, inquisitive and slightly humorous. Like much of his work, re-occuring motifs become characters in his ever increasing internal world and operate as totemic objects, psychical manifestation rather than mere 'pictures', they are imbued with intellectual and emotional resonance, and vibrate with the hopes, fears and desires of the artist. As e.g. the piece 'This is a Wife' operates somewhere between a painting and a sculpture, a paint laden tea spoon is attached to a small rectangular deeply stretched white canvas.
Located in a Regency townhouse on Davies Street, the Belmacz Gallery is not only a place to find founder Juila Muggenburg's iconic jewels, but also a melting point for high-quality art creating a dialoque between artists, sculptors, craftspeople and designers. The Gallery also encompasses an alchemy-inspired beauty collection, including products for lips, eyes and make-up.

'They Bloom at Night' is on from the 17th October until the 13th of December 2013 at 45 Davies Street, London.

www.belmacz.com
Fashion
GUCCI's 'Cruise 2014'
Inspired by the vibrant South American temperament of Rio de Janiero, Creative Director Frida Giannini designed the exclusive 'Cruise 2014' womens' collection, an ex- clusive insight of must-have travel essentials for the modern GUCCI woman. The collection expresses opulent nonchalance, euphoriy, yet a strong glamourous appearance picking up 70ies styles of the Italian traditional house of GUCCI. Feminine overalls in wide silhouettes and slightly oversized proportions are combined with waist belts, among elegant evening gowns and the new kimono-wrap dress made of exclusive silks. Next to glamourous highlights some sporty influences conquer the GUCCI cosmos within bomber jackets, basketball-inspired T-Shirts and the FRIDA Shirt, the first time Giannini's name appears on one of the brand's designs.
The collection is especially characterized by using various high-quality materials, such as silk, featherweight crêpe de Chine, suedes and cashmere. Some pieces are made of shimmering hand-embroidered iridescent gold and silver sequins, more casual garments are adorned with Macro-Paisley-prints. Photographed against an orange, purple and pink sunset image, the whole colour palette of the collection ranges from exotic colours through to rusty and copper nuances, as well as metallic, silver and bronze shades. As expected, the Cruise 2014 is not missing out on three suitable handbag lines: The 'GUCCI 58', which customizes the charming looks of the season's collection. The 'Harness' combines the design of the GUCCI Horsebit with traditional craftsmanship, whilst the brand's outstanding characteristic bamboo detail gives an elegant allure to the feminine 'Hip Bamboo'. Metallic high-heel sandals and the Espadrilla wedges complete the looks of the sporty- glamorous women's 'Cruise 2014' collection.
Take a look at the whole collection on

www.gucci.com
Fashion
The Madeleen- Bugaboo by Kaviar Gauche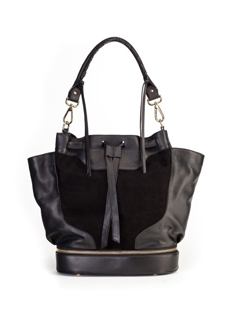 The iconic Dutch pushchair brand Buga- boo teams up with avant-garde designer duo Kaviar Gauche in an ultimative collaboration of 'The Madeleen', a stylish and suitable must-have bag for a modern mother. As the brand Bugaboo stands for mobility and innovative design, this accessories sets new standards, especially for the mother's everyday use. The inspiration for this magnificent, yet handy bag came within a workshop of 'It-mums' of the German media landscape, who represented the potential customer and gave direct input of how an essential bag for a modern woman should be and look like. Kaviar Gauche incorporated these informations into the design process and created a bag made of luxurious black soft nappa leather combined with suede. The eye-catcher bag combines the classic tote form with the duffel bag look, has a removable bag-in-bag with various inside pockets and a zip, which separates the base from the rest of the bag. 
'The Madeleen' will be available online from November 2013 as a limited edition of 300 bags.

www.bugaboo.com
Art
Zeno X Gallery 'TWICE'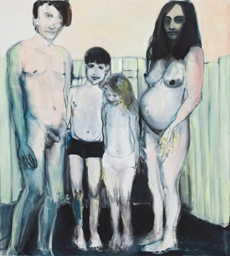 The renowned Antwerpian Zeno X Gallery will showcase an exclusive exhibition entitled 'TWICE' featuring the two significant painters Luc Tuymans and Marlene Dumas. After their work has been put together in group exhibitions before, for this occasion the two of them will be showing a complete body of work alongside each other for the first time. There is no specific theme, that connects their works, still there are certain similarities, yet interesting differences that become visible, once you look at them in a closer way. As both artists are influenced by photography, television and cinema and documenting their surroundings through a correspondent perspective, this is the essence of stimulating the dialogue about painting between both of them. The colours Tuymans uses are warm and vibrant, contrasting with the colours of Dumas, who uses a more cold and bright colour palette.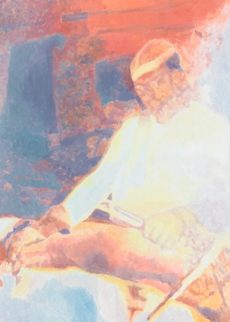 Luc Tuymans was born in 1958, in Mortsel and is one of the most influential and important painters of his generation. Being known for his complex socio-cultural analyses and interpretations, his intentions always refer to dark, muted scenes. Often his motives are charged with sinister meaning and seem vaguely familiar. Tuymans clearly defines the concept for his exhibition, explores the theme and decides in advance what the paintings should look like. The actual painting process is concentrated and fast. For 'TWICE' the Belgium painter took some remained unfinished works from his archive, he did a few years ago. Originated in a small painting he made in 1987 of a cook, "he reused this old image but chose to create a large-scale painting. In 'Cook' we see a man stirring a liquid mass in a large pot. The man's face is blurry either due to the steam emanating from the pot or because of a light that shines behind him."
Marlene Dumas therefore has a different way of using her creativity. Her amazingly beautiful paintings delve out of the moment, and integrate complex themes—"ranging from segregation, eroticism, or, more generally, the politics of love and war". 

The exhibition will be on at Zeno X Gallery, Antwerp Borgerhout, Belgium from 6th of November till 21st of December, 2013. There will be a Preview on Sunday, 3rd November from 3-6 pm.
Cinema
ASVOFF 6th edition's 'Winning films'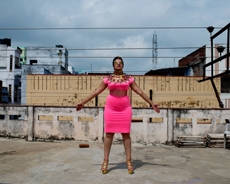 For the 6th edition of ASVOFF Diane Pernet announced the winning films on Tuesday, 22nd October 2013, that were selected during the festival days from the 11th till the 13th including more than 100 in and out competition films, showcasing 'a weekend of cinematic intrigue, trail- blazing fashion, magnetic personalities and passionate performances'. Since launching the festival in September 2008, the Centre Pompidou annually transforms into a venue, showcasing magnificent and highly sophisticated feature films, documentaries, performances and installations.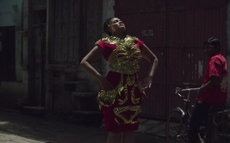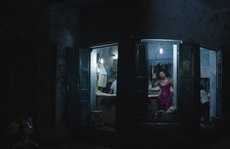 'HOLI HOLY'  by Bharat Sikka
The three-day brought together notable names such as Mike Figgis, Bettina Rheims, Wing Shya, David Sims, Ellen Von Unwerth, Bruce Weber and prestigious fashion brands such as Dior Homme, CHANEL, Pierre Cardin, Hussein Chalayan. Six highly talented filmmakers were chosen by a group of renowned jury members such as Michele Lamy, Laurens Van Den Acker and Danielle Ryan. The contributors walked away with nine trophies for their excellent fashion films.
'BFC LONDON COLLECTIONS: MEN FW13' by Matt Lambert
The ASVOFF GRAND PRIX, BEST SOUND PRIZE and BEST EMERGING TALENT -awarded by Nowness- went to Bharat Sikka and Manish Arora for their breathtaking film 'Holi Holy', which captures an obscure atmosphere, as well as beautiful and strong images, shot in India. The story is about the main character Bishi Bhattacharya, who explores a small village in India, where "the forgotten women are part of the community again. But only for a short while". BEST ART DIRECTION and BEST STYLING went to Matt Lambert's short film 'BFC London Collections: Men FW13', which tells the story of three young British men and their personal relationships with style.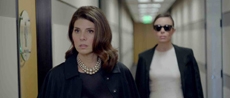 'SHE SAID, SHE SAID' by Stuart Blumberg
'SISTER ACT' by Ellen Von Unwerth
Furthermore, a truly entertaining film was 'She said, she said' by Stuart Blumberg. Being awarded for BEST ACTING, the short film tells the story of a lesbian couple that meets for divorce attempts to divide their possessions through mediation. 'Sister Act' by Ellen Von Unwerth won the BEAUTY PRIZE in collaboration with Make Up Artist Vicky Steckel awarded by MAKE UP FOREVER.

All winning films are featured on www.nowfashion.com

www.ashadedviewonfashionfilm.com
Art
Robert Mapplethorpe in Galerie Thaddaeus Ropac
Galerie Thaddaeus Ropac on the occasion of it's 30th anniversary showcases an exclusive exhibition of works by renowned American photographer Robert Mapplethorpe curated by Isabelle Huppert. The selection includes a noticeable extract of Robert Mapplethorpe's legendary black and white images adorning the Villa Kast in Salzburg. French actress Isabelle Huppert got free access to resources of the The Robert Mapplethorpe Foundation choosing a selection of unexplored, yet memorable photographs. Her own choice of mixing emblematic photos with snapshots, deep-strong portraits and still lifes capture gentleness and make this selection appear like a mysterious poem.
Robert Mapplethorpe was born in 1946 as the third of six children in a Catholic working-class family in Floral Park, Queens, New York City. He studied at the Pratt Institute in Brooklyn, where he first shot photos with a Polaroid camera taking photos of his friend, love and muse Patti Smith and other important figures of the New York Underground scene. After a while he delved into homoerotic SM sensation motives that later on became much sought-after in the world of photography. Robert Mapplethorpe died in on the consequences of his HIV infection in 1989.

The exhibition is on until 26 October 2013 at the Villa Kast, Galerie Thaddaeus Ropac, in Salzburg, Austria.

www.ropac.net
Fashion
Norwegian Rain
By Rebekka Ayres
A concept conceived under the umbrella of one of Europe's wettest cities, Norwegian Rain is a label for the elements, fashioned for those who like their rainwear sartorial. The Bergen-based brand threads Japanese sensibility into function-rich outerwear, unperturbed by a market saturated by PVC raincoats and flimsy anoraks. For Norwegian Rain, performance is high, meticulously designed, and aesthetically aware, making the age-old dilemma between practicality and design wholly obsolete. Working in weatherproof membrane fabrics recycled and imported from Japan, designer T Michael and creative director Alexander Helle produce collections bespoke to the style climate of each season. Born from Norway's 'dugnad' tradition – a neighborly philosophy by which communities volunteer their services to achieve a common goal – it was the enterprising imagination of the brand that invited collaboration between Bergen's creatives, culminating in this finely-engineered fabrication. Materials are equally ethical, sourcing organic cotton and abstaining from solvents, while reducing CO2 emissions by 80 percent in the process.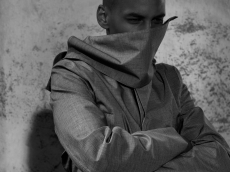 Men's shapes take heed from the time-honored trench, with resourceful cuts shaking off the shackles of their fusty predecessors. Whether double or single-breasted, finishes defy their expectations. By displacing fastenings and concealing cryptic details, raincoats offer a Swiss army-knife variety of options, shape-shifting in seconds to an entirely new guise. Folds serve both high neck and open lapel, converting from spread to standing collar in a matter of moments. There is even a detachable hood to shield against the transient temper of the clouds. While silhouettes transform, color remains consistent, in a muted palette of olive green and greys. Herringbone takes black to a soft and subtle charcoal with its quiet texture, lending just enough elaboration to let the balance hang in the hands of form. Women, too, have a compass of choice, as classic belted macs unbuckle readily into swing capes. The unisex Raincho, meanwhile, marks Norwegian Rain's most ingenious legacy to date, being at once a comfort staple and a sculptural marvel. Horn buttons punctuate the purity of its outer shell, enveloping the body with the considered vigilance of exquisite origami. Embracing the frame with downy cashmere linings, Norwegian Rain's scrupulously-constructed pieces give good enough reason to yearn for rainy days.
norwegianrain.no
Fashion
Levi's® Revel Launch
Denim is the universal everyday uniform. Skinny or high-waist, boyfriend or drop-crotch, the selection seems endless. Unfortunately, so does finding that one perfect pair. Enter Levi's®, who have been on the forefront of finding the perfect jeans throughout the company's history. Last night they unveiled their latest breakthrough at their Berlin store. What started with the female-only Lady Levi's® in 1934 and went high-tech with the Curve ID system in 2010 has gone through yet another evolution.
The Levi's® Revel employs liquid shaping technology, a system that infuses the denim with a liquid to control its stretch in all the important places and highlights the female form by lifting and modeling the silhouette. 'Super memory retention' in the four-way-stretch is an ideal partner in crime, letting the Revel snap back to its original form no matter what shenanigans they've been put through.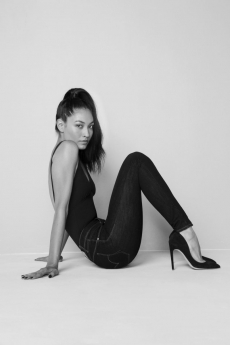 The Revel is based on the Levi's® Curve ID Fit System, and available in Slight, Demi and Bold Curve. Details such as the special contouring finish, elongated seams or the positioning of pockets are supposed to optimize the silhouette. A number of finishes, washes and colors, as well as skinny or straight legs assure the right model for all shapes, sizes and tastes.

www.levi.com
Art
'The Lost Boys' by Joost Vandebrug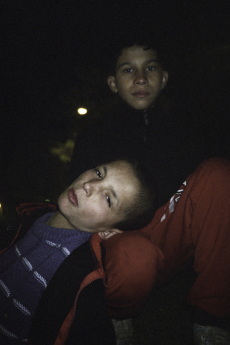 Destitution runs far deeper than the streets in Bucharest. In a state seemingly void of government structures and social care, the dispossessed youth of Romania find themselves caught off course under its negligent eye, seeking refuge in the turbulent veins of the city: the tunnels. Their inhabitants are The Lost Boys – a third-generation product of the homelessness born of the fall of communism. Costel, Nico, Stefan and Liviu are four of an approximate thousand child vagrants burrowing in the passageways of the capital, together with their many dogs, self-medication and unreserved allegiance to one another.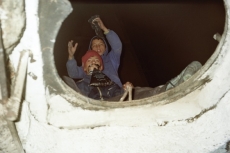 It was in early 2011 that photographer and filmmaker, Joost Vandebrug, first began to document the lives of the friends amidst what appears to be an entirely alien social landscape. What started with a few fleeting snapshots, a visceral language was nurtured between artist and subject; Vandebrug, showing his first few photographs to Costel, was welcomed deeper and deeper to the nucleus of the group, afforded an unprecedented viewpoint to a gang of parentless children who, as one might expect, find ways of escapism in hardship's shadow. While orphanages, drug abuse, confrontation with addicts and the law are not alien encounters to The Lost Boys, what shines through most tenderly is their wholehearted sense of camaraderie.
But there is a darker reason why Vandebrug wants to share this story: upon his last visit, Nico was visibly dangerously ill, appearing to have lost half his body weight since the last time they had met. Vandebrug took him to the hospital. Nico – only fifteen – was diagnosed with AIDS. Not only that, but with a CD4 count of 2 cells/mm3 – exceptionally low, when a count fewer than 200 cells/mm3 defines the condition. Over the two and a half years that Vandebrug has been documenting The Lost Boys, he has accumulated thousands of images and hours of film footage, valuable to the portrayal of this touching story. With the partnership of DUST Magazine, the next step of the project is publication. Via the initiative Kickstarter, supporters of the project are able to back its funding, urging the printing of the book, entitled 'Cinci Lei', well within reach. Backers generously fund the venture with pledged contributions large or small, all
serving to scale a £10,000 goal by October 25th, covering production costs and thereafter revenue from sales as well as any excess from the total raised will flow straight to The Lost Boys.
 
www.kickstarter.com/projects/9569619
Fashion
Marc Jacobs's last show for Louis Vuitton
First it was a rumor, now it is out: Marc Jacobs is leaving Louis Vuitton. Being one of the most important American designers of the 21st century, Jacobs has been creative director since 16 years turning the iconic luggage brand into a new era of fashion-forward design. Jacobs leaves the brand to focus more on his own label in the future. His last appearance at Louis Vuitton was a poetic retrospective and breathtaking nostalgic performeance, awarding elements of former shows. Accompanied by dark, tragic and celebratory music the show announced the end of a grand era. As anticipated the collection embodied the extravagant, rebellious and genius essence Jacobs is loved for.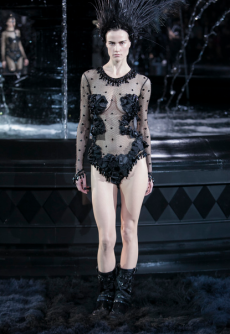 Immense peacock feather headpieces arised on the runway with black dominated garments. A clock, a carousel and fountain created a melancholic atmosphere and made this show be an elaborate highlight on last day of Paris Fashion Week.
 
Fashion
Viktor&Rolf at Paris Fashion Week Spring/Summer 2014
The background for the Viktor&Rolf Spring/Summer 2014 collection was an institutional wall (maybe from a boarding school?) with the designers names clad on it in graffiti. That rebellious attitude persisted in the collection were good girls gone pretty bad. The schoolboy-uniforms showed today were deconstructed and heavily studded. Like a gothic cheerleader, the Viktor&Rolf girl pierced her collars or painted her shirt. New was the bermuda-shape, that in it's largeness, moved like a stiff skirt. Optional were the the little kilts in front and in the back.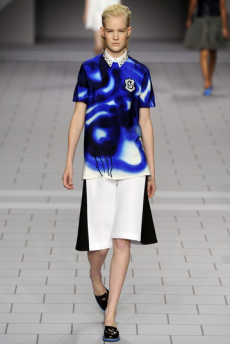 Fashion
Dolce&Gabbana at Milan Fashion Week Spring/Summer 2014
Designer-duo Dolce&Gabbana for Milan Fashion Week Spring/Summer 2014 showcased garments, that got inspired by Roman and Greek mythology and the perfection of ancient temples and theatres. The collection thematically focuses on beauty, magic and enchantment and exposes pomposity and glamour in a strong manner. The main motives of this show were golden antique coins adorning dresses, headbands, jewelry and belts. Macramé and chiffon textiles in a colour palette of black, red, cream, dark green and esspecially gold dominated this selection of stunning pieces.
Remarkable prints of almond tree flowers, lithography of Sicilian temples and traditional decorations of ceramics highlighted exclusive fabrics such as lacquered silks, organza laces and gold-printed leather. Along with exclusive, luxury pieces, such as highwaist pencil skirt, fur vests, golden earrings and the newest Dolce & Gabbana bags entitled Eva and Sara, the fashion collection, was accompanied by the original music taken from various movies of Federico Fellini.

www.dolcegabbana.com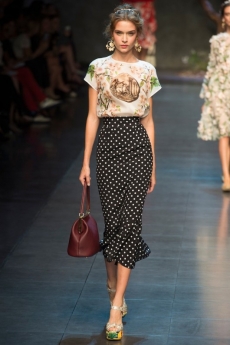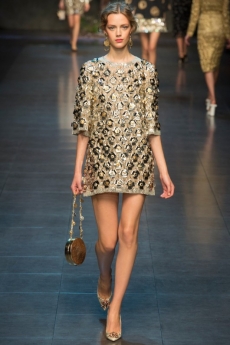 Fashion
Prada at Milan Fashion Week Spring/Summer 2014
For the second day of Milan Fashion Week Spring/Summer 2014, Prada sent out a collection that reflected femininity and female empowerment at it's best. Eye-catching prints, which reminded of mural paintings and Richard Lindner dominated this artistic line. Most of the prints showed graphical images of women, which underlined what this collection is all about. Knife-pleat skirts, tube socks, shift dresses and coats with round buttons were showcased in the colour palette of mustard, lilac, turquoise and tangerine. Accompanied by hot vibes of Britney Spears new song "Work bitch!" this show was a must-see at MFW Spring/Summer 2014.

www.prada.com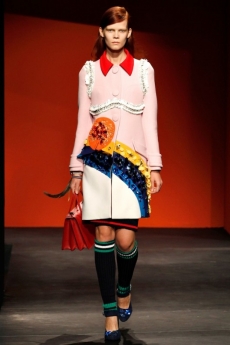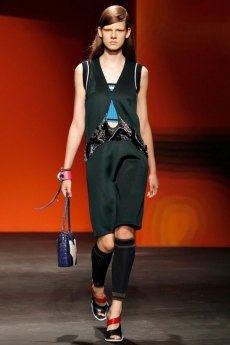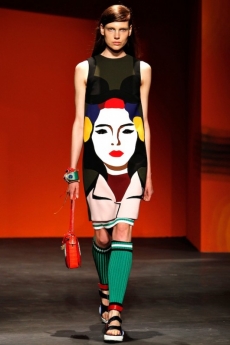 Fashion
Gucci at MFW Spring/Summer 2014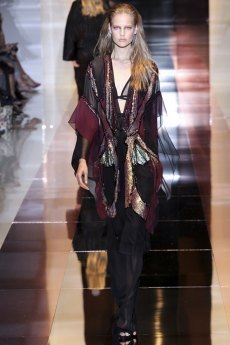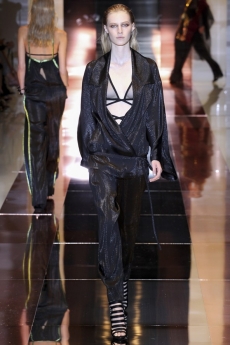 The traditional Italian house Gucci on first day of Milan Fashion Week conquered the runway with pieces that blazed abroad nonchalance, femininity and elegance. Creative Director Frida Giannini based her collection on slight athletic influences matched with glamorous intricate finesse. The repeating key elements were bra tops wrapped in straps, leather-edged kimonos and low waist dresses with V- slits made of high-quality materials and sophisticated techniques, such as silks, plissés and chiffons, based on blacks as well as multi- coloured and gold shades. Highlighted by refined ornaments and sparkling sequins, this collection was truly in the spirit of Art Nouveau.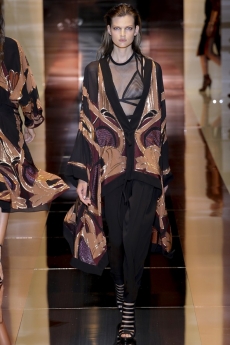 Fashion
Vivienne Westwood at London Fashion Week Spring/ Summer 2014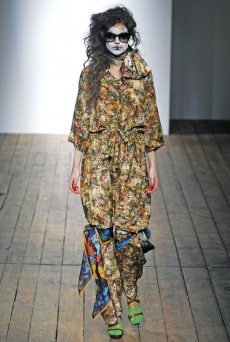 The must-see show on London Fashion Week's schedule was no other than Vivienne Westwood, opening with a dramatic dance performance by Lily Cole inspired by Hans Christian Andersen.
Westwood later saying in an interview that this performance was about the consequence of global climate warming. Great craftsmanship and bizarre beauty got visible in hand tailored and draped jumpsuits and dresses dominated by olive green, earthy colours with floral photo prints. Climate as a key word printed on a top and crazy cosmetics related to the origin topic of environment change made this show outstanding and memorable.

www.viviennewestwood.co.uk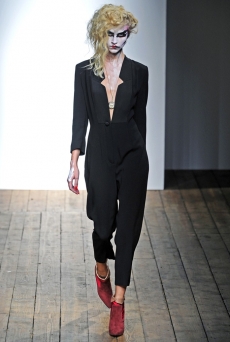 Fashion
MM6 Maison Martin Margiela at NYFW
MM6 Maison Martin Margiela for this Spring/Summer 2014 showcased a conceptual collection highlighting pure perfection and vivacity. Accompanied by synth sounds and floating riffs, Margiela sent out on the runway contemporary casual garments, oversized tops and short cuted blazers. Speaking the true spring vocabulary in a neutral colour pallet, this collection shows an innovative attitude.

www.maisonmartinmargiela.com
Fashion
Hervé Léger by Max Azira, Mara Hoffman, Lacoste, Jill Stuart at NYFW
Third day at the New York Fashion Week brought up a number of remarkable styles. Designer Max Azira showcased his collection of pieces for Hervé Léger with geometrical printed patterns, sharp silhouettes, combined with leather pieces and added zippers. The show was accompanied by strong dynamic drum rhythms and thrilling beats.
Hervé Léger Spring/ Summer 2014
Similar to Max Azira also Mara Hoffman was giving importance to magnific patterns, including tribal kaleidoscopic shapes and rainbow colours. Mara Hoffman -who is also well known for conquering the fashion world with her swim and beach wear - in this collection got inspired by a Dashiki, a traditional West African men's garment.
Mara Hoffman Spring/ Summer 2014

Continuing in Lacoste's efforts to keep a certain contemporary look - Oliveria Baptista created remarkable pieces with a slight touch of sportswear. He sticks to the old image of tennis courts in strong colours such as clay browns, rosy beiges and dusty pastels.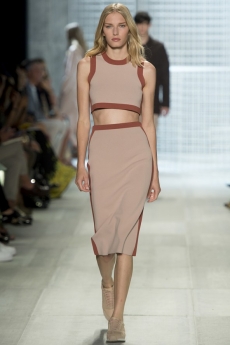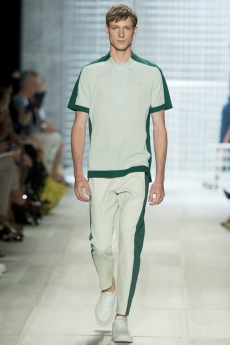 Lacoste Spring/ Summer 2014

Last but not least speaking of Jill Stuart -who opened the show with a high waisted black skirt and a rounded shoulder top - is bringing back the seventies.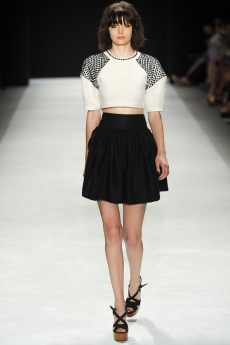 Jill Stuart Spring/ Summer 2014

Art
Illustrative Berlin 2013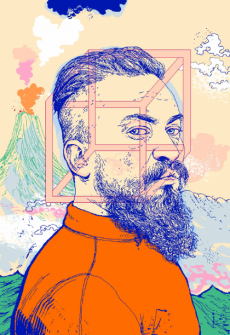 Dawning on the arts calendar once every two years, Illustrative Festival has tantalized and tormented since its last edition – a yearning that can now be put to rest, as Illustrative has landed in its hometown of Berlin, just in time to catch the last wave of summer.
A full-bodied ten-day line-up of graphic art and illustration will provide the perfect distraction to collectors, galleries and humble fans all the same, united by their mutual craving of freshly-baked, exhilarating creativity. The venue of the Direktorenhaus will transform into a hotbed for discussion and appreciation of prospective graphic trends and talents, inspiring in spades along the way with its inexhaustible showcase of disciplines from across the trade; works grace the more orthodox media of paintings, prints and sketches with their never-conventional statements, to the more conceptual formats of monumental graphics, sculpture, animation and installation. More than just an art exhibition, Illustrative has laid-on workshops, events, pop-up project spaces, live painting and a film programme, as well a rather intriguingly-named 'illustrious wine-tasting'. Such an inspiring schedule, it goes without question: this is illustrative of how all art festivals should be.

Illustrative Berlin runs between August 31st – September 8th.

www.illustrative.de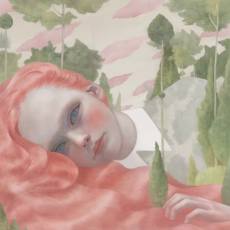 Fashion
Onitsuka Tiger New X-Caliber Sneaker
Frontrunner of '80s sportswear, the iconic Onitsuka Tiger X-Caliber sneaker has been revived for 2013, and is fighting-fit to take on its increasingly urban 21st century surroundings. Heralded from birth for its intelligent practicality, function remains true to form – every inch the performance-boosting and injury-preventative staple that has proved faithful to athletes since 1982. Design, too, takes a step down the retro route; in its original swatches of blue, silver and off-white with red and royal accents, its distinctive vertical heel vents an aid to movement and cushioning for the foot, as its 'quadra' lacing inimitably zig-zags the tongue. The redesign of the new X-Caliber does not go without sharpening its cutting-edge: breathable mesh material softens the '80s blow, while a thick Memory EVA mid-sole considerately supports the foot of the modern day wearer. A sneaker whose founding vantage point was set leaps and bounds ahead of its time, the X-Caliber seems to slot seamlessly into the present, exploiting an edited silhouette and established heritage to compete with and overtake its more measured contemporaries.

www.onitsukatiger.com
Fashion
Ralph Lauren to Restore École Nationale Supérieure des Beaux-Arts
The École Nationale Supérieure des Beaux-Arts in Paris has acquired worldwide recognition as an institution to nurse such masters of design as Valentino Garavani and Hubert de Givenchy. Artists, too, have flourished under its coaching, with Degas, Marisse and Monet all walking through its magnificent doors. It's pertinent, then, that one of the greatest designers of our time has pledged to honor its two-year restoration by funding several millions of dollars towards the project.
The campus buildings date back to the 17th century, and house a 90-foot mural by French painter, Paul Delaroche.The historic semicircular lecture theatre that forms the heart of the school will be renovated with stadium-like seating and top-of-the-range audio-visual equiptment. It's cobblestone courtyard, meanwhile, will undergo significant work as part of the plans, which, once completed, will host a gala dinner and Fall/Winter catwalk show by Lauren on October 8th, making his first European show.

www.ralphlauren.com
Fashion
Camper Together with Bernhard Willhelm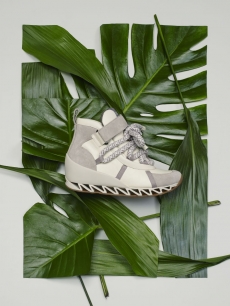 Ever laced up in erratic beauty, Bernhard Willhelm's lucid aesthetic rarely fails to be brand itself as provocative – maniacally eclectic at the very least. His next collection for Camper's Fall/Winter line delves into the exotic, generating innovative and sporty styles to stand anarchically alongside the coveted Himalayan sneaker of collaborations past, reinterpreted ready for its latest incarnation.
Potent monochrome pigments are the product of the Himalayan's most recent evolution; in black, white and Royal blue, they are flexibly unisex, quiet with their peachskin contrasts, yet without falling short of statement detail. Corrugated platforms inject a less obvious slant on streetwear, while cartoony hose laces bundle on the tongue, grey and white threads twined to pull together its most distinguishing attributes.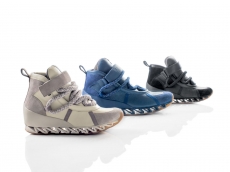 Fresh offerings, like the Everest, too deliver an unconventional classic, aligning an original monotone upper with an inflate outsole for a brazen pop statement. An exclusive womenswear piece plays on the typical cowboy boot skeleton, boldly divided in two-tone suede and slouching aloof for a cooler, more comfortable update of a renowned silhouette. They say Bernhard Willhelm sees the beauty in chaos – his collection for Camper delivers just that.

www.camper.com
Art
H. Craig Hanna at Laurence Esnol Gallery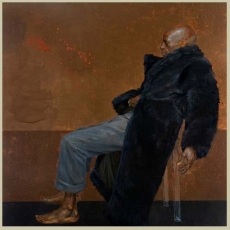 Breeding such talent as Keith Haring and David LaChappelle, it's no suprise that art critics and collectors alike look to New York's School of Visual Arts as a tip-off for finding artists about to flourish. Upon graduating as a Master of Fine Arts in 1996, it was only a matter of months before figurative painter H. Craig Hanna would secure an early eminence in the art world, bestowed an entire floor by the Bergdorf Goodman Gallery after a department store executive happened to see Hanna sketching and was struck by his hauntingly unfinished realism. The exhibition was a sell-out, and since then, Hanna has risen to acclaim as two-time winner of the BP Portrait Award and internationally showcasing artist. Since 2008, Hanna has been platformed at exhibits of the Laurence Esnol Gallery in Paris, where his work now claims permenant and exclusive residence.
Comparable in style to his cited inspirations of Egon Schiele and Lucian Freud, Hanna's distorted portraits occupy a less than orthodox canvas, their inky spectrums bleeding from raw wood and impassive linen, creating a striking contrast between subject and medium. Portraits are approached with the age-old modus of the great masters, taking diptych format to play with subjects and surroundings. Composed with a traditional eye, Hanna misconstrues his more classical references to Titian, Rembrandt and Whistler, ad-libbing instead with a lucid surrealism.

www.laurenceesnolgallery.com
Fashion
Bottega Veneta Opens New Los Angeles Concept Store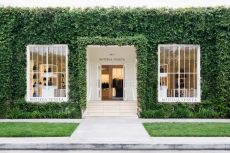 Descending on the distinguished surroundings of Melrose Place, Bottega Veneta will open its doors to the most neighbourly luxury retail quater of Los Angeles with a freshly conceived concept. Its ivied façade left virtually untouched, the interior of the 2, 727 square feet store will tailor to discerning L.A tastes with sleek displays intergrated into a gallery setting, designed to strip down the artistry of each product to its bare essence. Displays will be curated to impart a selection of ready-to-wear, leather goods, jewelry, gifts and home accessories succinctly, with emphasis on a tailor-made shopping experience for its clients.
Sliding steel fixtures and mesh panels will industrialize its pristine white shell, opened up by its flooding light and clean lines. The vision of Creative Director Tomas Maier, unexplored design combinations based on clarity and space set the boutique apart from its relations. Transparent resin imbeds mesh for a futuristic feel, while white frosted glass and lacquered wood enhance the sense of slenderness – a touch taken even further with the addition of its open-air courtyard.

www.bottegaveneta.com
Art
Beauty Without Irony Presents AIR/PORT
Taking haul of the Summer season, Beauty Without Irony presents AIR/PORT, an art exhibition and charity auction running from July to September in Essaouira, Morocco, before moving on to Antwerp, Belgium, in 2014. A cultural exchange between the two cities, the exhibition will showcase the work of fifty artists, both native and from afar, brought by the organisation behind Designers Against AIDS.
Eleven nationalities are represented, from the established professionals to breakthrough student talent of Lycée Mohammed V in Essaouira and the Sint Maria Instituut in Antwerp, who have contributed works interpreting two themes cherished by both cities: the wind and the port. Spanning 70 large 2x3 meter flags, the artworks stretch along the harbour front in a fitting homage to its subject. Original artworks by Olaf Breuning, Mohamed Tabal and Felix Richter will be displayed throughout venues accross the city, in a creative and educational program to unite the public in social concern for Beauty Without Irony's initiatives regarding HIV/AIDS, youth employment and cultural diversity, amongst many others. Simply put: a rich and engaging viewing for a meritable cause.

AIR/PORT runs from July 5th to September 5th accross various venues.

www.beautywithoutirony.com
Fashion
Royal Hem Fall/Winter 2013
Cyclewear just got stylish with Royal Hem's Fall/Winter 13 collection, a tribute to London's cult cycle ride and mirthfully named 'Tweed Run', for which contestants take to the pedals in a dress code of traditional British biking attire.
Royal Hem unpick the stitches that form the patchwork of British style; a fusion of sartorial British classicism, French mystique and knife-sharp Italian tailoring, its foreign accents are what steer the aesthetic from costume, to a kind of charisma that is more difficult to define.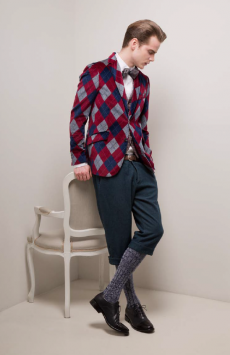 Casual stands up to a hit of formality, with Shetland wools and Aran knits layering bow-tied shirts and waistcoats. Plus fours are revived with that eccentric taste for color-clashing that could only get past a British palate, as flecked tweeds and dogtooth checks bicker politely amidst a canvas of ¾ length pants and deconstructed blazers, lined with vintage Penny Farthing prints. Slimline silhouettes streamline with single breasted jackets, while Chesterfield coats are made boxy by shawl collars and patch pockets. Styled with a contemporary hand, however, fedoras and rolled ankle cuffs speak with an audacious London twang.

www.royalhem.it
Fashion
Stone Island Flagship Store Openings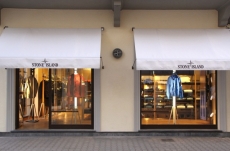 Munich's Maximillian Strasse is soon to make room for a new resident at number 27, as Stone Island are set to open their second German Flagship store in the legendary shopping district this September.

The 100m² store follows the launch of its Sylt store in March 2012, and will stock both the Stone Island and Stone Island Junior collections, as well as the capsule Stone Island Shadow Project.
July 6th also saw the unveiling of another Stone Island Flagship store, this time in Forte dei Marmi, Tuscany. Images from the Stone Island Archivio '982'-'012' 30th anniversary book were projected onto the backdrop of a 10 meter-high floating installation, constructed in honor of the event.

In keeping with their other recent openings, oiled oak and stone lay a natural finish to the interiors, contrasted by the contemporary accent of luminous fibreglass and aluminium fixtures, holding collections in sunken cages made to a bespoke specification.

www.stoneisland.com
Fashion
Michael Sontag Spring/Summer 2014
Inside and out - the binary behind Michael Sontag's spring/summer 2014 collection. Traditional linings such as horsehair took center stage during his presentation at Mercedes Benz Fashion Week Berlin. Intertwined with silks, light cotton, a polyamide-mix, and denim, the materials shaped his layered looks. The collection was elaborate and conceptualized, yet wearable. Sontag layered shorts of full length pants and topped them off with more layers on top, never loosing the airy lightness of his idea. From muted creme, black and gray to canary yellow and lagoon blue, the color palette corresponded to the trends for spring/summer 2014, as seen during Berlin Fashion Week thus far. Surprising sparkle in the designs came out as they moved along the runway: Sontag added Swarovski crystals to some pleats.

Images: © Mercedes Benz Fashion

www.michaelsontag.de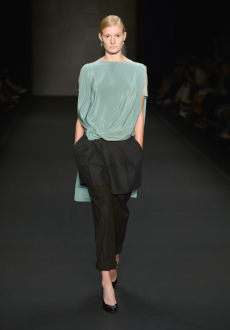 Fashion
Designer for Tomorrow by Peek & Cloppenburg
For the fifth year running, Peek & Cloppenburg Düsseldorf and Fashion ID have awarded the 'Designer for Tomorrow' award during MBFWB. As a visible platform for creativity, it gives up- and coming talents the opportunity to present their designs. This year's patron Stella McCartney helped mentor the finalists and gave them advise ahead of their showcase. The five designers were Katy Clark, Jamie Wei Huang and Ioana Ciulacu Miron from the UK as well as Hannah Kuklinski and Annalena Skörl Maul from Germany. With her collection 'Paradox', Ioana Ciulacu Miron took the award. For her it is all about contrasts. Her creations are soft and flowing, appear structured and feminine while simultaneously expressing a masculine strength. A diversity of materials like wool, plastic, chiffon and even plastic foam fuse in quite extraordinary unity. The prints on the pieces kept in subdued color were all hand-drawn by the designer herself. Having won over the jury and the audience, Ioana is 2013's 'Designer for Tomorrow'.

www.designer-for-tomorrow.com
Art
Stefan Strumbel x Warsteiner
Artist Stefan Strumbel has made a name for himself in the international art scene with fans like Karl Lagerfeld. However, his work is heavily influenced by his roots in the German city of Offenburg. Tradition and the paradigm of 'home' are the subjects of his work, which is a provocative, street art inspired exaggeration of cult objects. He has stated that "home is the hardest drug in the world."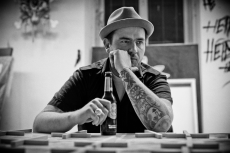 Strumbel has found his "Partner in Crime" in the traditional German brewery Warsteiner, which is celebrating it's 260th anniversary this year. The collaboration saw Stefan Strumbel create a funky installation for the tenth art Karlsruhe, which showcased larger-than-life helium skywalkers emblazoned with old and new works by the artist. The pieces ranged from bright neon crucifixes and skull printed cuckoo clocks to armed squirrels and Strumbel's claim "What the fuck is Heimat?!" Additionally, limited edition goody bags were handed out to visitors, filled with artsy gimmicks and a special edition "Partners in Crime" bottle of Warsteiner designed by Strumbel. The artist will stay with the brewery a little longer, as they have more projects in the pipeline. Cheers!

www.warsteiner.de
Art
Padiglione Crepaccio at yoox.com
With La Biennale's 55th International Art Festival in full swing, the eyes of the art world are firmly locked on Venice, but through the seductive glamour of the festivities, the local artists of the city can lay overlooked. Il Crepaccio, a cosy restaurant in Milan, has made it's name as the atypical launch pad for budding creative talent, known for placing the seemingly unattainable art world within reach of both artists and admirers. For the duration of the festival, the venue has joined forces with yoox.com to extend its initiative to the wider world.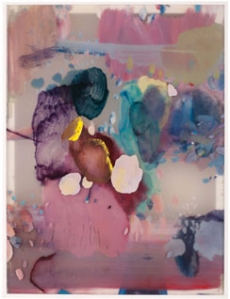 Padiglione Crepaccio presents The Venetians. The project shines a light on a group of ten young natives by launching an online platform for their work, alongside biographies and interviews ito explain the concepts by the artists themselves. Coinciding with the city's venerated festival, pieces will be available to view and to purchase until the close of La Biennale in November.

www.yoox.com
Fashion
Mulberry loves Wilderness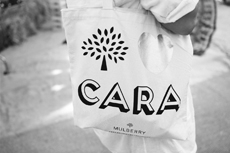 Oxfordshire based festival Wilderness will be visited by Mulberry this year. The fashion brand will host its own 'Mulberry loves Craft' tent allowing festival goers the opportunity to engage with Mulberry craftsmen and customize their own leather bracelet.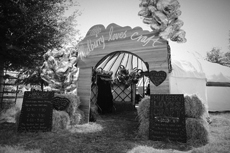 The Mulberry craftsmen will provide the public with the chance to learn how the iconic Bayswater bag is made and participate in a series of workshops across the weekend. To celebrate the launch of the Mulberry Cara Delivingne collection set for iniment release, Mulberry will host a picnic inside the private Walled Garden with special guests. The collaborative collection will be available online and in store from September.

www.mulberry.com
Fashion
Zoe Waters wins ITS Diesel Award
British fashion designer Zoe Waters has won the 2014 ITS Diesel Award. Taking place in Trieste , Italy on 12th July, the award show celebrates the talents and ideas of young people by offering a €25,000 award to the winner to invest in their career.
Awarded by Diesel artistic director Nicola Formichetti, Zoe will be offered a 6 month internship with the Diesel creative team as well as the cash prize. Speaking on Zoe, Formichetti describes the young designer's work as "in line with the Diesel DNA" and that she is "willing to work in a team". The event was attended by prestigious names from international fashion and media and aims to support young design talent in line with the enthusiastic and passionate ethos of Diesel.

www.diesel.com
Fashion
Hien Le at Berlin Fashion Week Spring/Summer 2015
This time around Hien Le mixed things up a little by showing on the final day of Berlin Fashion Week, instead of opening the extravaganza. He still stuck to the purist, clean, understated designs that make the young Laotian one of Germany's most sought after designers. SS15's color palette is predominantly pastel, reminiscent of a fresh and sunny spring morning. Soft mint, white, light gray, royal blue and tangerine are mixed with fish and jelly fish prints, but the collection never turns loud or kitsch, but rather remains within the minimalist boundaries of the New Objectivity. A gimmick in Le's designs is the use of coated cotton, which appears to be soft leather. 
Silk and chiffon add a soft touch to midi dresses, which Hien Le uses as layering pieces. Mesh shirts and full skirts loosen up the outfits, as do asymmetrical hem lines and peek-a-boo details, making Hien Le's SS15 collection surprising, stylish and understated. He is certainly one of the designers who have found their aesthetic and will stick to it, all the while keeping the crowd on their toes. 

www.hien-le.com
Fashion
SCHUMACHER at Berlin Fashion Week Spring/Summer 2015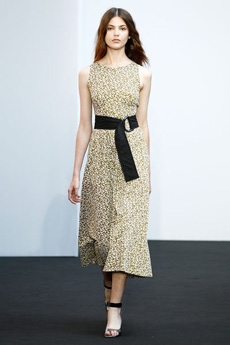 Photos by Getty Images
A complete overhaul best characterizes this SS15 showcase: gone are the days of understatement and wearability and with this turn of events comes a new name as well. SCHUMACHER makes a strong statement and re-brands itself as Dorothee Schumacher, after the label's creative director. It is this daring lady, who took a look back at what fashion - in it's purest form - is actually supposed to accomplish. The answer appears to be as simple as it is genius: suggest! Who are you underneath those layers of fabric? Who ever you want to be.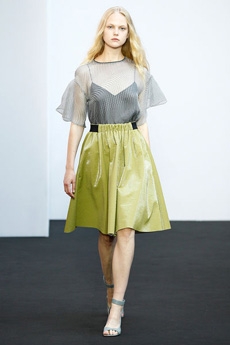 Dorothee Schumacher's SS15 showcase transformed this allusion into bondage elements paired with soft fabrics, feminine silhouettes, prints and girly ruffles. Harnesses covered in pastels, flower dresses with heavy belts, mini dresses covered by transparent parkas are all somewhat reminiscent of 90s grunge. Here they are mixed with sporty elements such as zippers and nylon fabric. Daid Moriyama's photographs are said to have inspired Schumacher and her almost philosophical approach to this collection. With designs like these, it's about time she became the namesake to the eponymous brand.

www.dorothee-schumacher.com
Fashion
FIER vitrine Spring/Summer 2015
Ten well-selected international avant-garde labels presented their new collections in a group show during Berlin Fashion Week. Every corner of Lehrter Siebzehn was dedicated to another label and set up to create a showroom submerged entirely into the respective designer's world. Each of the stalls showcased about three to four key pieces from the collections to give a brief introduction to the emerging design talents. 
From Aussie designer Alexandra Hackett's menswear collection, for which she created every piece from silver foil, draped black and gray avant-garde designs by 40 DECIBELS from Canada, detail oriented fairytale dresses with a hint of mystery by Karin Brettmeist from Germany, Australian Laura Banfield's pieces that were nothing short of art, Laura Galati's heavy knits (Australia), Germany's Maja Daphne Holzborn and her vibrant prints and patchworks, urban streetwear by Brazilian Ocksa, Austria's Ruins of Modernity and their contemporary styles all the way to Senhor Prudencio from Portugal and their amazing shoe designs and finally intriguing head pieces by Vasso Consola from Greece. All these designers are well on their way onto the fashion pack radar, so it won't be too long until the fight for front row seats is on.

www.fiermanagement.com/fier-vitrine
Fashion
Aleks Kurkowski at Berlin Fashion Week Spring/Summer 2015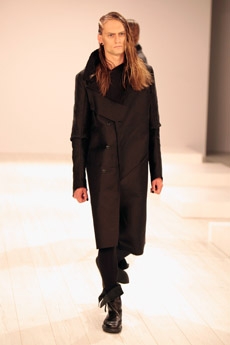 Photos by Mercedes-Benz Fashion
Polish-German designer Aleks Kurkowski showcased a collection inspired by architecture, geometrical shapes and adoration for the insatiable color black. The result is high-end mens and womenswear, which combines straight forward, avant-garde design and a deep-rooted belief in sustainability. For a label that has only been founded back in 2012, Aleks Kurkowski has already made a name for itself as being progressive and independent from mainstream trends. The designer's sustainable and ecologically responsible approach to the fast paced world of fashion shines through in the use of natural organic materials. 
And in some ways it carries over to the label's color of choice for SS15, as black is an eternally fashionable (non-)color that will withstand the test of time. Kurkowski's edgy designs were somewhat of a throwback to 90s daredevil TV series with tough designs primarily showing leather appliqué, metal zippers and unfinished hems here and there, paired with high-fashion attention to detail. Architecture, as a focal point of her inspiration, shines through in the masculine, almost architectural designs. Staples for SS15 are ankle length pants and coats – all in all a far cry from the usual sundress and a refreshing, badass approach to staying 'cool' all year round.

www.alekskurkowski.com
Fashion
Julian Zigerli at Berlin Fashion Week Spring/Summer 2015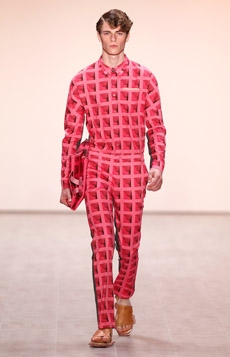 photos by Getty Images
Swiss design genius Julian Zigerli had the honor of opening Mercedes Benz Fashion Week Berlin. Following showcases in hip and urban spaces around the city in past seasons, this comes to show how well appreciated the quirky designs are in the midst of the usual New Objectivity that reigns among most of the city's designers. Inspiration for his SS15 collection came from his father's philosophy, "life is one of the hardest", which serves as the title for the collection.
The collection intends to depict a wonderful, dark and crazy world from the POV of a stressed nine-to-fiver, who steps out of his everyday monotony into a world he can't quite fathom. However, he still indulges in the uncertainty of things to come. Zigerli sticks to what he knows, and once again masters prints to the fullest. This time they were done by hand in an actual physical environment by using foam, rather than designing them on a computer screen. The collection's color scheme stems from the CMYK color palette.
Zigerli's focus remains on designing cool - at times kooky - contemporary clothing. For SS15 he sent out soft sportswear and bright two-toned suits. Vibrant tones and the experimental foam prints brought sass to the runway. Constructed cut outs, half sleeves, freely flapping loops of fabric and peek-a-boo gaps, showed off the designer's fresh and cheeky approach to fashion. Zigerli also incorporated head-to-toe patterns, such as camouflage or chevron stripes, which took center stage on swimwear, sweaters and summer suits, making for easy breezy summer styles.

www.julianzigerli.com
Fashion
dyn menswear at Berlin Fashion Week Spring/Summer 2015
by Nora Hiller

Spreading a summery atmosphere all around, the Dyn Menswear Spring/Summer 2015 collection is all about shirts: tucked in and all buttoned up, some of them halved into two kinds of farbics, with a seam across the chest. To reign in the warm weather there are a lot of light fabrics, such as a transparent cotton weave or flowing fabrics of cupro or silk. A flowery pattern ties the outfits together. The collarless jacket, with a slim fit and a zipper right across the front is a key style. Rather tight fitting bermuda shorts in dark blue, creme and ocher go well with the pastel colours of lavender, lemon, light blue and pale pink. Asymmetrical front-pleated trousers and suits finish off the collection, worn by the models whose attitudes reflect its feel – flirty, yet always confident.

www.dyn-menswear.com
Fashion
Armani Privé Haute Couture Fall 2014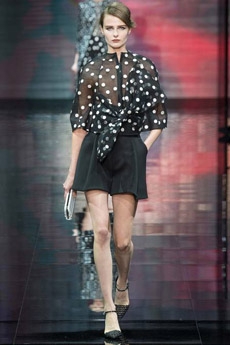 Sleek sophistication was combined with the classic and the cultivated at the Armani Privé Fall 2014 Haute Couture show. In a monochrome and red color palette, Armani provided an experimental interpretion of classic Couture. Inventive dresses consisted entirely of netting and magnificent gowns were draped in polka dot organza. Capes were styled over smart shorts and extravagant, oversize fur coats made up entire outfits; it exuded refined luxury. 

www.armani.com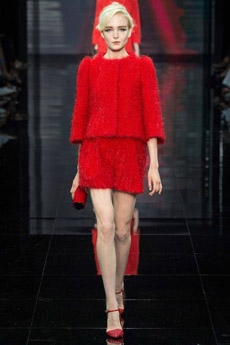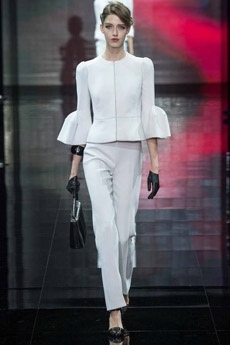 Fashion
Levi's Made & Crafted Fall/Winter 2014 Collection
Using the contrast between the city and the mountains as inspiration, the latest Levi's Made & Crafted Fall/Winter 2014 Collection presents a casual and cool aesthetic.
Contemporary with a tone of sophistication, the men's and womenswear is relaxed yet refined and smart yet stylish. Comprising of edgy leather jackets, relaxed denims and comfortable knits, the collection provides a sleek way to sport casual wear.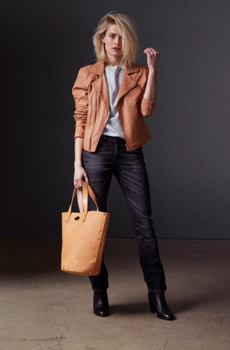 Exhibiting a balance between "the indoor and the outdoor" and "the old and the new", the collection exudes modern and cultivated style.

www.levi.com
Art
Larry Clark: Doing it for the Kids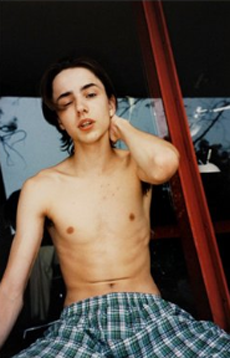 Chronicler of Teenage Nihilism Larry Clark will have his archive of 20 years of filmography available to purchase at  London's Simon Lee Gallery.
The American film director famous for 1995 cult film 'Kids' and his photography book 'Tulsa' delves into youth culture, creating intruiging, insightful and influential work.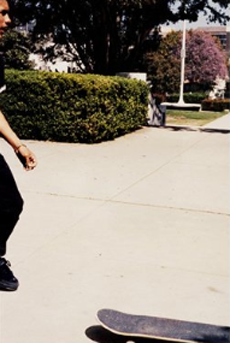 Described as "young, naive and stupid" by 'Kids' star Leo Fitzpatrick, the archive features unseen snapshots as well as inner city skateboarders, topless teenagers and general angst and delinquency. On Clarks provocative and nostalgic body of work, Fitzpatrick goes on to describe the archive as "one of Larry Clark's most personal shows" and an opportunity to view each photograph as if it were one of your own. Each image will be £100 each and available from 1th July.

www.larryclark.com
www.simonleegallery.com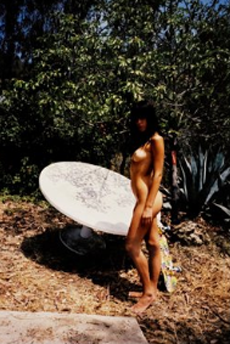 Fashion
Kris Van Assche at Paris Fashion Week Spring/Summer 2015
Sleek and innovative, the Kris Van Assche Spring 2015 Menswear collection presented an originative and stylish compilation. Suits were skillfully reinterpreted; trousers and shorts had slits at the knees, white shirts were worn with cut off neck ties and hoodies were worn underneath blazers. A distinctive pale blue pattern was seen on shorts, trousers and suits and metallic suits were worn with printed shirts, the result was a sharp yet fresh amalgamation.

www.krisvanassche.com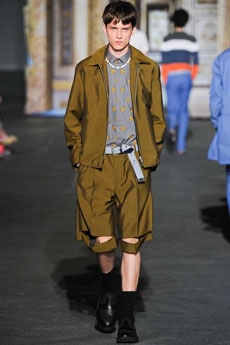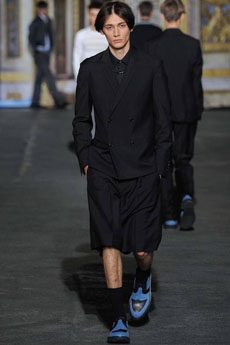 Fashion
Blumarine Fall/Winter 2014 Campaign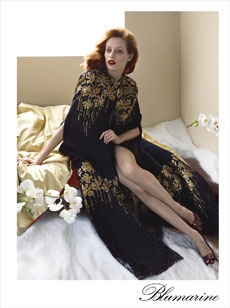 Described as "a woman's journey through her dreams and her deepest sensuality " the Blumarine Fall/Winter 2014 campaign incorporates timeless femininity and the wistful allure of a traveller in a sensuous mix.
Set in a modern Japanese Ryokan, model Thairine Garcia is embellished with traditional far east prints, precious silk dresses and flower decorations. The softeness of the clothing is juxtaposed by vivid atmosphere of the setting and the exotic backdrop provides a dreamy and tranquil ambience.

www.blumarine.com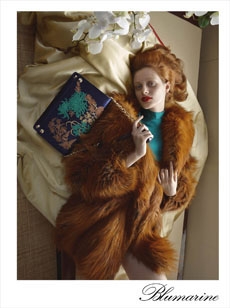 Fashion
Dior Homme at Paris Fashion Week Spring/Summer 2015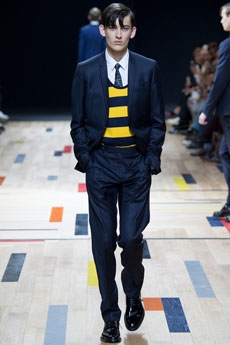 Transcending from polished and dapper suits to 90s style loose, light blue jeans and classic white trainers, the Dior Home show provided a suitable aesthetic for the modern man. Suits were decorated in striking prints and jackets and jeans were embellished with logos. Effective layering was applied to striped vests worn under blazers and striped t - shirts worn over white shirts. Casual yet chic double denim provided a quirky alternative to the suit and shiny, patent blazers added something unique.

www.dior.com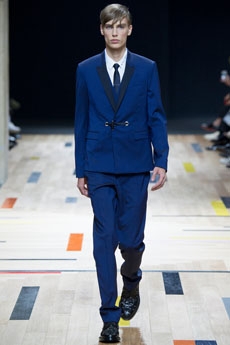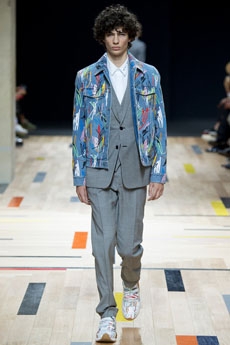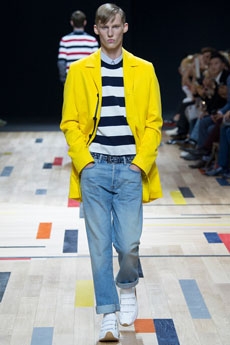 Fashion
Louis Vuitton at Paris Fashion Week Spring/Summer 2015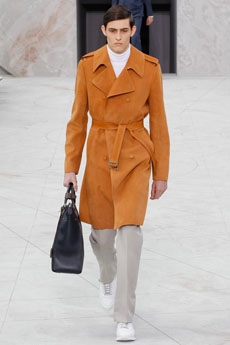 Presenting a dapper and sophisticated collection, the Louis Vuitton Spring 2015 Menswear show exuded luxury whilst remaining contemporary, modern and relevant. 70s style high waist trousers were accompanied by bright, patterned shirts and white sneakers and unique buttons and zips were decorated onto jackets and jeans. The silhouettes were clean and the colours were simple yet bold. Logo emblazoned bomber jackets and playful vivid jumpsuits oozed creativity and turtle neck sweaters and briefcases kept the elegance. 
www.louisvuitton.com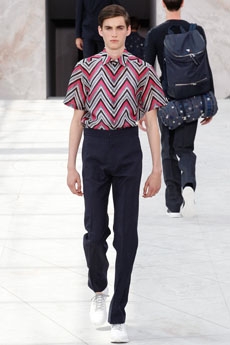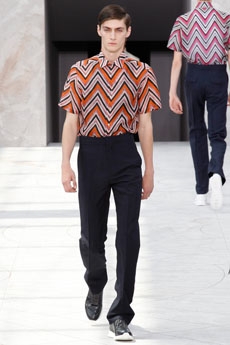 Fashion
Valentino at Paris Fashion Week Spring/Summer 2015
In an artistic amalgamation, the Valentino Spring 2015 Menswear show incorporated vintage style prints on shades of elegant brown, taupe and silvery grey. Interesting print were mismatched on silk fabrics that gilded down the runway and metallic, patterned suits were accessorized with hand held leather bags and slip on leather sandals.Relaxed sweaters and long coats were layered over silk shirts and patchwork butterfly motifs and plant embroidery was emblazoned onto jackets; the result was a vintage influence on a contemporary aesthetic.

www.valentino.com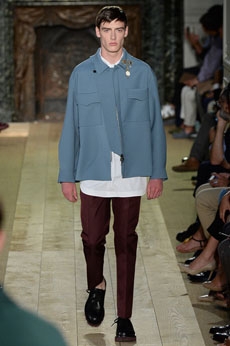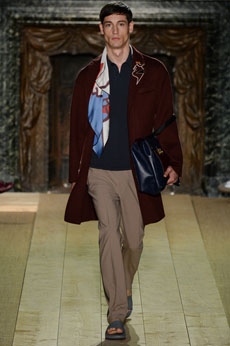 Fashion
Diesel Black Gold at Milan Fashion Week Spring/Summer 2015
 Producing a polished, rock and roll aesthetic, the Diesel Black Gold Spring 2015 Menswear show cleaned up an edgy and rugged style by applying a skinny design to black jeans, relaxed t - shirts and sharp blazers. Exquisite and artistic printed black leather motorcycle jackets served as statement pieces and were worn with skinny trousers and leather boots. Zip up turtle necks oozed sophistication and zip decorated jeans provided a distinct edge.

www.dieselblackgold.com
Fashion
Fendi at Milan Fashion Week Spring/Summer 2015
Colour was effectively clashed and blocked at the Fendi 2015 Menswear show. Sharp and slick with a quirky edge, the collection kept a slick and refined silhouette whilst experimenting with colour, shape and texture. Stone washed denim was worn with beige, neon brights were mismatched with demure colours and black mesh was used on gilet's and worn over blazers. The combination was simple yet exciting and fused styles in a creative amalgamation.

www.fendi.com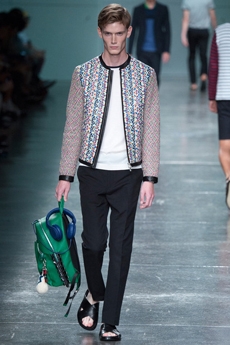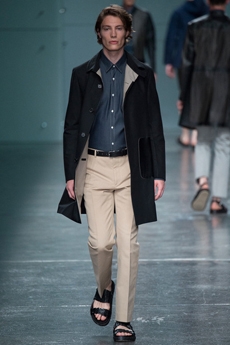 Fashion
Prada at Milan Fashion Week Spring/Summer 2015
Prada's neat and defined Menswear Spring 2015 collection incorporated womenswear in a slick amalgamation. Suits with the seams clearly outlined were paired with sharp shirts and sandals. Colours and materials were effectively clashed; dark blazers were combined with striped shirts, beige  sweaters and coloured trousers with long patent leather overcoats placed over. Clashed patterns were styled with chic blazers worn over sweaters and sleek metallic suits exuded sophistication. The womenswear, showcased alongside the menswear adopted a similar aesthetic with patterned sweaters clashed with patterned pencil skirts and worn under patent leather overcoats and straight , mid length dresses emblazoned  with the seams outlined.

www.prada.com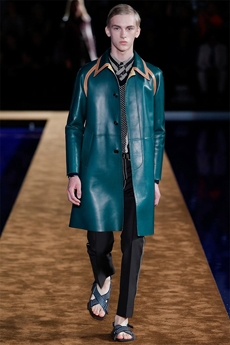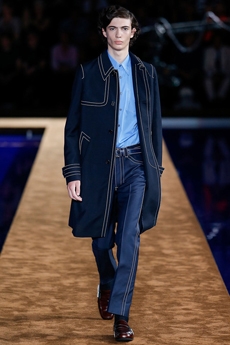 Fashion
Costume National at Milan Fashion Week Spring/Summer 2015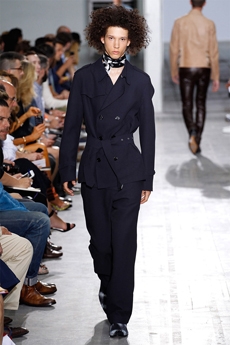 Refined and sophisticated in a demure and bright colour palette was showcased at the Costume National runway during men's fashion week in Milan. The collection consisted of an array of suits ranging from all patent leather pieces to bold orange and purple to pin stripes. Exuding laid back rock and roll, the clothing was effortlessly slick; neckerchiefs and tightly fitted trousers oozed cultivated style while the strikingly bright purples, oranges and blues adhered to a youthful and loud aesthetic.

www.costumenational.com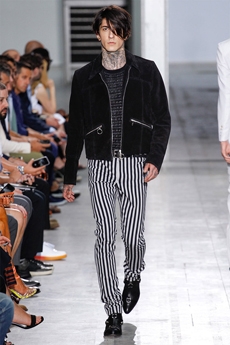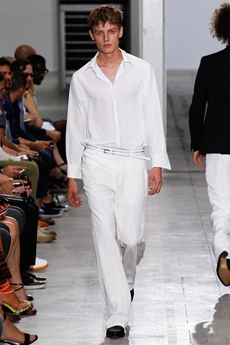 Fashion
Bally at Milan Fashion Week Spring/Summer 2015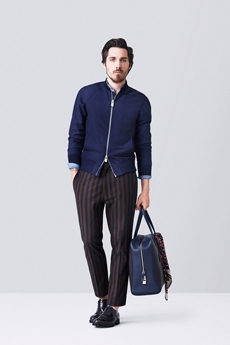 Keeping it simple yet sophisticated was the obvious mood at the Bally Spring 2015 runway. The lines were kept clean, the tailoring was finished impeccably and the accessories were kept to a minimum; plush leather oversize bags and black sunglasses. The colour palette however, was adventurous and bold, deep turquoises and burgundies covered jackets, dark beige was used on leather jackets and rich dark blue on trousers. The fourteen piece collection exuded refinement whilst adhering to a modern style.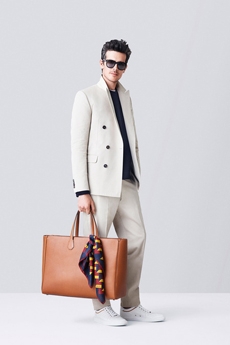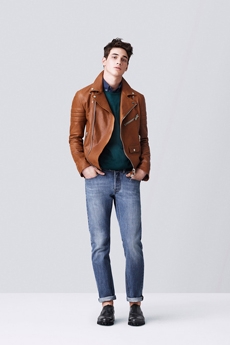 Fashion
Vivienne Westwood at Milan Fashion Week Spring/Summer 2015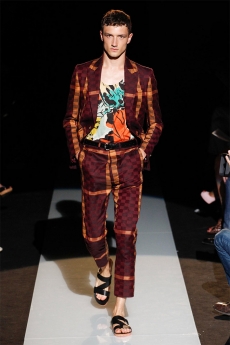 Sporting 'Moral Outrage' emblazoned t – shirts, Vivienne Westwood's activist views were not left out of her Menswear Spring 2015 show. Westwood created a truly experimental and theatrical collection with distinct, unbuttoned shirts being worn under bright, deconstructed blazers, farmer-esque top hats and frayed cowboy – style denim. The show was eclectic and in keeping with the activist undertone, models wore pink pig snouts, Westwood not only exhibited a striking and skilful collection but used the runway as a platform for her environmentalist beliefs.  

www.viviennewestwood.com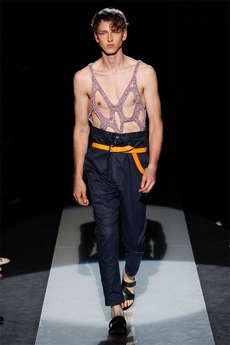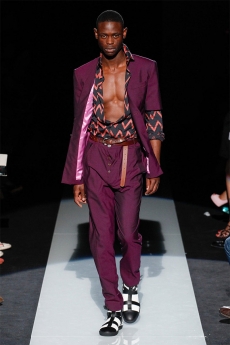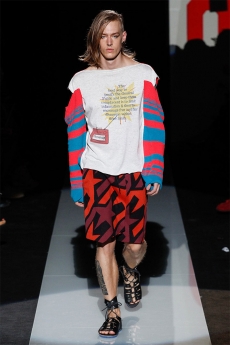 Fashion
London Collections: Men Day Three
The third and final day of London Collections: Men brought together some of the most inventive and original fashion talent to conclude the thrilling three day event.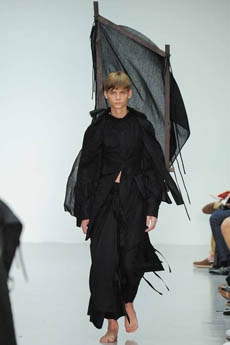 Labelled as a 'silent protest', Craig Green's first solo show evoked emotions in the audience as well as the designer himself. The extremely inventive collection saw fabrics deconstructed and uniquely layered to create a delicate yet distinct combination. The all black, all white and all blue ensembles were worn with bare feet as the fabric effortlessly flowed to the sound of soft music and comprised of one of a kind silhouettes.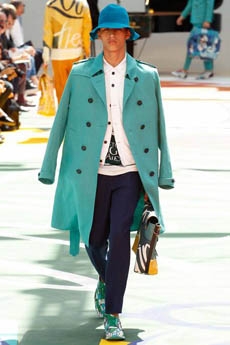 Bright and bold combos were showcased on the highly anticipated Burberry Prorsum catwalk. Classic suits were modernised by being displayed in bright colour palettes and accompanied by graffiti emblazoned bags and trainers and sophisticated bucket hats. Exquisite suede jackets were placed over denim jackets and logo decorated t –shirts were worn with suit trousers and oversize scarfs to embody the contemporary and stylish man.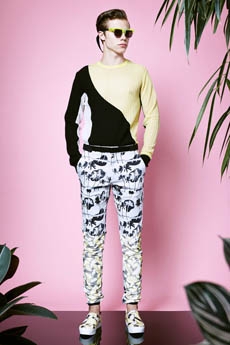 Held at the Opening Ceremony store in London, the brands presentation exhibited a polished, sports luxe aesthetic that incorporated summery palm tree prints, soft and relaxed lines and sharp colour blocking. The laidback collection consisted of long, light overcoats and slim fitting trousers in an array of intriguing fabrics and materials producing a quirky yet cool compilation.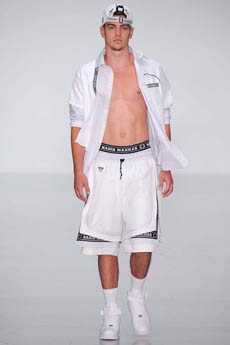 The third day's shows concluded with a striking showcase from Nasir Mazhar. The collection referenced hip hop culture through heavily logoed street style and relaxed, loose fitting materials. Smart white shirts were juxtaposed by being paired with casual basketball shorts and sweatpants, gold metallic jacquard was embellished onto matching two pieces and deep metallic blue was incorporated onto shorts and vests to create a more luxurious look. Adhering to his signature style, Mazhar produced a street wear collection with a high end undertone.
Presenting a fusion of established and new designers, the three day occasion has grown in popularity and talent, thus cementing London as one of the most exciting and innovation fashion cities in the world.
Fashion
G-Star and Marc Newson
Denim specialist G – Star RAW and industrial designer Marc Newson celebrated their decade long working relationship with an insightful event at the Design Museum in London.
Experimenting with art and fashion, an iconic piece from the collaboration is the Reversible Tour Jacket. A changeable bomber jacket with features including a compilation of graphic patches, grey silk sateen and a black quilted back.
Renowned for their stylish collaborations between art and fashion, the duo's collections have expressed architectural constructions, streetwear references, and premium fabrications.  
Australian born Marc Newson is a multi-disciplinary artist and has been described as the most influential designer of his generation. On speaking on his relationship with G – Star, Newson expressed "I think it is admirable that G-Star has the vision to embrace one industry's ability to learn from another. They understand that design is a way of a company differentiating itself."
The event took place on 11th of June and the G-Star RAW by Marc Newson Anniversary Collection for Fall/Winter 2014 is available from 1st October 2014.


www.g-star.com
Fashion
G-Star Raw Seasonal Highlights
Focusing on dark, chic and stylish denim, the G–Star Raw Fall/Winter collection offers a large range of men's and womenswear in a sharp selection of coats and finishes.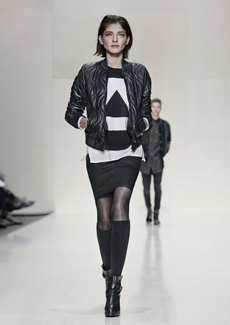 Varying in textures, materials and styles, the collection comprises of classic G–Star pieces as well as modern interpretations of the denims. Sophisticated and elegant yet contemporary and edgy, the collection can be worn layered or alone to create a sleek and polished aesthetic.  

www.g-star.com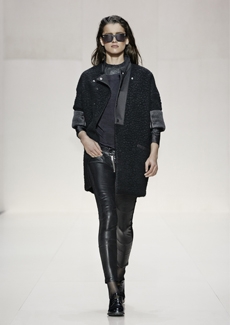 Music
Blue Lagoon Soundtrack 3 by Margeir
Icelandic musician DJ Margeir Ingolfsson has released the third instalment to his highly acclaimed Blue Lagoon Soundtrack.
The soundtrack fuses electronic sounds with relaxing tones and is named after one of Iceland's most visited attractions that is recognised as one of the wonders of the world. Comprising of unreleased and new material as well as classic 1960s Icelandic tracks, the album offers an eclectic mix of unique music.
Famous both in Iceland and worldwide, DJ Margeir has travelled the world since the early 1990s playing alongside Carl Cox, Daft Punk, Booka Shade and Trentemoller and made a name for himself as one half of Gluteus Maximus beside President Bongo.

www.hfn-music.com
Fashion
Converse x Maison Martin Margiela
The second collaboration between Converse and French fashion house Maison Martin Margiela introduces Premium Leather Silhouettes to the Collection.
The iconic sneakers are given an over paint which loosens overtime to reveal a hidden and vivid colour ranging from Amber Glow and True Navy to Azure Blue and Biking Red. Elegant and edgy, the classic sneakers are made from soft, luxurious leather and also feature the discreet Maison Martin Margiela logo on the tongue.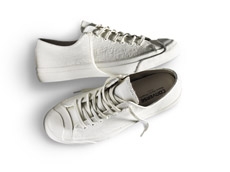 Speaking on the sneaker, Maison Martin Margiela describes the collaboration as "The story of two like-minded brands continues with the evolution of the sneaker collection where personal expression is at the forefront, revealing the expression of vibrant colours shining through an incognito white coat that ages with time." The collaboration fuses the contemporary with the classic to produce intriguing take on an archetypal shoe.

www.converse.com
www.maisonmartinmargiela.com
Fashion
Prada opens up a new store in Vienna
Created inside a prestigious and historical building, the new Prada store in Vienna hosts women's and men's ready-to-wear, leather goods, accessories and shoe collections.
Black and white-chequered marble floor, green fabric- clad walls and high furniture decorates the 1430 square-metre store that is extended over two floors. The chic new space designed by architect Roberto Baciocchi is both elegant and feminine and provides a leisurely and luxurious shopping experience.
With large, enticing windows on the outside and a sleek, immaculate design on the inside, the exquisite new store imitates Prada's modern aesthetic and slick style. The store opened on 19th May 2014

www.prada.com
Art
Deutsche Börse Photography Prize 2014
Nominated for his exhibition "The Enclave", photographer Richard Mosse has been announced the winner of the Deutsche Börse Photography Prize 2014.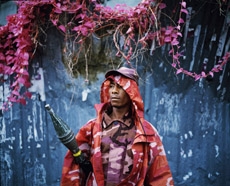 Aiming to highlight and award captivating contemporary photography and gifted photographers who have made a significant contribution to the medium of photography in Europe, the Deutsche Börse Photography Prize showcases the best of international photography. Being one of the most prestigious prizes in the world of photography and set up by The Photographers' Gallery in London in 1996, the works created by the competition are on display in the gallery until 22nd June.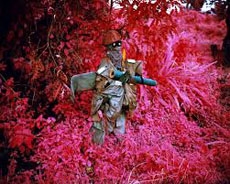 Exhibited against a background of vivid pink, "The Enclave" is the winning entry by Richard Mosse and depicts the horrifying war related deaths in eastern Democratic Republic of Congo. Both haunting and stunning, the infrared film shot photographs illustrate the contrast between the liveliness of pink nature and weapons of war, bloodshed and violence.

www.richardmosse.com
Fashion
Bally Fall/Winter 2014
Casual sophistication is at the core of Bally's Fall/Winter 2014 collection with classic lines and sharp tailoring being combined with laidback yet edgy styling.  
The womenswear is both formal and easy-going comprising of pin striped flared suit trousers paired with casual trainers and tailored overcoats, beanies and thick turtle neck sweaters. Ideal for the workplace, the long body fitting pencil skirts and shirts are perfect for the cosmopolitan woman and the cool, leather biker jackets add a necessary hip aesthetic.  
With an impressive range of accessories, the latest Bally collection provides endless ways to add sleek vibrancy to your wardrobe. From croc and snakeskin print bags to a range of ankle boots, low heels, brogues and knee length boots in a variety of colours, the accessories effortlessly compliment the clothing.
Equally classy, the menswear offers a variety of refined clothing ranging from dapper coats, suit trousers and blazers to dynamic multi coloured trainers, thick leather fur lined biker jackets and oversize leather backpacks.  
The collection fuses elegance with edginess, making it easy for Bally to stylishly transport us into the Fall/Winter season. 

www.bally.com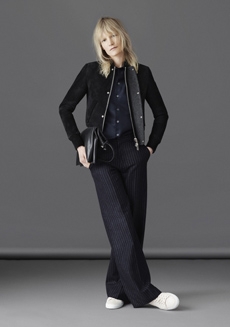 Fashion
MYKITA Opens at BIKINI BERLIN
Berlin's most recent addition to shopaholic heaven, the first ever concept mall BIKINI BERLIN, can call sunglasses label MYKITA one of its own now. Like so many before it, MYKITA, too, has expanded from too-cool-for-its-own-good Mitte to City West, the rediscovered heart of the old chic city. The mall itself is housed in the Bikinihaus, a contemporary witness to the city's tumultuous past.
Designed by Paul Schwebes and Hans Schoszberger in 1957, the complex is made up of a dyadic architecture that has now been fully glazed. The new MYKITA store with its polished, reduced interior fits in like a charm. From regular ones to sunglasses, the store appears like an ocean of mirrors, all in the label's trademark styles.
The MYKITA + Maison Martin Margiela collection consists of two different design approaches: Essential and Dual. The former are made of high-grade steel and reduced to the raw material without any additive pieces. The latter are two pairs made from acetate, born from one mold, then broken and reconstructed. This new eye-wear collection reflects the synergy of both houses perfectly, just like the new space MYKITA occupies now.

Fashion
Sisley Store in Mitte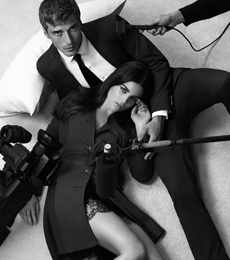 Depicting youth and freedom, the new Sisley concept store opened in Mitte, Berlin on 27th February 2014.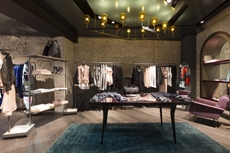 Located in the prestigious Mitte district in the centre of Berlin, the store allows visitors to have a unique and stimulating shopping experience as the store displays "its own distinctive nature and its own unique features". The store's layout is inspired by the film The Dreamers by Bernardo Bertolucci and translates this into a dreamlike, sophisticated and youthful décor.
Inside this new concept, visitors will find themselves enter an intriguing atmosphere consisting of peeled walls, black and white chequer patterned floors and cognac chandeliers. Fusing the sleek with the bohemian, the store displays chic body hugging, colour-block dresses, stylish trench coats and modernist jumpsuits as well as artistic maxi skirts, long muslin dresses and silk tops.  
Situated at 12 Neue Schönauser Strasse, the exciting new store embodies the brands playful yet chic aesthetic and transforms shopping into an interactive, sensorial experience.

www.sisley.com 
Fashion
The GUESS Hotel Pool Party @ Coachella
Fun California based music festival Coachella took place from the 11th April to the 13th and hosted an eclectic mix of live performances from artists such as Disclosure, Pharrell, Lana Del Rey, Skrillex and MGMT.
Amongst this exciting musical sphere, all-American fashion brand GUESS presented the GUESS Hotel Pool Party spread over two days and consisting of cocktails by the pool, a GUESS ping pong table and the sounds of DJ's Lindsay Luv, Jamieson Hill and Dexter Love. Celebrities enjoying the care-free summer atmosphere included Hannah Simone, Whitney Port and actor Ryan Kwanten.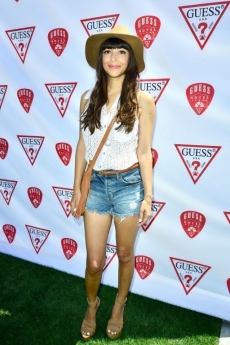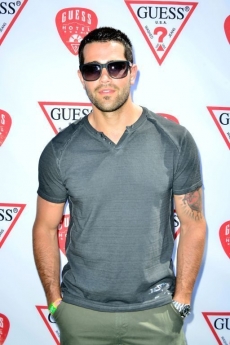 On day two of the party, the grand opening of the annual GUESS Hotel was opened by music from musician Alex Merrell dressed in Marciano and offered delicious food and tasty drinks as well as performances by Izzy Lawrence and Whitney Fierce. Celebrating the early Summer with GUESS at Coachella, the party was enjoyed by Josh Henderson, Coachella headlining band Arcade Fire and Jamie Chung.

www.guess.com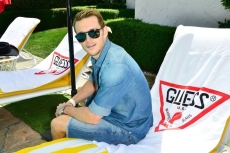 Fashion
G-Star Raw Opens First Women's Store in Germany
Denim specialist fashion brand G – Star Raw have created a unique retail concept, G – Star Women, a new store entirely dedicated to womenswear on Schäfflerstrasse in Munich, Germany. Situated over 225 m2, the impressive and specially designed store has a minimalist aesthetic and the ground floor consists exclusively of denim in various fits and styles to ensure that every woman is able to find her "perfect piece".
On the second floor, customers are invited to seek stylish accompaniments to their perfectly fitted jeans in a "comfortable" and "relaxed" carefully designed fitting zone. Aiming to exemplify "G-Star design philosophies in product engineering and denim craftsmanship", the Munich store consists of appealing attributes including a striking full height mirror and the aforementioned staircase to enhance the in store shopping experience and environment for the female consumer.

The female only store which is located in the bustling city center opens on 16th April 2014 and aims to utilize the notable G –Star DNA to provide a tailored, simple and stylish shopping experience for women.

www.g-star.com
Art
Dias Digital Kunsthal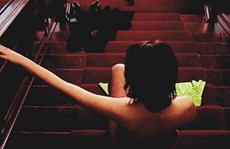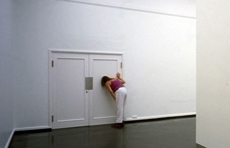 Creatively showcasing digital and interactive art in a setting that we are all familiar with, the DIAS Digital Kunsthal aims to "make art a vivid part of life" by exhibiting an interactive art exhibition in a public train station just outside of Copenhagen.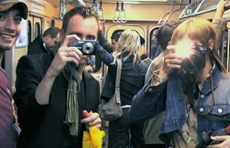 Aiming to engage and inspire everyday commuters, the project will display the works of 10 national and international artists in the digital art field and aspires to incorporate art into reality. Curator of DIAS Rasmus Vestergaard describes the designated train station "as a platform that creates artistic value and content". He went on to say that the project creates "a possibility to use contemporary art as a resource in our daily lives."
This interesting concept allows regular viewers an insight into the exciting world of interactive art and gives a location usually just quickly passed by a new meaning. The new museum opened on 3rd April and will provide viewers with a glimpse of the artistic universe that DIAS opens up.

www.diaskunsthal.dk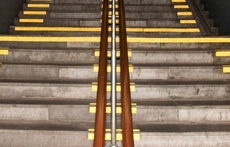 Fashion
G – Star Raw Presents Afrojack SS14 Capsule Collection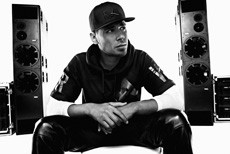 The eight piece collection comprises of long tees, short – sleeved hoodies and caps decorated in simple and contemporary black and white artwork and adorned with the word 'RAW'. The DJ and denim brand provide a flawless combination as the designs are both hip and laidback and stylish yet casual. Upon releasing his new album, the platinum selling DJ will be offering a free ticket to his performance at the W hotel with the first 250 purchases and the capsule collection is now available at selected G – Star stores and stockists.  
Funky denim fashion brand G – Star Raw has launched a second and even more exciting capsule collection in collaboration with DJ/ Music producer Afrojack. Emerging from Afrojack's favourite piece; the G – star A-Crotch, the collection like the first collaboration is based around this piece which was custom made in leather for his performances. The signature A – Crotch will be available in black coated denim, white denim and leather.

www.g-star.com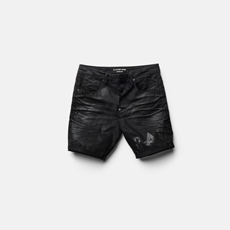 Fashion
Pharrell Williams and adidas
Submerging himself into the fashion scene, musician Pharrell Williams who's already set to collaborate with fashion brands including COMME des GARÇONS, Moncler and G-Star has recently announced that he will be working on a collaborative line with sportswear label adidas.
Williams has always demonstrated an interest in fashion with the launch of his own fashion label entitled Billionaire Boys Club and the creation of a collaborative fashion brand with a Japanese streetwear label titled 'Ice Cream'. But it was his extravagant yet classy Vivienne Westwood hat first debuted at the Grammy's that quickly propelled the singer into the mainstream fashion sphere and led him into being dubbed a "pop – culture icon" by Dirk Schoenberger, creative director at adidas. The inevitable relationship between music and fashion is at its height and with this exciting collaboration it seems to be continuing, Williams noted that "I'm really appreciative to adidas for allowing me to further develop and understand my design dreams." With adidas currently having beaten off rivals to claim the enviable title of bestselling sportswear brand and Kanye West leaving competitors Nike to collaborate with the brand, the upcoming collection set to be released this summer and is fated to be a hit!

www.adidas.com
Fashion
Hogan Spring / Summer 2014
Spring has indeed sprung and with Hogan's Spring Summer 2014 collection being shot in the picturesque and romantic city of Venice it has sprung particularly attractively this year. The uber casual and effortlessly chic collection comprises of light, fitted jackets, jeans and sneakers for laidback daywear and sexy heeled sandals, black leather and metallic clutches to bring on the night.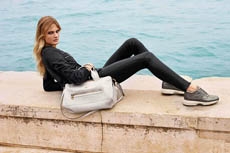 All modelled by the stunning Constance Jablonski who describes the clothes as "a selection of easy-chic pieces" in a diary style memoir written to support the campaign, the pieces depict an ideal spring holiday and combine comfort with style. In her memoir Jablonski illustrates her fast paced life full of travel and inspiration and always carries a compilation of "little jackets, skinny pants and my Hogan H222 that stay with me 24 hours a day".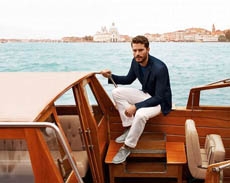 The menswear collection is modelled by Fifty Shades of Grey actor Jamie Dornan and continues in the theme of cool and easy, relaxing on a boat day attire to sleek, sophisticated yet relaxed pieces for the night. Consisting of slim fitting trousers, light blazers and stylish brogues, the collection provides clothing that is slick, effortlessly cool and embodies the carefree spirit of spring.

www.hogan.com
Travel
Philipp Plein store opening Knokke
Contemporary and cosmopolitan fashion label Philipp Plein has opened up a new store in the luxurious and exclusive seaside resort town of Knokke in Belgium. The 170 square metre store, developed by Philipp Plein and the Milanese architectural firm AquiliAlberg offers menswear, womenswear, shoes, accessories and Philipp Plein Petite for children. Blocks of white, black and grey keep in line with the minimalist theme and Murano glass chandeliers and the macro-skull studded with Swarovski elements add an undeniable eccentric feature.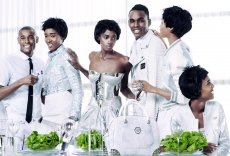 With glossy and matte finishes, the sleek, ultra stylish new store comprises of the essential elegant yet playful elements that are mandatory to the Philipp Plein brand and translates them into a rich and exquisite store design. Designer Philipp Plein declares that "I welcome the sophisticated resort town of Knokke as the newest addition to our strategic retail expansion in top summer jet set destinations." The brand, founded in 1998 has showrooms in Milan, Hong Kong, and New York and flagships in Moscow, Düsseldorf, St. Petersburg, Milan, Dubai, Berlin, Amsterdam and Paris among others. The dynamic new store that contrasts areas of light and shadows, represents the brands creativity and provides striking architectural design is set to open on 10th April 2014.

www.plein.com
Fashion
Vivienne Westwood at Paris Fashion Week Fall/Winter 2014
Vivienne Westwood invited us into her vivid imagination and world of eclectic inspirations during her FW14 show. Referencing a capacious variety of influences, styles and cultures, the collection mismatched colours and patterns, exhibited bizarre blue face paint and clashed textures. We were given extravagance through fluffy, shapely, large overcoats and exaggerated top hats, it was spectacular! Possibly the most inventive designs came from the sheer, shoulder padded, turtle neck wedding dress and martial arts style wrap jacket paired with loose fitting trousers, boots and Red war face paint. Vivienne gathered her vast sources of influencers and compiled into a outlandish yet amazing collection.

www.viviennewestwood.co.uk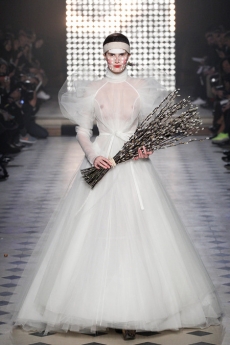 Fashion
Valentino at Paris Fashion Week Fall/Winter 2014
60s style colour combinations and dress silhouettes transcended into sheer bohemian floral gowns at the Valentino FW14 show showcased at Paris fashion week. Colour combined metallics paired with sparkly strappy heels transformed the glamour into a wearable yet fashionable night look and exquisitely printed fur overcoats and capes represented the opulent yet hip theme of the collection.

www.valentino.com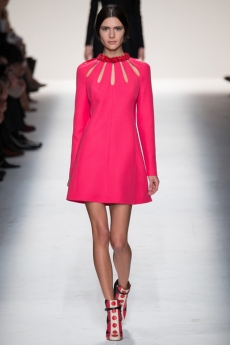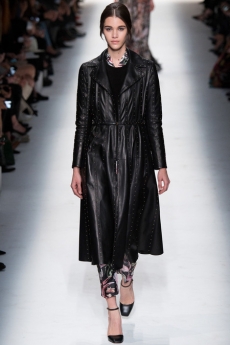 Fashion
Yohji Yamamoto at Paris Fashion Week Fall/Winter 2014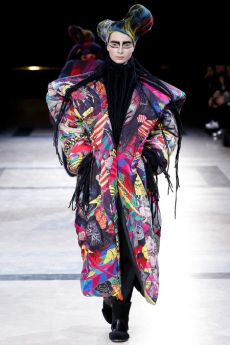 All of the drama and theatrics you could wish for were at Yohji Yamamoto's fairy-tale esque FW14 show. Bright and flamboyant makeup was accompanied by extremely stylistic hairstyles and duvet like large black overcoats whilst bright and vibrant graphics were painted onto all black pieces. These experimental and unique graphic designs continued with large florals and heavily layered black pieces added a lavish sophistication and weighed down the exaggerated theme of the show. It exposed us to a more bizarre and outlandish winter wardrobe.
www.yohjiyamamoto.co.jp
Fashion
KENZO at Paris Fashion Week Fall/Winter 2014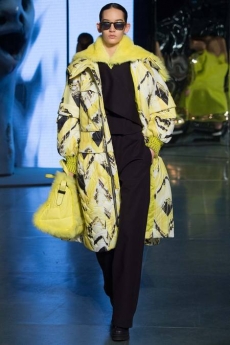 Varying patterns and colours clashed at KENZO FW14. A creative approach to layering was seen through corsets worn over tops, wide structured skirts worn over patterned suits and straight short skirts worn over trousers. Classic geometric Kenzo prints were worn alongside inventive padded black suits and a long padded black coat. The collection was wearable whilst adding a certain energy to a wardrobe.

www.kenzo.com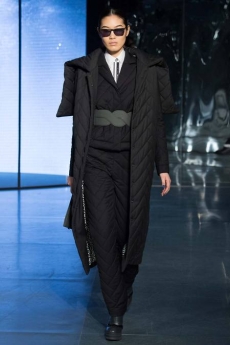 Fashion
Isabel Marant at Paris Fashion Week Fall/Winter 2014
The Isabel Marant FW14 show felt comfortable yet stylish and chic. The clothes consisted of different shades of army green, contrasted with the laidback, largely loose fitting material with a strong, militant power. Relaxed knits were paired with structured overcoats to add a sleek sharpness and a hint of dark glitter thrown onto jackets, skirts and tops gave a certain and very much needed perzaz. The show illustrated a relaxed army girl while still adhering to a high fashion look.

www.isabelmarant.com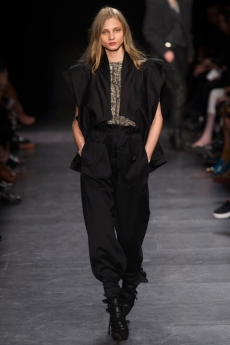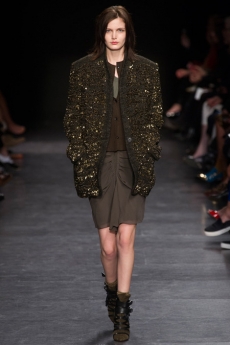 Fashion
Dries Van Noten - Inspirations, Paris, Les Arts Décoratifs
Notable Belgium born fashion designer Dries Van Noten has assembled a collection of his fashion inspirations compiled from his 30 years as a designer in the industry. Dries Van Noten who comes from three generations of tailoring has created an exhibition entitled 'Dries Van Noten Inspirations' that explores how he works when it comes to creating his designs and the correlation between art and fashion. The experience provides an excursion into a fascinating creative mind and demonstrates the clash of styles that are present when it comes to drawing influence from various modes such as music, cultural citations and historical references. Stating that "fashion is more than just pretty clothes" Dries allows us to see the beauty of creating fashion through the use of over 400 pieces. The exhibition is about revealing, celebrating and sharing the creative process behind conceiving magnificent clothing and will run until 31st of August 2014 at Les Arts Decoratifs in Paris.

www.lesartsdecoratifs.fr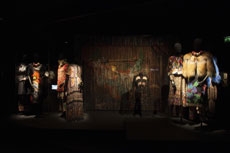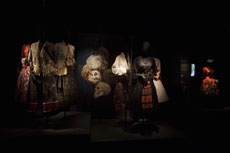 Fashion
Day 5: Marni, John Richmond, Trussardi, Missoni and Philipp Plein at Milan Fashion Week Fall/Winter 2014
The Marni FW '14 show presented at array of ostentatious excitement through the use of large fur pieces, layered ruffles and colour blocked, turtle neck dresses. It seemed like anything and everything provided inspiration for the collection as interestingly patterned matching two pieces were displayed alongside exaggerated zip up jackets and oversize trousers. The show contrasted large all fur colourful pieces with clean and structured lines to create a collection that catered to all.

www.marni.com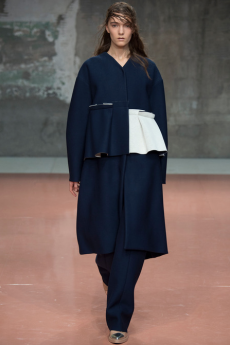 Bringing a new level of sophistication to the classic suit, the John Richmond FW '14 show epitomized menswear elegance with a powerful rock 'n' roll edge. Blazers were detailed with wording and a multitude of prints to play on the traditional suit while a pair of tight fitting bright red leopard print jeans were combined with a lavish black fur bomber jacket to provide a modern edginess. Richmond's use of kilts, tight leather trousers, exquisite face motifs and sleek silk lined suits fused modern culture with classic refinement.

www.johnrichmond.com
High class chic was translated onto an array of sleek black leather, shiny metallic silver and casual blue material at the Trussardi FW '14 show. University wear was referenced through school – badge style motifs and rich, warm sweaters contrasted with seductive leather and the use of metallic. Platform shoes were worn with ankle baring trousers and above the knee skirts were accompanied by oversize sweaters to create a laid back elegance.

www.trussardi.com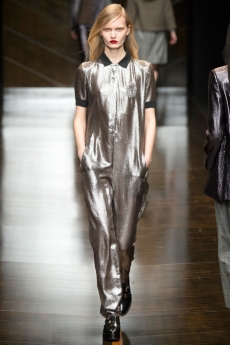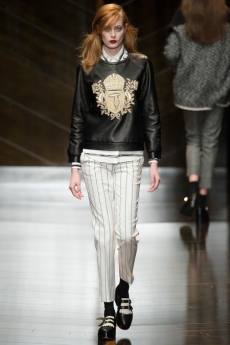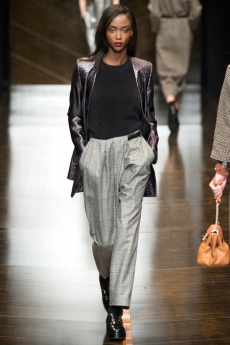 The Missoni FW '14 show saw the warm fall colours of orange, yellow and brown transcend into wintery blues, greens and greys. Finished with a Bohemian edge, the collection comprised of straight, fur – collared winter coats, colour blocking and spotty leather ankle boots. Colour was clashed on structured coats and mini dresses while strong silhouettes and the playful use of texture exemplified urban chic.

www.missoni.com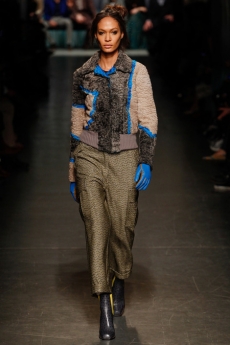 Opened by famous supermodel Naomi Campbell wearing an all-black silver studded ensemble, the Philipp Plein FW '14 show adhered to its 'American Dream' theme with an array of matte-black leather, soft fur and rock 'n' rock studs. Cowgirl culture was referenced through leather fringing, cowboy hats and high – collared buttoned up cowboy shirts while still remaining modern. The use of bright red tartan on coats and dresses and black sparkly pieces added a high end luxe without losing the rock edge.

www.plein.com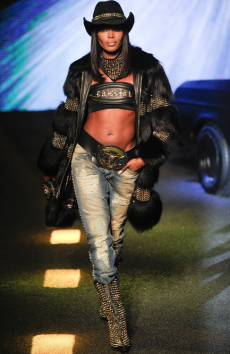 Fashion
Day 3: Emporio Armani, Iceberg and Versace at Milan Fashion Week Fall/Winter 2014
The Emporio Armani FW '14 show displayed at Milan Fashion Week epitomised the modern, sophisticated and effortlessly chic Flapper Girl. Wide legged black silk trousers decorated with dotted white stripes displayed alternative sleek while luscious velvet and sparkling silver embodied the fun elegance of the collection. Models sported jet- black, boyish haircuts as they showcased stylish silver, black and white suits as well as fitted turtle neck tops and 1920s inspired straight dresses.

www.armani.com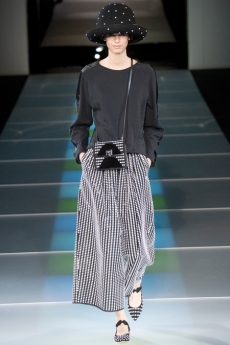 With an emphasis on tailored coats, knitwear and uniquely printed white sweatshirts, the Iceberg FW '14 collection used sportswear as an inspiration and contrasted bright, clear whites with even brighter neon yellows and reds. Fur and leather, buckled neck braces were worn as scarfs and leg hugging trousers were paired with metallic silver, jet black and deep purple ankle boots to create a tenacious yet feminine collection. 
www.iceberg.com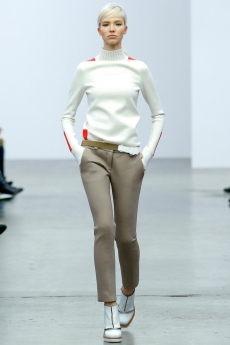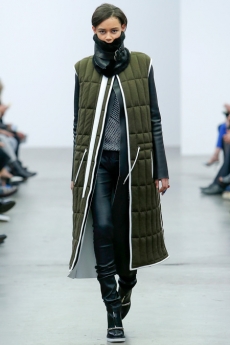 Shades of blue, deep red and black were present at the Versace FW '14 show at Milan Fashion Week. Donatella stayed true to the brands lavish and ostentatious designs as models sported two – toned fitted dresses with silk detailing, rich fur coats and cut out suede knee high boots. Leather fringing and fur were combined and fitted coats were embellished with buttons, this was extravagance at its best. Unique patterning covered fur coats and strappy silk dresses embodied feminine luxe.

www.versace.com
Fashion
Philipp Plein Underwear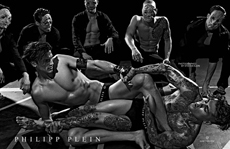 Shortly after Philipp Plein's cowboys pranced down the runway at the Fall/Winter 2014 show in Milan, the Swiss Maison is delight to present it's men's underwear debut. Embodying the essence of beauty, innovation, fun and sensuality, the collection consists of sporty boxers, briefs and shorts made of comfortable jersey. And of course, the new campaign features images by Steven Klein. In a luxury 'Fight Club', he transforms his protagonists into wild wrestling bad boys, when the animal instinct and lust for life emerges. Co-existing to the images, a video completes the thought of body-to-body struggle: it's night, when two shirtless boys walk into a deli and escape back into a limousine. Superimposed by haunting fighting sequences, the video encapsulates the campaign's spirit: Battle with all your forces!

www.philippplein.com
Fashion
Giorgio Armani Privé Paris Fashion Week Haute Couture Spring/Summer 2014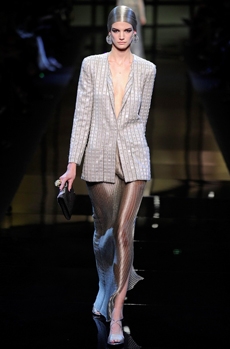 As the title 'Nomad' tells, the Armani Privé Haute Couture Spring/Summer 2014 collection on Tuesday night is devoted to the woman who moves around the world and picks ideas from the beautiful things she sees. A mélange of ethnical influences, melts together in absolute perfection and the demand of high-quality handcraft.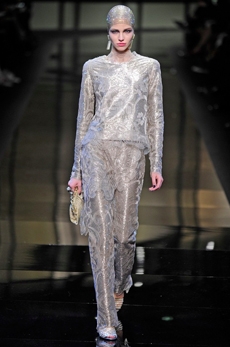 Opening the show with a line of sublime garments of daily clothing in deep blue shades, Giorgio Armani tops up in the second part of the show: when crystal-embroidered gowns, plissé skirts combined with slighty masculine-tailored blazers and organza crinolines with oriental elements embraced, were the essence of Giorgio Armani's glamorous Spring/Summer 2014 evening appearance. 

www.armani.com
Fashion
Chanel at Paris Fashion Week Haute Couture Spring/ Summer 2014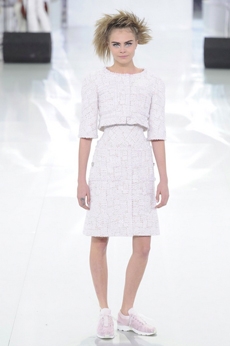 Under the dome of the Grand Palais in Paris on tuesday morning, Karl Lagerfeld's Haute Couture Spring/Summer 2014 surprised with a young and youthful défilée. Accompanied by melancholic orchestral sounds of French singer Sebastien Tellier, a rotating stage with mobile walls revealed two staircases and it seemed as if his mannequins would just enter the legendary Cambon Club.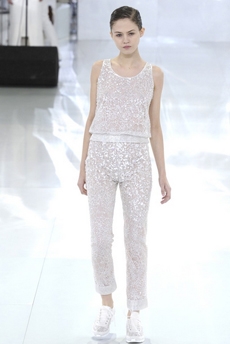 Chanel's elegant looks had sporty and young elements. Whether cropped boleros and belled- skirts or transparent, sparkling dresses or the classical Chanel costume -one thing was for sure- the sneaker was the main shoe. Some outfits in girly cream pastels were even worn together with knee pads, elbow protectors and bumbags and underlined the youthful attempt. The show ended with Cara Delevingne's final appearance in a transparent T-Shirt shaped wedding dress.

www.chanel.com
Fashion
Tillmann Lauterbach at Paris Fashion Week Fall/Winter 2014
Tillmann Lauterbach's latest collection was called "Neo-Dada" and that resulted in a more losely way of tailoring and influences from the street. The rather monochromatic collection was dynamic in it's play with formal and informal and different lengths in the same silhouette. Colorful touches like orange gloves and tips of shoes, together with sporty influences made the show youthful, but the fabrics and techniques made sure the collection remained refined. Best results of these clashes were the tweed bomber, layered pants and roomy, hooded sweaters.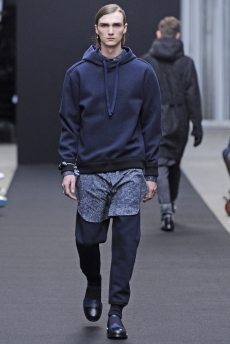 Fashion
Saint Laurent Paris at Paris Fashion Week Fall/Winter 2014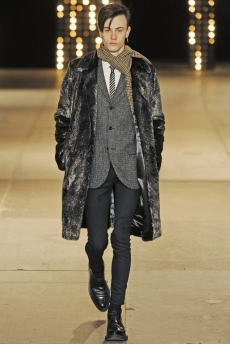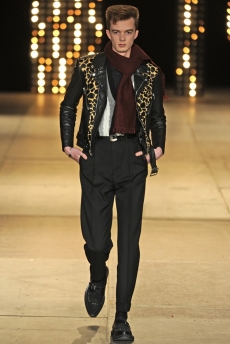 Mentioning rock and roll when talking about Hedi Slimane for Saint Laurent is pretty much old news. Music, in all it's forms, is more than incorporated in the designers approach towards the fashion house. The soundtrack to his most recent outing was by the band Froth from Slimane's current whereabouts in Los Angeles. Coming fall, Saint Laurent Paris boasts Teddy Boys as the iconic men of the moment. Animal-prints were used on shirts and leather jackets and the shoe of the season was an updated creeper. Big coats in fur or tweed oozed subcultural excitement as well as traditional savoir-faire. The tailoring took note of the fifties youth-culture with three-buttoned suits, drainpipe legs, houndstooth, checks and classic trenches in gabardine or leather.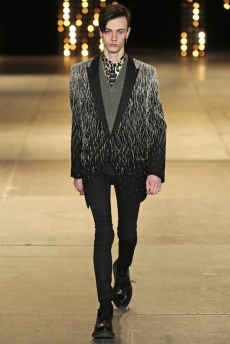 Fashion
Hien Le and Baby-G at Berlin Fashion Week Fall/Winter 2014
Traditionally, Hien Le's show kicks off Mercedes Benz Fashion Week Berlin. This time around the designer partnered up with Baby-G, re-interpreting the classical model of the watch brand - with the wristbands almost cut from the same cloth as Le' s designs and therefore being the perfect addition to the collection's looks. The collection in itself was rather bold in shades of Bordeaux and petrol, considering Hien Le's usual affinity to intriguing designs in muted colors and patterns. That is not to say that Le strayed from the usual grays and nudes.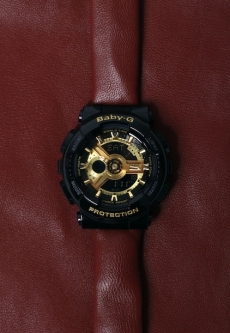 For fall/winter 2014/15, wearable pieces for both sexes were made from wool, cashmere, leather and silk. Hien Le's choice of music was maybe just as bold, with Kanye West blasting from the speakers the second the lights went off. Once again, Le put forward game-changing looks and ideas.

www.hien-le.com
www.baby-g.eu
Fashion
Givenchy at Paris Fashion Week Fall/Winter 2014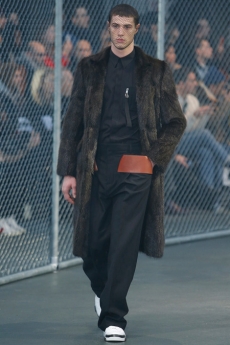 The setting for the Givenchy Fall/Winter 2014 show was a fenced basketball field, a literal reference to the main inspiration of the collection. Riccardo Tisci used several trademarks from the sport, like the orange hems that reminded of the Knicks, seams from basketballs and marks used on the field. Other influence for Tisci was the Bauhaus movement, which explained itself in the lines and big bands used as pockets on pants and to gather fur vests.The overall impression was very street, with some posh exceptions. Take for instance the classic sleeveless jersey that was made of fur rather than nylon mesh. Most outings fit right in with the Givenchy-vocabulary but the newness of the collection were the outings that consisted a wide, slightly flared pair of trousers and a knee-length slim coat.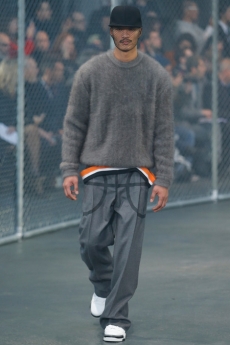 Fashion
Henrik Vibskov at Paris Fashion Week Fall/Winter 2014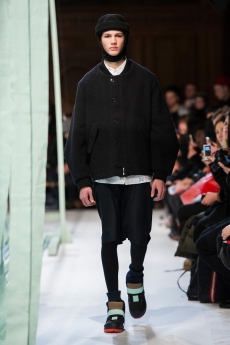 Henrik Vibskov always has an array of ideas that he can easily distill into one collection. This Fall/Winter collection reunited nomadic hats, round shoulders, florals, ethnic decorations and much more in a collection that remained consistent from beginning to end. The use of a mesh-nylon material made it easy to create volume while staying light, another technical endeavor was the fabric that looked like origami-folding on shorts and ponchos.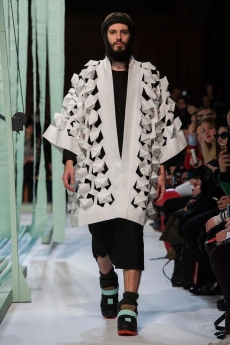 Fashion
Rick Owens at Paris Fashion Week Fall/Winter 2014
Rick Owens practically invented a new type of garment in his fall/winter 2014 collection. This garment can best be described as a hybrid of a romper and a dress. It was suprisingly elegant on a man's body, especially when worn with big shantung scarf wrapped around the neck and chunky high boots. The collection started with deep brown leathers, suedes and cotons and later verged into blackness, never forgetting the head dresses that gave a slight religious undertone. The silhouette was quite broad with a lot of sleeveless tops and wide shorts. This all finished with the savageness that Rick Owens is known for.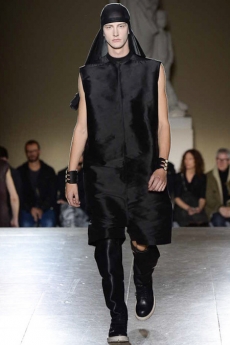 Fashion
Carven at Paris Fashion Week Fall/Winter 2014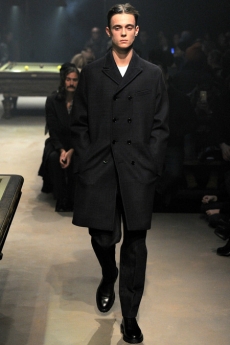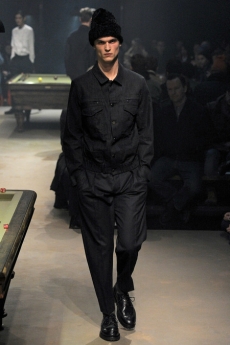 With dark workwear, elegant but manly shapes and high fur hats, Guillaume Henry at Carven seemed to reference the Beat Generation of New York in the sixties. Tailored pants fell just on the ankle to reveal clunky shoes and big double breasted coats gave the shoulders a slight roundness. Heavy knitwear was tucked in pants and most shirts came without collars. Beginning with blacks and dark blues, the collection later adapted tones like nude, burgundy and a graffiti print.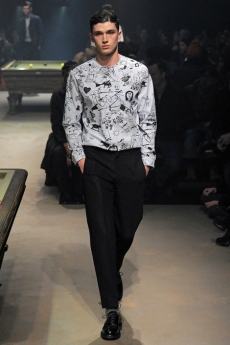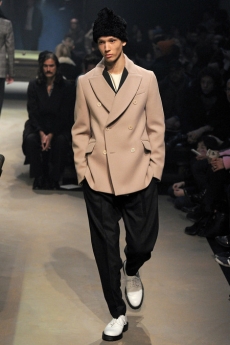 Fashion
Giorgio Armani at Milan Fashion Week Fall/Winter 2014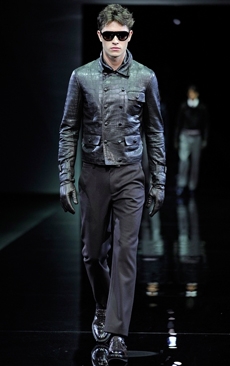 Giorgio Armani designs for Fall/Winter 2014 had an athletic and Bohemian approach. Three-piece suits with massive shoulders and textures from corduroy to velvet will play the keyrole next winter's mens'wear dominated by dark hues, blue, sage, brown and grays.

www.giorgioarmani.com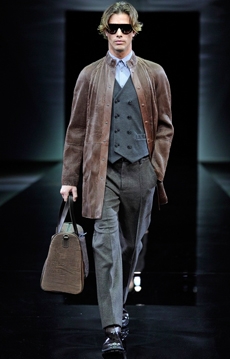 Fashion
Versace at Milan Fashion Week Fall/Winter 2014
At Versace, looks are young, free, provocative and unafraid. Under the theme 'The biker is the new cowboy', unbridled masculinity will dominate Fall/Winter 2014. Leather pants, fur motorcycle jackets and silk shirts are embellished with wild fanciful prints and appliqué patches showing the classic Versace hardware. Key chains, sheriff badges, motorbike helmets and charm bracelets underlined the new spirit. 'I wanted this collection to be a celebration of individuality and the freedom to be whoever you want to be, in the face of all the oppression in the world right now', says Donatella Versace. 

www.versace.com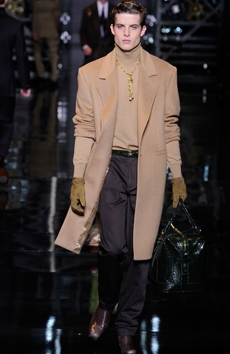 Art
Zeno X Gallery 'Tropical Nights'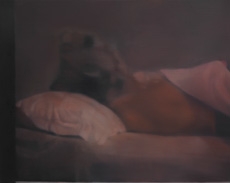 Photo: Jens Ziehe
Zeno X Gallery opens the year 2014 with an exclusive exhibition entitled 'Tropical Nights' by Johannes Kahrs and American painter Susan Hartnett. Born in 1965, Berlin-based Johannes Kahrs's diffuse paintings often refer to depictions of lust, excess, pain and violence. By manipulating found imagery garnered from newspaper articles, photographs and film, he creates a dark strong and meaningful atmosphere. His main figurs get inolved in mysterious and dramatic scenarios colliding with reality and ficiton. Susan Hartnett's work speaks natural poems of botanical spaces and nature and shows grass landscapes, fields, and dune grasses all drawn with charcoal or pastels.

'Tropical Nights' will open on Sunday, the 19th of January at Zeno X Gallery, Godtsstraat 15, Antwerpen and will be on from January 22 till February 22, 2014.

www.zeno-x.com
Photo: Peter Cox
Fashion
Lou Dalton & Astrid Andersen at London Collections: Men Fall/Winter 2014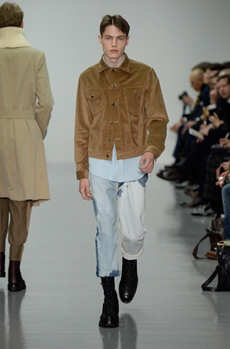 Lou Dalton Fall/Winter 2014
As designer Lou Dalton has established herself as a starlet of British Menswear, no other than her was destined to open the first day of festivities at London Collections: Men. Alongside punk-inspired streatwear elements and chic tailored suit jackets, her creations were built on the inspiration of her grandfather's farm and it's workers. Lou Dalton's signature of contemporary classicism and refined tailoring got crossed by pieces in acid-pink denim.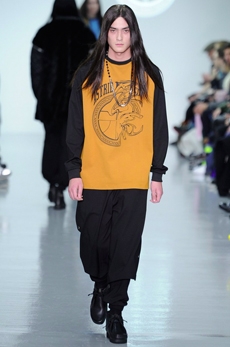 Astrid Andersen Fall/Winter 2014
Only four years after Astrid Anders graduated from the prestigious Royal College of Art MA course, the successful Danish designer for Fall/Winter 2014 hit the zeitgeist with a modern, luxurious street style collection. Sticking to her use of exclusive fabrics, the line was based on shiny satin's, laces and faux furs. The 'Astrid' branding emblazoned hoodies,T-shirts and underlined the graphical demand that make all of her collections unique. Other key elements were asymmetric strapless and cropped tops. Down Jackets and silver chains gave the final finish and a slight 90ies spark.

www.loudalton.com
www.astridandersen.com
Fashion
SEEK at Kühlhaus Berlin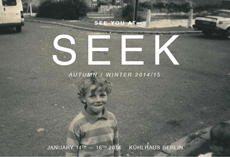 Under the theme 'We look towards pop culture for inspiration; we're influenced by sub-cultures, books, youth movements, films and art', the genuine fashion trade show SEEK will warmly welcome the Fall/Winter 2014/2015 season during next Berlin Fashion Week. Since the trade show was founded in 2009, within this exhibition, SEEK will celebrate it's 5th anniversary. Creative Director Oliver Saunders and Fashion Director Maren Wiebus, therefore, chose the unique location Kühlhaus to present 90 selected international brands including Barbour, Billionaire Boys Club, BBC Black, Gourmet, Duffer Japan, Cheap Monday, Our Legacy, Property Of, Puma Collaborations, V Ave Shoe Repair and so on, to an ever-growing audience. As all of them stand for something close to SEEK creators' hearts and find it's inspiration in their surroundings, influenced strongly by music and art, the issuing labels represent authenticity, quality, design and function. 

SEEK is on from the 14th till 16th of January 2014 between 10am and 7pm at Kühlhaus Berlin, Germany.
Travel
PRADA at Breuninger in Stuttgart
Designed by architect Roberto Baciocchi, the Milanese high-fashion house PRADA opens it's first store in Stuttgart inside the prestigious Breuninger department store. Customers from now on can shop finely- tailored women's and men's leather goods, next to eyewear and accessories collec- tions. The external façade features a wide entrance with huge display windows, all completed with an exclusive interior that echos the typical elements defining PRADA stores worldwide. Black and white marble chequered floors and green canvas walls create an exquisite ambience over the shop's total surface of 120 square metres.

www.prada.com
Art
Amsterdam Art Weekend 2013
'Toxic Trail' by Line Gulsett
'The Power and Influence of Joseph Wiseman' by Dave McDermott
Since last year the first annual Amsterdam Art Weekend was a significant happening for the art landscape of Amsterdam, the second edition will take place this year during the last weekend of Novemeber. Under the mission statement: Amsterdam is a hothouse of extraordinary talent, the festival will be showcasing today's emerging, yet established artists with an international outlook. Making top quality contemporary art accessible to an audience of international professionals and curious visitors, various exhibitions, live performances and gallery talks will take place at the key institutions including the Stedelijk Museum and a number of highly-renowned galleries. Besides, talented post-graduate artists-in-residence of the prestigious Rijksakademie van beeldende kunsten and De Ateliers cordially invite to their final groupshows.
'Come back, Muse' by Sigurdur Gudmundsson 
The exceptional agenda of the festival offers a wide artistic spectrum from paintings to video art, to sculptures and installations, including important inter- national and Amsterdam-based artists such as Persijn Broersen & Margit Lukács, Sigurdur Gudmundsson, David Haines, Dave McDermont and Line Gulsett. The annual three-day art festival is organized by Capital A, an non-profit organisation that highlights and promotes the capital's contemporary art scene through collaboration with galleries, museums, and artist's residencies. Coinciding with the festival, the International Documentary Film Festival Amsterdam (IDFA) will offer a variety of film screenings interacting with the exclusive schedule.

The Amsterdam Art Weekend is on from the 29th, 30th of November & 1st of December 2013 in diverse venues. The complete programme is available at 
www.amsterdamartweekend.nl
www.capitala.nl
Fashion
Ermenegildo Zegna's L.A. Global Store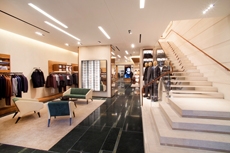 To celebrate the opening of it's new global boutique on Rodeo Drive, the luxury menswear brand Ermenegildo Zegna hosted an exclusive soiree at the new designed three floor Concept store. Italian fashion designer and Zegna's Creative Head, Stefano Pilati showcased an impressive preview of the Spring/Summer 2014 Couture collection, including mohair suits, wool gabardine jackets and floral jacquard knits. As always focusing on success, excellence and craftsmanship, the now available selection in the store dedicates to Italian high-quality heritage and  ranges from clothing to accessories and fragrances, and from formalwear to sportswear, made of exclusive materials that have distinguished Zegna for over a century now.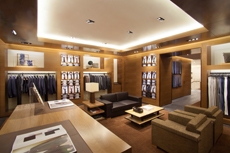 The Beverly Hills boutique was designed by renowned architect Peter Marino and creates an extravagant ambiance, dominated by brownish, earthy and golden beige shades. The interior designs of the boutique echo the brand's use of quality materials, integrity and modern style and enrich the visual shoppong experience in store, accompanied by a chic VIP room in the top floor devoted to personal shopping.Invited guests, such as legendary actress Sharon Stone and musician Gavin Rossdale, enjoyed a unique dinner and cocktail night at the JF Chen design gallery, and experienced the new creative concept behind the campaign Eminences Grises, shot by the two renowned photographers Inez van Lamsweerde & Vinoodh Matadin. Under the artistic direction of Pilati the campaign images have been set up in the event space and marked another highlight of the opening.

The new global store is located on 337 North Rodeo Drive, Beverly Hills, Los Angeles.

www.zegna.com
Art
HUGO BOSS Asia Art Award
The Rockbund Art Museum in Shanghai and HUGO BOSS announced Kwan Sheung Chi to be the first winner of the HUGO BOSS ASIA ART Award. The newly established grant will be presented every two years from now on and honours emerging Asian artists, who are originate in the region of 'Greater China'. For this occasion, an international renowned jury of museum curators and art critics chose Kwan Sheung Chi out of seven finalists based on the current exhibition.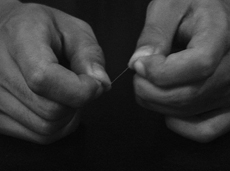 Multi-disciplinary artist Kwan Sheung Chi was born in 1980 and graduated in Fine Arts from 'The Chinese University of Hong Kong' in 2003. His artistic visions are affected by the artists' identity in contemporary society, mostly featuring video installations, that are a deep reflection and criticism of his perception. His humorous yet deeply critical artworks express cultural issues, often observed through the eyes of ordinary citizens, but also arise from his unique perspective. Kwan Sheung Chi's impressive concepts are found in various of his unique installations such as 'Break Up a Piece of Short Thread' and 'Water Barrier (Maotai-Water, 1:999)', the keypiece of this breathtaking exposition. 
The exhibition will be on until 8 th of December, 2013 at the Rockbund Art Museum in Shanghai.

www.hugobossasiaart.com
Fashion
G-Star RAW Presents Afrojack Capsule Collection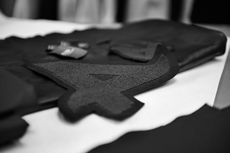 This November G-Star RAW is launching a unique six-piece capsule collection in collaboration with the Dutch DJ and music producer Afrojack. The limited collection consists of black leather and denim A-Crotch pants that G-Star designed in the brand's renowned 3D style, tailor-made for the acclaimed artist's performances earlier this year. In addition to that the collection features great T-shirts, a black hoodie and a cap, all dominated in black and white. The 'A' trademark is continued in the 'RAW' artwork and conveys a modern and technical feel with a glossy, high-density technique. Part of the collection will contribute to the MTV Music Awards.
The collection will be available from 10th of November. Watch the Making-of video on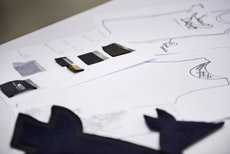 Music
Gesaffelstein "Hate or Glory"
Legendary French music producer and DJ Gesaffelstein released the official video for 'Hate or Glory', a record from his upcoming debut album 'Aleph', directed by creative duo Fleur & Manu. The remarkable cinematic work shows strong images accompanied by impressive sounds of dark techno beats and repeating riffs, which are underling the greed for money, power and glory. Introduced by the words "Ain't you remember, who put you on, who made you", the clip shows a rather serious story of a gang conflict in the streets of Los Angeles. The protagonist revolst against his mentor and than shoots him down, in conclusion of his new materialistic fame. He takes a bath in a tub full of golden liquid of melted jewellery, enjoying his new found power until he finally meets his old gang and get's killed. His golden body explodes as if it never existed. This evocative, ficitve video is a true masterpiece and adds a unique note to this yet strong sound.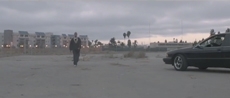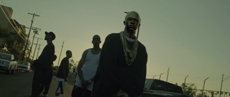 Fashion
Marc Jacobs Accessories Shop Opening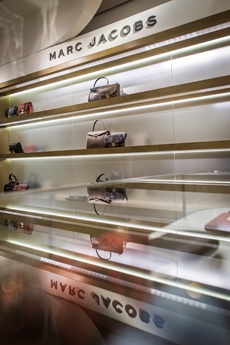 Some Marc Jacobs is great, but more Marc Jacobs is better. It doesn't come as a surprise then that one of Berlin's more luxe destinations – the Galeries Lafayette – have added the designer's main line to their portfolio, which, until now, already included the younger and more affordable Marc by Marc Jacobs. The accessories shop is situated on the ground floor and offers goods from the Fall/Winter '13 collection, such as the super-feminine and modern "The Metropolitan" – a rather classical and sober bag in a high-velocity mix of velour and nappa leather.
Or the dearly personal "The 1984" – an elegant and feminine homage to the 80ies, Jacob's graduation from Parsons The New School for Design, Madonna's hit "Like a Virgin" and last but not least the designer's encounter with Robert Duffy and the subsequent manifestation of the fashion brand under his name. 

Marc Jacobs accessories are now available at Galeries Lafayette Berlin, Friedrichstrasse 76-78, 10117 Berlin.

www.marcjacobs.com
www.galerieslafayette.de
Art
Ulay at Frieze London
London-based gallery MOT International presents grand artist Ulay at Frieze London in an exclusive solo exhibition entitled 'Auto self-portraits/ 1972-2012' featuring images from the 70ies until present. Ulay did many of his performances together with renowned Yugoslavian artist Marina Abramovic from 1976–1988. The duo's performances were exploring the relation of the ego and artistic identity, among being in a relationship dominated by mysticism, energy and attraction.Their collaborative work was essential and influential to both, as a couple and individuals. After a long decade of unique work, the couple broke up during walking the wall of China towards each other and meeting in the middle, when distance anticipated the end. In 2010 Ulay and Marina reanimated their special connection during Marina's performance 'The Artists is Present' at the Museum of Modern Arts New York.
The exhibition Ulay /Auto self-portraits/ 1972-2012 at Frieze will showcase photographs, next to a unique book and intimate images from his important early Renais Sense series. It will capture body art, performance combined with the experimental use of photography. Frieze London is an annual event, that takes place in Regents Park, London, exhibiting more than 170 of the world's top contemporary art galleries. The Art Fair captures a full programme of talks, artists' commissions and film projects. 

The exhibition will be on from 16 October until 20 October 2013 at Frieze London in Regent's Park, Booth E21 represented by MOT International London.

www.motinternational.com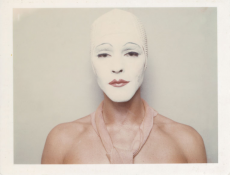 Fashion
M.I.A. x Versus Versace
Artist and rapper M.I.A. has designed an exclusive capsule collection in collaboration with Italian luxury label Versace, entitled 'M.I.A. x Versus Versace'. M.I.A's up-coming line is inspired by bootleg market stall fakes. "Versace designs have always been bootlegged, now it's Versace bootlegging the bootleg for the bootleggers to bootleg the bootleg", says M.I.A about her idea. The line features 19-pieces for men and women and combines Versace's trademarks with the urban and original spirit.
Printed jeans, silk shirts and jersey dresses in bright and loud colours glaze with kaleidoscopic prints, graphical ornaments and versions of the famous Versace emblem. Mexican photographer Jaime Martinez shot the unique digital GIF campaign featuring images of M.I.A. and friends wearing the collection on East London markets. 

M.I.A. x Versus Versace will be available online and in selected stores on 16 October 2013.

Fashion
CHANEL at Paris Fashion Week Spring/Summer 2014
At Paris Fashion Week SS14 CHANEL showcased a vivid, optimistic and cheerful collection that linked art and fashion and manifested the creator's attitude towards a symbiosis between both. Karl Lagerfeld showed elaborate looks in the brand's cult fabric tweed embroidered with muslins, organza and laces, often frayed and torned. Spring/Summer 2014 at CHANEL will be dominated by a colour palette of blacks and whites next to pink, blue and yellow shades. Elements of the traditional costume got assembled in a new design and combine flowing, asymmetric and deep décolleté's with wide or slim silhouettes. Handbags, rings, bracelets and a new interpretation of the legendary pearl necklace completed this remarkable look. 

www.chanel.com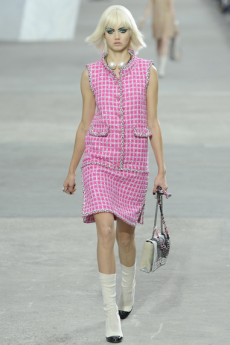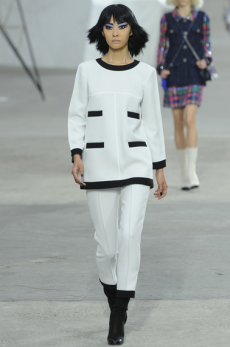 Fashion
Kenzo at Paris Fashion Week Spring/Summer 2014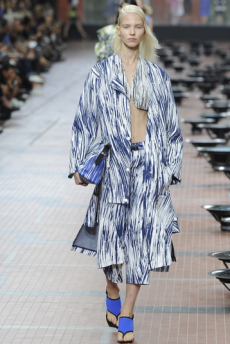 Kenzo for Spring/Summer 2014 staged a unique and impressive runway set with a huge waterfall installation and splashes synchronized with the music beat in a rather unusual neighbourhood for a Fashion Week Venue: the suburb Saint Denis.The collection was speaking the true vocabulary of nonchalance and effortlessness. Laid-back streetwear was combined with a strong manner of japanese aesthetics and modern fashion.
The two young designers Carol Lim and Humberto Leon managed to showcase a purist sense of permeability found in masculine cuts and sporty silhouettes. Sleeveless blazers, pleated pants and midriff blouses with fishes and waves transformed in graphic patterns were the key elements of most of the garments and illustrated Kenzo's affection for outstanding prints. The base colour of most of the pieces was a strong blue and lilac on a black and white base. Besides making a strong fashion statement, this show also committed to a strong political awareness regarding ocean pollution and overfishing.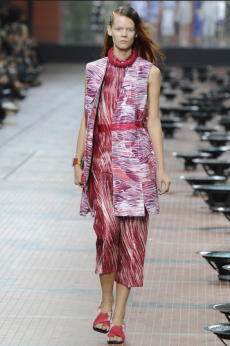 Fashion
A.F. Vandevorst at Paris Fashion Week Spring/Summer 2014
With the sand still in their hair and with rattling Bedouin jewelry announcing their arrival, it was clear that the A.F. Vandevorst woman for Spring 2014 was a nomad at heart. Slouchy silhouettes based around semi-transparent sarouels were anchored by dramatic collars and tailoring, while beading and metallic touches made the collection more sophisticated. This collection marked the 15th anniversary of the brand by An Vandevorst and Filip Arickx and the collection featured some flashbacks, but at the same time it offered plenty of new propositions.

www.afvandevorst.be
Fashion
Iceberg at Milan Fashion Week Spring/Summer 2014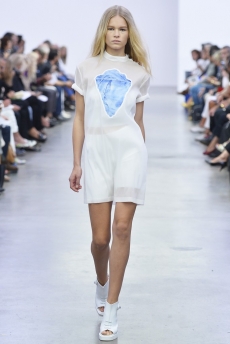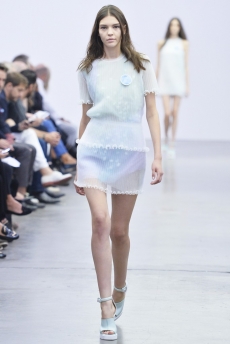 On the third day of Milan Fashion Week the label Iceberg showcased a collection that reflected japanese pop culture and manga aesthetics. Young, fresh and modern were the key words, that young, talented designer Alexis Martial reached out for. He highlighted his stunning pieces by hologramms, prints and embroidered colourful patches, that showed the design of an abstract Iceberg. The collections colour base throughout was dominated by bright colours, white, mint and a light blue made of materials such as neoprene, silk muslin, rhodoïd bands and ultra sheer nylon knit fabrics, that were a product of a special textile process. Martial's mission to bring the house of iceberg to a new great dimension succeeded.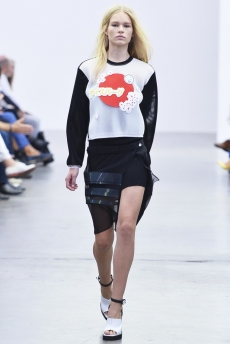 Fashion
Philipp Plein at Milan Fashion Week Spring/Summer 2014
Philipp Plein's show at Milan Fashion Week has been a spectaculous highlight opening with an exclusive live performance of "Work" by Australian rapper Iggy Azalea that combined the two worlds of Hip Hop and fashion. With a cast of only black models the german designer wanted to commit a statement towards breaking barriers and rules. Stunning beauties arised the runways in studded baseball jackets made of Nappa leather, striped socks and mini-pleated skirts all dominated by black, white, pink and blue colours and flashy metallic shades. Lacy night gowns made of translucent chiffons created a feminine-chic styling combined with eye-catching highlights of Swarovski crystals.

www.plein.com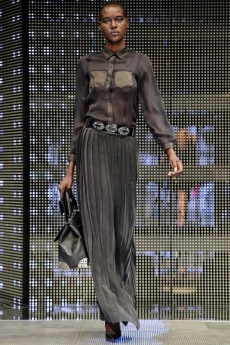 Art
Art show at Berlin's former spy station Teufelsberg
Berlin's most famous abandoned spy station "Teufelsberg" was stage for various art installations from 6 -8 September 2013. Dutch Berlin- based artist Dirk Krechting showcased a bathtub filled with bright red water and a small satellite dish perched above, which reminds of a dramatic bloodbath. With his piece he wanted to make a statement regarding the uselessness of spying and warfare. The art show with more than 70 artists involved, was part of a national heritage day on 8 September entitled "Beyond Good and Beautiful: Inconvenient Monuments." Works included everything from video, installations to sculptures. Teufelsberg is one of the most important monuments in Berlin, that has achieved cult status during the past years throughout the German capital. 
Fashion
Preen by Thornton Bregazzi at London Fashion Week Spring/Summer 2014
For this SS14 Justin Thornton and Thea Bregazzi showcased a collection dominated by gaudy, graphic and geometric patchwork prints and floral patterns. Being well known for hand crafted effects and precise cuts, the designer duo draped feminine and sporty dresses, skirts and parkas with vibrant silhouettes.
A pink glaze on the runway harmonized with pastel pink and blue colour palette, as well as strong neon pinks and yellows. Remaining true to the Rave spirit Preen is known for, second phase of the show brought up numerous futuristic looking pieces made of transparent high- tech fabrics, semi- sheer plastic raincoat textures and metallic foil.

www.preen.eu
Art
Esprit Dior Exhibition in Shanghai
The House of Dior presents the 'Esprit Dior' exhibition at the Museum of Contemporary Art - Shanghai, which will honour designer Christian Dior. Presenting his very first collection on 12 February 1947, Christian Dior today has become a breakthrough in fashion history, as well as in creating unique perfume frequencies. Known for his extraordinary cuts and exclusive materials, Dior was always bringing up a breath of acuteness and brilliance. Although Christian Dior is no longer alive, his name and his company are still the epitome of luxury and elegance.
Image: Artwork by Liu Jianhua
After the travelling exhibition has been on at the National Museum of China in Beijing in November 2012, it will now approach new territory. Beside showing work by some of the major contemporary Chinese artists such as Liu Jianhua, Lin Tian Miao, Qiu Zhijie, who will all give their own vision of the Dior spirit, the exhibition will showcase photographs of Patrick Demarchelier and show over more of a hundred haute couture dresses, that were made by the House of Dior.

'Espirit Dior' is on from 13 September to 
10 
November 2013.
Fashion
Diane von Fürstenberg, Y-3, DKNY at NYFW Spring/Summer 2014
Fourth day of NYFW brought up the soft elegance of femininity as well as the  awareness  of todays' "digital noise". Opening the Y-3 show with flashy lights and various musicians playing on drums and containers, Yohji Yamamoto was teamed up with art director Peter Saville, who stands out for his unique graphics. The combination of blackness and hyper colours generated a postmodern streetwear chic. Bright coloured gradients and watercolour blurring of a multitude of neons, sporty hoodies with slogans, pigtails connected to feathers formed as both a critique and celebration of the contemporary internet culture.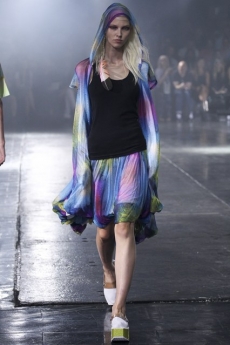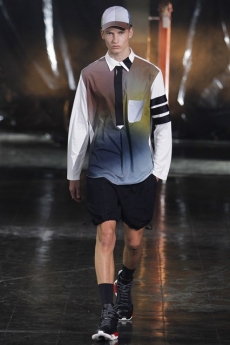 Y-3 Spring/ Summer 2014

Diane von Fürstenberg's Spring/ Summer 2014 reminded of a breezy summer safari with zebra striped dresses, tunics and maxi dresses made of silk.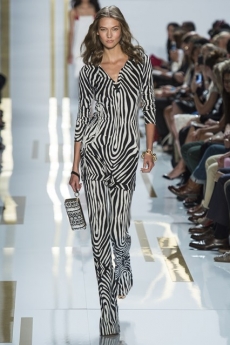 Diane von Fürstenberg Spring/ Summer 2014

Right on time to DKNY's 25th anniversary
,
Dona Karen
sent out
her fresh collection with overalls, baseball caps, bodysuits, blazers, sneakers, neoprene dresses and anoraks floating over the runway. Single pieces of baggy pants bringing back the 90's and other pieces dedicating to a strong urban energy. The show got closed by Rita Ora -current campaign girl of DKNY- dancing to a song of the Beastie Boys.


www.mbfashionweek.com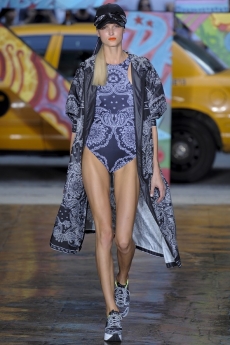 DKNY Spring/ Summer 2014
Art
Warsteiner Art Collection
Ever since Andy Warhol was commissioned to paint the Brewery's now iconic Tulip glass in 1984, Warsteiner has nurtured its deep-rooted links with the art world, igniting imagination through its countless collaborations. Now subjecting itself to yet more creativity, the Warsteiner bottles will serve as the blank canvas to the hands of six urban artists; Stefan Strumbel, Aaron De La Cruz, Brooke Reidt, Nychos, INSA and French graffiti crew 123Klan will all hit the bottle in the name of the Warsteiner Art Collection, launching this month in a showroom at the former department store in Berlin Jandof. Works by the six artists will be shown alongside the exclusive editions, open to the public between August 25th-27th. Though the exhibition is not the only opportunity to be part of the project – 'The Bottle 7' is waiting to be hijacked by frustrated artists and aspiring designers worldwide via the Facebook app, through which creatives can craft and submit designs, in the hope that it will grace the covetable 7th Bottle, ingrained into a history that includes Warhol and other such greats.

The Limited Edition Warsteiner Art Collection will be available regionally from September.

www.warsteiner.de/artcollection
Fashion
Replay Design for Barça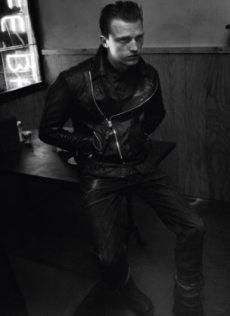 'Més que un club': the slogan for the FC Barcelona says it all. Renowned for their flair in play, Barça are to team up with Italian company Fashion Box – the forbearer of Replay and its sister brands – to initiate a four year partnership as sponsor of clothing and footwear for the club's sportsmen and women. Under the project, Replay will design an official clothing line, alongside a smart-casual line for the first team. Most celebrated for their innovative use of denim and characteristic indigo textile, the label will reinterpret the orthodox jeans philosophy in the fine lines of tailoring, resulting in a collection of unique and inimitable fashion pieces. More than a club? There's no question.

www.replay.it
Art
Wish You Were Here by Nan Goldin
Nan Goldin's photographs hardly make the most traditional of holiday albums, still, the Wish You Were Here exhibition at the QF Gallery in New York will no doubt prove something to write home about. Her first presentation at the venue, the artist has bestowed eleven intimate color snapshots from her time at home and abroad, picked from her rich body of work, dating from the 1980s to the present day.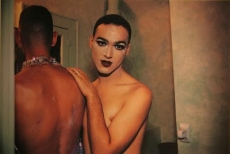 Living and working between Paris, Berlin and New York, where the roots of her career are bedded, Goldin is accredited as one of the spearheading photographers to infiltrate candid subject matter into the mainstream, challenging creative qualms as to her pioneering point-and-shoot perspective.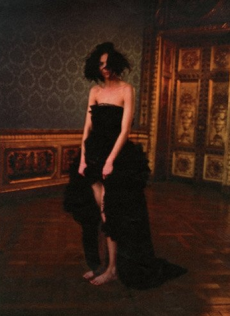 Portraits sit on the cusp between art and fashion photography, depending on the commission, though her work is arguably at its most innovative when framing family and friends as the atypical subjects – Wish You Were Here is no exception to the rule, ever surprising and boundlessly inspired, a collection of iconic portaits will hang alongside lesser known landscape scenes, as a visual diary of summers gone by.

Wish You Were Here runs between August 3rd-18th at the GF Gallery, East Hampton, New York

www.qfgallery.com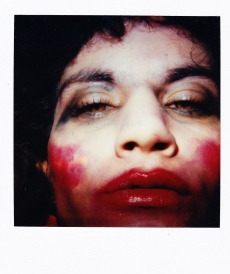 Fashion
Mykita Opens Store in New York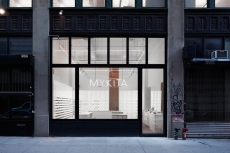 Debuting their directional eyeware in the USA for the first time is Berlin-based brand, MYKITA. Adding to its list of worldwide locations that includes Paris, Zurich, Vienna and Tokyo, the New York store now marks the eigth retail space opened by the brand. Set in the heart of SoHo, the new MYKITA store overhauls a space in Crosby Street's defunct art deco factory building, retaining its original character with its industrial finish.
Almost an art installation in itself, the merchandising of the boutique is unique to the eye of MYKITA, drawing upon the concept of mass-production and ready consumption to construct an ambiance that is both inordinately stocked and astonishingly minimal. The store will offer pieces from their main line alongside a covetable capsule collection exclusive to 109 Crosby Street.

www.mykita.com
Art
Altered by Betty Tompkins
When Betty Tompkins traced the initial concept of her work in the early 1970s, it was impossible to envisage the significance they would harbour under the untested surroundings of the years to come. Whether her impertinently painted sexual portrayals would fall redundant divorced from the intensity of feminism's first wave could well have proved to prosper. Forty years later and with the advent of asserted sexuality in the age of the internet, the ideas and execution of Tompkins' photo-realist artworks have arguably become more relevant than ever.
Specially curated for The Obscure Ledger, Tompkins presents an 11-piece series of collages and altered photographs, dating from the '70s heyday of the feminist art movement to the current day. Collages snatch an emancipated sensuality from the decade in which they were created, shown alongside the notorious photo, Ellensburg WA. More recent work also finds itself in place; a censored grid photo from 2008 sits side by side with four brand new pieces, barefaced as ever with their explicit intonation and deadpan delivery.

www.theobscureledger.com
Fashion
Nieuw Jurk Spring/Summer 2014
Ever reliable to stir controversy, Dutch label Nieuw Jurk shouted from the soapbox of their Amsterdam Fashion Week show with a collection founded on debauchery and scandal. $€XXX speaks mirthifully of the impact of the porn industry and its amplification with the uncontainable presence of the internet.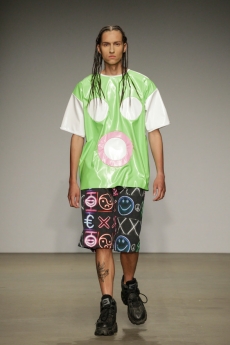 Chunky rubber boots and PVC bodysuits cling tight to skin, buckled and zipped in fetishwear fashion. Motifs were both lucid and lurid, as X-rated imagery jibed with comic rave-print wit. Sex-shop neons emblazoned photographic prints with their depressingly optimistic lambent glow, tiling catsuits and men's co-ords in wearably clubby pastiche; outsized patent tees take on inflatable doll appliqué with surprisingly permissive flare, while the smile of acid-house undergoes crass adulteration.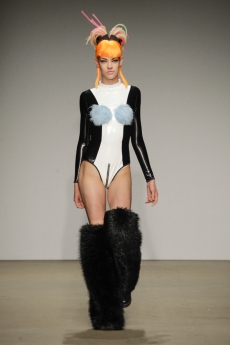 Accessories were a little more conceptual, though their statement was no less explicit; faux fur patches served playfully as knee and breast patches, while harness bras and candy string bikinis drolly stands up for any witticism left unsaid.

www.nieuwjurk.com
Fashion
International Talent Support Reveals 2013 Winners
Xiao Li
The International Talent Support annual contest provides a spectacle of a creative platform each year, showcasing the most promising talent in fashion design from all around the globe. Convieved and developed under the EVE agency, ITS pools an authoritative judging panel from the industry's most discerning experts, including Art Director for Diesel, Nicola Formichetti.
Han Chul Lee
Finalists submitted 30 projects – 10 for each competition area – to be considered over the two day event, held for the twelfth time in the Italian seaport of Trieste. Past editions have seen a then burgeoning Astrid Andersen, Mark Fast and Michael Van Der Ham compete for the sought-after accolades, which are commended with cash grants and internships at the helm of the world's most prominent brands.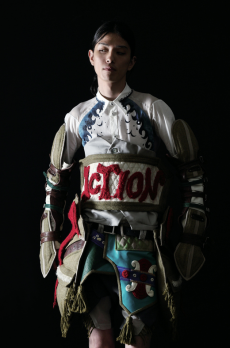 Tomohiro Sato
The Royal College of Art nurtured several of this year's winners; Han Chul Lee from took the crown for Fashion Collection of the Year and the Vogue Talents Award with his crocodile skins reforming classic silhouettes, while the prestigious Diesel Award went to Xiao Li for her playfully inflated pastel knits and cartoon cuts, earning her a six-month placement with the brand and a prize of €25.000. Tomohiro Sato put on an curious show, claiming the Modateca Award for his boundlessly imaginative embellishments, and Nelly Hoffman's photo-realist printed streetwear won the support of the YOOX.COM Award, with the oppurtunity to design an exclusive garment for the leading virtual store. True to its word, ITS have given us more than just one to watch this year with this year's collection of gifted winners.

www.itsweb.org
Fashion
Iceberg Celebrate 400th Anniversary of Amsterdam's Canals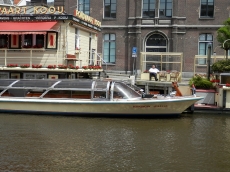 This year the city of Amsterdam celebrates the 400th anniversary of its characteristic Canal Ring. Now a UNESCO World Heritage Site, the canals will play host to jubilant commemoration throughout 2013. One such reveller is the sportswear label Iceberg, whose Ice Iceberg store finds home on the city's legendary shopping street, PC Hoofstraat.
Iceberg climbled aboard the aptly named Juliana flat bottom boat, – a fitting tribute to Gilmar founder, Giuliana Marchini Gerani – before sailing down the Herengracht Canal to the Munttoren Tower, soaking up the bounty of sights on offer from the charming aspect of the water.

www.iceberg.com
Fashion
Boris Bidjan Saberi Spring/Summer 2014
It's not often that a designer can pull off 'sailor' without pieces looking caricatures of their influences. Though that's exactly what Boris Bidjan Saberi has accomplished with his latest Spring/Summer collection. Perhaps that's because his eye has always been close to the source; penned from his seaside workshop, maritime garments find new function in the modern man's wardrobe, pooling in the weather-beaten folds of slouched silhouettes.
Ropey knits in murky off-whites bear the industrial scuffs of hard labour, underwritten by the utilitarian buckled fastenings of cropped life jackets. Waxed cotton sweaters are somehow made unspeakably modern, layering light jerseys and oversized pants etched in grainy graphic prints.
Boat sails are reworked to breathe authenticity into hooded cloaks, their original seams still visible so as not to mask character. Yellow waders and fishermen jackets are tailored to question the possibilities of function, narrated by removable sleeved jackets, adjustable length pants and an integrated backpack vest.
Stripes, too, are redefined, their identity chanellenged as they struggle to keep in line on asymmetric cuts. In a palette of worn whites and greying navy, marine wear, here, evades the obvious by all possible costs.

www.borisbidjansaberi.com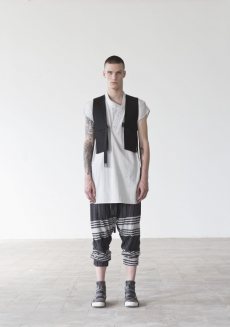 Fashion
Salon Show Spring/Summer 2014 Green Showroom
Sustainability is growing ever more important in fashion and the green showroom during Berlin Fashion Week provides a platform for sustainable labels. At the salon show 20 brands showcased 54 looks from avant-garde designs to delicate silk dresses and fine blouses as well as all the way to accessories. Among the labels were renowned designers such as Lanius or Elsien Gringhuis and Swiss label Royal Blush by Jana Keller / Johanna Riplinger, who employ plant-based treatments for the leather and organic salmon they use -all made locally. Their collection is simple, reduced and puristic. For a more rock 'n' roll vibe, designer Aleks Kurkowski combines straight forward, avant-garde designs with relaxed urbanity and the essential thought of sustainability. Once again, the show proofed that fashion and awareness can create something beautiful.

Images: © Mercedes Benz Fashion

www.green-showroom.net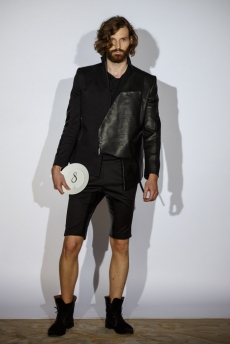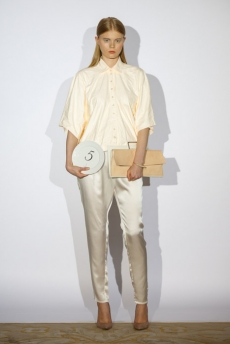 Fashion
Michael Michalsky Spring/Summer 2014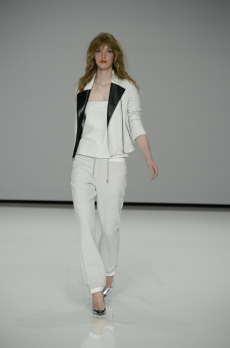 Michalsky's show, the StyleNite at the end of MBFWB, basks in the flashy entertainment of fashion. The venue is just a little larger, the runway a little wider and the guest list a little more notorious. Ahead of his show and in between his mens and womenswear collection, the show's vibe is held at party-level with musical acts such as NONONO and MS MR. Both super fun and energetic, amping the audience for what is to come. When it comes to the collections themselves, Michalsky has internalized one thing: never change a running system. The mere number of looks for each collection, both titled 'Sweet Freedom', is astounding and every single one is decidedly Michalsky-esque. Nothing too out there, but a showcasing of some great pieces interlaced with the major trends for spring/summer 2014, which had become evident throughout the week. With the Michalsky man it is never quite clear if he's a flamboyant cool kid, dressed in slim, sharp reddish orange or blue suits and understated khaki pieces teamed with small-scale geometrical prints or a slightly smug pretty boy, in silver metallic parkas and matching shoe – belt combos. The menswear collection certainly holds a piece for every level of bravado. For his womenswear presentation the designer put forward solid, wearable looks. His color palette here differed and he relied on shades from light goldenrod and tangerine to business-like gray and white, elegant black and a pretty cloud print. While Michalsky stuck to easily interchangeable and levelheaded designs, the overall feel was decidedly younger from his previous showcases with long summer coats over shorts or mini skirts and flowing chiffon skirts tossed together with simple shirts and biker jackets. He also tried his hand in more daring dinner jackets – short and slim with low necklines and contrasting lapels. Many of the pieces exuded that special summer feeling, fresh and cavalier.

www.michalsky.com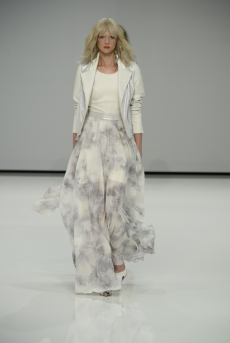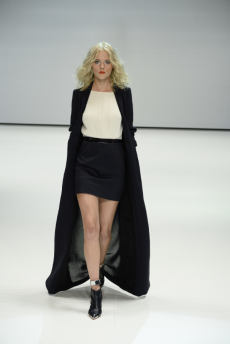 Music
Die Antwoord - 'Cookie Thumper'
Where do you go from a promotional video that sparked worldwide controversy? Die Antwoord certainly knew the way when they directed the video for their new single, Cookie Thumper.

The track is preceded by a two minute dialogue, in which vocalist Yolandi Vi$$er plays an orphan, picking up marijuana from gangster crush, Anies, who is fresh out of prison. Inviting the first of many provocative references is only topped by what ensues: pot-smoking and oversexed dancing shakes through the orphanage to a cranked-up-tempo. Here, indecency and perversion are more just a mere suggestion, with paedophillic undertones ablast. Decency aside, Die Antwoord delivered what Die Antwoord does best – and that's unrestrained visual bedlam to a tune that's antagonistically catchy – the shrill hook of its chorus alone will make ears ring forever after.

www.dieantwoord.com
Art
SOLAR /ANECHOIC by Alastair Philip Wiper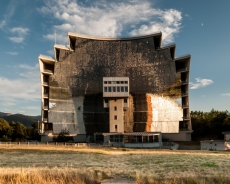 Artists, by tradition, have long shaped our perception of beauty. Against a catalogue of classical masterpieces, the few who appreciate form following function within their work leap out from the crowd. One such creative is Alastair Philip Wiper – a photographer whose images capture the accidental artistry of an industrial world. Habitually valued for their technological advancement, the often remarkable architecture of these facilities is seldom acknowledged. Wiper's exhibition SOLAR / ANECHOIC will challenge just this. With a collection of photographs to glorify the facilities that were only ever designed to push the limits of science, he attributes to them the sense of marvel they deserve.
Alastair Philip Wiper exhibits as part of the Copenhagen Photo Festival from June 6th – 16th at Gallery Etage Projects, with photos also on display at The Censured Exhibition, Carlsberg.

www.alastairphilipwiper.com

www.copenhagenphotofestival.com
Fashion
Hermès Zebra Pegasus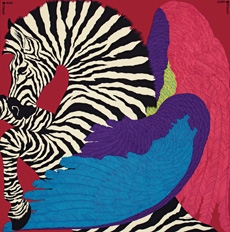 Exquisite and decorative, the Hermès Zebra Pegasus scarf collection is inspired by the fantastical myth of Pegasus and the beauty of the African zebra. 
Incorporating delicate patterning with a bold color palette, the collection oozes artistic creativity and distinct prints while remaining elegant and feminine.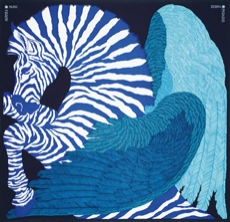 Designed by Central Saint Martins College of Art graduate Alice Shirley, the scarfs depict the reinvention of the legend of Pegasus and combine natural and historical influences with contemporary fashion to create something uniquely beautiful.

www.hermes.com
Fashion
ODEUR at Berlin Fashion Week Spring/Summer 2015
For Berlin Fashion Week's closing day, design duo Petter Hollström and Gorjan Lauseger send their SS15 collection ZENITH down the runway. The designs are quintessential Scandinavian in their minimalism, yet daring and defiant in their attitude. ODEUR's black and white creations are uniforms for informed urbanites, ready to challenge the status quo. Bold futuristic silhouettes challenge conventional fashion motif: boxy shirts over slim pants, wide pleated shorts under bomber jackets, classic blazers or boxy jackets. The SS15 collection is purist, clean and sophisticated, with a cool and relaxed attitude. The monochrome color scheme underlines the sharpness and ambivalence of ZENITH and the cosmopolitan vigilante ODEUR wants us to become next summer.

www.odeur.se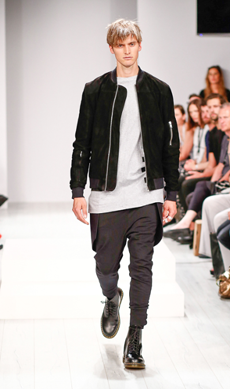 Fashion
Augustin Teboul at Berlin Fashion Week Spring/Summer 2015
French-German design duo Augustin Teboul is hitting all the right notes these days. And because some recognition never hurt anybody, they were presented with the international Woolmark award recently. In the wake of this success, they stepped out with their most recent collection "SHINY VOID" during Mercedes-Benz Fashion Week Berlin. This showcase aimed at portraying the inseparability of opposites, as could be seen in the mix of rough and fragile pieces. Overall, Augustin Teboul stuck with their tried and tested formula of relaxed, strong, mysterious predominantly black looks for SS15. Clear lines, understated volume and intriguing plays with textiles, and a sliver of silver here and there make this collection.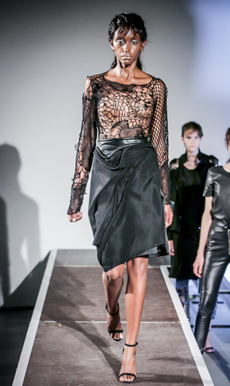 Galactic quantum entanglement sees two spheres connected during the presentation, represented by light patterns and reflections. The models moved about this parallel universe in a transcendent state, making this elaborate showcase more art installation than fashion show. The designs adhered to the eccentric aesthetic the label is known for, and displayed leather, fish nets sequins and delicate lace in perfect harmony. Skimpy leather shorts and long dresses with thigh slits were paired with rough leather jackets, mesh shirts and lace pants, knee length leather pencil skirts and leather bustiers, as well as floor length sheer skirts and intricate embellishments showed off the attraction of opposites.

www.augustin-teboul.com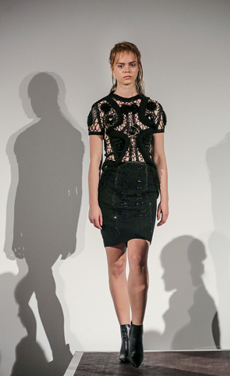 Fashion
Michalsky at Berlin Fashion Week Spring/Summer 2015
 Photos by Michalsky
Always one to entertain, Michael Michalsky went all out for his SS15 show during Mercedes-Benz Fashion Week Berlin. Musical acts included newcomer band Ballet-School and Brit star Rita Ora, as well as Berlin-based avant-garde artist and designer Esther Perbandt, who did not only take to the mic, but got to show some of her own collection too. This closing event was not just fun and games though, as Michalsky's inspiration this time stemmed from the NSA scandal and the continuing growth of big brother. Mesh, camouflage, sheerness and innocent white are the shades to bring said inspiration to life in this collection, aptly titled "Important Secrets". The womenswear collection is particularly intriguing with it's mix of feminine prints, metallic accents and military style headgarb. Michalsky turned his unsettling inspiration into a luxe spin on 1984, seeing us as glam versions of Julia next summer.

www.michalsky.com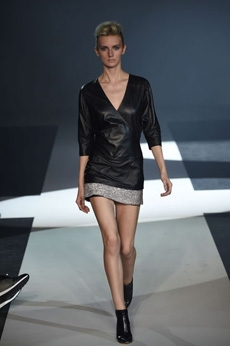 Fashion
Michael Sontag at Berlin Fashion Week Spring/Summer 2015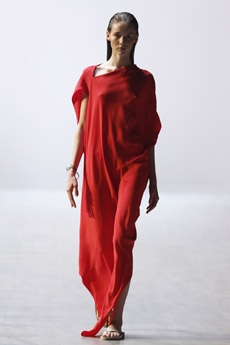 Photos by Mercedes-Benz Fashion
Soft tunes by Glass Animals were the perfect backdrop for Michael Sontag's SS15 showcase. His buoyant girl strutted down a runway designed by artist Caroline Bayer, who had a mayor influence on Sontag's collection sportive, elegant silhouettes for SS15. Once again Sontag stuck to his fuzz free, no-nonsense styles cut from cotton and jersey, but put a little twist on the styles he's come to be known for. Under Bayer's influence he incorporated a notion of the urban structures of facades resulting in a fresh, contemporary straight shape.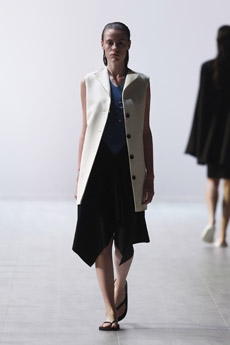 Unfinished hems, stretch fabrics and alluring bare calves, shoulders and backs playfully toyed with the appeal of the female form and Sontag's masterful grasp of the relationship fashion-body-space. His trademark draping and flowing fabrics only added to the light and soft sex appeal of his designs which came down the Berlin Fashion Week runway in shades of delicate lilac, powerful yellow, and sensual red as well as understated and eternal black. Even the hottest summer can be cool with this collection of beautiful, not overtly, in-your-face-sexy styles.

www.michaelsontag.com
Fashion
Perret Schaad at Berlin Fashion Week Spring/Summer 2015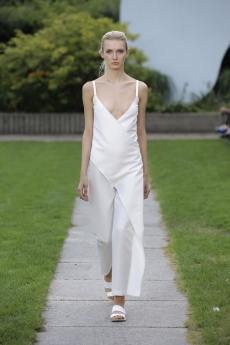 Photos by Mercedes-Benz Fashion 
It's already been Johanna Perret and Tutia Schaad's 10th collection at Mercedes-Benz Fashion Week in Berlin. For their SS15 presentation, the dynamic duo drew inspiration from the French Riviera. The contrast of down-to-earth Southern France and its exciting Mediterranean charm resulted in pieces that are perfect for a day at the Côte d'Azur. The label interpreted SS15's trend color blue in combination with light hues. Surprising details such as outside stitching and laser-cut details add to the collection's modern vibe, and thereby turn the otherwise tedious rush hour during summer time into an imaginary stroll down the Corniche.

www.perretschaad.com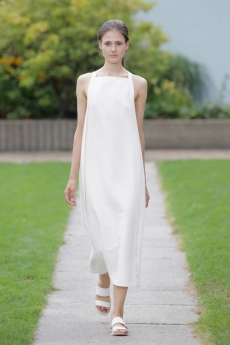 Fashion
Franziska Michael at Berlin Fashion Week Spring/Summer 2015
Oversized shoulder fits, ankle grazing coats and belly tops for women and men alike make an out-of-this-world statement combined with trainers and sport socks at the Franziska Michael Spring/Summer 2015 show. Mesh and neopren cloth are the fabrics of coice. Long elastic leggings in a shimmering white with aquatic patterns complete most looks. Two jumpers with prints of faces in childish grimmaces and added fake blonde hair trailing down the back complete the collection's strange touch. Black, pale pink and mint are the main colours seen in glossy leotards or wide trousers covered in perforations in the shape of dots. A pinball machine turns the runway into an arcade hall, making the models with thick-rimmed glasses and hats that could be from the 90s the cool kids from back in the day.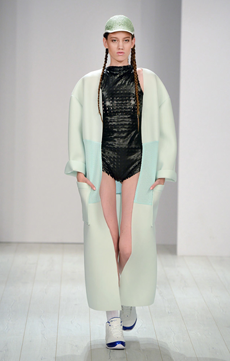 Fashion
IVANMAN at Berlin Fashion Week Spring/Summer 2015
by Nora Hiller

It's an air of nostalgia for boyhood and a longing for a distant future that surrounds the IVANMAN Spring/Summer 2015 collection. Small backpacks and colourful collar details in the shape of tiny triangles remind of a schoolboy days, while smart suits signal sophistication. Buttoned up shirts with short sleeves contrast loose fitting T-shirts with v-necks. A drawstring at the back of jackets and sleeveless vests is used to tighten the fit at waist level. The dominant colours are black, deep green, cobalt blue as well as a soft creme and pale pink, only a bright magenta ensemble stands out.

www.ivanman.de
Fashion
Jean Paul Gaultier Haute Couture Fall 2014
Dark decadance and gothic elegance was exhibited at the Jean Paul Gaultier Fall 2014 Haute Couture show. Ghost like makeup accompanied by a color palette of red, black and white made for a darkly luxurious collection with black leather, luscious fur and soft satin being key materials. Lines were exaggerated and textures were experimented with in a dramatic amalgamation. Exuding rock and roll elegance, theatrical dresses were created with lace and face framing collars, the result was a collection exquisitely sleek.

www.jeanpaulgaultier.com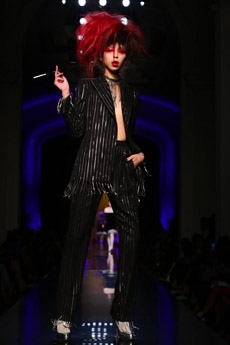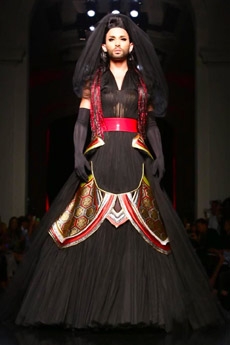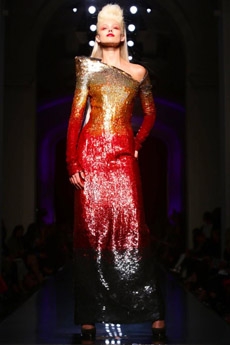 Fashion
Trussardi Fall/Winter 2014 Campaign
Photographed by postmodern photographer Roe Ethridge, the Trussardi Fall/Winter 2014 campaign deconstructs traditional fashion images and explores new and creative visuals.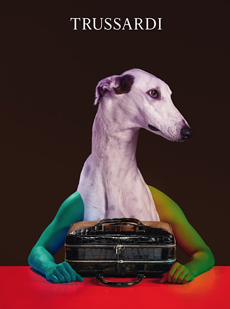 Featuring the Trussardi greyhound, the images use a cutout effect to creatively combine human arms and legs with images of greyhounds. The campaign focuses on chic Trussardi accessories that comprise of fine leather and excellent detailing and puts them at the forefront of the inventive campaign shots.

www.trussardi.com
Fashion
Loewe at Paris Fashion Week Spring/Summer 2015
Presenting a casual and feminine characteristic, the Loewe Spring 2015 collection provided a cool yet refined amalgamation. A demure colour palette was used on thick, striped sweaters paired with turned up, loosely fitted jeans and patent black brogues. Frayed, thick material was wrapped around models and worn as cardigans and distinctive patterns were decorated onto thick sweaters. A bohemian influence was seen on beige, worn out looking tops and chic motorcycle jackets added a stylish edge.

www.loewe.com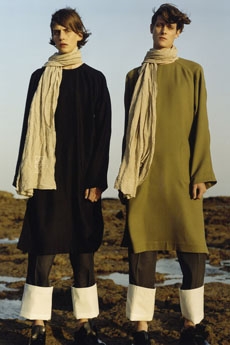 Fashion
Marc Jacobs at Paris Fashion Week Spring/Summer 2015
Offering a clean collection with a soft colour palette, the Marc Jacobs Spring 2015 Menswear show oozed sophistication whilst remaining original and quirky. Bright and vivid prints were embellished onto shorts and shirts and matching suits came in pastel pink, pale blue and bright red. A pink flamingo motif was present throughout the collection; emblazoned onto the back of a silky black bomber jacket, printed onto a shirt and worn as a brooch.

www.marcjacobs.com
Fashion
Lanvin at Paris Fashion Week Spring/Summer 2015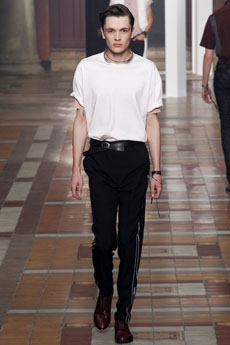 A softened elegance was presented at the Lanvin Spring Menswear 2015 show. Suits were polished yet oversize and slightly baggy, the layering was laid back and kept to a minimum and long sophisticated blazers were worn with tight, edgy neck scarfs. Chains were attached to belts and worn on skinny black trousers and colour blocked shirts were accompanied by snakeskin shoes, the result was a slick, polished and contemporary aesthetic with a rock and roll edge.

www.lanvin.com
Fashion
Saint Laurent by Hedi Slimane at Paris Fashion Week Spring/Summer 2015
Adhering to a glam rock theme, the Saint Laurent 2015 Menswear show presented a theatrical element through top hats, gold embellished blazers and scarfs worn as capes. The collection fused sleek rock and roll with bohemian influencers to produce the archetypal relaxed rock aesthetic; mismatched prints were worn with denim and accessorized with silver jewelry and unbuttoned shirts were paired with embroidered black skinny jeans. Fabrics included velvet and leather and prints were amongst snakeskin, glitter, paisley and florals. The womenswear was less rock and rock and more relaxed bohemian with floaty dresses exhibiting simple yet distinct patterns and worn with beaded jewelry dominating the runway.

www.ysl.com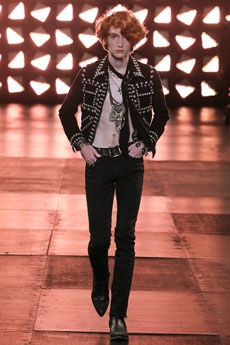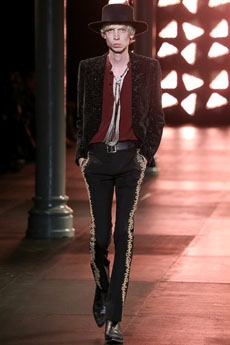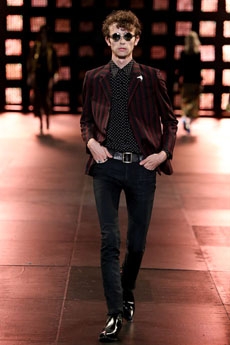 Fashion
Dries Van Noten at Paris Fashion Week Spring/Summer 2015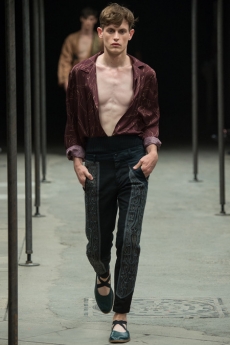 Inspired by ballet costumes, the Dries Van Noten Spring 2015 Menswear collection applied an athletic and slick aesthetic. Garments were deconstructed; outfits were accessorized with harnesses, unbuttoned shirts were paired with formal trousers and artistic embroidery was placed onto jackets.Looks were completed with stylish male ballet pumps and subtle prints were decorated onto matching blazers and trousers. Dries re interpreted men's occasion wear by producing an elegant yet edgy and impressively unique collection.

www.driesvannoten.be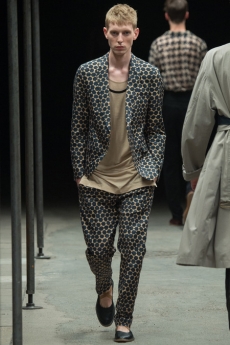 Fashion
22/4 at Paris Fashion Week Spring/Summer 2015
The 22/4 Spring 2015 collection had a sporty yet slick feel. Relaxed and baggy silhouettes were laid back yet refined and designs were kept simple yet distinct. Cool sophistication was created through exaggerated tailoring; everything was slightly oversize and stylishly loose fitting, it exuded effortless chic. Sandals and t shirts were decorated with the 22/4 logo and dusky metallics and simplistic stripes added a uniqueness.

www.224hommesfemmes.com
Fashion
Emporio Armani at Milan Fashion Week Spring/Summer 2015
 A creative amalgamation of geometrical black and white lines was offered at the Emporio Armani Spring 2015 Menswear show. Totalling 91 looks, the impressive collection was suave yet innovative, conventional yet modern. Long black overcoats that emulated night gowns were paired with striped shirts and white leather loafers and buttoned up sweaters were worn with straight black trousers and monochrome flatforms.Carrying a futuristic essence, the collection fused sports luxe with sleek sophistication, thus producing a timeless and original combination.

www.armani.com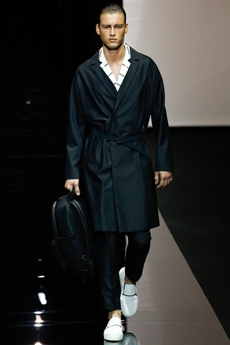 Fashion
Dsquared² at Milan Fashion Week Spring/Summer 2015
Bright and bold prints and patterns were accompanied with beige garments in the Dsquared²  Spring 2015 show. Small, artistic images were printed onto shirts, jackets and trousers and bold badges were placed onto denim jackets and shirts. Modern and colourful designs were placed onto white t - shirts and worn with flat form sneakers and colour blocked sandals. Adding an air of sophistication, long beige overcoats were styled over buttoned up denim shirts and fitted trousers but the quirkiness was brought back through two toned bucket hats and bright stripes placed onto beige jackets and trousers.  

www.dsquared2.com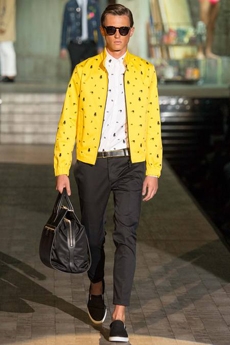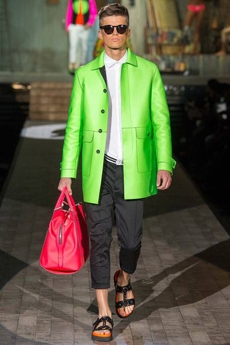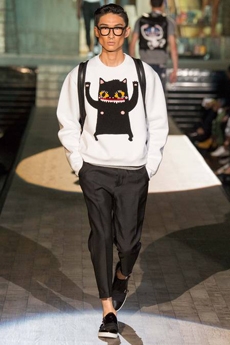 Fashion
Tod's at Milan Fashion Week Spring/Summer 2015
Applying a laiback approach to classic menswear, the Tod's 2015 Menswear show was casual, clean and cool. Luxurious, dark navy blue served as a key colour and was incorporated onto sleek suits worn with elegant, leather loafers. Amongst the sophistication, a more casual aesthetic was offered through blue and white jeans. Suede was a popular material, providing the fabric for soft blazers and jeans. Detaching itself from the traditional and conservative, the collection provided something refreshing and contemporary without loosing the refinement. 

www.tods.com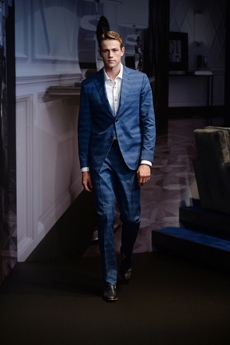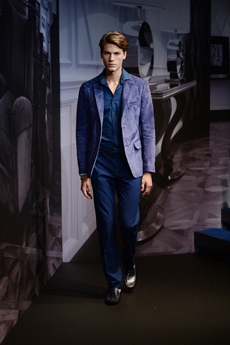 Fashion
John Varvatos at Milan Fashion Week Spring/Summer 2015
Keeping to nautical tones, the John Varvatos Spring 2015 menswear collection combined well-tailored blazers with fitted trousers and loosely wrap around scarfs. Cool silvers, whites and greys were integrated with earthy browns to create a casual and cosmopolitan style. Excellently tailored and incorporating an amalgamation of textures and detailing, the collection provided a sleek and characteristic combination.

www.johnvarvatos.com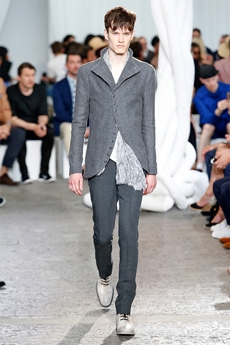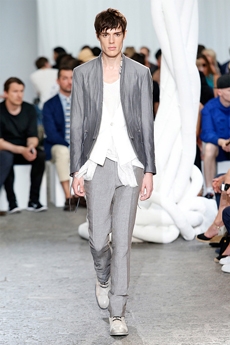 Fashion
Calvin Klein Collection at Milan Fashion Week Spring/Summer 2015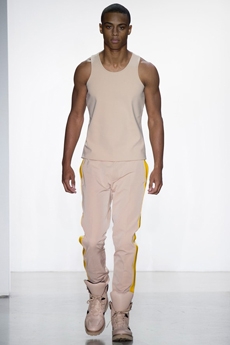 Light beige was a persistent colour on the Calvin Klein Collection runway with vests layered onto t – shirts, smart blazers worn with shorts and oversize shirts. The collection largely consisted of all one colour ensembles with specks of bright oranges, yellows and reds being incorporated onto the light beige coordinates. Innovative bright transparent plastic jackets paired with straight black trousers added an eccentricity to the mostly demure compilation and a unique shade of deep brown embodied the contemporary and refined man.  

www..calvinklein.com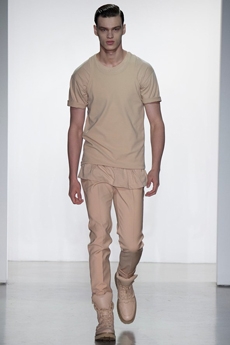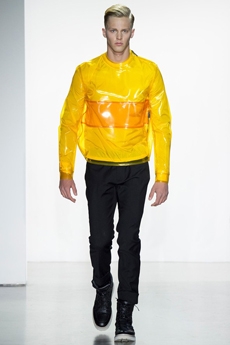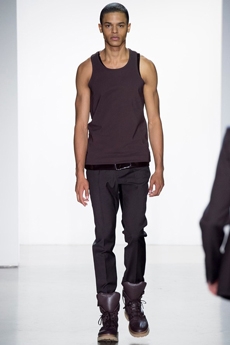 Fashion
Replay Laserblast L.I.F.E Campaign
Fashion brand Replay have chosen committed environmentalists in their latest campaign to advertise their new eco-friendly range.
The capsule collection entitled 'Replay Laserblast L.I.F.E' promotes itself as one of the most sustainable denim ranges. The collection uses eco-friendly Laserblast technology and coloured mineral pigments of natural origin to create the clothing as well as low environmental impact laser technology and a low temperature water wash to create each item.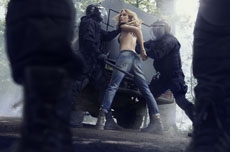 The collection is authenticated by real life strong and world leading environmental activists starring in the campaign. Fronted by two protagonists Aleksandra Orbeck-Nilssen and Enok Groven who both share a passion for the environment and sustainable fashion, Replay have demonstrated their beliefs in environmentally friendly fashion production.  
Model and actress Aleksandra Orbeck-Nilssen is the creator of Nanofasa, a wildlife conservation trust and is spokesperson for African environmental issues and Enok Groven is the founder of Fashion Against Climate Change, a newsgroup centred on environmental issues within the fashion industry.
The campaign launched on June 16th and comprises of graphic and vivid images of the protagonists clashing with authority figures and a two minute film depicting the activists fight for environmental change. The capsule collection will be available on the Replay on-line shop and in selected Replay Stores from the beginning of June.

www.replay.it
Fashion
Diesel Black Gold Store-Opening London
Creative director Andreas Melbostad describes the retail location as an opportunity "initiate a dialogue with a London audience." And that the new store will showcase "a complete range of women's and men's collections along with their complimenting accessories."
The 16th June 2014 saw the opening of Diesel Black Gold's first global concept store. Situated on Conduit Street in London, the store exclusively showcases the Diesel Black Gold women's and men's collections.
Consisting of concrete panels, parquet flooring, leather furniture and leather wall-panels, the sleek and contemporary clothing collections are flawlessly complimented by the impressive store design.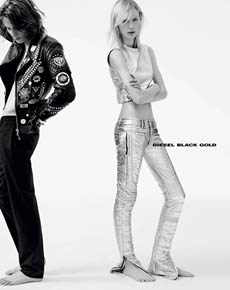 Attracting celebrities including Dominic Jones, Eloise Showering and Alexia Niedzielsk, the store opening coincided with London Collections: Men and celebrated the first standalone UK store for Diesel Black Gold.

www.dieselblackgold.com
Fashion
Diesel Pre Fall 2014
Fusing fashion advertising and fine art, Diesel have created a new and creative vision for their Pre Fall 2014 campaign through the use of the digital medium.
Taking inspiration from Michelangelo, Avedon and the Renaissance, Artistic Director of Diesel Nicola Formichetti has created an interesting juxtaposition between the classical and the digital with the campaign echoing historic Italian art whilst remaining modern and sleek appealing to the younger generation.
Photographed by Nick Knight, the campaign entitled 'Neo-neoclassic' initiates a new era for Diesel in which the old is strikingly combined with the new and the historic with the contemporary.

www.diesel.com
Art
Wolfgang Tillmans at the 14th International Architecture Biennale
As part of the 14th International Architecture Exhibition entitled Fundamentals, 'Elements of Architecture' is a showcase that analyses the fundamentals of our buildings with German fine-art photographer Wolfgang Tillmans being named as a participant.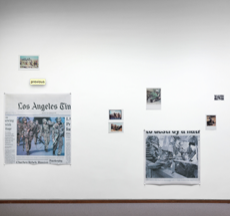 Ausweitung der Kampfzone. 1968-2000. Die Sammlung Teil 3, Neue Nationalgalerie, Berlin, 8 Nov 2013 - 31 Dec 2014 
Coming from a background in photography, Tillmans has vast experience in photographing buildings displaying the 'complexity', 'irrationality' and beauty of architecture. Known for his distinguished style and being the first German Turner Prize award winner, Tillmans describes architecture as "an expression of desires, hopes and ambitions, as well as myriad practical needs and limitations, which shape a structure's design."
Ausweitung der Kampfzone. 1968-2000. Die Sammlung Teil 3, Neue Nationalgalerie, Berlin, 8 Nov 2013 - 31 Dec 2014 
Tillmans' still video installation entitled 'Book for Architects' is presented as a looped projection of still images on two walls. It showcases a sequence of images that reflect what the built environment looks and feels like and mirrors the imperfection and characteristics of architecture.

www.labiennale.org
Fashion
Fendi Resort 2015 Collection
Chic and elegant lines were decorated with sharp, colourful and detailed designs in the Fendi Resort 2015 collection.
The shapely collection displayed colourful patterns and attractive layering with Asian cultural influencers and sports luxe tones incorporated for an intriguing amalgamation. Impressively structured and bold callots were worn with patterned tops and sleek leather bags worn as clutches.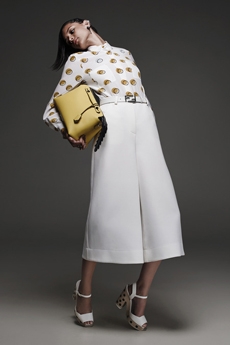 Striking, bold and bright yet classic and exquisite, the collection comprised of interesting textures and fabrics that contrasted with dynamic colour blocking. 
www.fendi.com

Fashion
Prada Womenswear Fall/Winter 2014 Campaign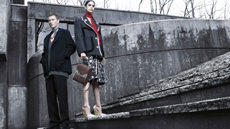 Featuring stunning Argentinian model Mica Arganaraz and photographed by Steven Meisel in New York, Prada's latest campaign displays the Fall/Winter 2014 womenswear collection.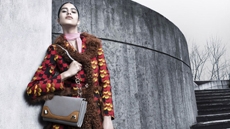 Effortlessly cool, the vivid and chic collection looks luxurious next to the sharp architecture and captures the striking silhouettes of the clothing. A video of the campaign will be unveiled soon on prada.com.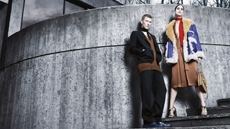 Sensual and delicate yet powerful and strong, the campaign is shot against a calm, grey backdrop of concrete and window panes which provided the perfect standout for the colourful and textured clothing.  

www.prada.com
Travel
SUPERMARKET Concept Space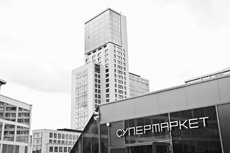 The first SUPERMARKET Concept Space opened its doors in Belgrade in 2008. The store presents a thoughtfully curated selection of up-and-coming as well as established designers and labels from the vast disciplines of design, fashion, art, print and music while simultaneously serving as the place-to-be for foodies. A second store was soon to follow in Porto Montenegro and now it's Berlin's turn.
800 sq m house an assortment of goods - whether it be roller skates, skirts or kitchen utensils from exclusive brands such as Sigurd Larsen, Balmain Hair, Braun, KPM, Muuto, Norman Copenhagen, Ilot Illov - as well as a 200 sq m lunch room. Given the stores proximity to the zoo, the 100 sq m terrace over-looking the monkey enclosure is the icing on the cake. A number of events ranging from exhibitions to readings and fashion shows will underline the stores penchant for interdisciplinarity.
Each of the three stores' interior design focuses on and works with the original individual construction, all the while adhering to the same principle. In all its glory, the store is supposed to serve as a stage for the product and nothing more. For this very reason the interior needs to be flexible for an ever changing layout. The architecture of the Berlin store even went a step further and paid close attention to sustainability and upcycling.
SUPERMARKET
Budapester Straße 38-50
10787 Berlin

www.supermarket.de
Art
Miron Zownir - Down and Out in Moscow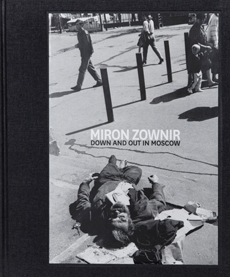 Depicting a 1995 Moscow, German-Ukrainian photographer Miron Zownir has produced a photobook showcasing the heart breaking and tragically vivid reality that he witnessed during his summer trip.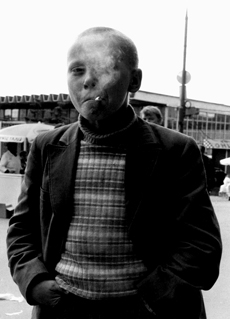 Displaying the dark side of humanity through his photography, Zownir captures the true despair of 1995 Russia, portraying homeless people rotting alive covered by flies and old women starving to death on the pavements. In the climax of the post-Soviet economic transformation crisis, Russia's extreme privatization programs transported the country into catastrophe and the transfer of state property into the hands of the oligarchs who supported the government led to the impoverishment and homelessness of millions of people.
It is this disturbing picture that is captivatingly captured throughout the photobook, chronicling a dark period in Russia's history in a fascinating manner.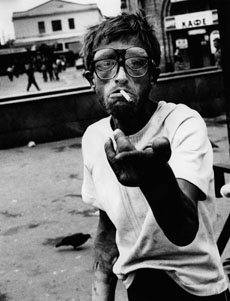 Taking up photography in the late 70s, Zownir has worked in capitals Berlin, London and New York and reveals an honest and revealing insight into inner-city sub-cultural spheres. Characteristic yet undoubtedly exposing, Zownir's work astounds many and showcases storytelling through art.

www.mironzownir.com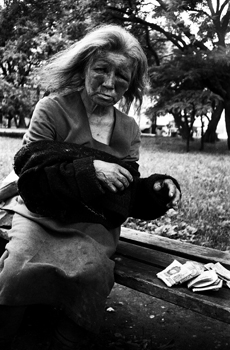 Fashion
WOLFGANG JOOP launches Eyewear Collection
In time for a stylish summer, fashion label WUNDERKIND have launched a new online store that will present Wolfgang Joop's sleek new eyewear collection.
Coming in four unique and equally chic models, each with individual colour combinations and creative styles, the sunglasses have individual names representing their original shape. Deriving from Wolfgang Joop's print creations of current WUNDERKIND collections, the hand made and high quality sunglasses are an ultra-mod fuse of distinctiveness and elegance.  
Available at the new WUNDERKIND online store and at all WUNDERKIND boutiques as well as an exclusive selection of shops and department stores worldwide, these cool yet classic sunglasses are available to everyone and can be found at www.wunderkind.com/shop.
Art
Clash Wall Amsterdam
Converse Benelux has announced Clash Wall Amsterdam, a project challenging eight artists to clash their style against a classic Amsterdam canal house. Having already exhibited in other cities including Berlin, Clash Wall merges the traditional with the distinctive and transforms classic architecture into pieces of art.
The project is inspired by the spring 2014 Converse All Star sneaker collection which features dynamic pops of colour, elevated silhouettes, bold colour blocking and striking archive prints. The brand has also encouraged Converse fans to create and send inspirational tweets for the artists to work into their artwork.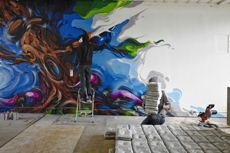 Coming from a range of different cities, the eight artists have clashed graffiti, ceramics, typography and sculpture to produce a unique collaborative piece of art which adheres to Converse's challenge to "use their most visceral work to add a splash of colour to a grey world." The display will be open for public viewing from 4-8pm on Friday 2nd May and from 12-6pm on 3rd and 4th May.

www.converse.com
Fashion
Dior: The Legendary Images
Held at the Christian Dior Museum in Granville Normandy, Dior: The Legendary Images showcases the extraordinary and stunning relationship between the fashion house and the photographers who helped cement their fame worldwide.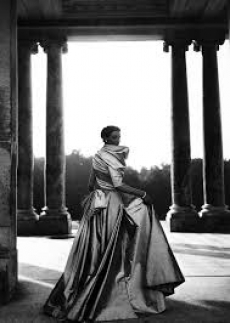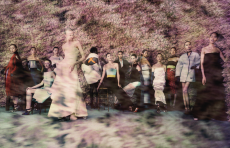 Included in the exhibition is talented American photographer Pat English who photographed Christian Dior's first fashion show. This contributed to the international success of Dior's highly popular and fashionable 'New Look'. The exhibition also presents the iconic 1955 photograph displaying Dovima posing elegantly and showcasing a classic Dior aesthetic in between two elephants shot by Richard Avedon. This same trademark Dior elegance is captured in Willy Maywald's mesmerising images shot on the streets of Paris of women in exquisite and chic evening wear and overcoats.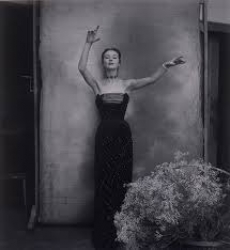 Also highlighting modern Dior photography, the exhibition hosts the work of Nan Goldin who captures actor Robert Pattinson effortlessly spread across the page for Dior Homme in 2013 and Natalie Portman looking ornately stunning in a series for Miss Dior shot by Paolo Roversi.
Truly legendary, these images are homage to the greats of fashion photography and a tribute to the timeless and cultivated style Of Dior. The exhibition will take place on May 3rd and continue through to September 21st 2014.

www.dior.com
Art
Sarah Lucas Furniture at Salone Internazionale del Mobile di Milano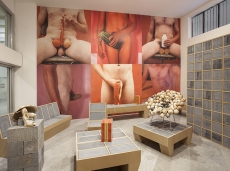 As an artist who once famously delineated the reclining female nude with "Two Fried Eggs and a Kebab", tongue-in-cheek mundanity comes as second nature to Sarah Lucas. It's hardly surprising, then, that upon turning her hand to furniture design, she would reach for the most humdrum resources in construction: concrete blocks encased in a laconic MDF shell.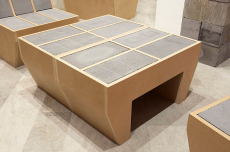 Having made a brief cameo at her Absolute Beach Man Rubble exhibition at the Whitechapel Gallery in London last year, the banal rationality of her blockwork benches was officially unveiled at last week's Salone Internazionale del Mobile design fair in Milan. But in fact, the artist's foray into furniture design is not as erratic as it first seems; since her 1997 Bunny series, Lucas has exploited the humble chair as a stand-in for the human body, stuffed tights stretched and splayed across stools as a denotation of sexual availability. Now, incidentally, real bodies take the seat.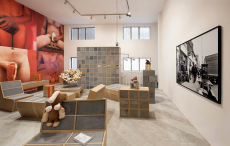 As irony would have it, such stripped-back austerity makes for quite the compelling arrangement; sober though it may be, texture takes tips from brutalism, adopting the elaborate grain of the cast from which it was set. Under the aptly unvarnished title of Sarah Lucas Furniture, chairs, tables and a free-standing partition wall comprise a skeleton collection that is every bit as explicit as it looks. But then, since when was Sarah Lucas one to bite her tongue?

Sarah Lucas Furniture is available to order at www.sadiecoles.com
Fashion
Diesel Jogg Jeans Presents the A-Z of Dance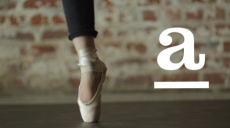 If you thought denim and dance were like oil and water – two incongruous concepts that are never to coalesce – think again, for Diesel puts an end to the notion the notion with one fell swoop: the all-wear Jogg Jeans.
A hybrid of 21st Century design, Diesel's new Jogg Jeans cherrypick the best elements of jeans and sportswear to arrive at material that sits somewhere between denim and sweat. A circular weaving technique affords 360° stretch, while the cunning exploitation of deceiving indigo dye plays the ally to the sweatpants' artful guise. Drawstring waistbands take comfort further still, all the while providing a stylistic alternative to the commonplace button. Side stitching and coin pockets, meanwhile, ensure all artifice is kept incognito. An eclectic menu of styles caters to all manner of tastes, whether skinny or slouched, ankle-skimming or bagging at the knees – bleached, black or bullet-holed. The comprehensive collection also extends to shorts, jackets and jumpsuits – ever exquisite, but made markedly more malleable.
To paint the proficiency of their most dextrous pieces yet, Diesel and i-D have taken the opportunity to teach the A-Z of Dance in the form of an exclusive video directed by Jacob Sutton. The Soul Step team of Rick Owens' notorious SS14 show, Northern Soul star Levanna McLean and Nicole 'The Pole' Williams of Rihanna's Pour It Up video are but a few of the 26 acts to feature in the film, in which an illustrious cast performs the cult dances for which they are renowned - animate and unperturbed in a wardrobe of Jogg Jeans. Thanks to Diesel, there is now no occasion for which denim is a bad fit.

www.diesel.com
Cinema
Thomas Bo Nilsson's MEAT
Staging a 240 hour performance based on the story of Canadian porn actor and model accused of killing and dismembering another man Luka Magnotta, MEAT is a creative theatre installation created by Swedish actor and set designer Thomas Bo Nilsson.
Nilsson has collaboration with filmmaker Matt Lambert to create a promotional video based on the performance which was showcased on 3rd April at Schaubühne theatre in Berlin as part of the Festival of International New Drama as well as online at www.livemeat.tv in parts.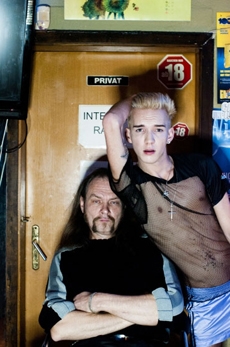 The showcase hosts a cast of 60 performers who act in a bizarre yet intriguing "fragmented universe of both living and commercial spaces" and explores both sexuality and surrealism. The performance will run until 13th April 2014.  
Art
Art Cologne
Art Cologne allows visitors and exhibitors alike to view and experience first class, contemporary works of art from the 20th and 21st century. The show includes around 200 spectacular international galleries which comprise of 'New Contemporaries' showcasing work from the 21st century and 'New Positions' displaying the work of dedicated and talented solo artists.
Michael Neubürger, Brothers in Arms, 2014, 142 x 188cm, L.A. Galerie, Frankfurt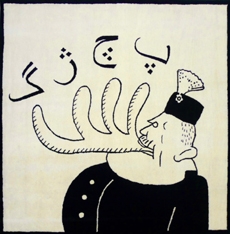 Slavs and Tatars, Love Letter No. 2, 2013, wool, yarn, 247 x 247cm, Kraupa-Tuskany Zeidler, Berlin
Debuting in 1967, Art Cologne's inventers Hein Stünke and Rudolf Zwirner developed the idea when public interest and development veered towards the art trade with a new art scene being born out of the Rhineland. The 2014 showcase will debut a new gallery entitled 'Collaborations' which will display the work of participating galleries in a jointly planned project. As well as the galleries, various events, festivals and shows will take place during the exhibition, making it one of Germany's must see events of the year. Art Cologne 2014 will commence on Thursday 10th April and continue onto Sunday 13th April.

www.artcologne.de
 Mwangi Hutter, Be Present, 2014, Photograph, Alexander Ochs Galleries Berlin | Beijing
 Carlos Rolon/Dzine, Trophy Room, Arthur Abraham, 2013, C-print in custom frame. 203 x 122cm, Henrik Springman, Berlin
Art
Massimo Iosa Ghini at Salone del Mobile 2014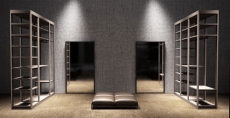 Architect and designer Massimo Iosa Ghini will exhibit his vision about living and interior places at Salone del Mobile 2014. Separated into various sections depicting items from varying parts of everyday life, the exhibition displays stylish and sleek design products destined for domestic use. With a mission to "combine beauty and quality for everyday use" Massimo Iosa Ghini presents a sophisticated and chic approach to modern furniture and the household aesthetic.
Produced largely from wood and leather, the five piece collection comprises of unique and high quality items. 'Pearl' an intriguing and modern dark wood bookcase that adapts to any environment showcases Massimo's attractive fusion of the classic and the contemporary. He continues the theme of modernity with 'Kabina' a modular closet with a backlighting system of the fund, displaying an elegant yet soothing closet design.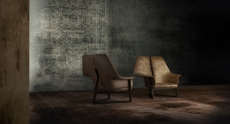 Graduating from Polytechnic of Milan, Massimo Iosa Ghini has been a household name in Italian design and architecture since 1985 and continues to illustrate the beauty of architecture through his alluring and classic designs.

www.cosmit.it
Fashion
Y/PROJECT Fall/Winter 2014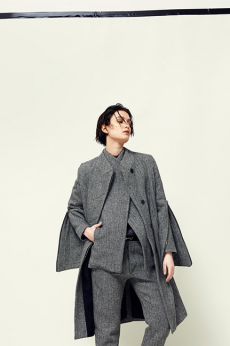 Grungy and gothic 90s it girl was cleaned up in Glenn Martens' debut collection for fashion label Y/PROJECT Heavily layered, oversize and floor length pieces added an element of exaggeration to which Martens' harmonised with clean, architectural lines and exciting, body hugging ruffles on sensual sheer dresses and tops. Modern, sleek and clean cut lines paired with ultra-fashionable all black ensembles adhered to grunge while white and grey pieces provided a sleek modernity.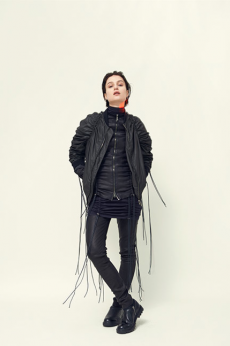 The clothing epitomized versatility; oversize black bikers were thrown onto slim fitting dresses paired with black patent pumps, ruffled turtle necks combined with leather trousers and matching suits worn under uniquely cut coats. Stating that "Today a woman has to be adaptable, she has to be modern… be flexible in any situation and I think this collection tries to follow that." Glenn Martens created a dark and sophisticated collection that complied with the desires of the contemporary woman by providing equilibrium between the laidback and the refined. He also experimented with texture, materials and cuts to add to the eccentricity of the collection while staying true to the brands urban lifestyle composition.

www.yproject.fr
Fashion
Moncler Gamme Rouge at Paris Fashion Week Fall/Winter 2014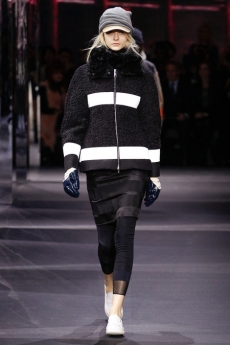 Moncler Gamme Rouge gave us an ultra-slick wardrobe to be snowed in with at their FW14 show during Paris fashion week. Woolly caps were combined with oversize coats and straight skirts worn over leggings to stylishly prepare us for the winter. It was modern, it was shiny and it was futuristic. Eye blindingly shiny silver covered oversize coats as well as sleek black croc leather and bright geometric prints to add drama to the largely polished pieces.

eng.moncler.com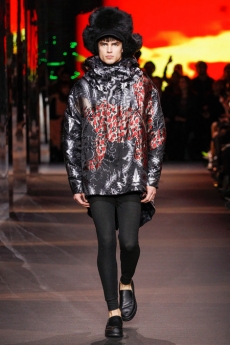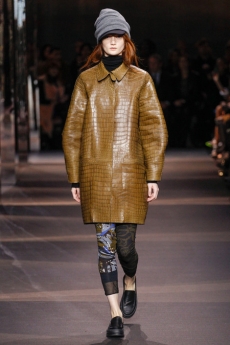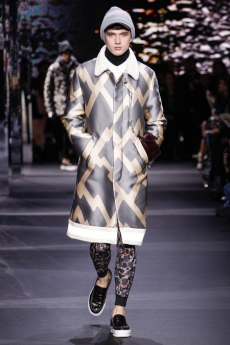 Fashion
Jean Paul Gaultier at Paris Fashion Week Fall/Winter 2014
Space like silhouettes mixed with fishing style thigh high green boots provided an interesting yet stylish combination at the Jean Paul Gaultier FW14 show during Paris fashion week. The just landed to earth from space theme continued with large headpieces, glitter leggings and metallic silver high boots before transcending into full blown dark silver space suits. London's Punk rock scene was referenced with the amalgamation of tartan, Mohawks and leather. The collection continued to seek influence from London with large union jacks seen on bomber jackets, floating skirts, matching top and trouser combinations and short dresses.

www.jeanpaulgaultier.com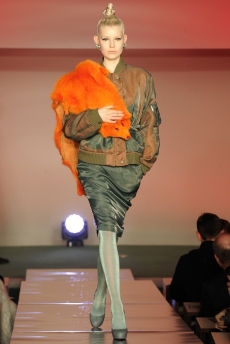 Fashion
Alexander McQueen at Paris Fashion Week Fall/Winter 2014
Fur was the material of choice at Alexander McQueen's deeply dark and mysterious FW14 show. Adhering to the inspiration of 'wild beauty' the show was set in a seemingly derelict and deserted garden and showcased large jet black oversize sweaters and coats with fur detailing around the edges. Extravagant all fur hooded coats with matching boots and black and white long fur coats were displayed on models with doll like white painted faces. The show finalized with a compilation of straight textured figure hugging dresses that scraped the floor, it was dramatic yet demure.

www.alexandermcqueen.com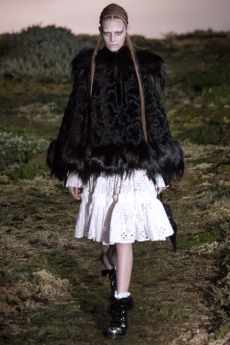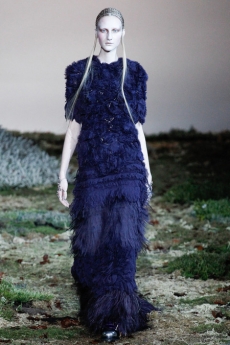 Fashion
John Galliano at Paris Fashion Week Fall/Winter 2014
A Bohemian chic was fused with luxe glitzy glamour at the John Galliano FW14 show. Not a usual mix, but wearable and appealing all the same. Earthy tones were splashed onto jumpsuits, floaty dresses and structured, fur collared coats to give a day out in the countryside feel. This was accompanied with chic, uptown glamour represented through luscious velvet and sparkling floor length dresses. The styles clashed triumphantly. 

www.johngalliano.com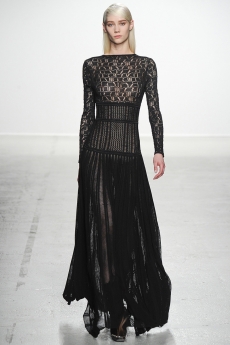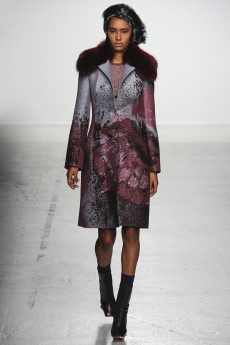 Fashion
Christophe Lemaire at Paris Fashion Week Fall/Winter 2014
Strong utilitarianism was accompanied with soft knitted wool and a subtle elegance at the Christophe Lemaire FW14 show. The largely navy blue, cream and black colour palette combined with relaxed silhouettes to create a casual yet professional chic. The simple colours and clean cuts were mixed with the creative use of layering to produce a simple and classic collection.
www.christophelemaire.com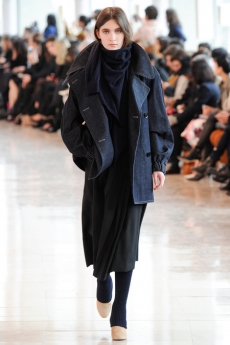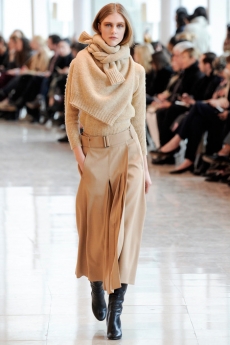 Fashion
Balmain at Paris Fashion Week Fall/Winter 2014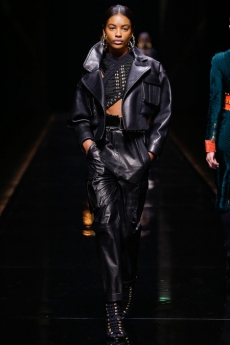 Powerful, strong utilitarianism was presented with the signature intricate Balmain patterning and experimental combinations were worn alongside stripes of leopard print at the Balmain FW '14 show. The collection was fearless in its obvious extravagance and daring in its combining of jungle style zebra and leopard prints with bright yellow and orange furs. Hip hop style was referenced through all black leather and gold hoop earrings and an inventive rope like texture was used to create unique dresses and tops.

www.balmain.com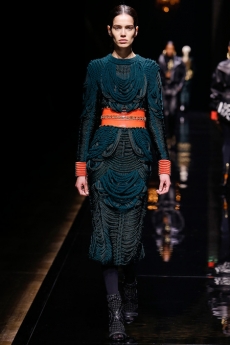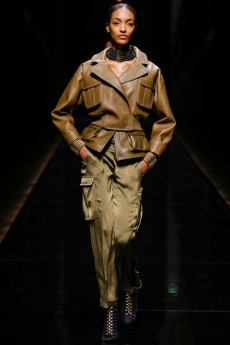 Fashion
Dries van Noten at Paris Fashion Week Fall/Winter 2014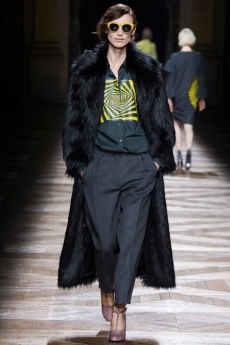 A bright pop of colour provided an exciting accompaniment to a fall/winter aesthetic during Dries van Noten's Paris fashion week show. Clashing geometric patterns highlighted the designer's innovative approach to using prints and sportswear references alongside bright floral prints provided a diverse winter wardrobe. Transcending into a darker colour palette, the show concluded with luxe metallic striped pieces, luscious black fur and space girl style sparkling silver.

www.driesvannoten.be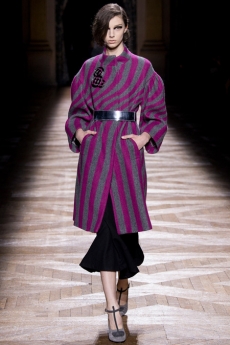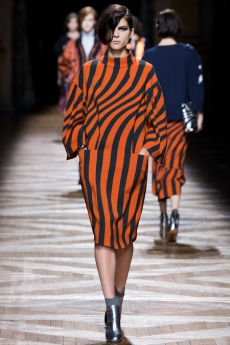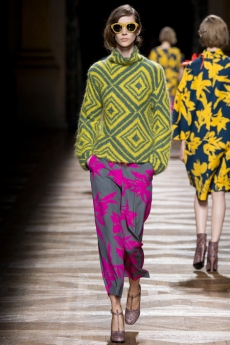 Fashion
Day 4: Bottega Veneta and Jil Sander at Milan Fashion Week Fall/Winter 2014
Simple, graceful structure was partnered with creative patterns and colour mixes to create the Bottega Veneta FW '14 collection. The styles embodied strong femininity while referencing futuristic fashion with the use of graphic black and white prints. Deep purple and burgundy softened the clean lines and extravagant snakeskin bags added a luxurious flare.

www.bottegaveneta.com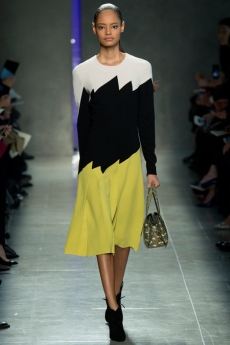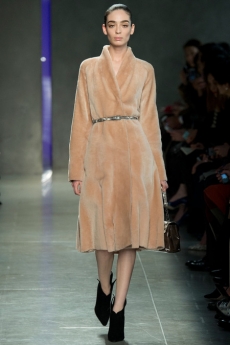 Crisp whites, greys and light pastels were showcased alongside blacks, mustard yellows and deep turquoises to create an urbane appearance at the Jil Sander FW '14 show. Sharply cut coats and straight and metallic dresses bared signature to Sander's clean – cut aesthetic while the experimental colour palette provided a burst of excitement. Oversize jackets were paired with straight suit trousers and platform brogues to bring a new meaning to office chic while turtle neck sweaters and high waist skirts provided girly sophistication.

www.jilsander.com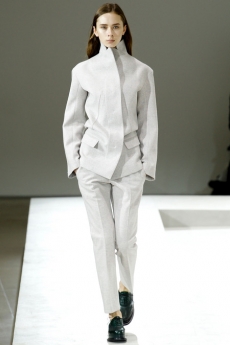 Fashion
HUGO BOSS at NYFW Fall/Winter 2014/2015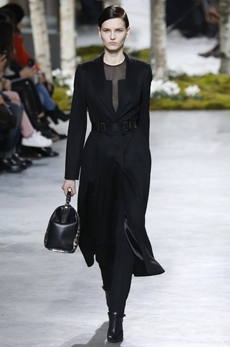 For Fall/Winter 2014/15 young talented creative director Jason Wu showcased a feminine, yet sophisticated debut, that -without question- was able to carry on the brand's DNA. Rich in high-quality fabrics, Jason tailored a line of solid garments out of cashmere and silk hold in black, camel and gray shades. Minimal A-line skirts,long coats with rounded shoulders, next to transparent chiffon dresses made the modern BOSS woman appear self-confident and delicate.

www.hugoboss.com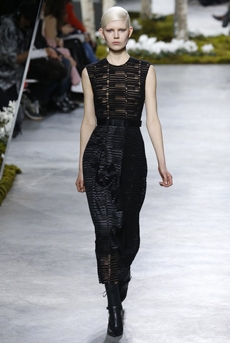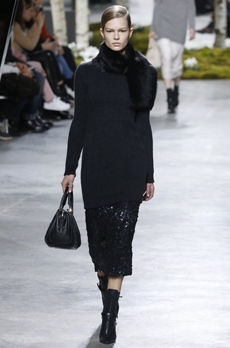 Cinema
Kate Moss for Alexander McQueen
Kate Moss is the new face of Alexander McQueen's Spring/Summer 2014 campaign, shot by no other than talented photographer Steven Klein. In addition to a series of images, he directed a short film inspired by the horror classic movie 'Eyes of Fear' from 1960, telling the story a serial killer who takes photos of his victms before he kills them.
Alike the original, Kleins short film plays in a surreal and dark setting underlined by a terrific sound coulisse. The iconic model is wearing a range of striking leather combos and a yellow pixie crop wig, when she wanders through a dark alley observed by a sinister man. Watch the whole film on:

www.alexandermcqueen.com
Fashion
Jean Paul Gaultier at Paris Fashion Week Haute Couture Spring/Summer 2014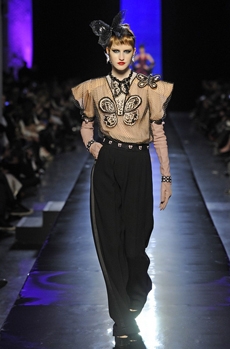 Not far away from the Jean Paul Gaultier headquarters, at 'Le Comédia' -an old Parisian theater- the French couturier's show took part on wednesday night. The theatrical spectacle was inspired by cabaret and French Revue from the twenties and thirties. And a glamorous Burlesque-themed performance started, when it's showgirls flounced down the runway wearing feathered and butterfly-shaped headpieces.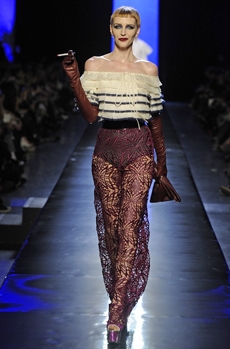 Black satin costumes were followed by multi-coloured tight wasp waists, corsets and net-laced dresses made of semi-transparent light fabrics. As a big surprise Dita Von Teese closed the show.

www.jeanpaulgaultier.com
Fashion
Paul Smith at Paris Fashion Week Fall/Winter 2014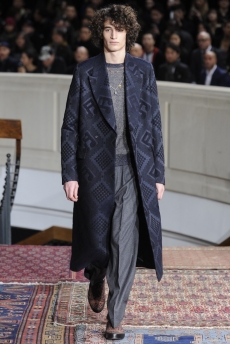 Sir Paul Smith had music on his mind while designing the fall/winter 2014 collection for men. Two currents of recent music history seemed to take the upper hand: in one corner was new wave and in the other psychedelica. The first manifested itself with big coats, knitted jumpers and slim pants while the second explained the bohemian prints, nonchalant fits and smock tops. To cover up next winter, Smith recommends an short poncho worn over leather jackets and big printed scarfs.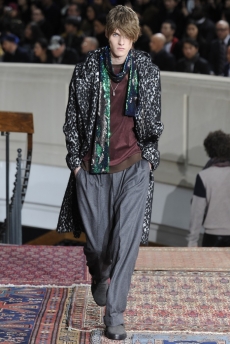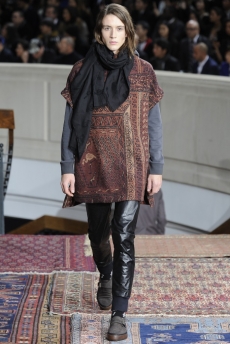 Fashion
Kenzo at Paris Fashion Week Fall/Winter 2014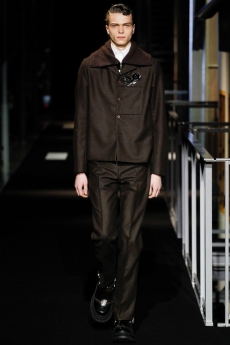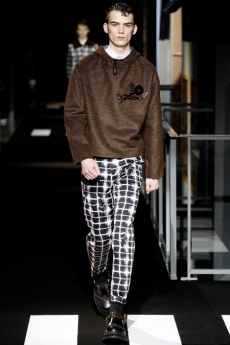 In just a few seasons, the house of Kenzo has renewed it's popularity with recognizable prints, colors and a few collaborations. This season Humberto Leon and Carol Lim went to a more homely place as the collection started with earthy tones as grey and brown. A lot of focus was put on tailoring and knitwear, the latter being used for big collars on coats, slim pants and chunky sweaters. Colors like pink, lime and purple were later reinforced to brighten up the collection. Funny detail was the shaggy fur, that was actually kangaroo.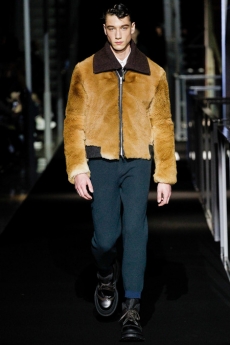 Fashion
Hermès at Paris Fashion Week Fall/Winter 2014
The dark and sober collection by Véronique Nichanian had more understated luxury than ever. Almost anonymous, the collection featured slim suits with simple tops and slouchy coats with set-ins of sleeve just balancing a little bit below the shoulder. Black leather and furry or shiny surfaces were reoccurring motifs, as was sport. Although the latter never took over the collection, touches could be found in hiking-boots, parka's and most decisive: a puffer jacket. In crocodile leather that is.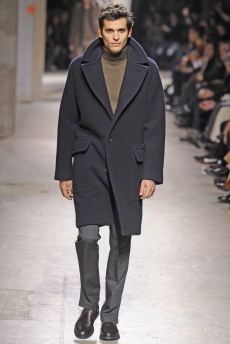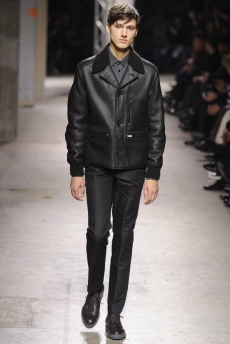 Fashion
Patrick Mohr at Berlin Fashion Week Fall/Winter 2014
Freedom expresses a person's ability to act upon their will. However, this statement's boundaries hold true for the fashion world in particular. Dark-skinned models are still a rare commodity in designer's shows. Patrick Mohr, the German fashion scenes enfant terrible, casted dark-skinned models exclusively for work hard. be mohr. – making a loud statement against arbitrary boundaries. With his show, he enticed the spectator to ponder questions of values and autonomy of decision. Front and center of Mohr's tenth show during Mercedes Benz Fashion Week was model Papis Loveday.
His first, and only, appearance during Berlin Fashion Week along with choreographer Nikeata Thompson was a really special moment – an implosion of convention. And even though Mohr almost solely focused on the color blue, on its strength and its interaction with his designs, his fall/winter 2014/15 collection may very well be the most versatile vision of the designer to date. In all its facets, the strong cyan can be seen in blousons, coats, shirts, pants and even in ribbed leggings and socks. The coats had triangular crocodile appliqués on the back and sleeves - Mohr's signature, which has so far accompanied ten invaluable seasons.

www.patrick-mohr.com
Fashion
Maison Martin Margiela at Paris Fashion Week Fall/Winter 2014
For Fall/Winter 2014, Maison Martin Margiela focused on wearable and sober clothing with subtle twists. Slightly slouchy grey suits had pants with double hems and coats were fastened with suspenders when worn over the shoulder. Big knits were teamed up with even bigger furs and there was a sense of wrapping and folding in the collection. MMM wouldn't do right to there name if they didn't include some decomposing and reassembling with diving-gear, thick tent-like canvas and leather satchels.
Fashion
Louis Vuitton at Paris Fashion Week Fall/Winter 2014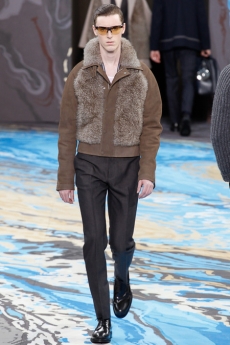 Kim Jones has always been talking about the art of travel for his collections at Louis Vuitton. That is no surprise with a brand that started in luggage but this season he pushed the envelope in that domain. After referencing most continents, Jones this time looked even further. For the Fall/Winter collection the designer looked at NASA maps of the world from space and took aerial photographs of Machu Picchu, Cusco, the Atacama Desert and the Nazca Lines in Peru as an inspiration. He then went to those areas to find the finest local materials. This made for a collection that had an futuristic edge but was earthed in traditional values. Best were looks when there was a tension between formal and casual, for exemple in jumpsuit looks with matching coats or suits worn with t-shirts. Jones also added a new version of the Damier-pattern to the house's codes, called the Damier Cobalt, with a dark blue as a sign of new understated luxury.
Fashion
John Lawrence Sullivan at Paris Fashion Week Fall/Winter 2014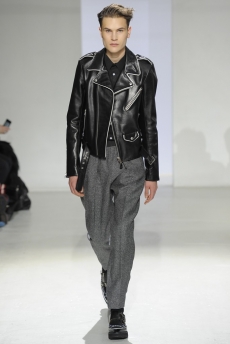 John Lawrence Sullivan fall/winter 2014 was all about British examples of rebels like mods, skinheads and teddy boys. This resulted in quite a few high waisted pleated pants and creepers. It wasn't a retrospective though. Arashi Yanagawa made these influences from last century exciting and new with blown up stripes, metallics and furry knits. Other motives was minerals and marbles, which were visible in prints used for suits, jackets and parkas. This print was especially convincing when treated with a layer of plastic. 
Fashion
Y/PROJECT at Paris Fashion Week Fall/Winter 2014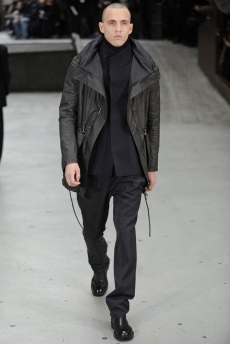 Glenn Martens outed his first menswear collection for Y/PROJECT and proved he no longer is a young designer; he delivers like the grown ups. The Belgian designer took over the house, where he started as an assistant, after the death of founder Yohan Serfaty. The collection started with a pair of big leather trousers and a slim jacket that was impeccably structured and slightly longer, hitting the leg just around mid-thigh. This made for a new and modern silhouette, highlighted by a sober color palette of black, grays, whites and browns. A Functional streak can be found on jackets with multiple zippers, big collars and pockets attached with small hooks, marrying decoration and practicality. Some of the best looks were seemingly simple; jeans and at shirt, but revealed Martens' ingenuousness on the back with a pull-up system forming a Y-shape on the back as a modern logo. The same system was applied to rethink the starkness of leather in a bomber-jacket. Although this was an avantgardist collection, sometimes a classic air found its way with suits almost nodding to a traditional three-piece suit.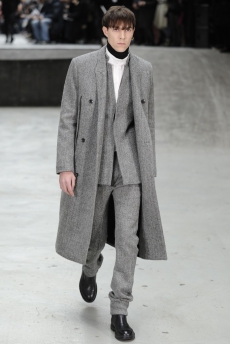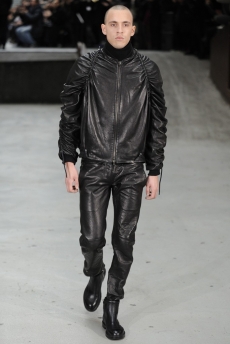 Fashion
Prada at Milan Fashion Week Fall/Winter 2014
For Fall/Winter 2014, creative director Miuccia Prada showcased a restrained, yet eclectic menswear collection. Once again, she proofed her skills for traditional high-quality craftsmansship and her well developed sense of adjusting colours. Sporting shawl collars and satin Shirts were ascesoriesed with multicoloured  fey scarves. Her setting was held in a rather minimalistic ambiance, featuring a live orchestra with German music from the thirties.

www.prada.com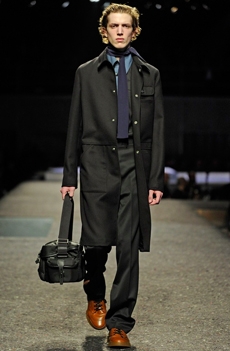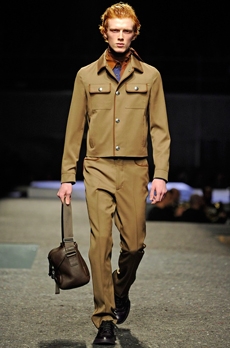 Fashion
Diesel Black Gold at Milan Fashion Week Fall/Winter 2014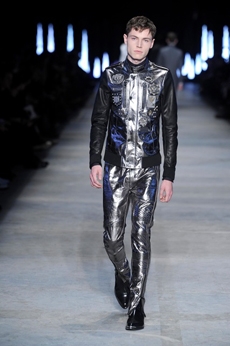 For Diesel Black Gold Fall/Winter 2014, creative director Andreas Melbostad showcased a fearless, authentic and original tailored menswear collection. Born out of military inspiration, the line does not miss out on it's wild rock 'n' roll roots. Mirrored silver leather pants and bomber jackets are covered with badges and cut in a in a masculine silhouette.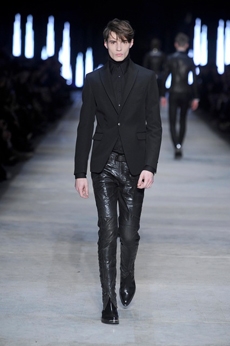 Fashion
KTZ at London Collections: Men Fall/Winter 2014
KTZ Fall/Winter 2014
For this year's LC:M mens'wear collection, KOKON TO ZAI' s spiritual-tribal interpretations have pushed the statement even further. Known for the use of meaningful symbols, the two designers Marjan Pejoski and Sasko Bezovski graced oversized bomber jackets, hoodies and tight leggins with leather lazer cuts in labyrinth-like sanskrit and cryptic typography, all kept in a monochromatic white and black colour palette.

www.kokontozai.com
Fashion
G-STAR RAW UTILITY
After star chef Sergio Herman closed his memorable 3 Michelin star awarded restaurant Oud Sluis based in the Netherlands on the 22nd of December 2013, he now has a new life time project together with his right hand Nick Bril. Located in a chapel of a former military hospital in Antwerp, the 'The Jane'  opens doors early 2014. For that occasion a specially designed workwear collection by G-Star will be launched: the G- STAR RAW Utility collection. The exclusive line adds an extra dimension to G-Star's passion for authentic functionality and consists of six designs with which the team, from chef to hostess to sommelier, can make their own combinations. 'Just like me, The Jane's concept is out of the box, which suits G-Star. The brand is raw, consistent and innovative, which is what I always try to be', says Sergio. He has put the finishing touches to the kitchen proof collection, including the chef's jacket with special pockets for culinary utensils.

The official launch of RAW Utility will take place in February 2014 during the opening of 'The Jane' in Antwerp. The innovative collection will be available online from March 2014.

www.g-star.com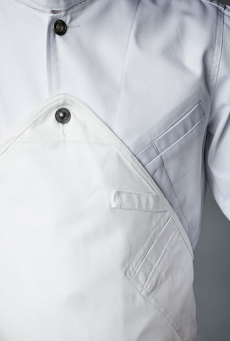 Fashion
Kaviar Gauche 'Fleur De Force'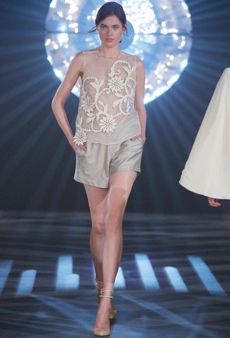 Since in 2004 Johanna Kuhl and Alexandra Fischer-Roehler created their unique style, it's not possible to imagine the fashion universe without Kaviar Gauche's femine designs. With the delicate yet strong collection 'Fleur De Force' the Berlin-based fashion label welcomed the Spring/Summer season 2014. The two charming founders for this occasion chose the St. Agnes church in Berlin, Kreuzberg to present the collection and show it in a rather minimalistic and industrial ambience. A light installation rotating to the rhythm of 'Einstein on the beach' by Phillip Glass graced the show with artificial golden sunlight and underlined it's cool and antagonistic spirit.
The collection is influenced by floral and contrasting graphic elements dominated by warm and light-beige colours, besides silver-grey combined with the classic Kaviar Gauche shades, such as ivory and black. In addition to the mix of silk, organza and leather, the line features the modern laser cut in blossom shapes. Next to the ready-to-wear collection the designer duo showcased dresses of the Bridal Couture 2014 putting the focus on the opulent Pavot dress, made of silk laces. In the selection of suitable accessories the exclusive garments find a final conclusion.

www.kaviargauche.com
Cinema
'Sweat' by Palladium x Major Lazer
Production duo Major Lazer -best known for their rhythmic electro and dancehall beats- teamed up with heritage boot brand Palladium to debut an eye-catching music video for the new released track 'Sweat' from the album 'Free the Universe' featuring Laidback Luke and Miss Dynamite. The Glow-in-the-Dark-Video creates an energetic and spacy ambience and fits perfectly into the concept of both, Palladium and Major Lazer. All filmed in a black light, the Los Angeles-based dance crew The Underground Street Chronicles is only visible through neon-coloured clothing outlines, accessories and body painting. Synchronized with the vibrant beat, fluorescent sweat-inspired paint splashes surround the dancers' sharp movements.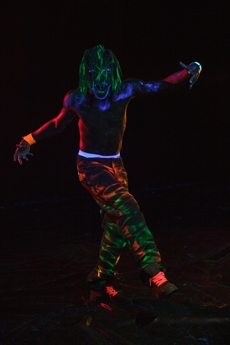 Directed by renowned Ryan Staake from the production company Pomp & Clout, the video was shot in L.A.'s prestigious Zynderia Studios. The Underground Street Chronicles wear boots from Palladium's FW 2013 collection, including the enzyme-washed Pallabrouse Baggy and four variations of the waterproof Pampa Sport Cuff WP2. Both silhouettes maintain traditional Palladium design details, including a rubber toe cap and a durable rubber outsole.

Art
Sarah Lucas: 'SITUATION Absolute Beach Man Rubble'
The Whitechapel Art Gallery presents an exclusive retrospective of remarkable artist Sarah Lucas supported by French luxury fashion brand Louis Vuitton. Hold in Lucas' hometown London, the exhibition 'SITUATION Absolute Beach Man Rubble' brings together some of her most iconic works, including famous pieces from 1989 till present. Her exceptional sculptures, objects and installations have established the British artist as one of the most important art figures of her generation. Being part of the Young British Artists movement in the late 80ies and early 90ies, Lucas took part in several significant group exhibitions, such as Damien Hirst-led Freeze (1988) or Sensation (1997), an exhibition of the collection of contemporary art owned by Charles Saatchi. Born in 1962, she graduated from the BA Fine Art course at prestigious London College Goldsmiths in the age of twenty-five years and instantly had success in the international art scene, as her art-objects always have been epitome for absurd, grotesque and bawdy humour. Inspired by Marcel Duchamp, found objects and throw-away materials draw from past to present through  Lucas' work. Many of her early works include clothes, furnitures, food, used as stand-ins for the body, or to create erotically charged scenarios. Lucas has the approach to make sexist stereotypes and role allocation between men and women visible, yet clearly subvert them within her provocative statements.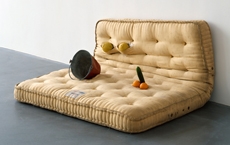 Two decades of works by Sarah Lucas are presented throughout the lower and upper floors of the Gallery including 'Bunny Gets Snookered', stuffed and stretched nylon tights, in form of a 'bunny girl' considered as one of Lucas' internationally well-known key pieces. Another eye-catcher is a multi-breasted sculpture and extraordinary bronze sculptures, in which two genders melt into one. Furthermore, portraits of Lucas at her base in Suffolk taken by artist renowned photographer Juergen Teller are exposed on the walls, next to monochrome portraits by artist Julian Simmons taken from their recent publication Tittipussidad.
The exhibition is on until the 15th of Dec- ember 2013 in the Whitechapel Art Gallery, London (Galleries 1, 8 & Victor Petitgas Gallery). Furthermore, various gallery talks, audio descriptions and performances on Sarah Lucas are happening within the exhibition.
Fashion
G-SESSIONS Final - Vote Now
How to one up a year long anniversary celebration? By giving a group of young talents the chance to design their own G-SHOCK model in a contest. Renowned mentors from all G-SESSIONS destinations have selected one contestant to take under their wing and helped them create a watch design. The mentors are designer Patrick Mohr, singer and producer Ghostpoet, design-duo Tomas Overtoom and Liza Korfman, artist Kirikoo Des, action sport photographer Nikita Vilkin Yarutskiy, MTV presenter-turned DJ Johann Wald, Marcelo Burlon and County Of Milan designer Giorgio Di Salvo. A presentation entailing a song, a performance, a video clip or a piece of art supports each creation. From now on, the designs can be voted on online at www.g-sessions.de. Who will come out on top?
During the G-SESSIONS Finals on the 28th of November the winning design will be announced, and later produced and sold in a limited edition. Obviously, winning would rock. But so does voting, as all participants are in the mix to either win a limited edition of the winning design or a trip to Berlin to attend the G-SESSIONS Finals. In light of the award ceremony in Berlin, G-SHOCK will launch two new models from the Gold Series in rose gold. With analog digital displays in different gold hues and black, these sturdy models are treats for all G-SHOCK fans and a great pick-me-up in case you don't win a limited edition for voting.
 
Fashion
NEIGHBORHOOD for Converse Sneaker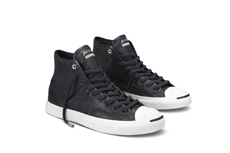 NEIGHBORHOOD, the exclusive lifestyle denim brand from Tokyo and Converse presented their first joint project, the first String Holiday 2013 collection, through adding a slight Japanese touch to the most two well-known Converse classics. When the Japanese clothing brand was founded in 1994 by Shinsuke Takizawa, NEIGHBORHOOD immediately succeeded with their motorcycle culture inspired designs, which also gets visible in this very unique collection. Combining classic Converse DNA with the Japanese brand's own vision, the two iconic staples are processed with high quality materials: the Jack Purcell Johnny Mid, made of deep petrol blue leather with tonal stitching and the All Star Chuck '70 Ox realized in a blue suede, both with white midsoles and toe-caps.

The First String's Premium sneaker collection is available in selected Converse retailers across the globe since the 1st of November 2013. For more information visit 
Fashion
Breaking the Ice by Yi Zhou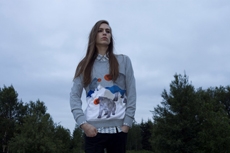 Italian label ICEBERG teams up with Chinese artist Yi Zhou for a very special and unique capsule collection including menswear, womenswear and acces- sories. The exquisite designs took it's inspiration from wild, scenic landscapes, hybrid animals and images of the sun, all captured on stylish T-Shirts, sweaters, shirts, hoodies and skirts. This collection symbolizes the perfect wardrobe for wanderlust and nature lovers.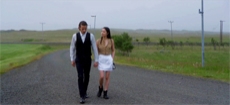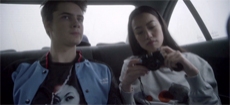 A little documentary was directed by Yi Zhou to make this wonderful collection and it's spirit sensually perceivable to it's audience, later on seen at window dis- plays along ICEBERG'S prestigious shops. Yi Zhou is featured as a fictional cartoon character, which gets repeated, distorted and abstracted and has morphed herself into the strings of cotton sweaters and T-Shirts.

Breaking the Ice – ICEBERG by Yi Zhou will be available at ICEBERG stores worldwide starting December 2013.

www.iceberg.com
Art
Aitor Throup's 'New Object Research'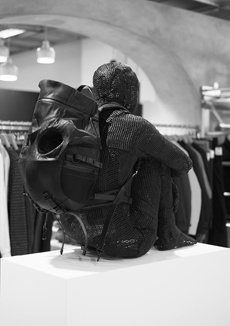 'New Object Research' by London-based artist and designer Aitor Throup is an exclusive ready-to-wear clothing and accessories line with an approach to create highly innovative and conceptual pieces dedicated to new concepts and products. To celebrate the global launch of this project, Aitor Throup set-up an installation of his outstanding objects at Dover Street Market in occasion of London's Art Fair Frieze. "New Object Research is about product design, not fashion design. The problem solving process allows itself to focus on singular objects, rather than looks or collections," explains Aitor Throup in his conceptual Design Manifesto.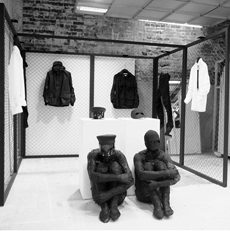 His concerns about concepts and philosophy of working processes make his work even more deep and special. In assembling his former four different attempts entitled 'When Football Hooligans become Hindu Gods', 'On the Effects of Ethnic Stereotyping', 'Magnolia' and 'The Funeral of New Orleans',  the young and talented designer captures the most important processes he went through during the past seven years after graduating from the Royal College of Art. Throup's main interest is studying the human body in a three-dimensional way and process the pre-drafts in his his remarkable designs. His items and garments always refer to a deep context of socio-cultural and environmental issues. "As for example relating to the terrorist atrocities on the London Underground on July 7, 2005, when a any brown-skinned man riding the Tube with a black rucksack became an object of intense suspicion. This link makes Aitor Throup's garments highly charged and adds a comment on the power of clothes to shape perceptions and preconceptions", explains fashion journalist Tim Blanks about Throup's work.
Key items of this highly aesthetical collection include caps, rucksacks with innovative fastenings, jackets mosty in a black colour palette. All trousers have built-in precision engineered articulated foot covers with Kevlar soles, which can allow the wearer to wear them over their feet as a replacement for conventional footwear. The catalogue of 'New Object Research' was captured in great video work featuring British guitarist and songwriter Sergio Pizzorno. 'New Object Research' is currently showcased in an exclusive installation at Dover Street Market in London and Tokyo, Atelier in New York, H. Lorenzo in Los Angeles, I.T. in Hong Kong and Beijing, and Rail in Brescia, Italy.

www.aitorthroup.com
Art
Peter Beard by Owen Edwards, Nejma Beard and David Fahey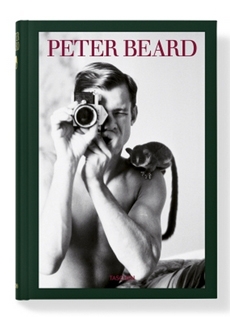 TASCHEN published an one volume edition of legendary multi-artist and adventurer Peter Beard featuring his most important photographs, collages and diaries. After the edition in two volumes was sold out immediately in 2006, the collector's item is now available in a 770-page hardcover edition edited by Owen Edwards, Nejma Beard and David Fahey. Peter Beard -who was born in New York City in 1938 -started documenting his surroundings very early in his childhood. After graduating from Yale University, he discovered his passion for Africa and assembled the history of his african life experiences captured in this very exclusive TASCHEN edition.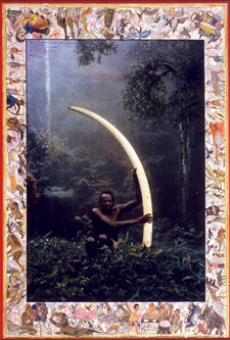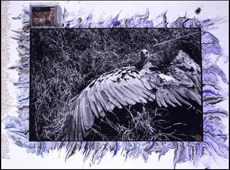 It offers an exclusive insight into the world of Peter Beard and shows his commitment to ecologic efforts and the protection of the environment. His impressive, yet sad collages are a canvas for found objects, animals and landscapes, border-framed by smaller-scale images and often animal blood used as paint. In Peter Beard's delicate work the significance of nature reaches the observer and makes the beauty and uniqueness of it visible.

www.taschen.com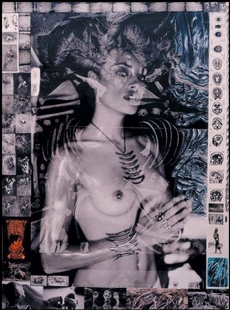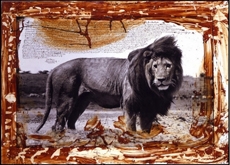 Fashion
Onitsuka Tiger's 'My Town My Tracks'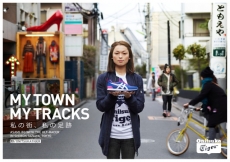 Sports lifestyle brand Onitsuka Tiger takes on Tokyo's diverse backstreets for Fall/Winter 2013. In 'My Town My Tracks' three natives explore their urban lifestyles and neighborhoods. Through the power of images and film the juxtaposition of this modest and outgoing, quirky and elegant culture, which is the birthplace of Onitsuka Tiger, is related. British photographer Laurence Ellis snapped Asami, a barista and actress in the hip Shimokitazawa district, artist Que, while wandering around counterculture hub Kichijoji, and Chris - the third local - cycling around Nakameguro, a quiet residential area.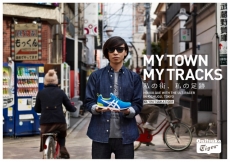 The trio showcases models from the upcoming, running-inspired street collection through 1,000 candid Instagram photos, which can be seen on Onitsuka Tiger's official Instagram profile, @onitsukatigerhq. Throughout this personal city tour, the ULT-RACER and HARANDIA take center stage. Both shoes are inspired by the brand's running heritage. The HARANDIA features performance technology and will go down in Onitsuka Tiger's history as its first shoe to feature GEL technology, for extra cushioning and comfort, all the while. As a special gimmick, it's the brand's first shoe to have Onitsuka Tiger written on the heel tab in Japanese.
The other shoe featured - the ULT-RACER - is a modern interpretation of the ULTIMATE 81, which was one of the brand's most famous running shoes in the 80s. Sleek nylon, a chunky sole and herringbone rubber pattern make this a great allrounder for everyday explorations. Both models come in seven combinations as well as three specifically female fits.

www.onitsukatiger.com
Music
WENDE releases LP
Dutch singer WENDE released an exclusive LP from her album 'Last Resistance' featuring four additional remixes by renowned musicians such as Nackt, Michael Ilbert and Tilman Hopf. Recording the LP in Berlin, her very deep and personal work got captured in a this very special edition. Just on time with the release, WENDE started her club tour entitled 'The Berlin Sessions' in the Netherlands and will proceed in Germany in 2014. 
'Last Resistance' brings up beautiful deep sounds and obscure samples accompanied by stunning vocals and trance sounds. WENDE's music has been visually translated in collaboration with Mulholland International. 'Last Resistance' is released with a limited edition of a booklet featuring Miron Zownir's photographs of WENDE in an old sanatorium of the outskirts of Berlin.

www.wende.nu
Fashion
Saint Laurent at Paris Fashion Week Spring/Summer 2014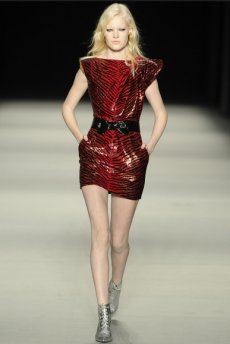 For Spring/Summer 2014 the traditional French House Saint Laurent transformed the runway into a spectaculous culisse with moving light rods in triangle shapes accompanied by synthy riffs of Liar's 'Mr. your on fire Mr.', which created a strong ambience. Very chic feminine, yet masculine looks mainly consisted of tight leather mini skirts, chic strapless night dresses and transparent chiffon blouses combined with casty blazers. Hedi Slimane got inspired by music icons and youth culture of the 80ies which creates a nonreversible and unique spirit. 
 
Fashion
Wunderkind at Paris Fashion Week Spring/Summer 2014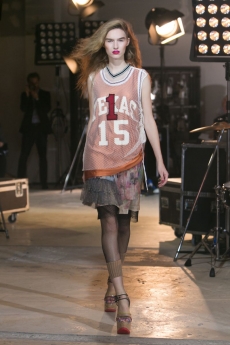 Wolfgang Joop's Wunderkind Spring/ Summer 2014 collection was a prelude to celebrate individualism and free thinking as if there is nothing left to loose. Inspired by the wild flair of the 70ies, stunning floral dresses with floating silhouettes, high-waisted hotpants and fringed leather jackets underlined the main theme and created an effortless and liberated spirit, that shouldn't be missing at an un- forgettable performance. Chiffon garments in acid colours and vibrant prints, next to sporty leggings made of transluscent fabrics and elements of baseball tricots completed this energetic and charismatic ambience and added a touch of youthness.

www.wunderkind.com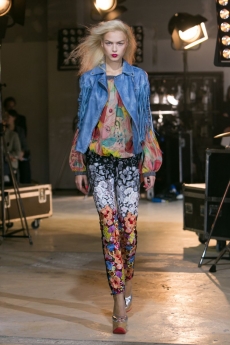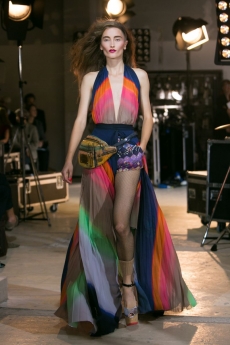 Fashion
22/4_femmes at Paris Fashion Week Spring/Summer 2014
Stephanie Hahn, the designer of 22/4_femmes, has her roots in pattern making, which makes her a gem of know how in the middle of superficial big ideas. The way she cuts a shoulder on her new T-shirt is only one example of the way Hahn structures and controls a fabric. For Spring/Summer 2014, the designer looked at Jazz Age tennis player Suzanne Lenglen, resulting in a minimal, sportive collection without neglecting the feminine. Relaxed silhouettes with big striped trousers and shirts were vamped up with brazeers in the same fabric. As Lenglen, also known as "the Divine", never wore an underskirt while playing, an exercise in transparency gave the collection depth and light.

www.224hommesfemmes.com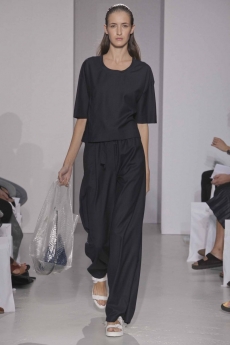 Fashion
Giorgio Armani at Milan Fashion Week Spring/Summer 2014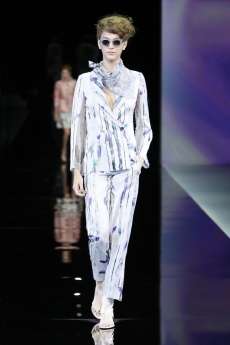 The Giorgio Armani Womenswear collection was a haunting highlight on last day of Milan Fashion Week. The traditional Italian house of Fashion showcased a casual, yet elegant collection mainly focusing on fluid and light designs. Draped garments achieved a spirit of fantasy and romance by playfully using volume and form. Key items of this collection were transparent dresses, tunics and coats arising the runway in a colour palette of purple, lilac and pink. Layered chiffons, jacquard silks and elasticized cottons incarnated ultimate perfection and extravagance and gave a prelude to how Spring/Summer 2014 will look like.

www.giorgioarmani.com
Fashion
Emporio Armani at Milan Fashion Week Spring/Summer 2014
The Emporio Armani Spring/Summer 2014 show was inspired by the spirit of nature and flaunted with modern qualities. Rippling water reflections and shadows on plants glazed on exclusive garments, in juxtaposition to floral patterns and imaginative, abstract watercolour illustrations. Shadows of tropical flowers in a colour palette of pale blues, greens, grays and dawn pinks completed the whole appearance.
Casual outfits included a range of double-pleat and widly-cutted pants and leggings that covered the skin like a tattoo. Flowing jackets in glossy and monochrome looks and elementary shapes, next to sleeveless silk dresses conjured a symbolic modernity accessorized with colour-matching clutches and handbags.
 
Fashion
KTZ at London Fashion Week Spring/Summer 2014
Marjan Pejoski & Koji Maruyama's Spring/ Summer 2014 was a highlight on third day of London Fashion Week. Dominated by black and white moroccan tile textures, the collection had unique pieces made of high- tech fabrics and varnished leather accessoried by oversized, opulent jewellery and metallic embossing. Hitting the zeitgeist with stunning creations such as hijab-looking headpieces, hamsa hands and enveloping garments, the designer duo transformed the runway into a futuristic sci-fi trip to the oriental dessert.

www.kokontozai.co.uk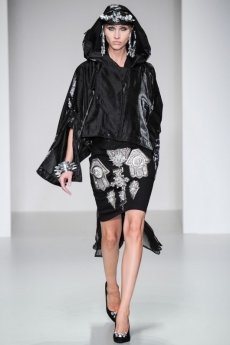 Fashion
Ralph Lauren at NYFW Spring/ Summer 2014
Ralph Lauren put forward a classical and monochrome collection on last day of NYFW Spring/ Summer 2014. Starting with chic business outfits, dominated mostly by blacks and whites and a variety of floral and square patterns. Skirts, three piece suits, as well as evening gowns glazed on the runway. The flow of this clear line during the second phase got pursued by unexpected pieces of vivid, acid- shrill colour ranges. Sharply-cut dresses were put together with matching accessories such as handbags, hats and sunglasses.
Fashion
Diesel Black Gold at NYFW Spring/Summer 2014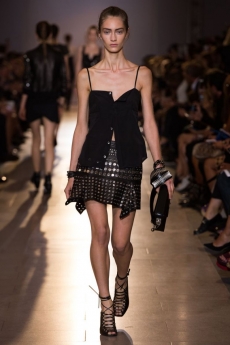 For this SS14 womenswear Creative Director Andreas Melbostad, who is a former student of London's Royal College of Art, showed off a duality of pieces in black, white and pastel colours. Diesel Black Gold's edgy-chic look got highlighted by a range of dresses, skirts, blazers and tops with metal eyelets, zippers and buckles. Besides french braids created a girly, soft and romantic look. Appealing to a rather sophisticated and cosmopolitan clientele, Meldbostad succeed with showing numerous pieces in denim and leather, as well as assimilating silk georgettes in this collection. All in all his goal was to show "a new ease of attitude by combining opposing icons to express strength and fearlessness".

www.mbfashionweek.com
Fashion
Station to Station: A Public Art Project Made Possible by Levi's
This friday, artist Doug Aitken will commence his new project "Station to Station: A Nomadic Happening", which will connect artists, musicians and creative pioneers of different disciplines. With help from Levi's, the brand that has been outfitting pioneers for more than 140 years, Station to Station will raise funds trough ticket sales and donations in order to support progressive projects in seven museums in the United States.
A train will go from New York to San Francisco during three weeks, making stops at ten different places along the way. While there, a series of happenings and interventions in the fields of art, music, cinema, literature and many more will take place. Doug Aitken designed the train that will act as a cultural studio and that will globally broadcast unique content and experiences from both the stops and the moving train.
Creatives participating in this project are among others: Charlotte Gainsbourg, Kenneth Anger, David Longstreth of Dirty Projectors, Olaf Breuning, Ariel Pink, Connan Mockasin, Peter Coffin, Urs Fischer, Meschac Gaba, Liz Glynn, Carsten Holler, Christian Jankowski, Dan Deacon, Savages, Dave Hickey, Barney Hoskyns, Rick Moody, Alice Waters, Leif Hedendal, Edible Schoolyard Project Aaron Koblin, Ernesto Neto, Jack Pierson, Stephen Shore, Rirkrit Tiravanija and Lawrence Weiner. For more information, visit www.stationtostation.com
Art
Saul Leiter: 1949 – 1960
The success story of Saul Leiter makes for an unexpected tale; wandering in to the world of photography with no formal training, Leiter picked up the camera in the 1940s and never looked back. Catching the attention of Edward Steichen, his street-shot images received a brief but healthy measure of exposure, before hitting the archives, eclipsed by Leiter's soaring status as a fashion photographer in the '50s and '60s. With Vogue and Harper's Bazaar forming his typical clientele, street photography was relegated to a hobby - his outstanding prints and color slides laid redundant, unfairly stuffed into boxes until the 1990s, when Leiter began to revisit a perhaps more consuming body of work.
Now to grace the walls of the Galerie Springer in Berlin, a retrospective of Leiter's considerately-composed prints will take centre stage – their sense of color isolated, and made all the more captivating in the process. Focus, too, plays to tune – unrehearsed as it may be – for a more sideways standpoint, taking the viewer delightfully unawares.

Saul Leiter: 1949 – 1960 will show at Galerie Springer, Berlin, from September 20th – November 9th

www.galeriespringer.de
Fashion
Diesel Opens Frankfurt Flagship Store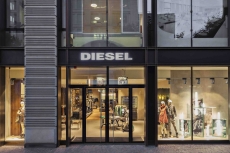 Raising the curtain after a three-year absence from the city, Diesel unveiled its new and long-awaited flagship store in Frankfurt's main metropolis on August 1st. Split over two levels, the 383m² store will present pieces from both menswear and womenswear main line collections and Diesel Denim, alongside a discerning selection of shoes, bags and accessories. Four months of hard labour transformed the listed building into an inspiring retail space, built on the artful marriage of vintage and contemporary design accents, from cold, hard steel fixtures to wood block floors.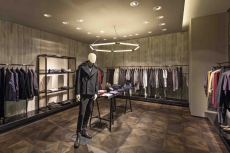 It's most exciting element, however, is its devoted private areas to the Diesel Black Gold ready-to-wear collections - previously exclusive to a select handful of German stores, the Frankfurt store is now home to its most daring and directional line. And the new destination still has surprises in store, as September 5th will mark its large-scale opening event, and will be attended by founder of the label, Renzo Rosso, for what promises to be a truly spectacular launch.

www.diesel.com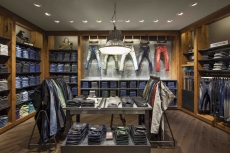 Cinema
Karl Lagerfeld Documentary: Fashion as Religion
Karl Lagerfeld is to star as the subject of a four-hour documentary, airing in Germany on September 7th. Mode Als Religion not only opens a window to the designer's life and career, but also draws parallels between the world of fashion and religion, likening consumers to followers, models to angels and magazines to the Bible. The work of German television journalist, Martina Neuen, the biopic is the result of 16 months of unprecedented access to Lagerfeld's assiduous daily routine, baring the bones of his creative process, from sketch to show to photograph.

Appearances by Suzy Menkes, Claudia Schiffer and Diane Kruger thread through the narrative of the subject, which in itself is mirthifully wry in observation, crediting himself as "a fashion missionary". The documentary will also touch on Lagerfeld's private life, delving into a personal photo archive to illustrate his transition from son of a milk producer in northern Germany, to demigod of couture.

The documentary will premier at a special screening in Munich, to coincide with the opening of his new boutique in the city, before airing on German channel Vox on September 7th.

www.karl.com
Fashion
Alaïa: Azzedine Alaïa in the 21st Century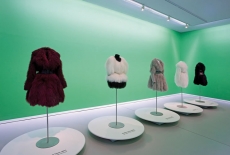 He dressed the most beautiful women of the '80s, from Madonna to Grace Jones. Cited for his figure-fitting contours, as a designer, Azzedine Alaïa embraced the seductive shape of the female form, exuding sexuality to define an era. Now in his 3rd decade as an esteemed fixture of the fashion industry, Azzedine Alaïa continues to impart that sensual inflection that undersigns his work within his designs today, attracting such diverse clientele as Lady Gaga and Michelle Obama.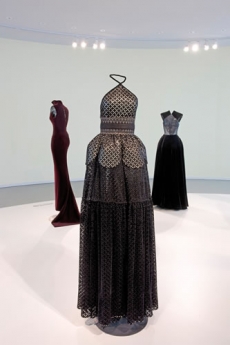 The exhibition, Alaïa: Azzedine Alaïa in the 21st Century, pulls focus on the important catalogue of work the designer has produced in the new millenium, showcasing his most significant and glamorous pieces from the last ten years. Curated by friend of 15 years Mark Wilson, the exhibition organises Alaïa's work by the his signature materials of the last decade; creations fall into fur, leather, velvet, cotton, chiffon, knitwear and animal skin rooms, illustrating the adroit hand of a mastered couturier, and, above all, that amorous appeal.

Alaïa: Azzedine Alaïa in the 21st Century runs until September 8th at the NRW-Forum, Düsseldorf.

www.nrw-forum.de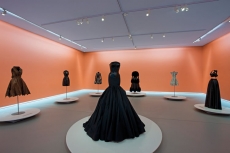 Art
No Pain No Brain by Alexei Kostroma
Brazen statements regarding the declining economic state are nothing new for Russian contemporary artist Alexei Kostroma. Planting the seed of his ongoing series Bills & Debts in 2008, Kostroma's latest painting explores society's total dependence on money.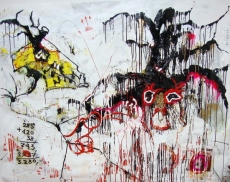 Entitled No Pain No Brain, the large scale mixed media piece illustrates the tight-knit relationship between the financial market and quality of living. From the canvas, "NO PAIN NO BRAIN – NO BRAIN NO MONEY – NO MONEY NO LIFE" is the despondent slogan that reads candidly between its expressively collaged bills and personal debts. Already anarchic with unapologetic disarray, fluorescent paint – invisible by day – emerges ungovernably come the night time, flaring its most radical observations in the desolation of dusk.
No Pain No Brain by Alexei Kostroma will be exhibited at the LSD Galerie, Berlin, from August 2nd – September 3rd.

www.lsd-galerie.com

www.alexeikostroma.de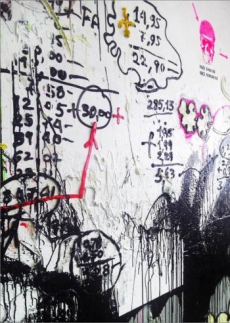 Fashion
Claes Iversen Spring/Summer 2014
Known not for its tropical summers, Amsterdam nonetheless delivered a ray of sunshine at this season's fashion week in the form of the Claes Iversen show, inspired by the city's showery climate.
The banana-yellow ouverture said it all: a satirical displacement of a classic's typical context. Hooded macs cropped up throughout the collection, severed and layered or thrown suggestively over bare legs. Raincoats weren't the only pieces to face the chop; hemlines teased, courting thigh and floor with their sheer promiscuity, though tailored cuts and long fitted sleeves translate sensuality into sophistication.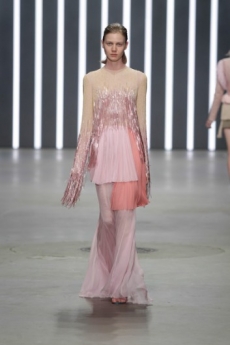 Chiffon singlets were cinched into banded waists, rising as maxi-skirts or breezy palazzos flaring to a splaying umbrella line. All the while lengthy fringes were raining down in washed pastels, hailing unexpected embellishments as erratically as the weather.

www.claesiversen.com
Fashion
COS to Launch Capsule Sterling Silver Jewellery Collection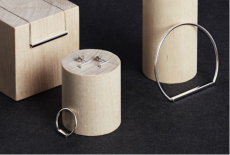 With the visionary beauty of their last capsule collection still on everybody's minds, masters of minimalism COS are to launch a sterling silver jewellery collection, hitting the shelves this October. The limited edition line is to comprise of five key pieces; a ring, bangle, necklace, a stud and a hanging earring, each purified to a simple geometric shape for a clean-cut look that is typically COS.

www.cosstores.com
Fashion
Lanvin Fall/Winter 2013 Campaign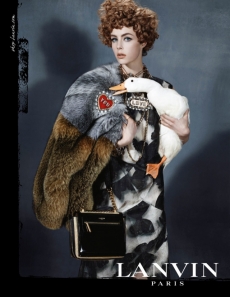 More than multifaceted, Lanvin's Fall/Winter campaign teetered on the schizophrenic: twelve frames and twelve inongruous characters. Starring Edie Campbell, Abiah Hostvedt and Miles Langford, the studio portraits and short film depict a story styled to conntradict and confuse.
With Steven Meisel behind the lens, composision is reliably exacting, with painterly lighting further sculpting the air of a masterpiece. Powerfully statuesque, there is something of the Norman Parkinson belle in Campbell's pose. A bafflingly eclectic wardrobe spans kitsch and couture, whether its a butterfly/cow skin hybrid dress and turban or flared '50s shifts, its the indiscriminate hotchpotch of styles that brings the looks together as a whole. Brooches and bags studded with the words 'love', 'help' and 'cool' disorientate with their mixed messages and garish luxury.
Menswear, meanwhile, finds ground between sartorial and sportswear, pairing a rucksack and sneakers with an artfully mismatched suit. Animals under arm, Lanvin hits on a look that is fashionably derranged.

www.lanvin.com
Fashion
Issever Bahri Spring/Summer 2014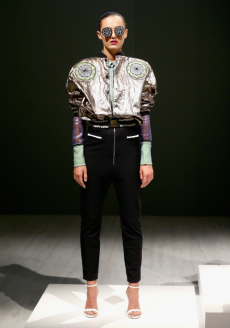 During MBFWB, Issever Bahri showcased a collection filled with contrasts. Inspiration came in the form of Turkploitation of the 70s, the low budget copying of Hollywood productions. What often resulted in one-of-a-kind pieces, funny and sometimes absurd, served as the foundation of Issever Bahri's spring/summer 2014 collection. Crocheted leather bands formed nets, which Derya Issever and Cimen Bachri molded into pants, skirts, tops and dresses, married with shiny and sheer fabric. Ornaments are a tribute to the designer's Turkish heritage and emblazoned symmetrically cut sweaters, dresses and jackets. They come in either a white-red combo or different shades of green. In using belts, the duo pulls in the waist, adding femininity to their designs. For all its sophistication, the collection, much like its inspiration is loud and out there - a fun addition for spring/summer 2014.

Images:© Mercedes Benz Fashion

www.isseverbahri.com
Fashion
Vladimir Karaleev Spring/Summer 2014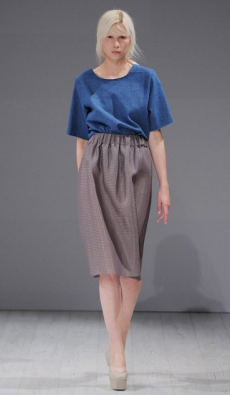 Off-white, beige, taupe, dark blue and black – Vladimir Karaleev's world in colors. For his spring/summer 2014 collection he cut off delicate silk and chiffon, having the hems appear unfinished. In stark contrast, he teamed these pieces with sturdy jackets and pants, achieving a soft but cool look. Karaleev stuck to his tried and tested wide and loose silhouettes throughout the collection. However, with his delicate choices and sheer panels, sex appeal does not fall short. His combinations of almost tone-in-tone pant, top and waistcoat or jacket call for a windy summer by the sea, and his blue and black styles are a perfect update of the urban summer uniform.

Images:© Mercedes Benz Fashion

www.vladimirkaraleev.com
Art
Mariko Mori X Madame Butterfly
Designing the sets and costumes for a special adaptation of Madame Butterfly is contemporary Japanese artist, Mariko Mori. Renowned for her conceptual work, the internationally acclaimed artist will work to produce a visual feast, bringing the story of Madame Butterfly to life like never before; drop cybernetics and monumental water make the fascinating fixtures of Mori's retro-futuristic universe. The performance will run as part of an initiative conducted by the Venice Biennale and the Teatro La Fenice, marking a sturdy first step in the way of a developing collaboration. Madame Butterfly premiered at La Fenice last week, and will run again from October 12th-31st.

www.teatrolafenice.it
Music
Yoko Ono's Meltdown Festival
Yoko Ono's Meltdown Festival Since 1993, London's Southbank Centre has marked the start of the summer season with its guest-directed Meltdown Festival. Each year, one of the world's most celebrated musicians is given free rein to curate the bill, restricted by neither media nor convention. Such freedom certainly makes for an eclectic treasure-trove of events. Past years have put the line-up in the trusted hands of Nick Cave, Patti Smith and David Bowie, but this year sees Yoko Ono take full charge.

Kicking off the revelry this Friday will be a rare performance by the curator herself, with the Yoko Ono Plastic Ono Band. The week brings more musical delights in the form of performances by Iggy and the Stooges, Peaches and Marianne Faithfull. June 15th and 16th shine a light on activism, with a weekend of talks and workshops led by artists and activists who strive for change. Patti Smith makes a welcome return to the festival, with An Evening of Words and Music, an intimate recital of her Poetry back catalogue. Meanwhile, a selection of Ono's favourite films will screen throughout the festival at the neighbouring BFI cinema, including rarely seen footage by John and Yoko. The John Lennon Educational Tourbus will also be parked outside the Royal Festival Hall, running intensive programmes for young local artists to learn how to create music videos and reportage films. About the initiative, Yoko Ono said, "This is a project John Lennon would have loved".

Yoko Ono's Meltodown Festival runs at various venues of the Soutbank Centre, London, from June 14th-23rd.

www.southbankcentre.co.uk