Cinema
Antony Morato Film Premiere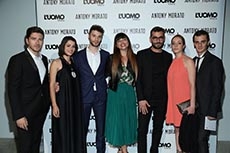 Antony Morato, the contemporary, Italian fashion brand with international and cosmopolitan terms drew attention to the world of cinema. The brand has partnered with L'Uomo Vogue, the reliable source for men's fashion and lifestyle on the short film "We have to be courageous" presented in Milan which also participates on Fashion Film Festival Milano.
The 5-minute short film, produced by K48, tells of the growth of self-consciousness and the desire with a hedonistic expression representing even one's own identity. The conclusion of the film leaves a feeling of uncertainty back as it represents the change and the final separation of an already defined world. The appearance of the Don Giovanni is finally ready, almost as if he would say, "Here I am". The film is directed by Elisa Fuksas and the viewer can watch the exceptional performance of the lead actor Alessandro Roja.
The story approaches the Antony Morato campaign "I am who I am" on a vivid and lively way. The brand, founded by Lello Caldarelli sends a strong message and a claim, addressed to the contemporary man. Without risk of misunderstanding he realizes that he can understand and interpret his own freedom. This requirement is universal and shows more than ever that Antony Morato invites us to it.